Continued from
Part 1
Yulong
River, which is a tributary of
Li
River, is approximately 15 km west of
Yangshuo
town. It is about 43 km long but our river rafting only covers about 15 km from
Yulong
Bridge Pier in
Baisha
town to
Gongnong
Bridge Pier near
Big Banyan
. You can refer to the map
here
.
The word "
yulong
" means "meet the dragon" in English. According to a local legend, a dragon from the East Sea once strolled across the
Yulong
River and was so taken in by the beautiful landscape that it decided to stay there forever. Villagers living on the river bank claimed to have seen the dragon, hence the name
Yulong
River.
We started out from
Yulong
Bridge Pier. I took this photo of the ancient
Yulong
bridge from where I sat on the raft.
It is not everyday that we get to see such ancient single-curvature arch bridge! Did you know this stone bridge is about 600 years old? There are 2 other similar single arch bridges nearby namely
Xiangui
Bridge and
Fuli
Bridge, but we did not pass them.
These were houses by the river.
I noticed that the river was quite shallow at certain spots. In fact, you could even see through the water to the riverbed. According to
wikipedia
,
Yulong
River has a maximum depth of 5 metres and an average width of about 25 metres.
I found the scenery simply mesmerizing!
Yulong
River was like
Li
River, only it's smaller and probably more beautiful!
I love the reflections on the water!
Oh! Does this look like a frog to you? It sure does to me!
Jam
and his friend were on one raft while I was alone on another. Of course each raft has a rafter to steer the raft. The photo below shows Jam and his friend ahead of me.
Sitting on the reclining chair aboard the raft, I felt totally relaxed and was enjoying the beautiful views all around me!
If it wasn't that hot, and if I wasn't busy taking photos, I would not mind taking a nap! But I soon learnt that napping was impossible and you'll know why in a moment.
I was about to sit back on my reclining chair and relax myself when my rafter warned me to look out.
I sat back up straight and saw this!
Oh no! This must be the surprise Jam mentioned earlier. My guess was right! We were going down! Help!! I do not know how to swim and if I fall into the water, I am going to hold Jam totally responsible!
I quickly capped my camera lens and held on tight. I was not going to take any photos while on the way down! Firstly, I needed to hold on tight in case I got flung out of my seat! And secondly, I did not want the water to splash onto my camera and damage it!
We reached the edge. My rafter skillfully manoeuvred the raft. I held my breath as we dropped. In a matter of seconds, it was over.
Looking back, I took this photo.
We had just dropped down a
weir dam
! It was not as thrilling as dropping down a cliff, but still being my first time, it was thrilling enough for me.
And if I thought this was the only weir dam we had to cross, I was wrong. Throughout the entire journey, we had to go over no less than 20 weir dams! Now you know why I said earlier that napping was impossible. But after some time, it was no longer thrilling. And I think I could take a nap while going down. Haha!
The weir dams were constructed to irrigate the farmlands on both sides of the river. They were also used as walkways for both humans and animals to cross the river during dry season when the river was more shallow.
Having crossed the weir dams during this river rafting, I came to trust the safety of these rafts. A lot of readers commented that they would not sit on the rafts as they looked risky and dangerous but from my experience, they were not dangerous at all! Not once did my raft flipped when going over the weir dams!
I think the river water does not flow very fast here therefore the rafts are suitable and do not pose a risk. Besides, I learnt that the Chinese Government had approved the use of these rafts and the rafters or raftsmen have to undergo training and obtain licence before allowed to steer the rafts. All in all, I feel it's very safe but it would be better if they provide life jackets as that would definitely enhance our safety.
After passing the first weir dam, our rafters stopped and let us down to see farmers working on the farmlands.
A farmer plowing in the rice fields with the aid of a cow.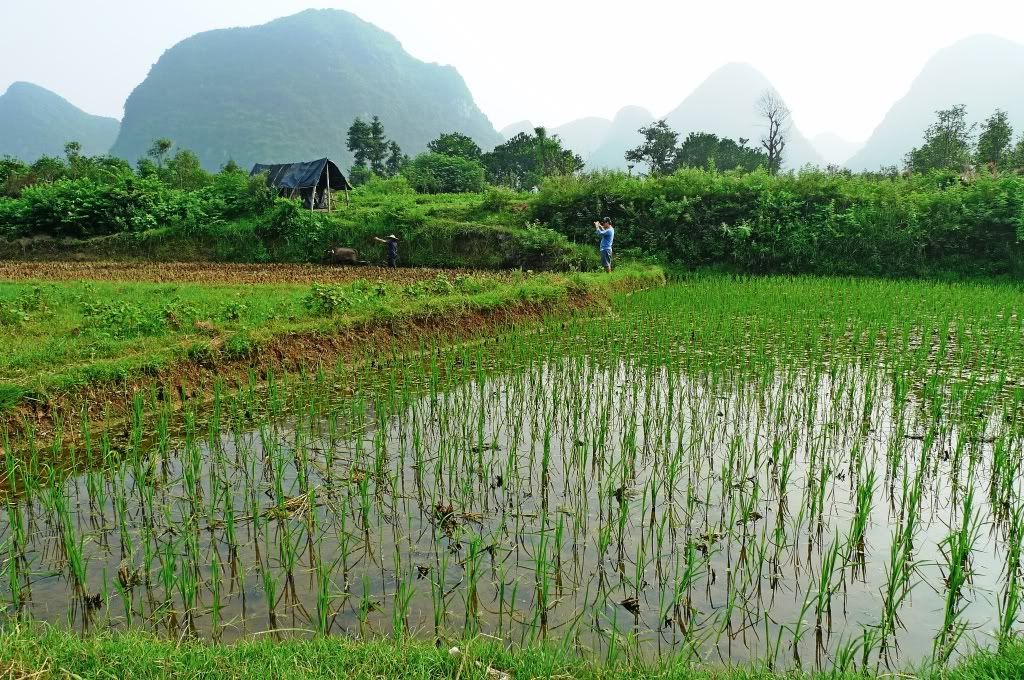 Do you know what these rice straws are for?
After spending some time on the farmland, we went back to our rafts and continued our journey downstream. There were no motor boats plying the river - only bamboo rafts. I loved the simple, natural and rural life here! Of course, I am a city boy at heart and I still think I belong to the city. Haha! But a break from city life sure helps to rejuvenate the soul!
I decided to put my leg into the water. Ooh! It's so cooling and refreshing!
A dragonfly flew towards me and rested on the raft. I quickly snapped a photo of it.
The natural landscape around Yulong River never ceased to amaze me. Look! Can you see a Chinese pagoda in this photo below?
No? Tilt your head to the left and you'll probably see it.
My rafter pointed out the pagoda to me, but I have forgotten which of the photos I took represents the pagoda!
How about this one?
No? Maybe I did not take the photo at the right angle.
Now, this looks more like the top part of a pagoda to me! What do you think?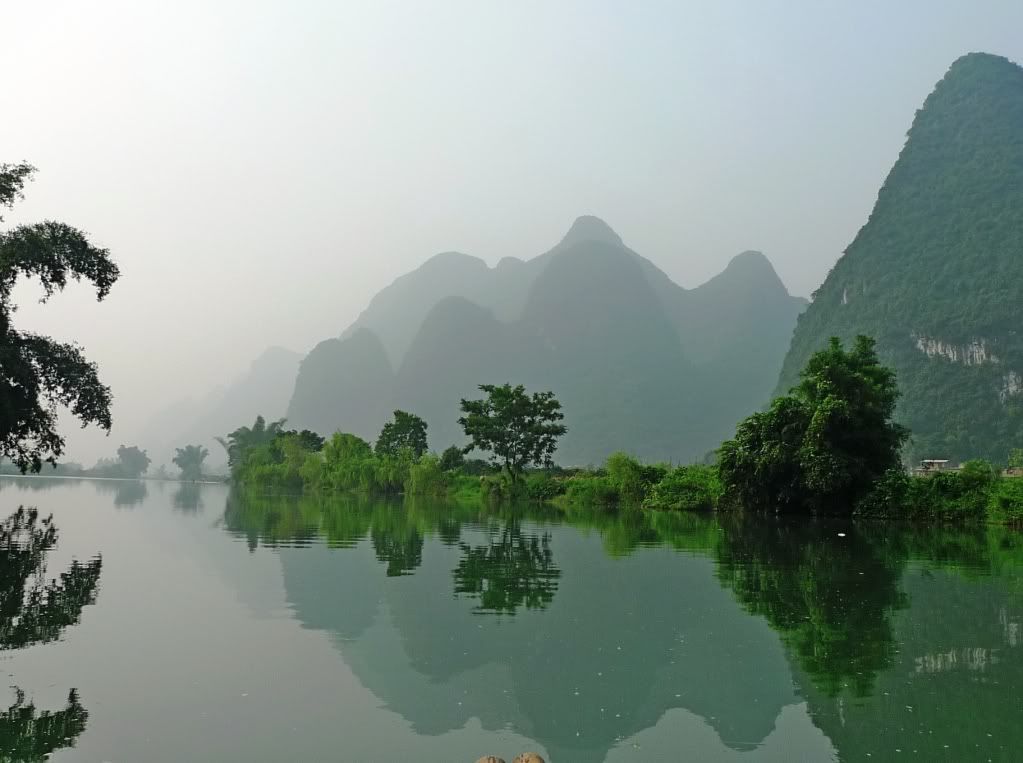 The reflection on the water was simply stunning!
Soon, we approached a bridge. I think it's called
Xiandu
Bridge.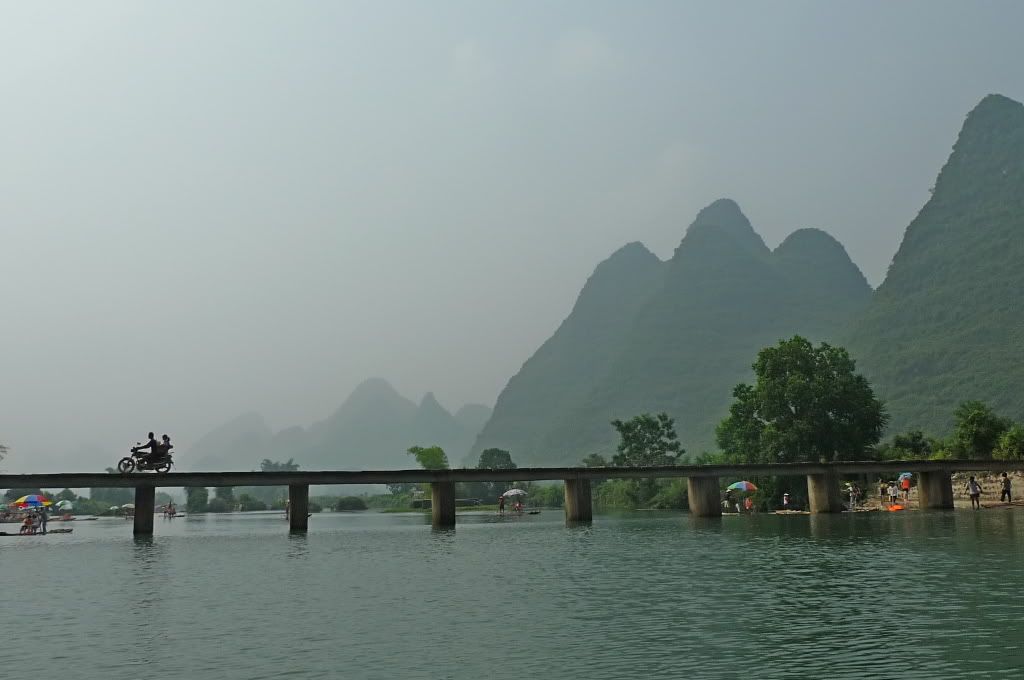 Here's the close up view of the
Xiandu
Bridge as we were about to pass under it.
This is my rafter.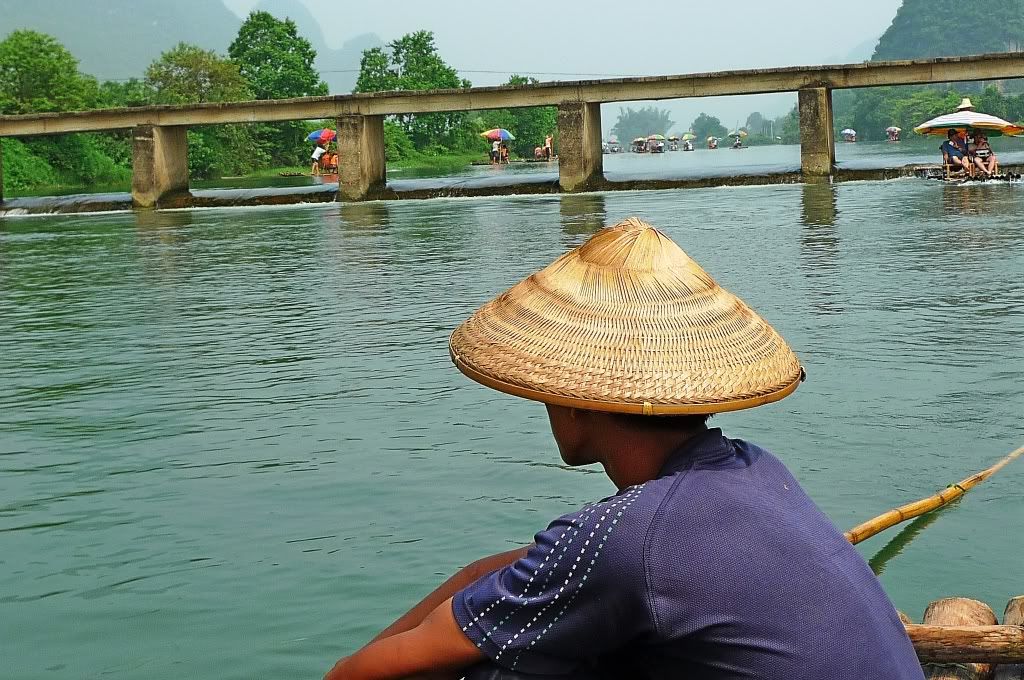 We had a hard time communicating with each other as he spoke mostly Mandarin and I could not understand most of it. Well, I guess I just tried my best to make out what he said.
At one time, he pointed to the water and asked me to look.
I said, "
Kàn​ shén​me
?" (What to see?)
"Fish!" he exclaimed.
"Oh!
Nǐ​ zhī​dao​ zěn​me​ shuō Yīng​ wén
!"​ (You know how to speak English!)
"
Yī​diǎn​r
" (Just a little) he said, smiling.
I think that's the only English word he spoke actually. Haha! Wait! There's another word he knew.
There was once he pointed to a hill in front and said, "
Hàn​bǎo​bao
! hamburger!"
I looked at where he pointed and sure enough there was a hamburger right in front of me!
A giant hamburger in fact, haha!
Then I looked down at my feet and I saw this.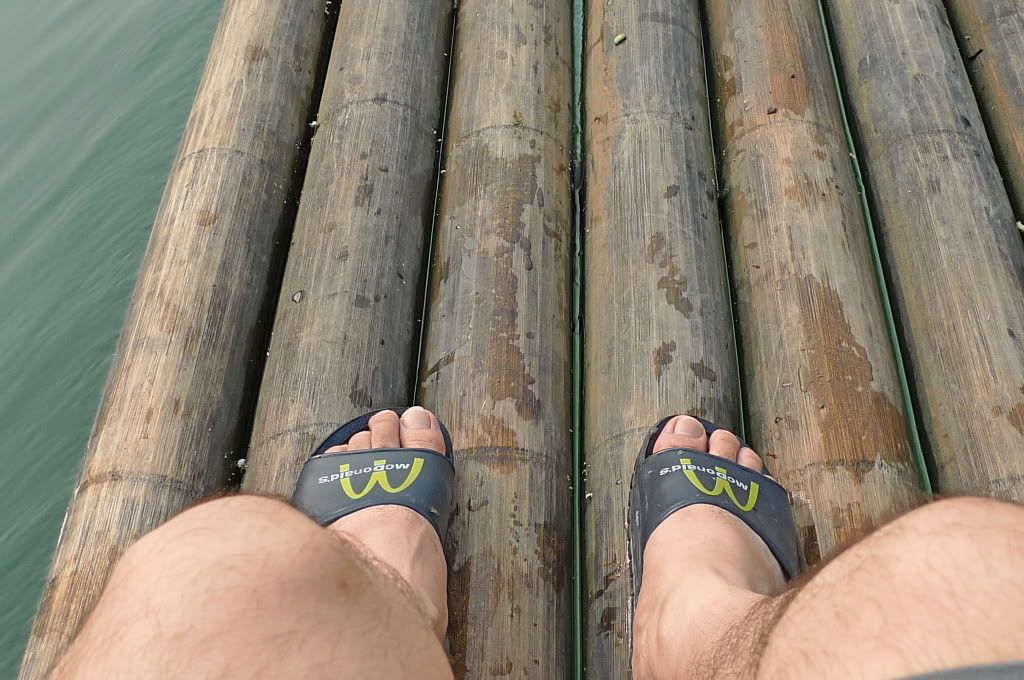 Now isn't that funny? Talking about
hàn​bǎo​bao
! I was wearing a pair of McD slippers! LOL!
As we continued downstream, the sun was getting hotter. Although the umbrella provided some shade, it was not enough. I had to reapply my sun block to avoid getting fried!
We were about to approach another weir dam where we would be getting down to observe the irrigation system there. However, something unexpected happened. I met with an accident!
To be continued...