This is my last post on my
Bangkok
trip in February 2012.
During this trip, I managed to visit the
Giant Swing
, a famous landmark in Bangkok.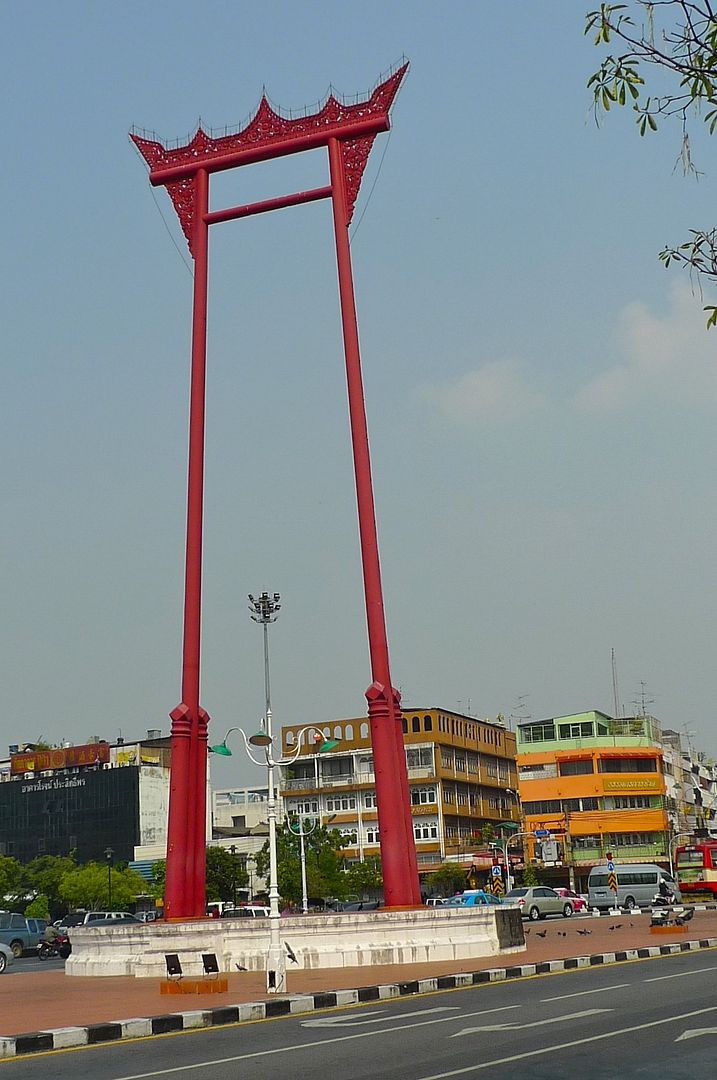 Located in front of the
Wat Suthat
Temple in Phra Nakhon district, this Giang Swing is actually a religious structure and formerly an old Brahmin ceremony. I am glad that this unique structure is well preserved.
Although there are many shopping malls in Bangkok, one that I must visit every time I go Bangkok is
Siam Paragon
.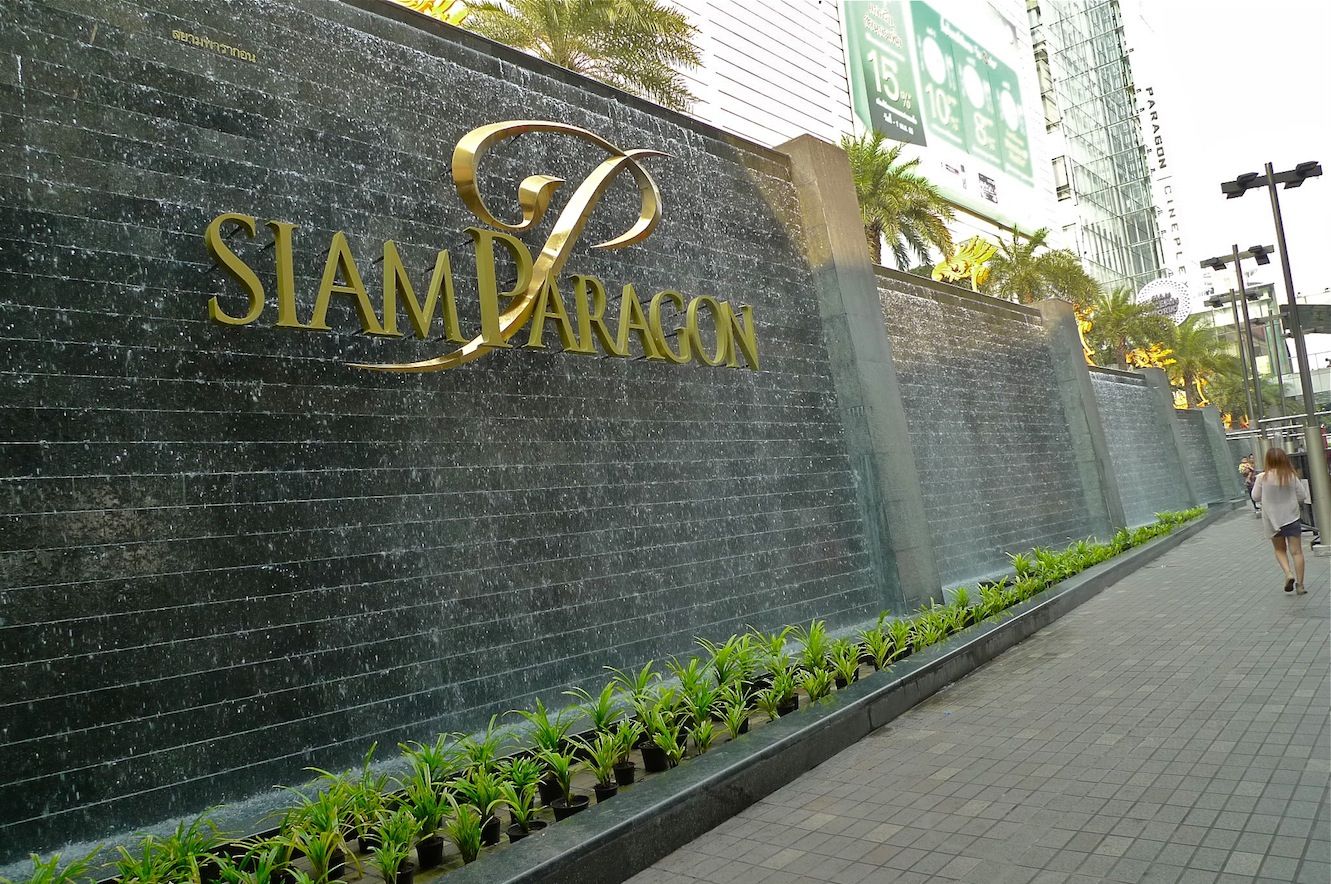 During this trip, I managed to take a shot of the Siam Paragon logo. I like walking along this lane watching the water streaming down the long stretch of wall.
I don't normally visit fast food outlets like McDonalds in Bangkok, but this time I visited
Burger King
just to try their pork burger. Surprisingly, I did not take any photo of the pork burger but I took a picture of the outlet's interior.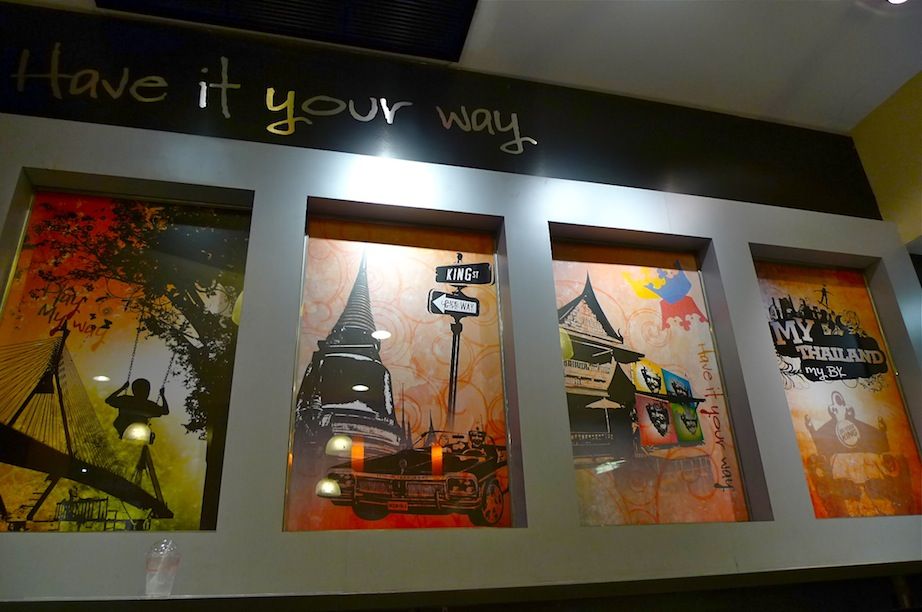 I thought this part of the wall in this Burger King in
Silom
was really nice! "Have It Your Way" - that's the Burger King's slogan.
By the way, the pork burger was delicious! No regrets at all giving it a try.
Going around Bangkok city is such a breeze with its efficient MRT (underground train) and BTS (elevated Skytrain). But it can be pretty lonely walking in the underground stations especially late at night.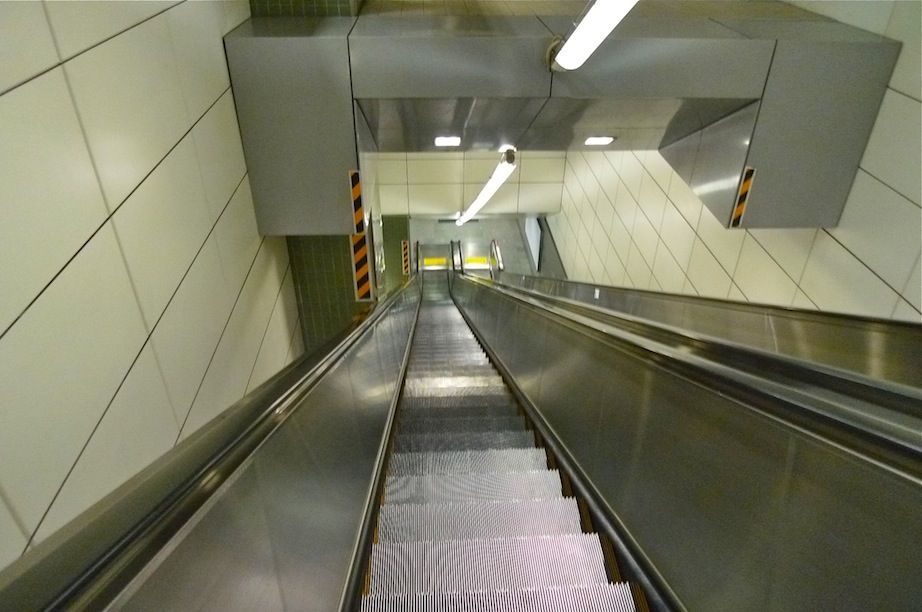 I took the above photo one night on the long escalator in the MRT station. Do you think I was going up or down?
There are many shrines all over Bangkok. Like this one.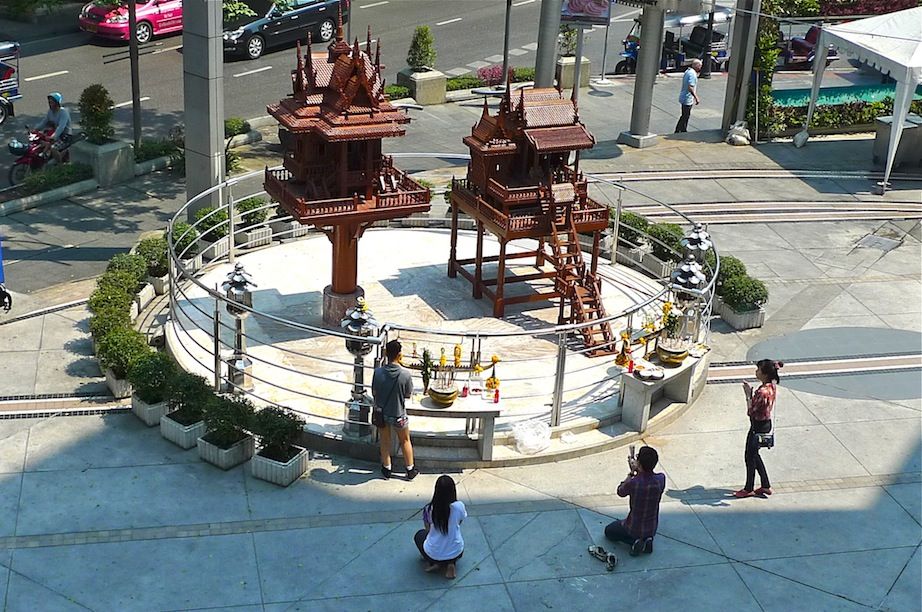 You can see lots of local people and even tourists lighting incense and praying at these shrines. Of course, the most famous is
Erawan Shrine
which every first timer to Bangkok must visit!
Although I don't really like airports, I find Bangkok's
Suvarnabhumi Airport
to be quite nice!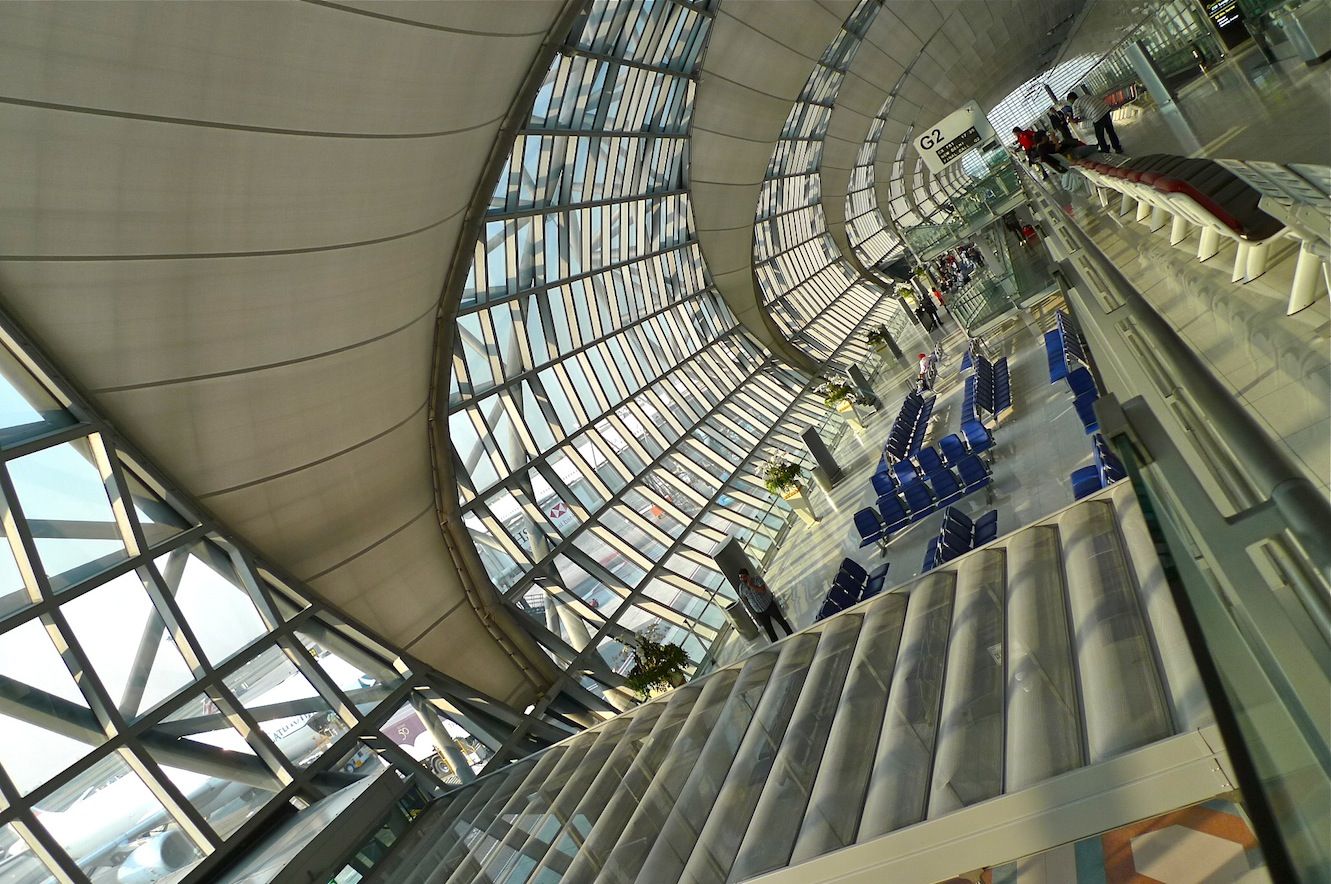 In case you do not know, it's pronounced as Su-van-na-phum.
This is the main international airport serving Bangkok and it has the world's tallest free-standing air traffic control tower at 132.2 metres!
Sadly, there had been some overload problem and effective 1st October 2012, budget airline AirAsia no longer lands at Suvarnabhumi Airport. Instead it will be moving back to the older Don Mueang Airport.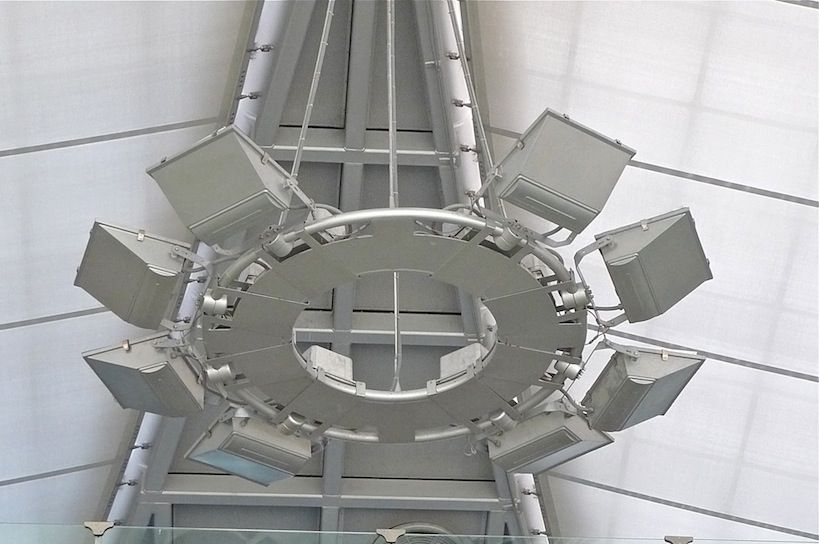 Ceiling lights at Suvarnabhumi Airport
During my last day in Bangkok, my friend and I were a little late to reach Suvarnabhumi Airport to catch our flight home. Luckily, we managed to check in our luggage with an hour to spare! So we decided to use up our remaining Thai baht dining at
Mango Tree
restaurant.
I ate
Tom Yum noodles
and drank
Thai ice coffee
.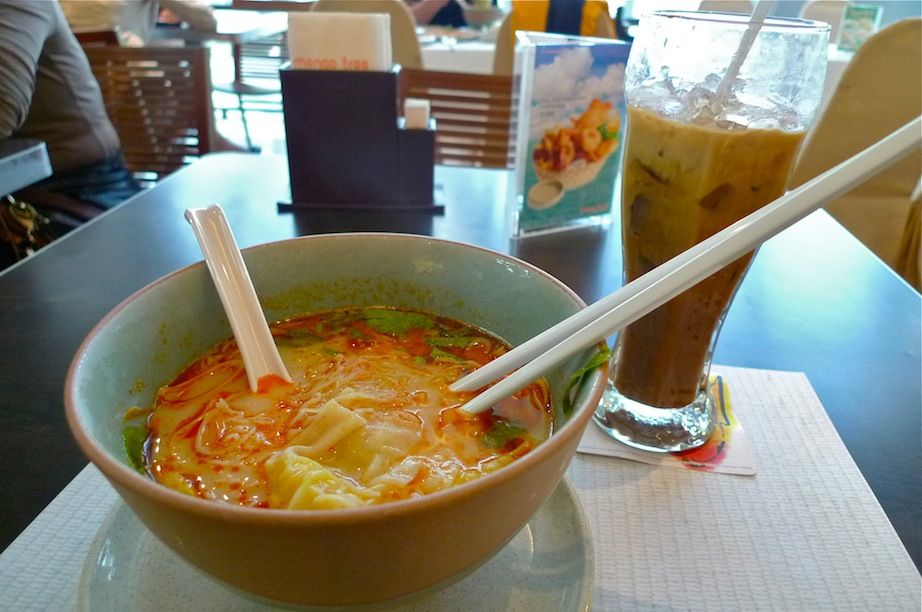 The Tom Yum noodles was quite nice but I thought it was too pricey at 210 baht (USD 6.80) while the ice coffee was priced at 120 baht (USD 3.90).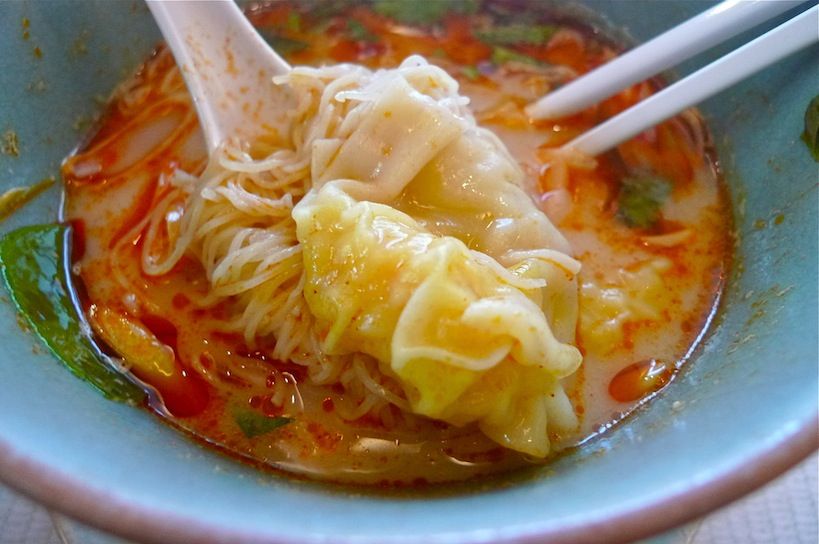 My friend ate fried noodles with chicken (sorry no photo) and drank ice coffee like me.
Soon it was time to board our flight back to Malaysia. I really enjoyed my Bangkok trip. And you can be sure I will visit Bangkok again in the near future!
In case you missed any of my Bangkok 2012 posts, here's the complete list.
1.
Terminal 21 Bangkok : Awesome Toilets! (Part 1)
2.
Terminal 21 Bangkok : Awesome Toilets! (Part 2)
3.
Terminal 21 Bangkok : Awesome Toilets! (Part 3)
4.
The Golden Gate Bridge At Terminal 21 Bangkok
5.
The London Bus At Terminal 21 Bangkok
6.
Meet the Sumo Wrestlers At Terminal 21 Bangkok!
7.
The Dazzling Lights Of Istanbul At Terminal 21 Bangkok
8.
The Lighthouse And Marble Statues At Terminal 21 Bangkok
9.
The Hollywood Floor At Terminal 21 Bangkok
10.
My Lunch At Pier 21 And Jeffer
11.
The San Francisco Tram At Terminal 21 Bangkok
12.
My Visit To Madame Tussauds Bangkok (Part 1)
13.
My Visit To Madame Tussauds Bangkok (Part 2)
14.
I Visited The Haunted Mansion 7 In Bangkok
15.
I Love Thai TV And Thai MTV!
16.
Melt Me And Isaan Street Food In Bangkok
17.
Volcanic Fried Mussels And Boonsap Desserts At Bang Rak
18.
Drinking Mandarin Orange Juice On The Streets Of Bangkok
19.
A Morning Jog At Lumpini Park In Bangkok
20.
The Pinnacle Lumpinee Hotel In Bangkok
21.
A Boat Ride To Wat Pho : Temple Of The Reclining Buddha
22.
Eating Boat Noodles Near Victory Monument Bangkok
23.
Eating Tonkotsu Ramen And Gyoza At Chabuton