After visiting
Madame Tussauds Bangkok
at
Siam Discovery
, my friend and I walked over to
Siam Center
to ponder what to eat for dinner.
While window shopping inside Siam Center, we came upon a gelato shop on the 4th floor of the shopping mall. It's called
Melt Me
. Looking at the wide array of flavors available, I sure wanted to melt them with my tongue! LOL!
What attracted me to this shop was the seemingly 'healthy' gelato! No preservatives, 100% sorbet fat free and 90% gelato fat free!
I wanted to choose the macadamia nut but in the end my friend chose that while I went for the wine strawberry.
My wine strawberry gelato
It was clearly a wrong decision as I tried his macadamia nut and it was much better than my wine strawberry! Oh well, but it's still worth it at 99 baht (RM9.90) per cup : )
After finishing with the gelato, we decided to try some
Isaan street food
near the Victory Monument landmark. So we took the Skytrain from
Siam Station
to
Victory Monument Station
. I can tell you that food hunting in Bangkok is easy with the BTS Skytrain and MRT underground train. There is hardly any need for taxis!
We found this stall next to the
Caltex
petrol station at the corner junction of
Rangnam
and
Ratchaprapop
Road.
When we were there, there was already quite a number of people queuing up in front. Most of the tables were taken. So we just ordered our food and waited for our turn. Luckily we did not have to wait too long. We got our table after about 15 minutes.
Isaan food, to my understanding, is food originating from the NorthEastern region of Thailand. It is basically Thai cuisine incorporating spicy and savoury dishes, in which sticky rice and greens are served.
My friend and I both ordered a plate of
som tum
(green papaya salad) each.
It was good, but nothing extraordinary. Just a good, spicy
som tum
which I like!
They also gave a plate of raw vegetables (sorry no photo) which I dipped into my
som tum
's sauce. Yum! Felt so healthy eating it. Haha!
We also ordered a
pla duk yang
(grilled catfish) each.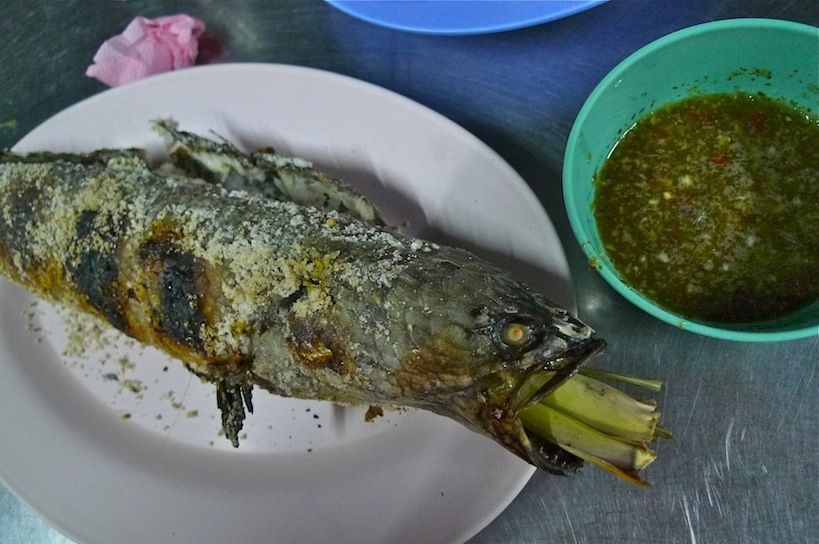 The fishes were grilled over hot coals and brought to our table together with 2 bowls of
nam jim
(Thai chili sauce), one for each of us.
Look at the natural fish oil glistening on the flesh! Yummy!
Of course, it's not so much about the catfish but the chili sauce that came with it! Dip the fish inside the chili sauce and you will be amazed!
The
nam jim
was spicy, slightly sourish and tangy!
Probably a tad too spicy for me, as I ended up drinking iced Coke in between my mouthfuls of fish. But I had no complaints, as it was simply delicious!
The dinner costs us each 170 baht (RM17) - 50 baht for
som tum
, 100 baht for
pla duk yang
and 20 baht for iced Coke. The raw vegetables was complimentary. Really not bad considering the size of the fish, which was quite huge.
If you ever go to Bangkok, don't miss this place unless you can't take spicy food!
Directions
: Take the BTS and get off at Victory Monument Station. Walk along Phaya Thai Road heading away from Victory Monument roundabout. When you see 'Eat Am Are' corner lot restaurant in front, turn left into Rangnam Road. Walk till the junction of Rangnam and Ratchaprapop Road. The stall is on your right next to Caltex petrol station.