It was my first time to
Redang Island
. Right after
our holidays in Cambodia
,
Jam
, his friend and I stayed one night at
Tune Hotel KLIA-LCCT
before flying off to Kuala Terengganu the next morning.
Our flight was at 7am but we had to wake up at 4am to get ready. We took the bus which transferred passengers from Tune Hotel to LCCT terminal. At first I thought it was a free service, but later realized I had to pay RM1 for the short distance.
As soon as we landed at Kuala Terengganu
Sultan Mahmud Airport
, we were transferred to
Merang Jetty
by bus. At the jetty, which is about 30km from the airport, there is a scheduled daily boat transfer to Redang Island at about 9am. We had to make sure we reach the jetty on time or we would miss the boat! In which case, we would have to fork out RM50 per person for ferry transfer!
Fortunately, we made it on time. Luckily too, there were no delay in the AirAsia flight! We had purchased this snorkeling package with
Redang Pelangi Resort
which includes the bus transfer from the Sultan Mahmud Airport and boat transfers from Merang Jetty to Redang Island and back.
Soon our boat arrived and we got onto it.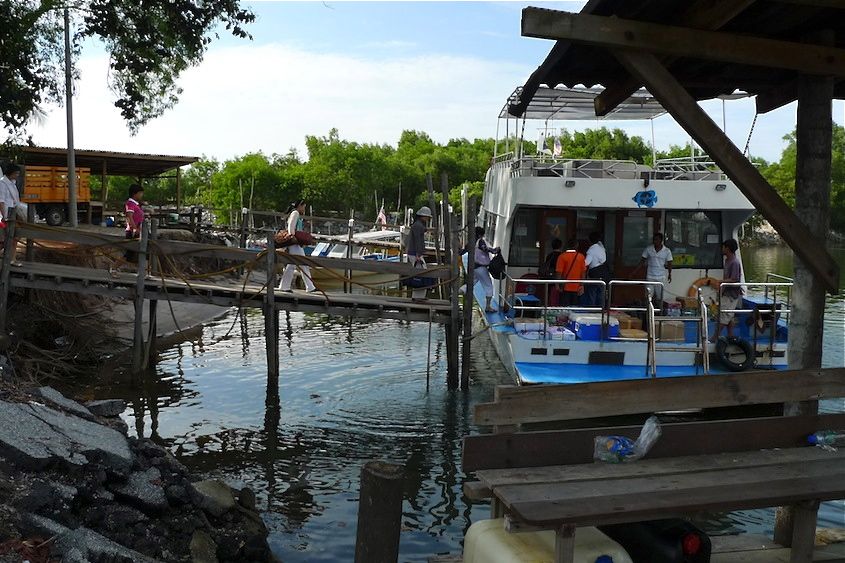 The boats at Merang Jetty.
The wooden walkway to the boat.
Our boat has 2 decks. We chose the upper deck for a better view.
Soon, our journey to Redang Island began.
We were out in the open sea in no time, but the journey was rather long. About one hour and 45 minutes long, if not mistaken.
Since I only slept about 1 hour the night before, I felt really sleepy but it was quite impossible to sleep in the rocking boat.
Look! I was not the only one sleeping! Haha!
Soon, the island came into sight. We landed at
Pasir Panjang Beach
, which is the largest beach on the eastern side of Redang Island.
I always love the view when approaching an island.
Love the clear green water!
Surprisingly, I did not take many pictures during my Redang trip. Perhaps because I spent most of the time either snorkeling or eating. Taking along the camera would be such a hassle!
There were many resorts along Pasir Panjang Beach (possibly close to a dozen!) - some more luxurious than others. We chose
Redang Pelangi Resort
because their snorkeling package is the most affordable, according to Jam. Well, he was the one who did the research, not me! LOL!
The package which costs RM300 per person, includes 3-day 2-night stay at the resort, plus 3 snorkeling trips (2 at open sea and 1 at Redang Marine Park), and 4 meals per day. I thought the price was pretty reasonable.
I have to say I enjoyed eating the food there whether it's breakfast, lunch, tea or dinner! Unfortunately, I did not take any photos! Usually it was eating right after snorkeling or playing by the beach and I was all wet, so how to carry a camera? Too much of a hassle if you ask me!
However, I did not like staying in the Redang Pelangi Resort. I guess my main complaint was the low water pressure. We were only staying on the first floor, but the water from the pipes was so small we could hardly wash ourselves after our snorkeling trips! So yes, I would never ever stay in this resort again!
By the way, in case you are not aware, I do not know how to swim. Neither do I have the talent for it. And I have never snorkeled in my life before. So I was hoping that Jam would teach me some basics about snorkeling and maybe I could practise in the shallow waters near the beach before going out to sea.
It was not to be. Right after we checked into the resort, we were asked to get ready for our snorkeling trip out in the open sea. It was scary. Would I jump into the deep sea not knowing how to swim? Would I survive my first snorkeling experience?
To be continued ....