Yes, it's
Goodbye Bangkok once again
! Why once again? Because this is my 5th time saying goodbye to Bangkok. And I'm pretty sure it won't be my last.
So finally …. this is my last post on my
Bangkok
trip back in January 2013. Gosh! I took almost a year to blog about it! LOL!
I have to say Bangkok is the place I visited most outside of Malaysia. Why do I keep returning to this city time and time again? There are several reasons. Mainly, I think it's near to my home country - did I mention before that I hate sitting inside a plane for long hours?
Another reason is that Bangkok is pretty affordable. Hotel and food in Bangkok never really make a dent in my wallet. Add to that the friendly Thai people, the yummy Thai food, those good satisfying massages and the addictive
Thai TV dramas and music videos
, you can see why I just love Bangkok so much!
Anyway on my last day in Bangkok, I ate this
porridge with you tiao (chinese crullers)
for breakfast at my hotel before checking out. It was yummy!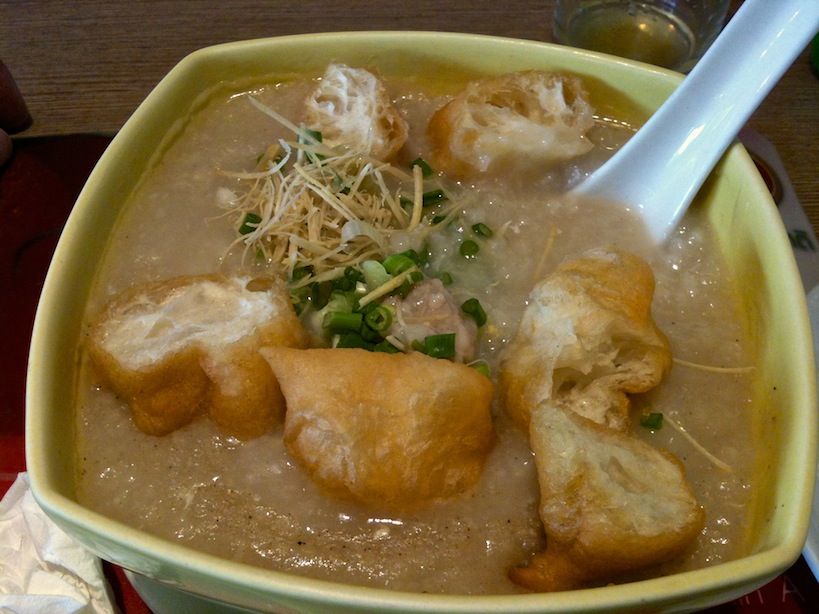 I did eat a lot of unhealthy stuffs during my stay in Bangkok like this
McDonald's Samurai Pork Burger
and
Ham & Egg Pie
.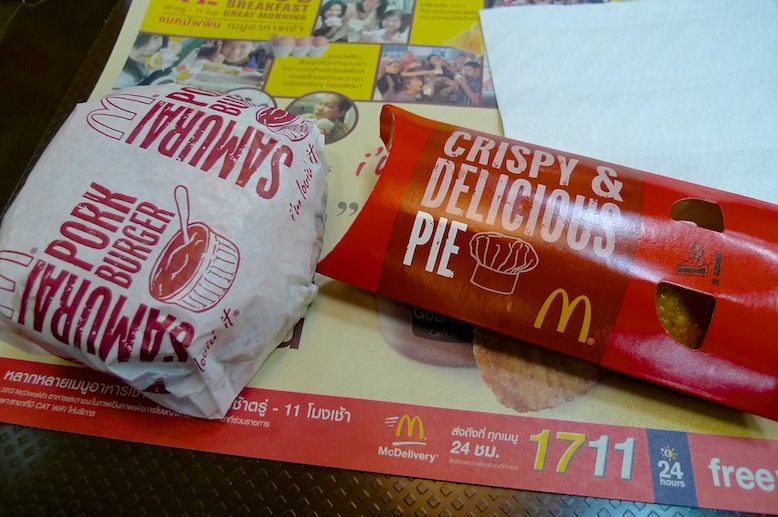 Didn't really like the pie ... but the Samurai pork burger was yummy!
And I even bought
Mama Shrimp Tom Yum instant noodles
to eat as supper in my hotel room.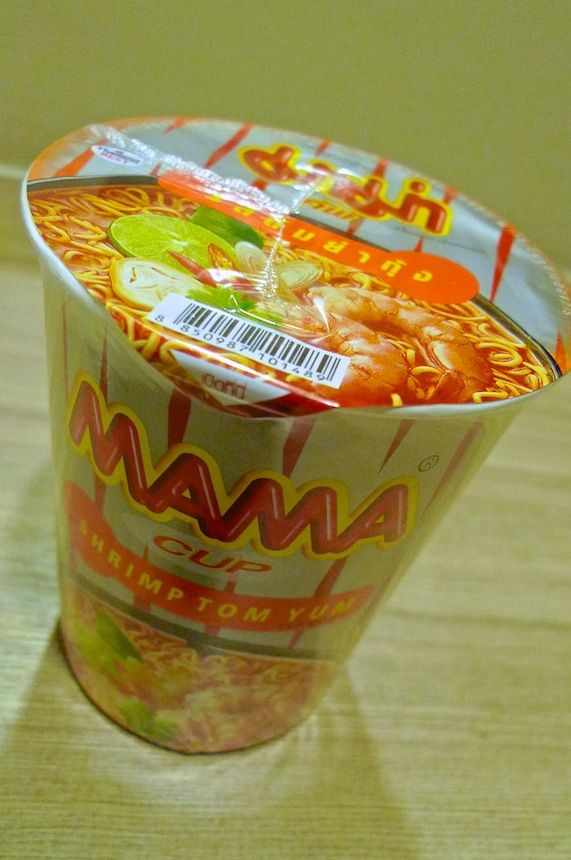 Very unhealthy I know, but this Mama instant noodle brand was really, really good! And so convenient too - just pour hot boiling water into the cup …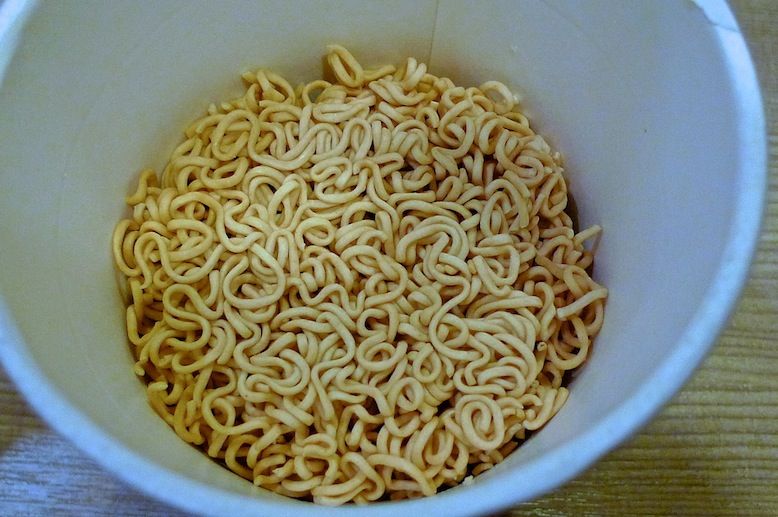 ….and your instant noodles could be eaten straight away. The tom yum flavor was excellent!
We arrived at the
Don Mueang International Airport
early. It's a pity AirAsia now only lands at Don Mueang - I really missed Suvarnabhumi International Airport. Maybe I should consider other airlines besides AirAsia in future!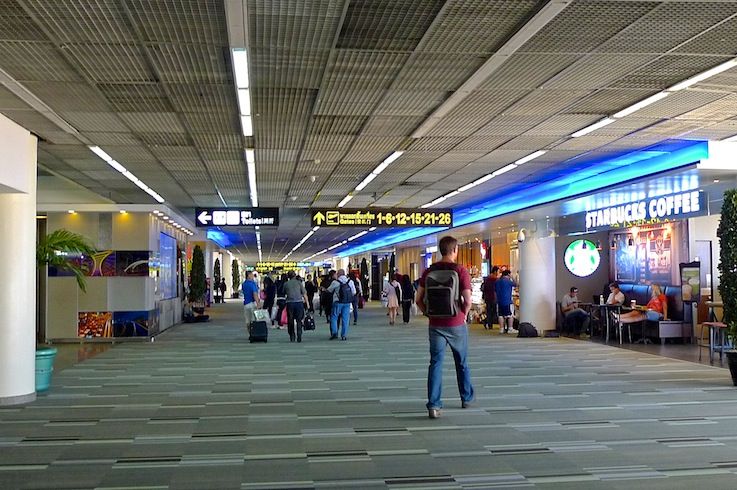 However, the good thing about this airport is that it's not crowded, so that's a plus point. But then again, there's not many shops around.
Look at Ronald doing the
wai
: )
My friend and I did our rounds of duty free shopping but came out empty handed LOL!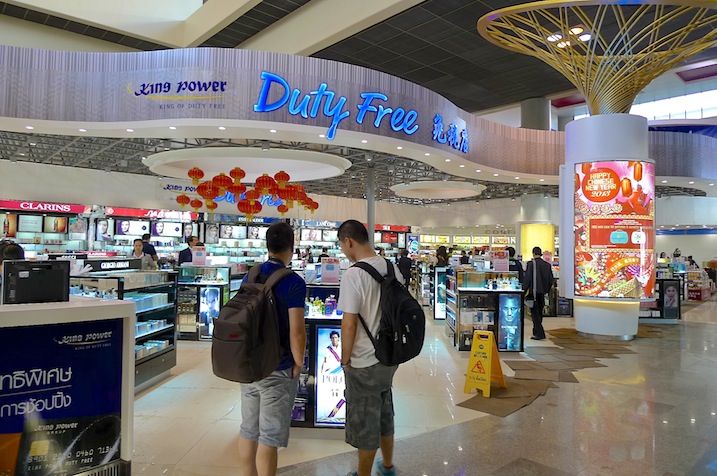 Oh they have 'rooms' for you to stay overnight! : )
Left with nothing much to do while waiting for our flight, we took pictures of planes. Haha!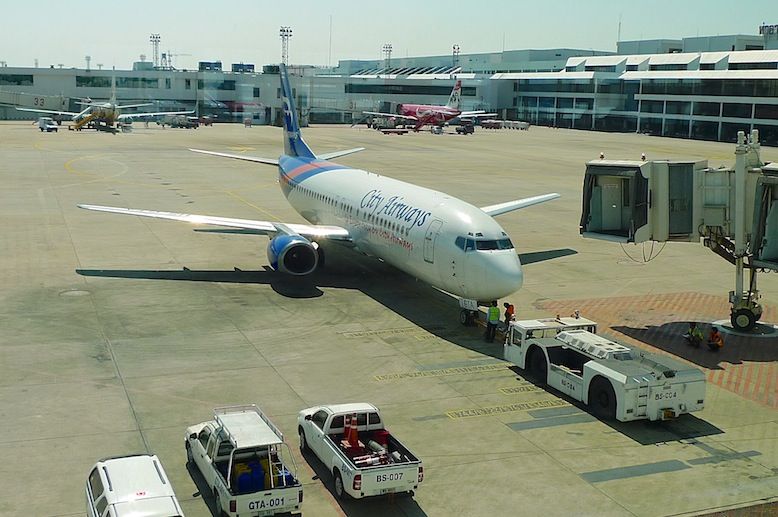 Do you know that last time I did not realize that planes cannot reverse themselves? I mean, the pilot cannot move the plane backwards, so you need a vehicle in front to push it.
Oh, our AirAsia plane has landed! It's time to go!!
Good bye Bangkok!! Hope to see you again!
If you miss some of my Bangkok 2013 posts, here is the complete list in chronological order…
1.
Landing At Don Mueang International Airport
2.
Bangkok Loft Inn : My Favorite Hotel In Bangkok!
3.
My Breakfasts At Bangkok Loft Inn
4.
The Erawan Museum In Bangkok (Part 1)
5.
The Erawan Museum In Bangkok (Part 2)
6.
The Erawan Museum In Bangkok (Part 3)
7.
My Lunch At Soi Polo Fried Chicken
8.
My Visit To Asiatique The Riverfront In Bangkok
9.
Eating Roasted Duck At Prachak Pet Yang
10.
Yummy Coconut Sticky Rice With Durian At Boonsap Thai Desserts!
11.
My Visit To Wat Arun (Part 1)
12.
My Visit To Wat Arun (Part 2)
13.
Double Dogs Tea Room In Bangkok's Chinatown
14.
An Evening Stroll Along Yaowarat Road In Bangkok's Chinatown
15.
R & L Seafood Restaurant At Soi Texas
16.
Waraporn Salapao At Robinson Bangrak
17.
The Rabbit Card And Mall Hopping In Bangkok