It was my first time visiting
Yaowarat Road
famously known as
Bangkok's Chinatown
.
My Filipino blogger friend
Ishmael Ahab
and I had been searching for this place called
Double Dogs Tea Room
along Yaowarat Road. What a relief when we finally found it!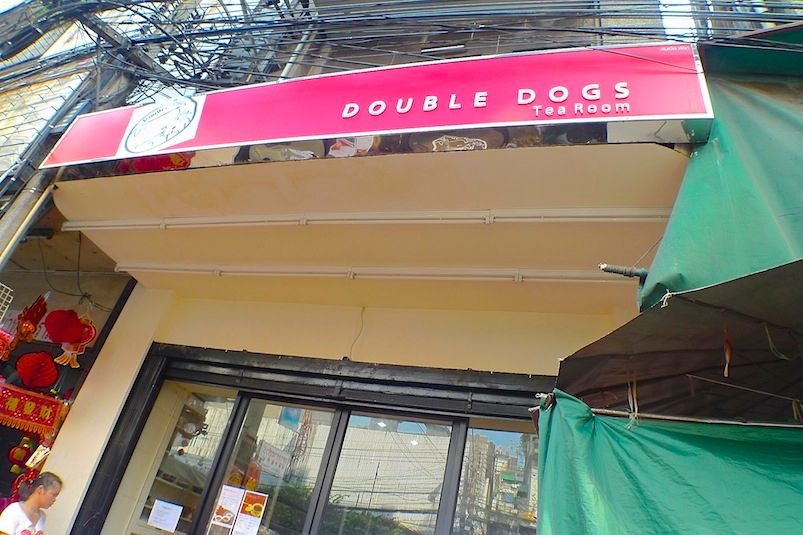 We were hungry and thirsty after climbing up that amazing
Wat Arun prang
earlier in the morning. My initial plan was to have our lunch at an eatery called
Ree Ree Khaosan
nearby Wat Arun. But we ended up having our lunch at
Double Dogs
in Bangkok's Chinatown instead.
So what made us changed our plan? Read on...
From Wat Arun, we walked to locate Ree Ree Khaosan. This is the small lane behind Wat Arun we passed through on the way.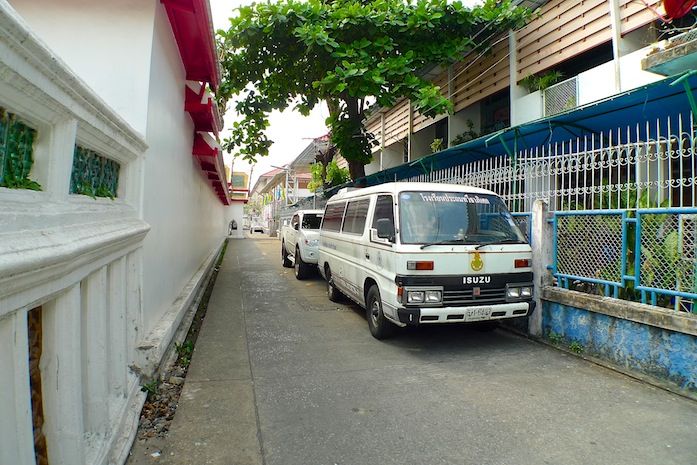 After walking a short distance, we reached this area.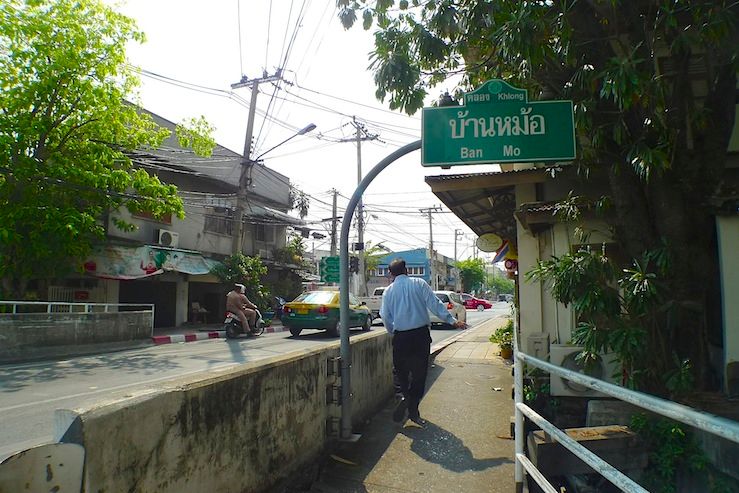 I spotted the Ree Ree Khaosan signboard in front and was excited!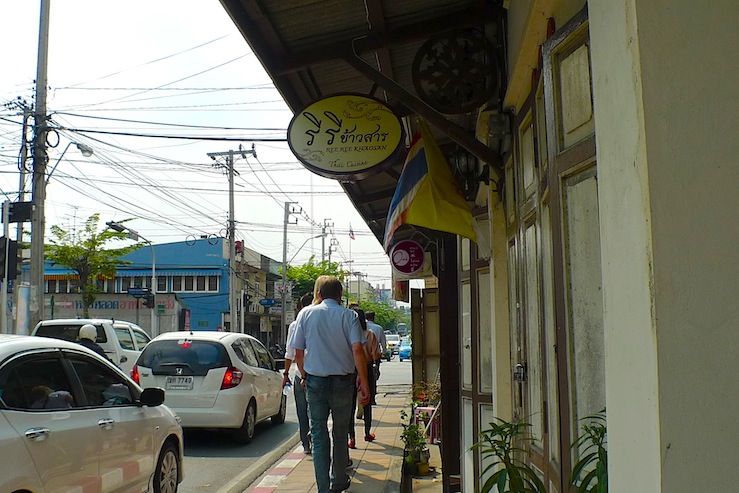 Unfortunately, to my greatest disappointment, the eatery was closed! NO!!!!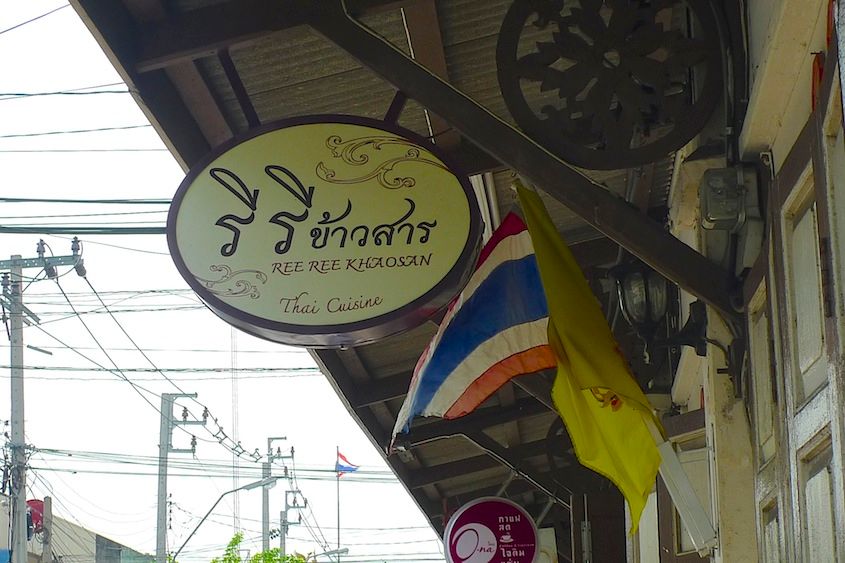 Not closed down, but just closed for the day. Or perhaps closed during that hour, although that would be weird as it was lunch time. Well, what to do? We were not aware of any other eateries around there, so we got back to the jetty in front of Wat Arun, took the boat and crossed the river to the
Tha Tien Pier
opposite.
On the Tha Tien Pier opposite. Good bye, Wat Arun!
At the Tha Tien Pier, we took the orange flag boat to
Ratchawong Pier
or
N5
. From the pier, we walked up
Ratchawong Road
and turned right into
Yaowarat Road
.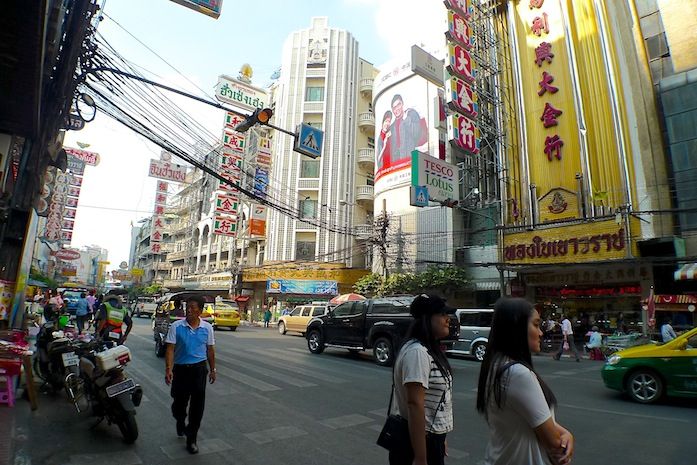 Yaowarat Road is actually a very long road in the heart of Bangkok's Chinatown. It's a very busy road indeed with shops and stalls lining up at both sides.
If you are uncertain of your whereabouts, the fruit stalls and the red lanterns are sure signs that you have arrived at Bangkok's Chinatown!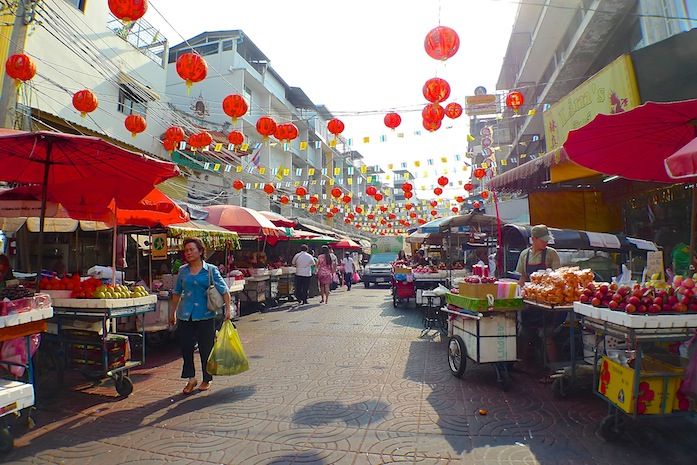 We walked quite some time along Yaowarat Road searching for the Double Dogs Tea Room. There were many people and it was quite hot.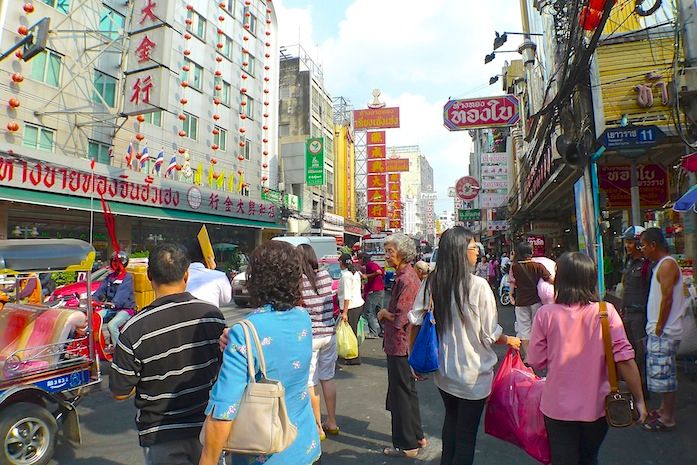 And then we saw it! YES!!!
Hungry and thirsty, the sight of this air-conditioned cafe or tea room as they called it, was a huge welcome!
Stepping inside, I immediately felt the respite from the heat and noise outside. The place was clean, and quite cosy.
I took a look at the list of beverages behind the counter. A cup of hot coffee for only 55 baht (US$1.75)? That's very reasonable!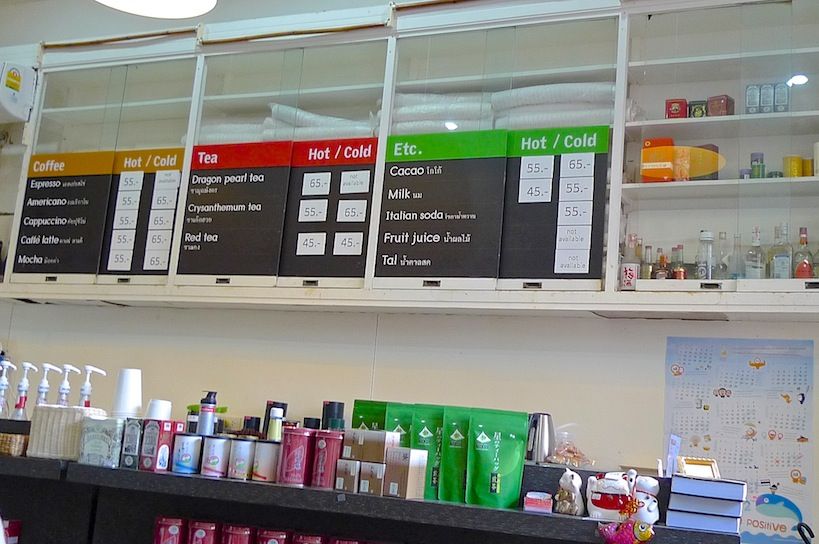 Despite priding themselves with serving fine selections of tea from China, Japan and Sri Lanka, the Double Dogs Tea Room also offers fruit juice, soda and beer.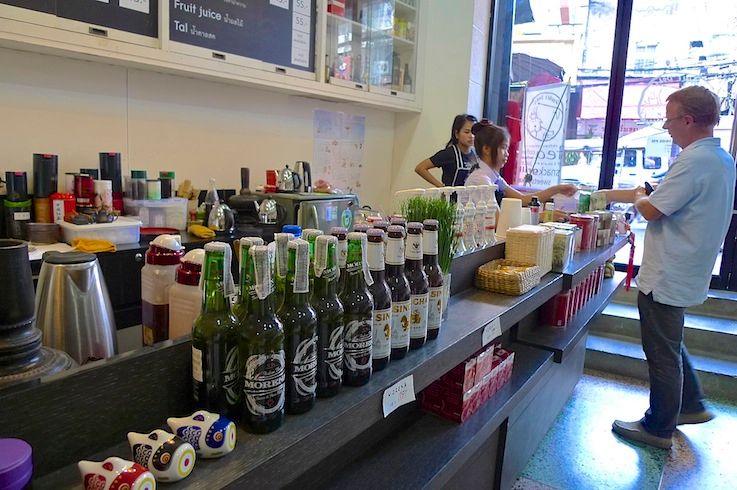 The simple, long wooden tables and bench reminded me of some kind of organic food restaurant setting back in Malaysia. Sorry cannot show a photo of the long table and bench because Ishmael is in it and like me, he values his privacy : )
Ishmael and I made ourselves comfortable sitting at the table near the glass door so we could watch the world outside go by.
I also noticed what looked like a small book shop at a corner of the shop here.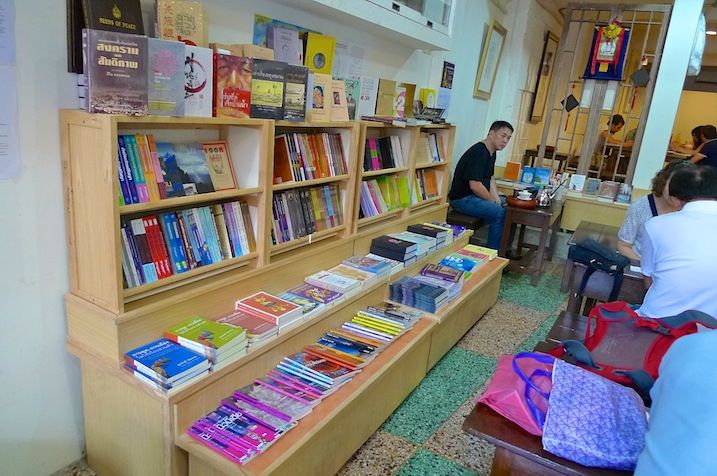 I went to check out the books and found them to be mostly inspiring books about Buddhism, about life and even about happiness. They were in Thai and English languages and some in Mandarin.
Look at a book I picked up. See the title? Talk about Double Dogs! LOL!!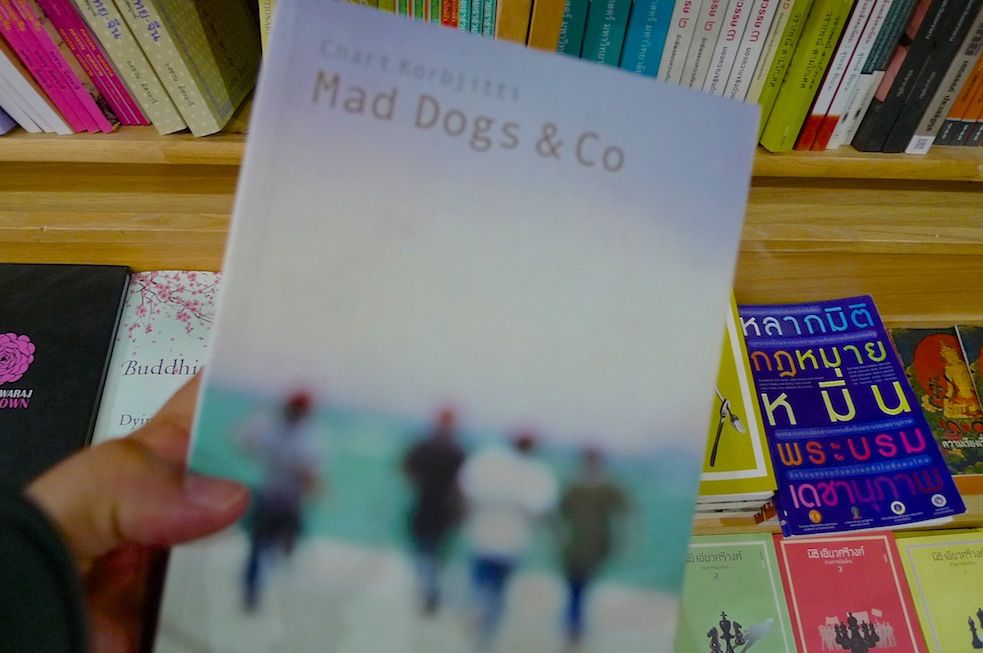 OK, enough about the tea room. Let's talk about what did we eat and drink. We flipped through the Double Dogs menu booklet.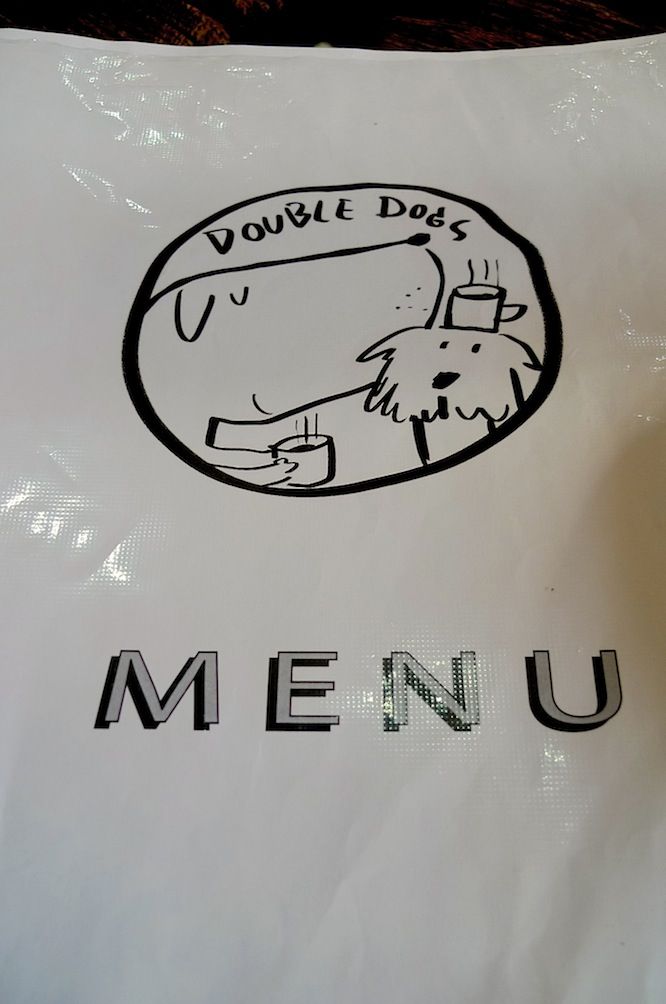 What? They sell moon cakes? It's not even Moon Cake Festival at that time!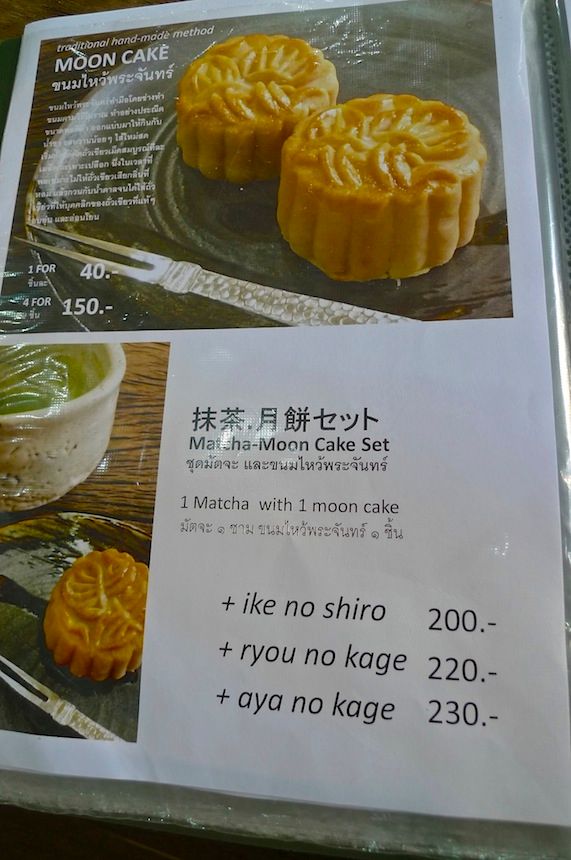 Anyway, these were what we ordered.
First, a glass of cold
Bloodhound Beer
for each of us. I guess we were just not in the mood for tea.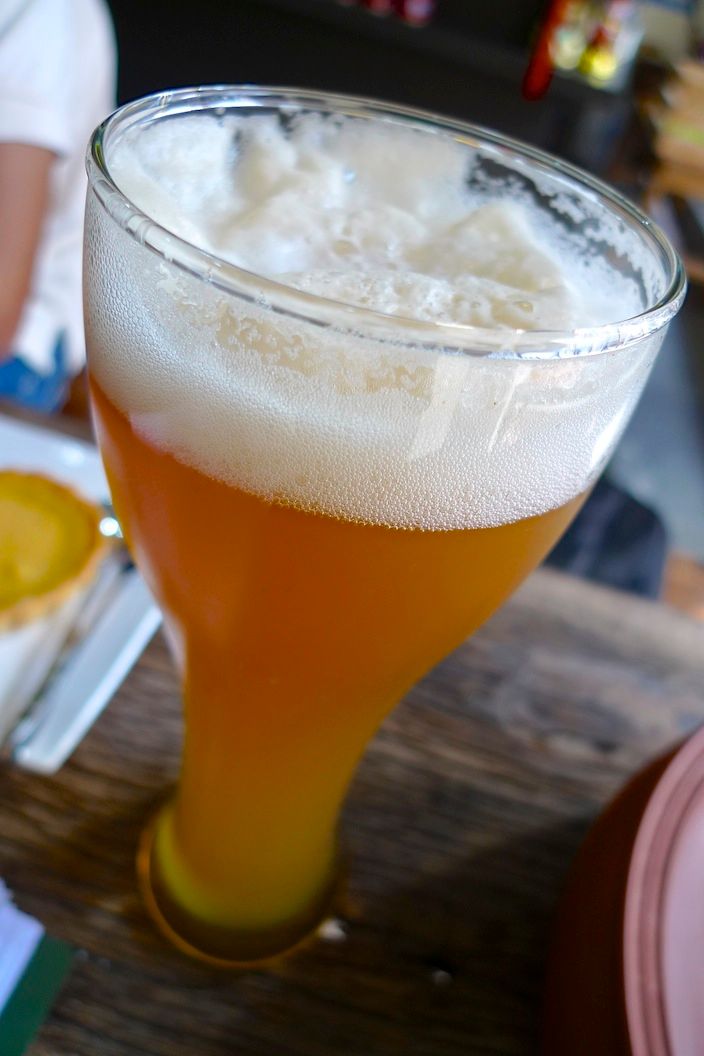 85 baht (US$2.70 / RM8.60)
The menu stated this beer as "our beer-mixed that you find nowhere". Honestly, I did not find anything unique about this beer. It's just like any other beer out there. Perhaps I should try their tea next time. Having said that, the Bloodhound Beer was refreshing and provided me much comfort from the heat outside.
Next, we each ordered the
Egg Noodle with shrimp wonton and barbecued pork
.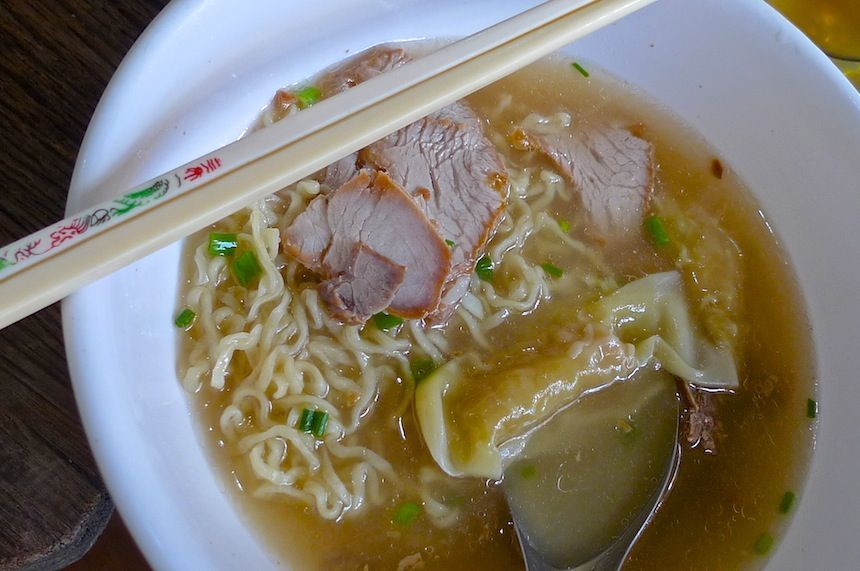 55 baht (US$1.75 / RM5.60)
The egg noodle was not bad, but certainly not the best that I have tasted.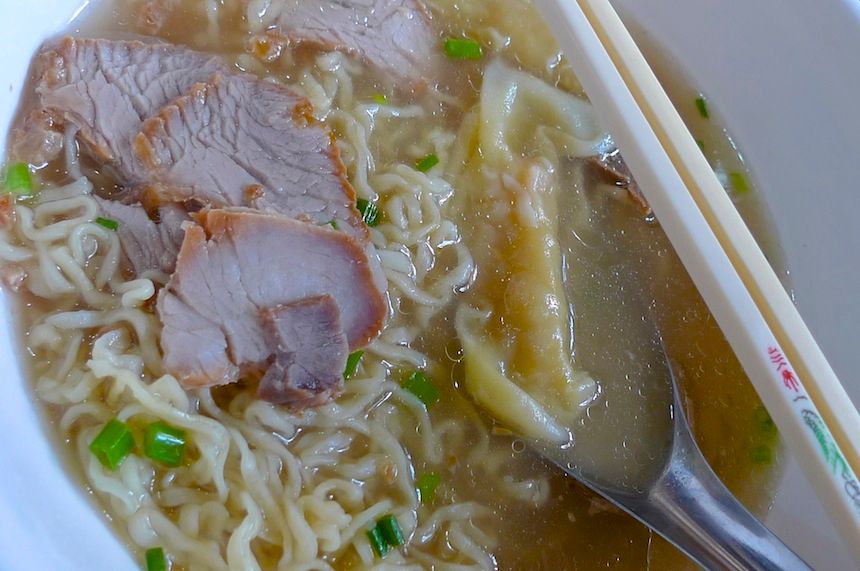 With the main meal taken care of, it's time for some desserts! I was well aware that we just had
sticky rice with durian at Boonsap Thai Desserts
that morning but it was afternoon then and well, we needed to satisfy our sweet tooth haha!
So we shared a home-made cake and a home-made Kulfi ice cream.
The cake is actually a lemon tart by the name of
tarte au citron
.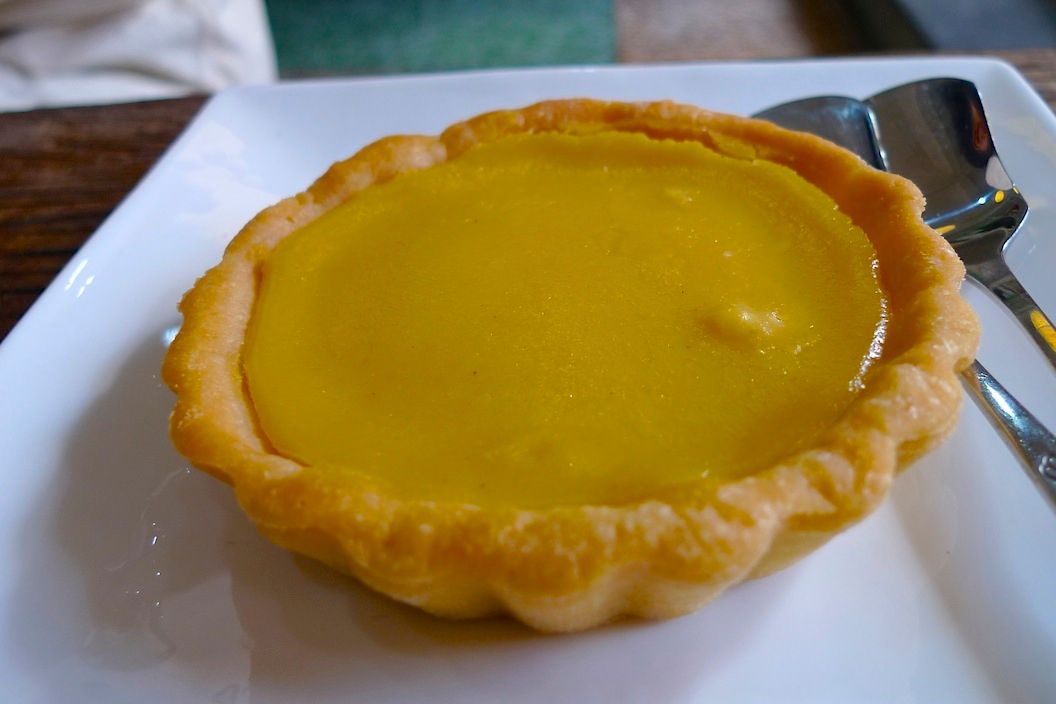 85 baht (US$2.70 / RM8.60)
It was yummy! Maybe I should have ordered the whole tart for myself LOL!
I have to say however, that the home-made
Kulfi ice cream
was the best thing I had at Double Dogs! Made from fresh fruit, it had a very unique taste (I do not know how to describe it) and was very delicious!!
85 baht (US$2.70 / RM8.60)
There were actually 3 flavors to choose from -
Tradition
(ten spices and scent of Orient),
Dance Of Orient
(spices and 23 years aged Guatemala rhum), and
Mixed Fruit
. Both Dance Of Orient and Mixed Fruit contain alcohol. We chose Tradition.
If I ever return here in future, I will definitely order this Kulfi ice cream again! And it will be all mine, definitely no sharing allowed! LOL!
Ishmael and I spent some time here relaxing and chit chatting before deciding our next move, which was to walk around Chinatown. There was a handy map of Chinatown on the wall just next to our table, so I went to have a look. Can you see the location of Double Dogs?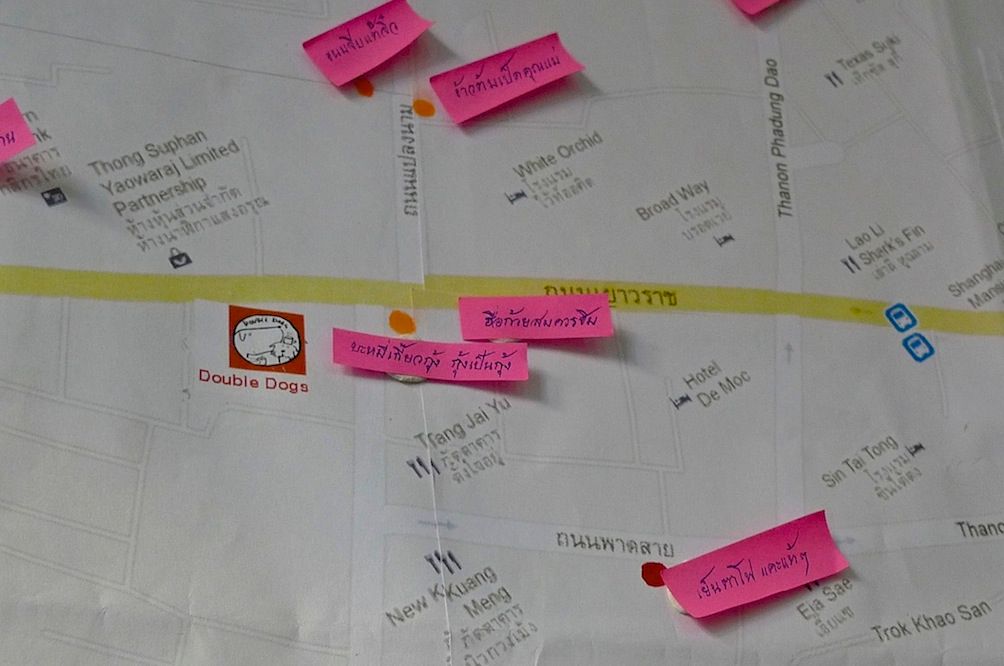 Our total bill came to 450 baht (US$14.25 / RM45.70) which was pretty reasonable.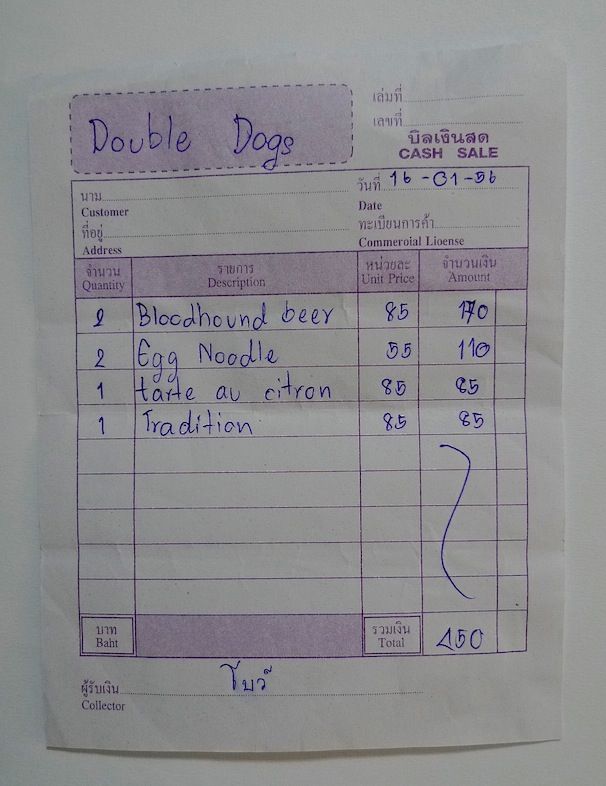 I have not been to enough cafes in Bangkok to say this, but I really think Double Dogs Tea Room is definitely one of the best! If you need a place to relax in the midst of the bustling street of Bangkok's Chinatown, Double Dogs Tea Room is your best bet!
Double Dogs Tea Room
406, Yaowarat Road, Bangkok
Tel : (086) 329 3075
Email : doubledogstearoom@gmail.com
Opens daily 11am -10pm, except Mondays
Directions
: From Ratchawong Pier (N5), walk along Ratchawong Road, until you reach Yaowarat Road, turn right and walk for about 200 metres. Double Dogs Tea Room will be on your right.