After searching around
Yaowarat Road
in Bangkok's Chinatown for our dinner,
Ishmael
and I settled on
R & L Seafood Restaurant
located at
Soi Texas
(also known as
Soi Phadung Dao
).
I have no idea why they called it Soi Texas, but the interesting thing is on one side of Soi Texas is the
Red Shirts
while on the other (directly opposite) is the
Green Shirts
. Yes, two rival seafood restaurants battling it out -
T & K Seafood (Green Shirts)
vs
R & L Seafood (Red Shirts)
.
Both restaurants were crowded with people. So which to choose? We chose Red Shirts. No particular reason. I just felt more comfortable with red color. LOL!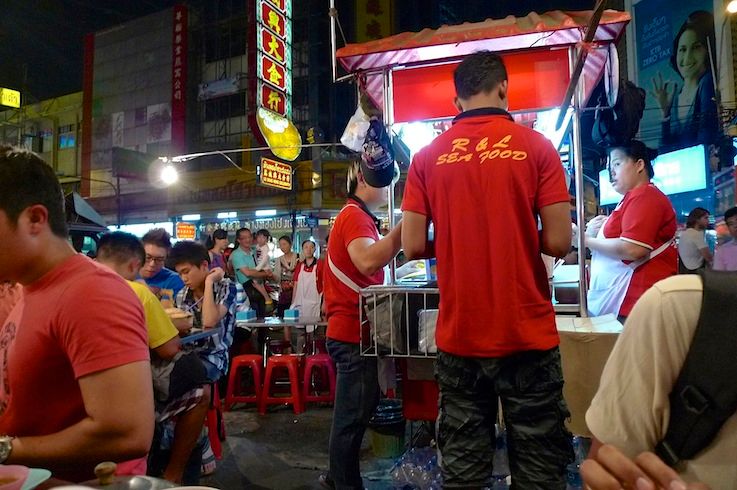 Although there were air conditioning inside the restaurant, we chose to sit outside
al fresco
style by the street side. As you can see, the waiters all wear red colored shirts, hence the name Red Shirts.
The menu is tourist-friendly as it comes in both Thai and English language with pictures of the food, so choosing what to eat here poses no problem at all.
As there were only two of us, we could not order too many dishes. This is one reason why I prefer to go in a big group for dinner. (but only for dinner, or lunch - definitely not for sightseeing). In this way, we can order more and try all the different dishes.
Anyway, we ordered these
grilled prawns
.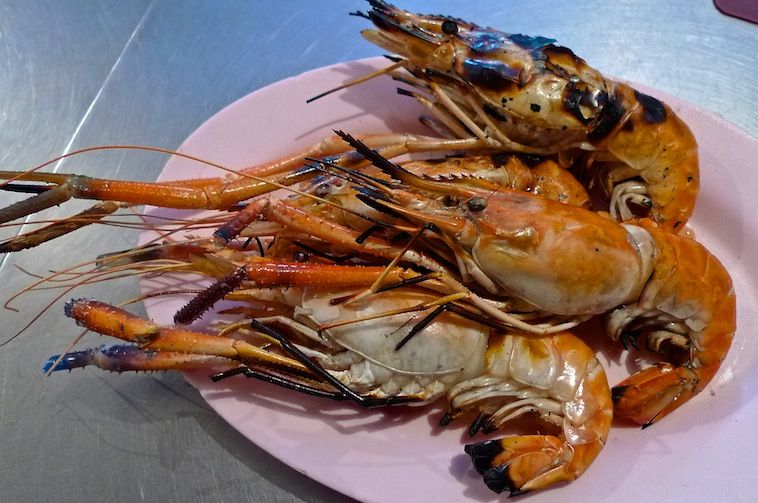 Grilled Prawns (4 pieces) - 150 baht (US$4.75 / RM15)
The prawns were big and the meat were so fresh and springy! We dipped the meat into the two different sauces provided. Simply lip smacking!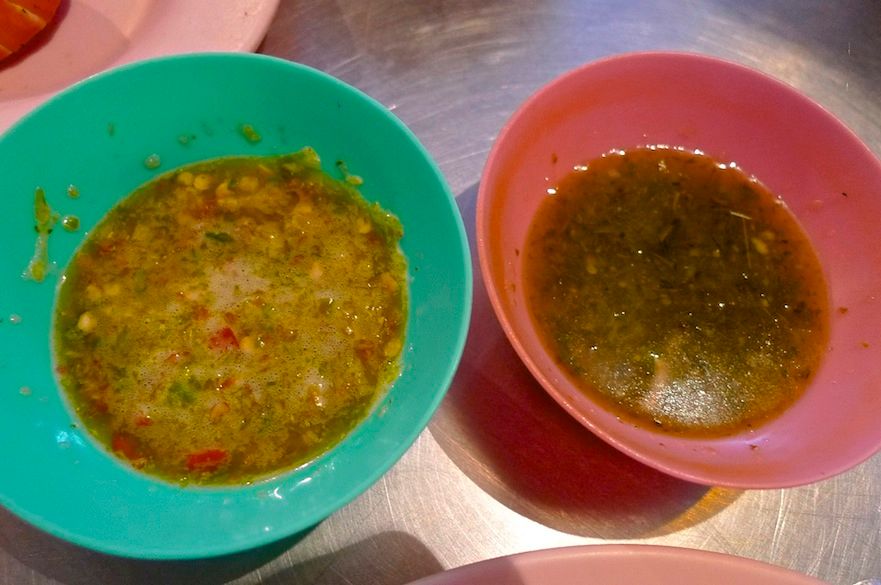 We also ordered a bowl of rice each and the
tom yum goong mix
.
Tom yum goong mix - 200 baht (US$6.30 / RM20.10)
The tom yum goong was delicious with squids, prawns, fish and other seafood inside what looked like a steamboat.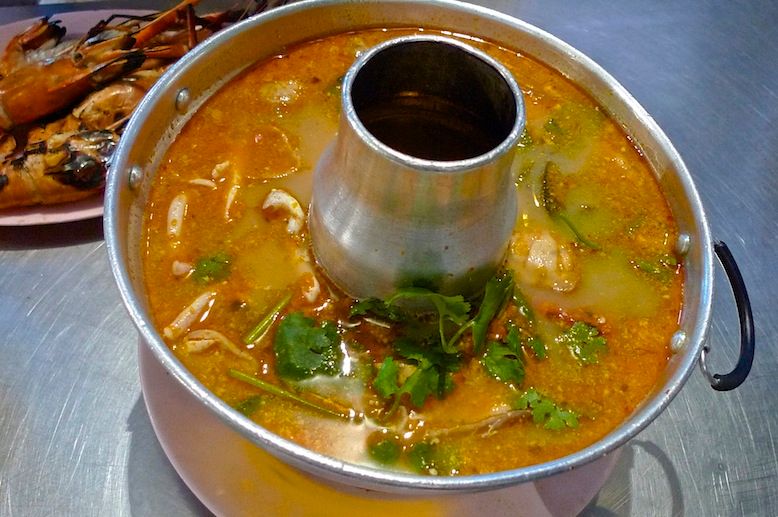 I even filled my bowl of rice with the tom yum soup and its ingredients! So yummy!!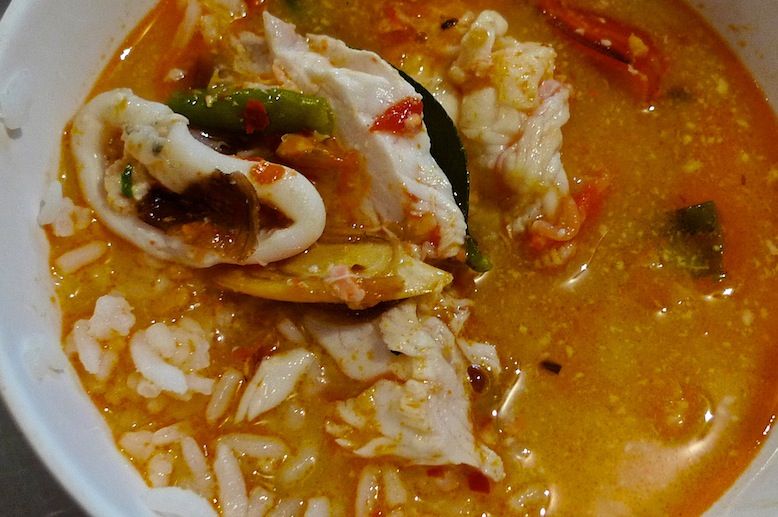 I had wanted to order those tasty grilled prawns again but I decided not to as I felt pretty full already. Besides we also ordered a dessert each in the form of
bird nest - gingko in coconut
.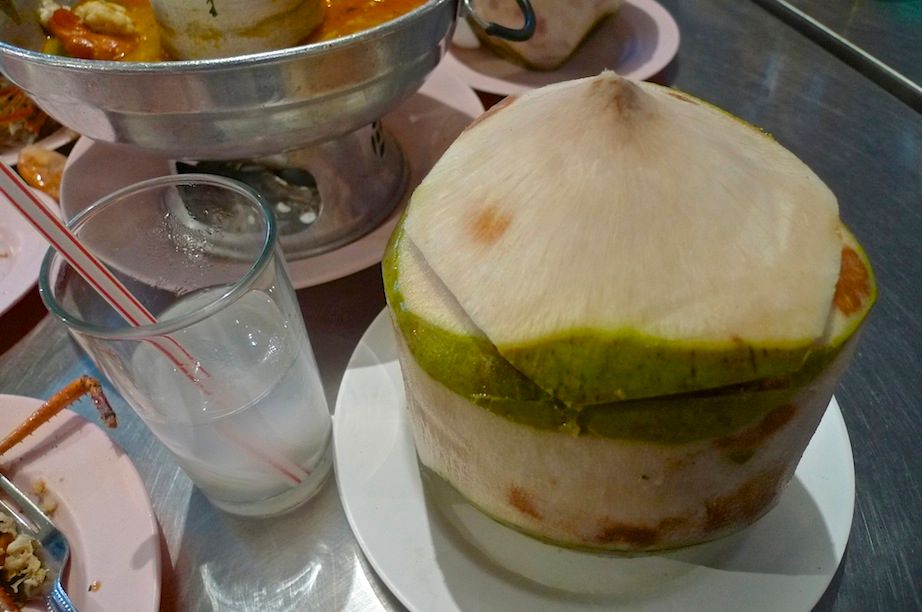 Since the coconut itself was filled with bird nest and gingko, the extra coconut water was placed in a separate glass. This dessert was delicious!
Bird nest - gingko in coconut - 250 baht (US$7.90 / RM25.15)
I had no regrets eating here. The food were fresh and of high quality and the price was reasonable. By the way, R & L actually stands for Rut & Lek.
I will definitely return here in future to try their other dishes and to re-order that grilled prawns!! Oh wait … maybe I should cross over to the Green Shirts next time! Then at least I can make a comparison right? Now who wants to join me? : )
R & L Seafood
Soi Phadung Dao,
Yaowarat Road, Bangkok
Directions
: From Ratchawong Pier (N5), walk along Ratchawong Road, until you reach Yaowarat Road, turn right and walk for about 10 minutes. R&L Seafood (and rival T&K Seafood) is located on your left, at a street corner intersection of Soi Phadung Dao (Soi Texas) and the main Yaowarat Road.