After our late lunch at
Double Dogs Tea Room
, my Filipino blogger friend
Ishmael
and I went for a leisure stroll along
Yaowarat Road
.
I think it was about 5pm when we left Double Dogs, so we were also thinking of looking for a good place for dinner.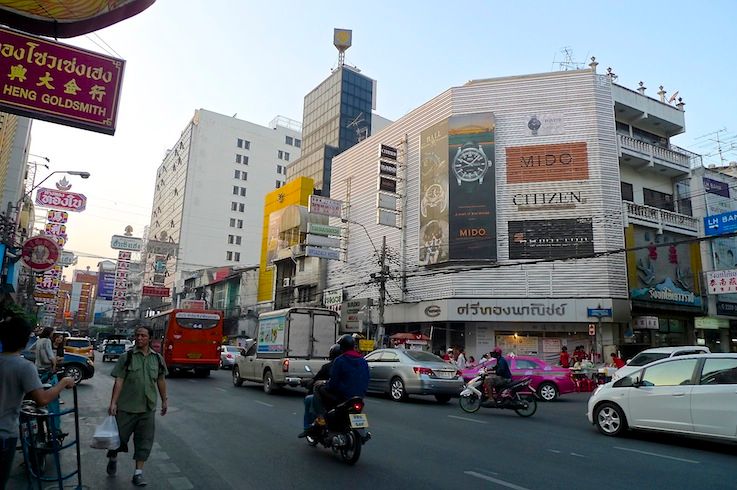 Yaowarat Road is part of Bangkok's Chinatown that covers a wide area including Charoen Krung Road, Songsawat Road, Mungkorn Road and more.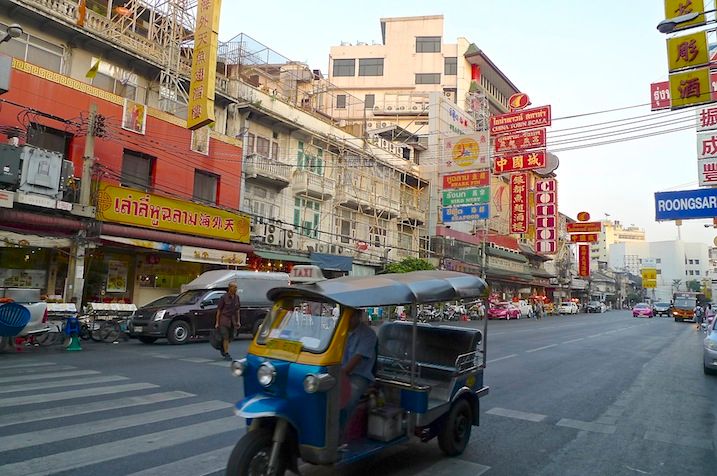 Yaowarat Road is very long and has the shape of a curvy dragon, thus it is not surprising that many Thai-Chinese businessmen set up shops here due to the good
feng shui
.
It is well known for its wide variety of food and turns into a large food street at night, attracting locals and tourists alike.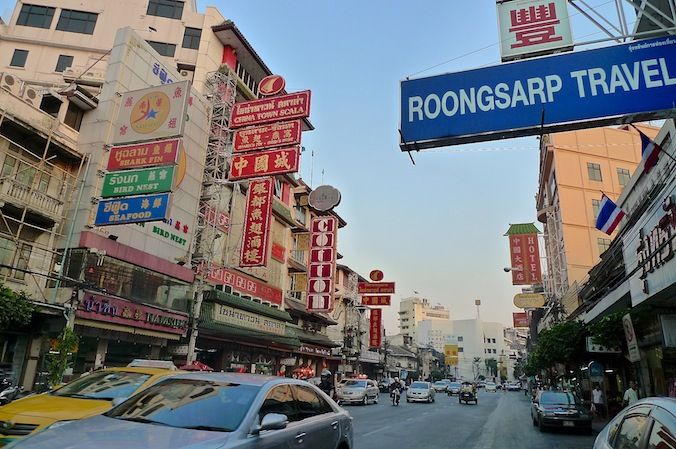 We walked past this
China Town Scala Restaurant
which specializes in sharks fin. No, we did not go in. I can just imagine people throwing hate comments at me if I were to blog about eating sharks fin LOL!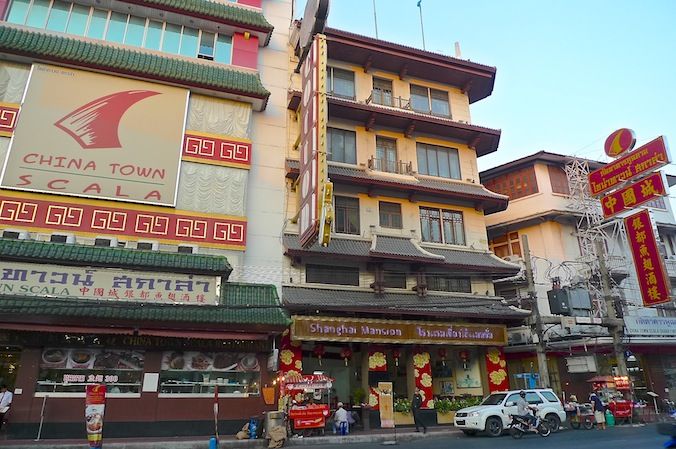 Next to Scala Restaurant is the
Shanghai Mansion
hotel and the
Cotton Jazz Bar
which I heard is pretty popular during the night. Maybe I will visit this jazz bar next time I return to Yaowarat.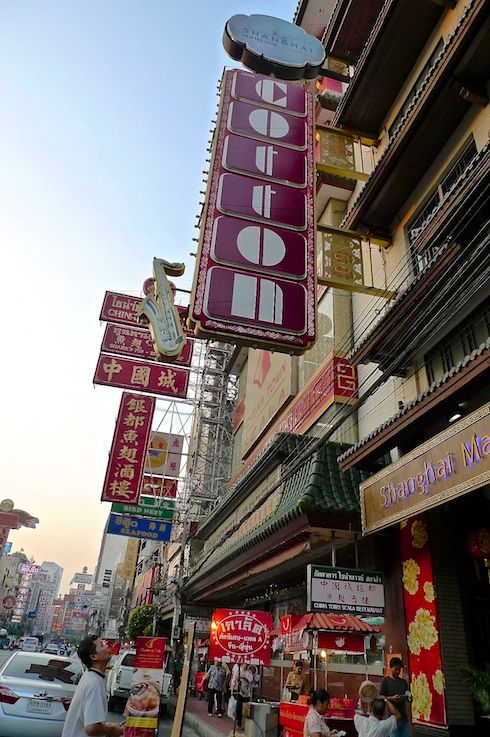 We also walked past this
China Town Hotel
with its unique roof.
Fancy staying in this hotel? Perhaps it's a good hotel to stay in if all you wanna do in Bangkok is to enjoy the gastronomic feast in Chinatown from morning till night. In fact, staying in a hotel in Chinatown is a wise decision if you plan to eat till wee hours of the morning!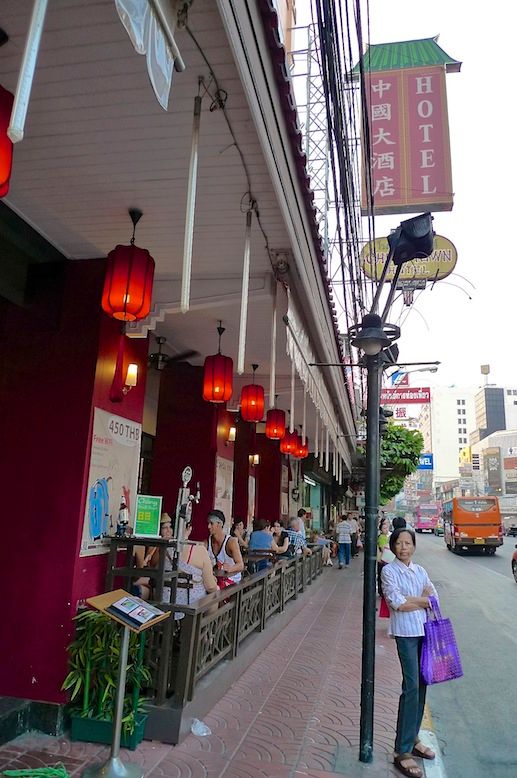 Although we walked mainly along Yaowarat Road, sometimes we would veer off to other smaller roads or lanes. Can't remember which lane this was, but I think we were here trying to search for a shop selling
khao moo daeng
or red pork with rice.
Unfortunately, we were unable to find it. Anyone knows a good eatery selling red pork rice in Bangkok's Chinatown? Do let me know please.
Instead, we came across this shop selling Chinese decorations and lucky charms. Now that's very characteristic of Chinatown!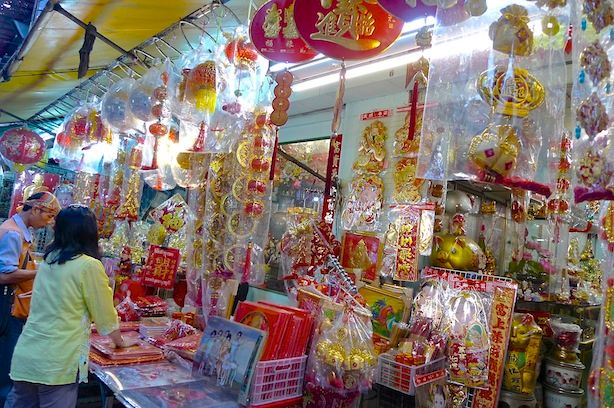 We did not have time to visit the famous
Sam Peng Market
but I will most likely do that the next time.
We passed by a stall selling fresh pomegranate juice and I just had to get one bottle!
Still remember I drank the pomegranate juice when I got back to my hotel later that night. So delicious and refreshing! Should have bought two bottles instead. LOL.
Read More
>
Drinking Mandarin Orange Juice On The Streets Of Bangkok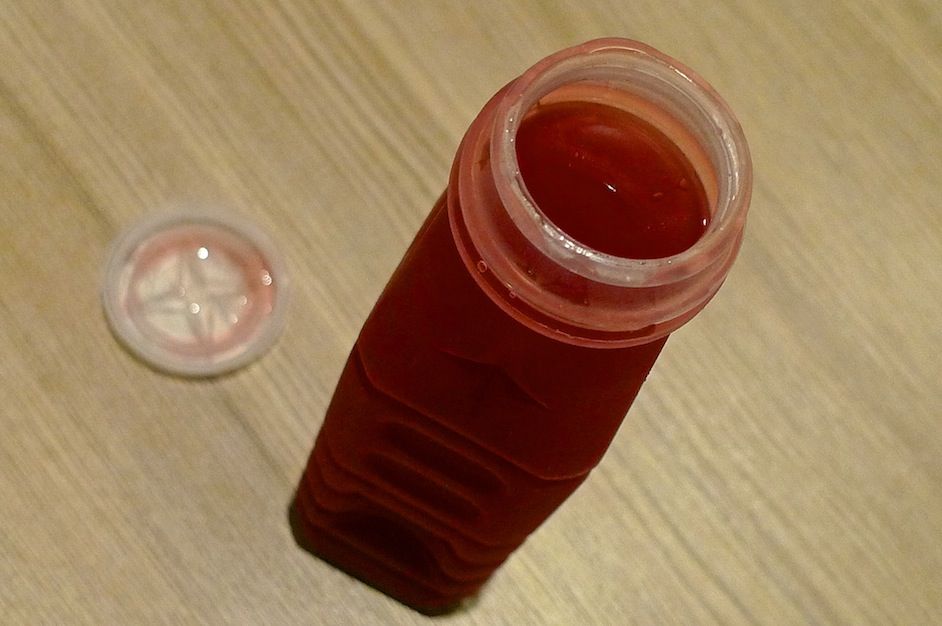 We also passed by this corner restaurant which is very famous in Yaowarat. It's known as
T & K Seafood Restaurant
.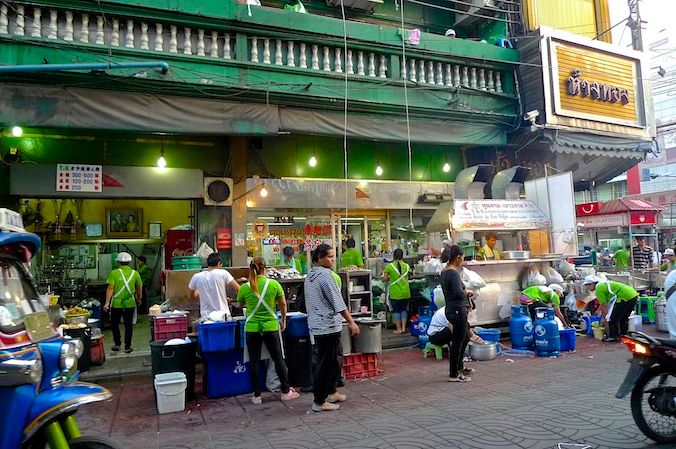 Notice all the workers here wear green shirts? They are sometimes known as "
The Green Shirts
". The restaurant is several floors high and I noticed that the workers actually use a pulley system to deliver the food instead of walking up and down the stairs!
At first, I thought of eating my dinner here but then I later changed my mind and decided to go to their rival "
The Red Shirts
" which is just opposite! Did I make the right decision?
I'm not sure, but don't miss my post about my dinner at the
R & L Seafood
coming up next! : )