Last January, I visited
Bangkok
with a friend for a short holiday. It's my 5th time in this lovely city. We stayed at a boutique hotel called
Bangkok Loft Inn
in the Thonburi section of Bangkok.
My friend and I took a taxi from Don Mueang International airport to our hotel. It costs us 350 baht (USD11.75 / RM35) and took a little more than an hour to reach. The taxi driver did not know the exact location of the hotel so when he told us we had reached the correct street yet could not find the hotel, I thought we were really lost!
Read More >
Landing At Don Mueang International Airport
Fortunately, a lady who was walking past our taxi saw our predicament and asked where we were heading. When the driver told her the name of the hotel, she smiled and pointed to a building ahead of us. It was less than 100 metres away!
And guess what? That lady was one of the staff working in that hotel! LOL!
Checking into the Bangkok Loft Inn was a breeze. The hotel staff were helpful and friendly. I really like them! We were each given a welcome drink, which was nice.
But what surprised me was that they also gave us a map of Bangkok, and pointed out to us the location of the hotel and the nearest BTS Skytrain station. On top of that, they also gave each of us the hotel's name card so that we could show any taxi driver the address and get back safely to the hotel. How thoughtful!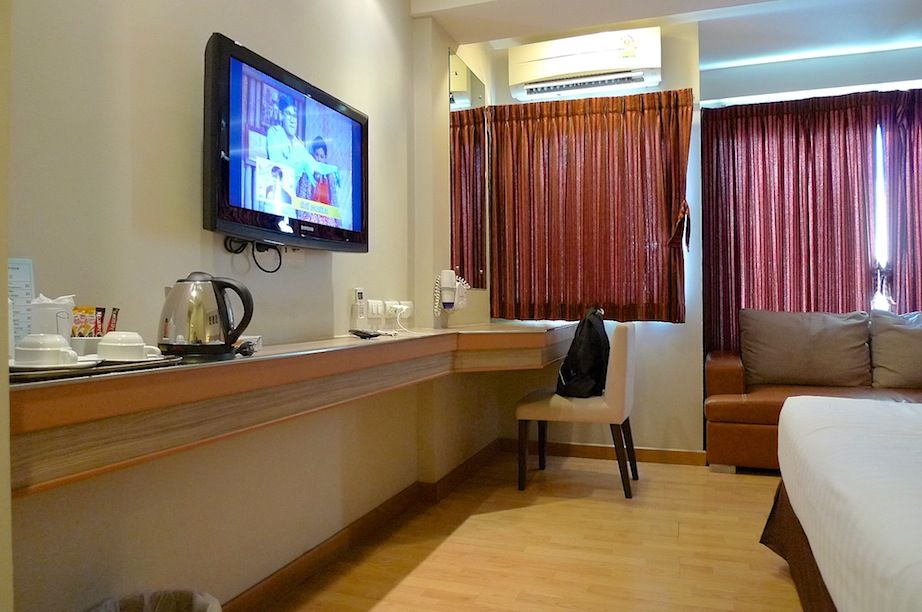 My hotel room (known as Superior Room) was on the third floor of this 4-storey luxurious boutique hotel. The teak flooring made the room appeared airy and spacious. I was glad to see that flat screen TV! Yay! If you must know, I love watching Thai dramas (despite not understanding a word!) and Thai music videos, so a good flat screen TV is very important! LOL!
Read More >
I Love Thai TV And Thai MTV!
No smoking and no durians allowed inside the room or you will be fined 2,000 baht! (USD67.30 / RM202.70)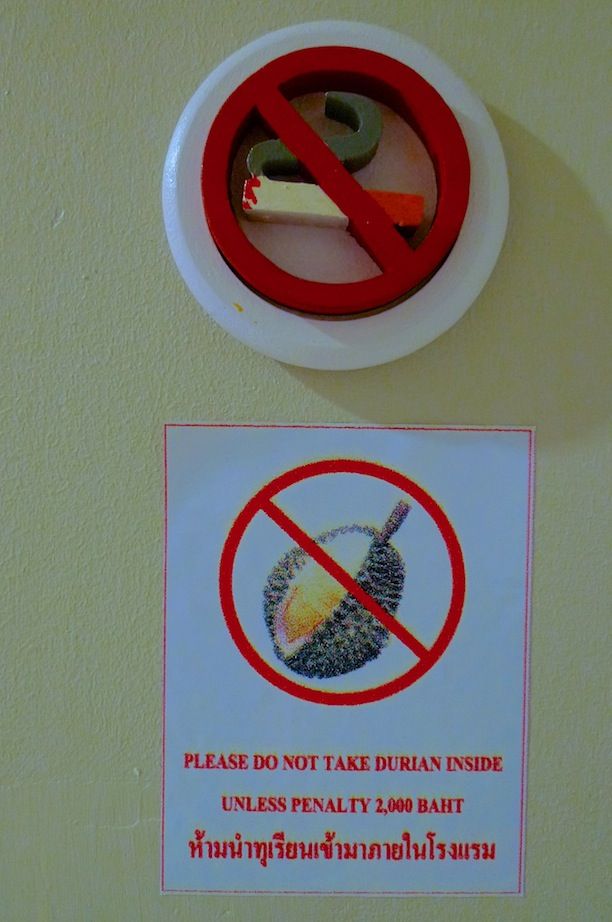 That's pretty strict! Looks like I could not bring back my favorite durian with sticky rice desserts for supper! Oh well, not a huge problem. I can live with that : )
I was satisfied with the amenities in the room. There were extra pillows, a laundry basket, clothes hangers and an in-room safe.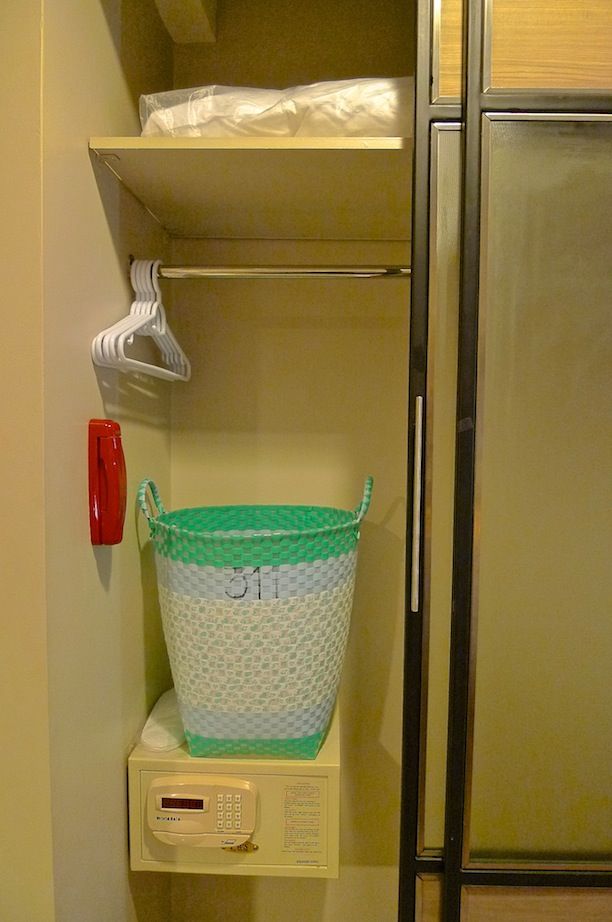 There's a working table and a leather sofa too.
The view of the room from the working table.
The view of the room while sitting at the leather sofa.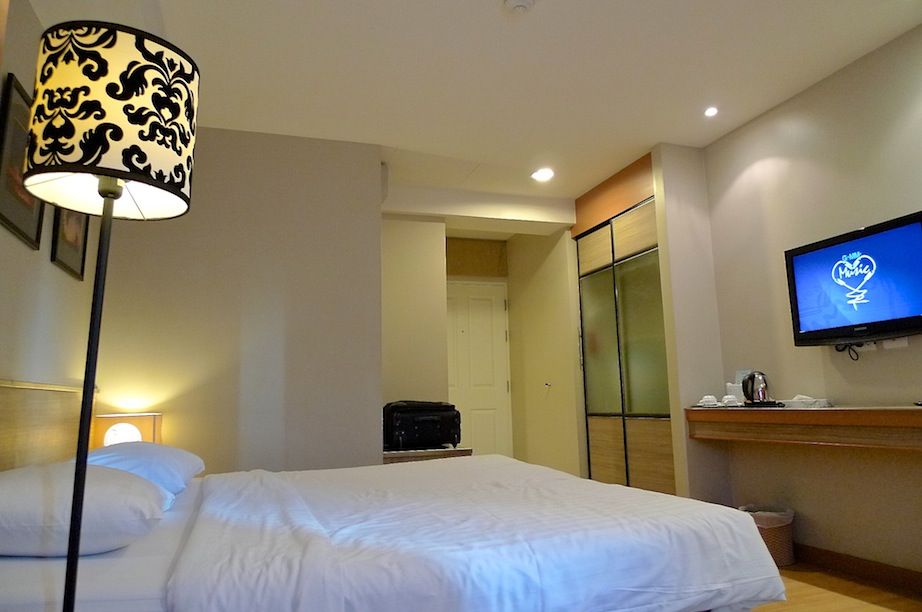 And the view of the 32-inch flat screen cable TV while lying on the comfortable Double Bed. I got to tell you that I enjoyed watching TV - all the Thai dramas and Thai music videos - every night in my hotel room till the wee hours of the morning! Haha!
I also like that they provide a hair dryer outside the bathroom.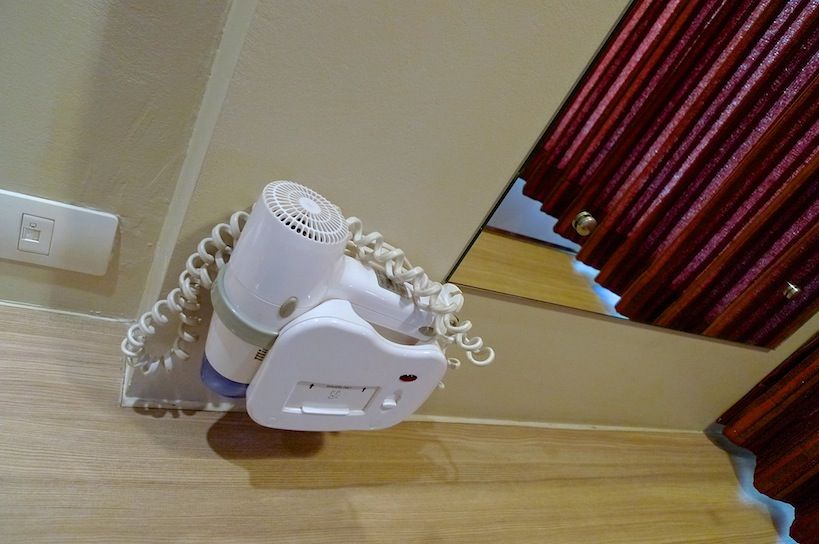 The switches and sockets. Thailand uses a different kind of sockets (compared to Malaysia) so make sure you bring a Universal Travel Adaptor when you visit Bangkok!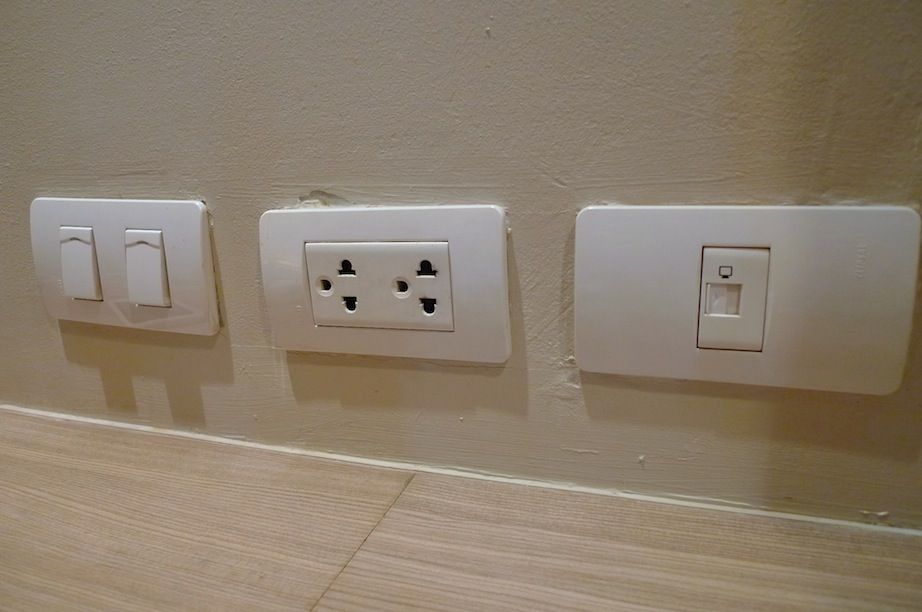 Water boiler and coffee maker.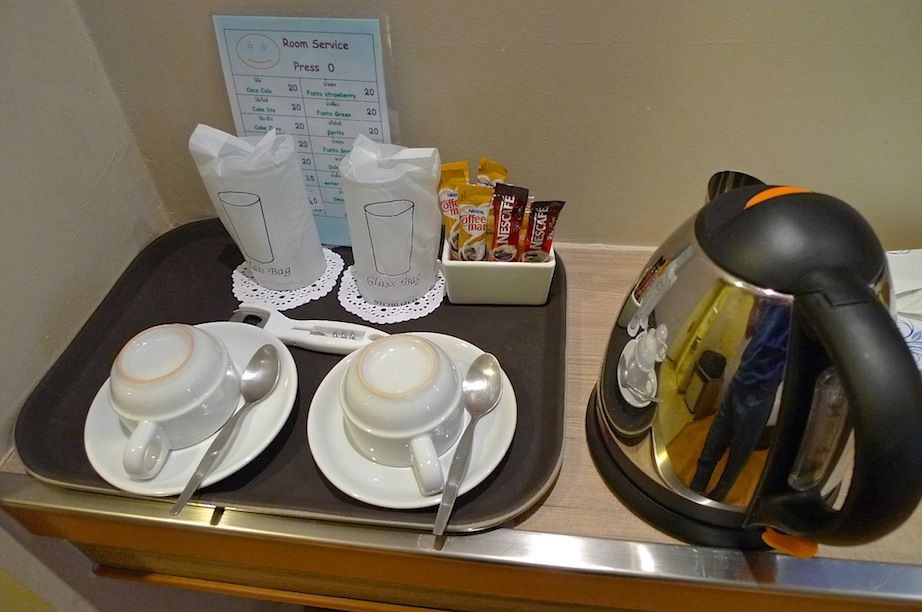 Small bedside table where the telephone and notepad were placed.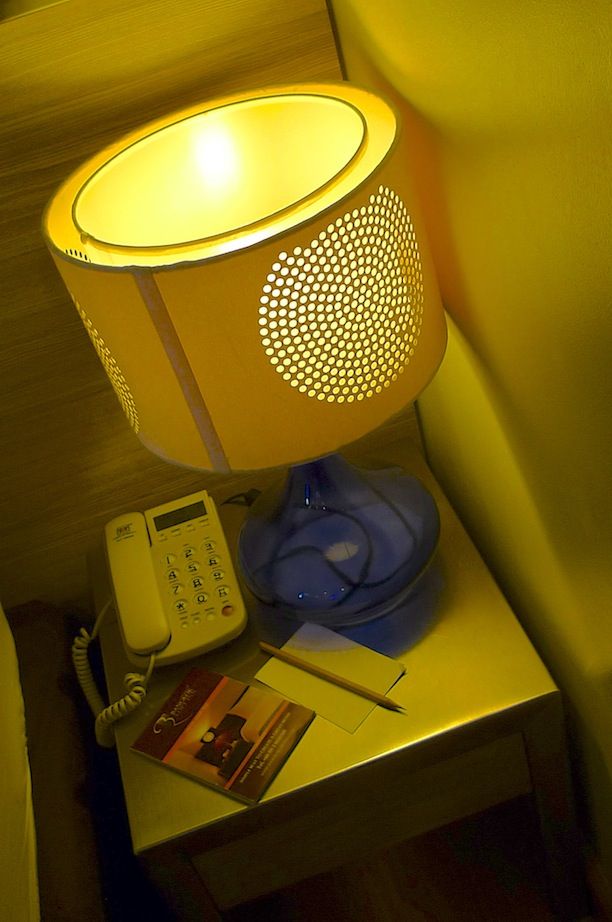 I found some interesting decorative items inside that small glass cabinet on the wall above the leather sofa.
These were the items inside the glass cabinet. I wish I could take them home with me!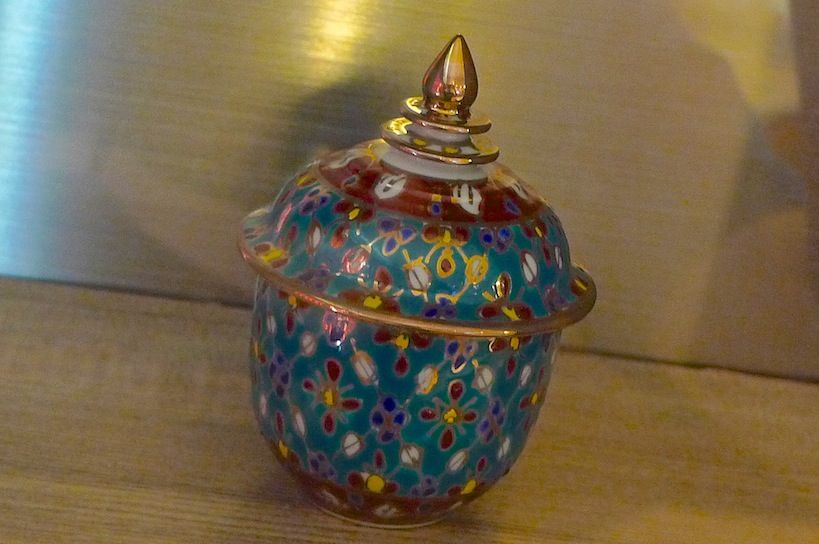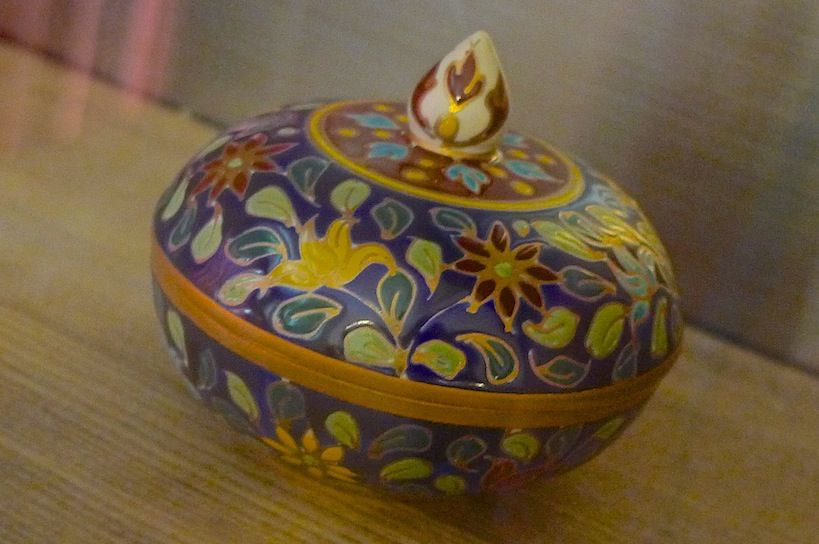 I like the design of the lamp stand and the three pictures hanging on the wall above the bed.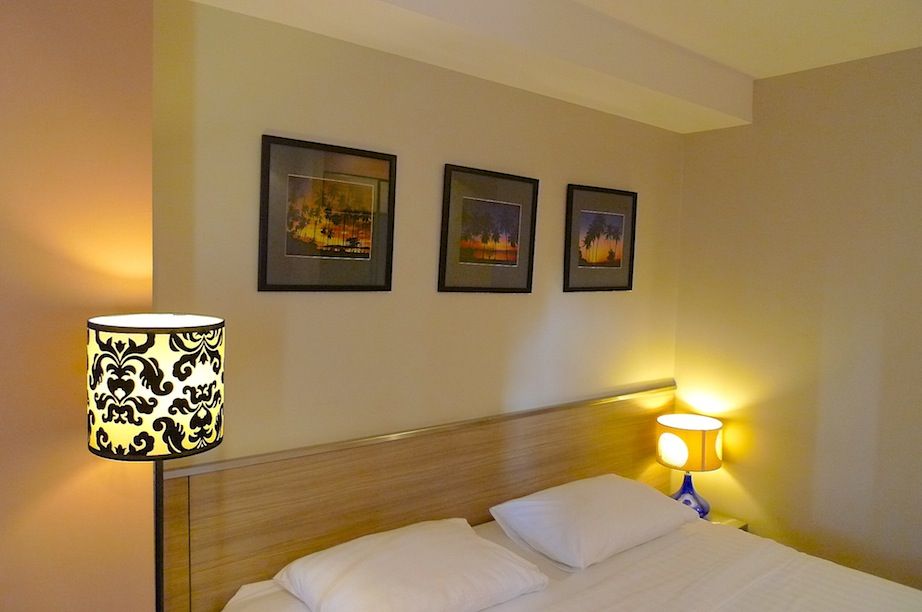 Opening the curtain behind the leather sofa, I could get a nice view of the streets outside.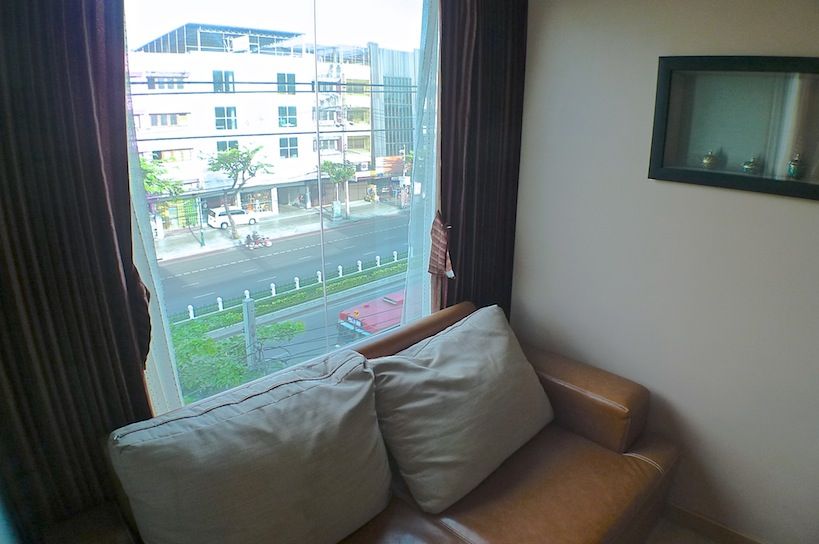 Although it would be nicer if the hotel was taller and not limited to just 4 storeys high. Would be nice staying at a higher floor and have a bird's eye view of Bangkok city.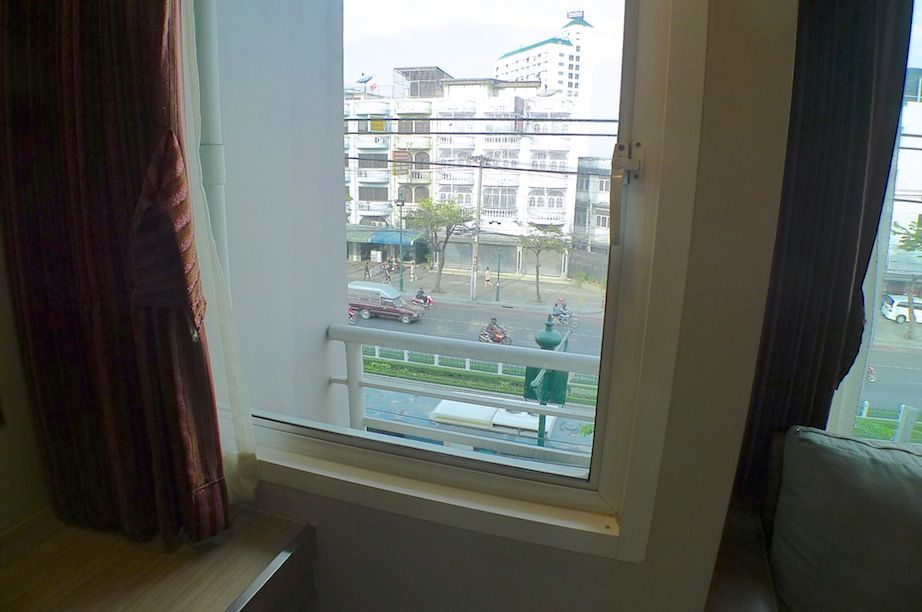 During this trip, I had actually spent some time sitting on this sofa by the window and enjoyed myself reading a good book with a cup of hot coffee. Simply love it!
One of the most important aspect of a hotel room is its bathroom and toilet. For me, it must be clean and everything should be in good working condition. I am pleased to say the bathroom in Bangkok Loft Inn was excellent!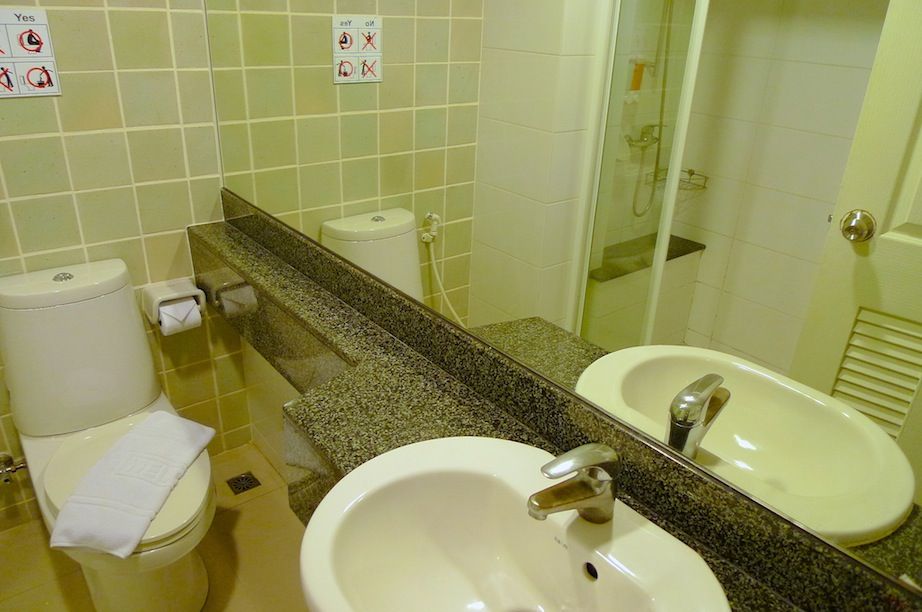 It was clean and tidy. The bath towels were clean. And I like that there's a separate cubicle for shower.
Too bad they did not provide rainforest shower head - that would have made it perfect!
An illustration on the wall to educate hotel guests. I hope no guests would squat with their two feet on top of the toilet bowl - a big NO NO to me!!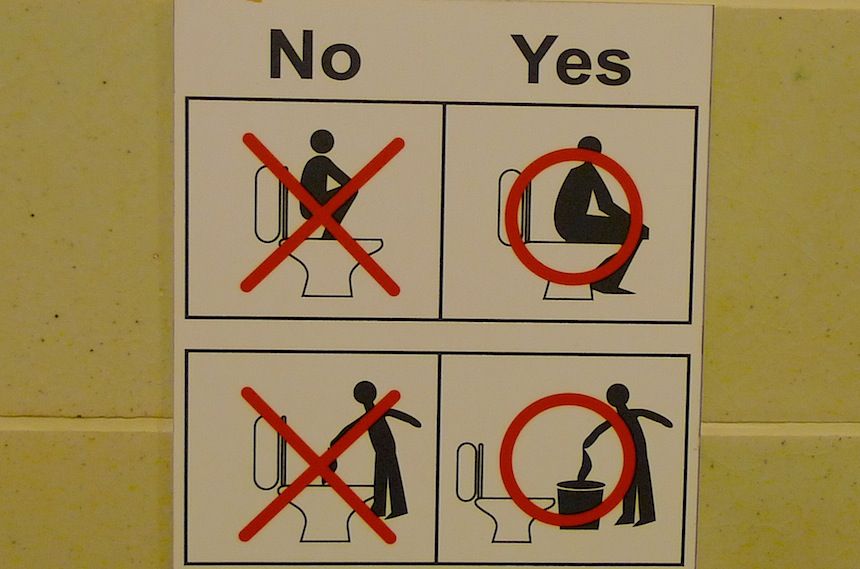 By the way, all the rooms in Bangkok Loft Inn are wi-fi enabled. I found the hi-speed Internet access to be very reliable. It did not fail me during my 4 nights stay - surely another plus point for this hotel!
Bangkok Loft Inn also serves surprisingly delicious breakfasts at its Terrace Restaurant on the first floor.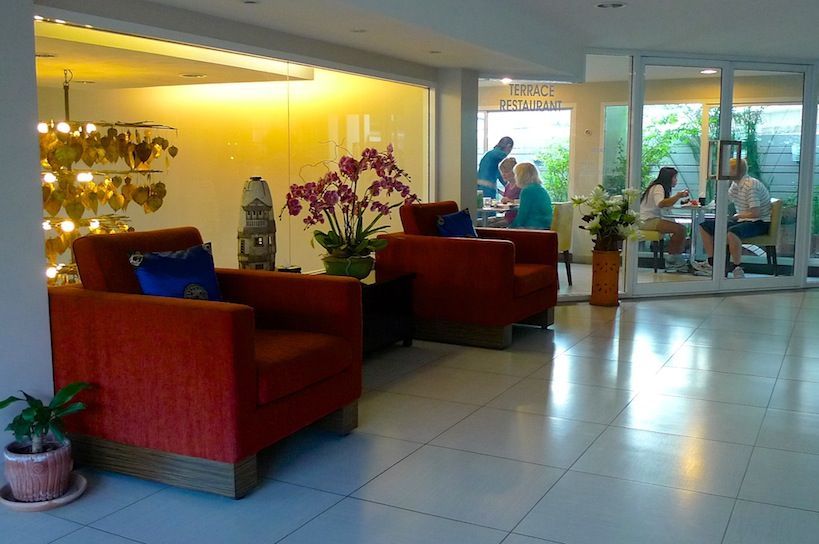 My stay includes complimentary breakfasts which I enjoyed very much! This is the area outside the Terrace Restaurant.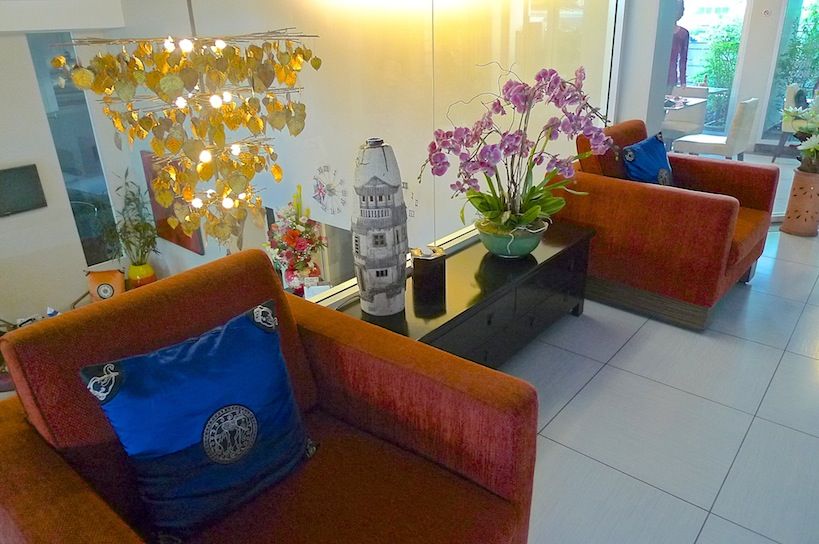 Going down the stairs, I saw a notice board and decided to check it out.
Three cute monks in orange robes beside the wall.
On the notice board, a warning message stood out. This is a very good warning to all guests and tourists especially if you are a first timer to Bangkok.
The practice of tuk tuk drivers offering cheap rides to discounted jewelry stores are pretty common in Bangkok. If you are offered one, please decline or risk being taken for a ride!
Other than the warning message, the board was completely inundated with thank you letters and postcards from guests who have enjoyed their stay in this hotel. Take a look at some of them!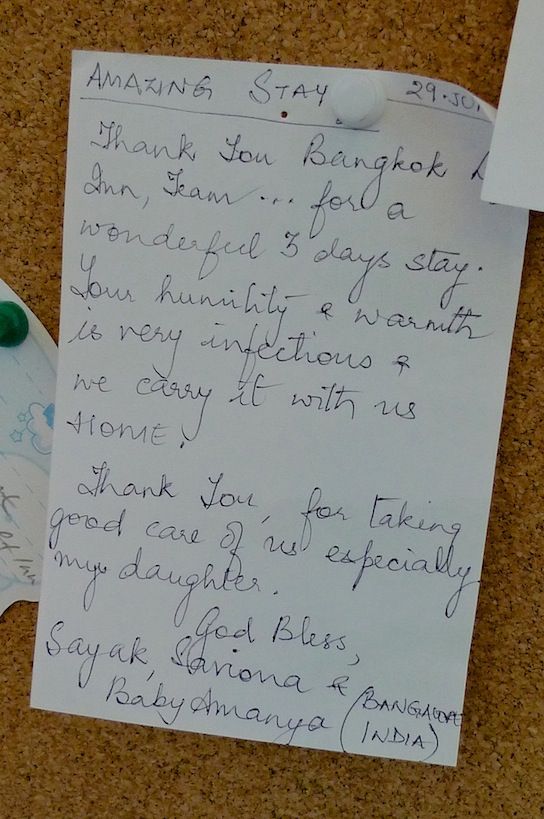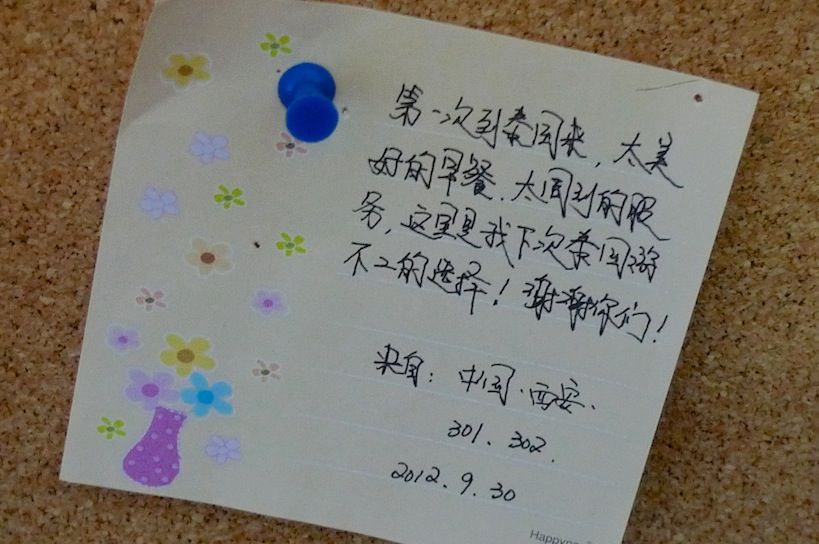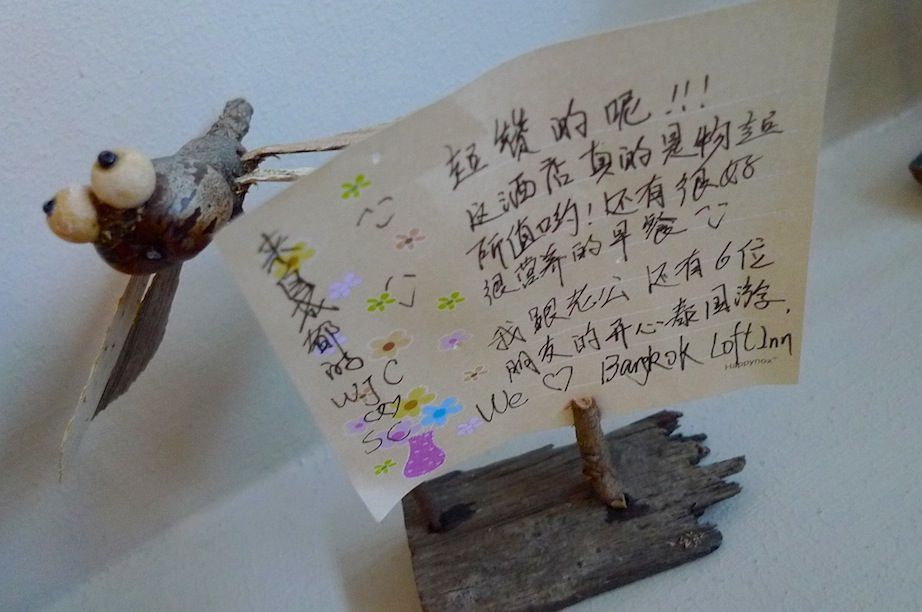 I booked this hotel room via Agoda at the price of RM520 (USD172.50) for a 5D/4N stay (inclusive of breakfast) which works out to RM130 (USD43.10) per night. With its friendly customer service, lovely room and clean bathroom, reliable hi-speed Internet access, PLUS its delicious breakfast, the price I paid was totally worth it!
The only problem could be its location which is a bit far from tourist hotspots like Silom and Sukhumvit. However, it's just 5 minutes walk to Wongwian Yai BTS Skytrain Station so getting around in Bangkok is not really a problem.
Besides, it's just 2 stations away from Saphan Taksin Pier where you can take a boat to all the tourist spots like Wat Arun, Grand Palace and Chinatown.
Overall, I highly recommend
Bangkok Loft Inn
- currently my favorite hotel in Bangkok!
Bangkok Loft Inn
55 Somdet Phra Chao Taksin Rd
Bangyeerua, Thonburi, Bangkok
10600 Thailand
Website
Coming Up Next : My Breakfasts At Bangkok Loft Inn