Ok, it's time to resume my
Bangkok
posts. In case you have forgotten, this was my trip to Bangkok early this year. I had stopped blogging about the trip halfway to complete my
Hong Kong posts
.
So just to refresh your memory, here are the posts about my Bangkok trip thus far ...
1.
Landing At Don Mueang International Airport In Bangkok
2.
Bangkok Loft Inn : My Favorite Hotel In Bangkok!
3.
My Breakfasts At Bangkok Loft Inn
4.
The Erawan Museum In Bangkok (Part 1)
5.
The Erawan Museum In Bangkok (Part 2)
6.
The Erawan Museum In Bangkok (Part 3)
7.
My Lunch At Soi Polo Fried Chicken
8.
My Visit To Asiatique The Riverfront In Bangkok
On my 3rd day in Bangkok, my friend and I went separate ways. I had planned to visit Wat Arun which my friend had already visited before so he decided to go elsewhere. Besides, I was also planning to meet up with my Filipino blogger friend
Ishmael Ahab
, whom I met during
my trip in Manila
2 years ago.
I suggested we meet up for breakfast at
Prachak Pet Yang
, a restaurant selling roasted duck in
Bang Rak
. Located at 1415, Charoen Krung Road (somewhere across the road from Robinson Bang Rak), this restaurant is more than a century old!
I think
pet yang
means duck in the Thai language. This
Prachak
restaurant is famous for its roasted duck so I wanted to give it a try. Well, you can't go wrong with a restaurant that has been selling ducks since 1909 right?
At the front part of the shop, we could see ducks hanging like in typical Chinese coffee shops.
Although the restaurant does offer other food like roasted pork, prawn dumplings and noodles, we decided to just order their famous roasted duck. Ishmael ordered a bowl of white rice as well but I did not as I had already eaten breakfast at my hotel earlier.
The roasted duck was pretty delicious! The sauce was different from what I am used to eat back in Malaysia. It was slightly sweet and spicy but definitely tasty. The duck meat was tender and soft while the skin was still quite crispy despite being soaked in the sauce.
The only downside is the portion, which I thought was rather small. For that portion as shown in the picture above, it costs us 60 baht (US$1.95 / RM6.10) which was quite reasonable.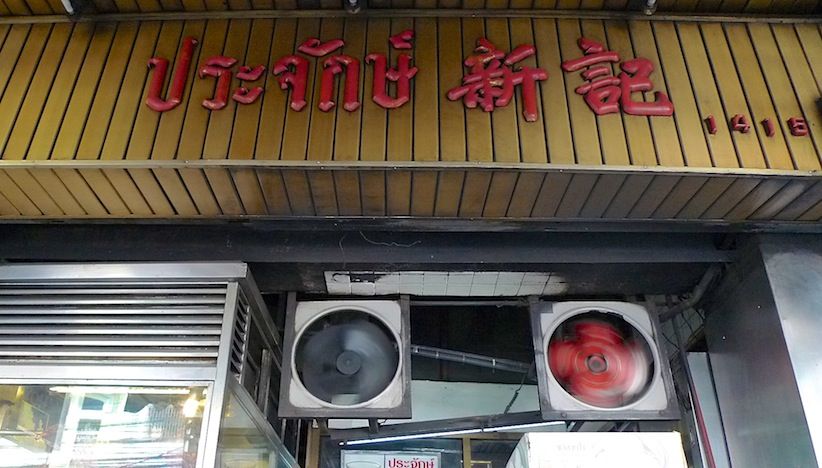 The restaurant interior is just like your typical Chinese coffee shop, nothing special. I took a picture of the interior but since it contains Ishamel's face in it, I decided not to post it here since Ishmael requested not to have his face revealed (just like me haha!). Maybe you can have a glimpse of the restaurant interior at his blog
HERE
: )
After this light breakfast (yes light, because I only ate a few bites of the roasted duck), I proceeded to bring Ishmael to a shop across the street for some lip smacking desserts! Stay tuned : )
Directions to Prachak Pet Yang
: From Saphan Taksin BTS Station, walk northbound along Charoen Krung Road towards Robinson Bang Rak. At Robinson, cross the road to the opposite side and find the shop with the number 1415.