The day after my
Yulong

River rafting adventure
, we checked out of
Xi Jie

Youth Hostel
in the early morning. We were planning to visit
Xingping
and stay there overnight before returning to
Xi Jie
the following day.
Xingping
is a small town located about 25km northeast of
Yangshuo
. We took a bus from
Yangshuo
after our breakfast. The ride took about 45 minutes and it cost us 5.50 yuan per person.
On reaching
Xingping
, we had to walk quite a distance to
Xingping

This Old Place International Youth Hostel
where we were going to stay for the night. I noticed something wrong with both
Jam
and his friend. They were not their usual selves. Jam was complaining that he was tired and not feeling well. I hoped it was nothing serious!
This is the entrance to the hostel.
This is the lobby. I do not know why I didn't take more photos of the lobby - maybe I was not in the mood!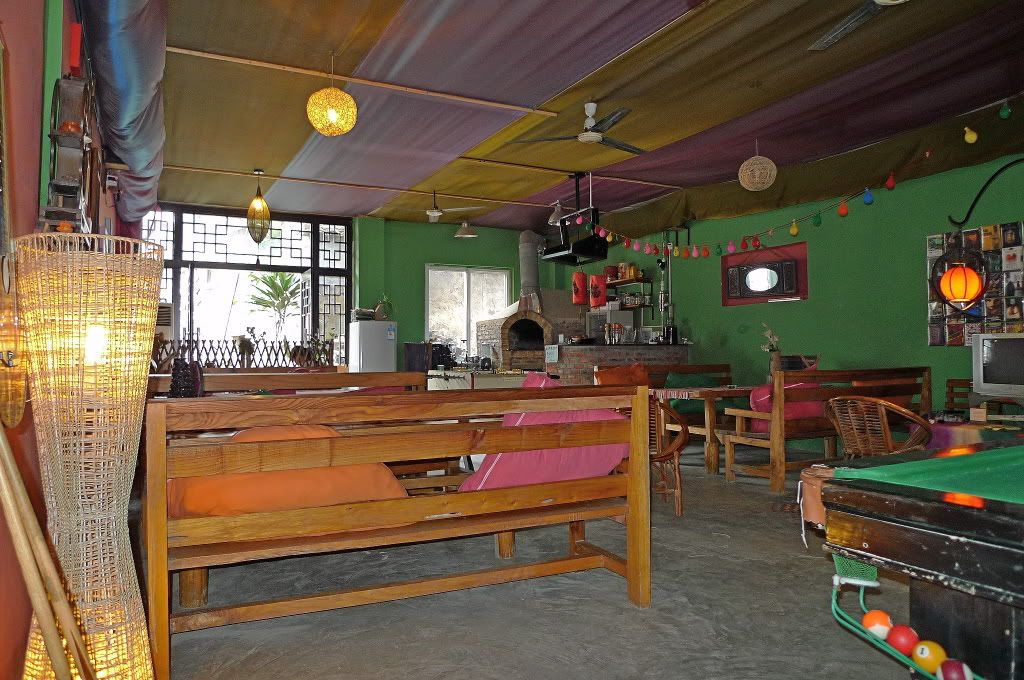 As it was early, my room was not ready yet. However, Jam and his friend could check into their room so I decided to place my luggage in their room first.
It was then I learnt that Jam was having fever and diarrhea! He had to go to the toilet every half an hour! Jam's friend also had diarrhea but he was not as severe as Jam. Surprisingly, I did not have any diarrhea although I did suffer from stomach discomfort the next day. Could it be that I have been taking my
probiotics
supplements almost daily since my first day in China?
Anyway, we believed the source of this food poisoning was the lunch we had at
Yulong

River
the day before. Jam recalled that there was no tap water there so the people there must have relied on the river for their source of water. Well, with people washing clothes and maybe children shitting in the river upstream, you can imagine how clean the river water must be!
Jam's room was on the 2nd floor. This is the balcony outside his room.
I sat on that "cradle" or rocking chair and enjoyed the views from the balcony. I could see my next door balcony. They had a rocking chair too.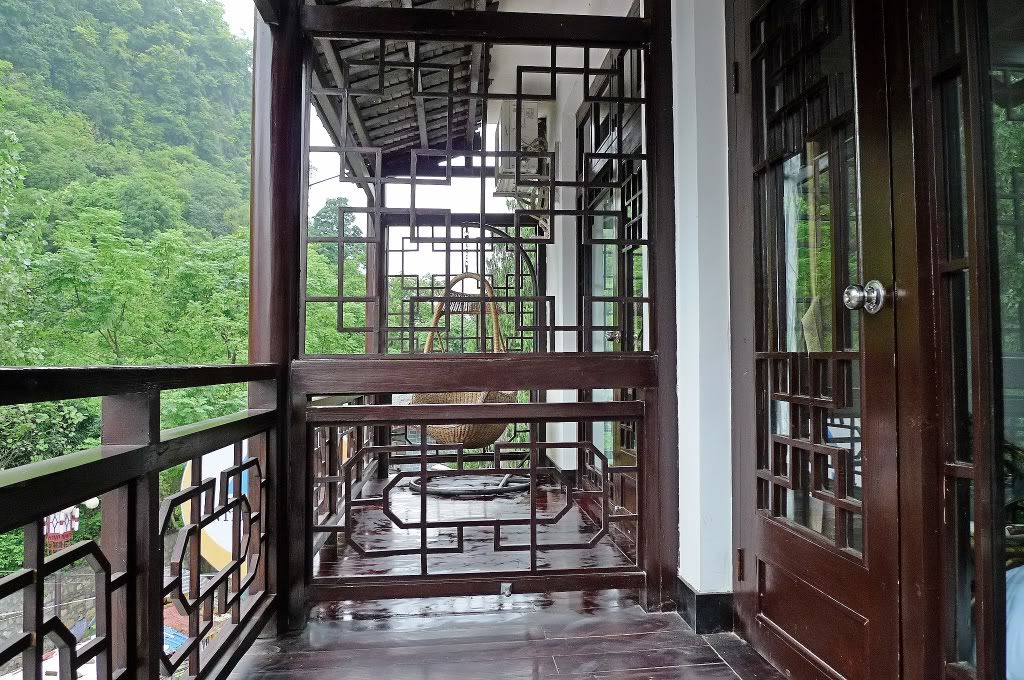 Facing the opposite side, I looked through the "grill". Do you see that building in the distance straight ahead with its unique looking roof?
The streets below the hostel.
Not exactly a very nice view, but it's not like Jam would be sitting out here looking down at the streets below when he had to be within short distance to the toilet! Haha!
We had actually planned to visit the fishing village here in
Xingping
. But with Jam and his friend not feeling well, I wondered if we would ever get to go! So while Jam and his friend were resting in the room, I spent some time out here in the balcony thinking what I should do next.
Siting on the comfortable rocking chair, I rocked myself and closed my eyes. When I opened my eyes, I saw this and thought why not snap a photo of it?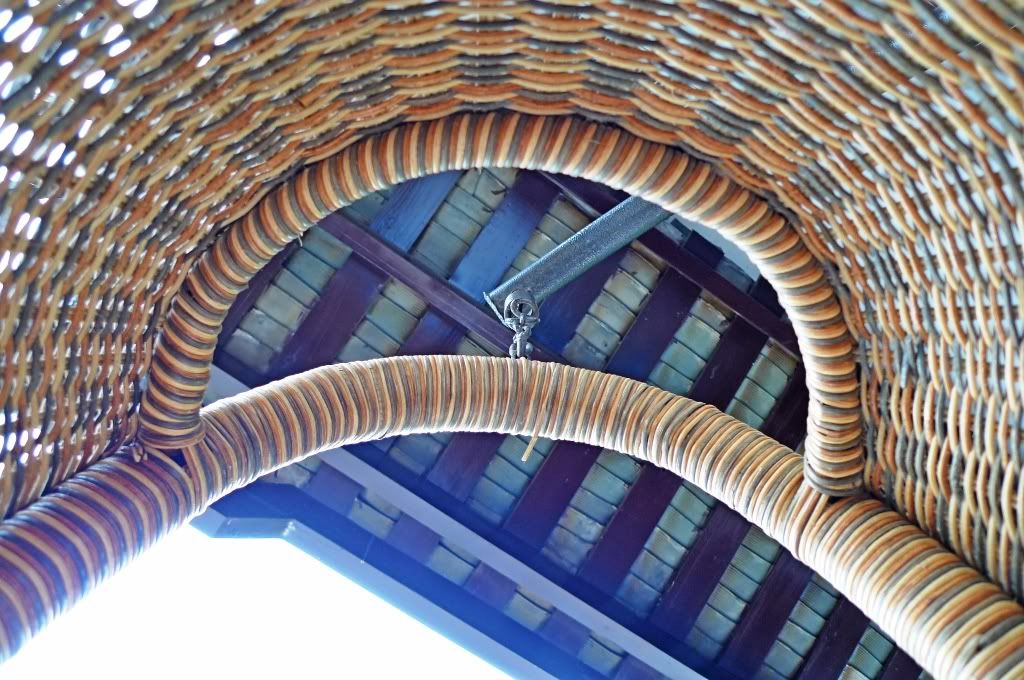 Can you make out what it is? Yes, I was looking up the ceiling and this is the top part of the rocking chair. Haha! I could not believe I was wasting my time like that!
I decided to go downstairs and enquire when my room would be ready. I found the staffs at the lobby to be very responsive and the girls were sweet and smiling all the time! Wow! Such nice people! A direct contrast to the lousy service we had at
Backstreet Youth Hostel
in
Guilin
!
Since my room would not be ready until past 1pm, I went out for a walk.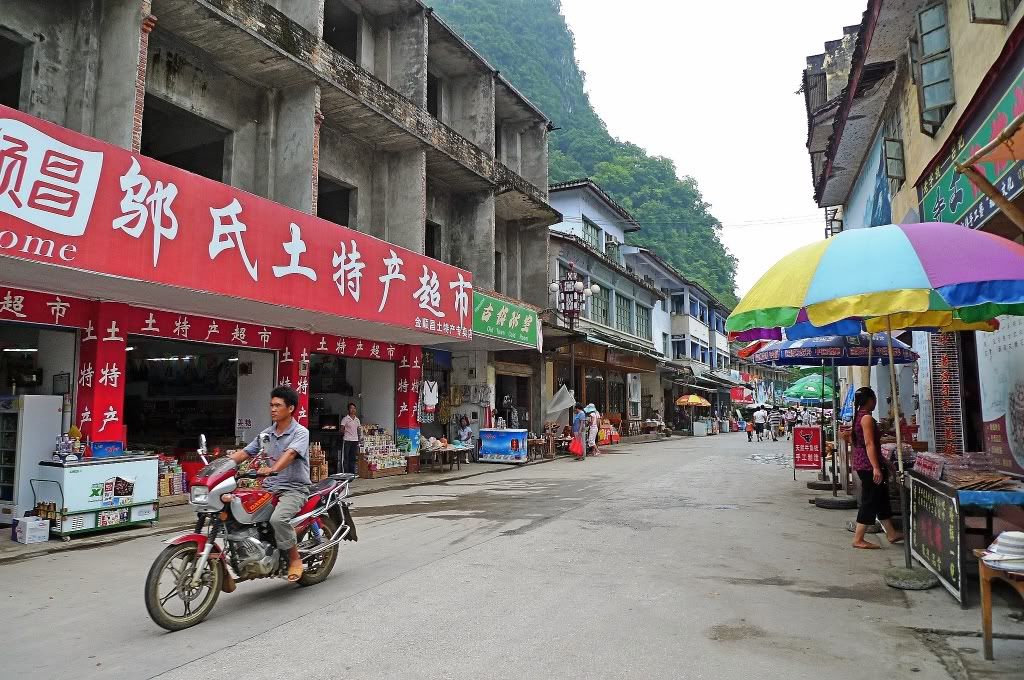 Xingping
to me was like a small town with a few streets lined with shops and stalls. There was nothing really interesting here. I guess
Xingping
is famous for its beautiful landscape more than anything else.
Do you remember the Nine Painted Horses Hill I saw during my
Li

River Cruise
? That hill is in located in
Xingping
!
Or the famous scenery depicted in the 20 yuan bill? That is in Xingping too!
This is another part of the street where the buildings looked more modern and new. I guess if you like a quiet and relaxing holiday,
Xingping
is the place to go.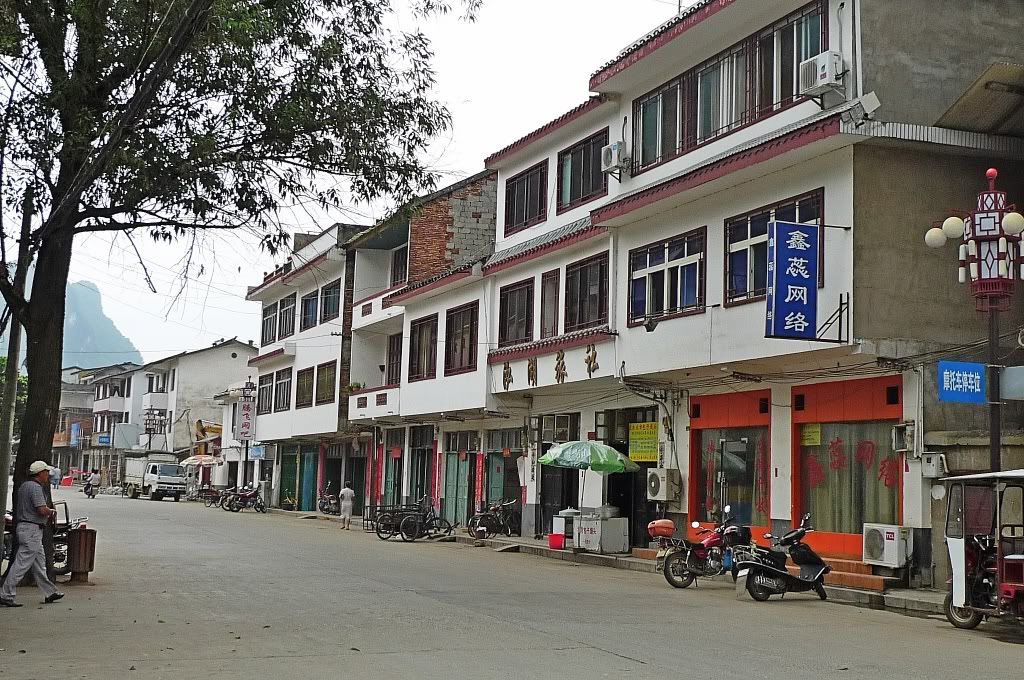 When I returned to the hostel, my room was ready. I was given a room on the 3rd floor. When I entered the room, I was delighted to see how clean the place was!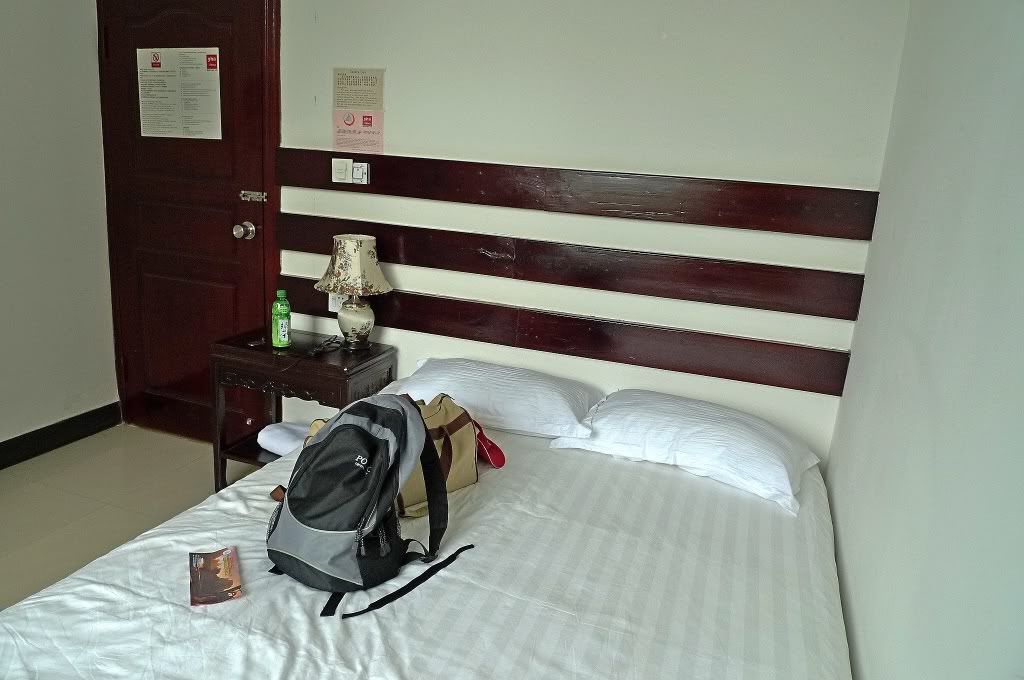 This must be the cleanest place I have stayed during my entire 10 days in China! I was surprised because this hostel was in a small town and it was cleaner than those in the city like
Guilin
and
Yangshuo
.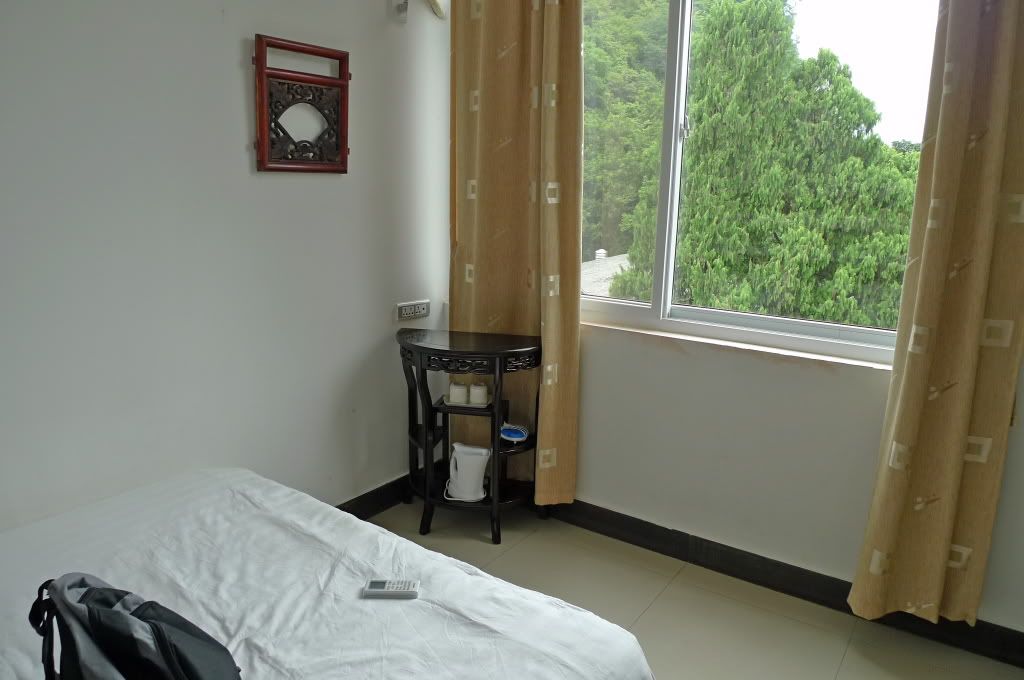 The nice wooden carvings on the wall.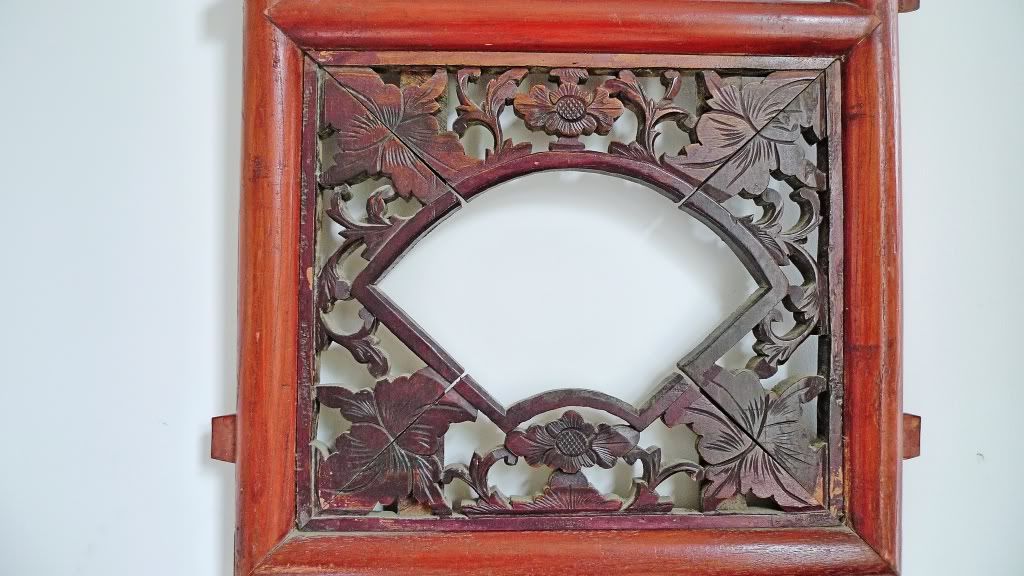 Of course to judge whether a room is really clean, one must check out the bathroom or the toilet! Yes, the toilet is the acid test in determining how clean a hostel is!
Guess what? I was amazed.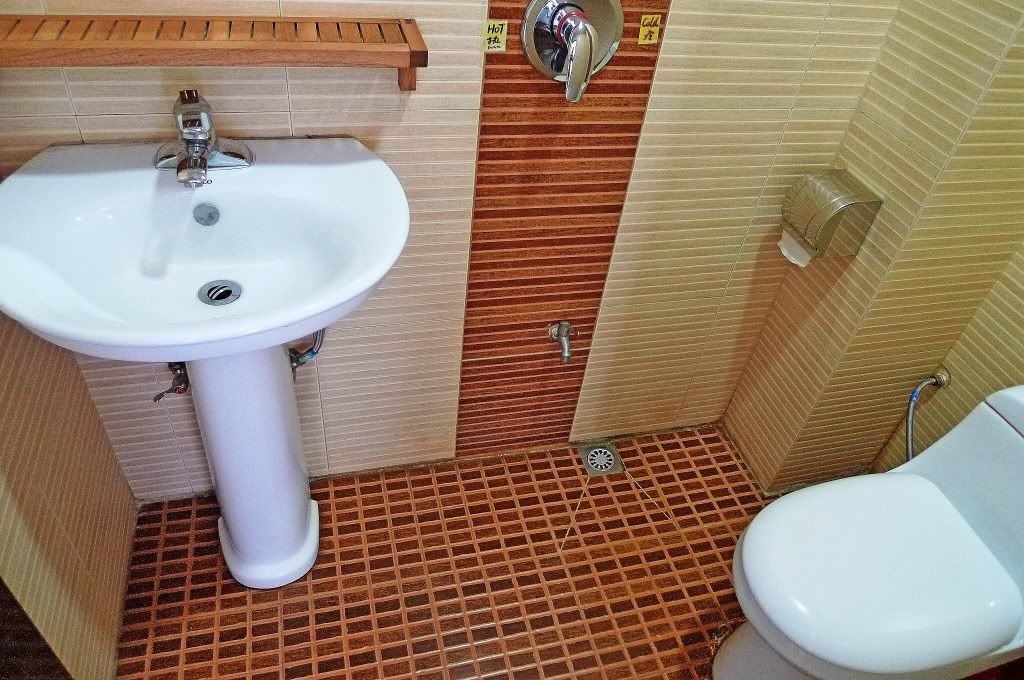 If you notice, this is my first time taking photos of a toilet in China and posting it on my blog. Because this bathroom/toilet simply deserves an A+ from me.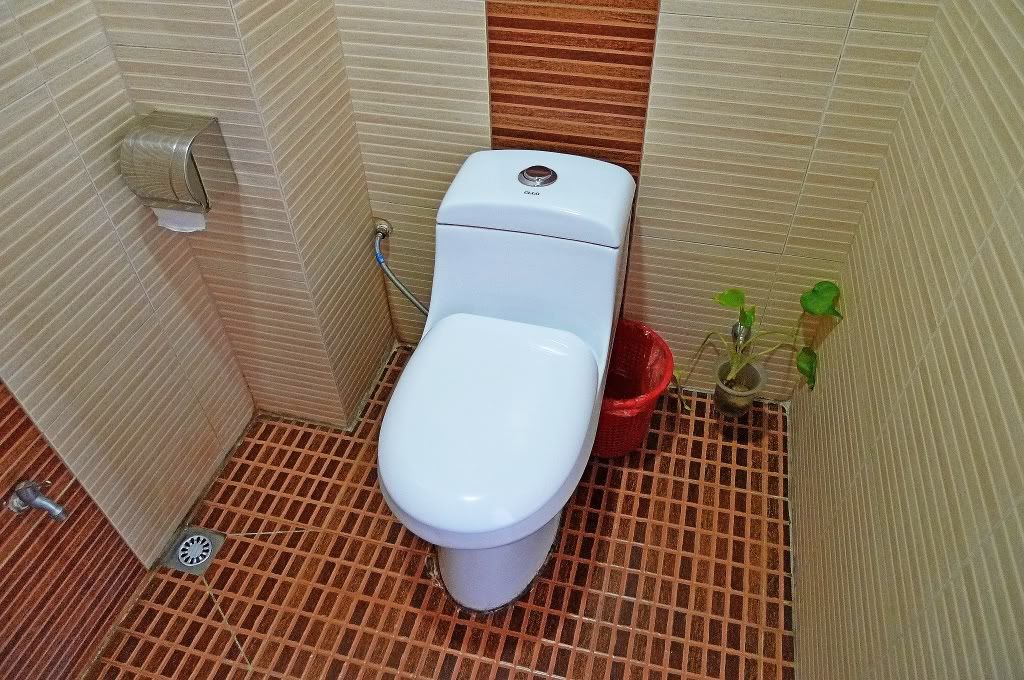 I can tell you it's cleaner than all the toilets I've been to in China, and it's cleaner than some of the 4 star hotels in Malaysia!
I was really impressed with This Old Place International Youth Hostel. At only 81 yuan (RM40), it was miles better than the lousy Backstreet Youth Hostel we stayed in
Guilin
which charged 108 yuan (RM54) a night!
Coupled with good service and ever smiling ladies at the counter, this hostel is a winner and I highly recommend it to all who visit
Xingping
.
Although my room did not have a balcony like Jam and his friend's, I realised that mine had a better view . Looking out my room's window, I was amazed with the scenery outside.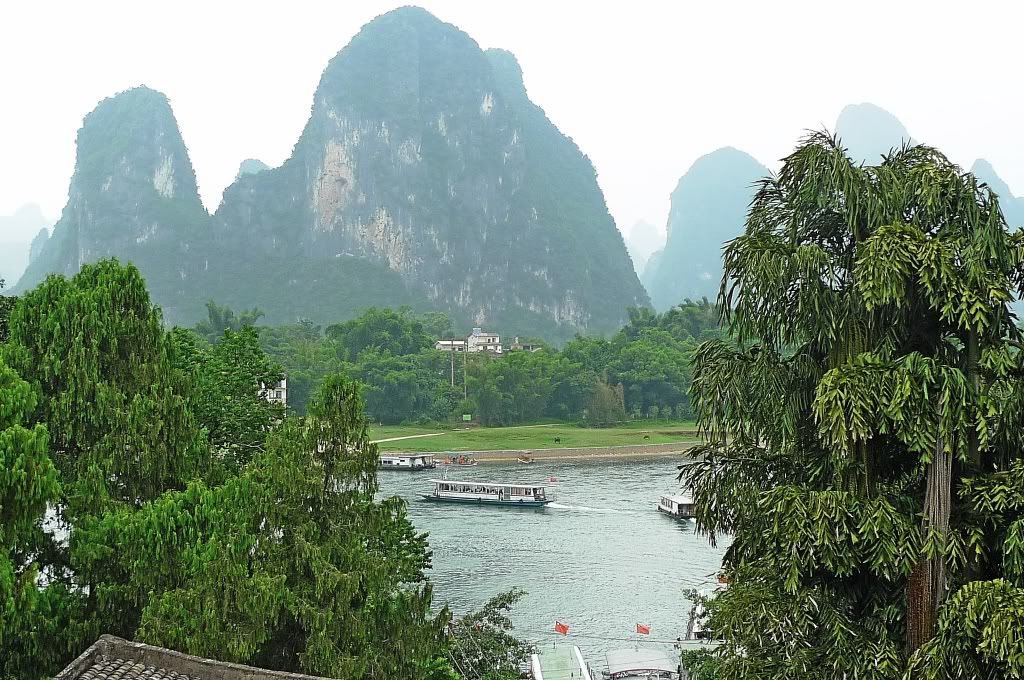 My room was actually facing the beautiful
Xingping
port which was just 50 metres from our hostel.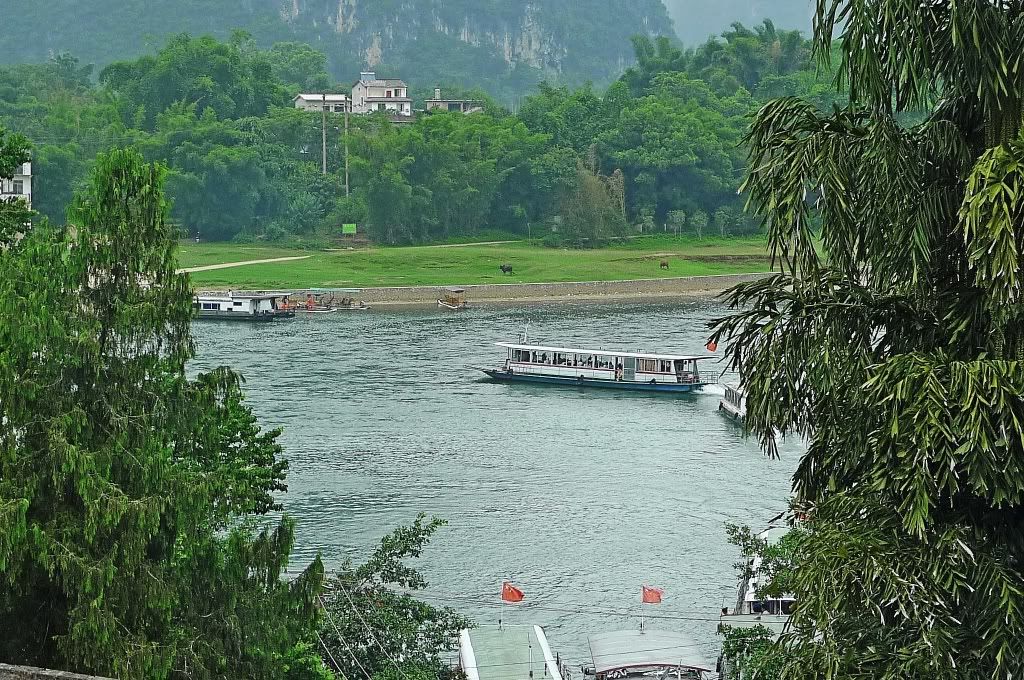 I like to stand beside the window and look up at the green mountain top!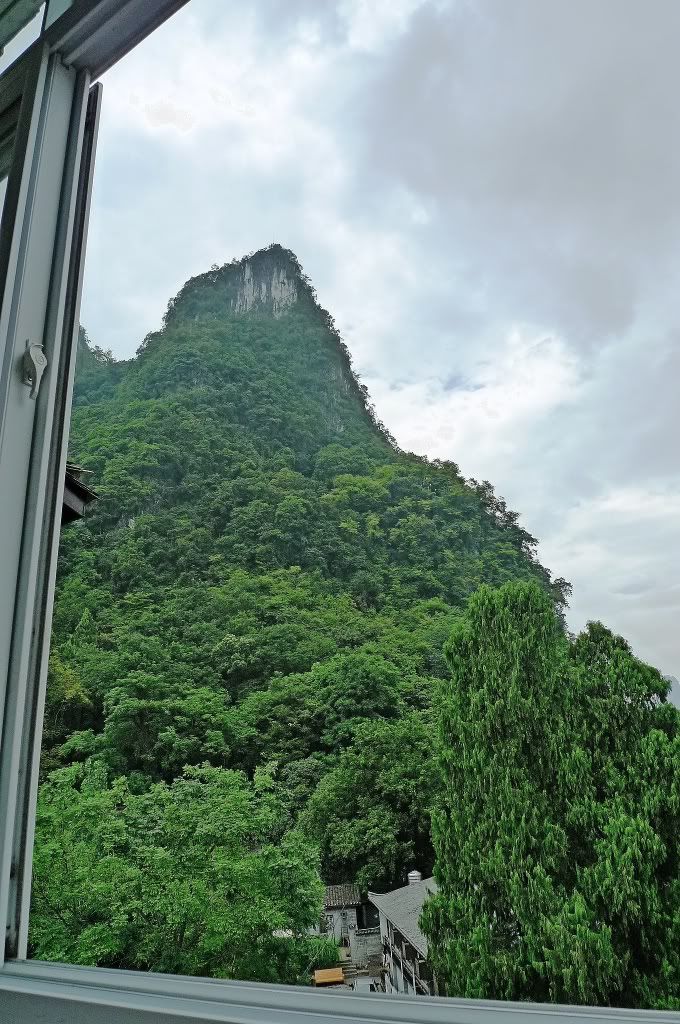 The view outside changed as the evening drew closer.
Of course I did not stay inside my room the whole day and took these shots. I took them after I returned to my room later in the evening having 'survived' an adventure in the mountains of
Xingping
.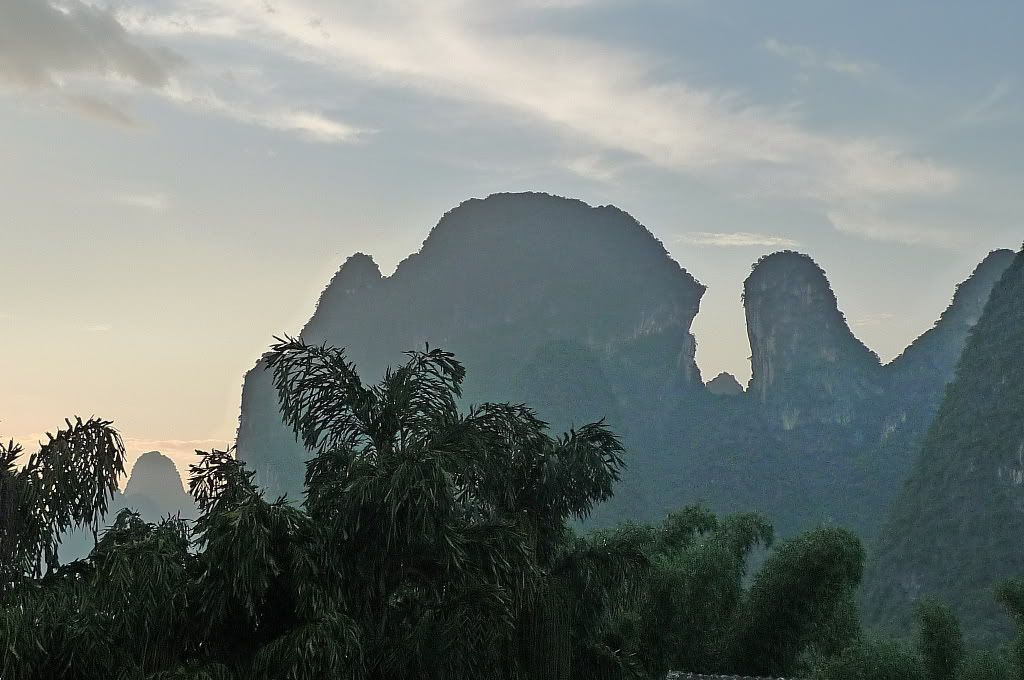 After checking into my room, I went out for lunch with Jam's friend. He was in a better condition and was able to have lunch with me. Thank goodness!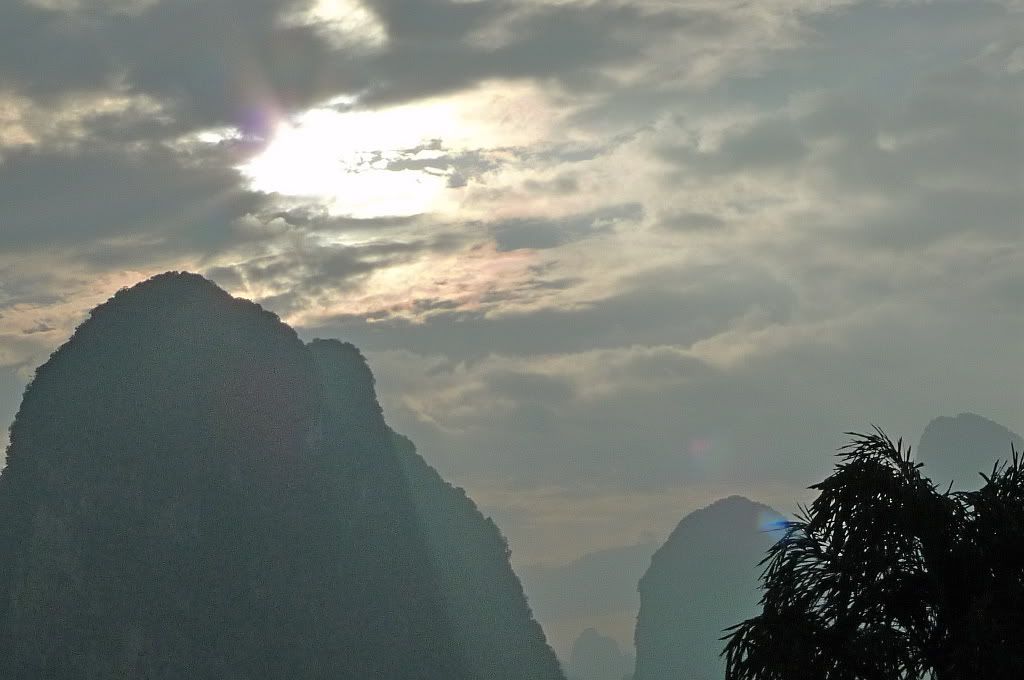 But he was not well enough to accompany me to the fishing village which we had planned to go. Besides, somebody was needed to take care of Jam and he might as well be the one.
So, that left me all alone. Well, I was not about to waste my holiday just because both my friends were down with diarrhea. Even though my Mandarin sucks, I was determined to go to the fishing village all by myself.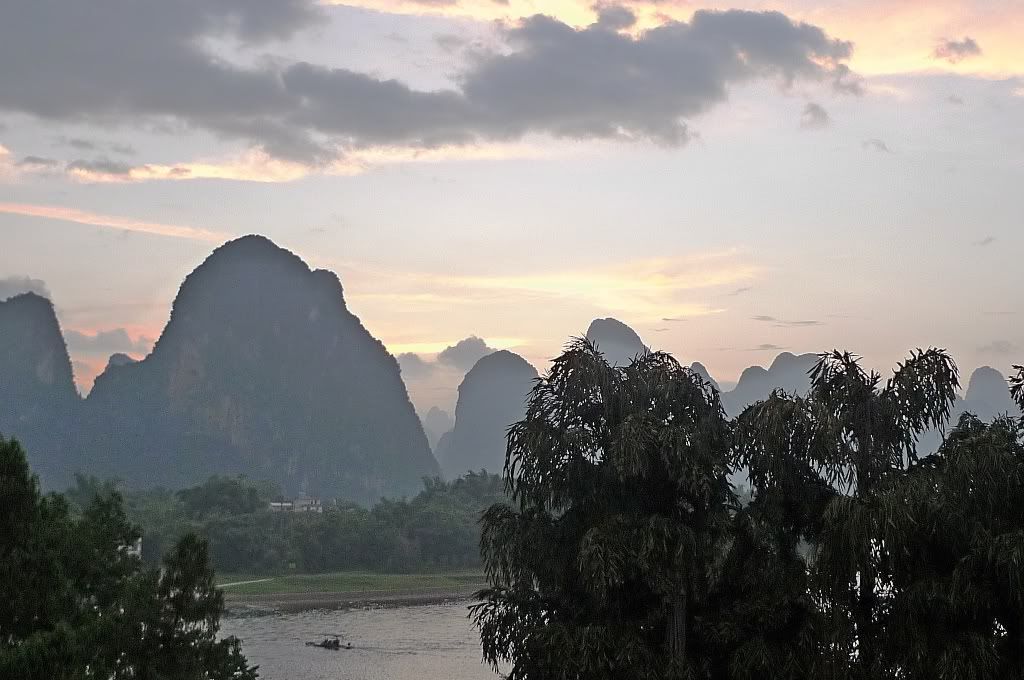 That involved trekking up the mountain and the forests to reach the fishing village on the other side. I did not know then that my solo trip would end up in disaster.
For the first time during my China trip, I was all alone and lost in the middle of the forests in
Xingping
.
To be continued ....