Before my trip to China, I was advised not to get involved in any activity that involves water. Yet, I went for the
Li

River Cruise
, I sat on the raft to visit
The Elephant Trunk Hill
and I went river rafting along
Yulong
River in
Yangshuo
!
I do not know how to swim and I did not wear any life jacket. Either I was crazy or stupid, or both!
No matter, as I survived to blog about my experiences. Will I do it all over again? Maybe.
I have to admit that when my travel partner and blogger
Jam
first suggested we go river rafting, I was a little apprehensive. I mean, firstly I could hardly swim. Secondly, they don't provide life jackets over there. Thirdly, I know nuts about steering a raft!
But my apprehension was soon thrown out the window into the
Li
River when Jam told me that I do not need to steer the raft. All I do is just sit and relax while someone else steers the raft! Well, I have done it all before sitting on a raft to visit the Elephant Trunk Hill, so what else is new, right?
Of course, Jam did not mention about the surprise awaiting me and his friend. You want to know what the surprise was? Keep reading : )
It was our 6th day in China and 2nd day in
Yangshuo
. The day before, we had arrived in
Yangshuo
via the
Li
River Cruise from
Guilin
. We woke up early around 6am as Thomas, the boss of
Xi Jie

Hostel
where we stayed would be taking us to the
Yangshuo
Bus Station to catch a bus to
Baisha
Town.
That is the
Yangshuo
Bus Station. Notice the beautiful karst hills in the background?
Yangshuo
is full of these karst hills making it one of the most beautiful town in China! There is a very popular saying that "
Guilin
's landscape tops those elsewhere, and
Yangshuo
's landscape tops that of
Guilin
".
Did you know that you don't have to stand in the bus in
Yangshuo
? In every bus that I sat during my China trip, I noticed they provide stools for passengers if there were no more seats left. How creative! Maybe the buses in Malaysia should follow their style. Haha!
We were to meet up with our two rafters in
Baisha
Town. Since
Yulong
River is not accessible by bus from
Baisha
Town, our rafters would send us there on their motorbikes! Gosh! This was my first time sitting on a motorbike! And just like everything else in China, safety was not a major concern. We were not given any helmets to wear. Oh well...
Anyway, this being my first time riding on a motorbike, I was initially a little nervous as the biker zoomed past cars and other vehicles! But I soon got the hang of it and was enjoying the ride. In fact, it was nice feeling the wind sweeping my face. And the beautiful scenery around made the ride even more enjoyable.
Thinking back, I scored many firsts on this China trip in terms of transportation. Sitting on a raft on the Elephant Trunk Hill tour, then balancing on a three wheel motorbike to
Xi Jie
Hostel and now riding on a two wheel motorbike to
Yulong
River! It's a pity I didn't get to cycle as well for that would have made it complete!
My advice to travelers is to experience the different modes of transportation and not to limit yourselves to just the buses or taxis. It would surely make your trip more fun and memorable!
We finally arrived at the
Yulong
Bridge Pier at about 8am. Look at the many bamboo rafts there!
Every raft has 2 seats. Since there were three of us, Jam and his friend occupied one raft, whereas I had a raft completely to myself! I was actually not too keen to be alone with the rafter because he could not speak much English and I could hardly speak Mandarin. So I was expecting some chicken and duck talk during my rafting. Haha!
While waiting for our rafts to be ready, I walked around and took photos of the place.
Oh! The raft sure looks imposing from this angle!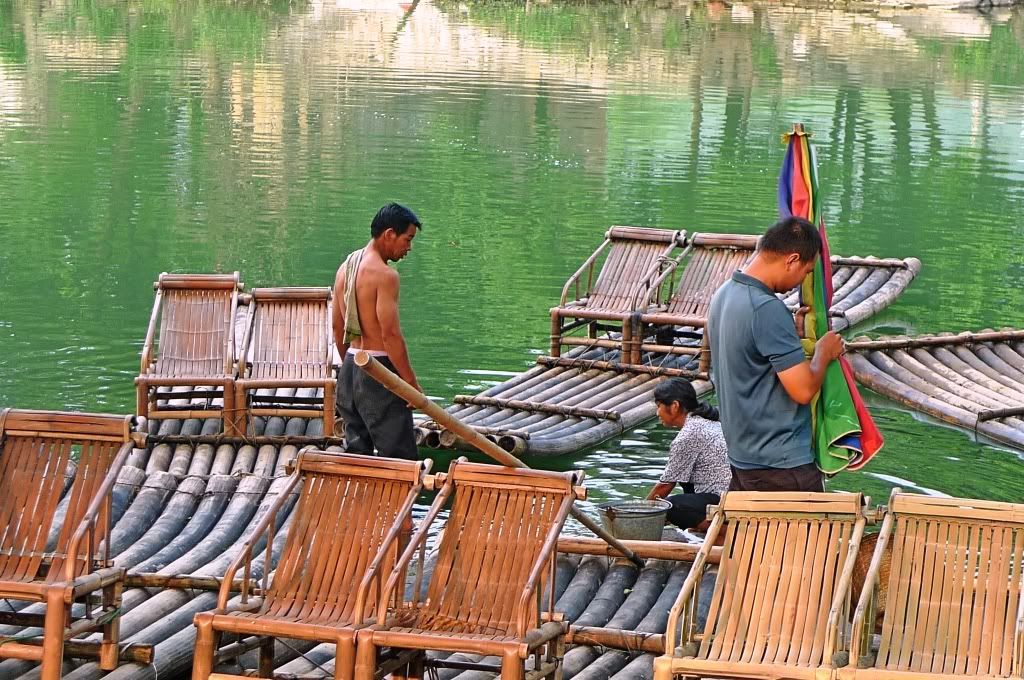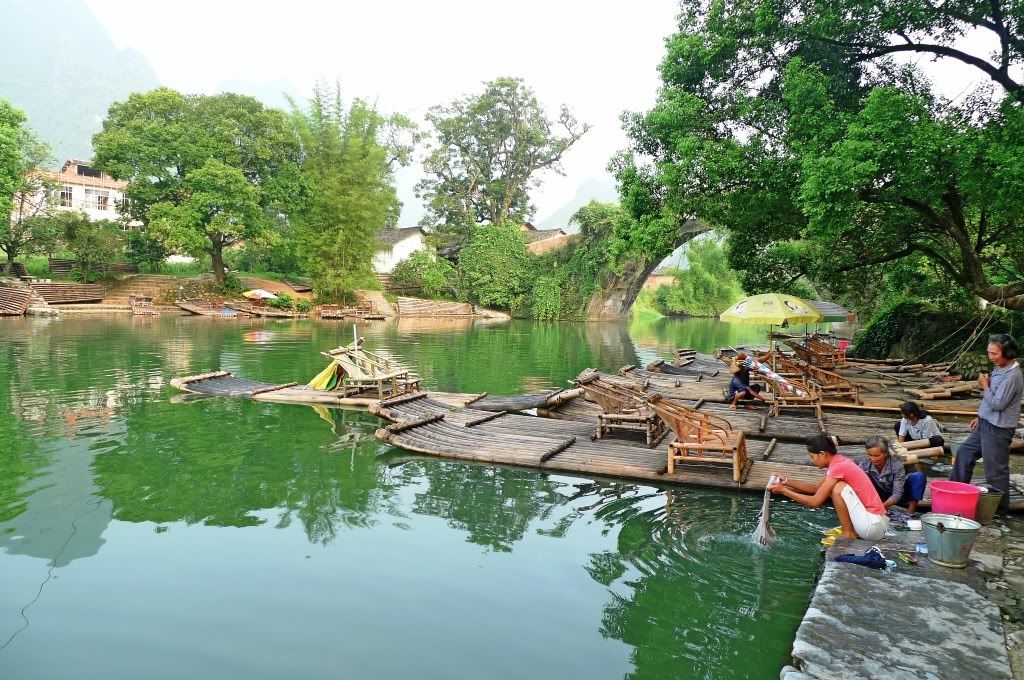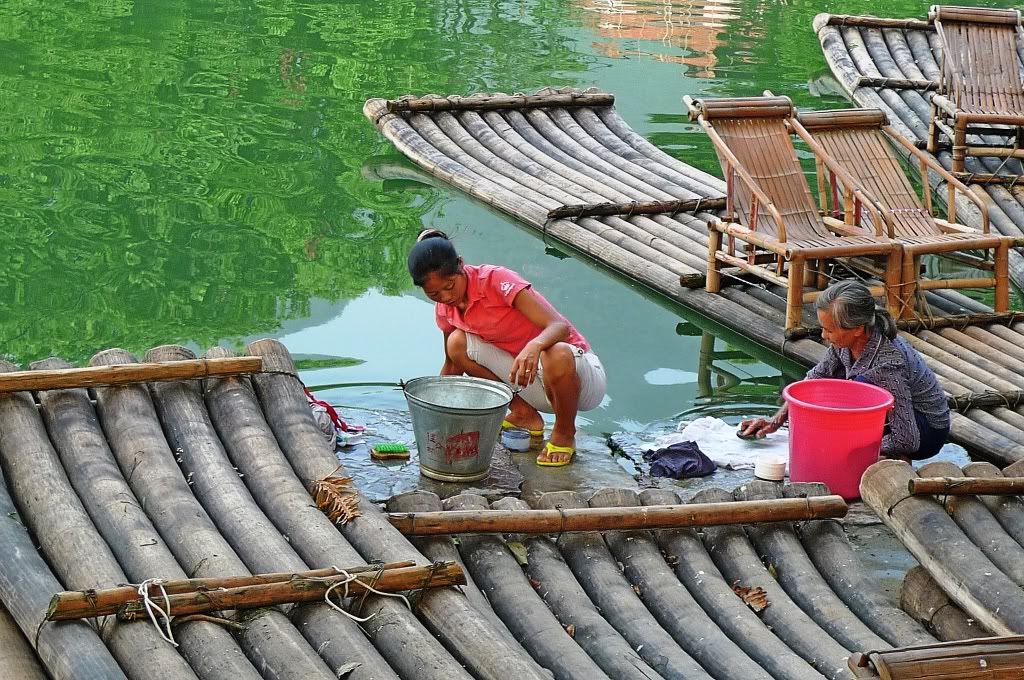 Washing clothes by the river bank. I was wondering, wouldn't all these washing pollute the river? But the river still looked so clear! I guess they must have been washing clothes there for thousands of years!
Ooh! Look at this little boy. Can you see the opening at his buttocks?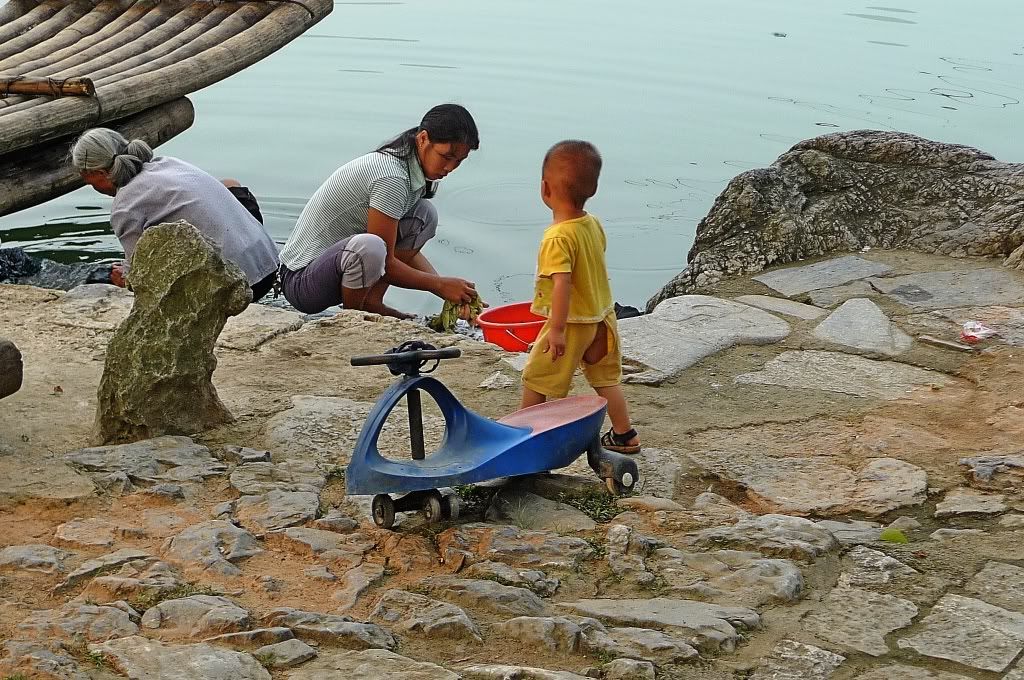 Here, let me magnify it for you.
No, his shorts was not accidentally torn open. It was done on purpose for obvious reason.
I thought he was such a cute little boy and decided to take more photos. But I think he got a little scared of either me or my camera (I hope it's my camera, LOL!) and refused to face me.
I think this is his mother. She was not too pleased with my photo taking. Oops!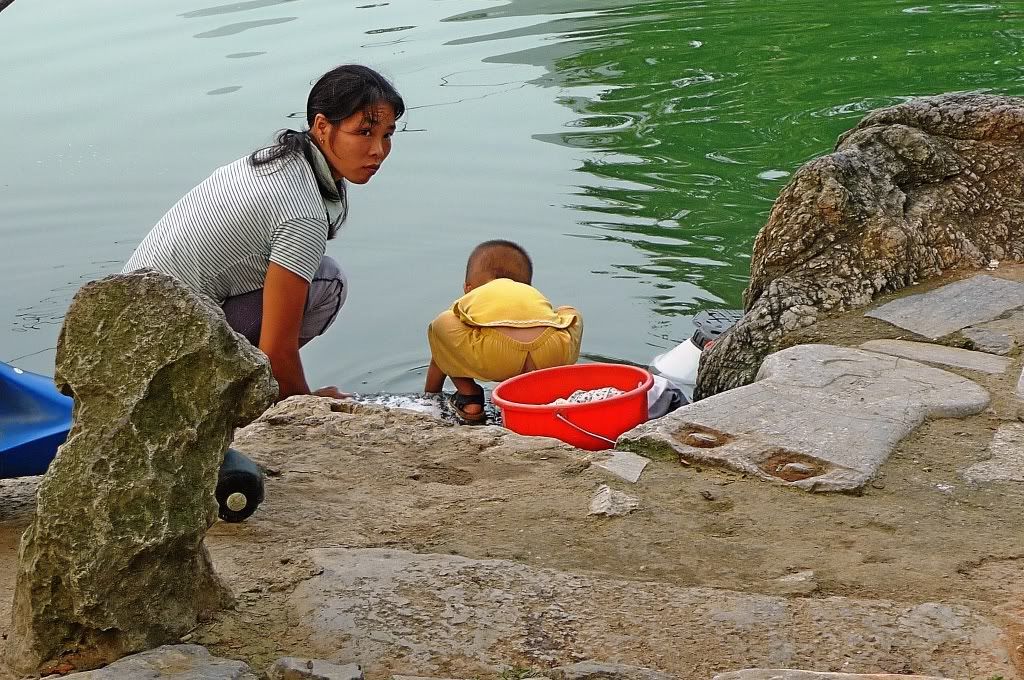 But I could not help it. The little boy was just too cute!! haha!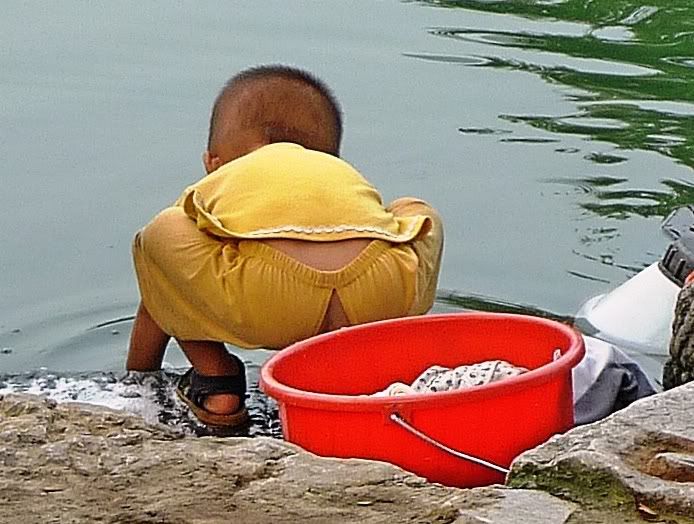 Soon, it was time for us to get onto our rafts. Jam had earlier told us on the bus to be prepared for a surprise during our rafting. I wondered what the surprise was. At the back of my mind, I already had an idea what it was although I could not be sure.
5 hours rafting on
Yulong
river! It was exciting! I was determined to enjoy myself! Unbeknownst to me, an accident was waiting to happen.