Continued from
Part 2
I have taken so many photos during my
Yulong
River rafting that I had a hard time deciding which ones to put up on this post.
The photos I like most are those which show clear reflection of the hills and landscapes.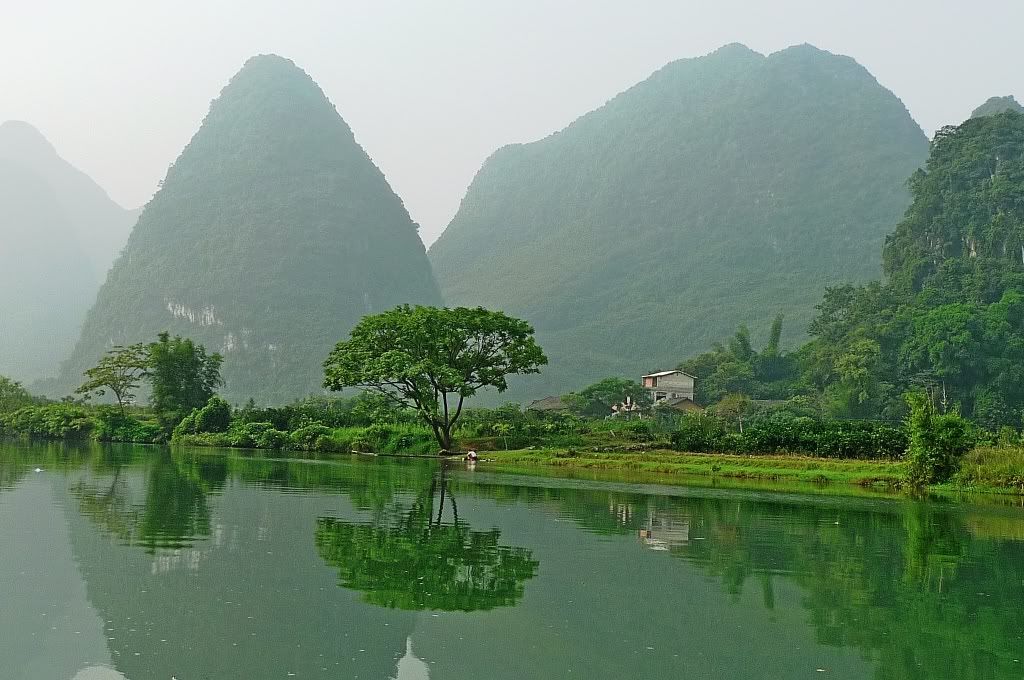 I love the sight of green rolling hills reflected on clear water.
As we continued downstream, I noticed there were rafts heading upstream in the opposite direction.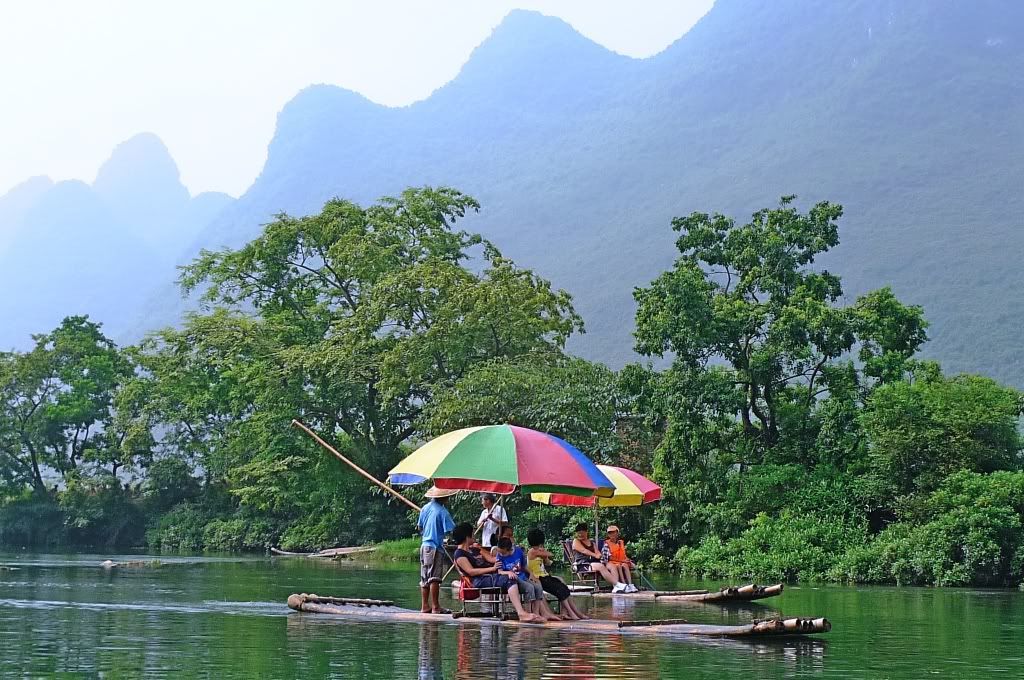 I soon realised we were approaching another pier. If I am not mistaken, I think this is the
Chaoyang
Pier.
Lots and lots of bamboo rafts here!
Passing this pier, we soon came to another weir dam. After crossing this weir dam, my rafter stopped the raft by the side of the river bank and asked me to get down. He was going to bring me to observe the irrigation system on the farmland.
It was here that I met with an accident. I got down from the raft and stepped onto a huge slab of stone when I suddenly slipped and fell into the water! This is the spot where I slipped.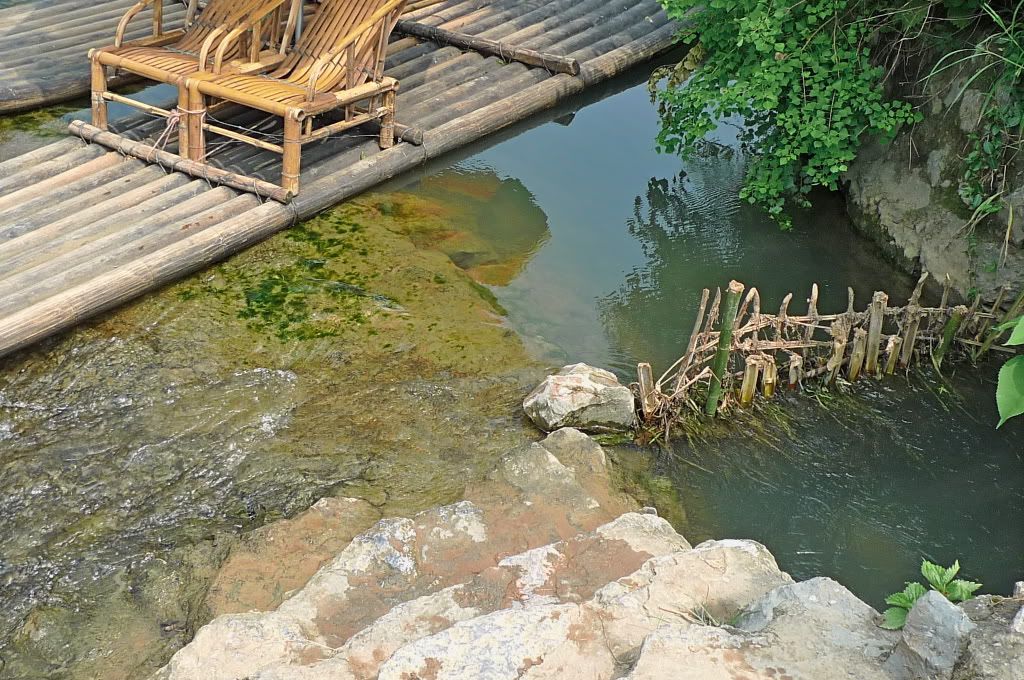 It happened so fast I did not know what hit me. The next second, I was in the river with the water reaching my waist level. It was quite a shock as I did not realize the water was that deep.
My rafter quickly helped to pull me out of the river. My first thought was my camera. Oh no! All my photos! All the photos that I've taken during the past 5 days! Would they be destroyed?
I had hanged my camera from my neck using a strap but I was not sure if it was submerged in the water when I fell. I quickly checked my camera to see if it was wet. Thank God it wasn't!
As I continue to check and re-check my camera,
Jam
and his friend quickly got off their raft and came over. It was then that I realised my right feet was bleeding. I felt a sharp pain there.
Jam's friend pointed out that the back of my left leg was injured too. I bent back to look and sure enough, there was a long cut there.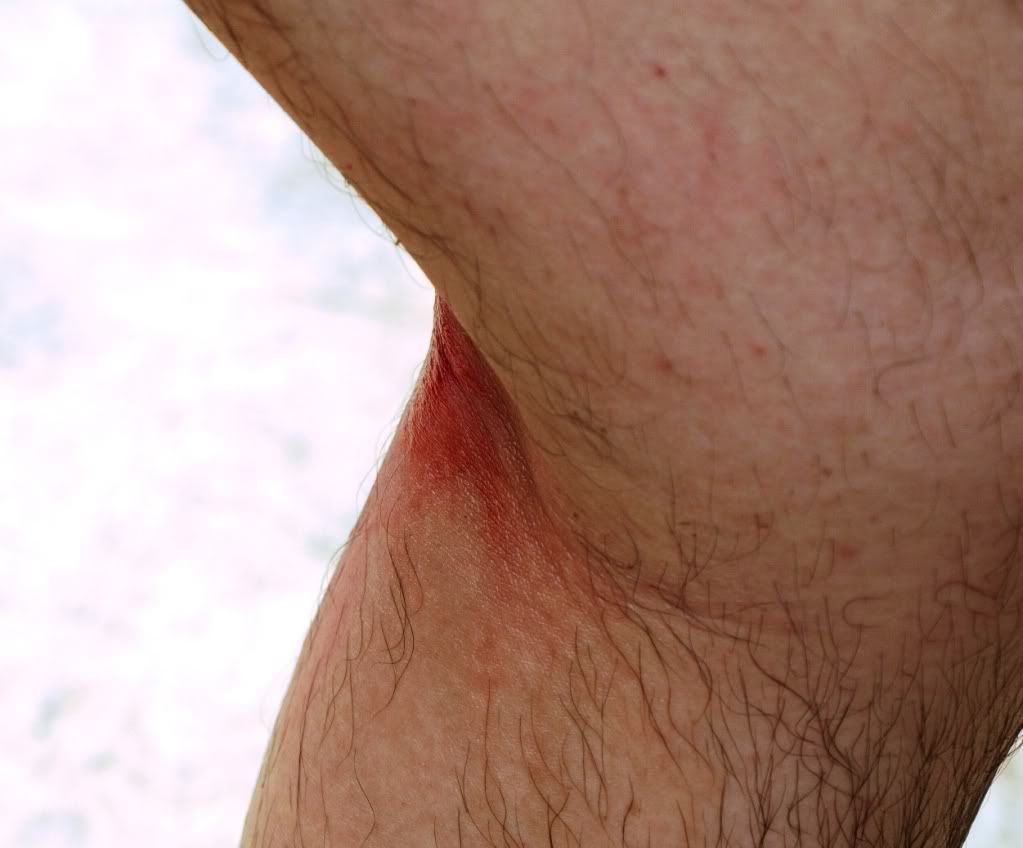 The cut from the middle part of my left leg extended up my left thigh.
My rafter managed to pluck some herbs from the farmland and applied those herbs onto my right toe to stop the bleeding. Thank goodness for the herbs!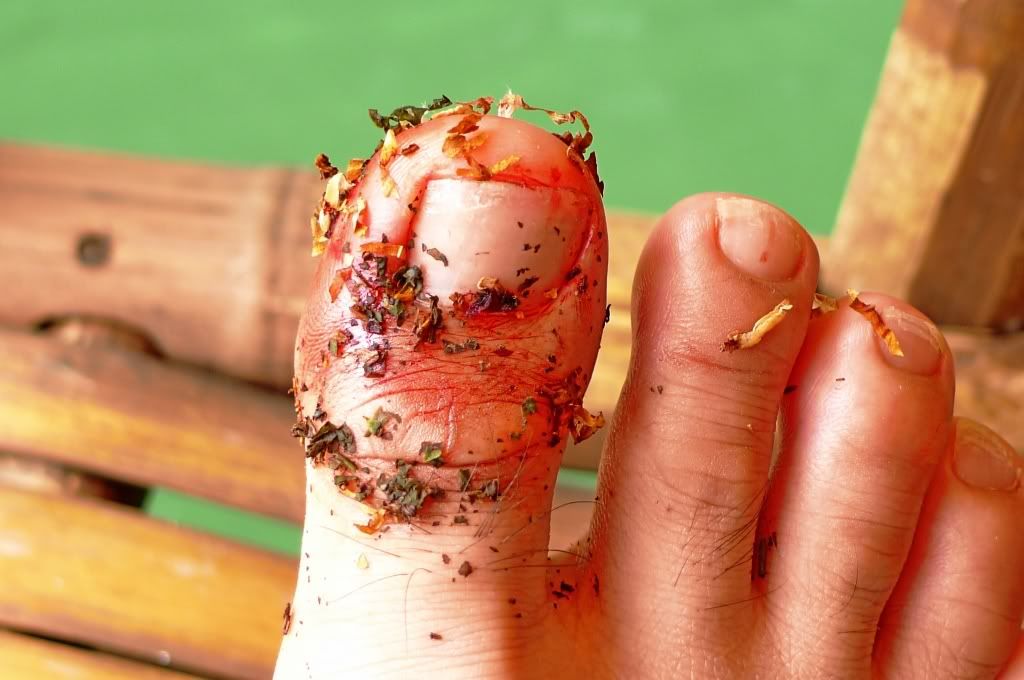 I did not bring any first aid kit with me so I could not apply any bandage over it. My rafter just wrapped my toe with several pieces of tissues and advised me to keep my foot dry.
I could not move around much so I just took a photo of the water pump I saw at the farmland.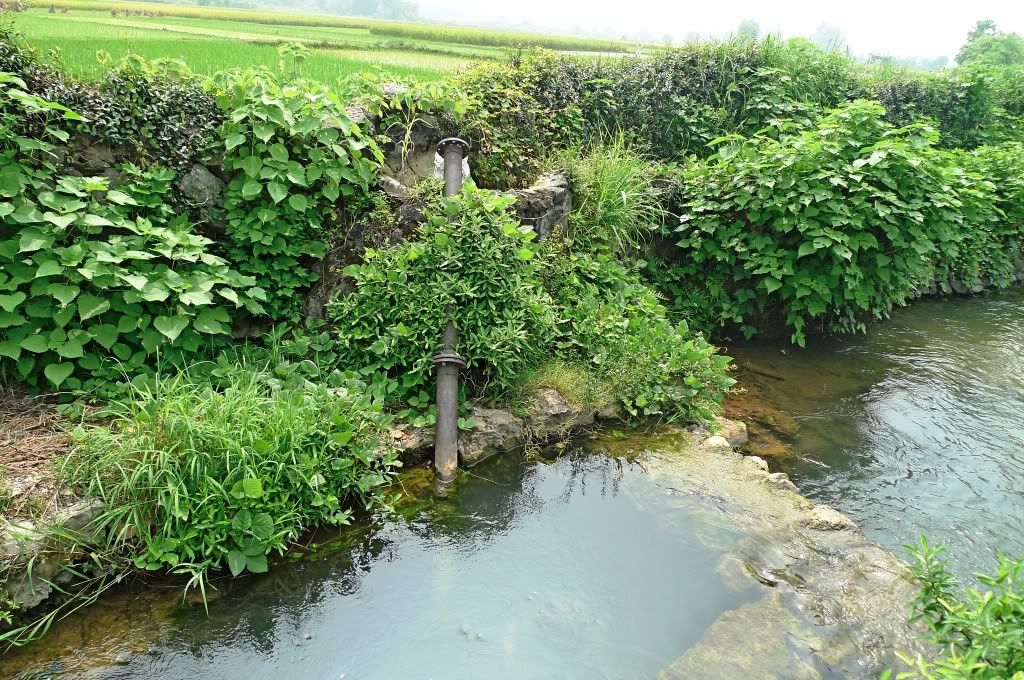 This water pump was used to pump water from the river to irrigate the farmland. There used to be water wheels in the olden days to carry water from the river but they were all replaced with water pumps.
When Jam and his friend had seen enough, we returned to our rafts. My rafter carried me behind his back and took me back to my raft. This must be the first time in my adult life being carried like that! Anyway, thank you to my rafter for his kind gesture!
Back on the raft, I took off the tissue that was wrapped around my toe. The rafter said I had to make sure I prevent my toe from being exposed to water and the hot sun to avoid any serious infection. So he asked me to put my right leg up to rest on the chair beside me, like this.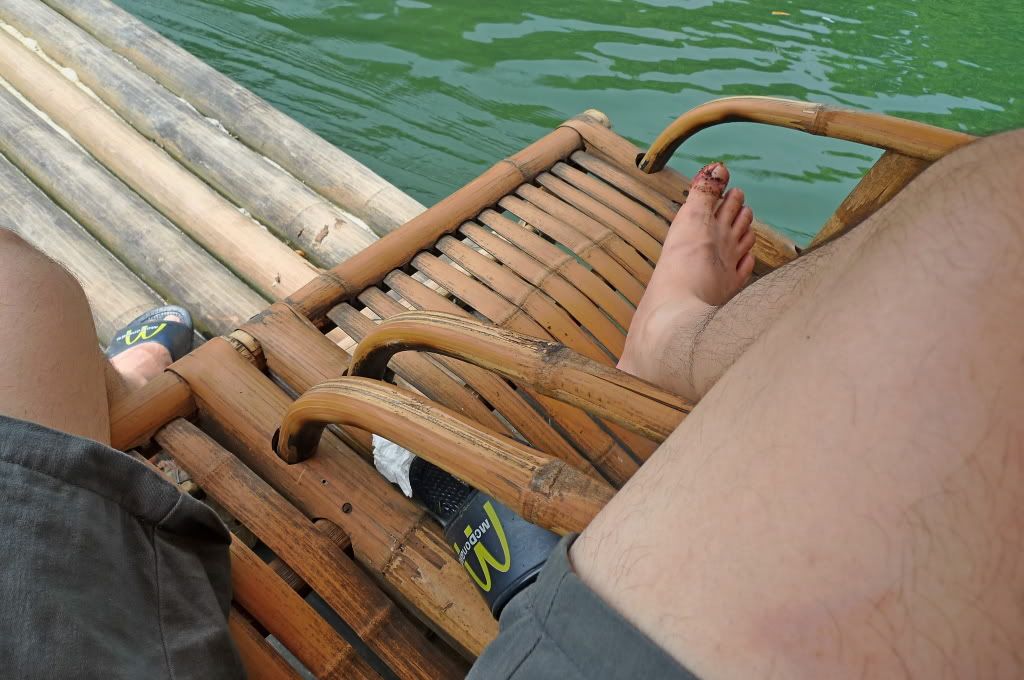 My rafter had adjusted the umbrella so that my right leg was constantly under the shade. Also with my leg high up on the chair, the river water would not get to splash onto my toe. Even then, I had to be extra careful and shielded my toe from the water every time we went down a weir dam!
As we moved downstream, there were more and more rafts along the river. It was becoming more touristy. I could see children and adults playing with water guns!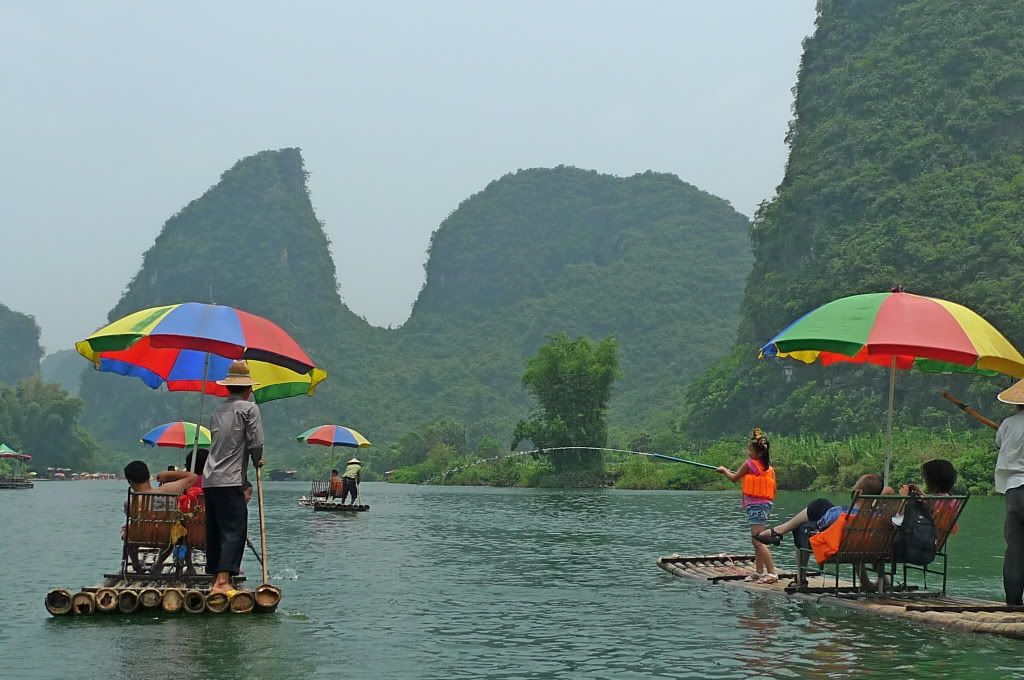 Hey, how come we did not have those water guns? I would love to shoot some water at Jam and his friend! Haha! But with the condition I was in, I was actually a little worried that these tourists would accidentally splashed my toe with water so I had hoped my rafter would quickly get our raft out of their way!
Soon it was time for us to stop for lunch. Our rafters brought us to Windmill Mountain Villa.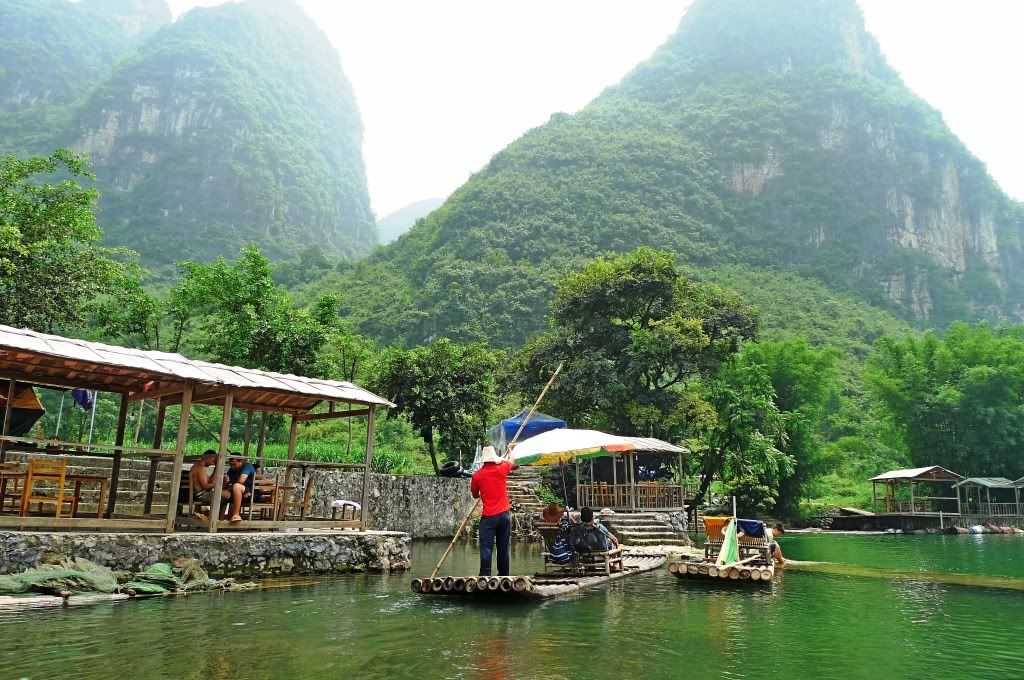 The name sounds nice doesn't it, but it's just another pier and a stopover for a meal. It was here I saw the only water wheel to be found along
Yulong
River!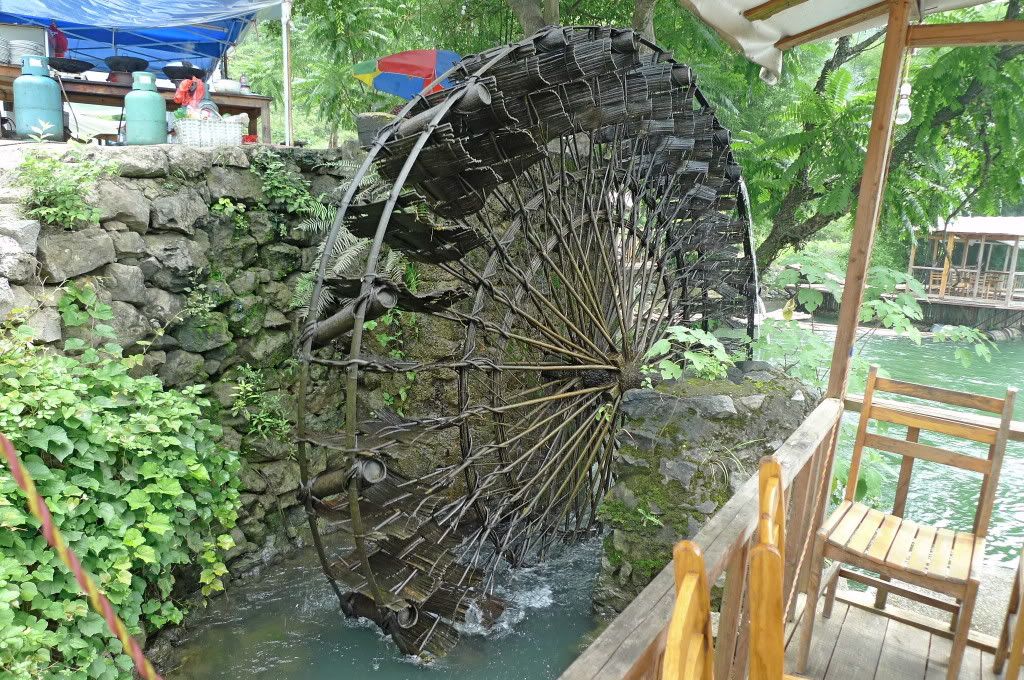 See how the water wheel transported the water up from the river.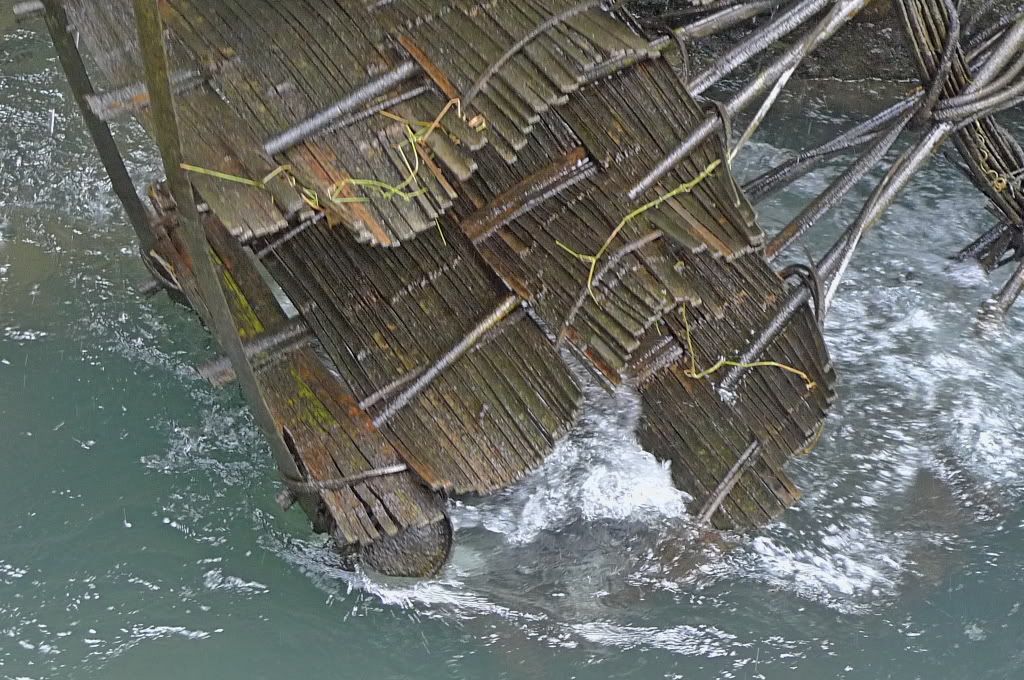 I did not climb up to take photos of the water wheel from behind. I left Jam and his friend to walk around the place while I rested my legs at the hut where we were going to have our lunch.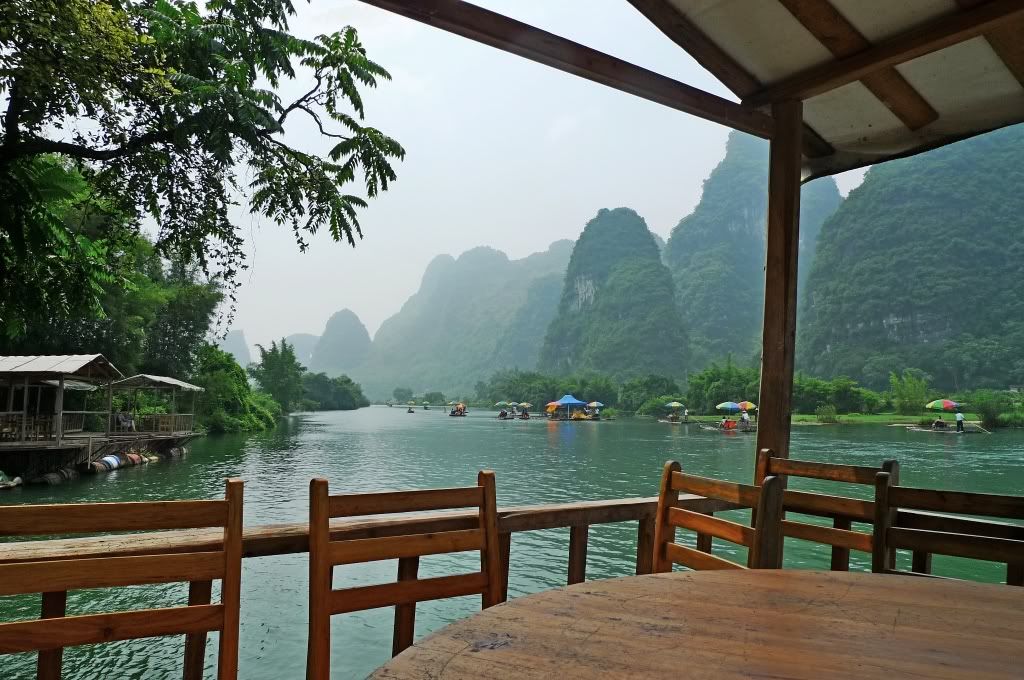 It was actually a nice place to have lunch as the view from here was beautiful!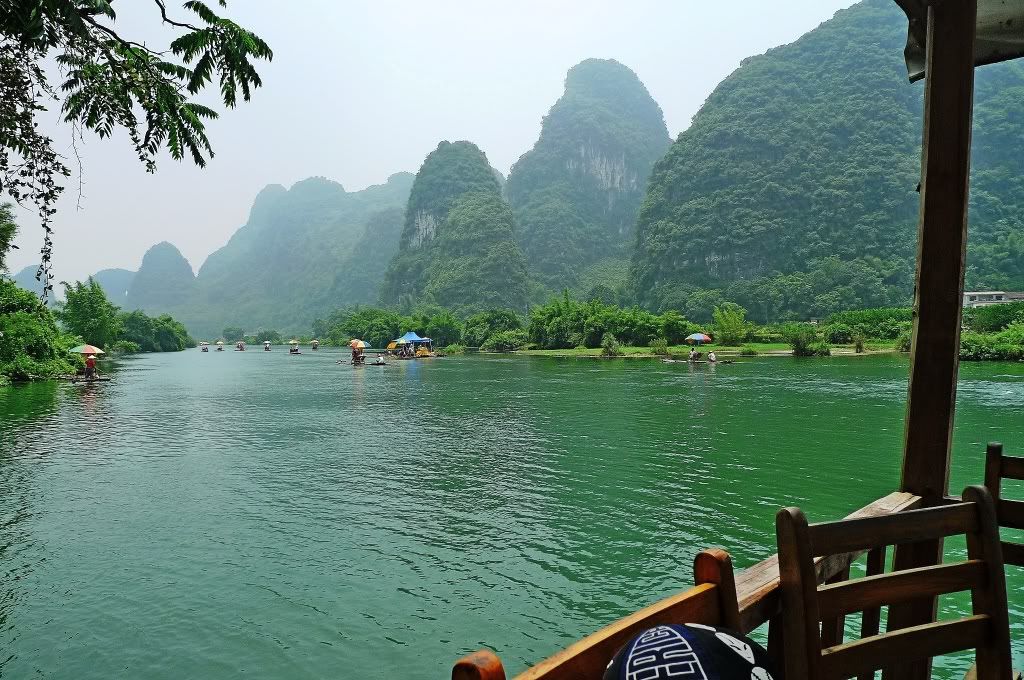 The weir dam in front of the hut also make for nice viewing!
We invited our two rafters to lunch with us. These were what we ate.
Bamboo shoots.
Beggar duck.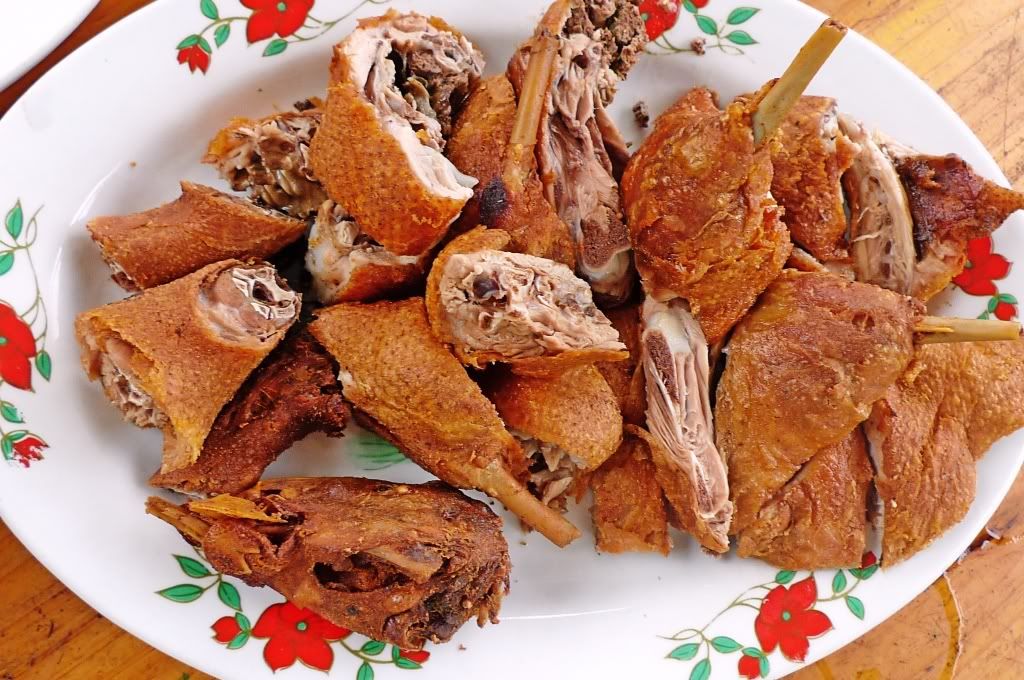 I have heard of beggar chicken, but beggar duck? They were OK, though.
Eggs.
And vegetables.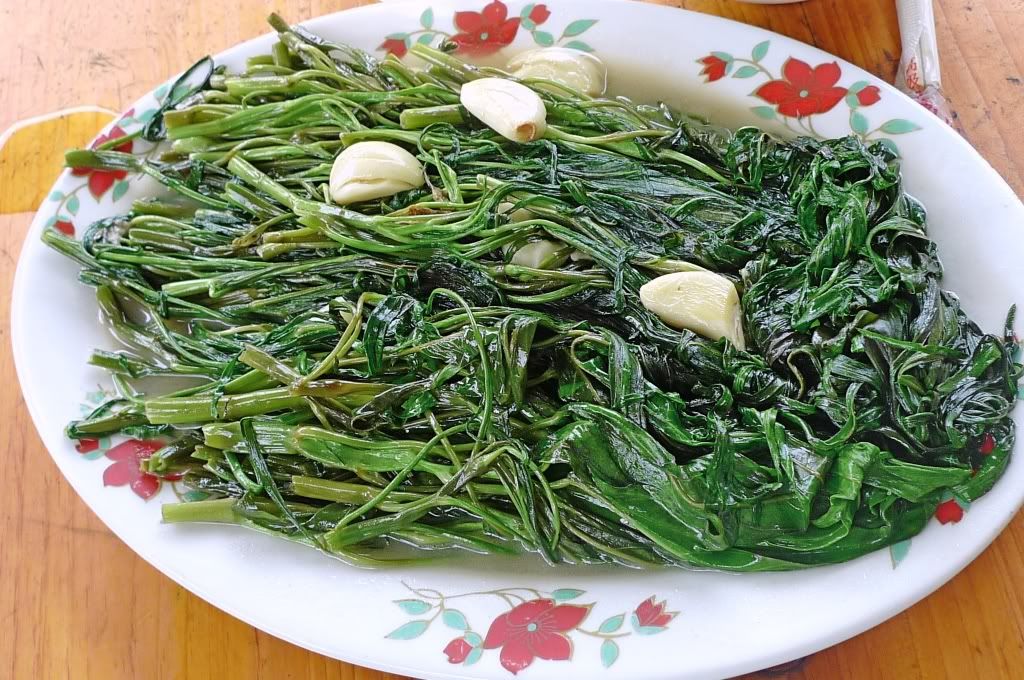 The lunch was not too bad. However, we would end up regretting eating this lunch a day later. I will let you know why in my future post.
After lunch, we resumed our journey on the rafts.
There were lots more tourists downstream than upstream.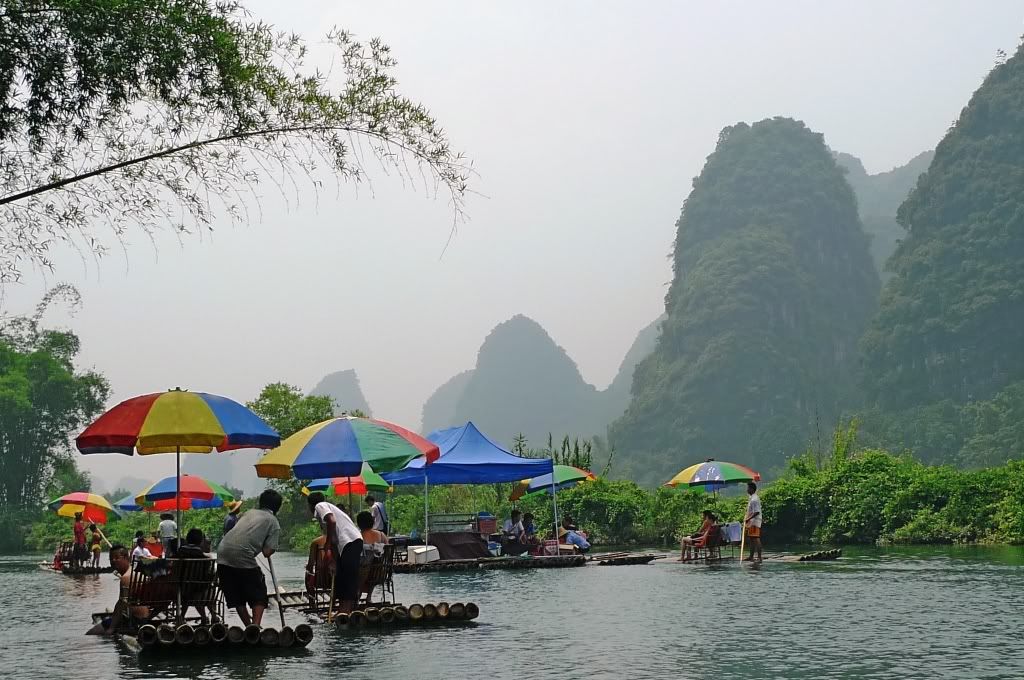 See this funny shaped hill? Looks like a thumb to me.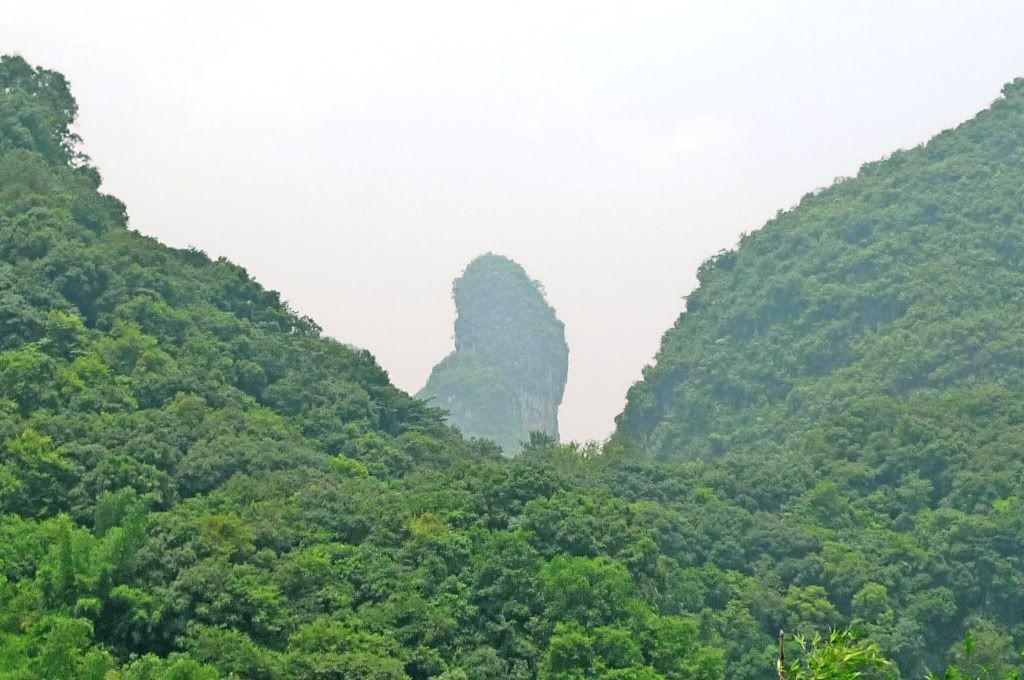 More beautiful scenery along our remaining journey.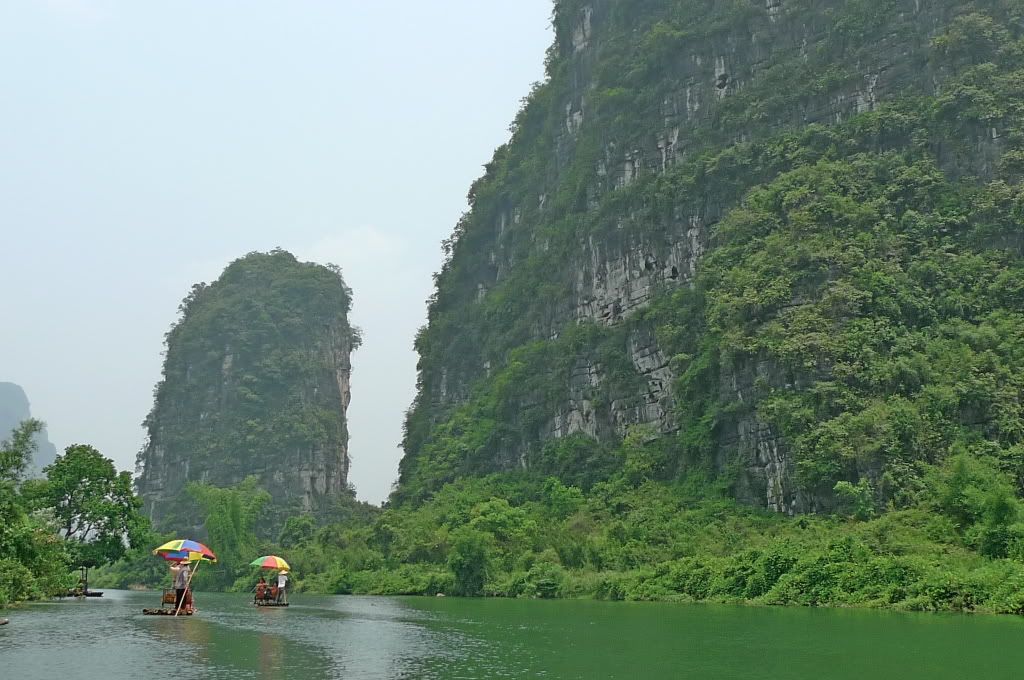 Lots of bamboo trees!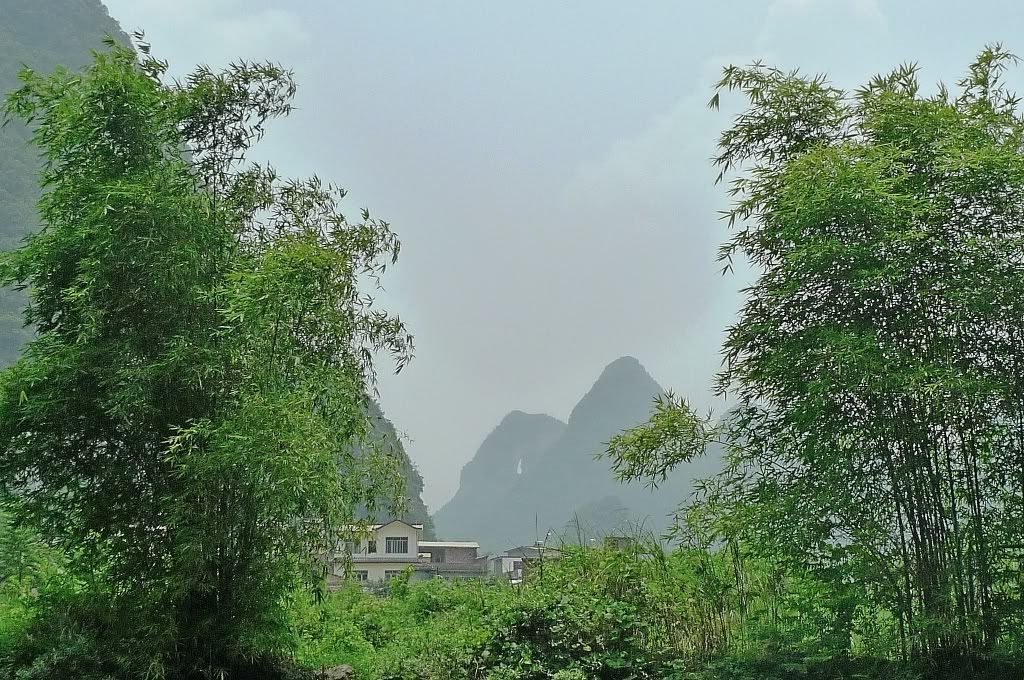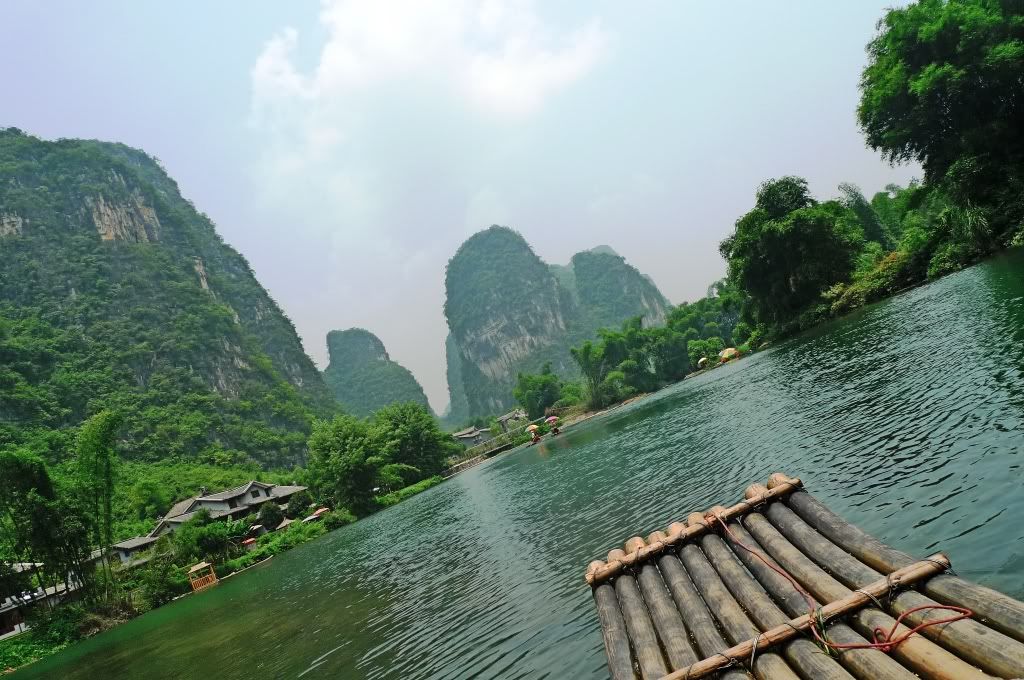 Finally, after 5 hours of traveling on the
Yulong
River, we reached
Gongnong
Bridge, which was the end of our river rafting journey.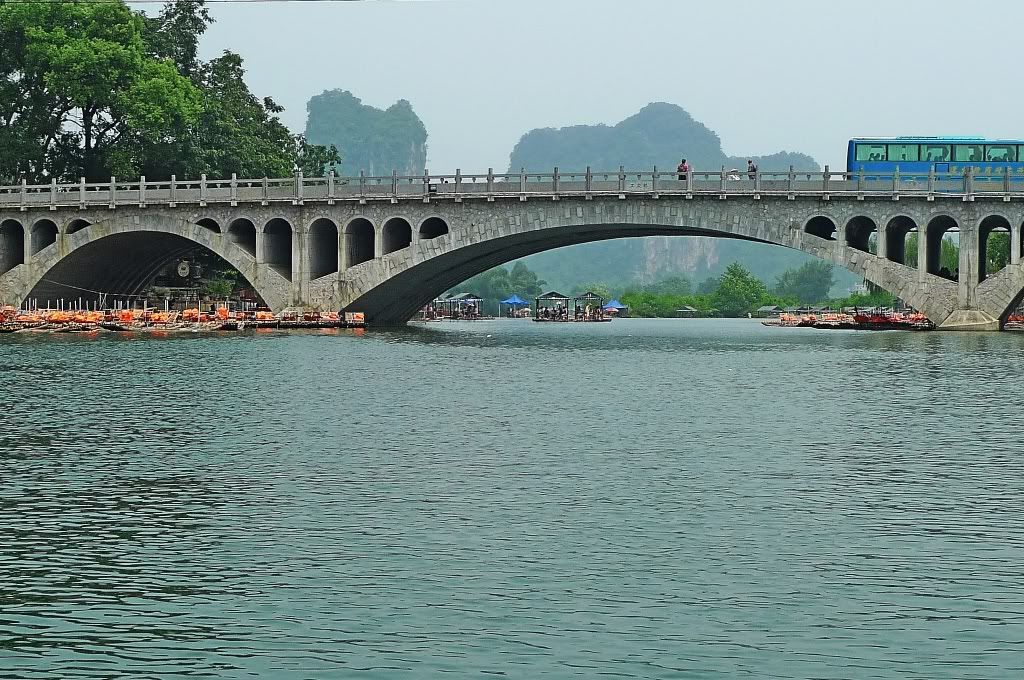 We docked at
Gongnong
Bridge Pier. There, we could see workers carrying our rafts up to the lorry to be transported back upstream for the benefit of other tourists who planned to go rafting on
Yulong
River.
I really enjoyed myself despite that unfortunate accident! I would not mind doing it all over again!
Coming up next : Lost In
Xingping