Yesterday, my family and I celebrated
Father's Day
at
Secret Recipe Beyond Veggie
at
Tropicana City Mall PJ
. It was our first time to this restaurant.
Yes, I know we were celebrating it a little bit late, but we purposely did that to avoid the crowds. It's no fun when you have to compete with so many people for a table, and besides, the food would not be as nicely prepared and cooked.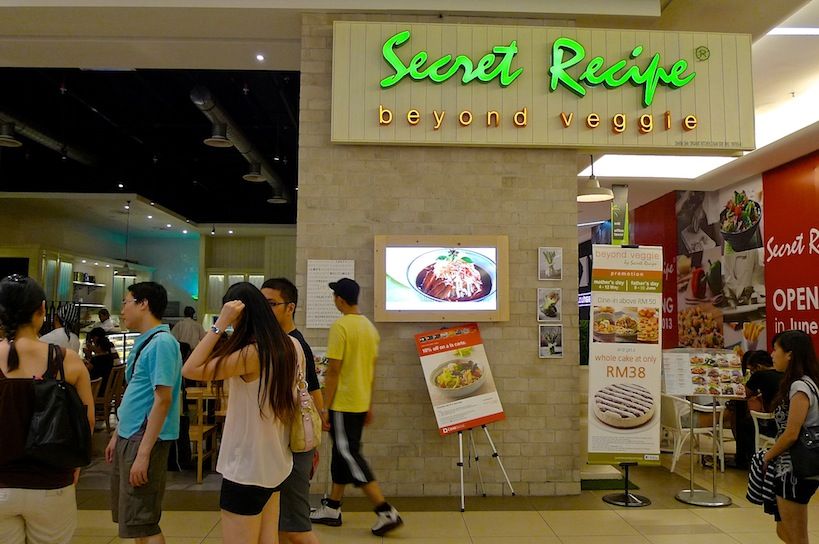 Anyway, there will be no pictures of my father or my family members - this will just be all about the food!
Now we all know that Secret Recipe is well known for their cakes so for them to start a vegetarian restaurant was a bit odd to me. Still, no harm in trying it out.
We started off with the appetizers in the form of
Veggie Roll
(RM9.90 / US$3.08)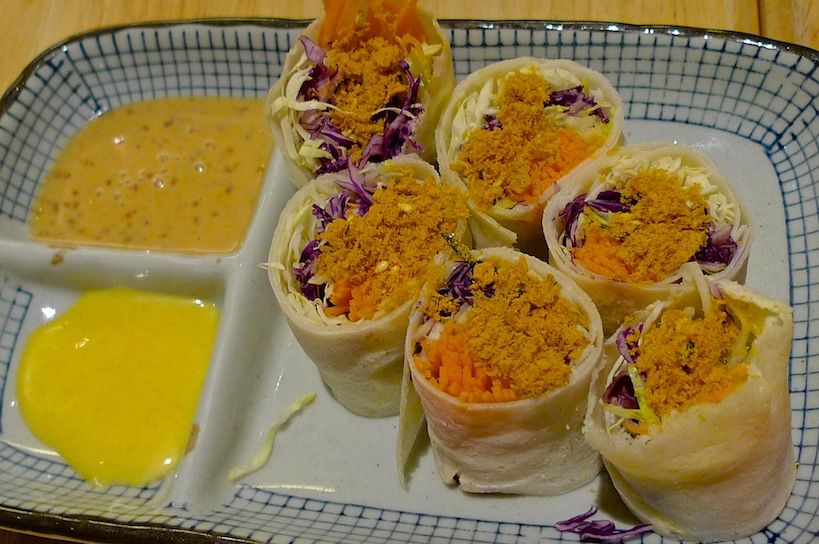 Guess what? I didn't get to try this Veggie Roll as I was too busy taking pictures!! That's the sacrifice one has to make as a blogger sometimes. LOL! But no worries, I will be back to try this.
Anyway, according to my mom, it was pretty average. She much prefers the
popiah
rolls she buys from the market and they are much cheaper too. Haha!
My father likes
rojak
a lot so for our second appetizer, we ordered the
Fruits Rojak
(RM9.90 / US$3.08)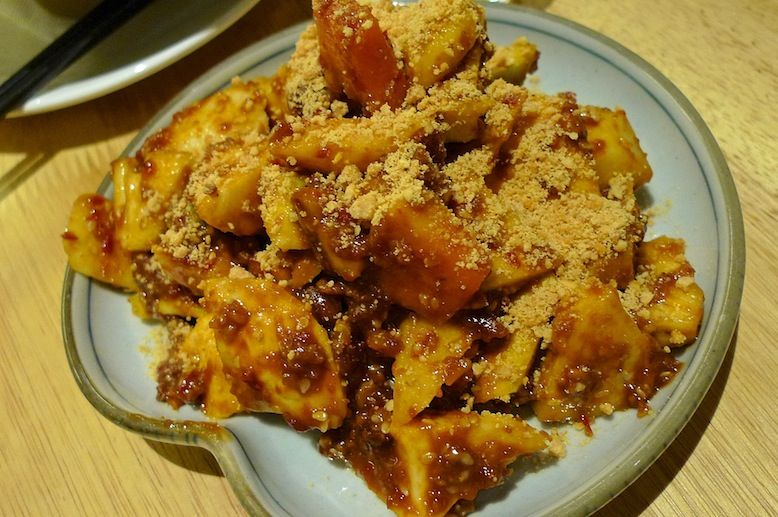 This was quite delicious. Perfect as an appetizer. I like : )
The third appetizer was the
Mushroom Satay
(RM9.90 / US$3.08)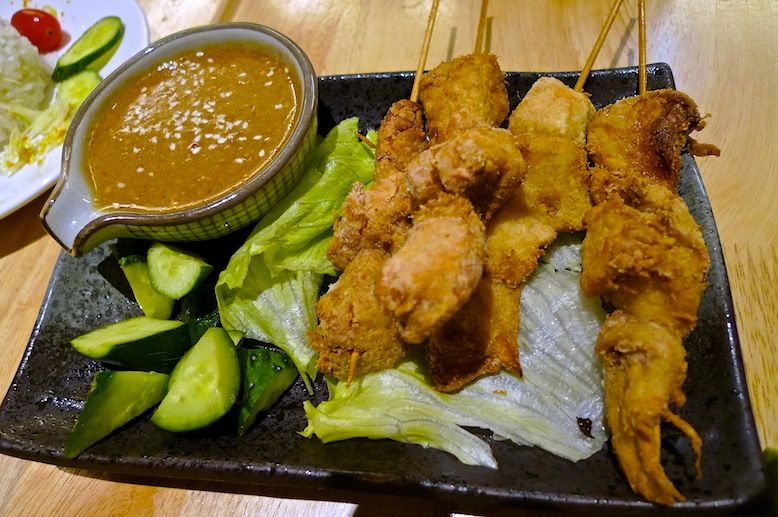 We should have known better than to order this satay! I normally dislike eating vegetables that 'pretend' to be meat. And although it was clearly written 'mushroom' satay in the menu, we still ordered it thinking it was chicken or beef! LOL!
But it was clearly a bad choice. The satay was not delicious at all! The peanut sauce was just OK, nothing to shout about. Definitely will not order this again.
Next, we had the
Fried Mushroom Salad
(RM9.90 / US$3.08). This comes under Chef's Recommendation so it should be good.
My opinion? It was definitely good. The fried mushrooms were so crispy and yummy!! Love it! : )
My brother always love tofu so we ordered a plate of
Spicy Thai Style Tofu
(RM17.90 / US$5.56)
This one was super delicious! Yummy!! Highly recommended!
Some of my family members cannot survive without rice so we had to order some fried rice. LOL! We chose the Chef's Recommendation -
Beyond Veggie Fried Rice
(RM15.90 / US$4.94)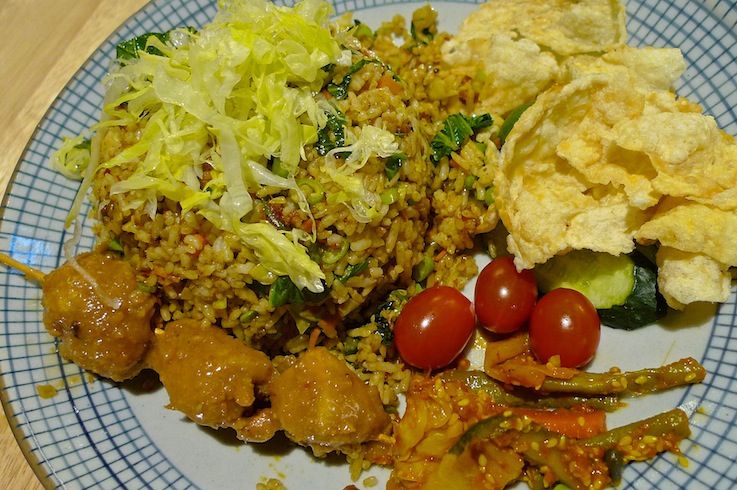 Unfortunately, the fried rice was just average. I felt it was not even worth the price we paid for.
We also ordered another plate of fried rice - the
Special Sambal Petai Fried Rice
(RM15.90 / US$4.94)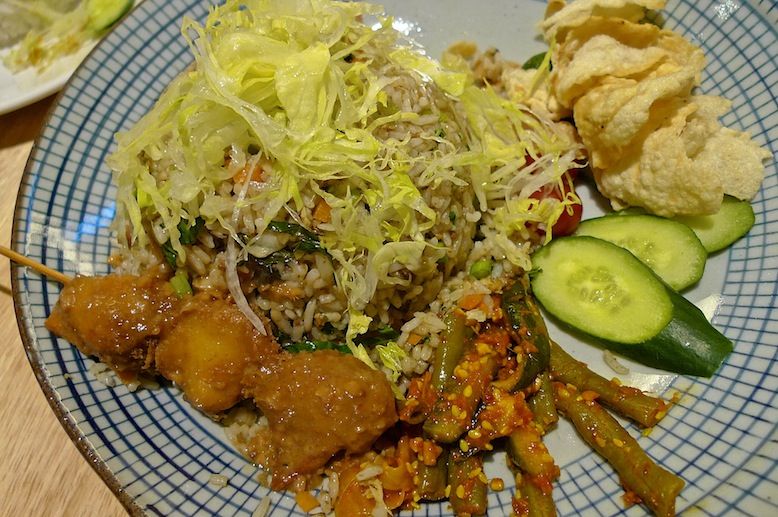 Can you see any petai in the picture? I sure as hell can't! LOL! In fact, this Petai Fried Rice looks almost the same as the Beyond Veggie Fried Rice, no?
At that kind of price, can't they give more petai and not chopped them up into tiny bits that we could not even see with our naked eyes? A real disappointment to me!
Next, we ordered the
Bak Kut Teh
or officially known in the menu as
Revitalising Herbal Soup
(RM17.90 / US$5.56) - another Chef's Recommendation.
This dish also came with white rice. I found it a tad too sweet! Not the kind of
Bak Kut Teh
that I am used to. And of course, it's clearly a wrong choice since this is a vegetarian restaurant. No real pork here!!
Next, my personal favorite dish -
Ginger Mee Sua Soup
(RM15.90 / US$4.94)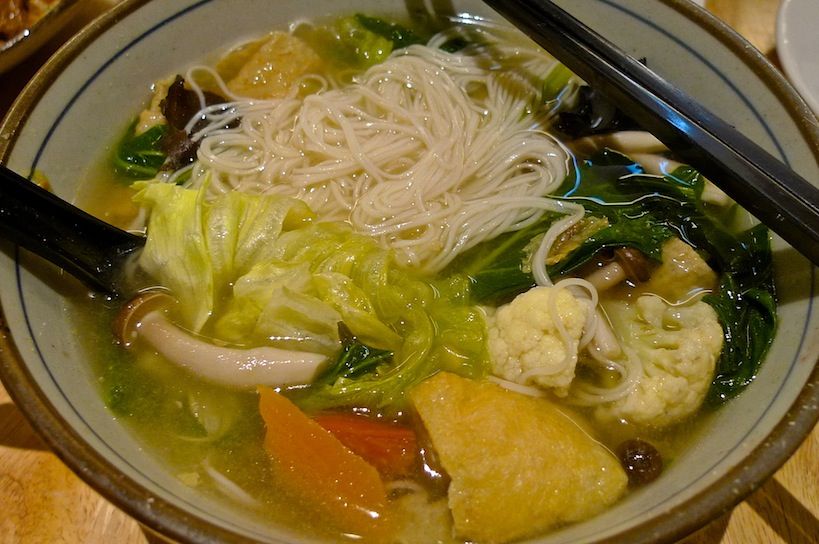 Not everyone likes the taste of ginger soup, but I love it! With the varieties of vegetables and the mee sua in the soup, this was just perfect for me! Yum!! I do not mind coming back here just for this Ginger Mee Sua Soup!
We also ordered a bowl of
Asam Laksa
(RM15.90 / US$4.94)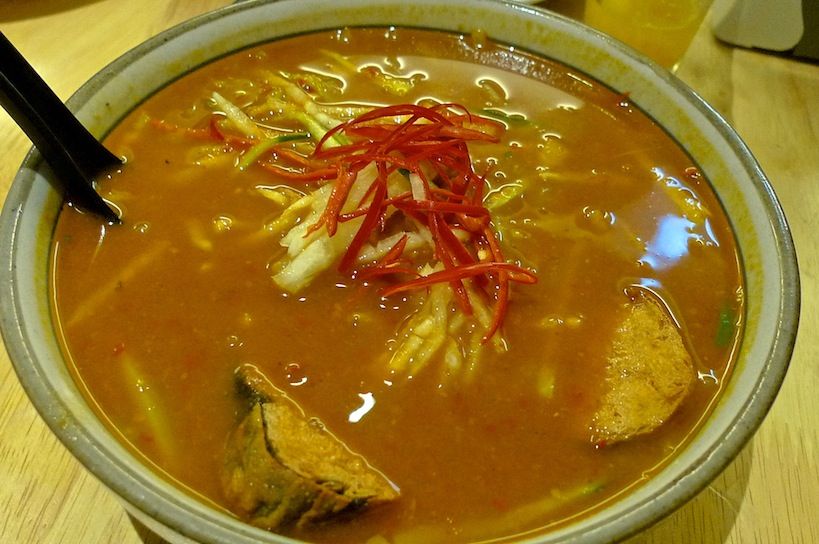 Of course, there's no real fish inside this Asam Laksa! I did not taste this but my brother said it was OK. Just OK, not awesome.
The restaurant also offers Western fare in the form of pastas and pizzas. Our stomachs were too full for pastas. Maybe next time. We however decided to try their large-size
Hawaiian Tropicale
pizza (RM25.90 / US$8.05)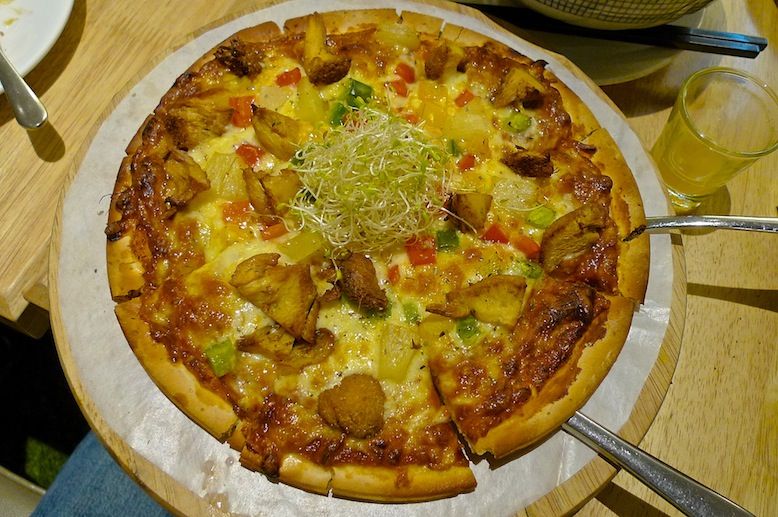 This pizza was also a Chef's Recommended item. Was it good? Hmm, with no real chicken meat, it was just average to me.
OK, this
Tom Yam Soup Noodle
was wrongly brought to our table so I just snapped a picture of it. Didn't taste it, but I should have, shouldn't I? Too late now! LOL!
For drinks, we ordered a pot of hot
Lemongrass Fruit Tea
(RM16.90 / US$5.25)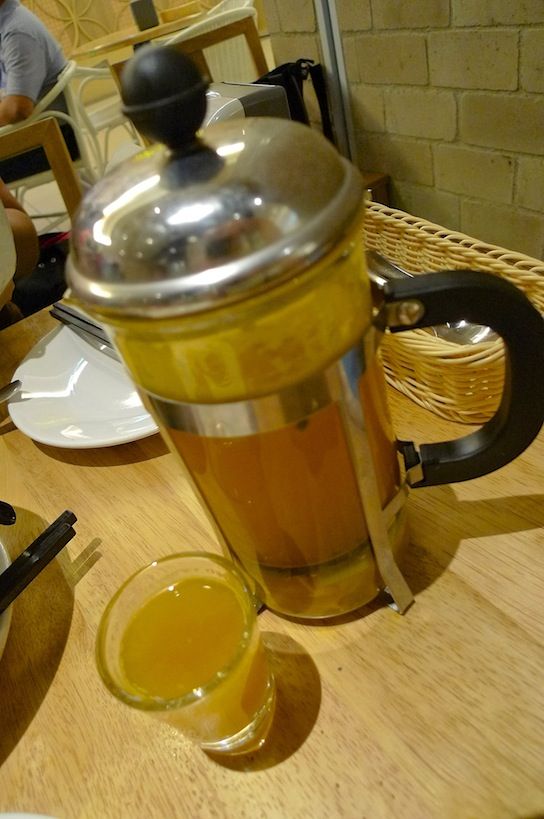 I love this lemongrass fruit tea! Delicious. And it can be refilled....with water. So on our third round refill, the taste of fruit tea was hardly there anymore. More like a very diluted version.
By the way, there's an ongoing
Father's Day promotion
at
Secret Recipe Beyond Veggie
:
Dine-in above RM50 and get a whole cake at only RM38! (Normal price RM75)
But hurry! Offer lasts till
30th June 2013
.
It was a no brainer. Since our bill came to about RM250, we immediately went to choose our cake. We ended up with a
Blueberry Cheese Cake
.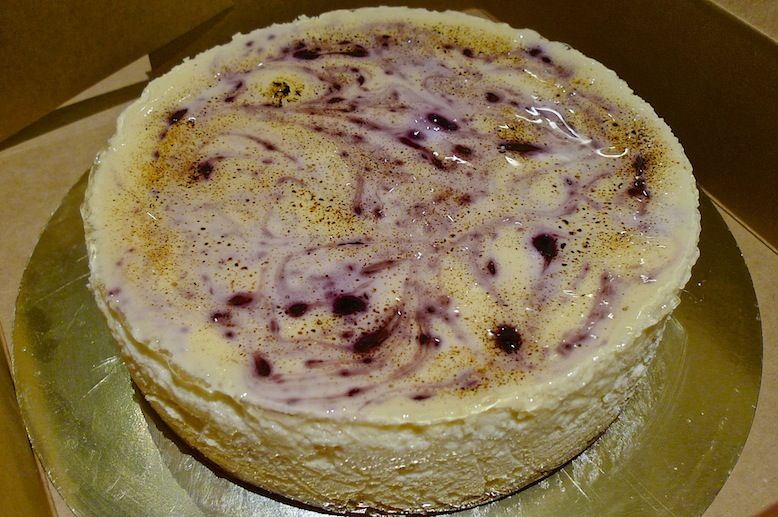 The Blueberry Cheese Cake was super delicious! Yummy!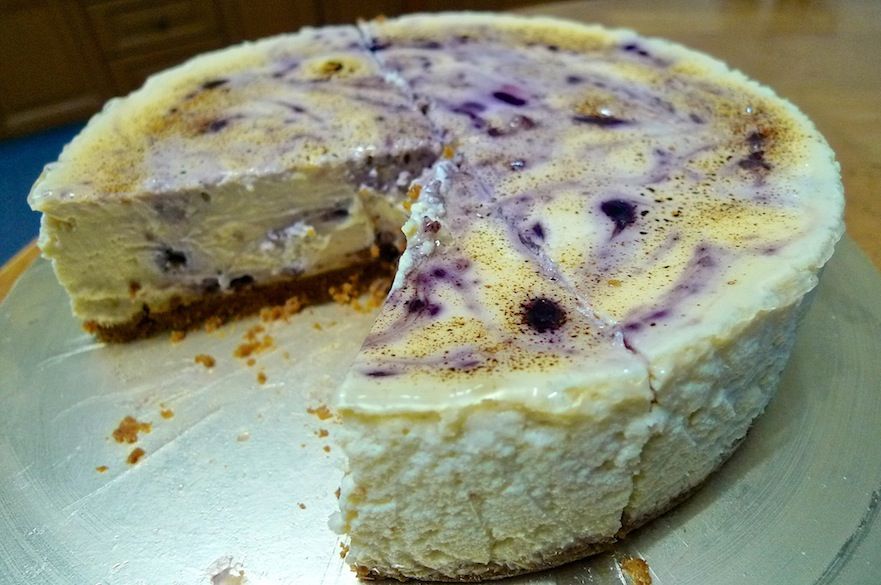 But I could only eat one small slice. Eat more and the high cheese content will make me feel sick in the stomach. Haha!!
Secret Recipe Beyond Veggie,
G-37 Gd floor,
Tropicana City Mall,
No 3, Jalan SS20/27,
47400 Petaling Jaya.
Tel : 03 7722 1680