OK, dear readers. It's back to my
Hong Kong
travel posts again!
This is the trip I made with my friend back in March 2011. I know, I know - that's like 2 years ago. But there were so many other things to blog about and I had to keep putting it off.
Anyway, to refresh your memory, here are all the Hong Kong posts I have blogged about thus far, in chronological order.
Day 1
1.
My First Day In Hong Kong
2.
I Bought Something Naughty At The Ladies Market In Mongkok
3.
Yummy Mango Desserts At Hui Lau Shan
Day 2
4.
My Breakfast At Australia Dairy Company
5.
Pandas Galore At Ocean Park Hong Kong! (Part 1)
6.
Pandas Galore At Ocean Park Hong Kong! (Part 2)
7.
The Waterfront At Ocean Park Hong Kong
8.
The Cable Car Ride At Ocean Park Hong Kong
9.
The Summit At Ocean Park Hong Kong
10.
The Symbio Water Screen Show At Ocean Park Hong Kong
11.
Searching For Roast Goose Rice At Lan Kwai Fong
12.
A Steamboat Dinner At Dao Xiang
Day 3
13.
My Dim Sum Breakfast At Dao Xiang
14.
My Visit To Wong Tai Sin Temple In Hong Kong (Part 1)
15.
My Visit To Wong Tai Sin Temple In Hong Kong (Part 2)
16.
Riding The Peak Tram In Hong Kong
17.
My Visit To The Peak
18.
A Tribute To Hong Kong
19.
My Visit To Madame Tussauds Hong Kong (Part 1)
20.
My Visit To Madame Tussauds Hong Kong (Part 2)
Phew!! 20 posts and I have only covered 3 days out of the 6 days I was there. Brace for more, folks! : )
Continuing from where I left off, as soon as my friend and I came out of Madame Tussauds at The Peak, we headed up the escalator to the
Sky Terrace
.
Since the Sky Terrace pass could only be used once, we decided to go up at night to get a panoramic night view of Hong Kong city. This was what greeted us at the top!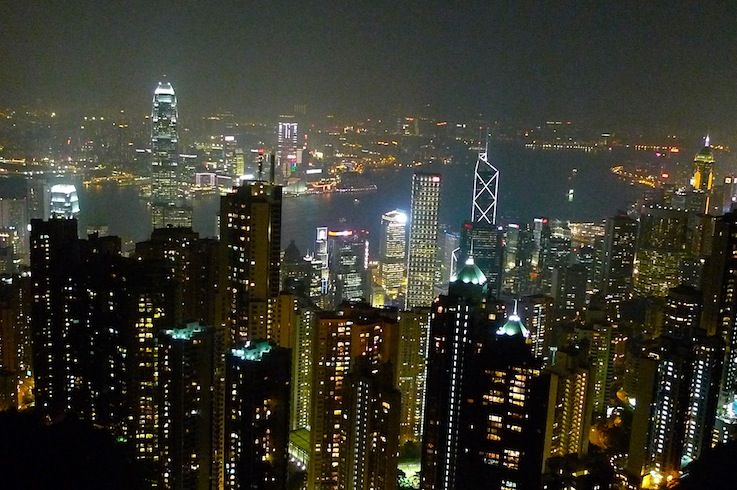 It was breathtaking, although my not-so-good photo may not be doing it full justice. By the way, those white specks or grainy spots are not haze or polluted air, but digital noise due to lack of light, and of course the not-big-enough sensor in my humble Lumix LX3 camera.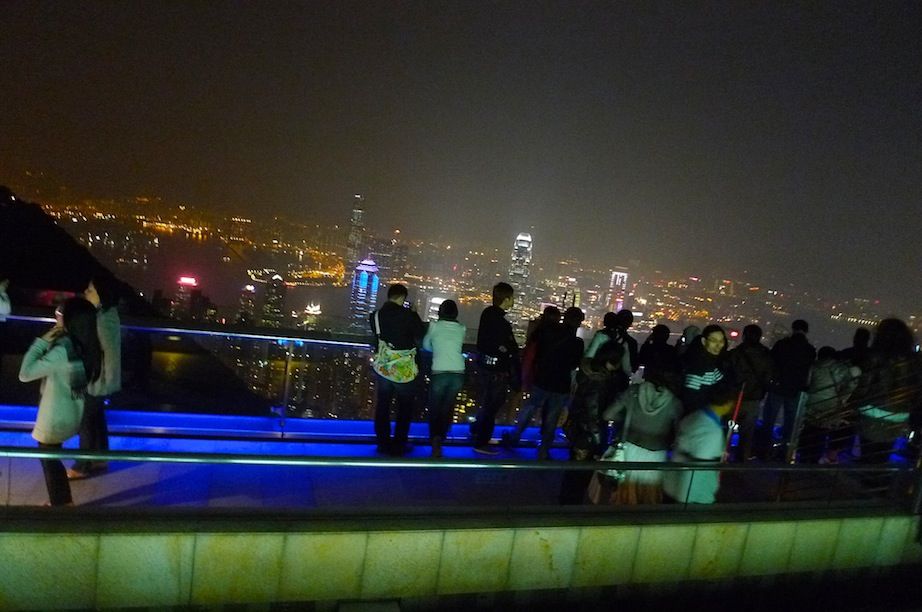 There were quite a lot of people at the Sky Terrace but thankfully, not overly crowded. I could remember how strong the wind was blowing at that time. I felt a little chilled, but thoroughly enjoyed the pleasant weather.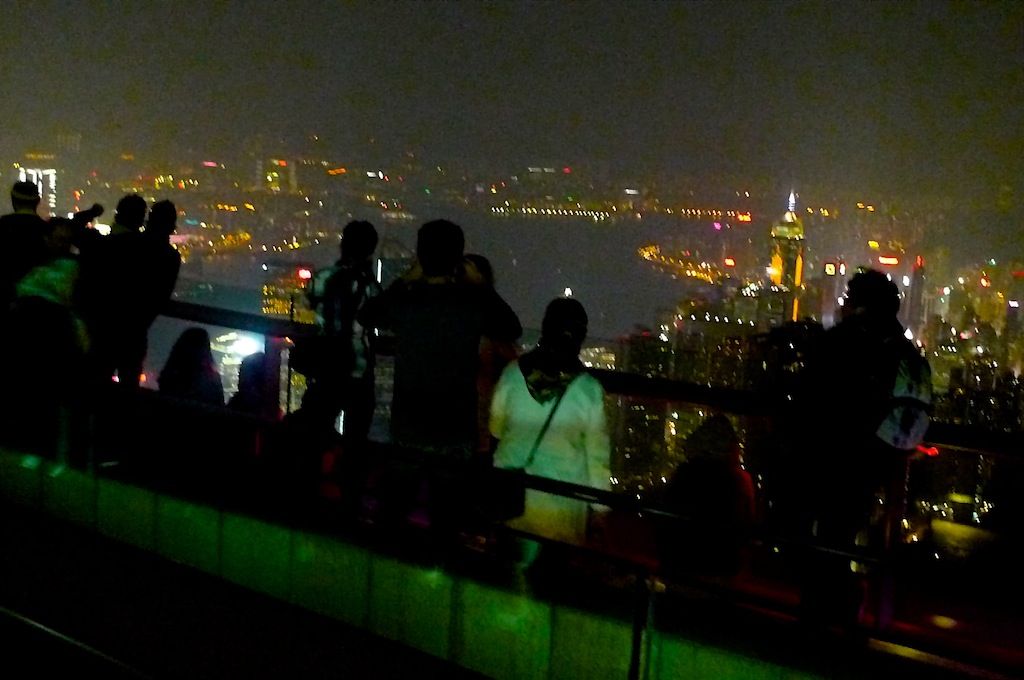 By the way, did you know that at 428 metres above sea level, the Sky Terrace boasts the highest 360-degree viewing platform in Hong Kong?
View the Sky Terrace from below during the day time
HERE
.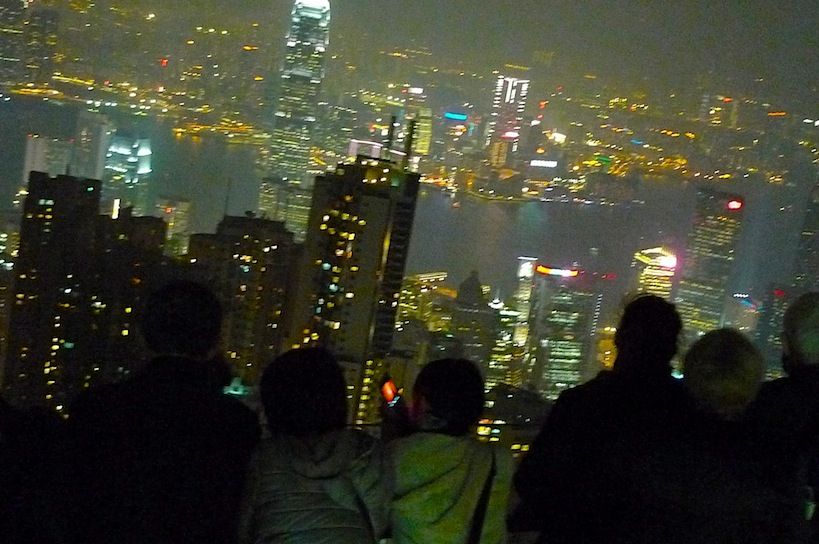 More photos below ....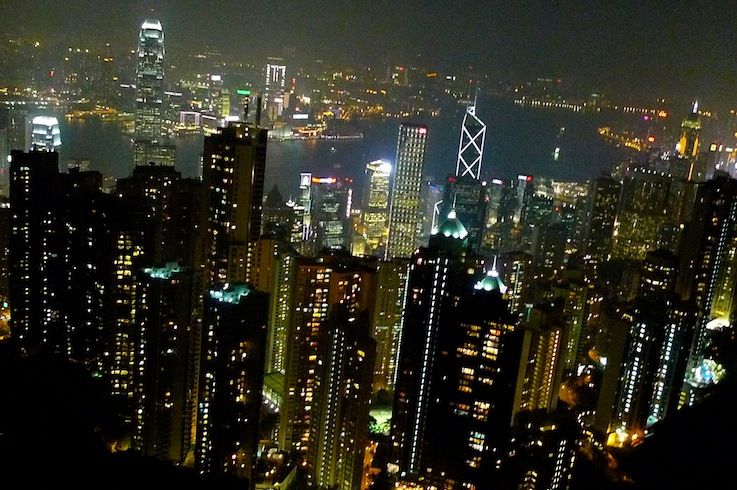 We spent about half an hour up here to soak in the night air and the wonderful atmosphere. Looking back, I truly miss this place.
Soon, it was time to descend The Peak. There was quite a long queue at the Peak Tram Station. Luckily, we did not have to wait too long. While waiting for the tram to arrive, I took a picture of this.
For photos of the Peak Tram, click
HERE
.
When we reached the Peak Tram Terminus at the bottom, we made our way to the
Central Station
to take the MTR back to
Mongkok
where we stayed. Along the way to the Station, we enjoyed looking at some of the Hong Kong buildings and landmarks.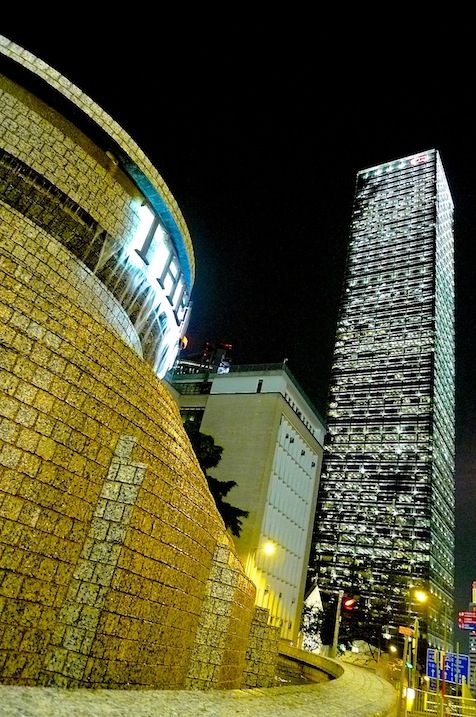 These are two iconic buildings in Hong Kong. On the left is
Cheung Kong Center
, which was designed by
Cesar Pelli
, the same person who designed Malaysia's famous
Petronas Twin Towers
. On the right is the
Bank Of China Tower
which resembles a bamboo shoot.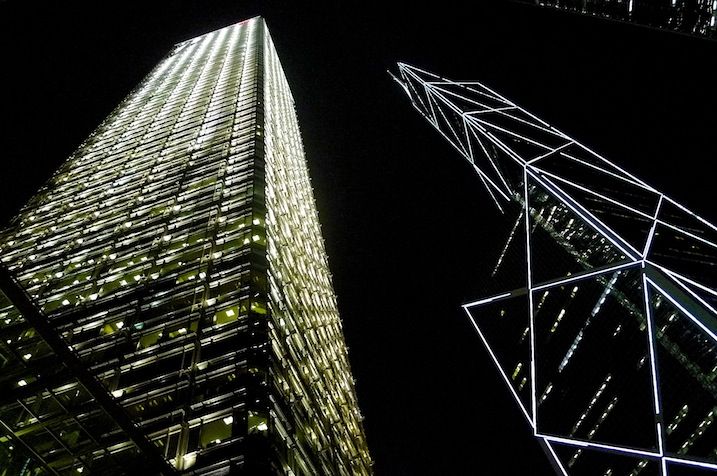 A bit further from Cheung Kong Center is the famous
HSBC Tower
, which is one of the most expensive buildings in the world built at the cost of US$668 million.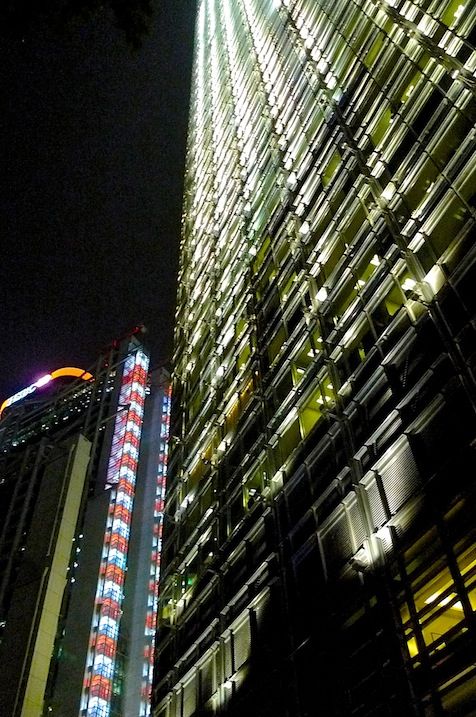 To view some of these buildings in the daytime, click
HERE
.
Another photo of the two iconic buildings - this time, the
Cheung Kong Center
on the right and the
Bank Of China Tower
of the left.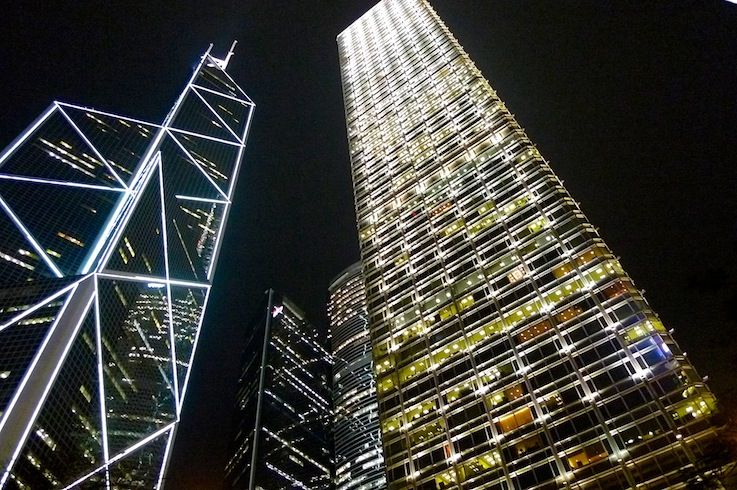 I was glad I managed to capture Hong Kong's second tallest building - the
International Finance Center
(the second building from the right in the photo below).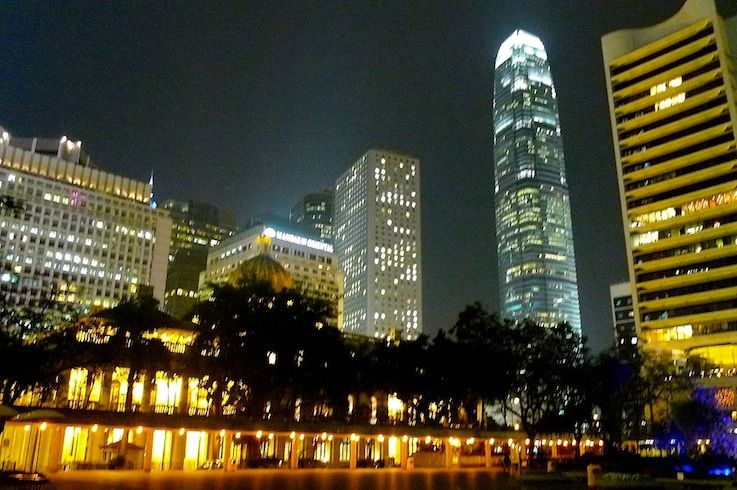 I had a great time walking the Hong Kong streets at night to admire all these buildings. But my tummy was already growling. It was time for dinner and I could not wait to get back to Mongkok for some yummy Hong Kong food!