When I was in
Hong Kong
with my friend for a 6-day holiday trip last year, the one restaurant that we went to almost every night was
Hui Lau Shan
(
許留山).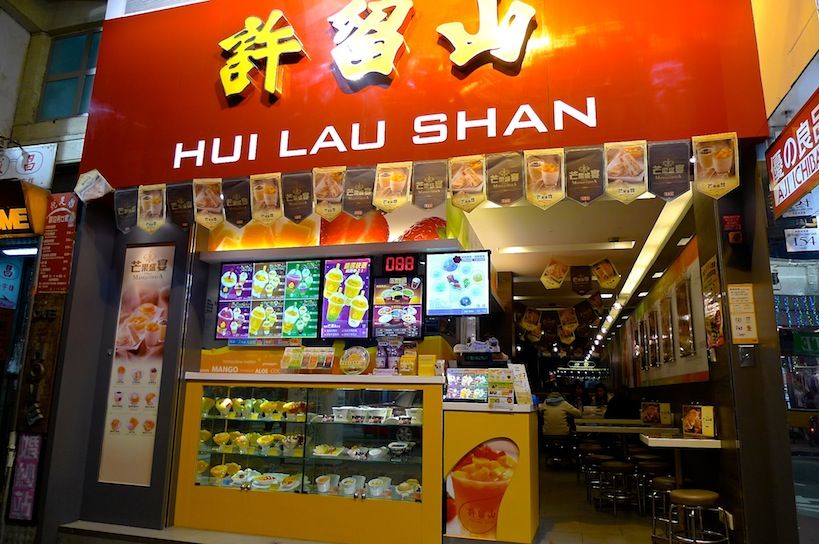 This famous dessert shop well known for its mango desserts, has many outlets and can be found almost everywhere in Hong Kong! In fact,
Hui Lau Shan
was ubiquitous in Mongkok where we stayed. Believe it or not, we could see this shop at almost every street!
Read More >
My First Day In Hong Kong
The glass display of their desserts were enough to attract me - a sweet tooth, a dessert lover and a mango lover all rolled into one - into their shop!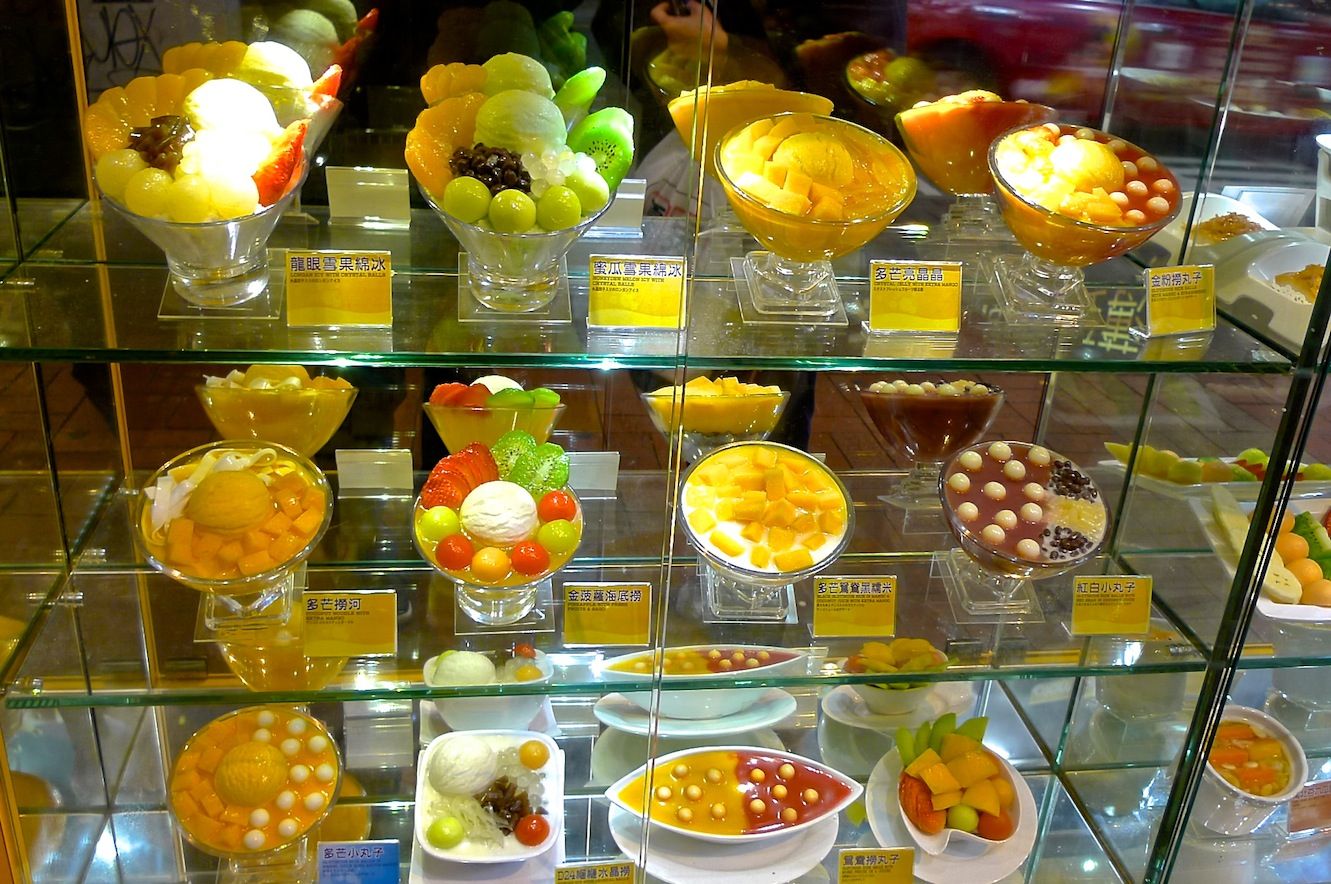 Now I know that
Hui Lau Shan
had opened several outlets in Malaysia since May this year. If you have eaten at the Malaysian outlets (especially at 1Utama and Pavilion) and were not impressed, I can assure you that the
Hui Lau Shan
outlets in Hong Kong are much better, though more expensive.
By the way, the dessert chain was named after a famous Chinese physician in ancient times. Originally, it was selling only herbal jelly and teas in the 1960's but fresh fruits and juices were added to the menu later.
It was my first time ordering this
glutinous rice balls in mango juice with extra mango fruits topped with mango ice cream
. I fell in love with it immediately!!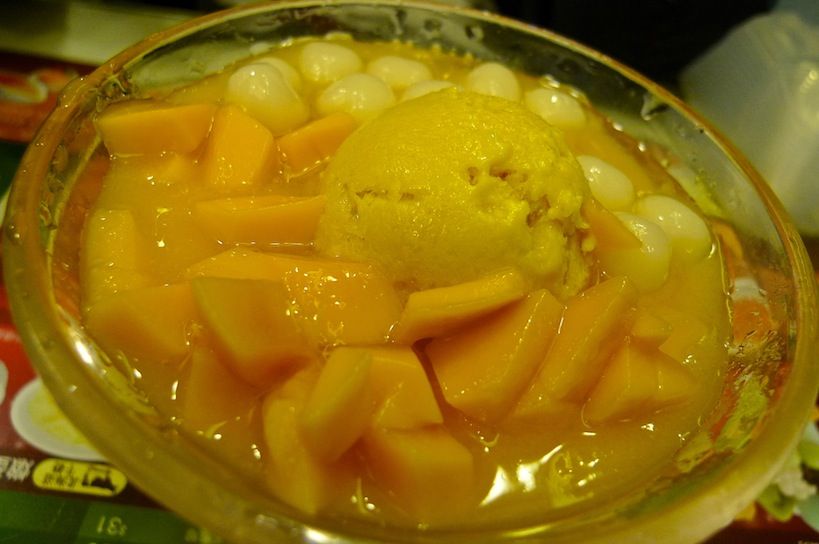 What stood out for me was the mango ice cream! It was one-of-a-kind and really delicious! I have no idea how they make this ice cream but you can actually taste the fibrous strands of real mango! It's like eating sorbet. This is a MUST EAT if you decide to eat only ONE dessert at
Hui Lau Shan
!
Sad to say, I tried this same dessert at
Hui Lau Shan
in Malaysia and was really disappointed with it. The Malaysian version seems to fall short in terms of quality and taste compared to their Hong Kong counterparts.
Besides, I also found that the mango fruits used by
Hui Lau Shan
in Hong Kong were different from the ones used in Malaysian outlets. The Hong Kong mangoes were so much more aromatic, fresh and yummy!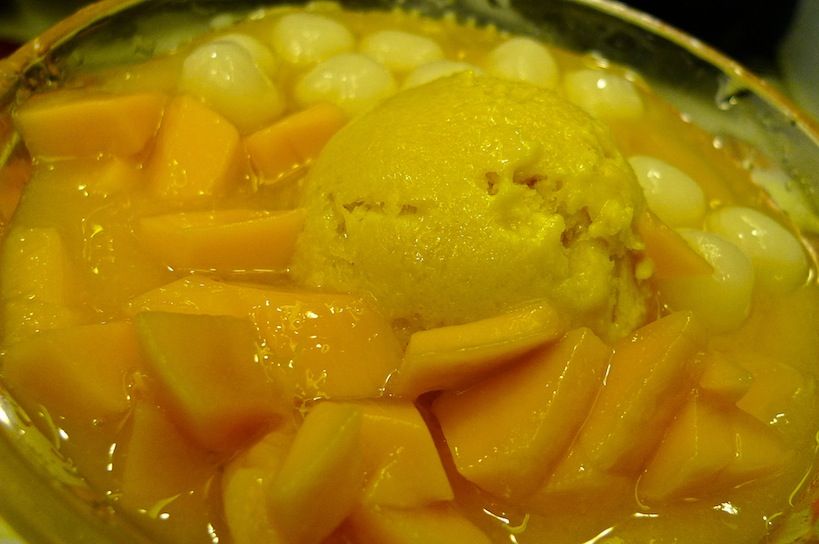 I remember eating this on my first night in Hong Kong. The weather was cold and both my friend and I were seated near the entrance of the shop where the cold wind kept blowing in. Brrrr!! Surprisingy, I enjoyed eating this cold dessert in the cold weather!
Read More >
I Bought Something Naughty At The Ladies Market In Mongkok!
My friend however, could not quite take the cold and ordered a hot dessert in the form of
black glutinous rice soup
which came together with a
radish cake.
It's a good thing they have fire to keep the dessert warm.
I tried some but found this dessert to be average. Probably not their specialty. I guess it's better to just stick to their mango desserts!
We saw something unique in the menu and decided to try the
mango mochi
.
They came in 3 pieces, each rolled in coconut. I took a bite and found the skin soft and chewy. However, I did not quite like the mango fillings inside - they were too solid. Perhaps we left them on the table for too long while enjoying our earlier desserts?
I had imagined biting into the mochi and sweet mango puree oozing out, but alas, that's just my fantasy! Haha! OK, I think my photo below just made it look worse! LOL!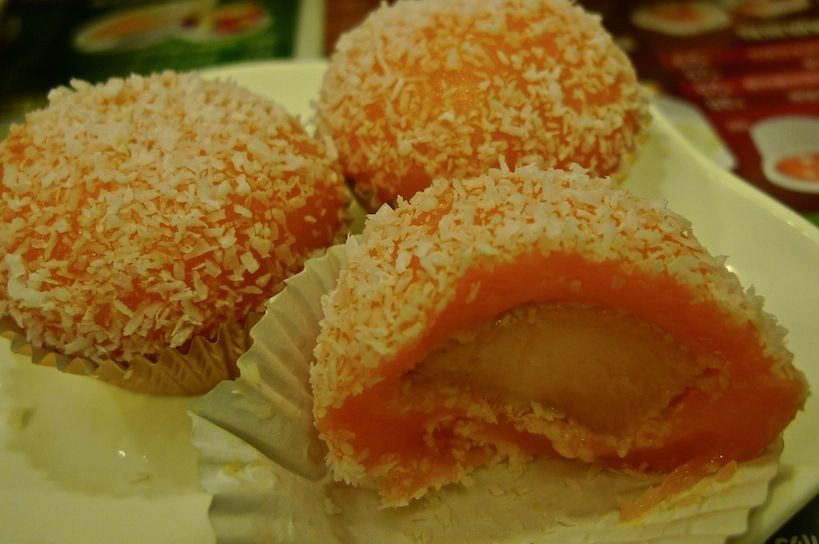 Overall, the desserts cost us HK$82 (US$10.60 / RM32) which was a little pricey but to me, it was money worth spending!
We visited
Hui Lau Shan
again on another night (usually we did this after dinner) but at a different outlet. This time we ordered the
Mango Platter
.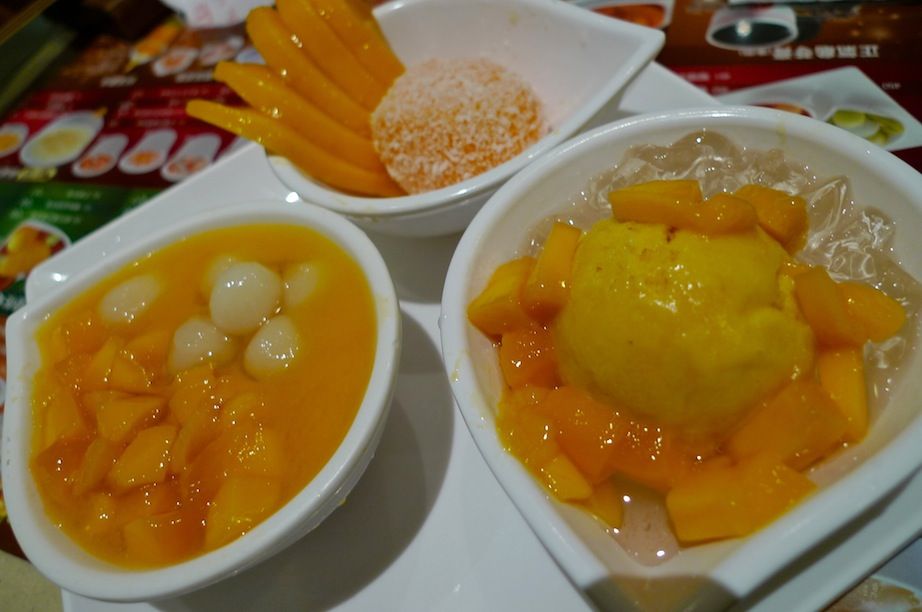 The Mango Platter consists of three different desserts but all involve my favourite aromatic mangoes! Yummy!
The first is
crystal jelly with mango and mango ice cream
.
I love the ice cream and the mango fruits but not the crystal jelly. Somehow I felt the crystal jelly did not enhance the dessert - it actually made it worse. I really don't mind if they leave out the crystal jelly!
The second one is
glutinous rice balls with mango in mango juice
.
I love the mango juice! So full of mango flavour!! But I did not quite like the glutinous rice balls. Perhaps they were too hard and starchy? Maybe they should improve on the texture of these rice balls!
The third one is
mango mochi with fresh mango
.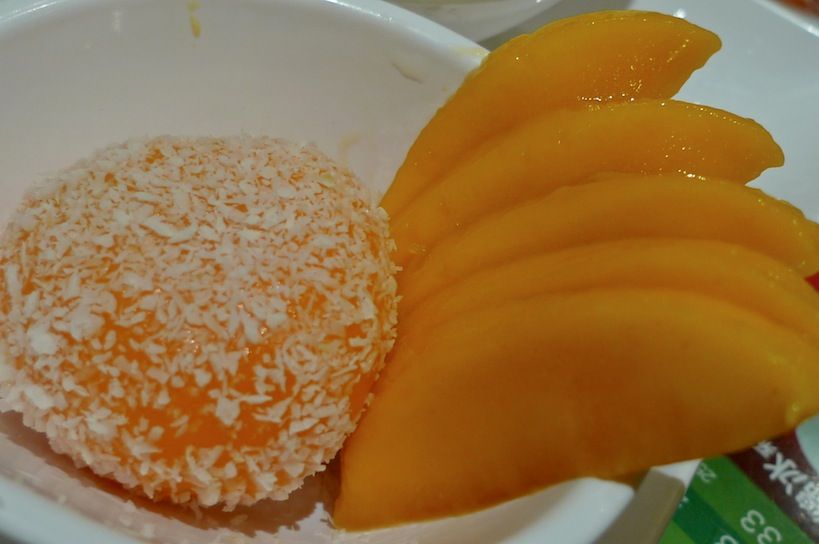 I have already mentioned about the mango mochi above, so I guess there's no need to repeat it. Not a fan of the mochi but love the aromatic mango slices! Yum!
Besides the Mango Platter, we also ordered the
sago in mango and coconut juice with pomelo and mango ice cream
.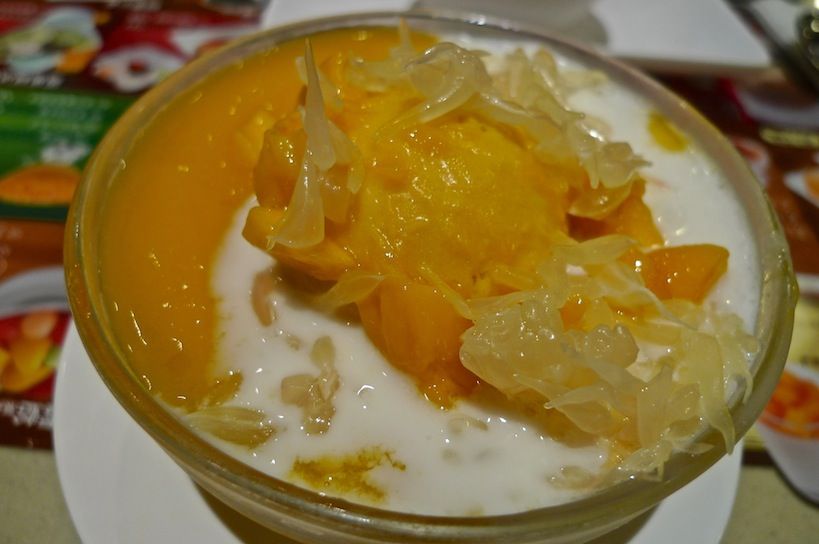 This is another winner from
Hui Lau Shan
! I simply love it!! Maybe it's the mango ice cream (which to me is already the best mango ice cream in the world!) or it's the coconut juice that did it for me. Or perhaps it's the combination of the sago, pomelo, mango juice, coconut juice and mango ice cream!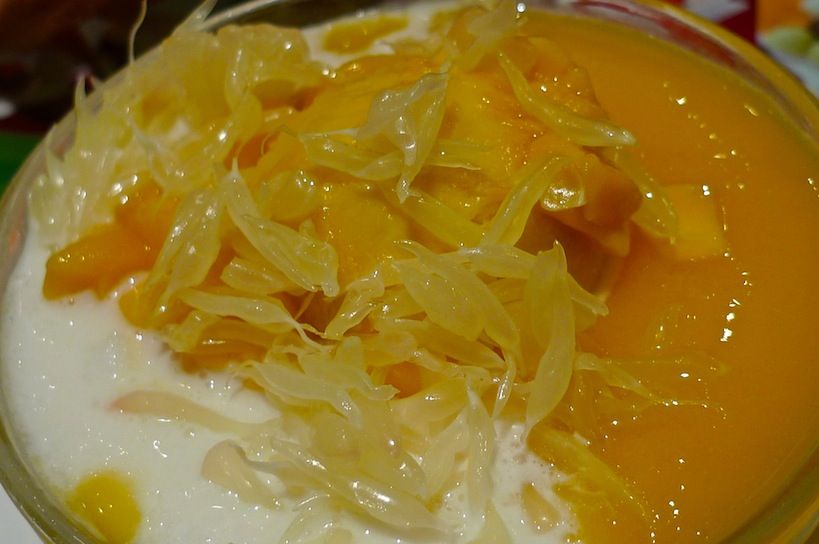 In any case, the taste was simply delicious and refreshing! This time, the overall desserts cost us HK$68 (US$8.80 / RM27). Expensive, but worth it, at least to me!
I managed to take a shot of the shop's interior. See those mangoes placed in the middle of the round pillar? Aren't they cute?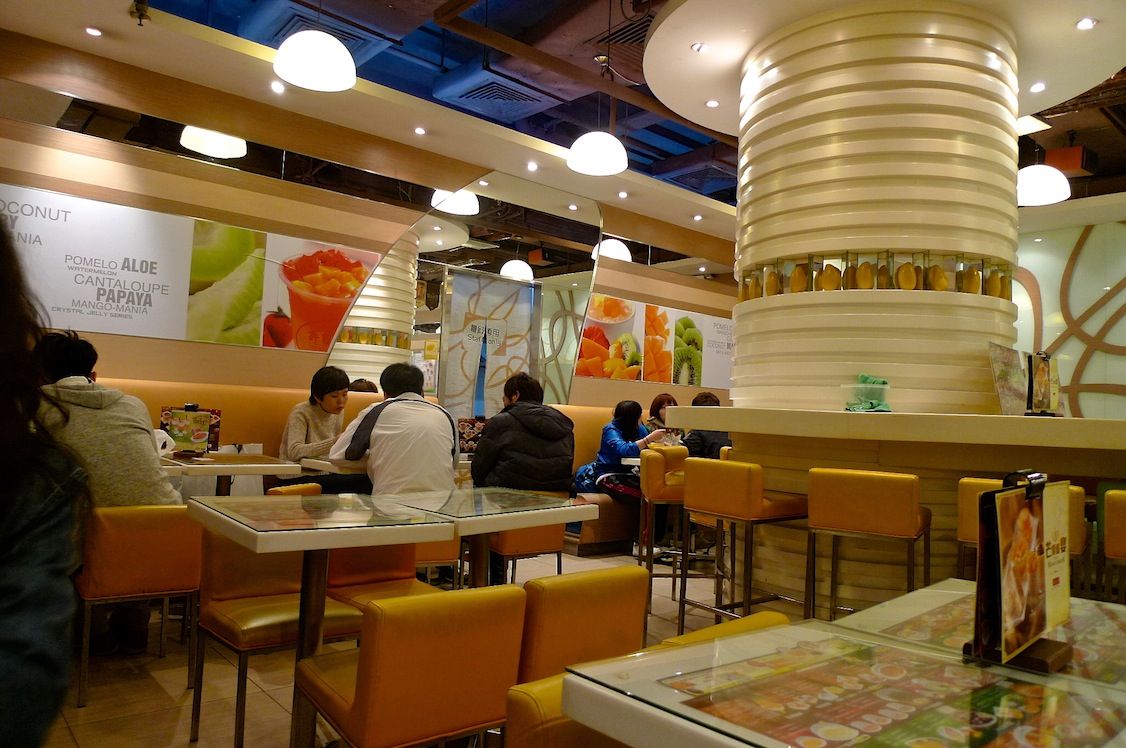 I like this design! Almost wanted to steal one of the mangoes there! : )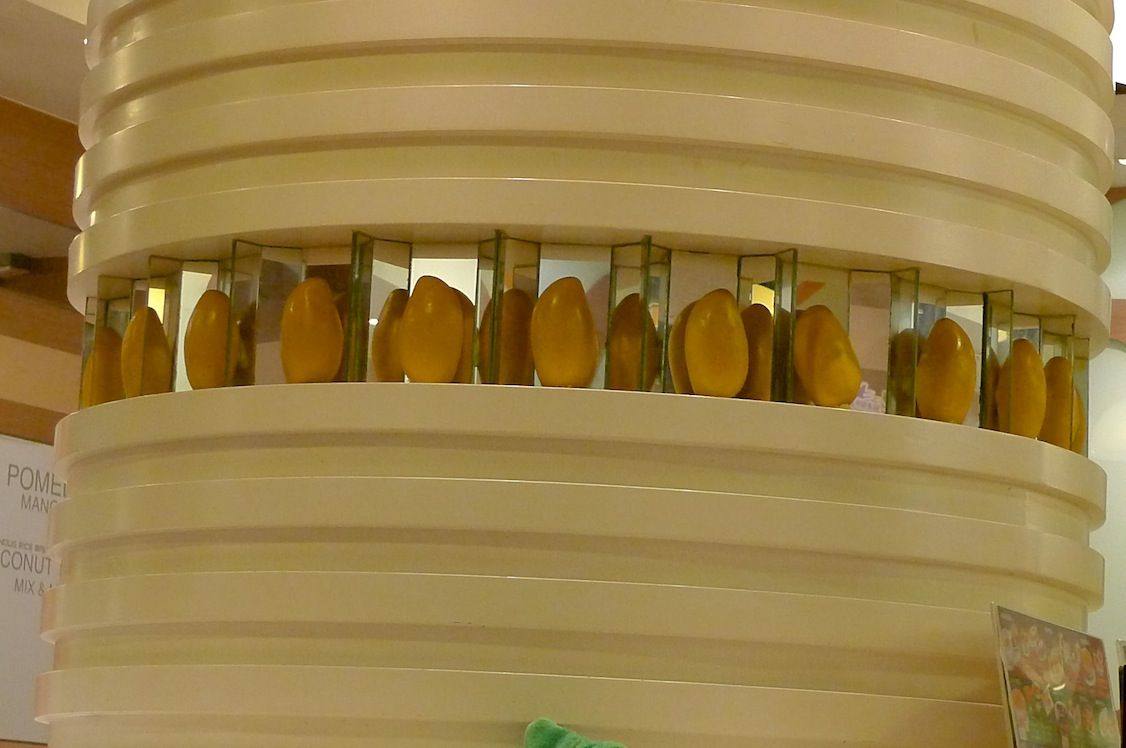 My friend and I went to
Hui Lau Shan
again on another night. Yes, again. How could we not? But this time, we were too full after dinner and decided to order just one item -
birds nest with egg
.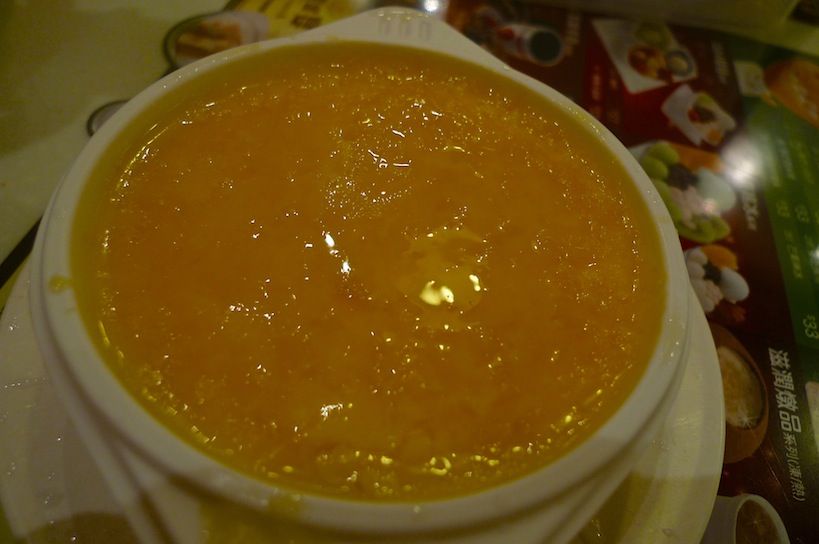 It tasted pretty good with aromatic mango flavour and the birds nest and egg made it smooth and delicious. Priced at HK$29 (US$3.80 / RM11.30), this dessert was the last that I ate at
Hui Lau Shan
in Hong Kong.
When I returned to Malaysia, I could not stop craving for these mango desserts. Imagine my joy when I heard that
Hui Lau Shan
would be opening their outlets here in Malaysia!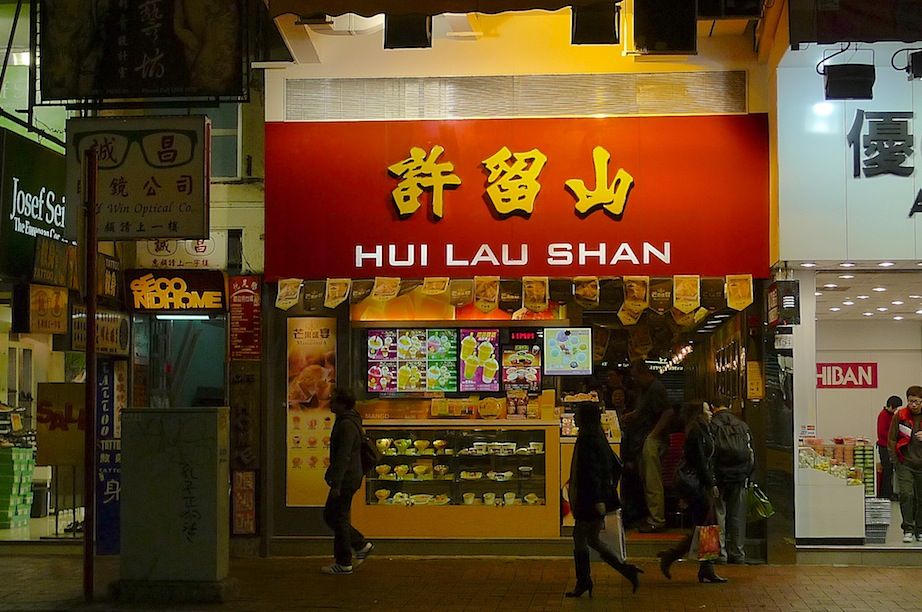 Unfortunately, after trying out the outlets here, I have to say that if I really want to enjoy that yummy mango ice cream again, I will have no choice but to fly all the way to
Hui Lau Shan
in Hong Kong.
Maybe, just maybe, I should start planning for another trip to Hong Kong!