By the time you finish reading this post, you will know why I must visit Tanah Lot again!
And it has nothing to do with Tanah Lot being so nice and beautiful that I must go there again. Nope, there is another reason but it will be revealed later in this post, so keep reading!
But before that, let me recap my second day in Bali. I had a nice massage in the morning then went for delicious Nasi Padang lunch at
Natrabu
before proceeding to
Pura Taman Ayun
to see the magnificent
meru
s.
There were four of us on this trip - 2 guys and 2 girls. One more guy would be joining us before the day was over. It was unlucky for him as his boss rejected his leave due to some urgent matters despite an earlier approval. For this, he had to fork out an additional RM200 due to flight changes penalty. I really think his boss should pay for it!!
Anyway, the poor guy could not make it in time to join us for our next destination which was Pura Tanah Lot, which literally translates to Temple Of Land In The Sea.
This is the entrance to Tanah Lot beach.
Do you like that beautiful looking gate?
Oh, before reach this gate, we went through rows and rows of souvenir stalls and I saw something that caught of my eye.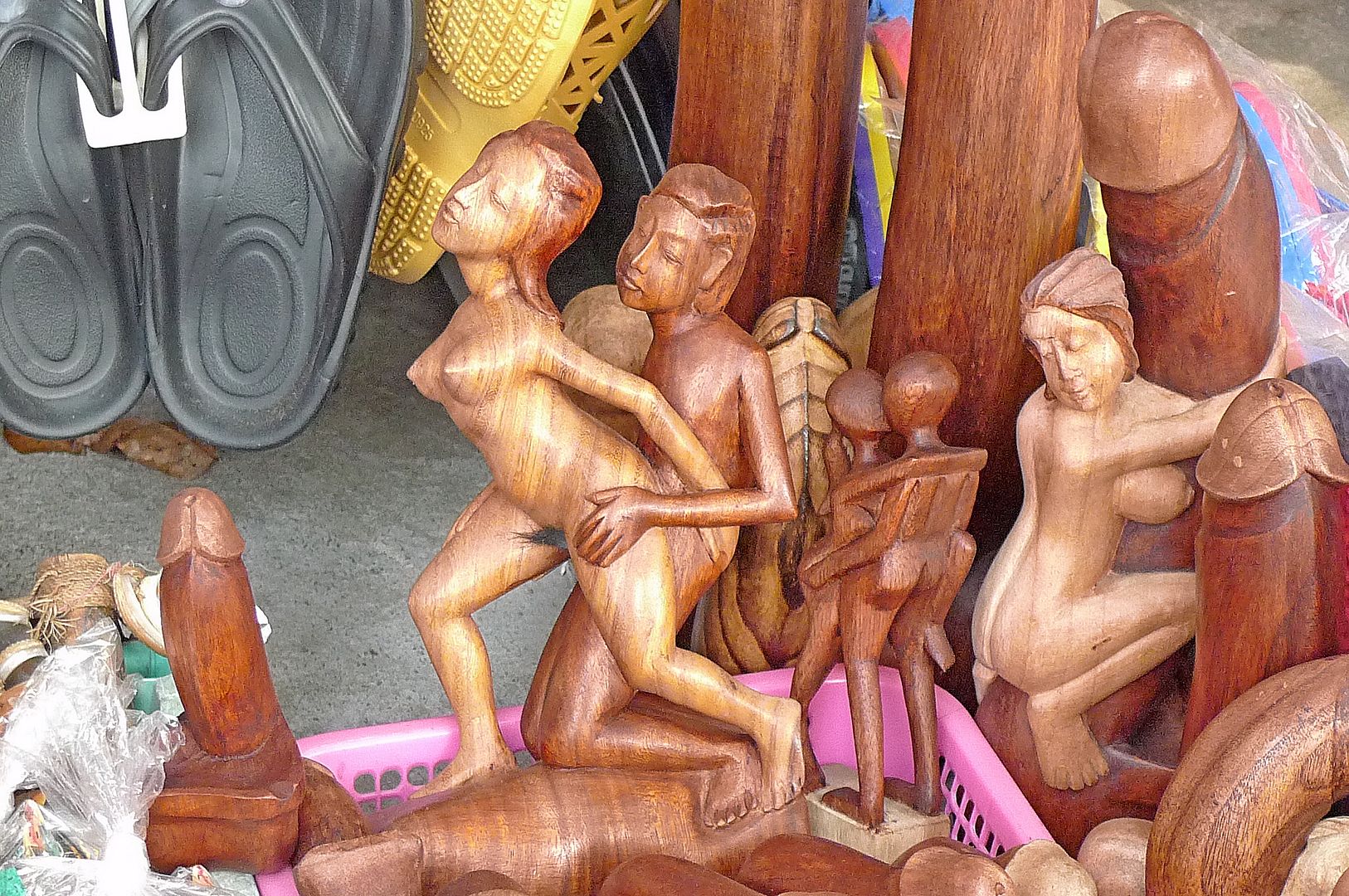 Obscene? Not to the Balinese!
I should have bought some of these souvenirs back, shouldn't I? I did not know why I did not but OK, this is a good reason to return to Bali for a second visit. Haha!
But no, THIS is NOT the reason why I must visit Tanah Lot again! Keep reading, yes? : )
Passing through the gate, I saw this statue and I posed for a photo here.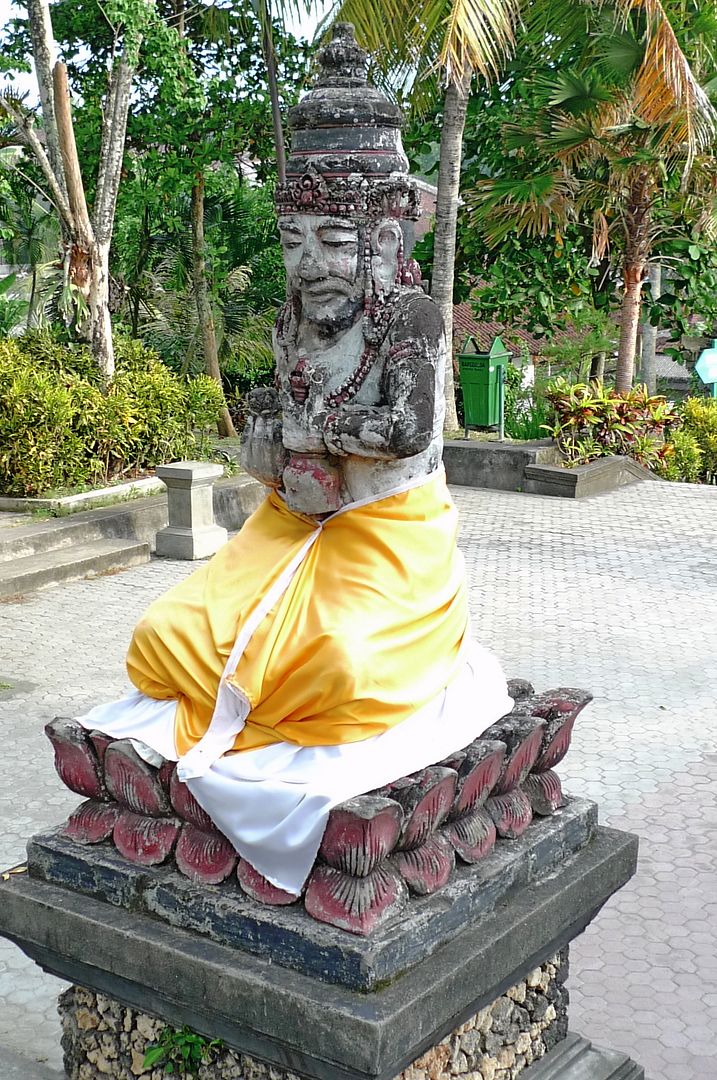 Now of course you don't see me in this photo because I do not reveal my face online! Haha!
I always take 2 photos of the same scenery during my travel, one with me in it and the other without. The ones without me in them would be placed in this blog. Haha!
Of course the photos without me look much better....and no, please don't jump to conclusions!! It has nothing to do with me being in the photos! The reason why photos with me in them do not look so nice is because those photos were taken by other people and therefore, the quality is NOT guaranteed. Haha!!
OK, I guess none of you is laughing, so let's move on....: )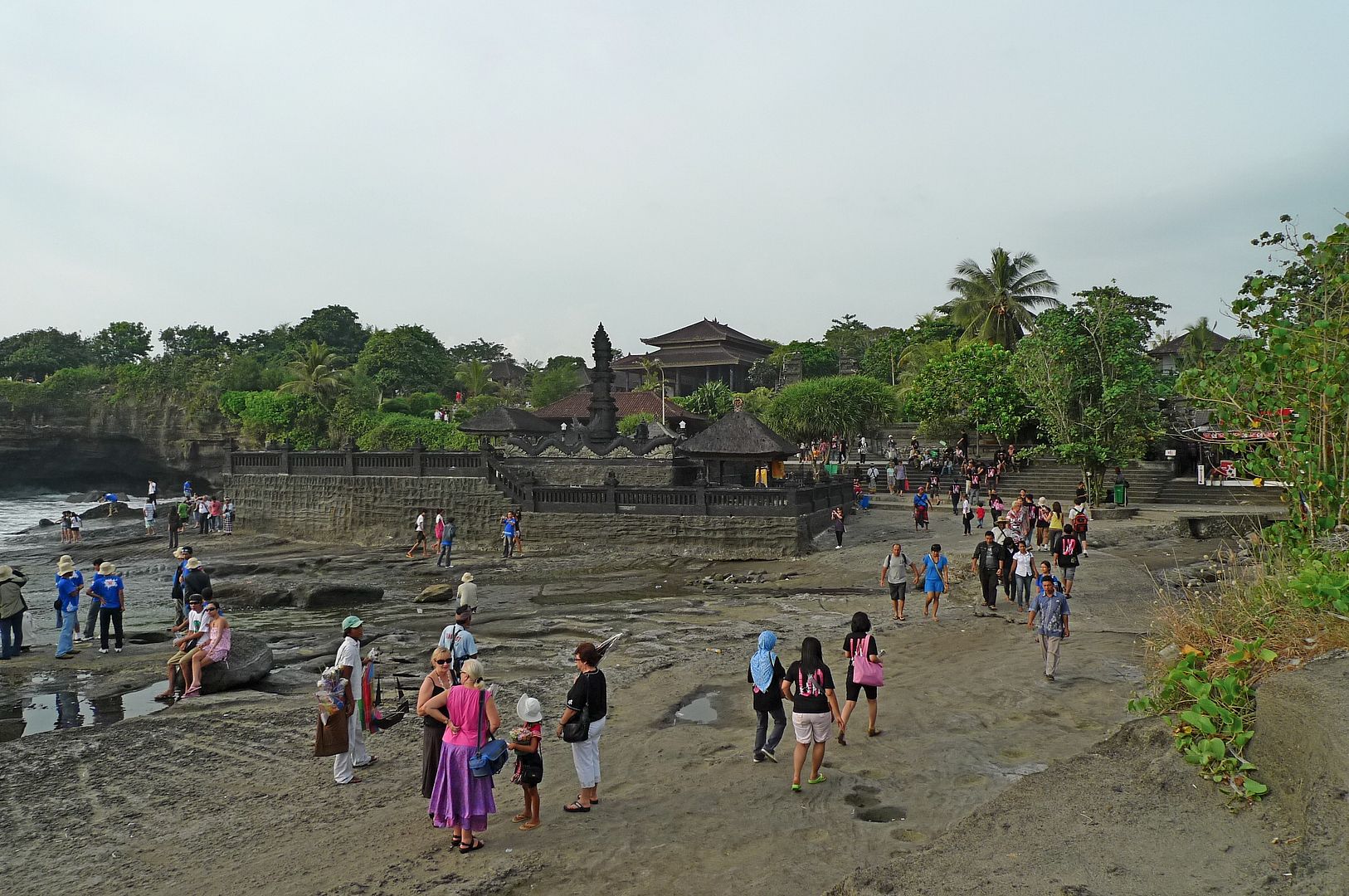 There were quite a lot of people that day. I did not like so many people but it was going to be sunset soon and most people come here for the sunset.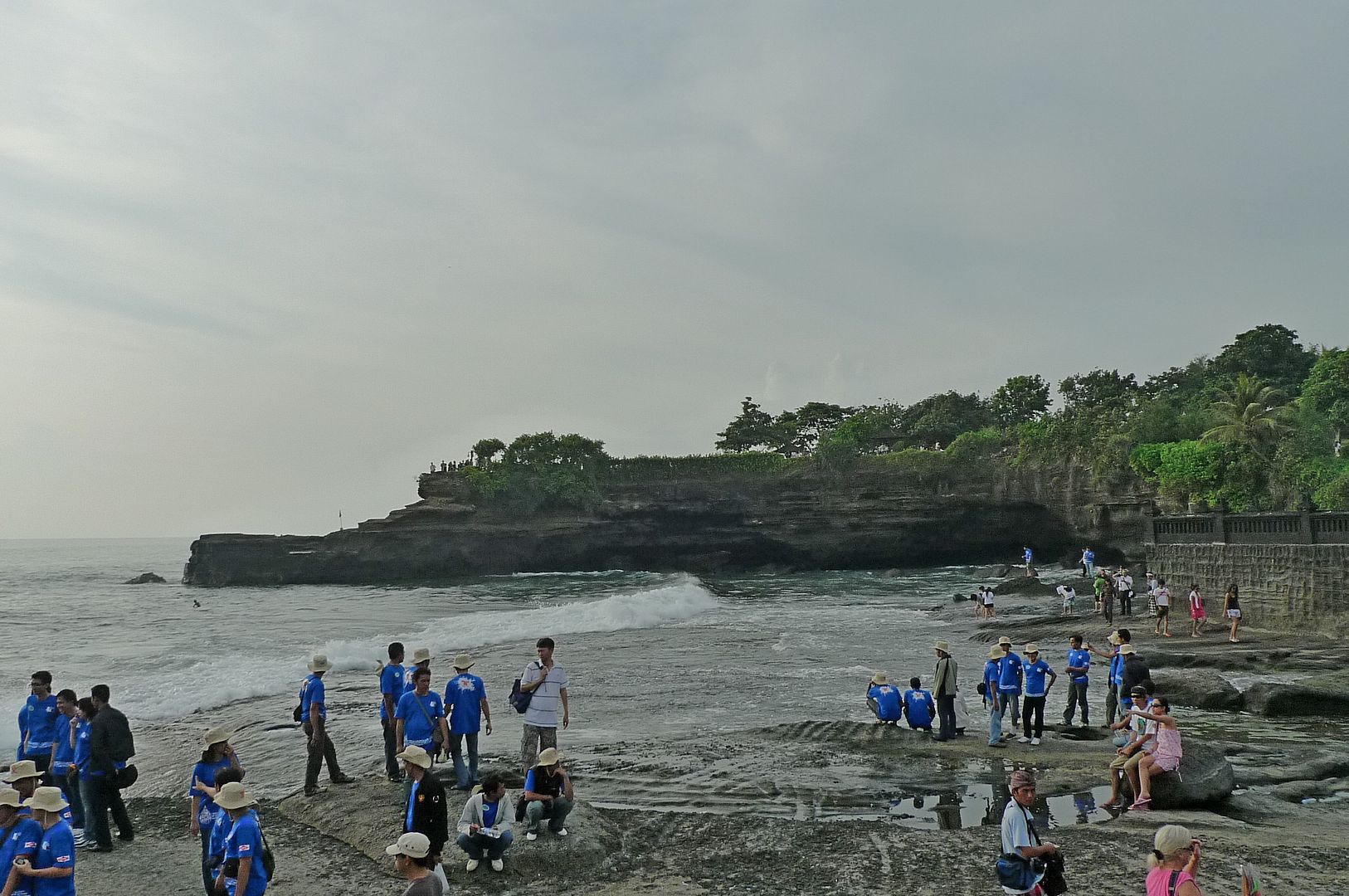 It was said that Tanah Lot looked really spectacular during the sunset. I was so excited!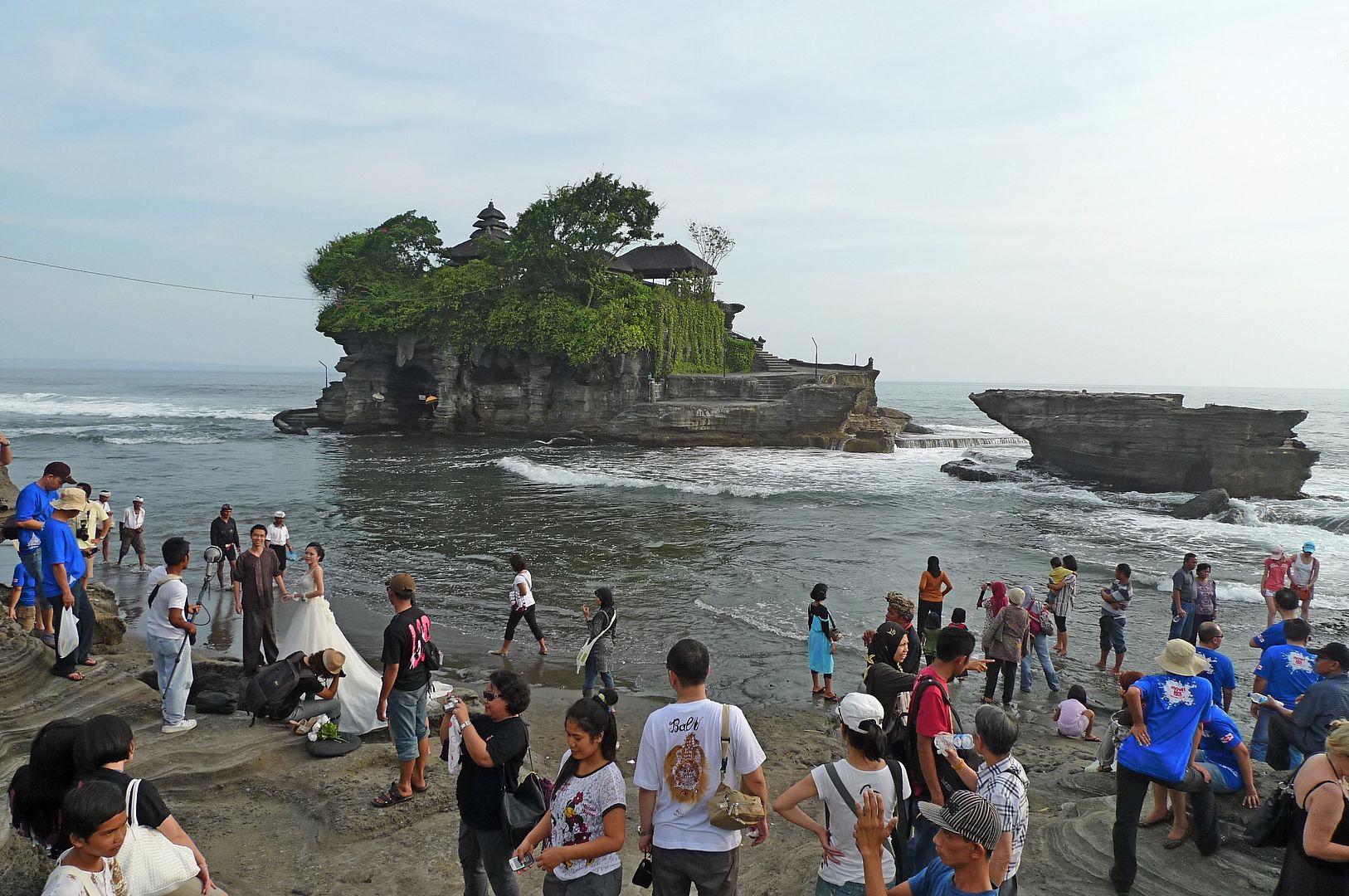 That's the Tanah Lot temple in the photo above!
Yes, it's actually just a temple standing on a rock formation in the sea!
The above is another much smaller rock formation next to the Tanah Lot temple.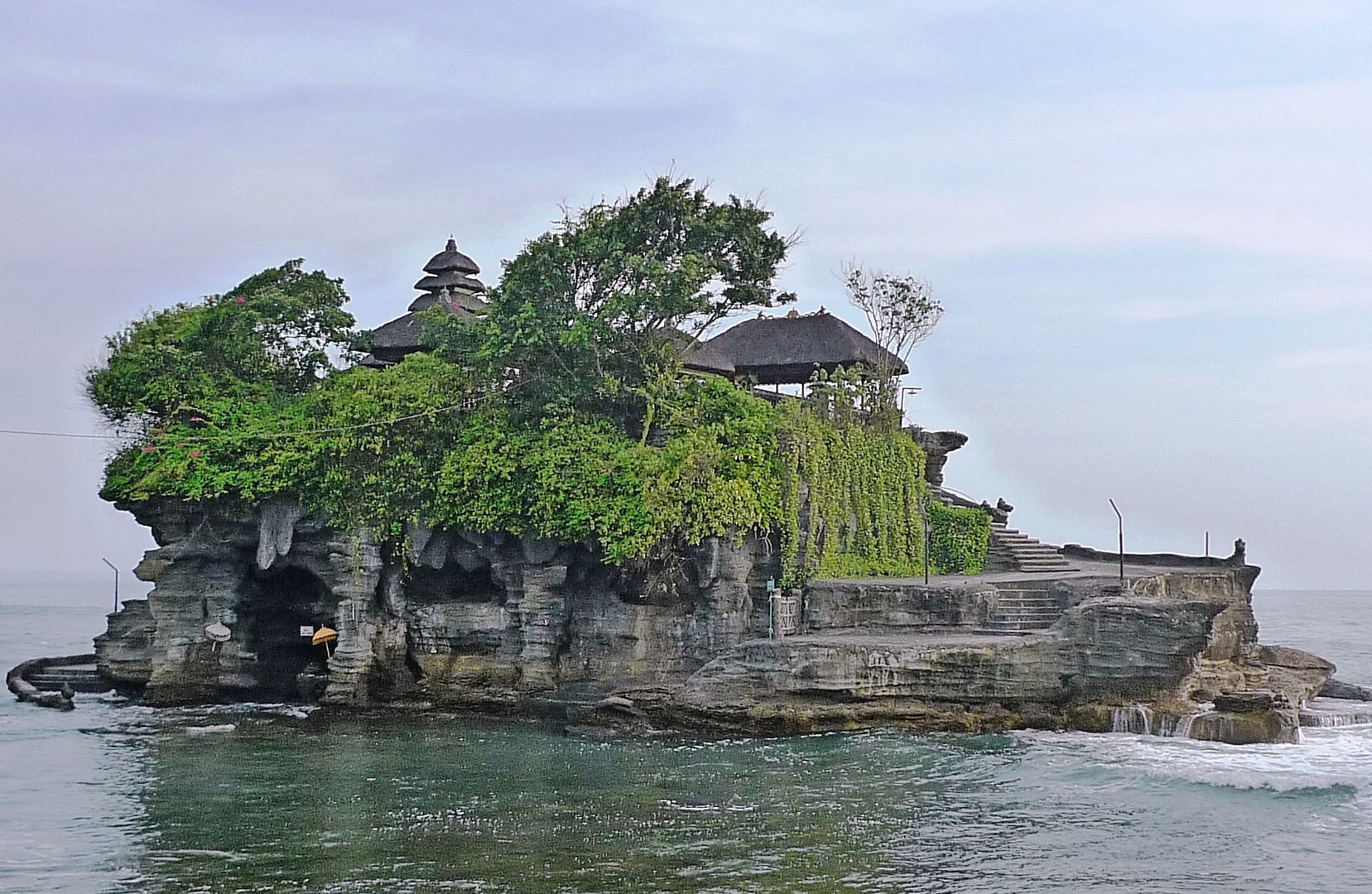 Located at the southwest coast of Bali, about 20km from Denpasar, Pura Tanah Lot (or Tanah Lot Temple) is said to be founded by the 16th century priest,
Nirartha
, one of the last priests to come to Bali from Java.
One of the most famous temples out of the total of
7 sea temples
along the Bali coastline, Tanah Lot is dedicated to the guardian spirits of the sea. The temple itself is also guarded by poisonous sea snakes that inhabit the caves below.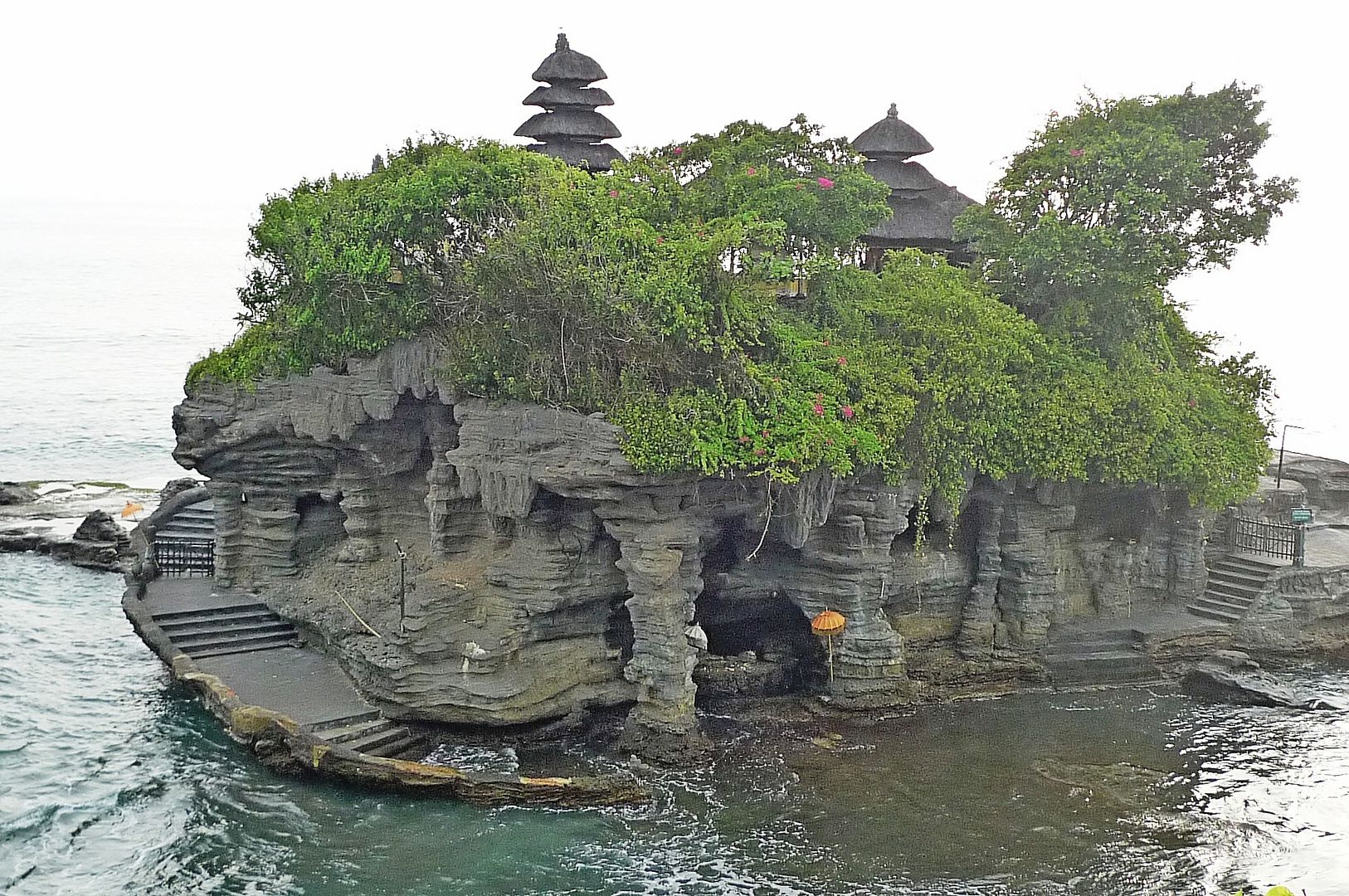 As the temple is surrounded by water, it would not be usually accessible during high tide. However, even during low tide, visitors are not allowed to enter the temple. As such, we could only view the temple from afar.
There were other temples on the main land and I took a photo of one of the temples' entrance.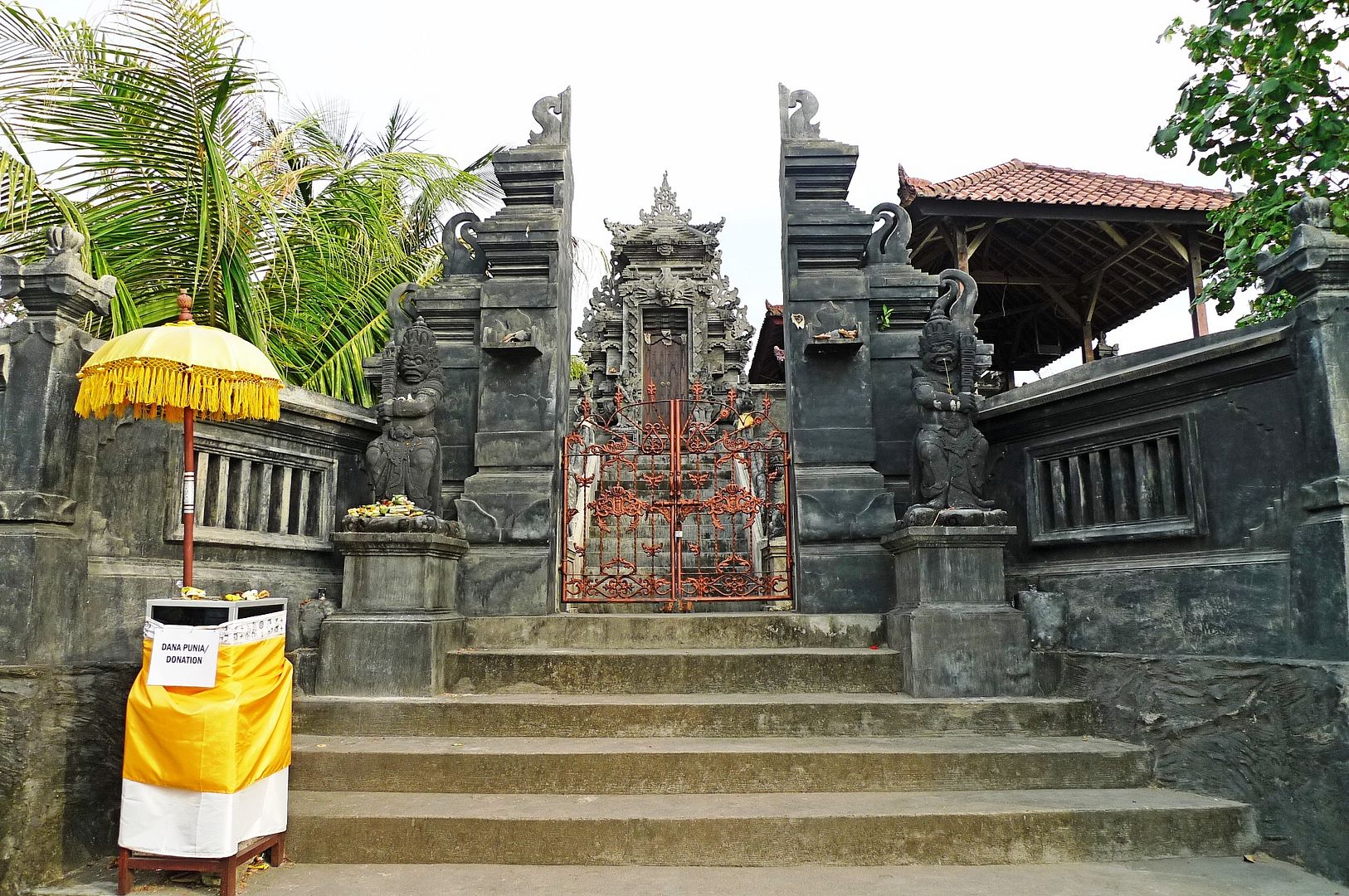 Notice the similar looking gate structure? I think I am beginning to love Balinese architecture!
As it was going to be sunset soon, I quickly scouted around for a good location to take sunset pictures! I climbed up the walkway and reached rows of restaurants at the edge of a cliff facing the sea.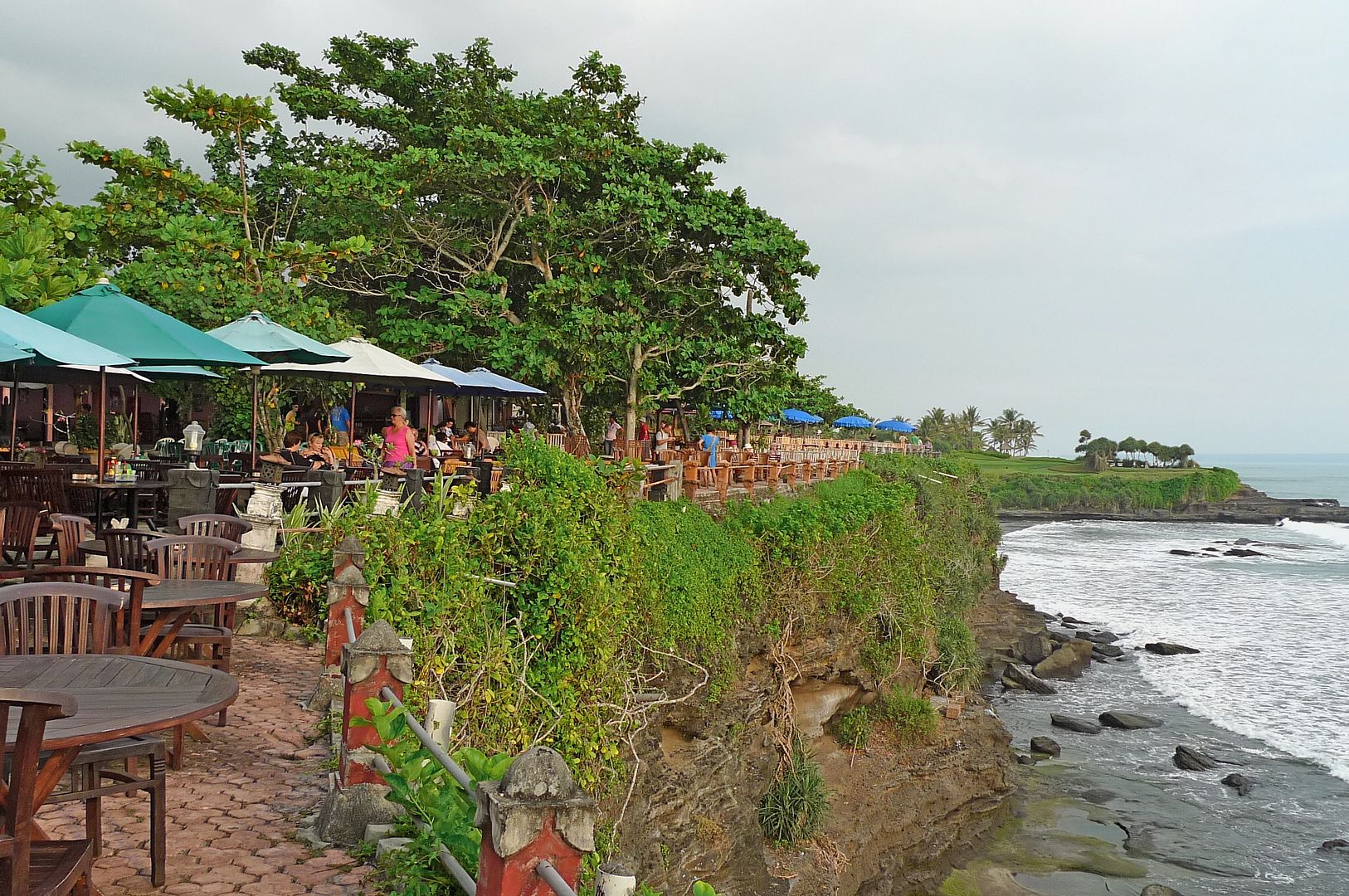 It would be nice to dine here and take photos of the sunset!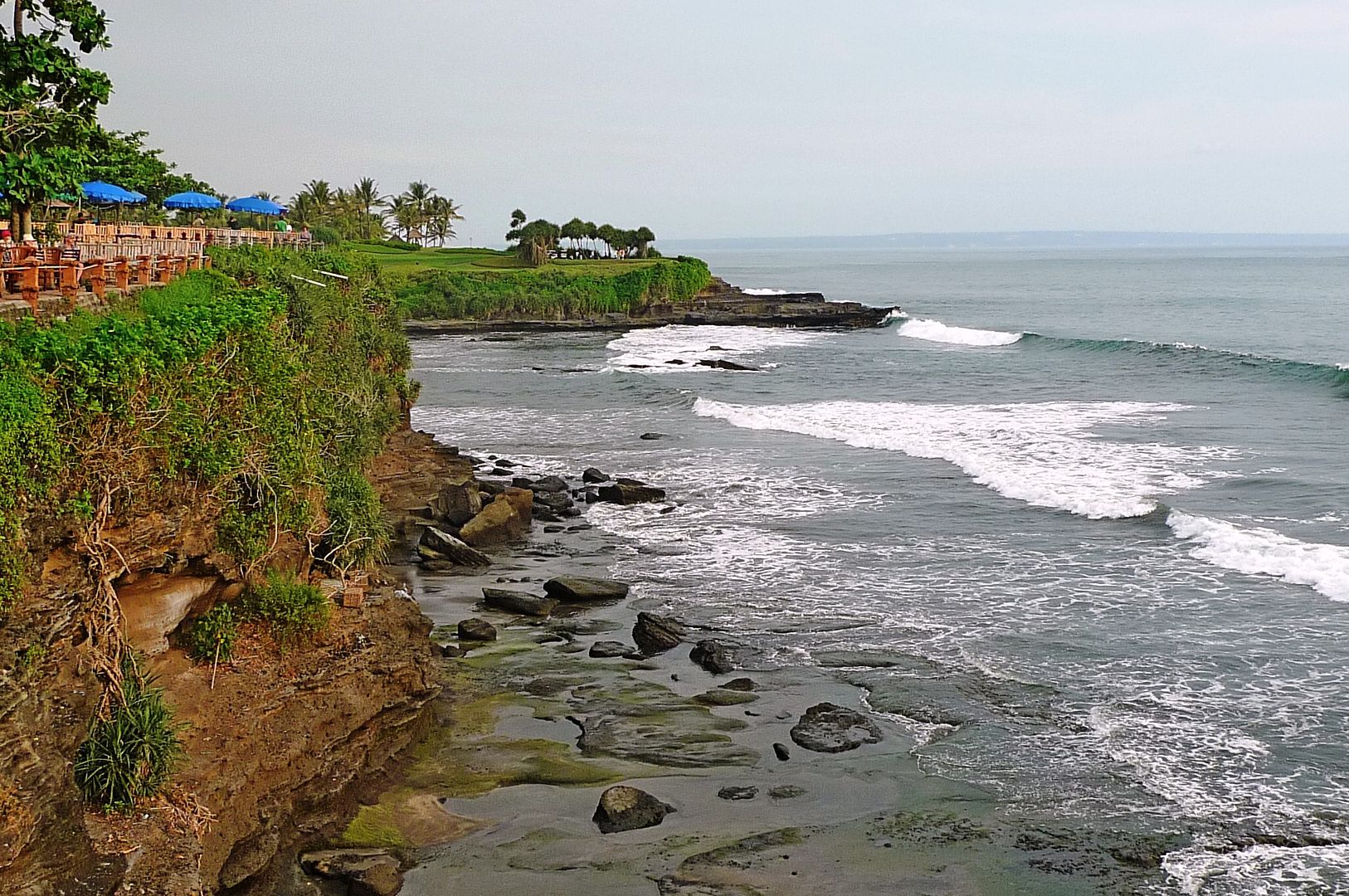 Alas, it was not to be!
Both my female friends complained of headaches due to the heat and wanted to return to their hotel room! I could not believe it!
I had come all the way to Tanah Lot famous for its spectacular sunset ......to miss the sunset? No! No! No! Nooooo!!!!
I protested but there seemed to be little choice for me. One of my female friends looked really sick and she was suffering from nausea due to the headache and could hardly walk any further. We had only one driver to take us around so it was decided that we leave Tanah Lot.
Actually, come to think of it, the ladies could have just rested in the car while we guys continued to enjoy the sunset. Oh well!! It was such a wasted opportunity and my biggest regret during this Bali trip!
So I could only take a few more photos of Tanah Lot before we left.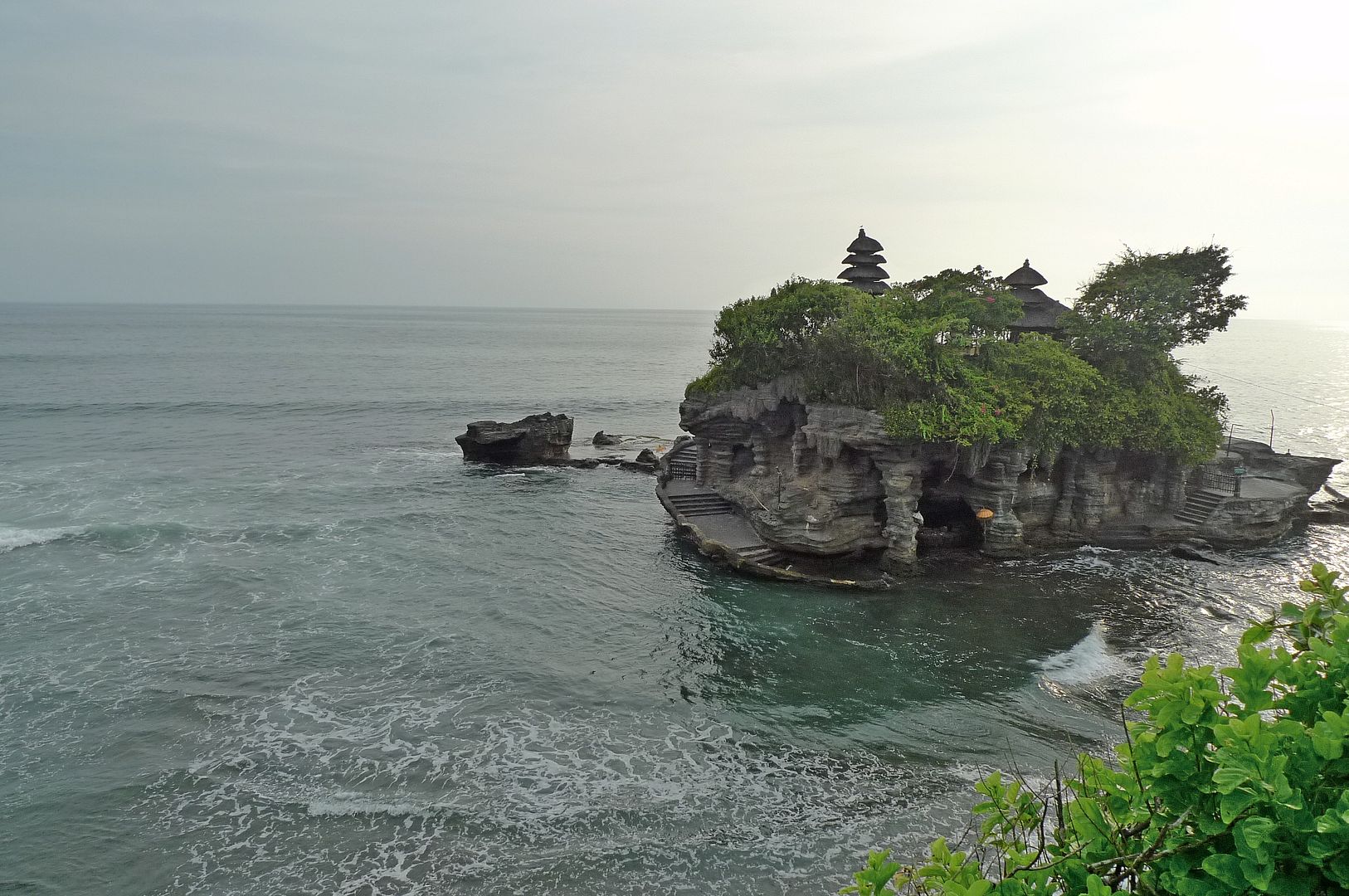 And that's the reason why I must return to Tanah Lot again .... for the spectacular sunset!
Of course, I will make sure those 2 ladies will not be there with me! Haha!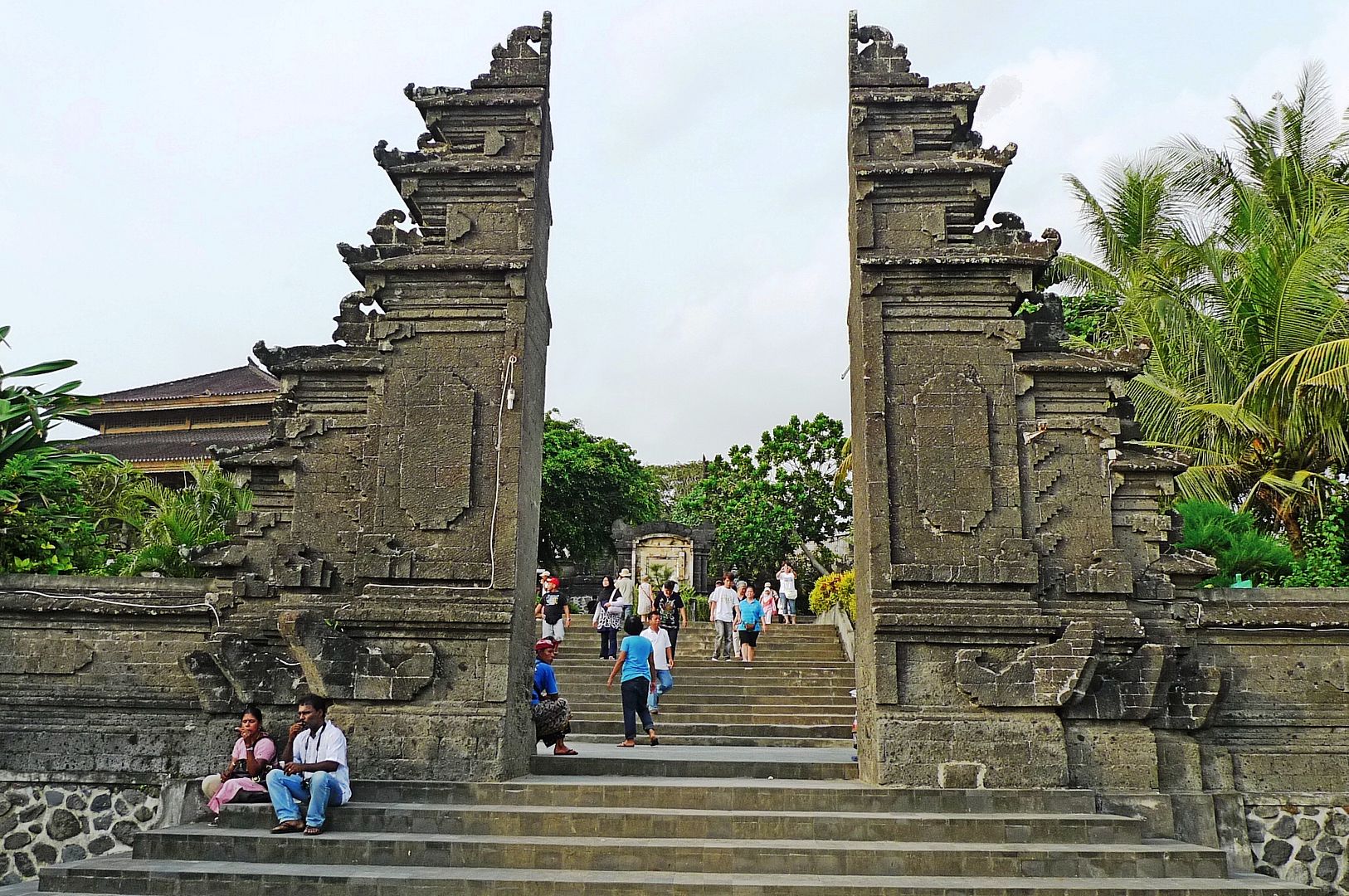 Anyone game to be my travel partner for my second Bali trip?