After tasting my first
Nasi Padang lunch at Natrabu
in Sanur, we proceeded to
Pura Taman Ayun
.
Located near the village of Mengwi about 8km southwest of Ubud and 18km northwest of Denpasar, Taman Ayun is actually made up of temples in the middle of a beautiful park.
This view greeted us when we reached there.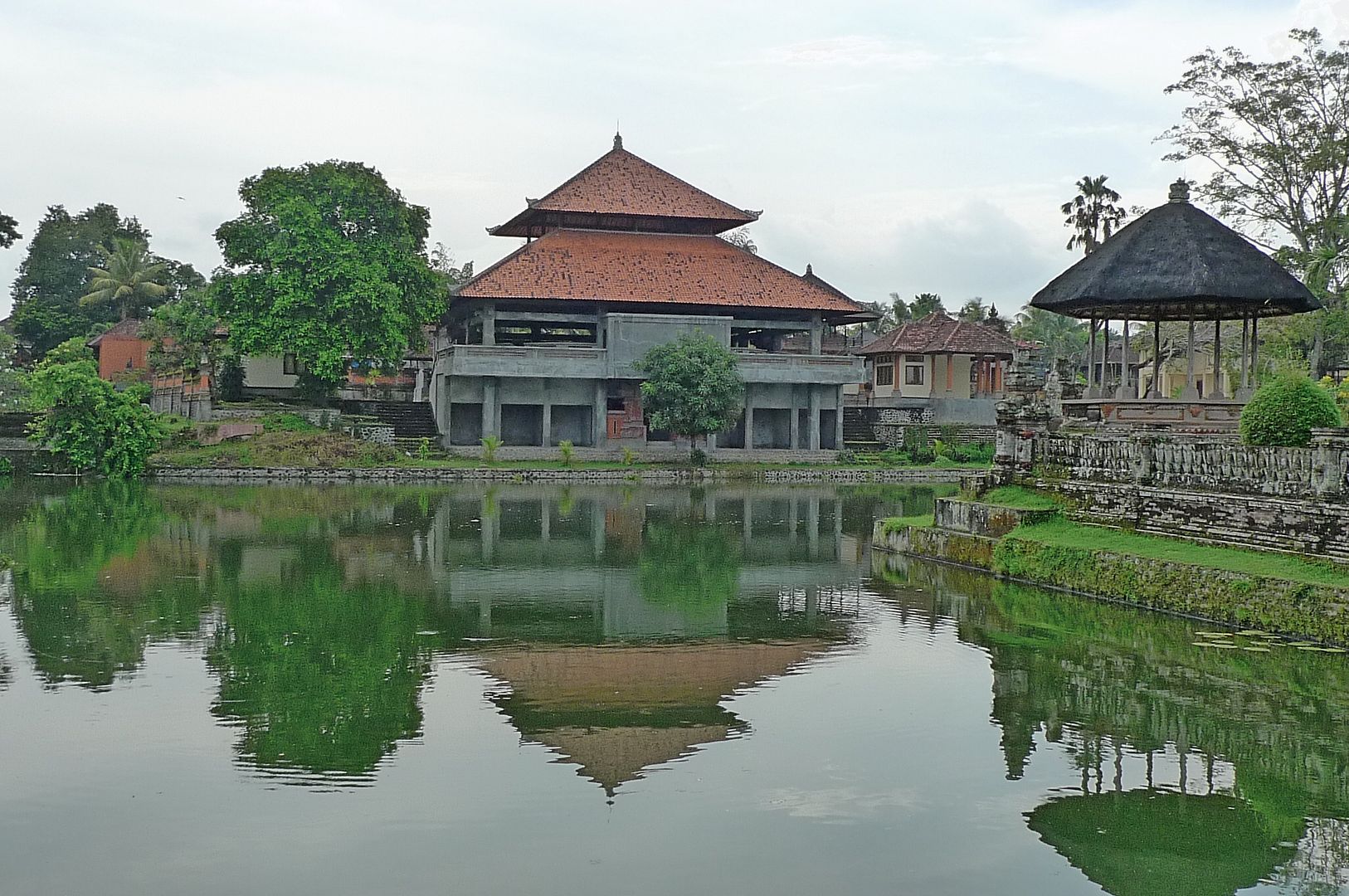 The place was surrounded by a broad river (or canal) which you see in the photo above and could only be entered from this gate-like structure.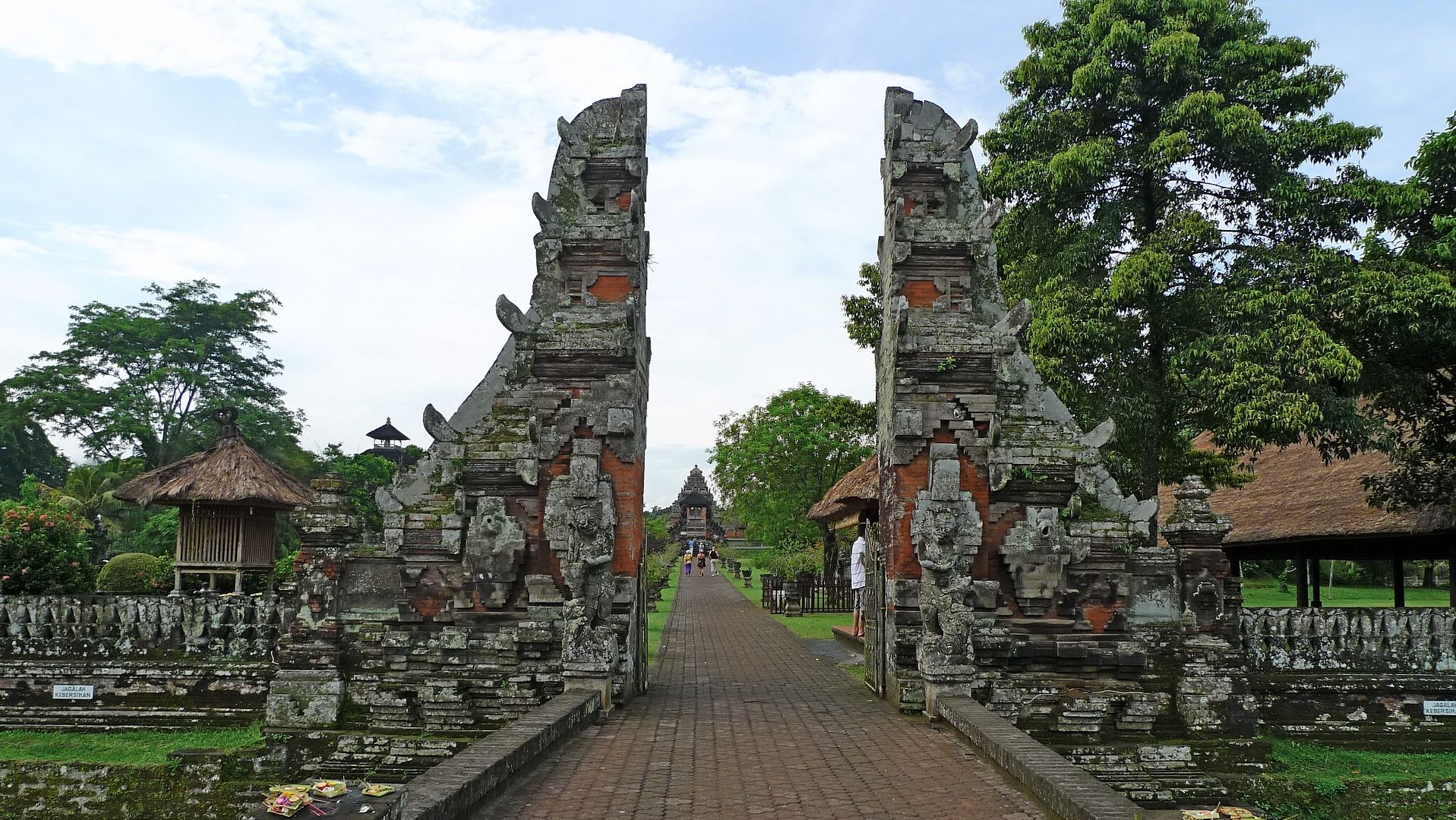 One of the stone-carved statue near the entrance.
If I am not mistaken, the entrance fee was 10,000 rupiah (RM3.70).
Once we got past the gate and paid for our tickets, we walked along a straight paved footpath and came across this unique looking fountain.
The fountain, which was located in the middle of a small square pond, has 9 water jets. When I took this photo, the water was shooting out of the four main cardinal directions.
The other 4 water jets are located at the 4 sub-cardinal points and the remaining ninth is at the centre, possibly symbolizing the nine main gods of Balinese Hinduism.
As we walked further in, I saw this gazebo-like structure and took a photo of it.
Yes, it's the same structure you saw on the right side of the first photo above.
Not far from here, I came across another structure.
I enjoyed looking at all those intricate carvings! Quickly took another photo from a different angle.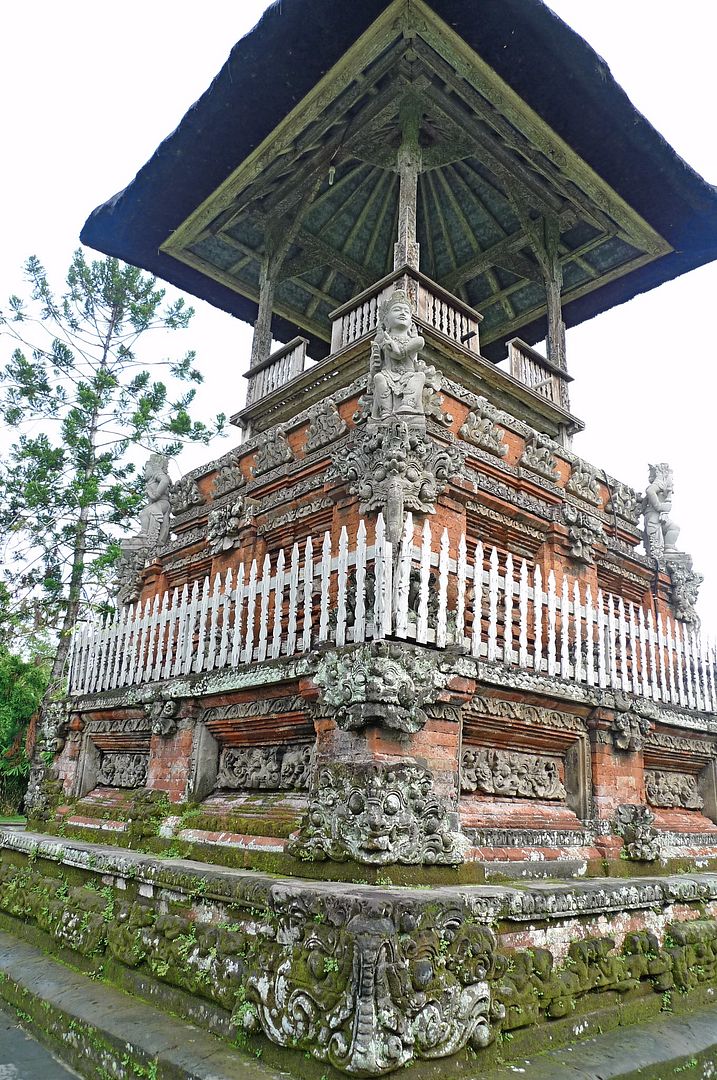 I thought the paved footpath looked beautiful as we left that structure far behind us!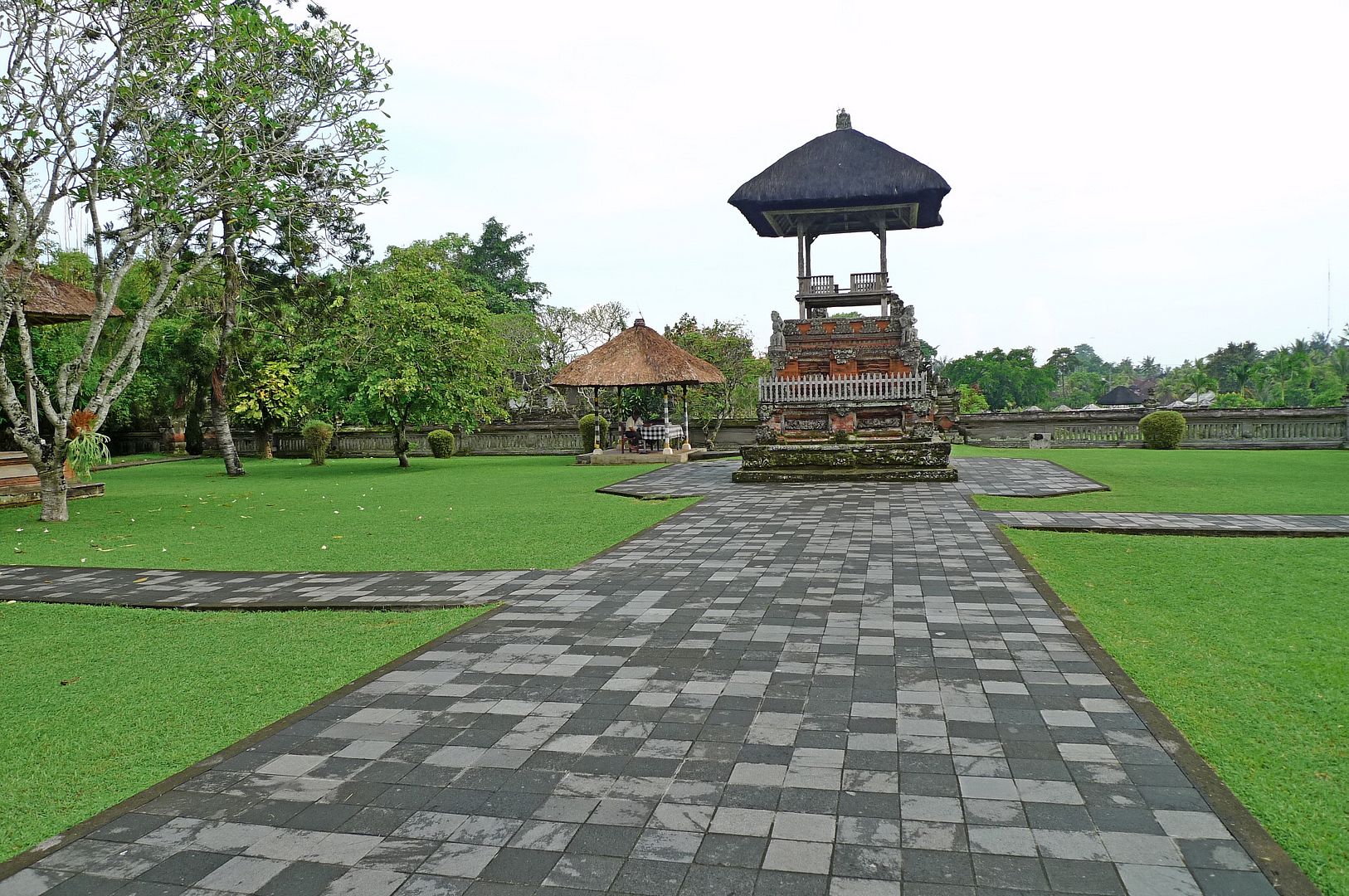 There were not many tourists around and we felt good having the whole park to ourselves! Haha!
Taman Ayun literally means "Beautiful Garden" and walking here, I could not agree to it more!
We soon reached the entrance gate to the main temple courtyard.
We took a lot of photos of ourselves here but of course none of them would appear on this blog. LOL!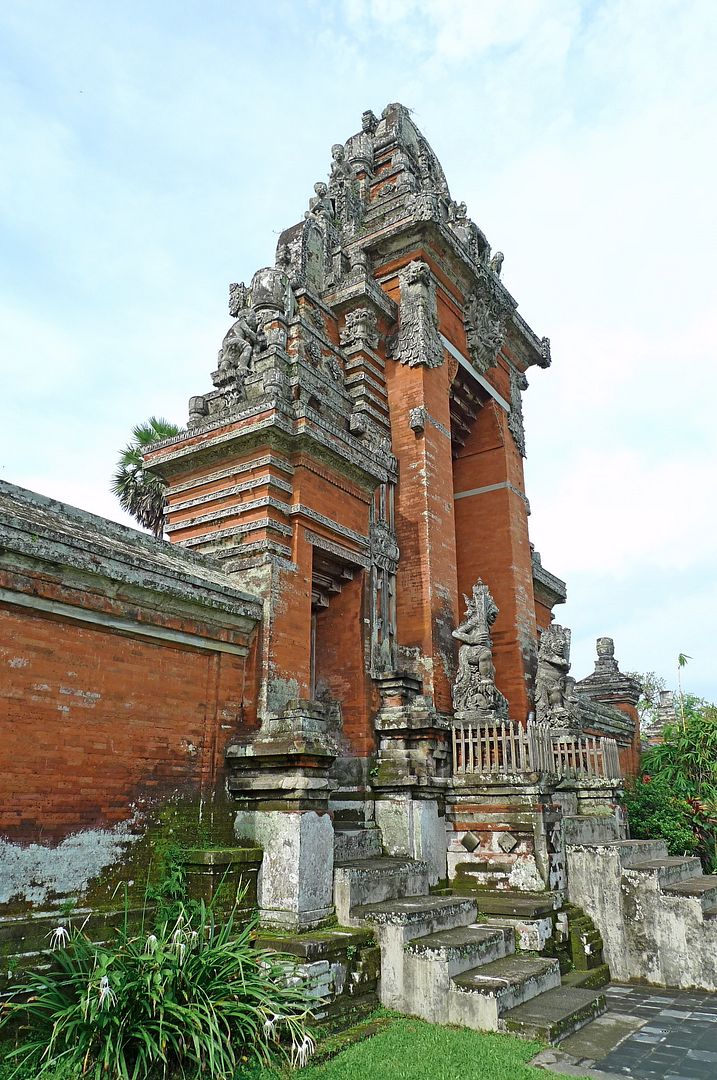 Visitors are not allowed access to this holy temple courtyard which was walled all around. It is only opened during important religious ceremonies.
Can you see the figurines or statues at the side of this tall gate?
As we were not allowed access to the temple courtyard, we could only walk outside its wall.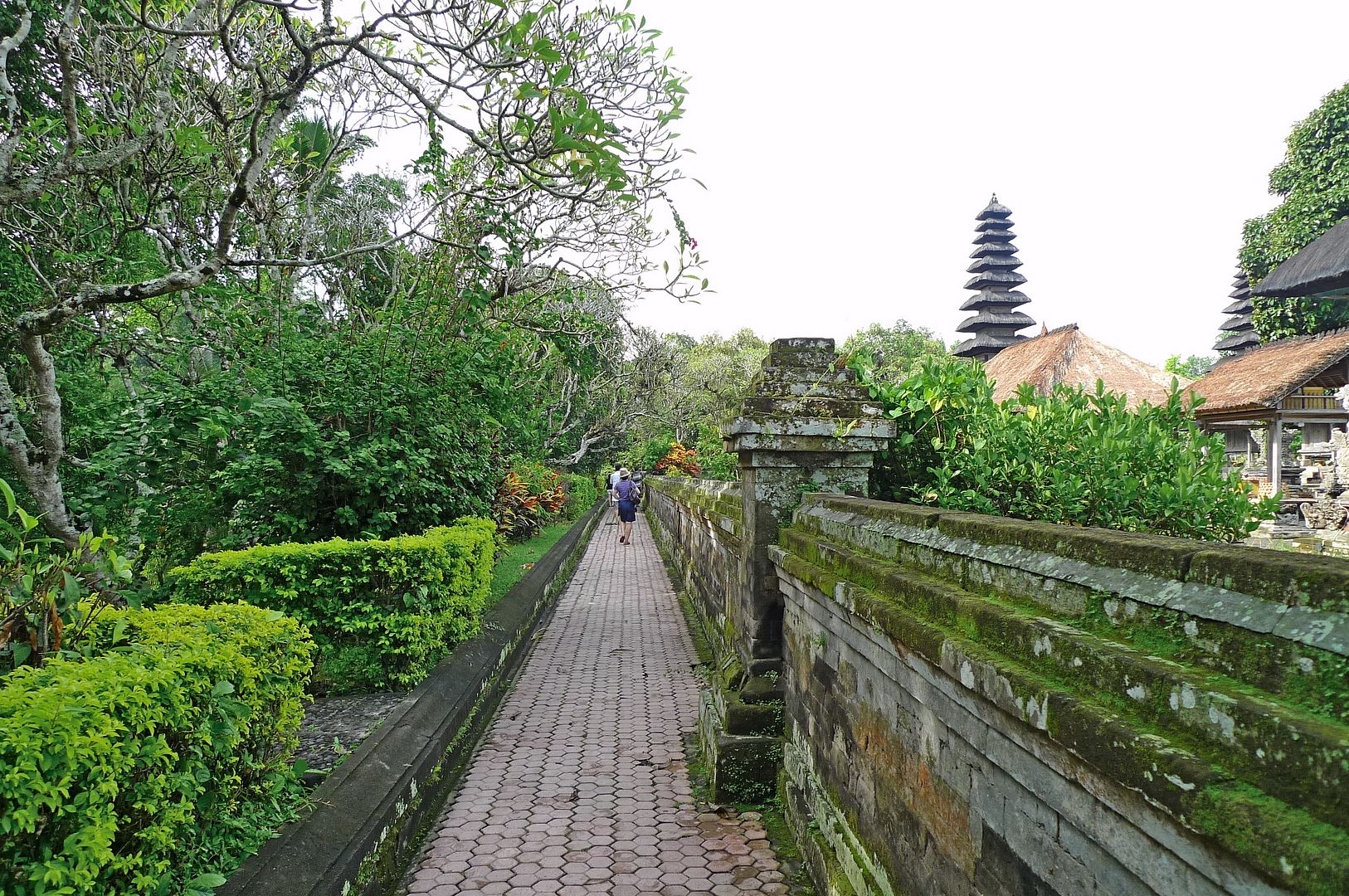 I love walking along this pathway! I could spend a long time here if I wanted!
From the photo below, the temple courtyard was on the right side bordered by a wall almost as tall as me. Do you see that tall pagoda-like structure unique to Bali in the distance?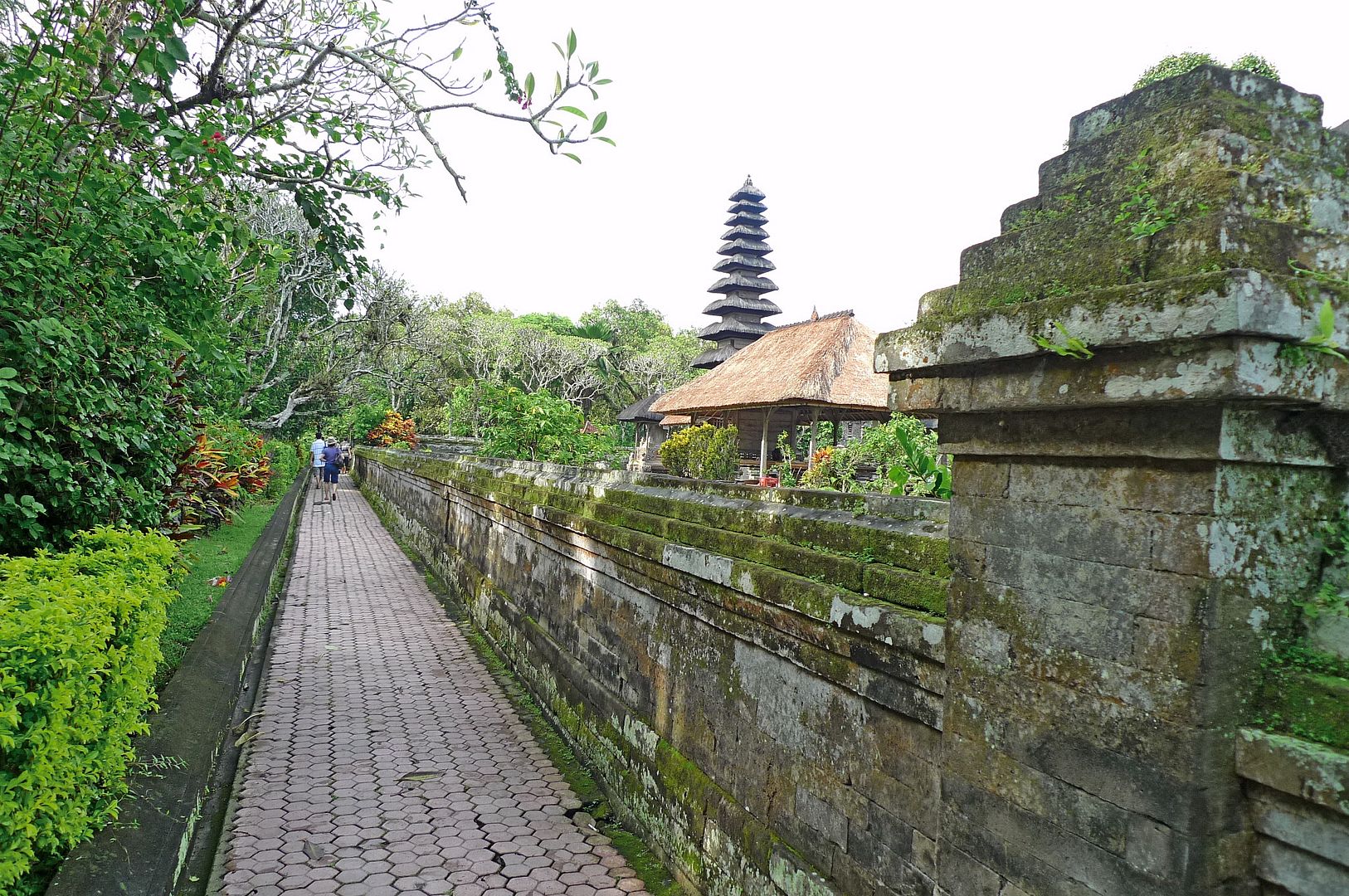 That's the layered tower found in many places in Bali! It's actually a multi-roofed shrine called
meru
.
I quickened my pace as I was excited to see this
meru
up close!!
And then I reached this spot and I just stopped there as I was in awe!
There were lots of
meru
s here! Finally I got to see them with my own eyes instead of pictures in travel brochures or books!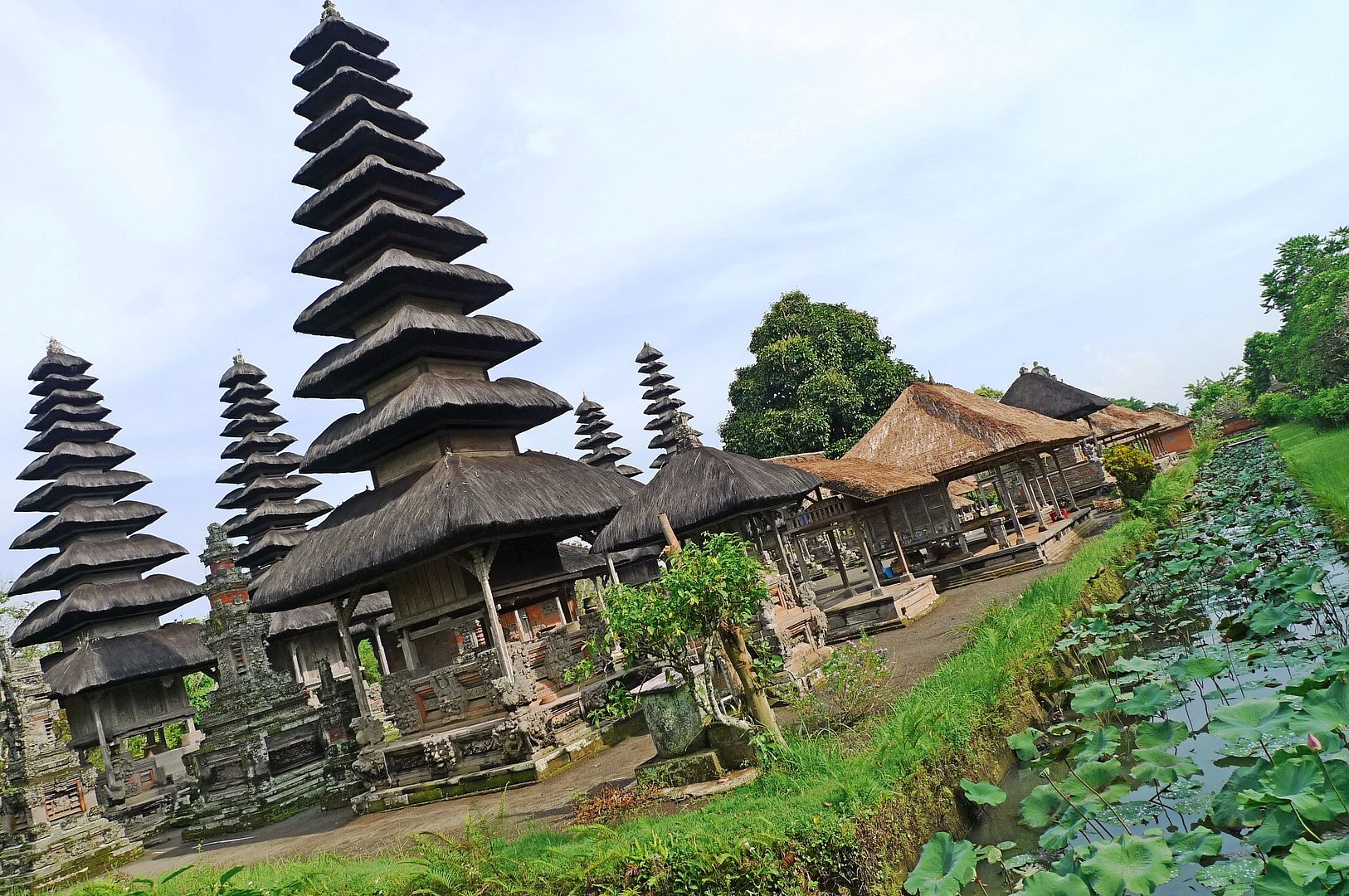 Can you count how many tiered roofs were on these beautiful
meru
s?
Looking at these amazing structures made me keen to find out the history behind them.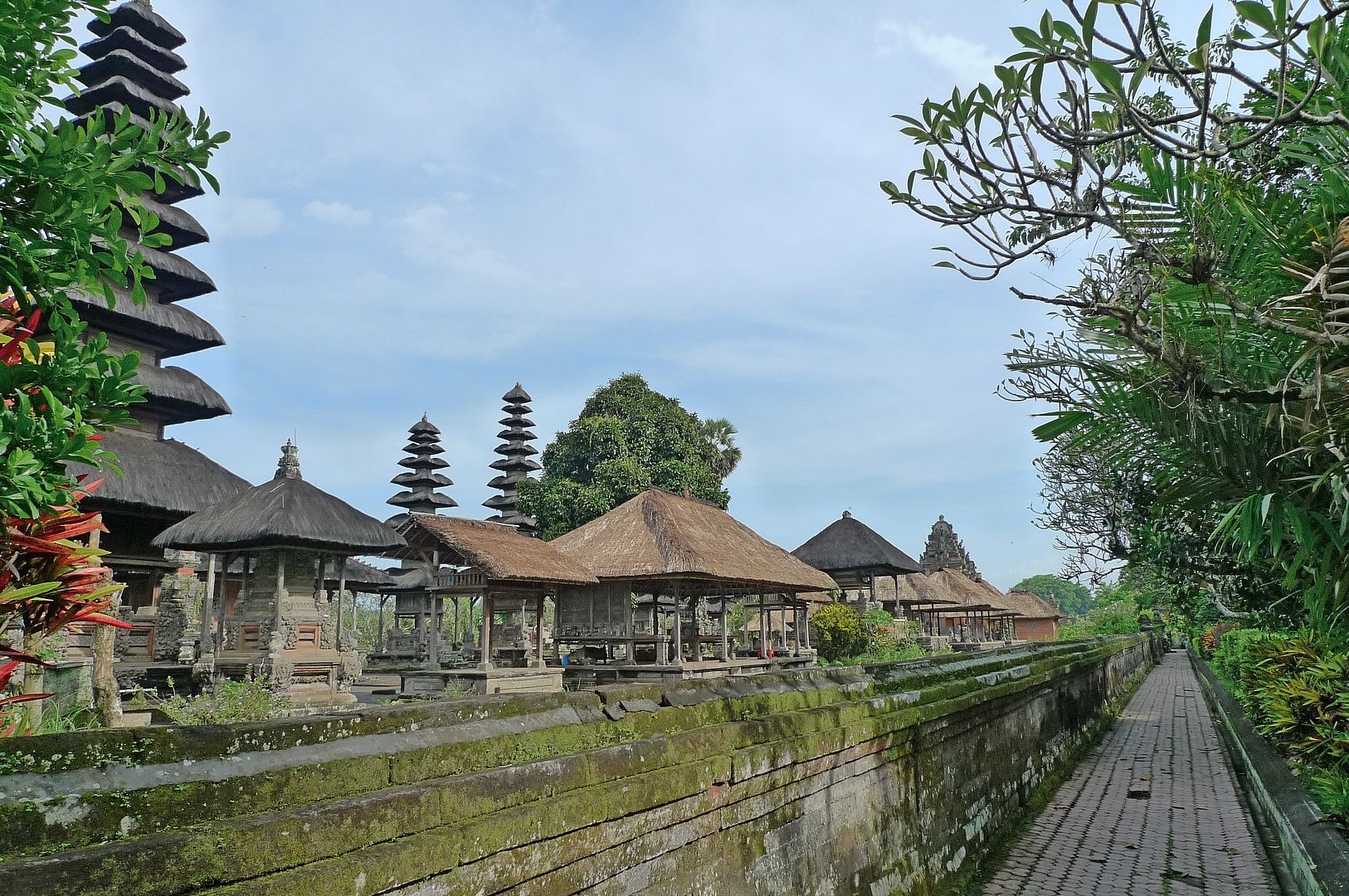 I learnt that Pura Taman Ayun was originally built in 1634 by the King of Mengwi, I Gusti Agung Putu. Temples were built to honour deified ancestors of the Raja Dynasty of Mengwi and other important gods.
The Mengwi Kings used Taman Ayun as burial grounds, and later
meru
s were built on top of their graves and became temples.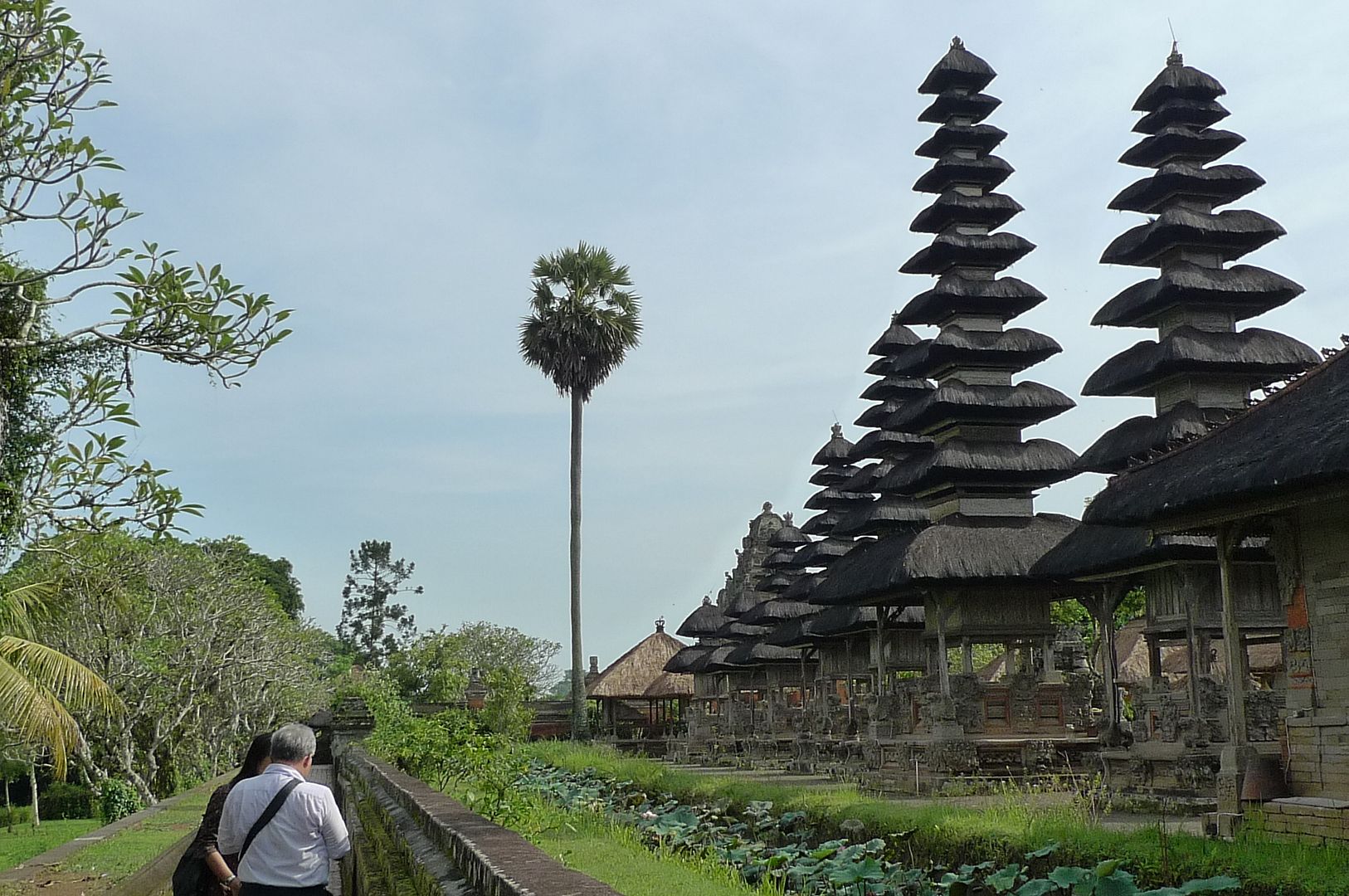 I counted the number of tiered roofs and found some
meru
s had only five or seven tiered roofs, whereas the taller ones had nine or eleven!
After spending about an hour at the park, we left.
I was thirsty and as soon as we exited the park, I quickly bought a coconut drink from a stall across the road. Look! The coconut was huge!! I had a hard time finishing it all by myself!
What an interesting afternoon at Pura Taman Ayun! Before we left, I took one last shot of the beautiful view that first greeted us when we arrived earlier.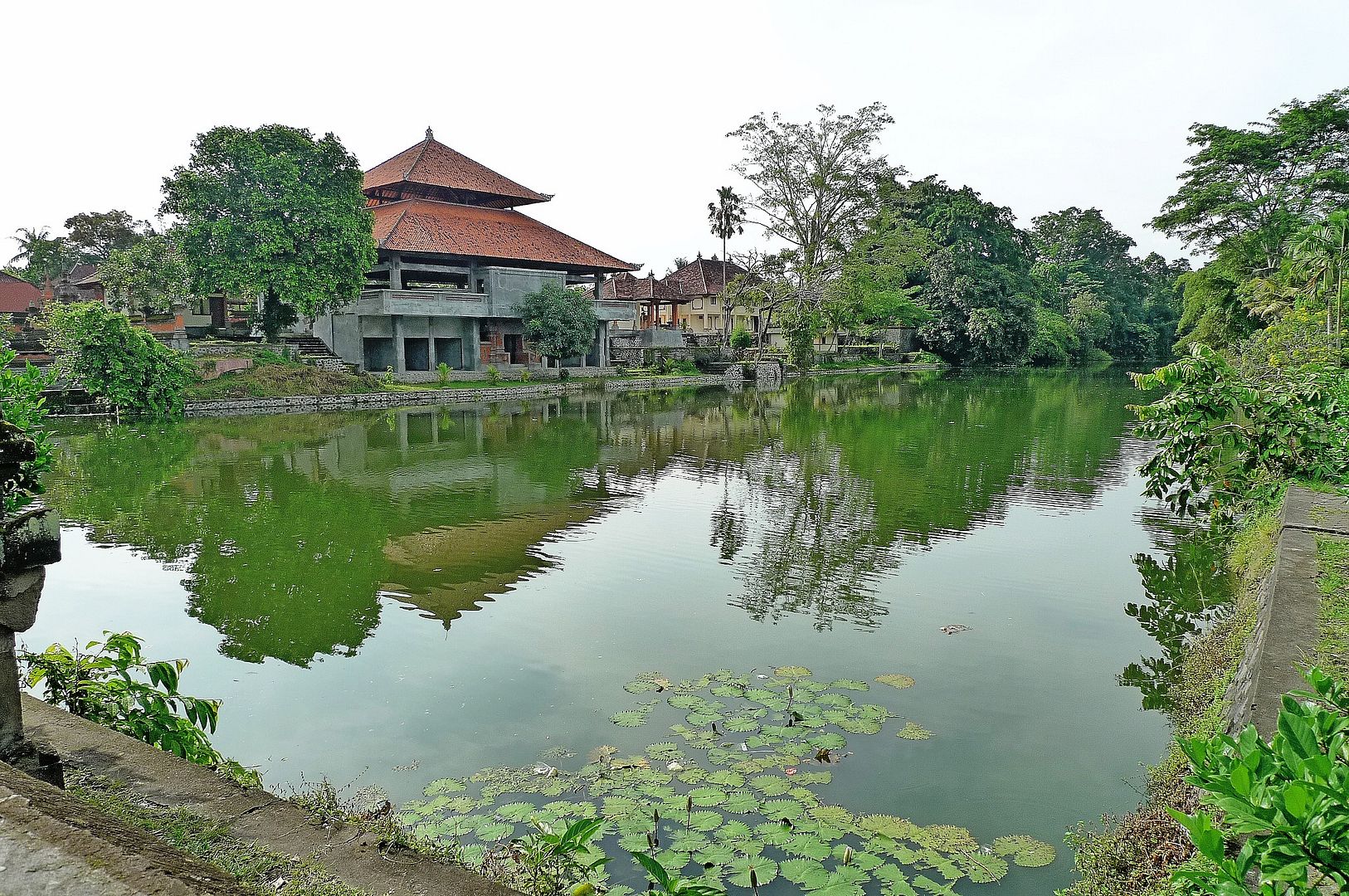 Coming up next : Why I Must Visit Tanah Lot A Second Time!!