I had a fun time last Sunday meeting up with fellow bloggers
Witch
and
Saucer
for a karaoke session at RedBox at The Curve.
I was looking forward to sing my heart out for 3 hours but my expectation was dampened when the counter girl at RedBox told us we could only sing for 2 hours. I was like, what the......!!
And guess what's the reason? RedBox's policy for the morning hours - 3 hours are only for 4 people or more, and since there's only 3 of us, we were only allowed a measly 2 hours.
If that's the case, RedBox should have informed us of this rule when we called in earlier to book! We were quite pissed off!! I could not help but felt cheated.
And this was not the first time I felt short-changed by RedBox. Oh well, that would be another story for another day! Should we go Neways next, Witch and Saucer?
Anyway, we didn't waste time and quickly key in the songs we wanted to sing. 2 hours can pass real fast while you are in the karaoke room, you know. I have spent more than 6 hours in a karaoke room before and I can tell you it felt like just 3 hours! LOL!
Too bad karaoke was not in existence during Einstein's time or he would have figured out how time got distorted in karaoke rooms!! Haha!
OK. Lame joke : )
I was eagerly waiting for Saucer and Witch to sing the song Endless Love which they sang during
their wedding dinner
. Oh, goodness! I was impressed with their singing! Applause!! The song really suited them well.
Now, I am not saying they sang as good as the original singers - just in case those who have heard them sing during their wedding dinner happen to be reading this now. I'm just saying they sang it pretty well - good enough for me to say "Well done!" Of course there are a some...hmmm, pitchy parts here and there.... but I better stop here before I sound like Randy Jackson of American Idol! Haha!
Besides, it's better to praise them so they will continue to go karaoke with me. And who knows, maybe they think my singing sucks big time so better not say anything remotely bad. Keep up the good singing, Witch and Saucer! Haha!
Oh, here's a photo I took of this beautiful couple singing. Too bad the lighting was not conducive for a good photo so this is the best I could come up with.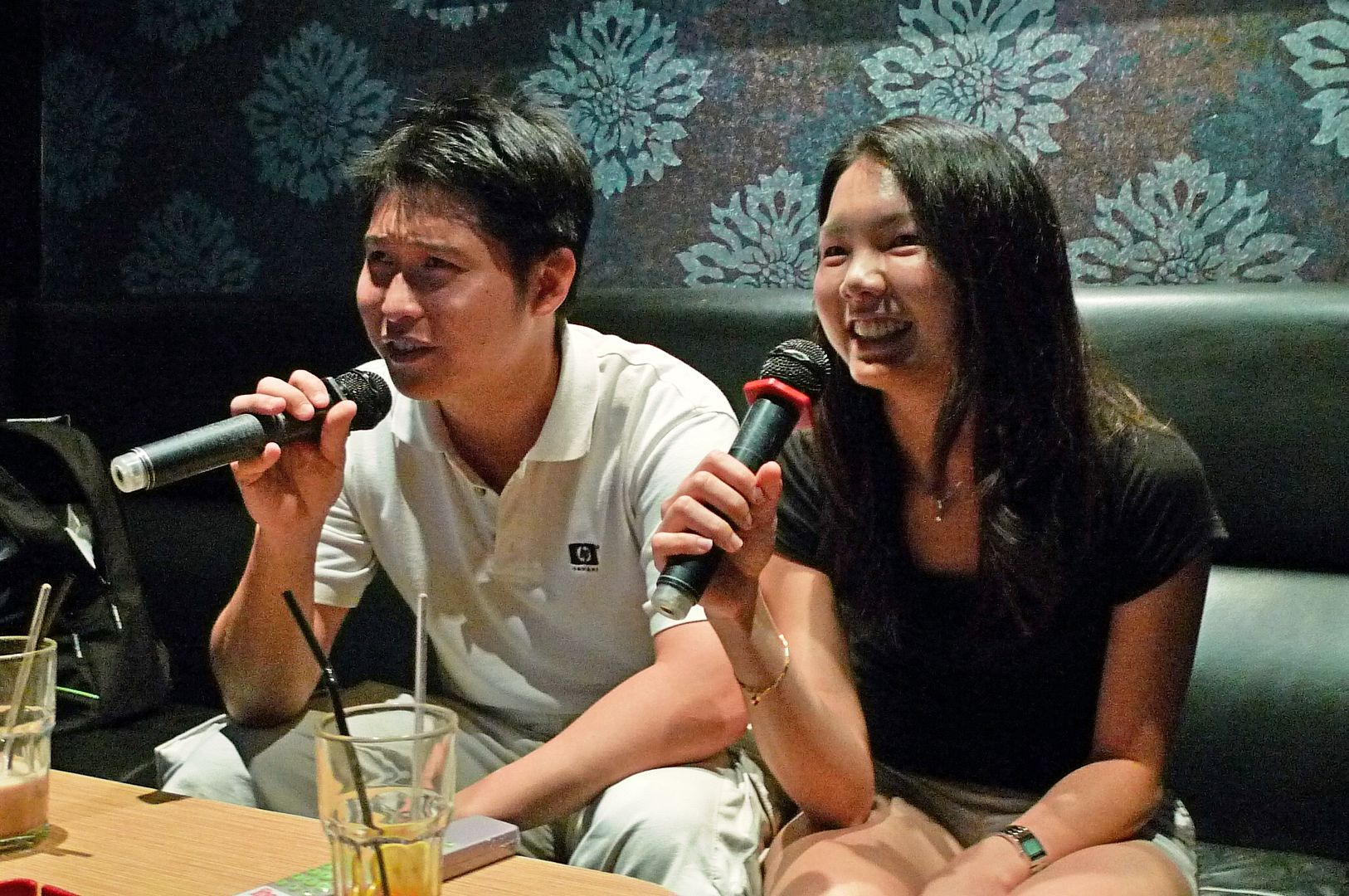 Since all three of us are bananas (and I don't mean the fruit) we sang only English and Indonesian songs. It was fun!
Alas, 2 hours passed quickly and before we knew it, our karaoke session was over! That cost us about RM17 each inclusive of a set lunch and drink. Not too bad you say? Well, it was OK but 3 hours would have been more worth it!
I did not even bother to take photos of the food because what can I say? They were lousy!
After that, we decided to go to Dragon-I for lunch. Yes I know, we just had lunch in RedBox right? But both Witch and Saucer wanted to try its RM1 chicken promotion. There was a queue and we waited. Luckily it was not a long wait but when we got to our table, we discovered that the RM1 promotion was only available from 6pm-9pm! What a bummer!
Being rather thick faced, we just left. Haha! And off we headed to IKEA for its hotdog and curry puff. Guess what? I forgot to take a photo of that hotdog! This was my first time eating IKEA's hotdog (OK, say I'm ulu if you want to!) and it was nice! Maybe that's why I forgot to take a photo of it! Haha!
You can add in your own fillings (no limit) and the price was only RM2!! Pretty good deal, no?
After that we returned to the Curve and visited the Sony shop on the 1st floor while waiting for the arrival of
Merryn
. Why were we waiting for Merryn? Because she was supposed to meet up with me so that I could pass her the piggy bank I bought from Bali.
Now this piggy bank was actually won by
Tekkaus
in one of
my contests
, but he was so kind hearted and donated it to Ethan, Merryn's son! Now wasn't he nice?
Don't worry, Tekkaus! For your kindness, I have got a gift for you and it's on the way to Melaka right now....provided Pos Malaysia is as effective as I hope of course! : )
When Merryn came, we pulled off a prank that made her almost fainted! If you had not been following me on Facebook and Twitter, you would probably not know what prank we pulled off on Merryn.....and what's worse, Merryn later joined us to pull off a prank on our readers!!!
So to keep this post short, why not hop over to
Merryn's blog
and read
the full story
?
There is one very important reason why I wanted to meet up with Merryn. It's because I wanted to meet up with Ethan too! And finally, on that very Sunday afternoon, I got my chance to meet that cute, cute little boy!
Look! I took quite a number of photos of Ethan. Ain't he cute?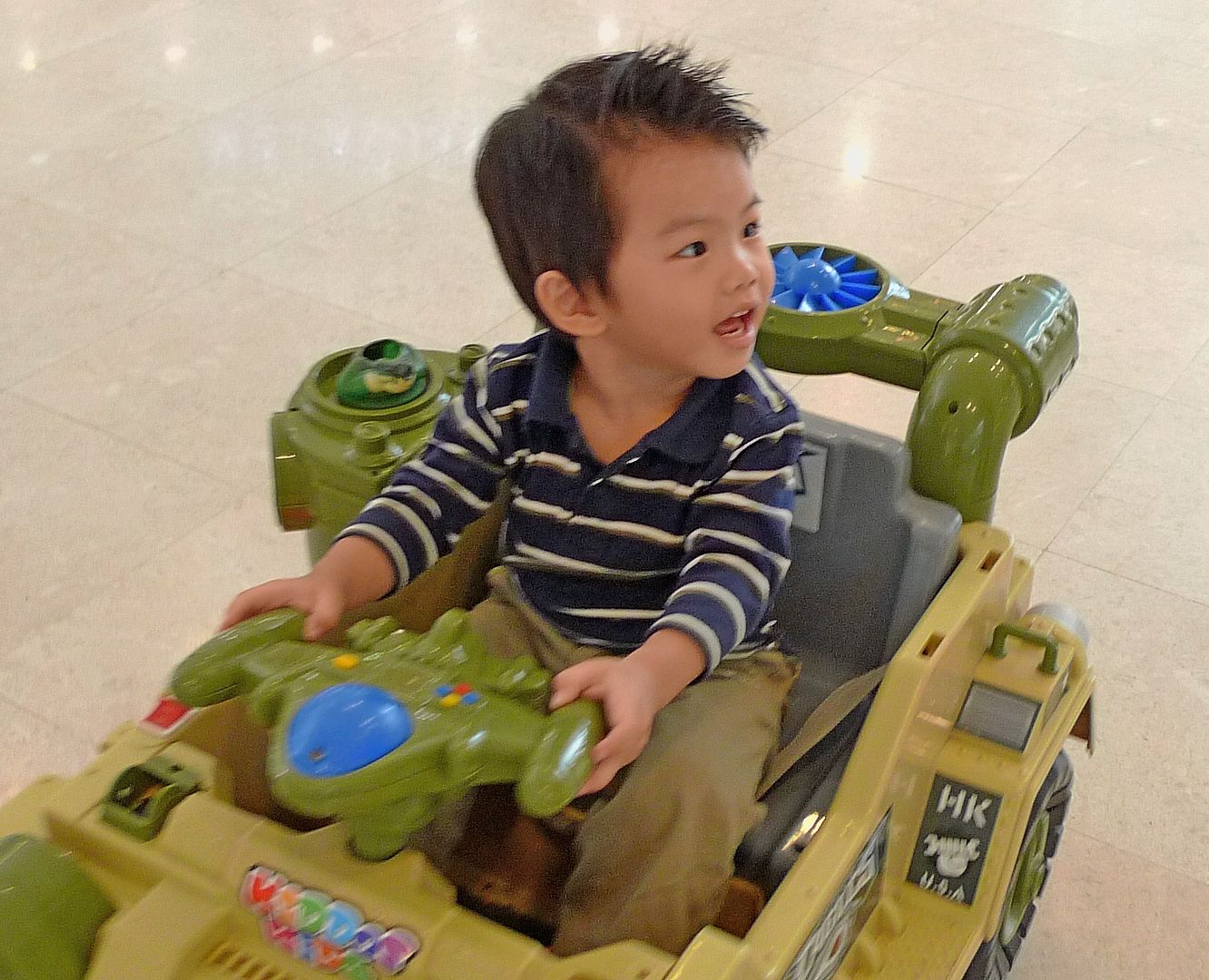 Now some of the photos here are a bit blurry because I was too excited and my hands were shaking. Also, Ethan kept moving away from me and I had a hard time taking his photos!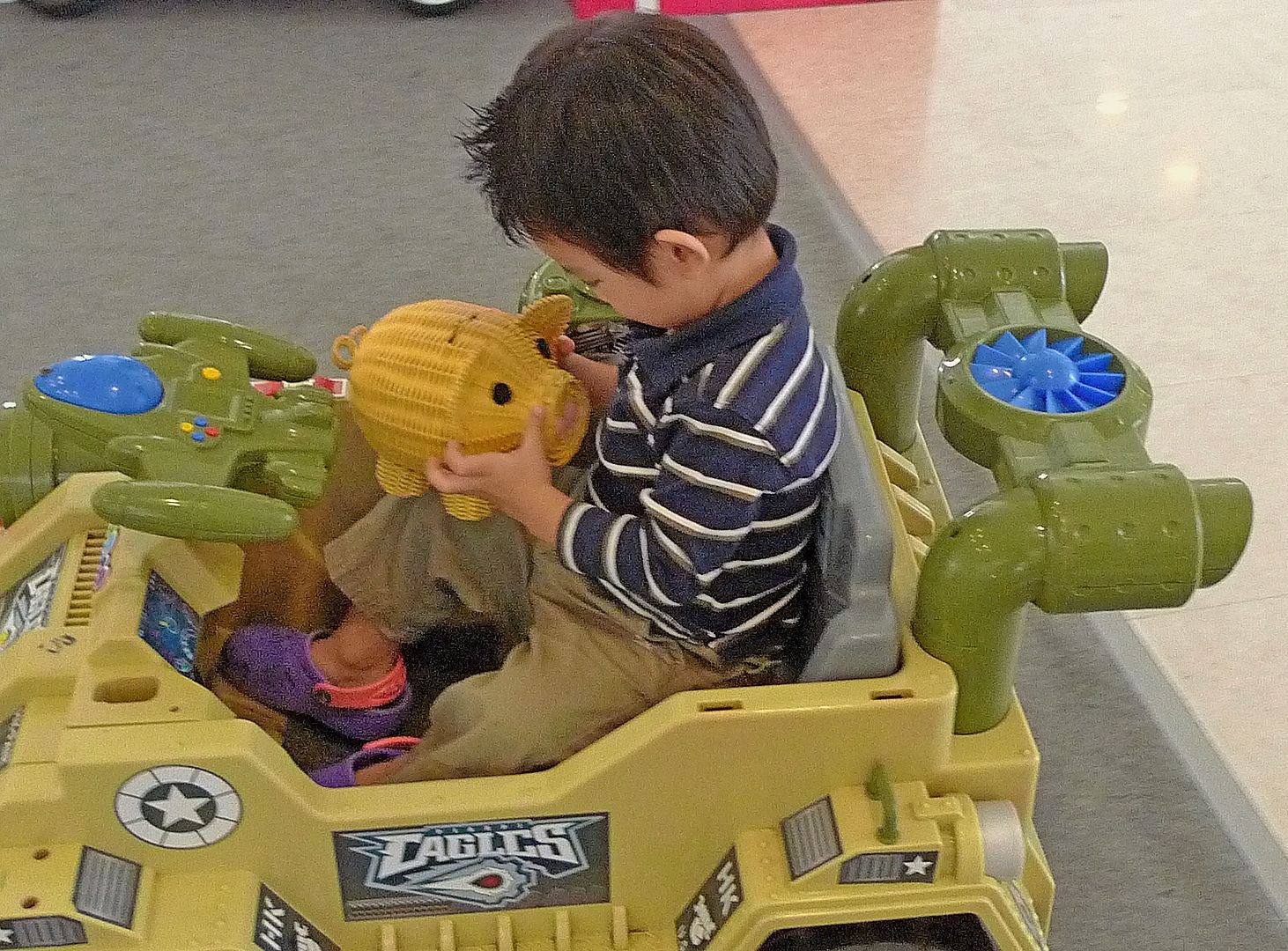 Ethan having a heart to heart chat with his new found piggy friend!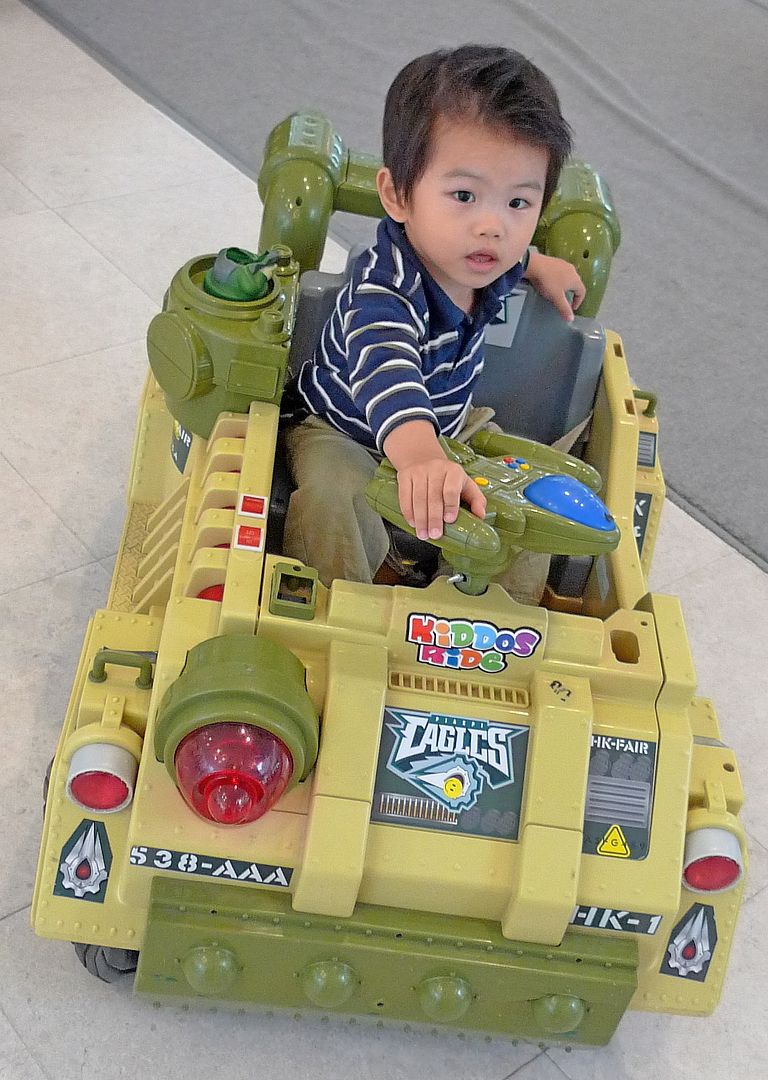 Finally! After much effort, got this shot!

Ethan's dad
Ethan enjoying his ride with piggy
Look! Ethan was so shy with me and Witch he hid behind that piggy! So cute!!!!
But I did not give up and kept snapping away! It's not everyday I can see Ethan, you see.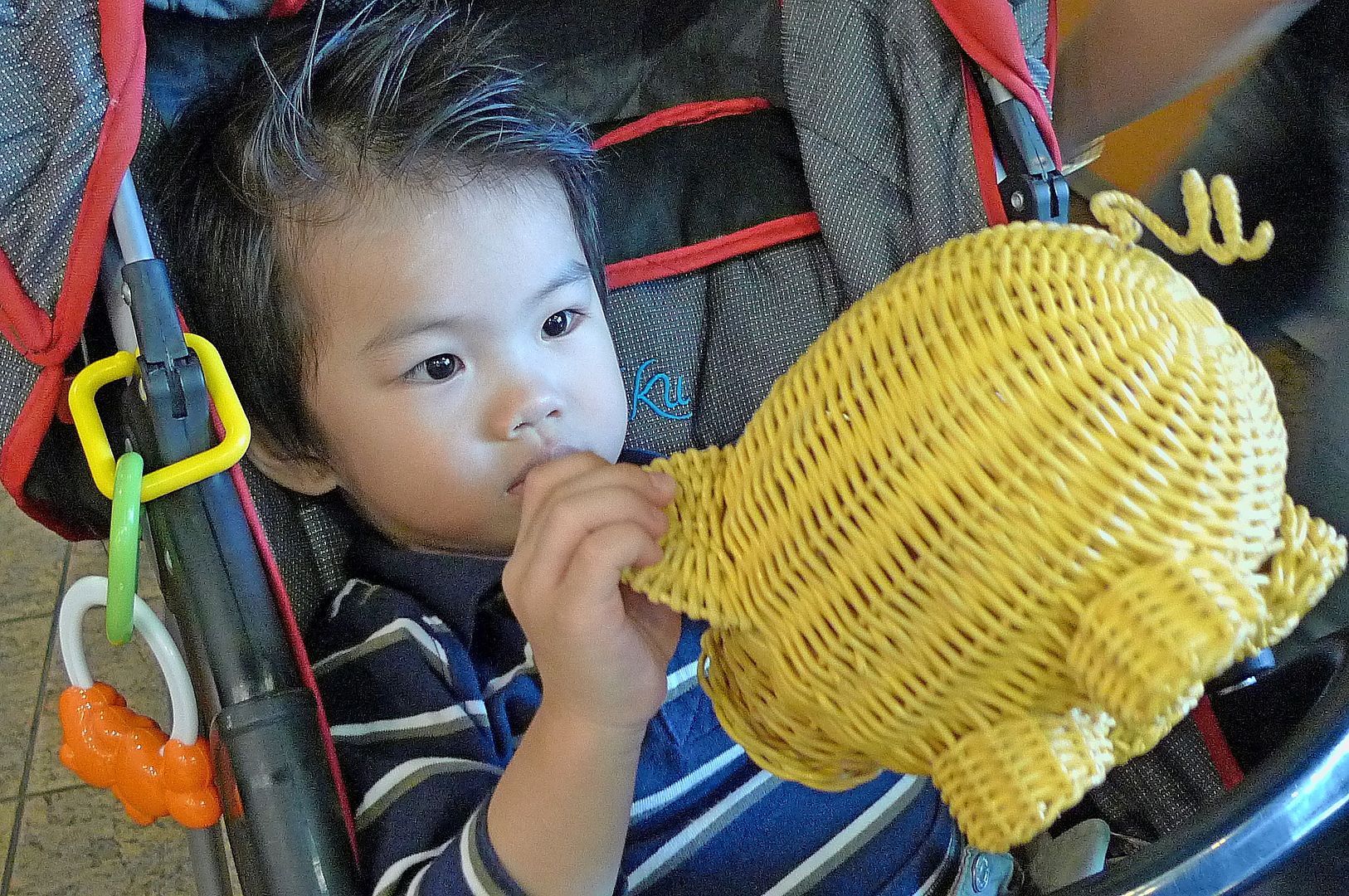 And I think I was quite happy to finally get to meet him although he refused to talk to me! Hmmmph!!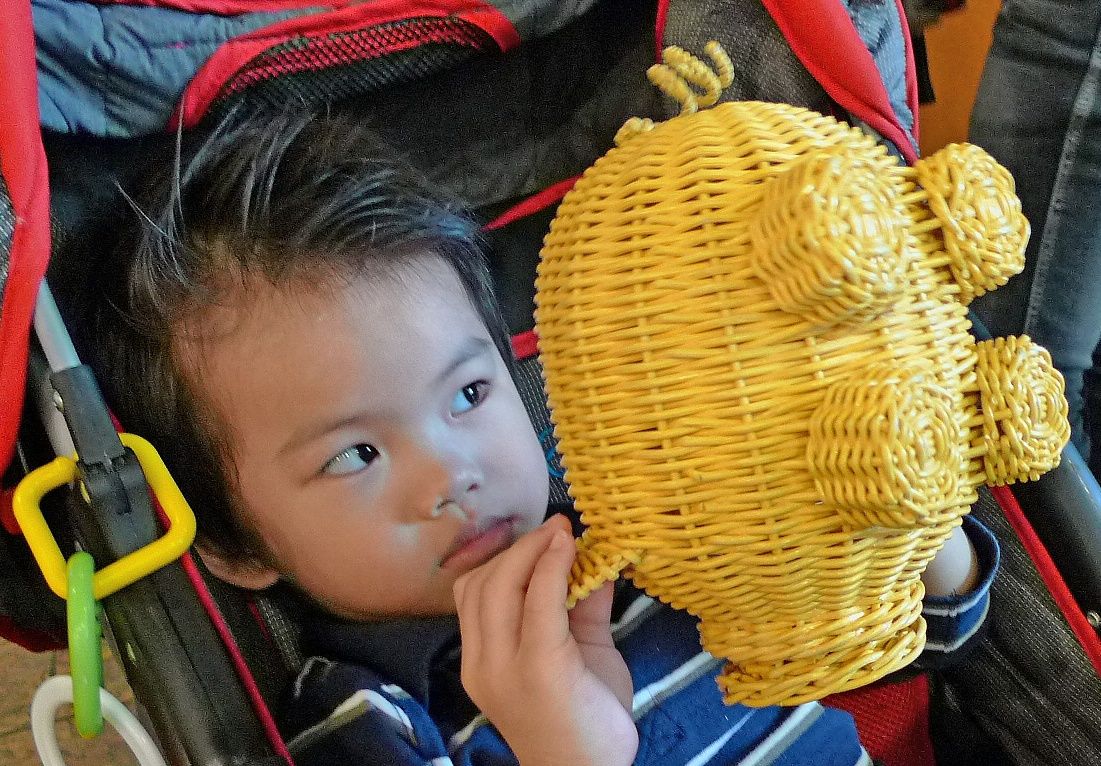 Oh well, we had a good time chatting at Starbucks in Borders and the topic ranged from nuffnang, to AdSense, to irenelim, to gossip about fellow bloggers.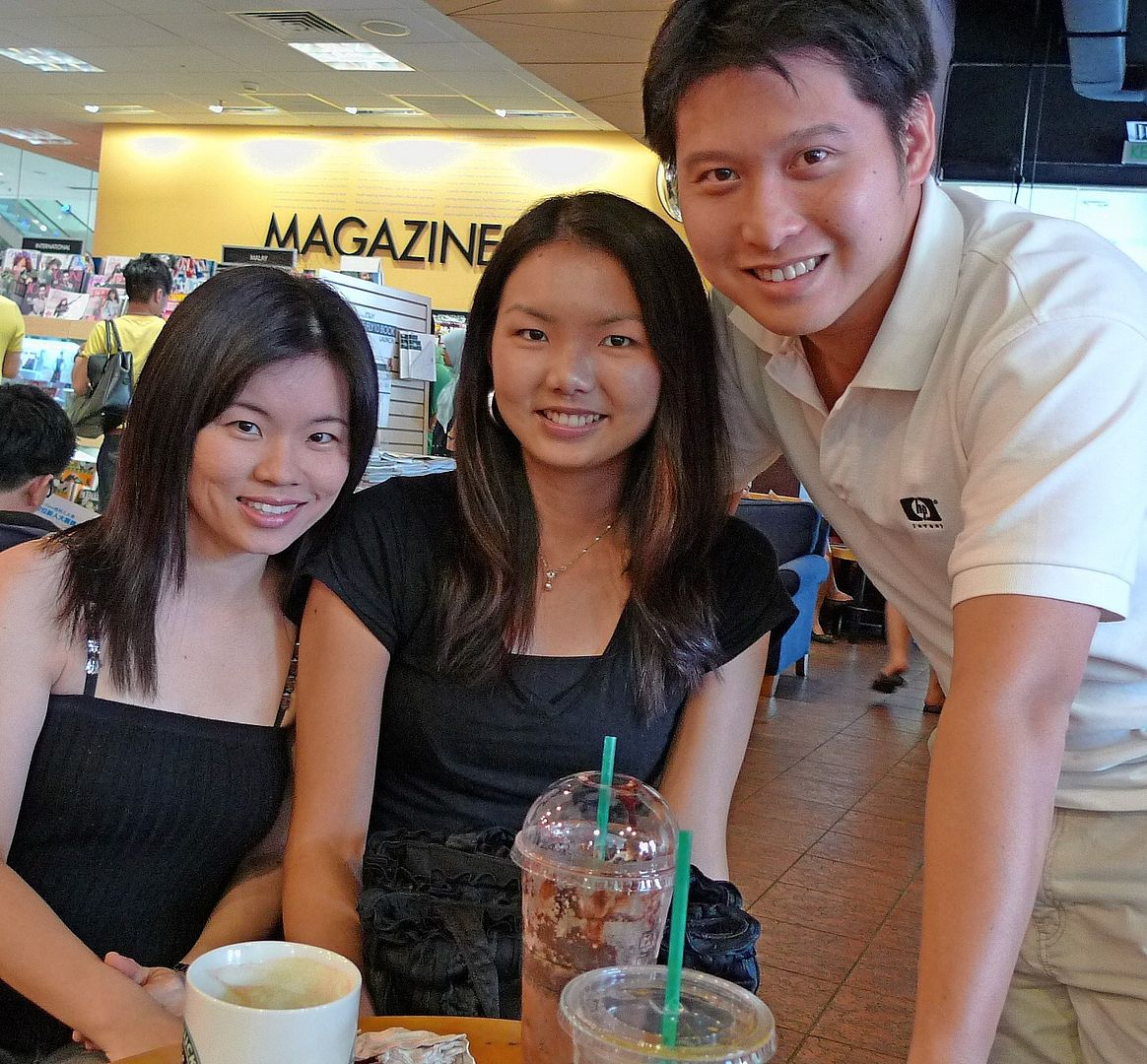 Merryn, Witch and Saucer, let's do this again soon! : )
FIRST COMMENTER