Gong Xi Fa Cai
and Happy Chinese New Year, everyone!
Today is the second day of The Tiger Year and I hope you all are having a great time!
Last week, I went to six shopping malls in Petaling Jaya and Kuala Lumpur for a photo-taking marathon of the Chinese New Year decorations. I would like to share some of the photos here today.
Let's start with
1Utama
.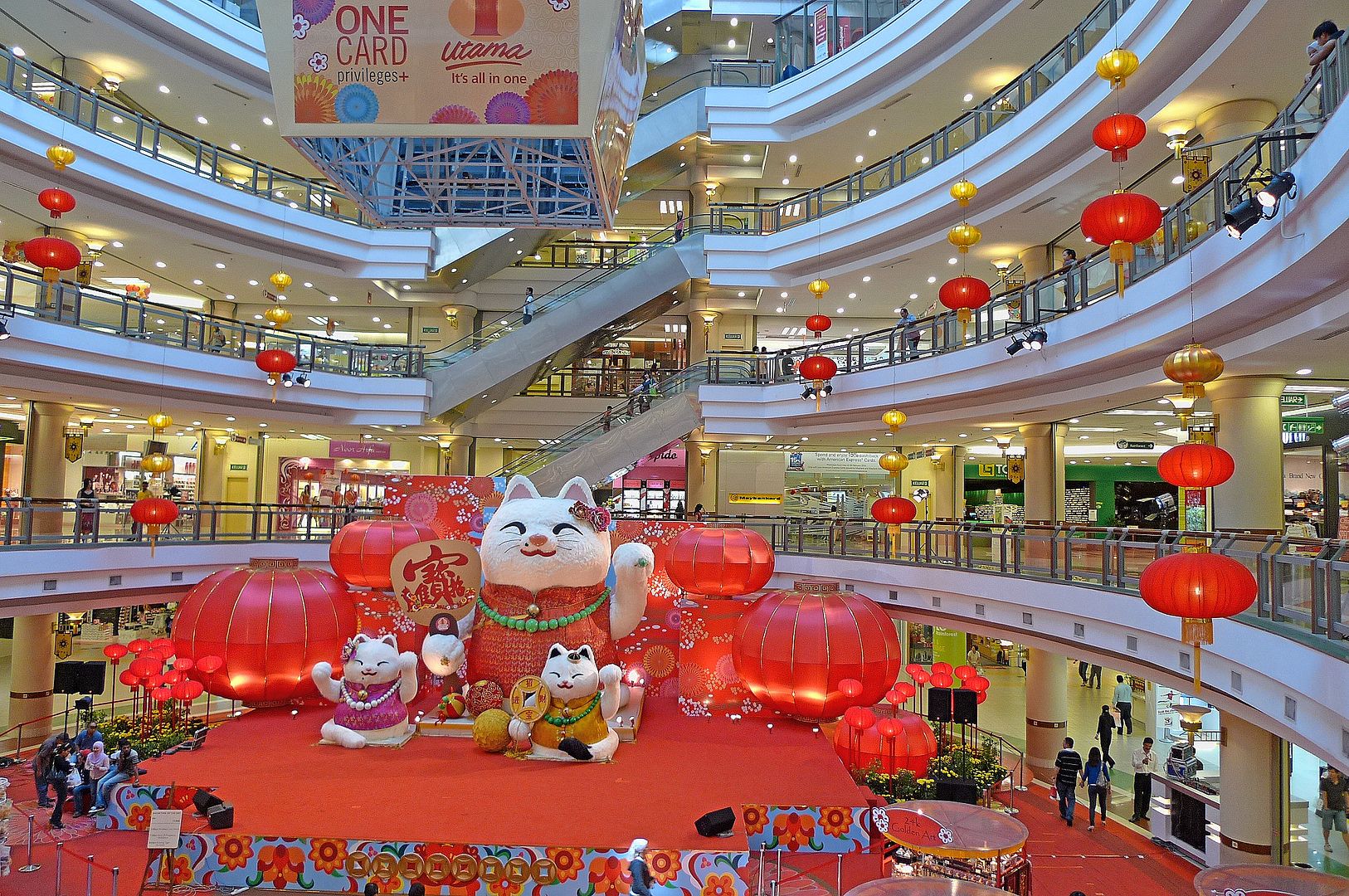 They have giant cats instead of tigers! I thought it's the Year of The Tiger! Well, I guess tigers are cats too, haha!
What are these cats called? Prosperity cats or something? You can usually see them in front of shops waving at customers to enter. I notice they always wave with the left hand. Anyone knows why? I usually wave with my right hand as I am a righthander, haha!
Do you notice the moles on the cats' faces? What do these moles signify? Anyone knows? Please share your knowledge with us, thank you!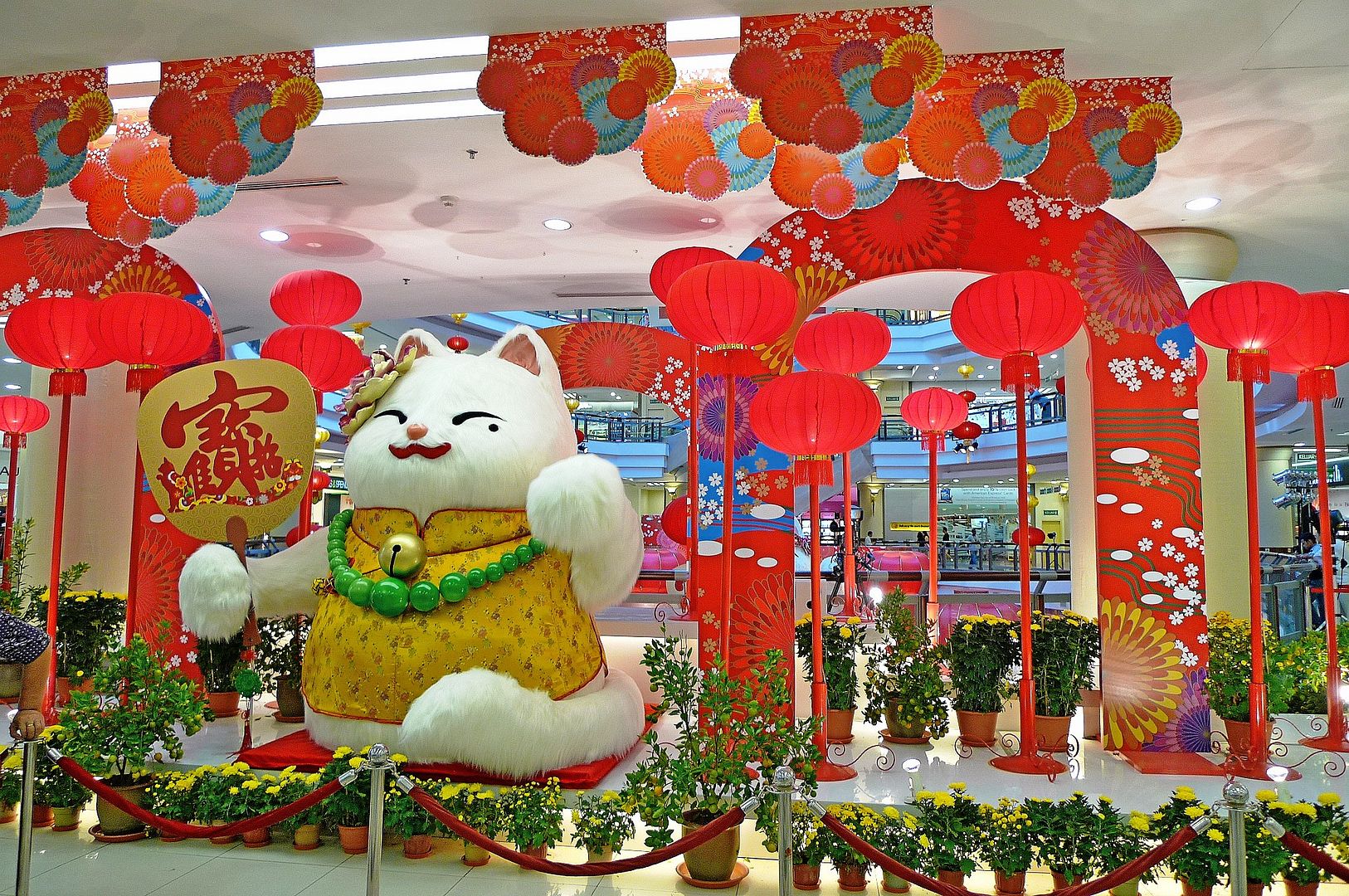 Next, it's
Mid Valley Megamall
.
I have to admit I didn't quite like Mid Valley's decoration this time. What do you think?
I did not like the many wires criss crossing above the pagoda and the flowers to hang those dragonflies - they just spoilt the whole scene!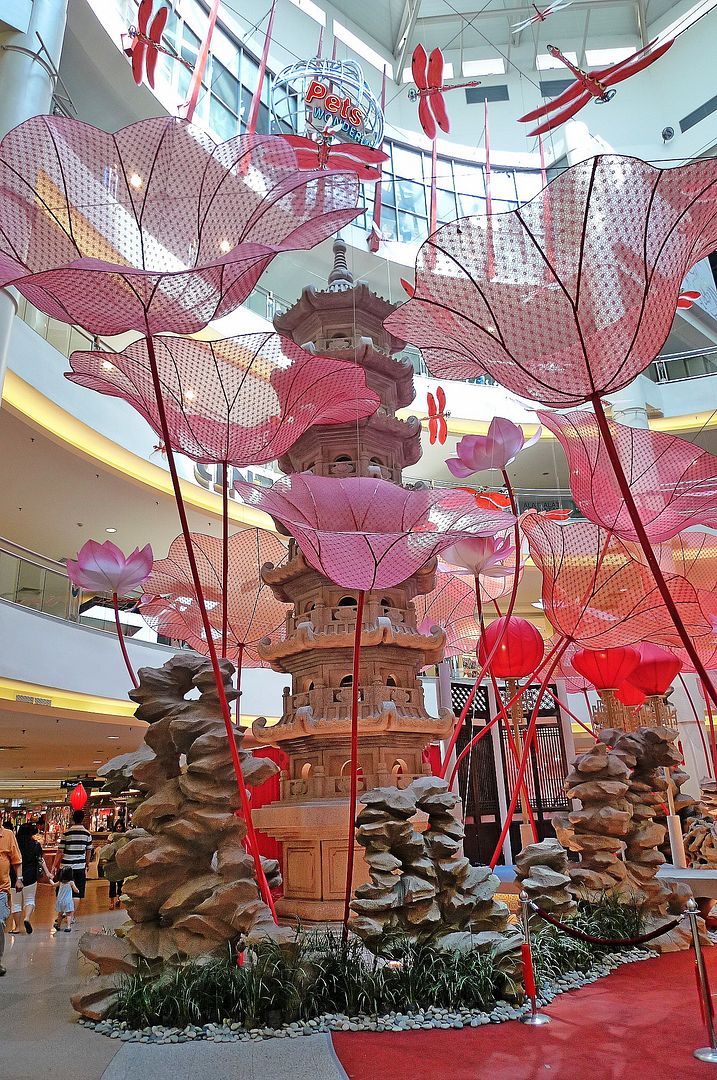 If Mid Valley was bad, then the next door
Gardens Mall
was much worse!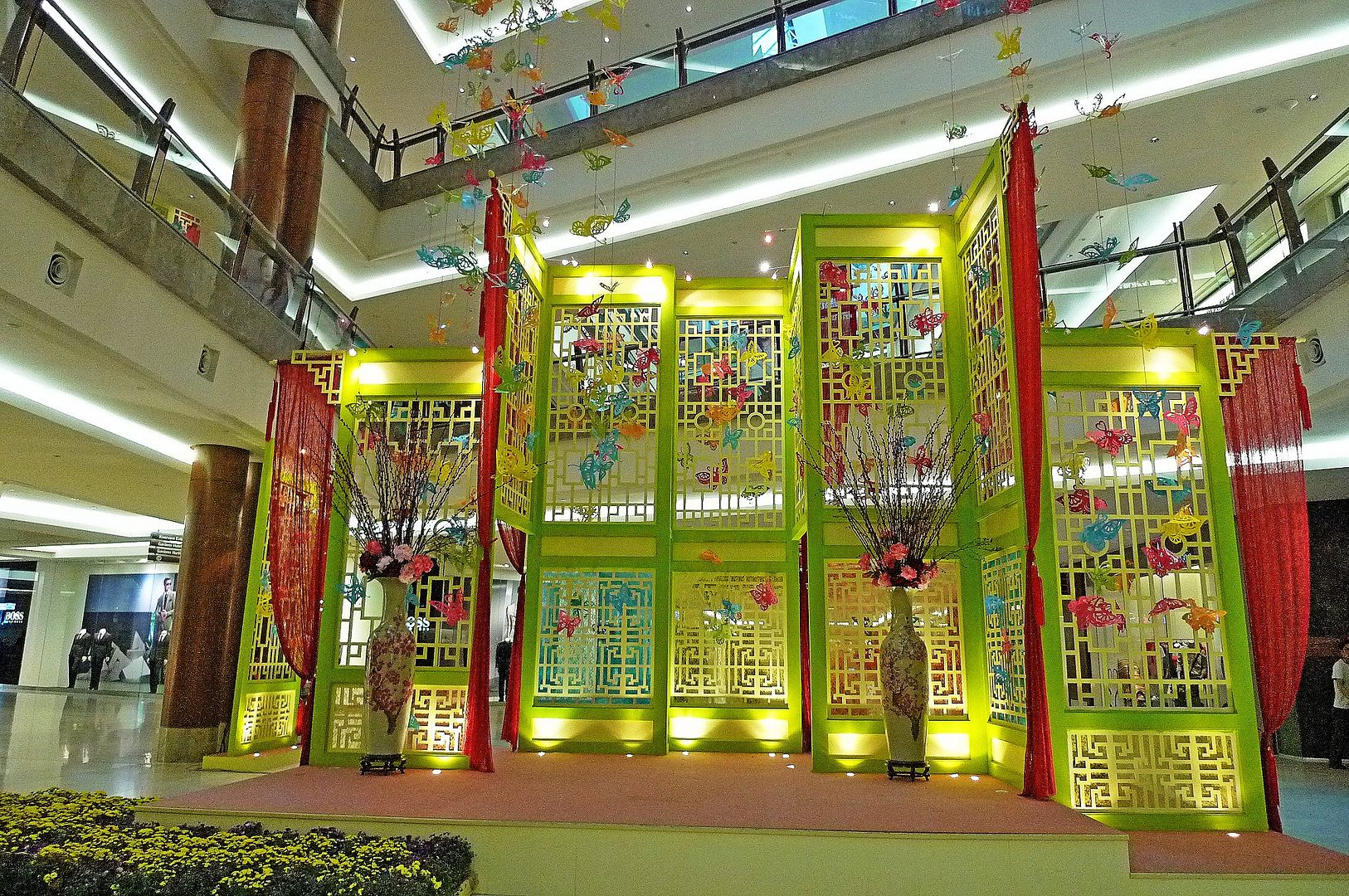 What the crap is that? And I hate those paper or plastic cuttings dangling from the ceiling! Definitely did not the suit this prestigious looking mall!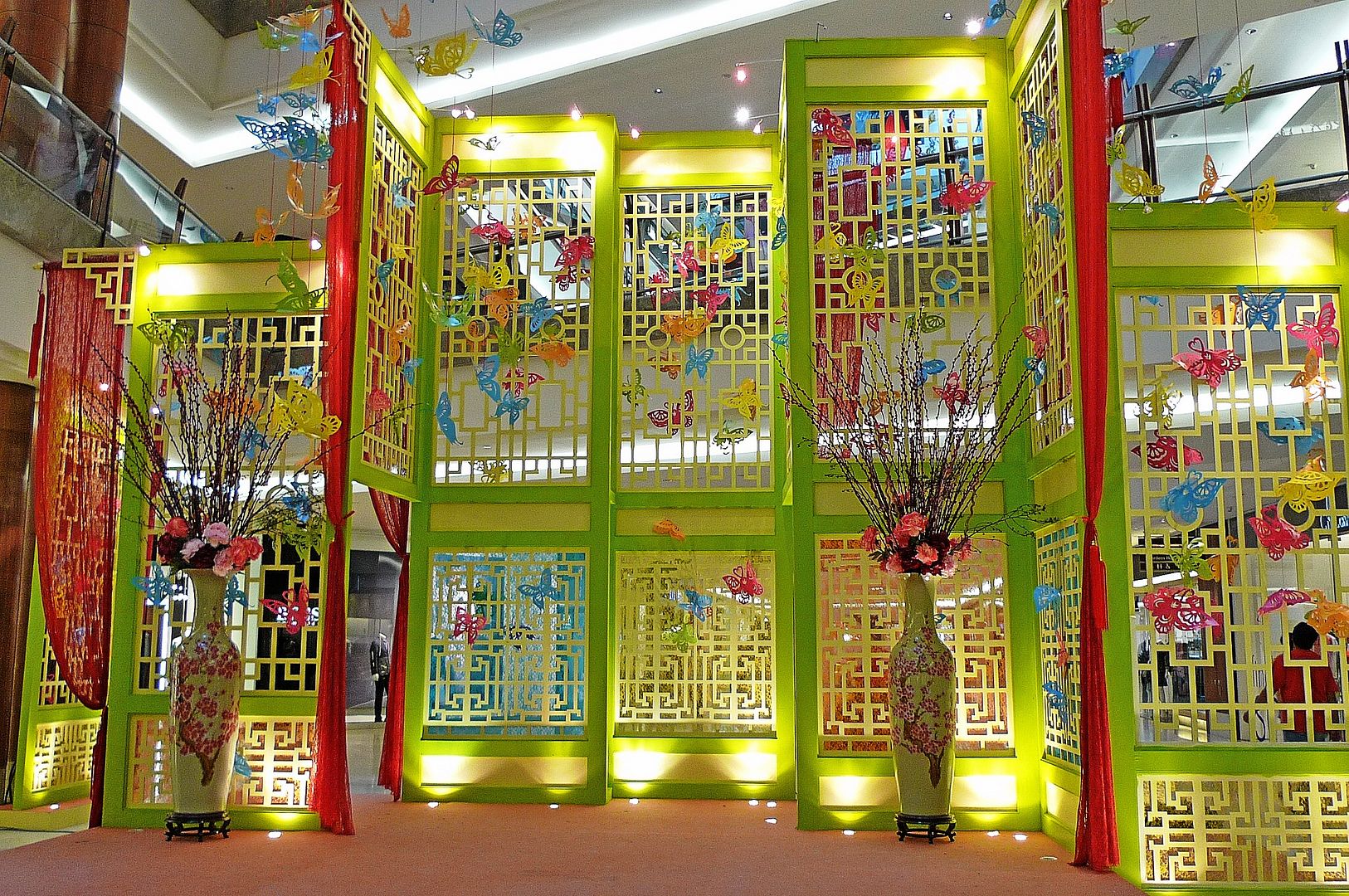 Next, I went to
Pavilion
.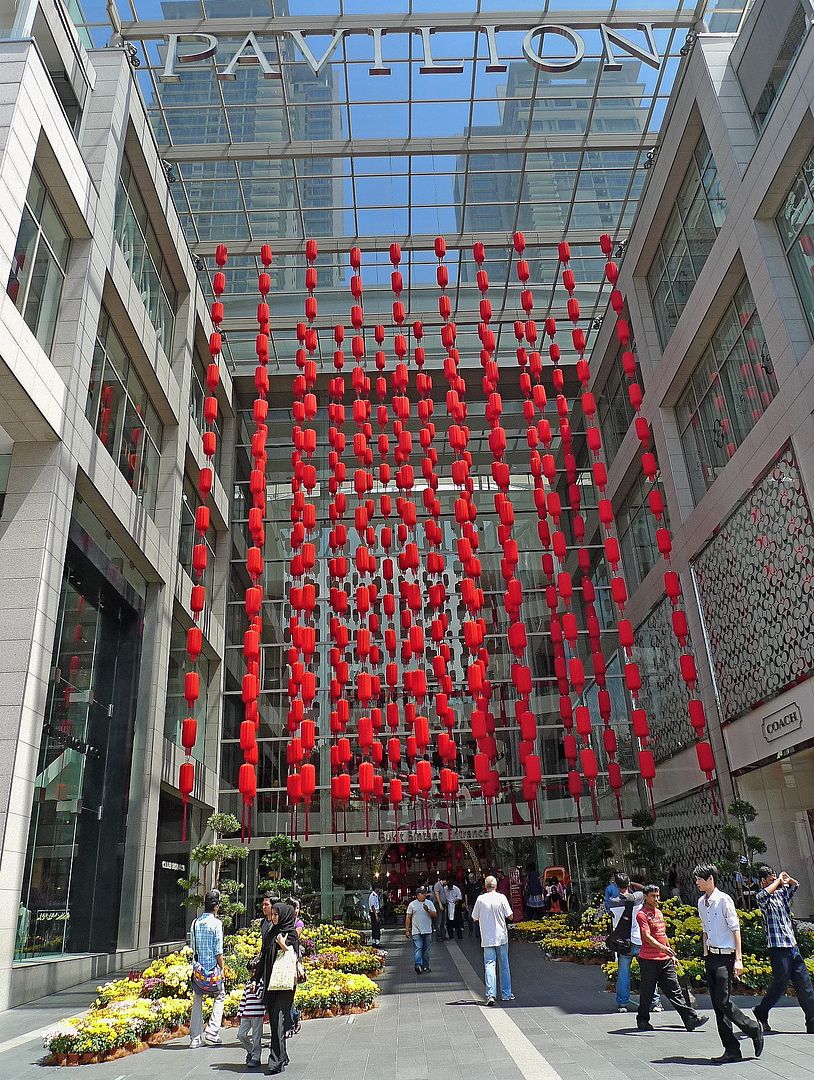 Lots of red lanterns welcome visitors at the entrance of the mall.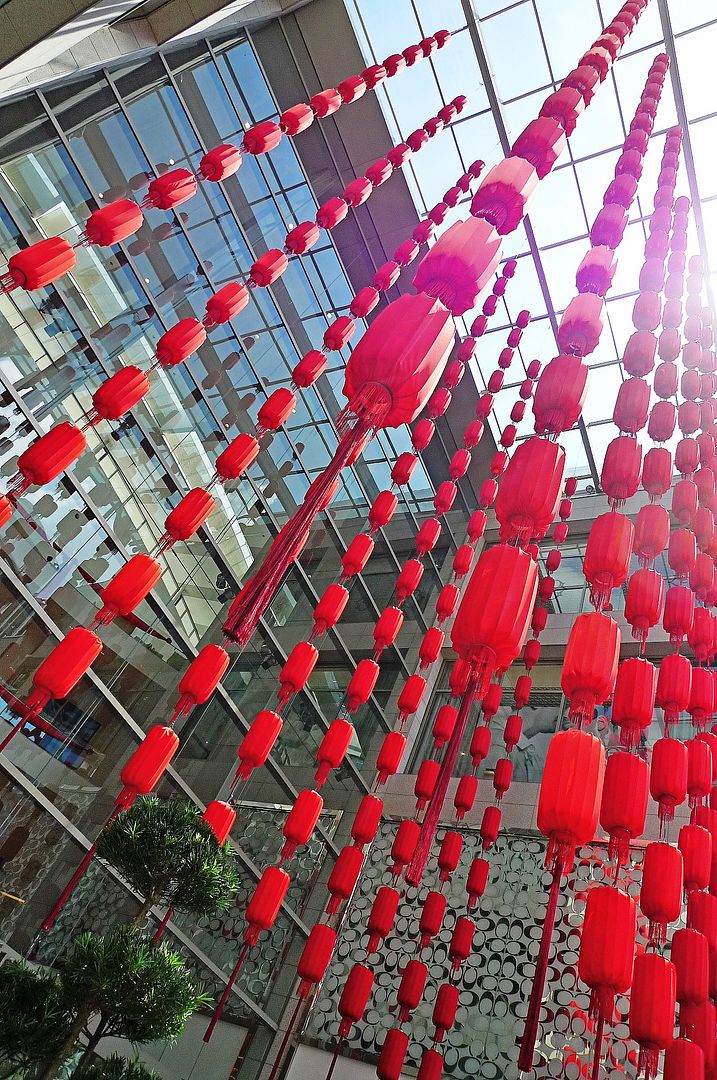 The photo above is from outside looking in, photo below is from inside looking out.
Pink colour trees lined the street outside the mall.
I saw this rickshaw and quickly snapped a photo of it!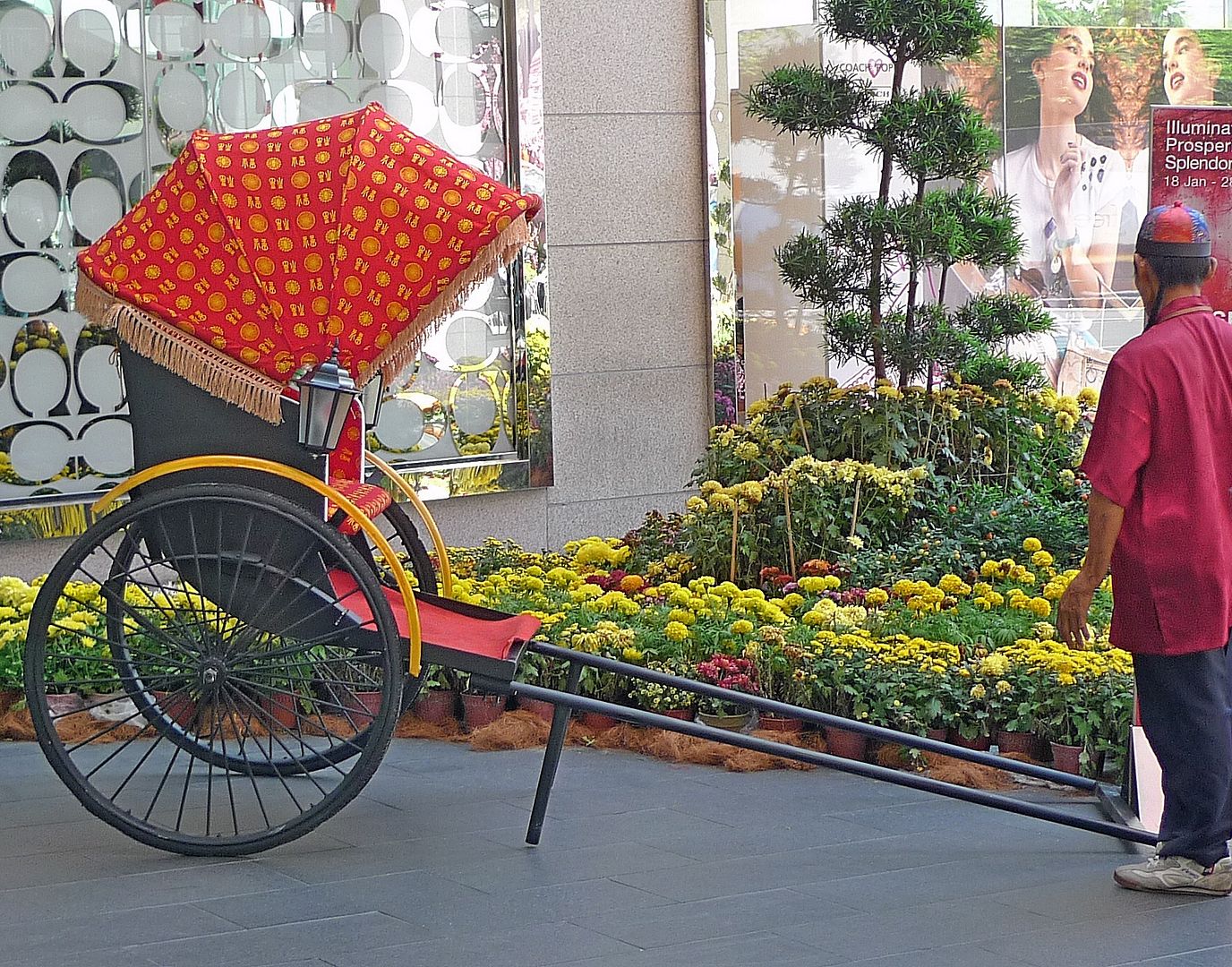 It seemed that Pavilion was having a Prosperity Rickshaw Ride for RM10 per ride. I am sure tourists would love to sit on that rickshaw!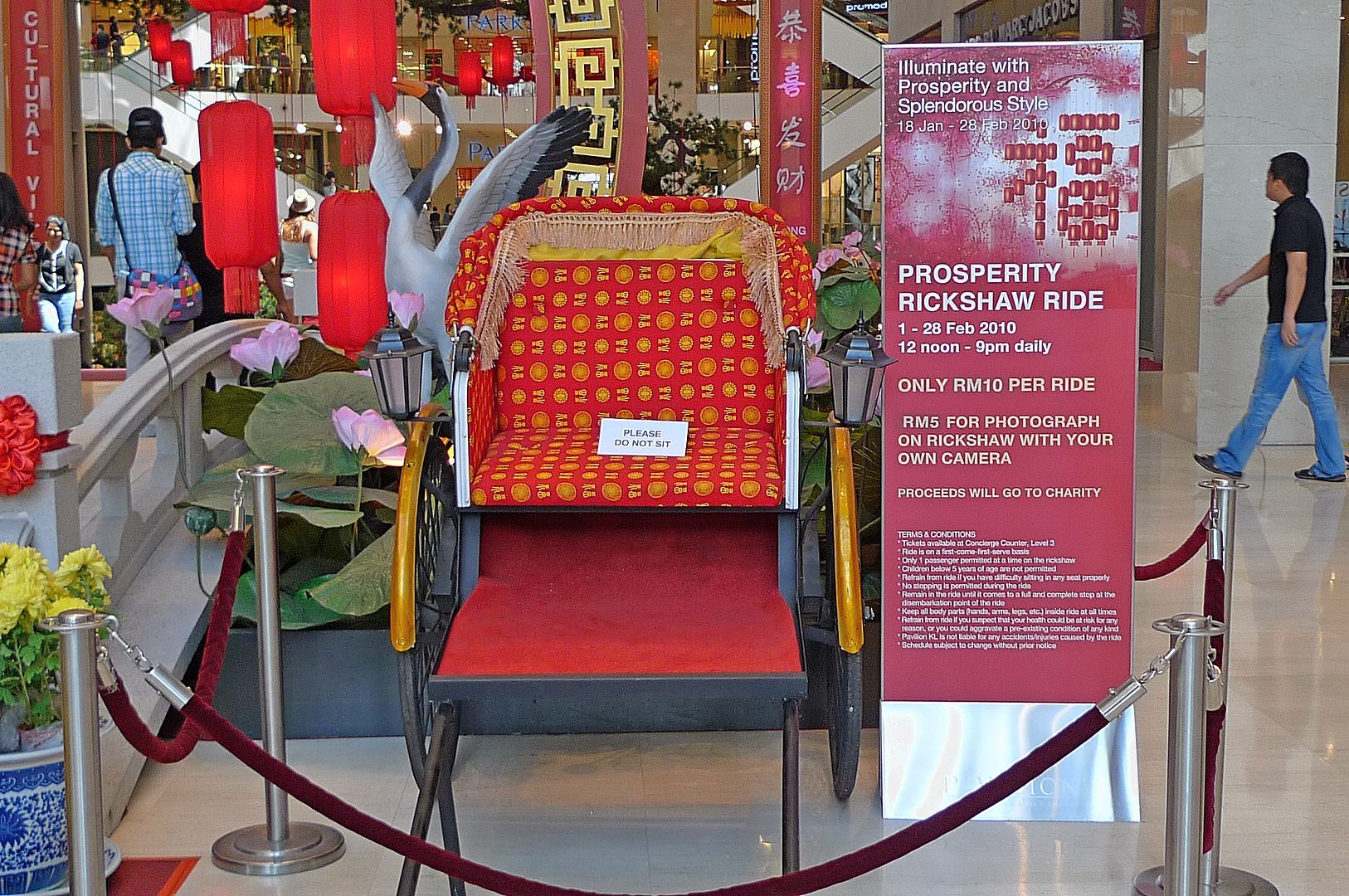 Inside Pavilion, a Bridge of Love greeted me. I wondered if this was done in conjunction with Valentine's Day.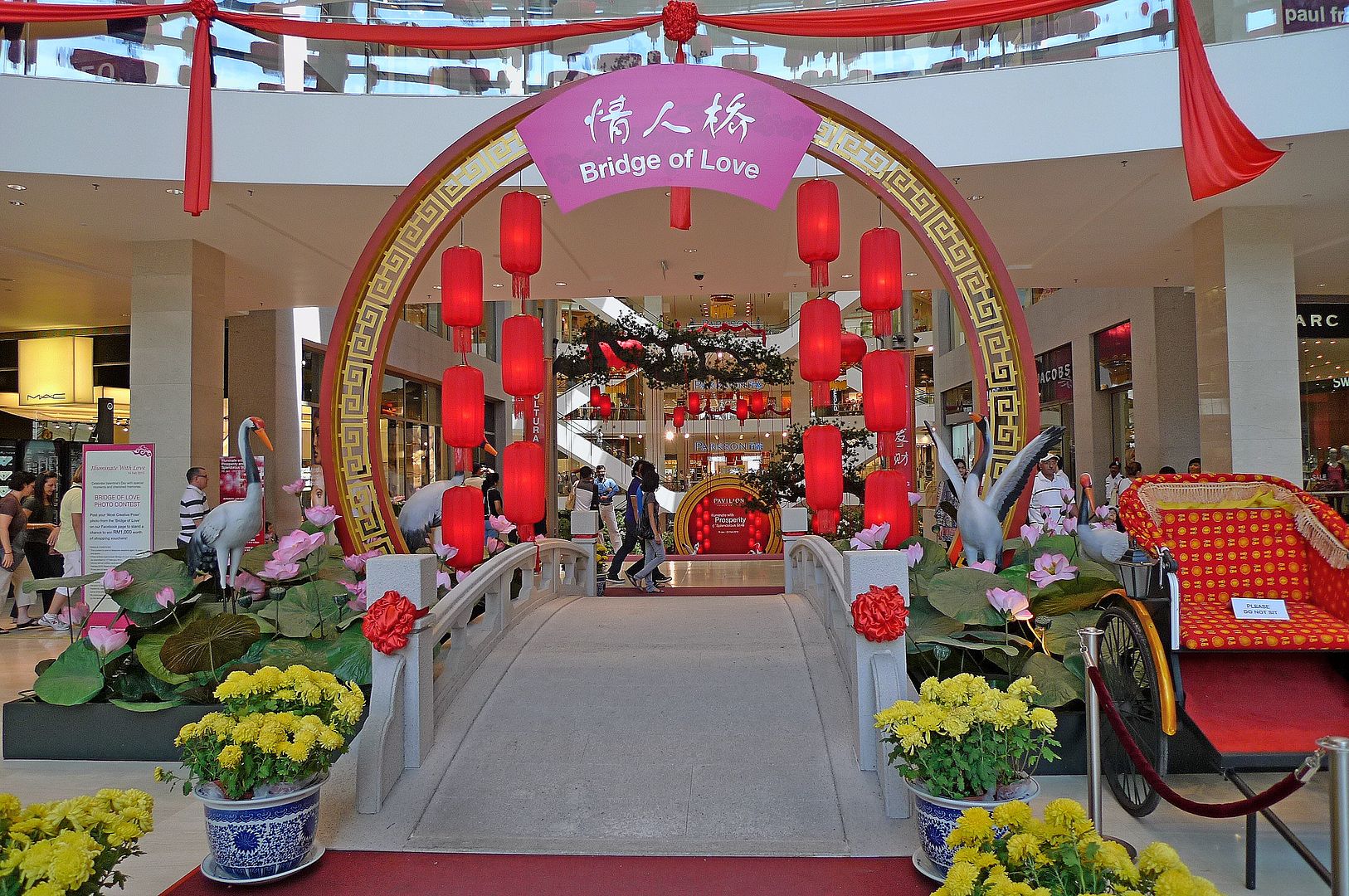 The Bridge Of Love from a different angle.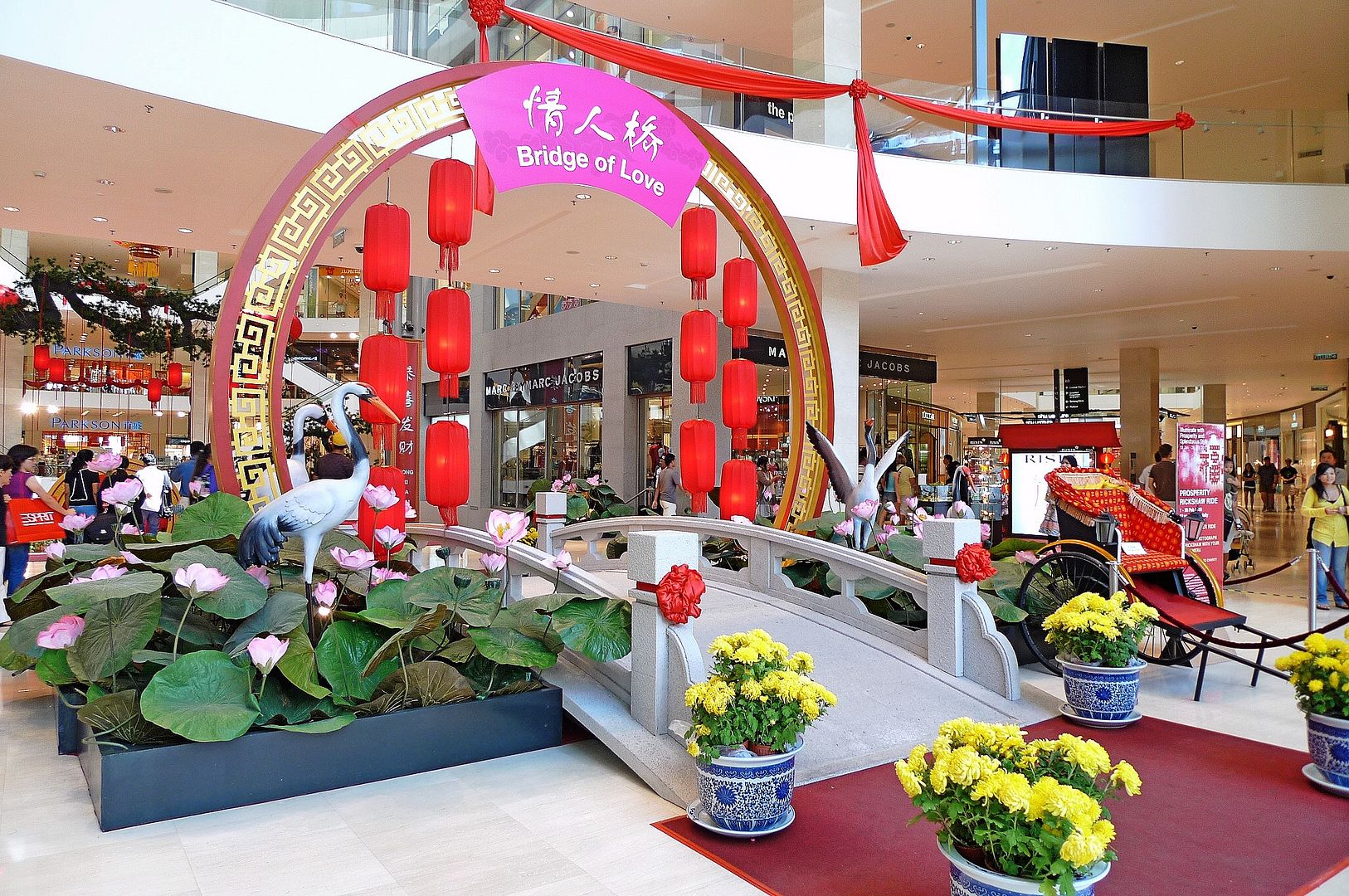 There's a crane at the other side of the bridge.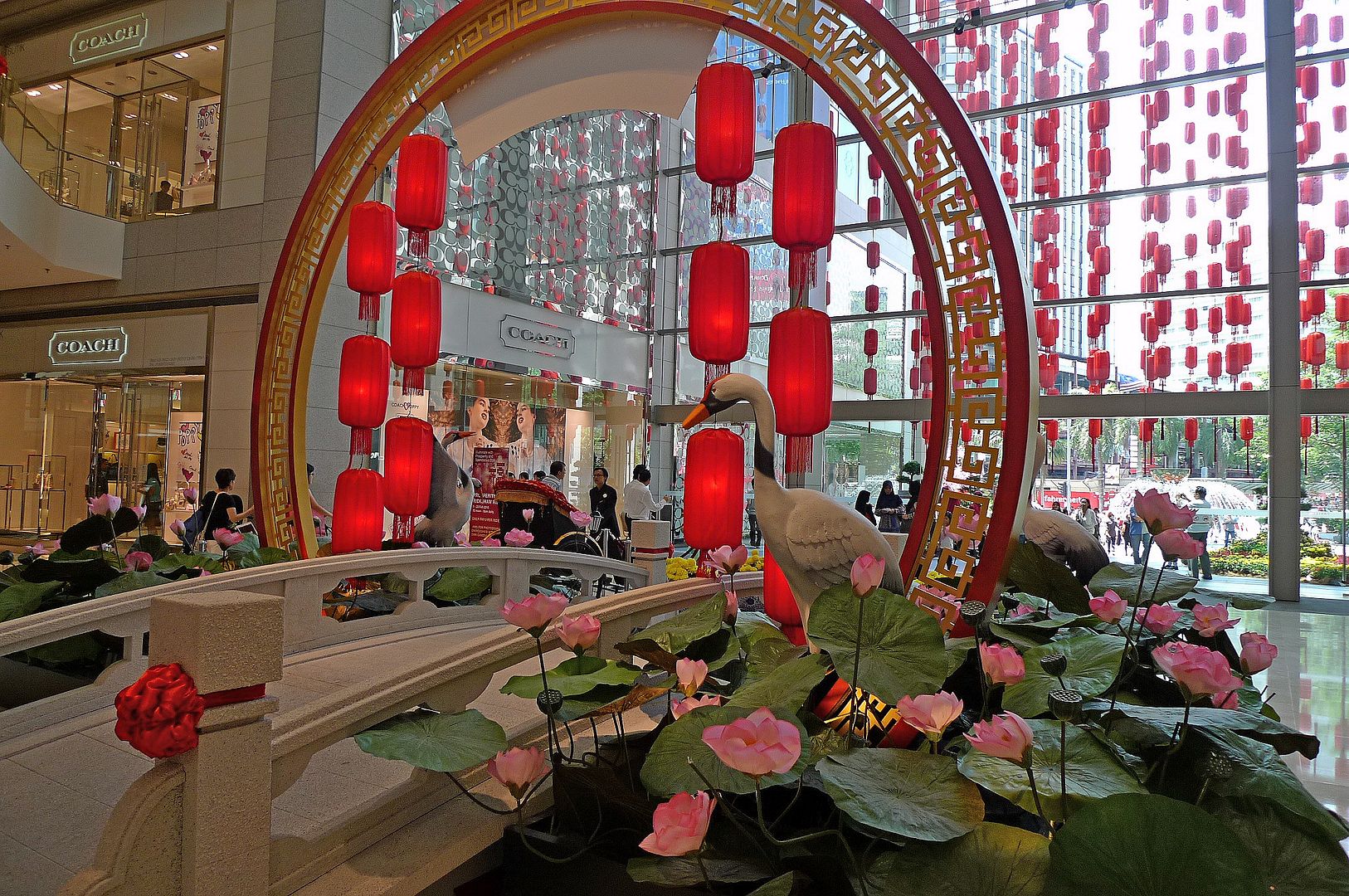 Entering the main atrium, I saw more cranes!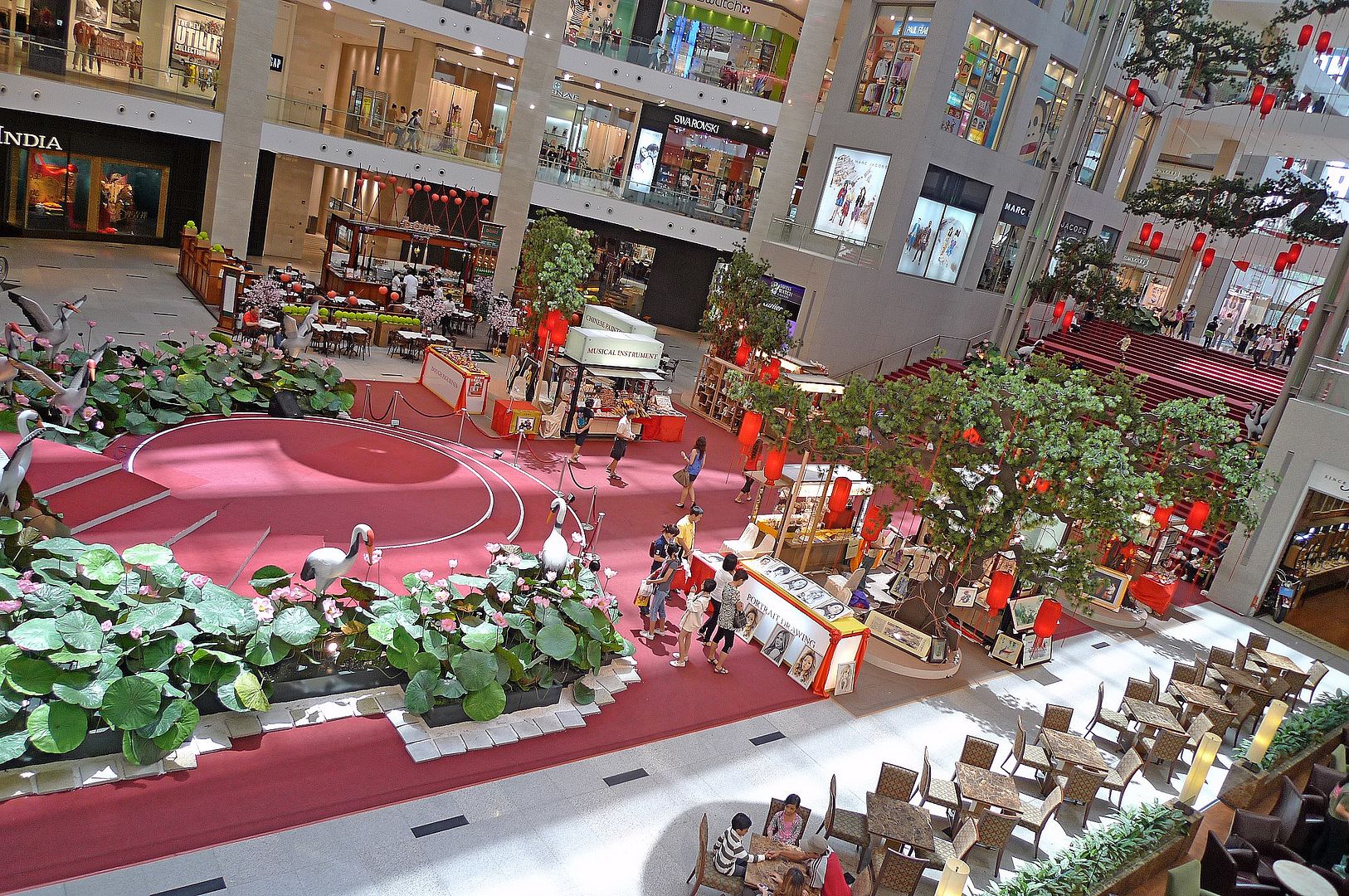 And huge gigantic red lanterns hanging from the ceiling!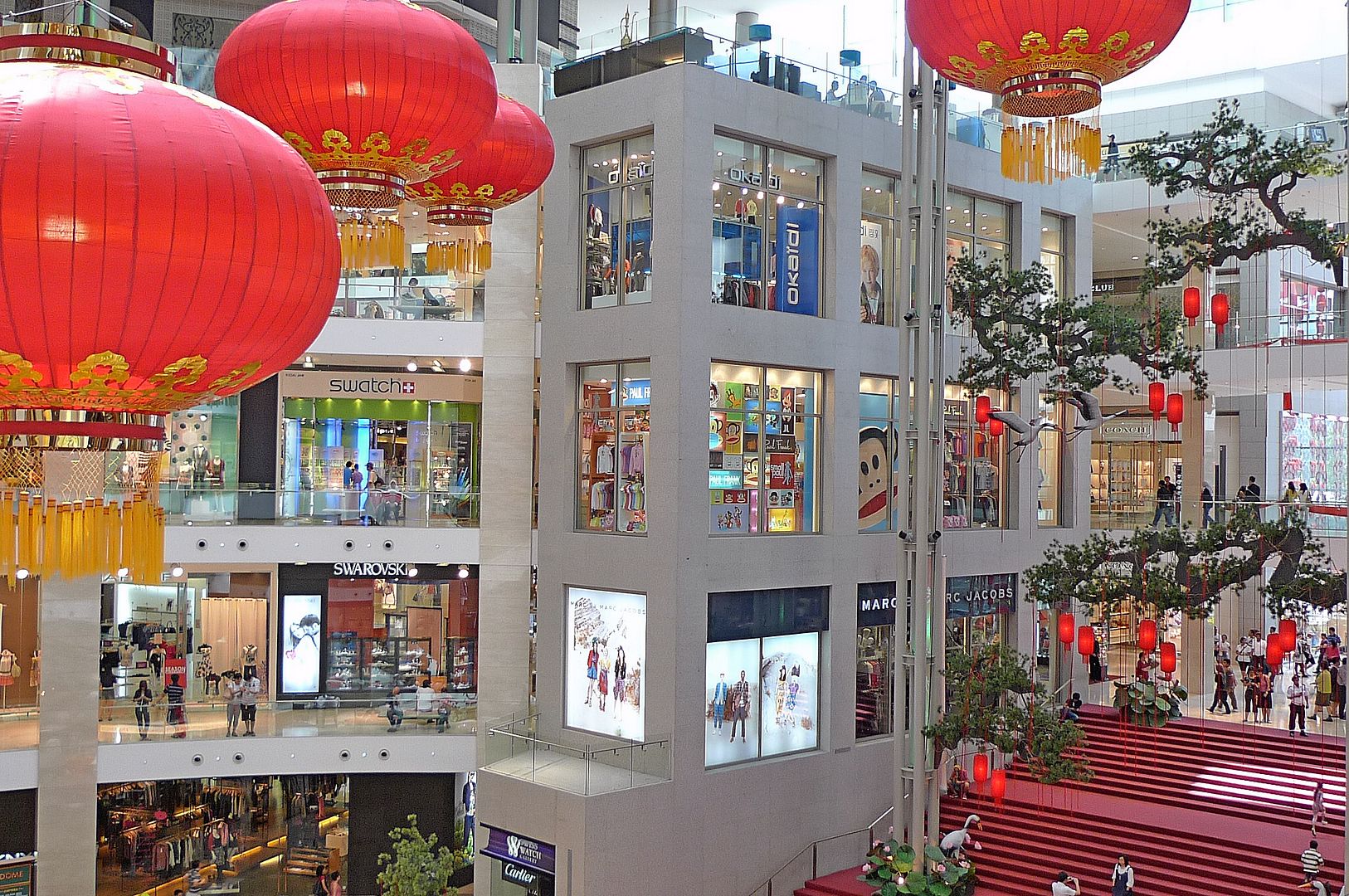 What attracted my attention was not the huge lanterns, but the picturesque scene of cranes flying below the beautifully shaped trees typically found in China's landscape.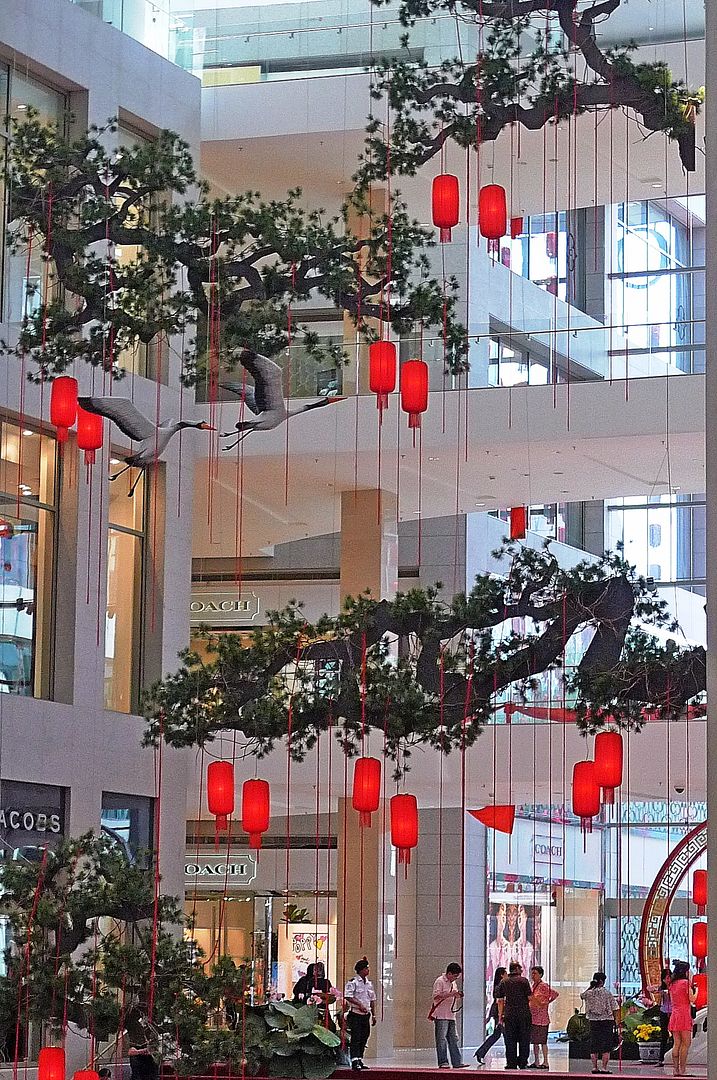 Don't you just love those cranes and trees? Reminds me of old Chinese paintings!
I think I'm giving Pavilion two thumbs up for their Chinese New Year decoration!
When I went to
Suria KLCC
to see if they could top Pavilion, I was disappointed! Take a look.
I thought those small red lanterns hanging from the ceiling looked kind of empty and uninteresting.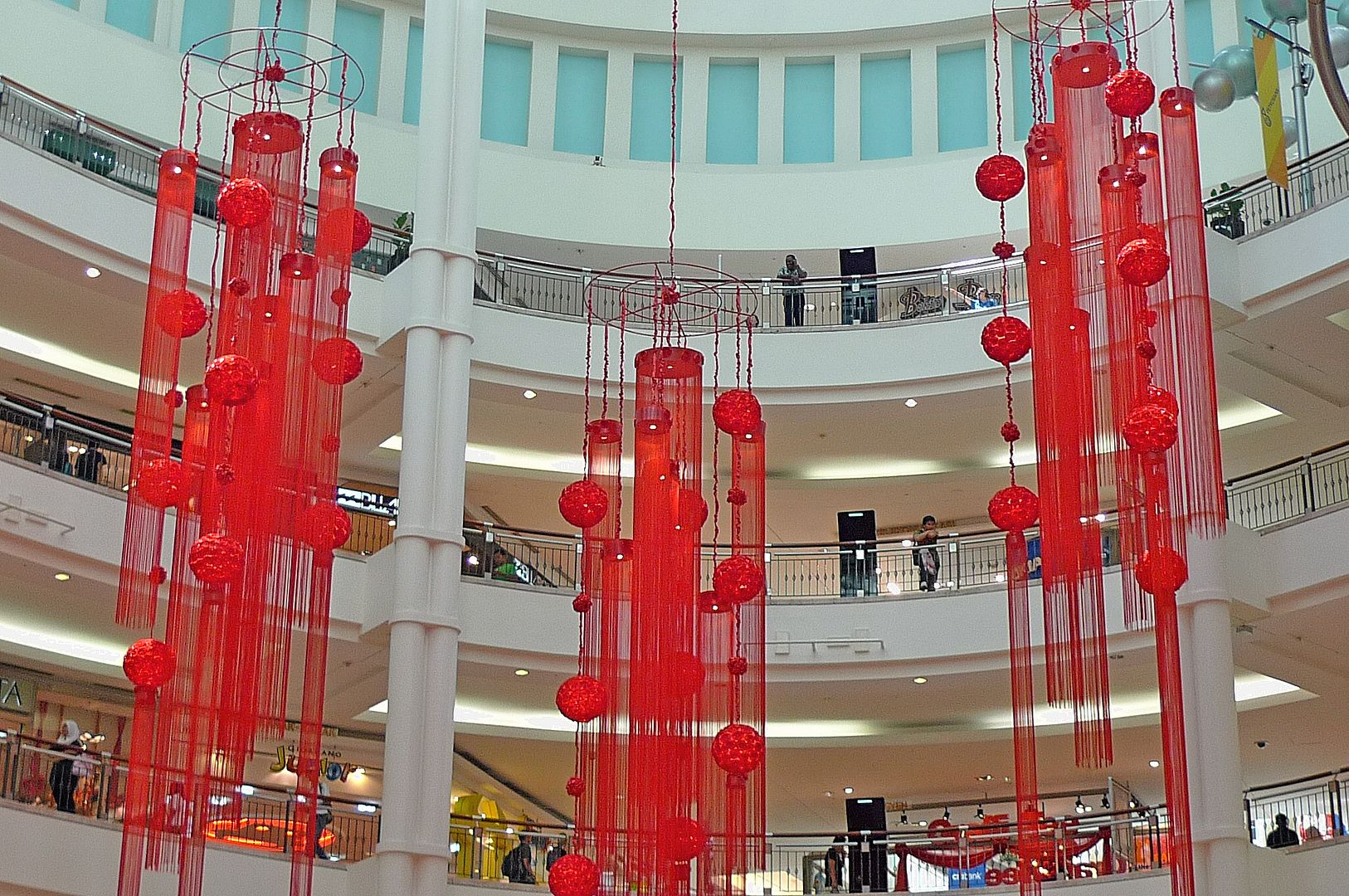 On the ground, things were looking pretty boring.
There was a girl performing a song on a musical intrument.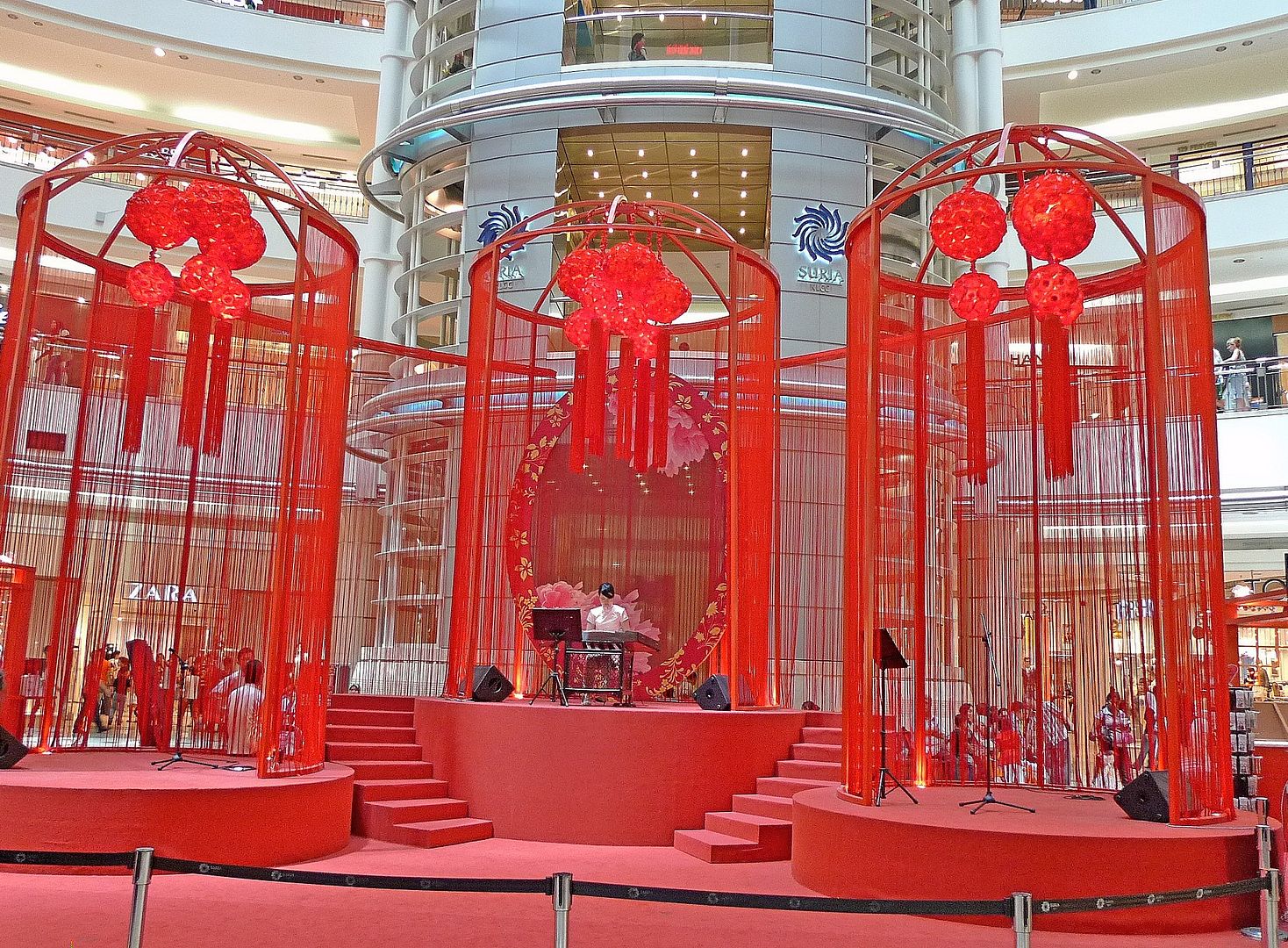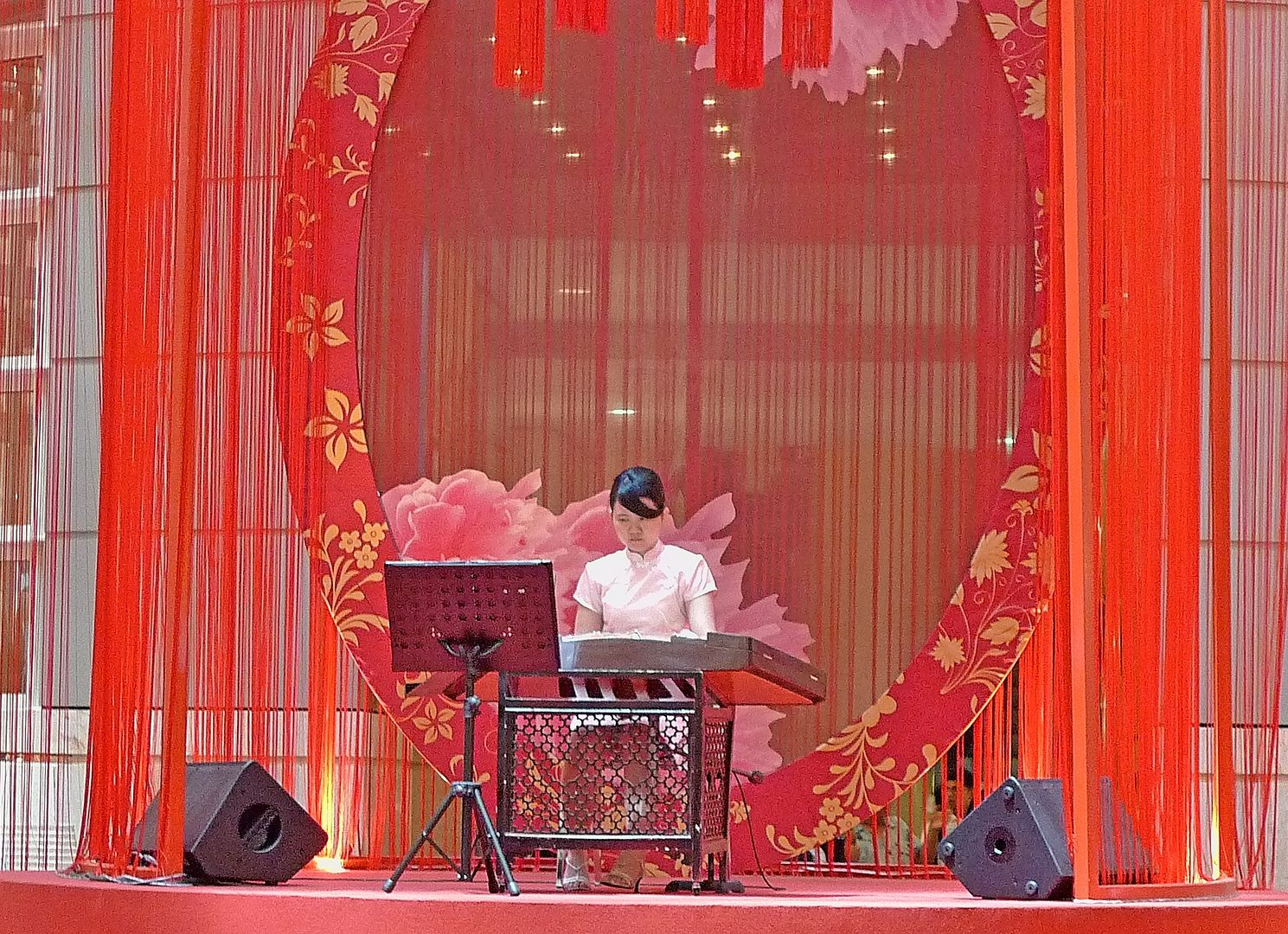 I was certainly not impressed with KLCC's Chinese New Year decoration this year.
Last stop -
The Curve
.
Oh, I love the designs especially the wall which is typical of old Chinese architecture. Besides, the curvature of the wall fits in nicely with the name of this mall!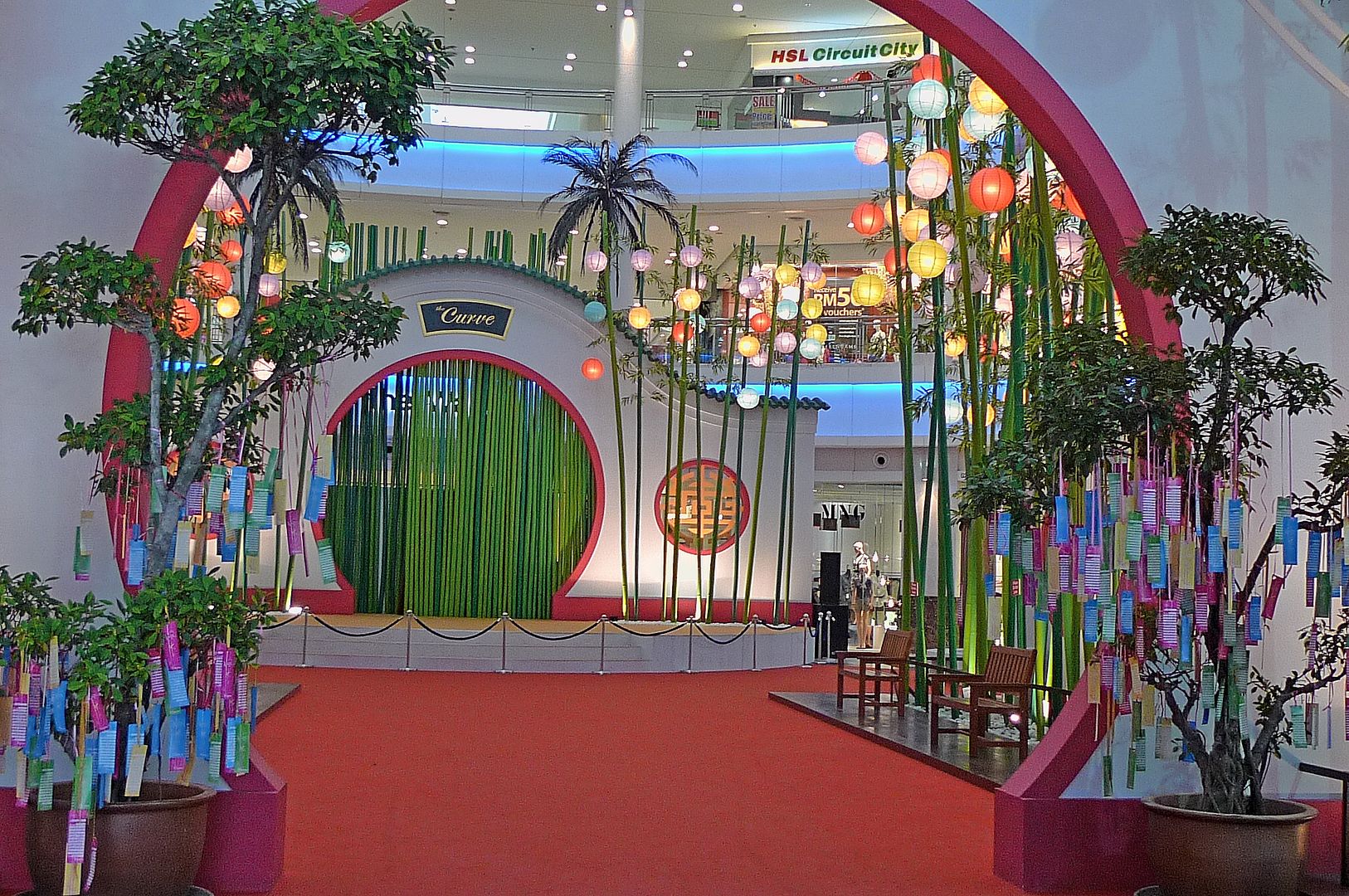 And I like the many colourful lantern balls hanging from bamboo trees! Beautiful!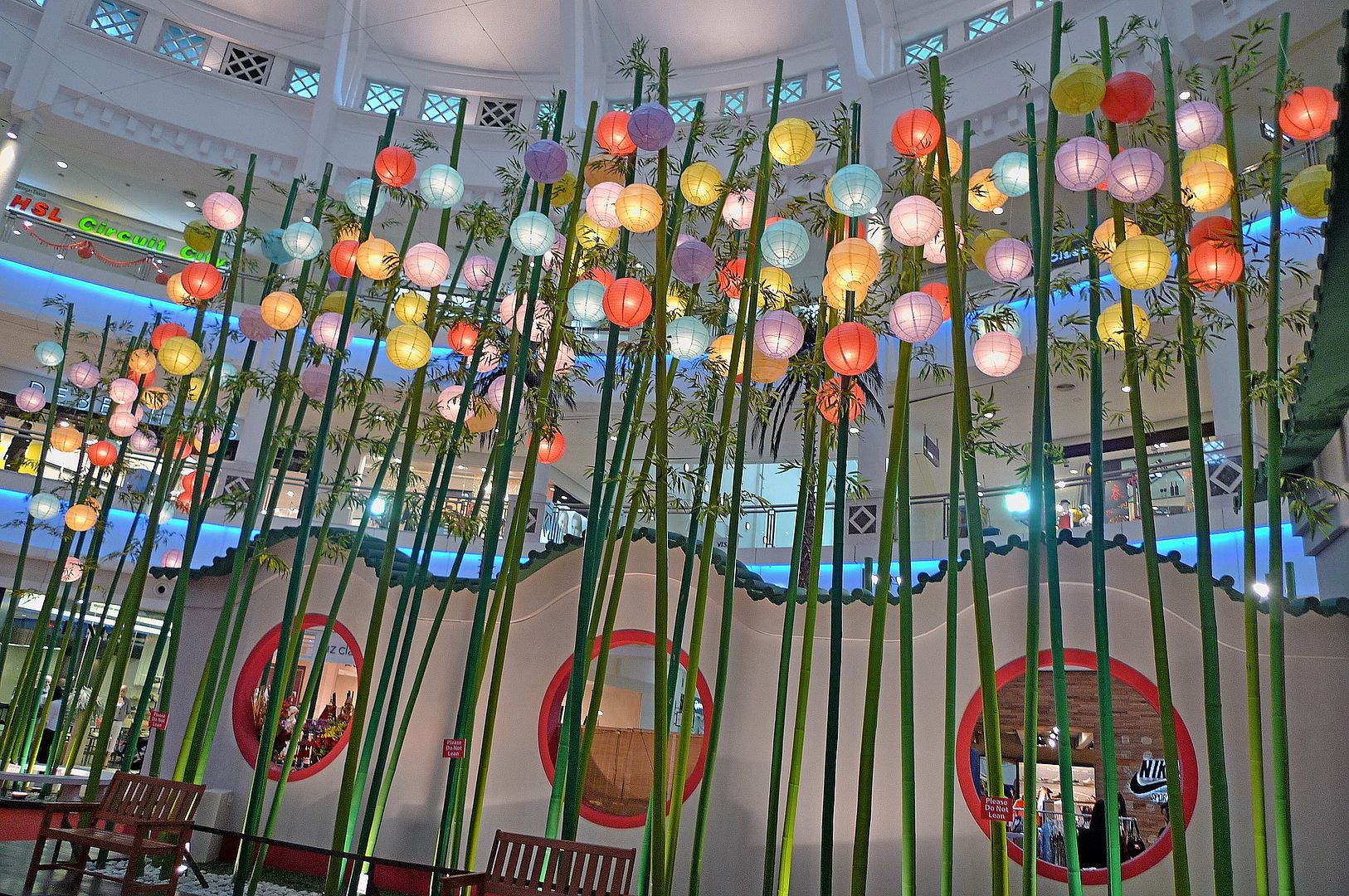 I was mesmerized with these lanterns!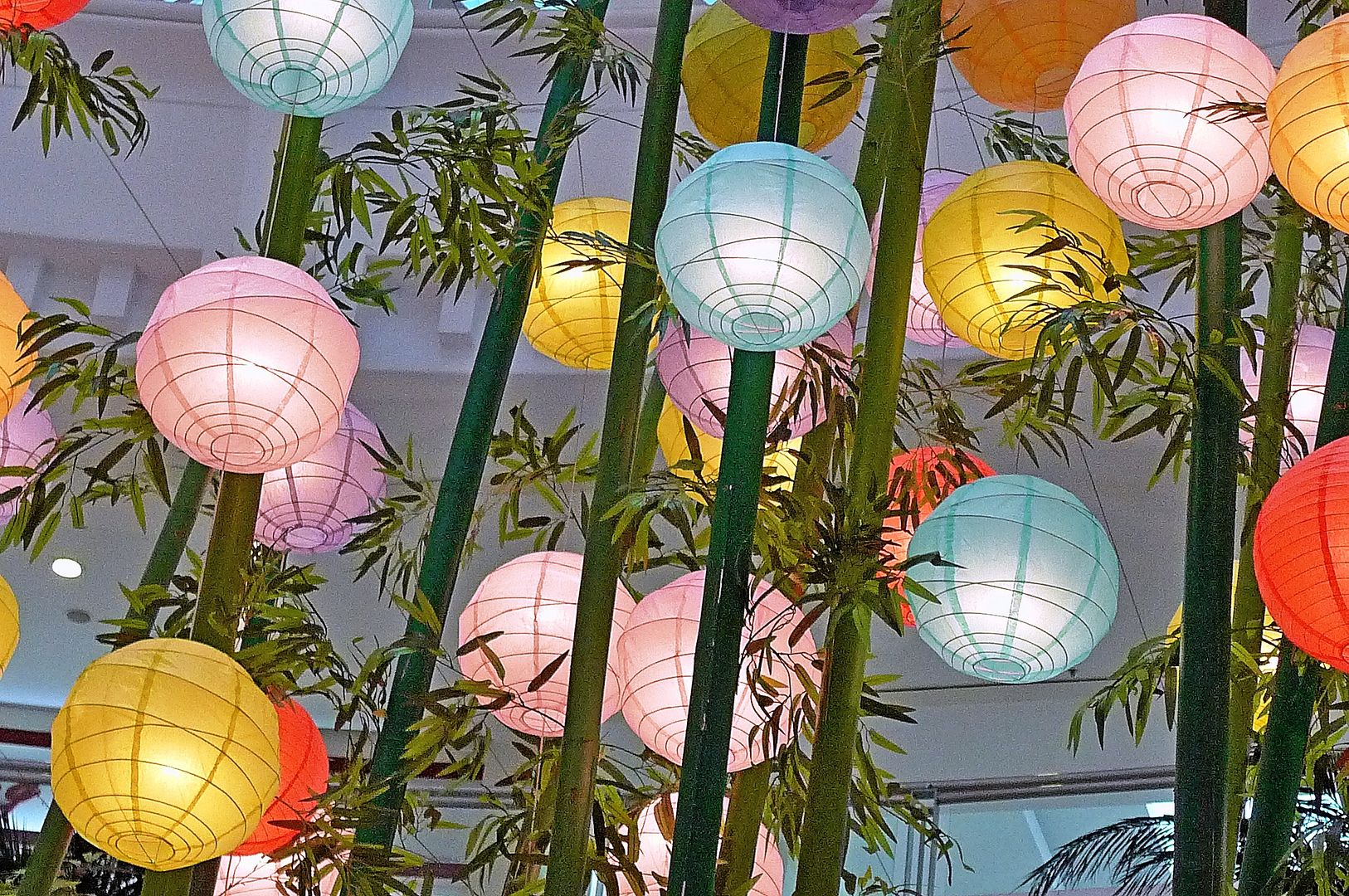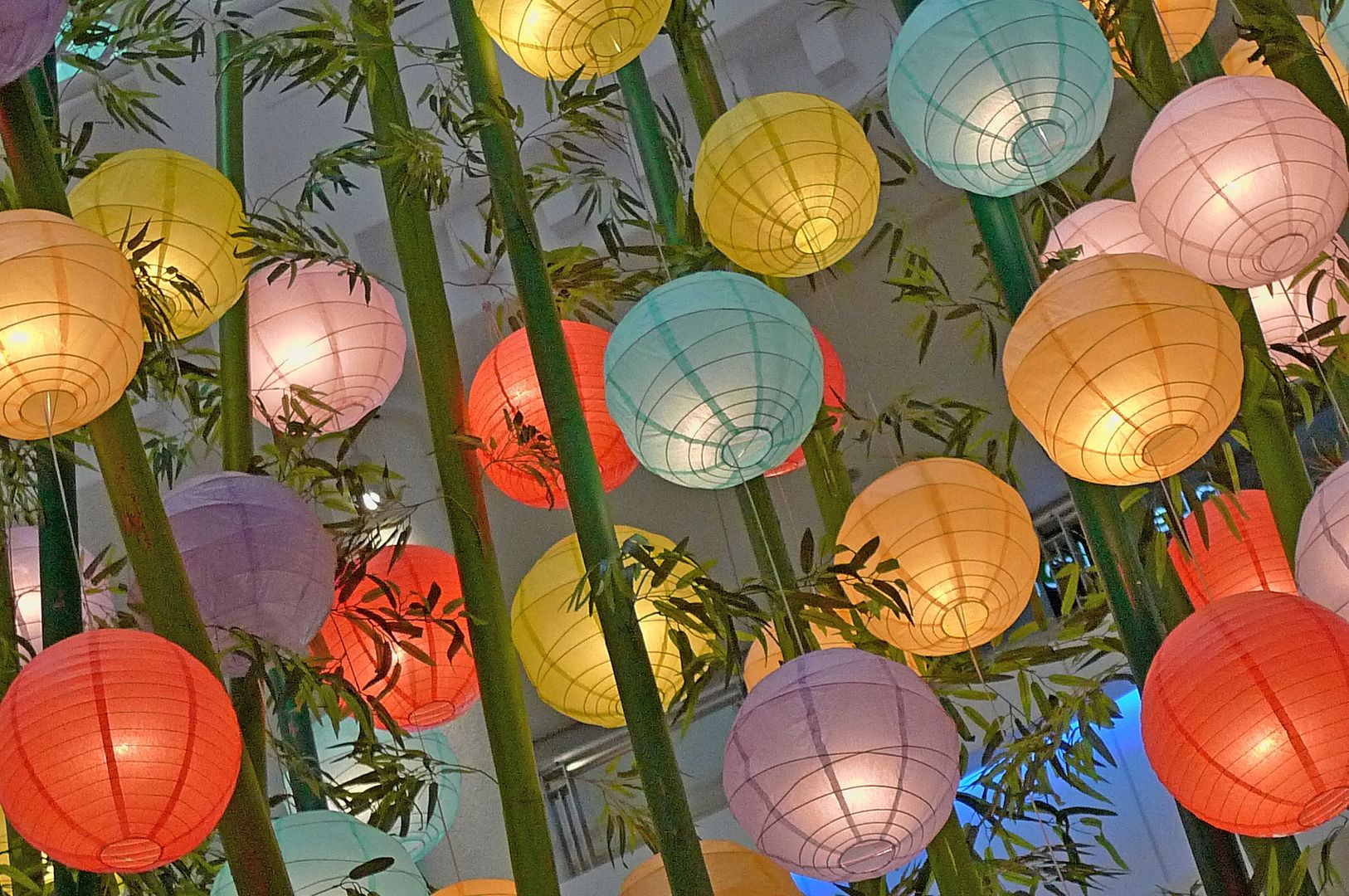 This is the main stage in the middle of the hall.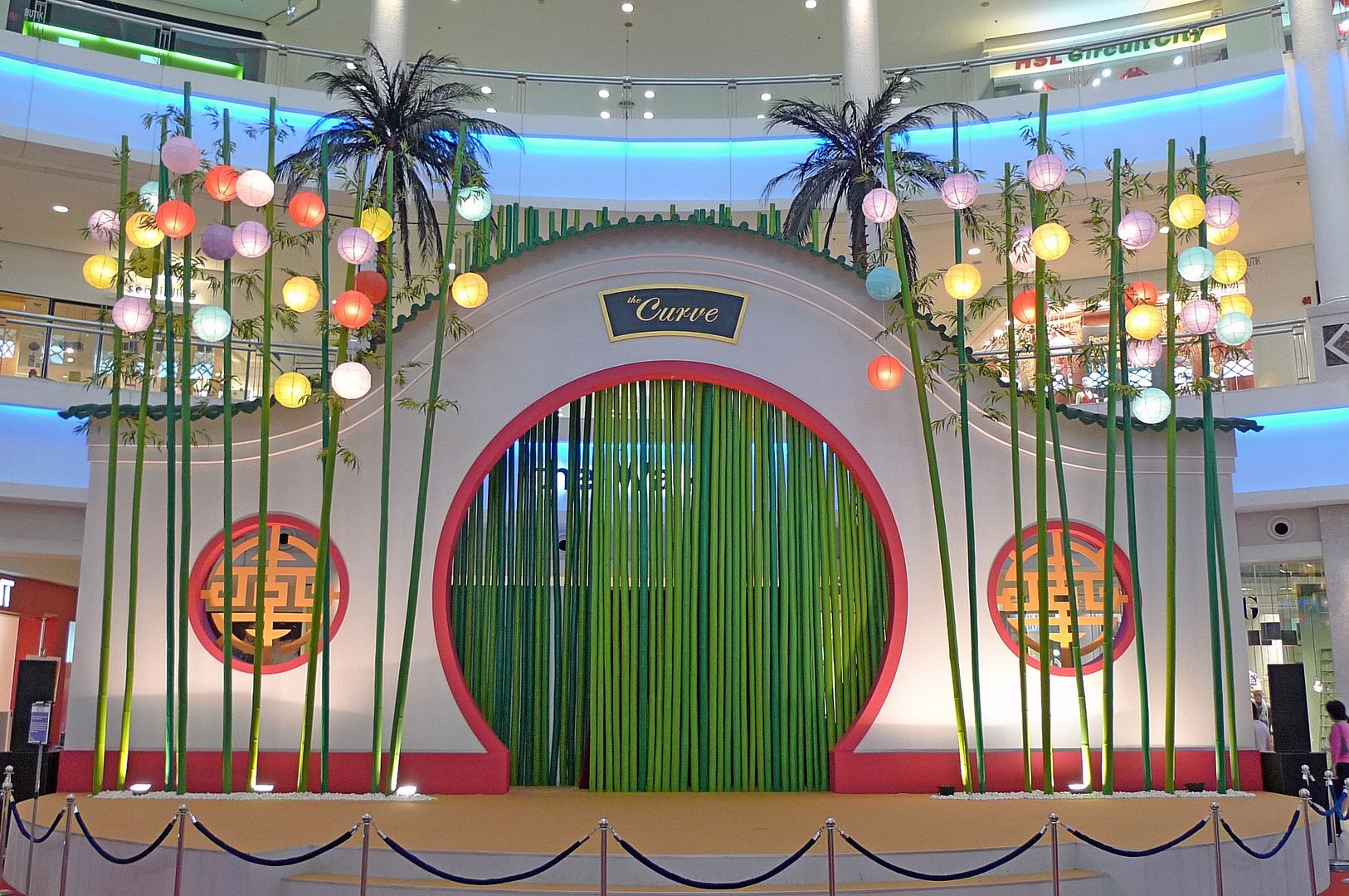 Snapped a photo of the lanterns looking up from below the tall bamboo trees.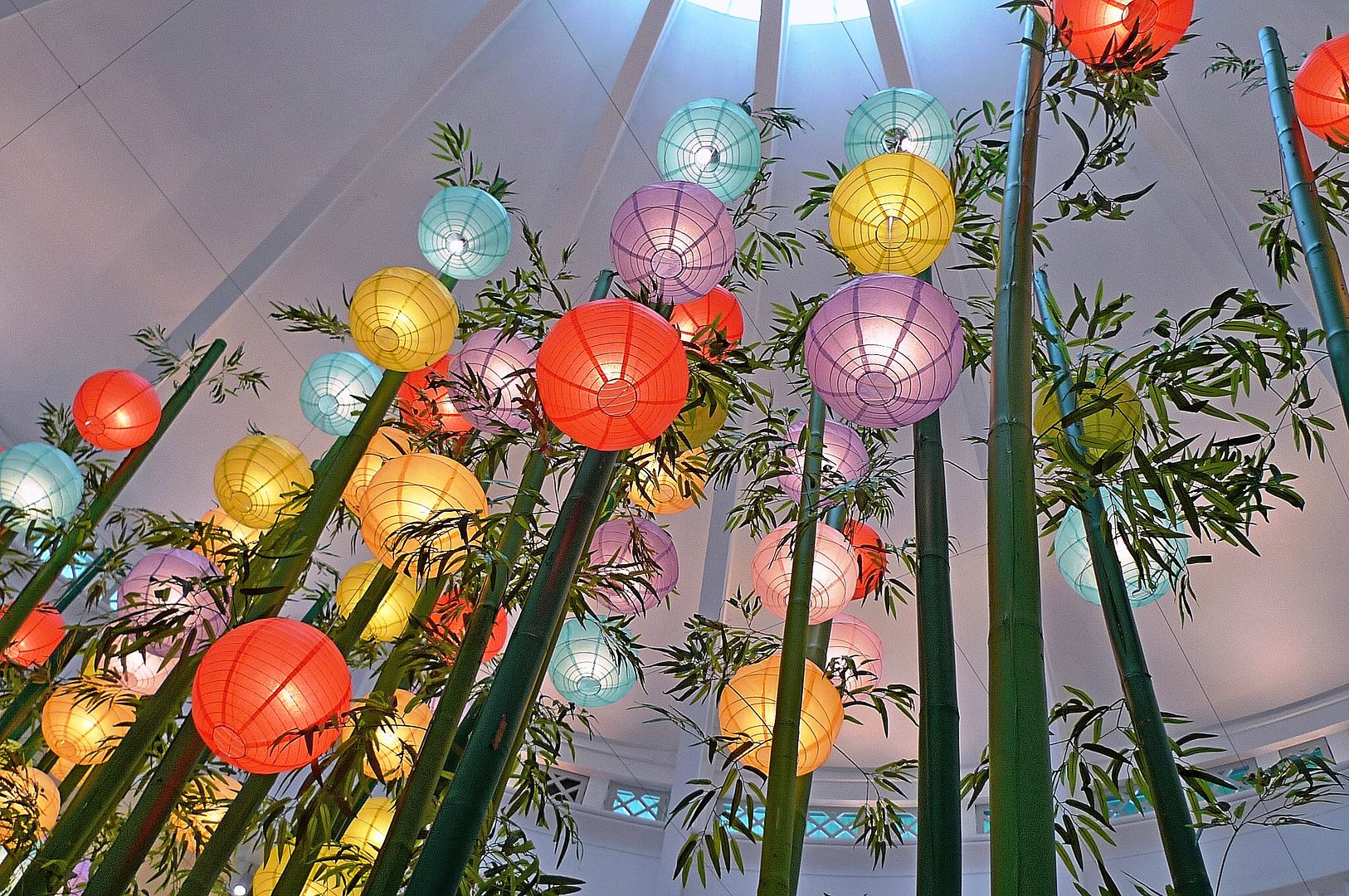 I was amazed at the many bamboo trees with colourful lanterns hanging covering the whole place!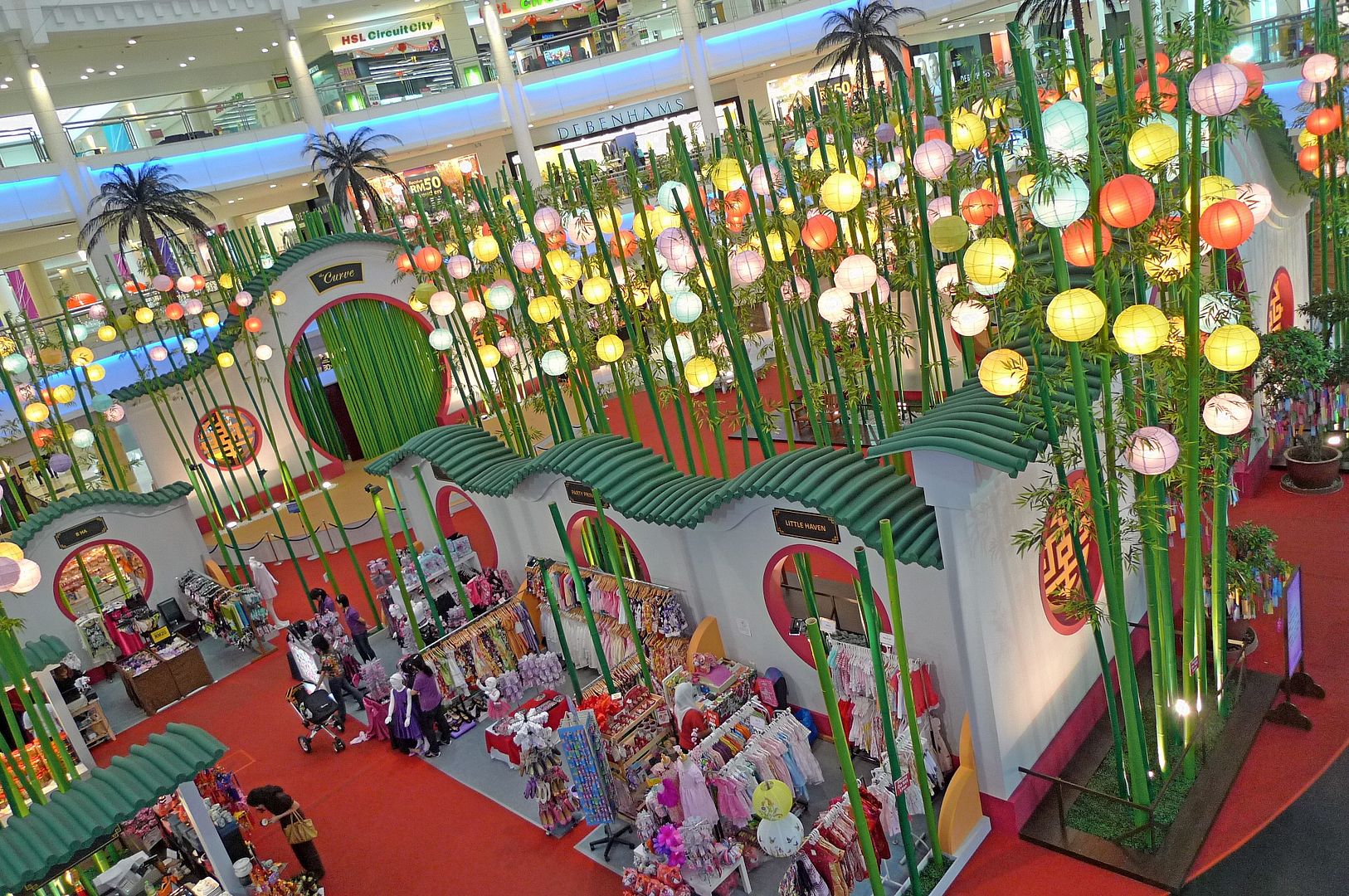 I was impressed! The Curve did not disappoint!
It was a pity I did not have time to cover other malls like Sunway Pyramid, Berjaya Times Square, Bangsar Village and many more.
So which shopping mall do you think have the best Chinese New Year decoration this year?