This year, my family and I had our Chinese New Year eve
reunion dinner
at
Tai Thong
's
Spring Garden Chinese Restaurant
located at
Tropicana Golf and Country Resort
in Petaling Jaya.
When we reached there at about six in the evening, the sky was still very bright, so I took the opportunity to take some pictures of the resort.
I wonder how much this tree would cost with so many plum blossoms flowers on its branches!
There was another tree decorated with golden yellow lanterns and huge Chinese coins.
It's been quite a while since I last visited this resort. I was actually not too keen to dine at Tai Thong restaurants because I found the quality of the food at Tai Thong had deteriorated for the past few years. But as it was difficult to get a table in Chinese restaurants during Chinese New Year eve, we decided not to be too choosy.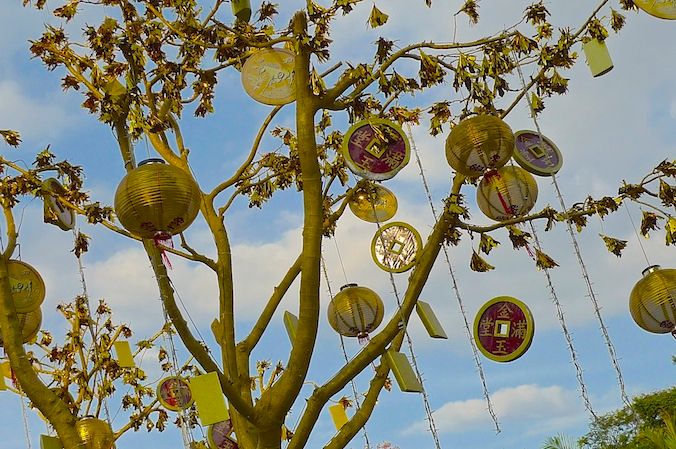 It was a 9-course dinner and every table in the restaurant that evening followed this fixed menu. I guess it's easier for the restaurant to cater to the large number of customers with a fixed menu. The only thing is, I thought it's a bit unfair that the last two items are the desserts when they should lump both desserts into one item and make it a 8-course dinner instead!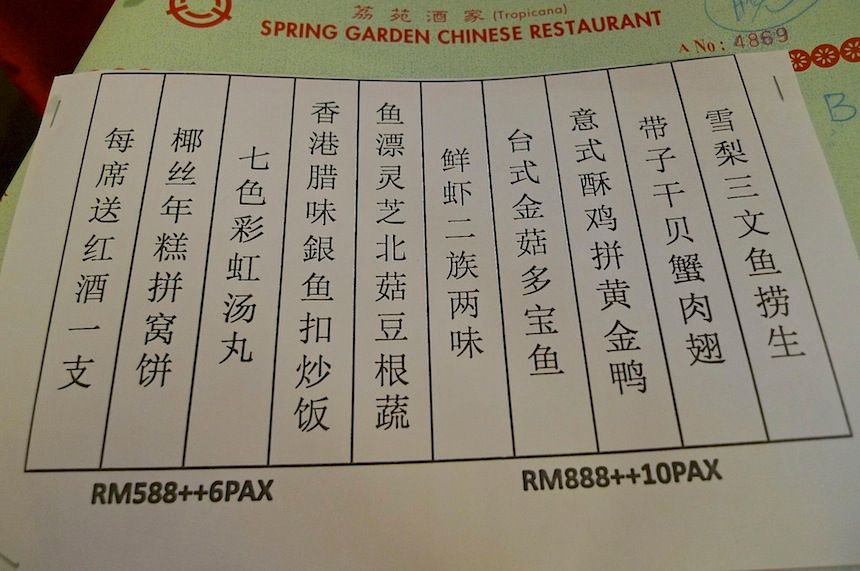 If you can read Chinese, then you can see what we had that evening from the menu above. By the way, I do not know how to read Mandarin characters, so I was actually wondering if I should read from right to left or from left to right! LOL!
And yes, the price was RM888++ (US$266.20++) for 10 pax. What a nice number but it sure burnt quite a hole in our pockets!
We started off with the customary
yee sang
. Oops! Forgot to take the picture of the
yee sang
before we tossed and mixed it up so I guess my own plate of already tossed
yee sang
would have to do. LOL!
I don't know about you, but this
yee sang
did not look attractive at all. There were salmon and pear inside (it was salmon and pear
yee sang
after all) but taste wise, it was just average. Believe me when I say that even the
yee sang from Jusco
is better than this one! Not a very good start to our dinner right?
Next, we had
shark's fin soup
. Of course, I did not expect any real shark's fins inside! In fact the menu stated it as
scallop crab soup
, and not shark's fin soup.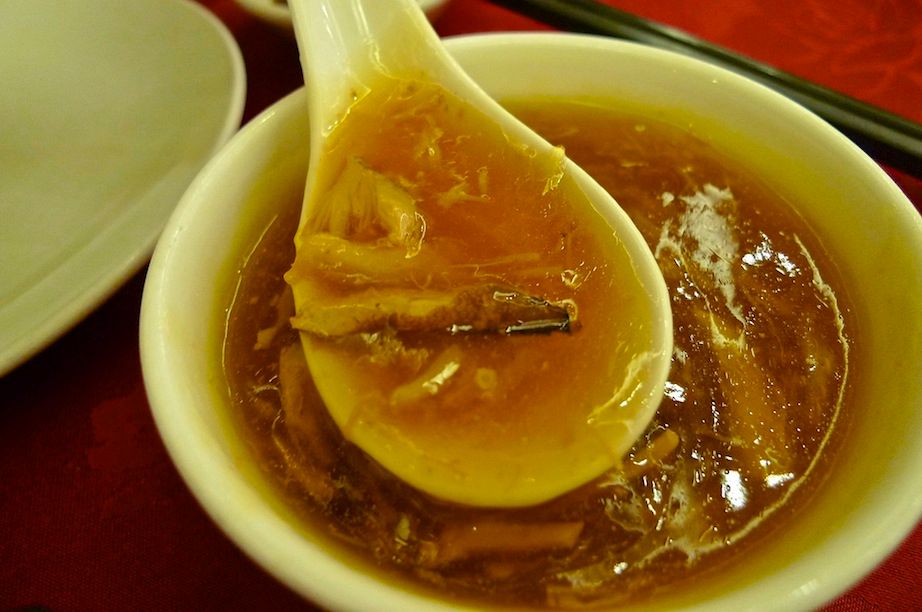 It was OK, especially after you added in the vinegar. Nothing extraordinary though.
The third item on the menu was the
Italian style chicken
and
golden duck
.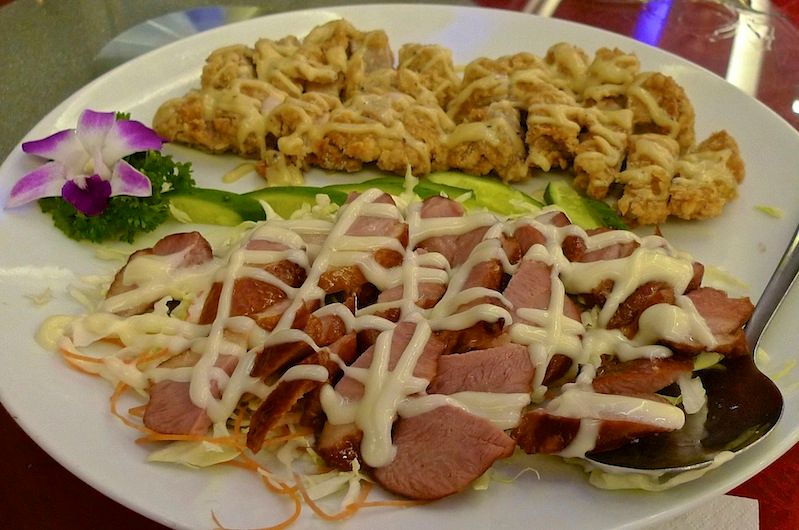 At first I did not know it was duck meat! At first glance, it looked like pork or
char siew
(BBQ pork) to me. It sure did not taste like duck but I have to say, it was pretty delicious!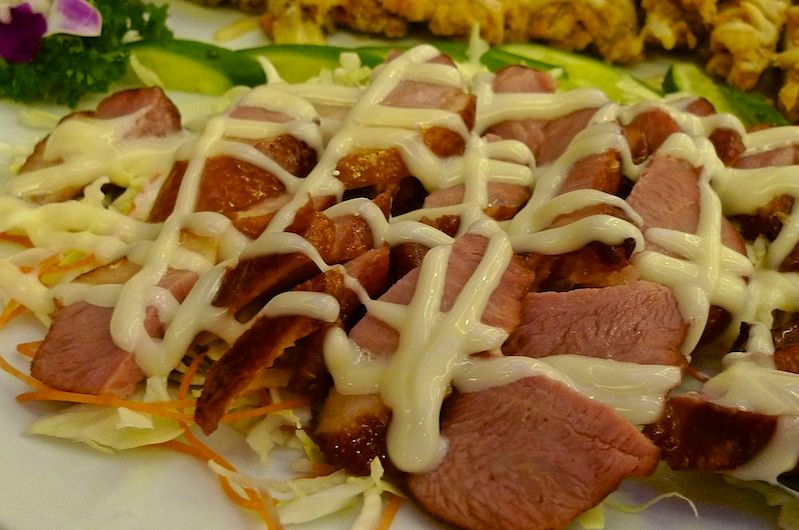 The chicken was not bad too - crispy and tasty, much to my delight!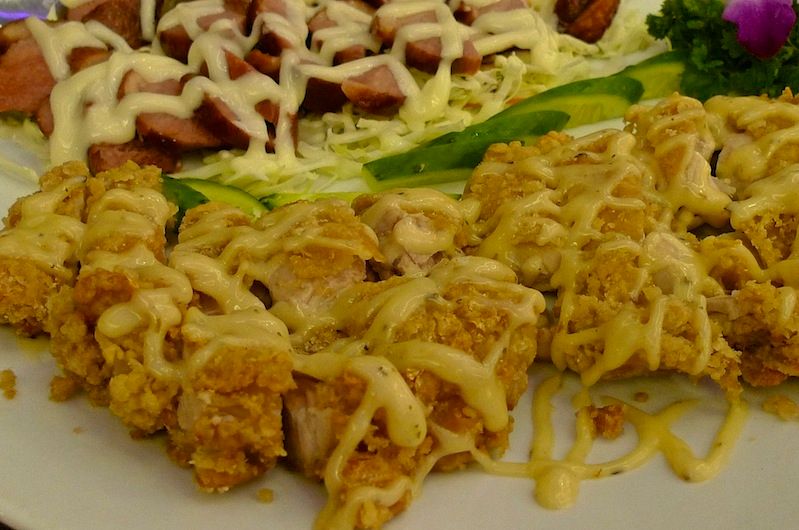 I think the chicken and duck dish was the best we had that evening.
Next, came the
prawns
. They were cooked in 2 different styles. Not sure how to describe it, but I thought they were pretty average.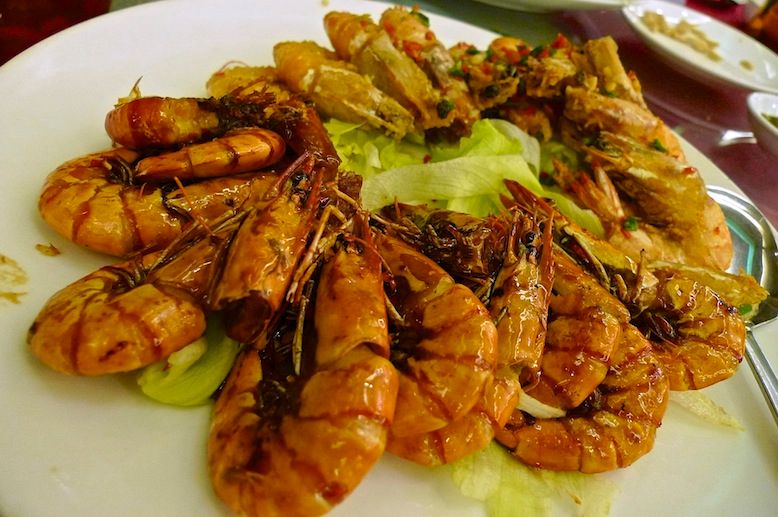 I think the dishes that came out did not follow the order as stated in the menu, but it's OK with us as long as the food tasted good! The
steamed fish
was next, although it should came out before the prawns.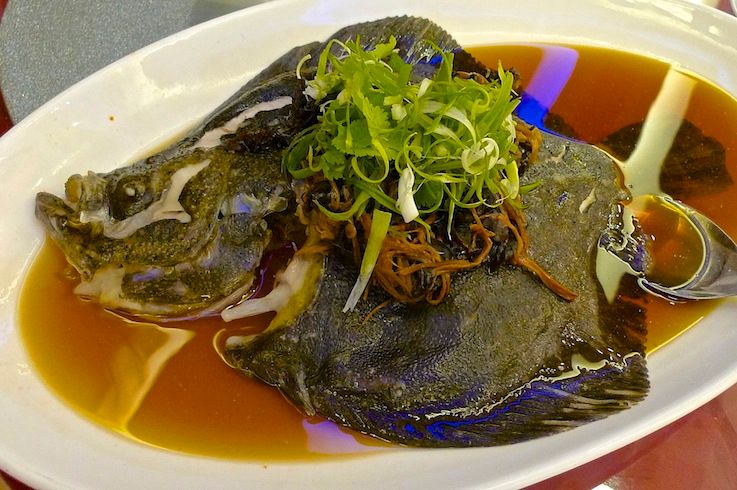 I always like steamed fish and this one was OK to me. Again nothing fantastic, but not bad either.
In a normal 8-course dinner, there's always a dish that comprises an
all-mixed vegetables
. It's the same that evening but ours contained fish maw and
lingzhi
besides the usual mushrooms and broccoli.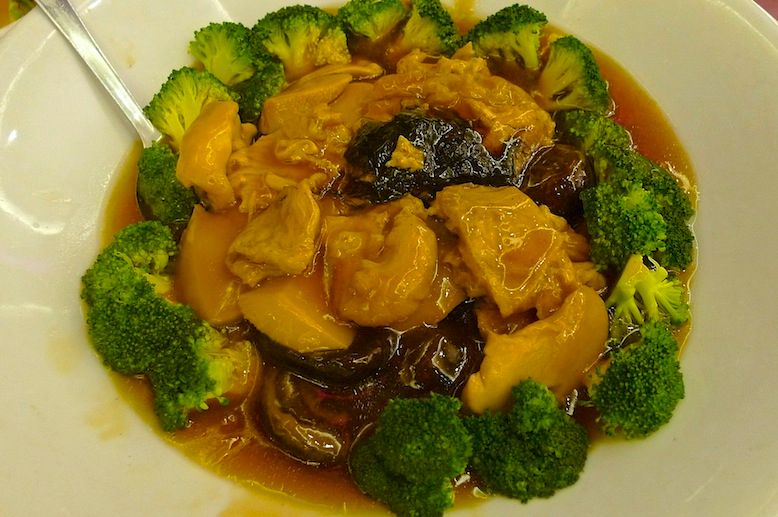 Then came the
Hong Kong style lap mei (waxed meat) and silver fish fried rice
.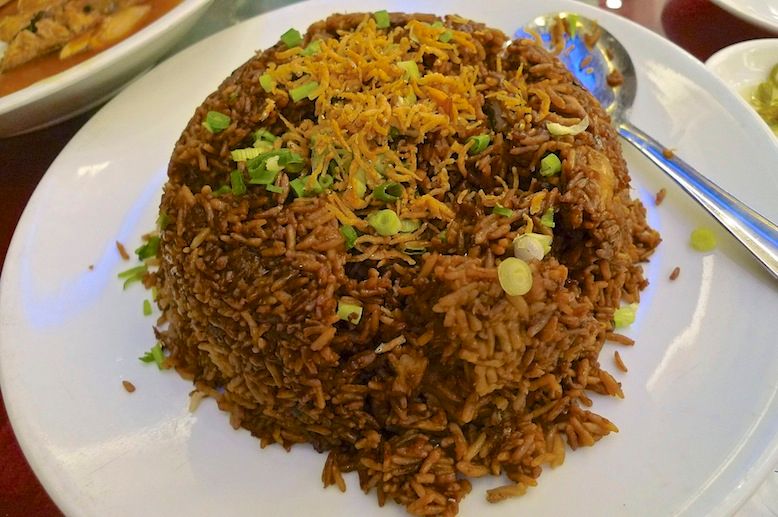 This was a HUGE disappointment! Where was the
lap mei
? I could hardly find any and they had the nerve to call it
lap mei
fried rice?! And why was the rice so dark? I do not like it when they add in too much of the dark soy sauce! Give me an authentic
lap mei
fried rice please!
Lastly came the two desserts. The first dessert was
wo peng (bean paste biscuit)
and
steamed nian gao (year cake) with shredded coconut
.
As I have sweet tooth, these desserts were pretty good to me. I didn't think they were too sweet, but then I have sweet tooth remember? LOL!
I still prefer
fried nian gao with yam and sweet potato
over steamed
nian gao
with shredded coconut though. But you don't normally find the former in a 8-course dinner. So for this dessert, I preferred the
wo peng
to the
nian gao
.
The second dessert was the
rainbow color tong yuen (glutinous rice balls) soup
.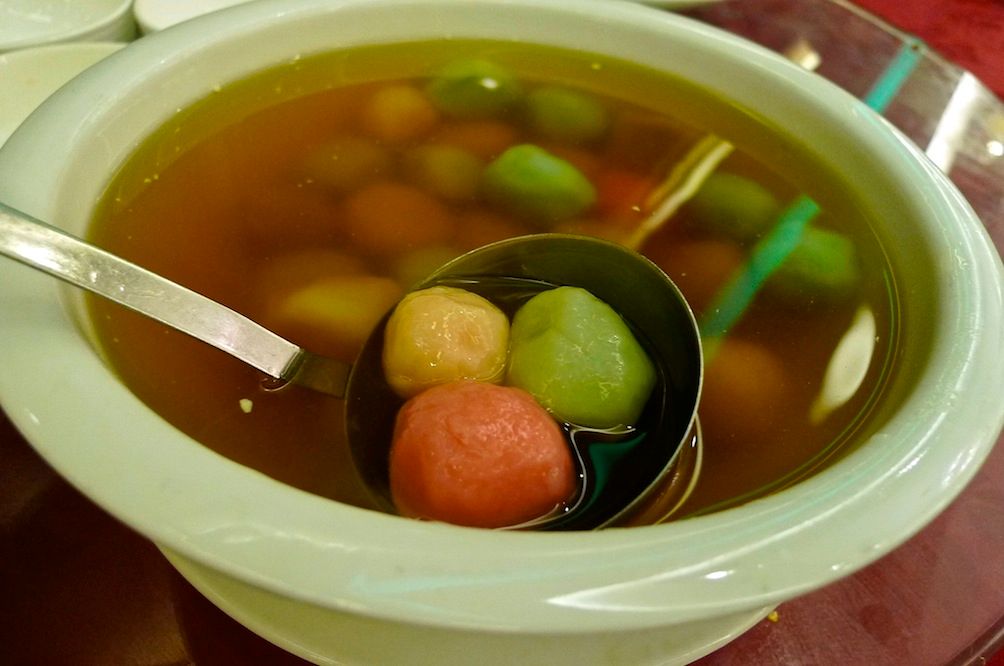 The colorful
tong yuen
balls looked very attractive and I was wondering what type of fillings I could find inside! This is my bowl of
tong yuen
dessert with red, dark green and light green balls.
But guess what? I was lucky to get the red color
tong yuen
as it contained red bean paste inside. I said lucky because all the other colored balls contained NOTHING inside!!
Look at this green color ball. There were no fillings inside! I thought that was quite unfair as not everyone was lucky enough to get the red color ball. So finding the ball with fillings inside is like playing lottery. Even if we know that the red balls contain red bean paste, there were not enough of them to go around.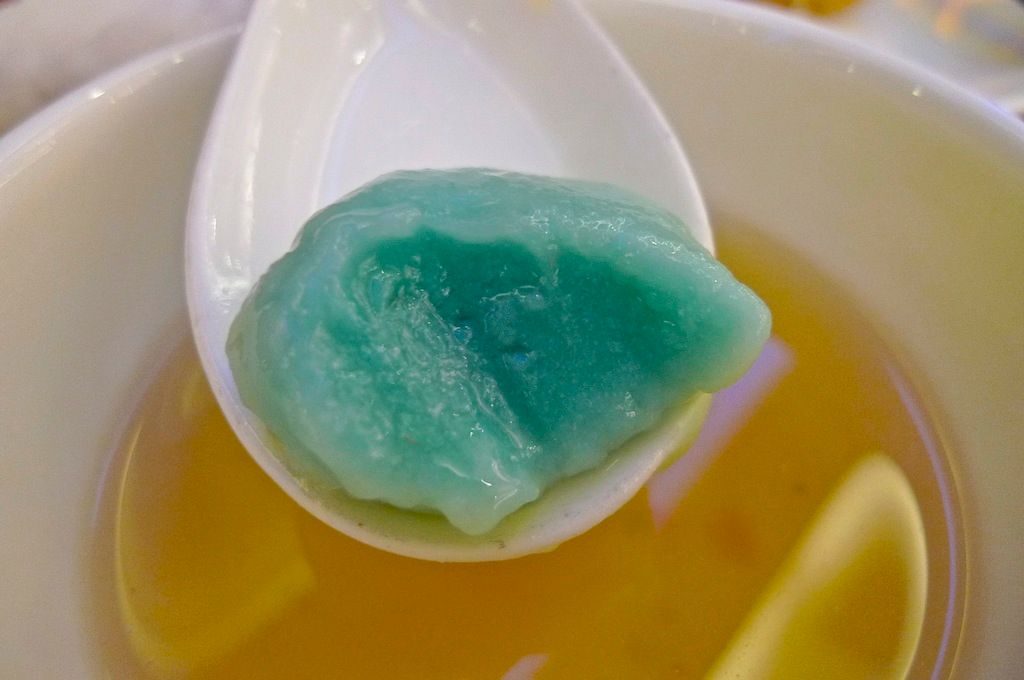 The 9-course dinner came with a complimentary bottle of
red wine
. Overall, I find the food just average but I was still quite happy as it exceeded my expectation. Honestly, I had thought it would be much worse. The price was a bit steep, but that was to be expected for a restaurant like this and especially during the Chinese New Year eve.
The service was good at the beginning but as more and more customers came later in the evening, it became worse. Most of the waiters were Indians (or were they
Bangla
?) though.
After dinner, we walked around the place for more photo taking activities.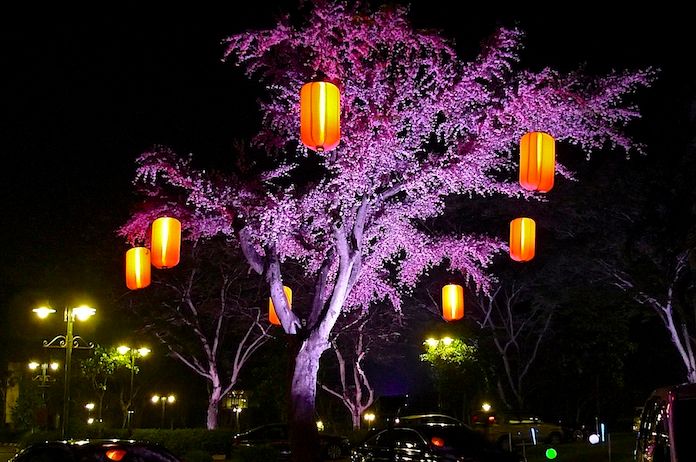 The night time scenery looked better than daytime, so I took some more photos.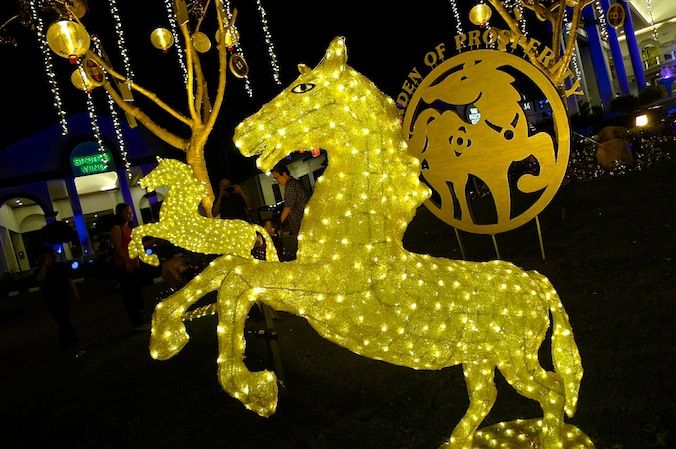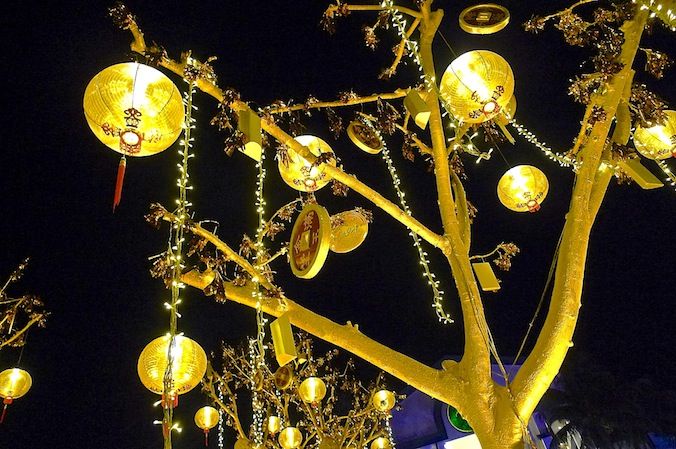 Until now, I am still quite disappointed with the
lap mei
fried rice at Spring Garden Chinese Restaurant. In fact, I could not really find a good waxed meat rice anywhere during the Chinese New Year holidays. Anyone knows which restaurant in PJ or KL serves the best
lap mei
rice?