Continued from
Part 2
Since it's the year of the Horse, a lot of shopping malls made use of the horse as the main theme of their
Chinese New Year decorations
. However, a number of malls decided to do things a bit differently.
One such mall is
One Utama
, located in Petaling Jaya.
I was actually quite surprised that One Utama did not make use of the rocking horses that were being displayed as Christmas decorations last December. They could have easily converted those rocking horses into a Chinese New Year attraction!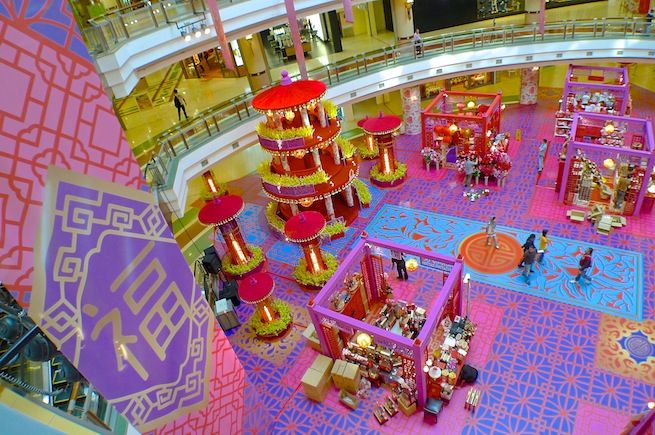 Oh well, I guess they had other ideas. But I was not too impressed.
It was all very colorful, with brightly lit lanterns and a tall, pagoda-like structure.
The pagoda structure has bells circling each level.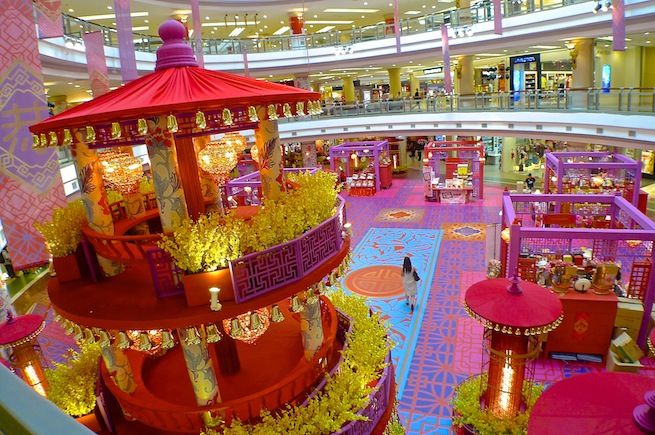 Close shot of the bells and lanterns.
The roof top of the structures look like the top part of an umbrella to me.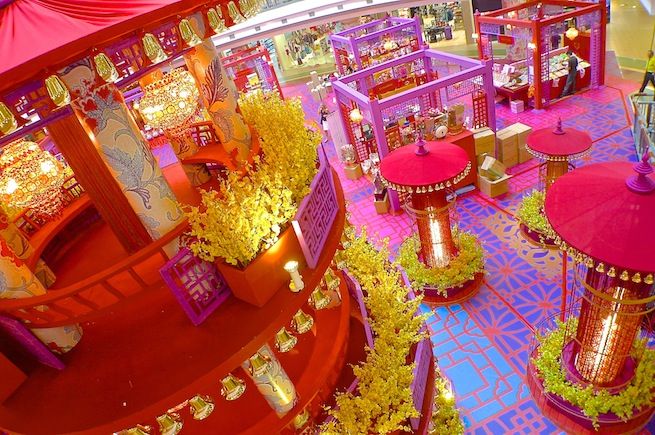 More photos below …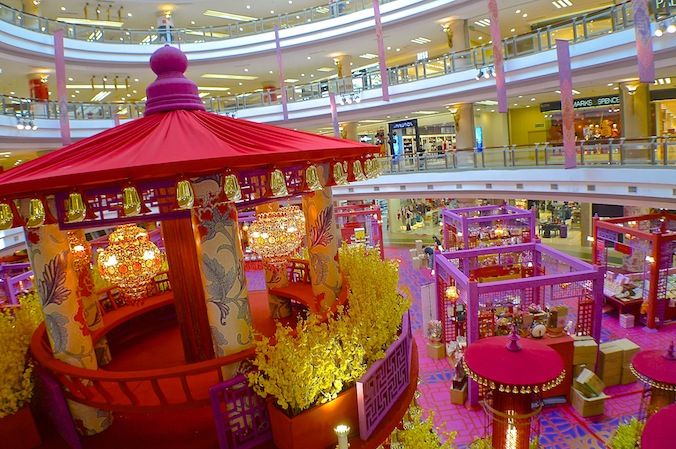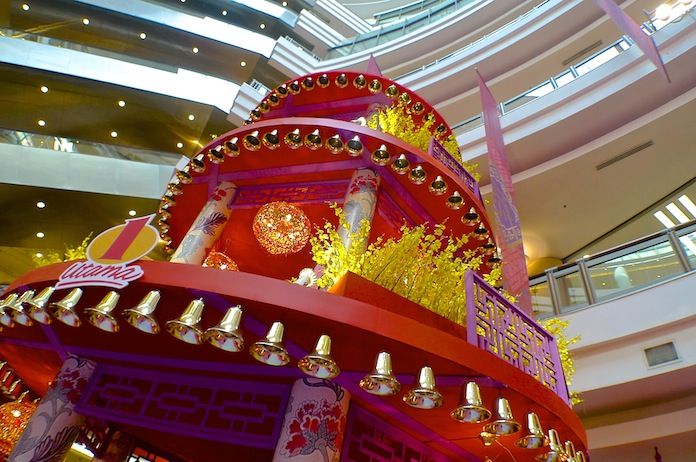 Well as I said earlier, I was not impressed, but I quite like the bells and the lanterns actually. LOL!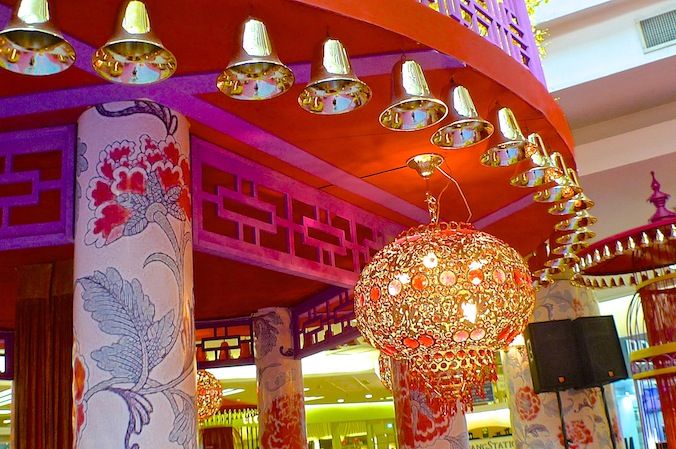 How do you like the Chinese New Year decorations at One Utama this year?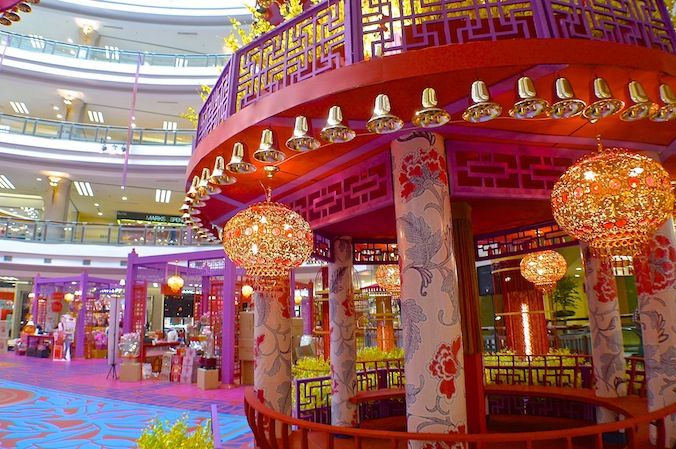 Tropicana City Mall
, another shopping mall in Petaling Jaya, had a very simple Chinese New Year decoration this year. But they did make use of the 'horse' theme.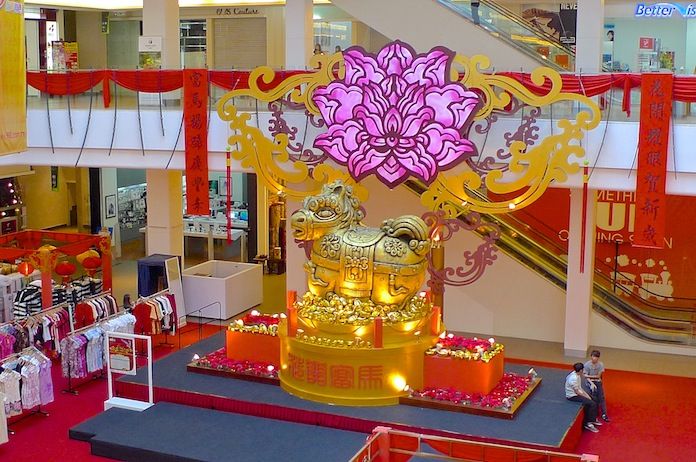 If not mistaken, I think it's a horse standing on a pot of gold ingots. And that's about it! Pretty simple, right?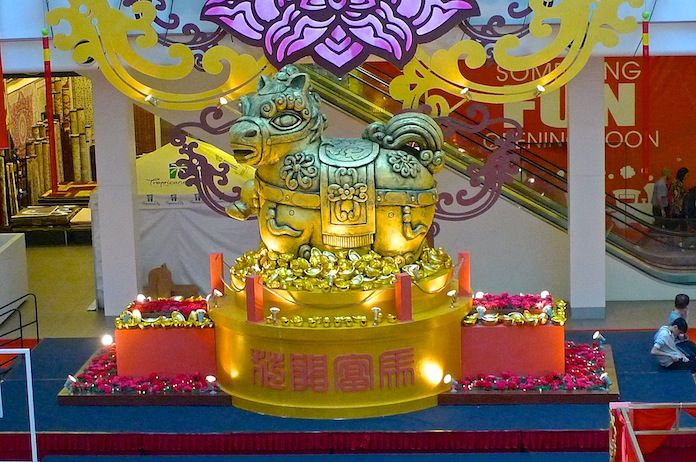 Paradigm Mall
, an increasingly popular shopping mall in Petaling Jaya, surprised me with a totally unexpected Chinese New Year decorations this year!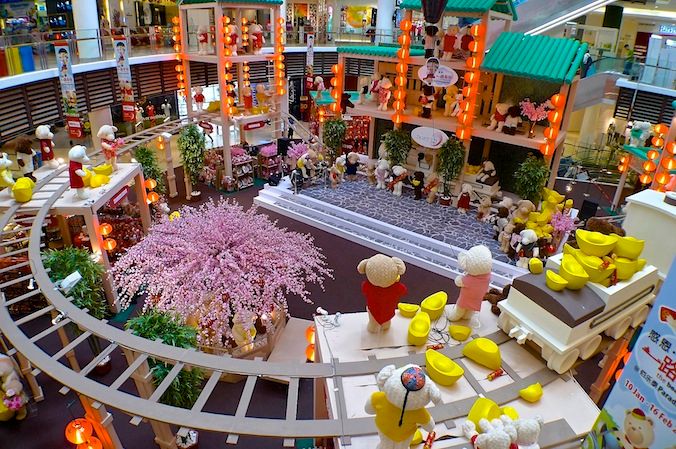 Just like One Utama, they did not use 'horse' as the main theme of the decorations.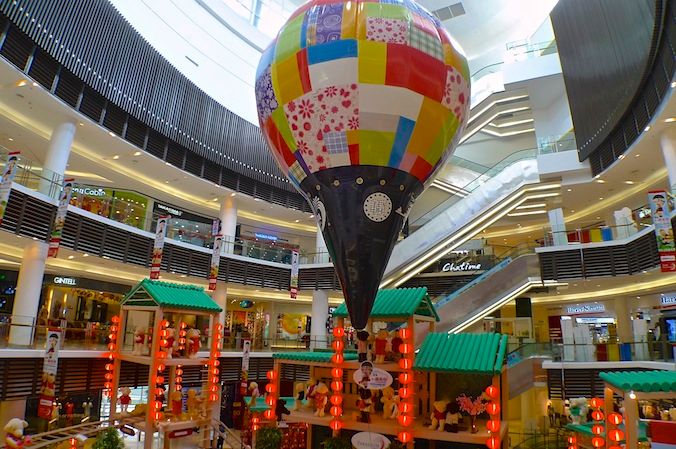 Instead, what they used were bears. Lots and lots of cute cuddly bears!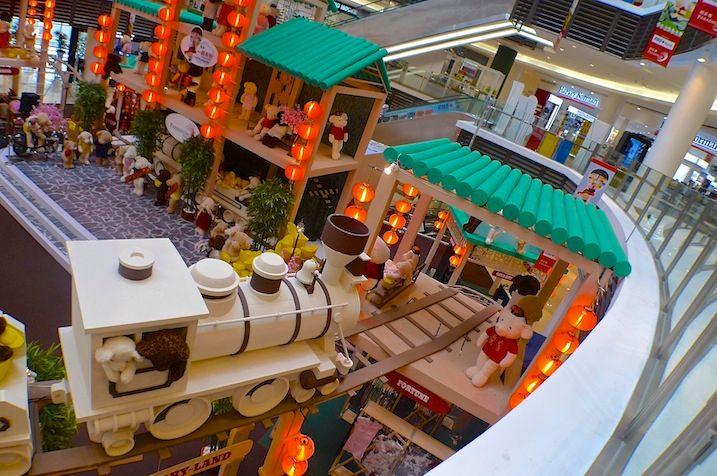 The whole concourse had been transformed into Beary Land! There were bears everywhere, and some of them were dressed in Chinese costumes.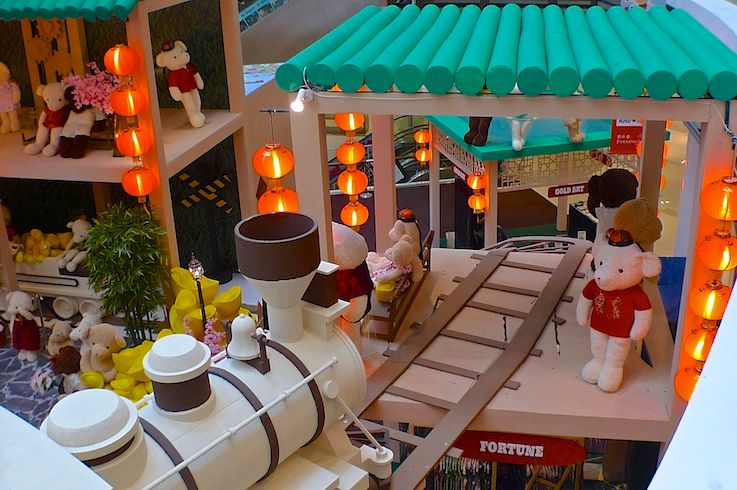 A pair of cute bears leaning out of the train's window.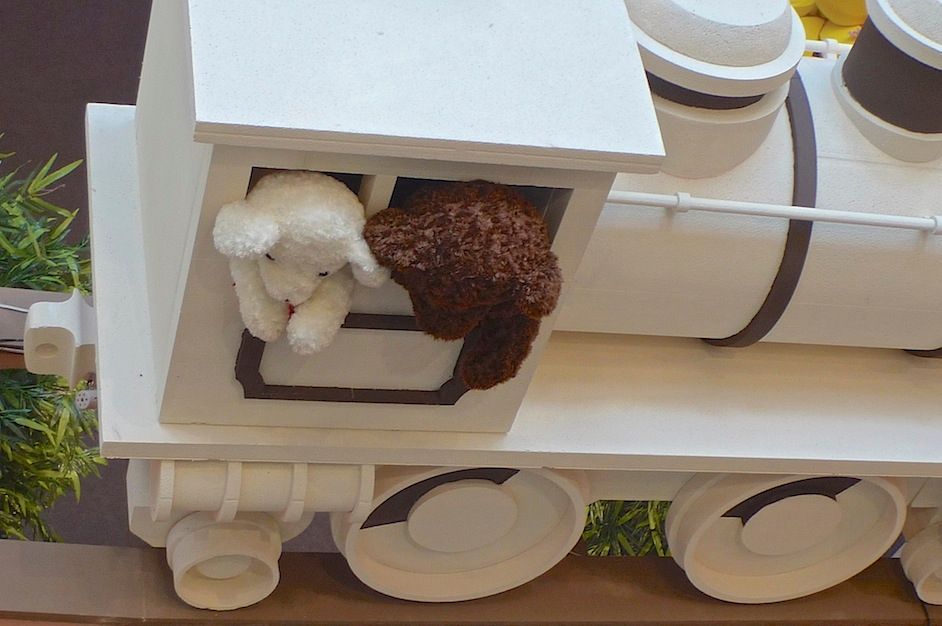 The train, carrying yellow colored ingots, is on an elevated railway track.
Sorry for the many photos of the train, all taken at slightly different angles! :D
How come the bears appeared to be not wearing any shorts or pants? LOL!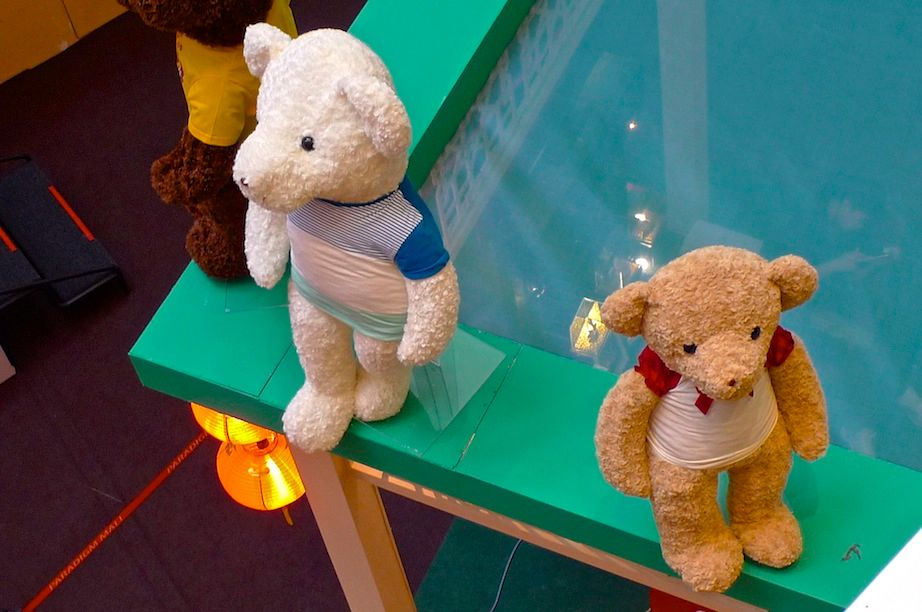 See? This bear is only wearing a red shirt. Where is his pants?!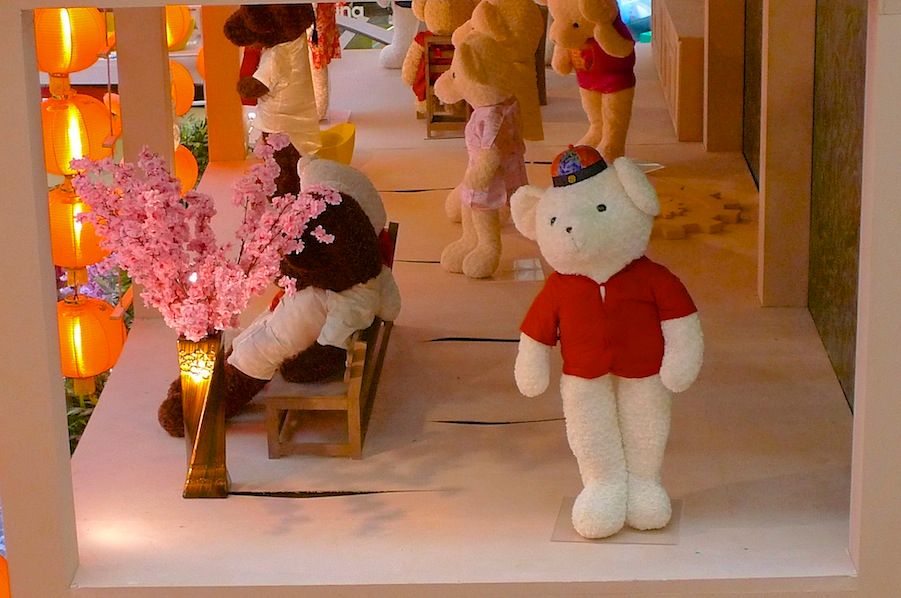 More photos below …..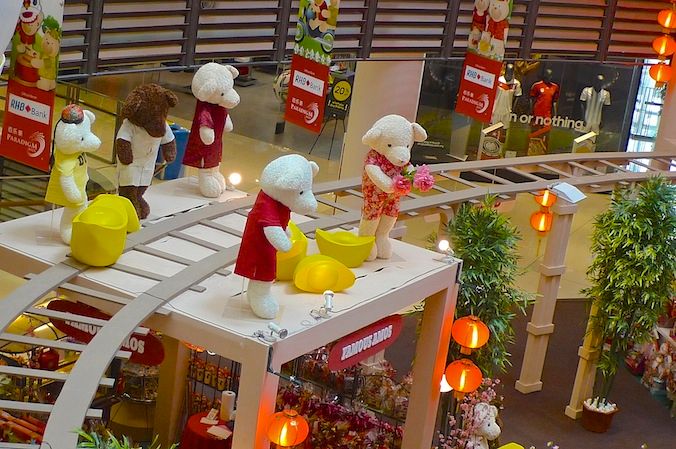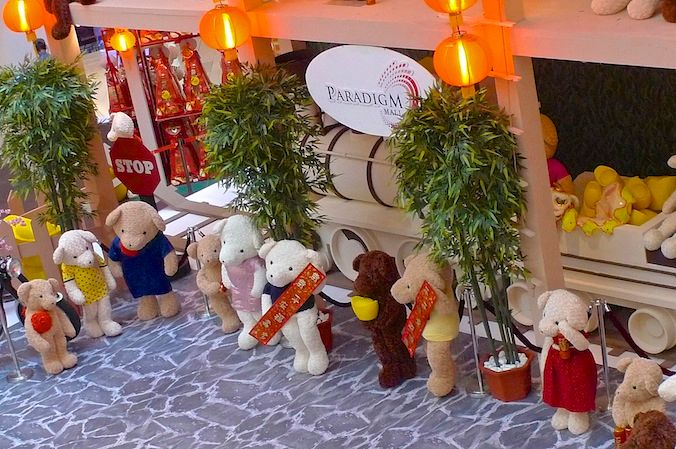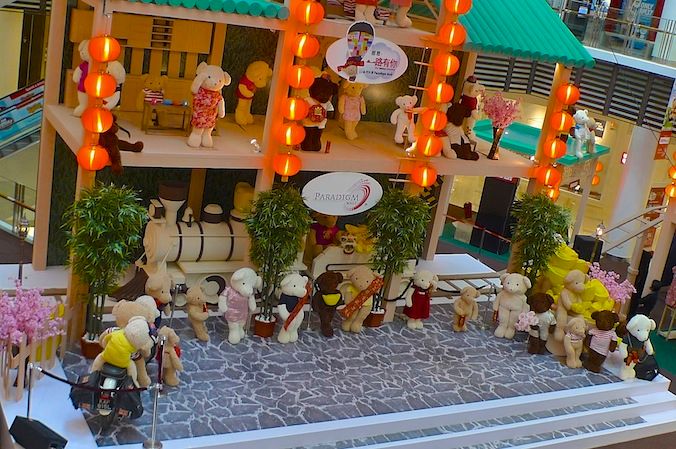 There is even a bear sleeping!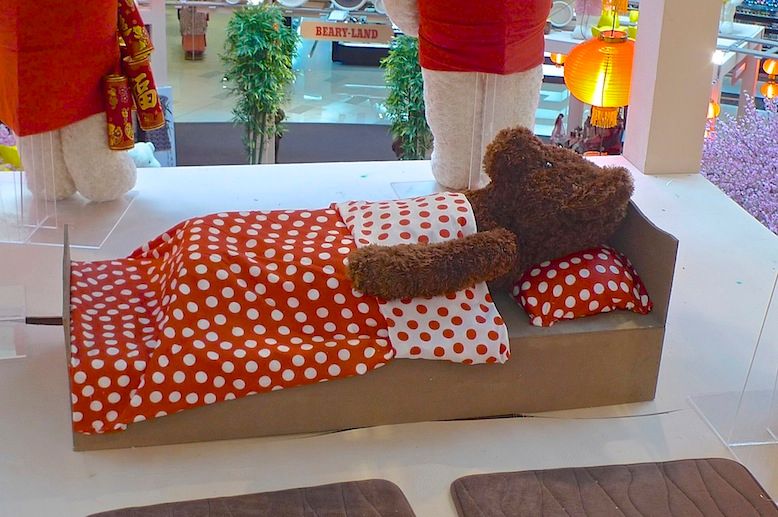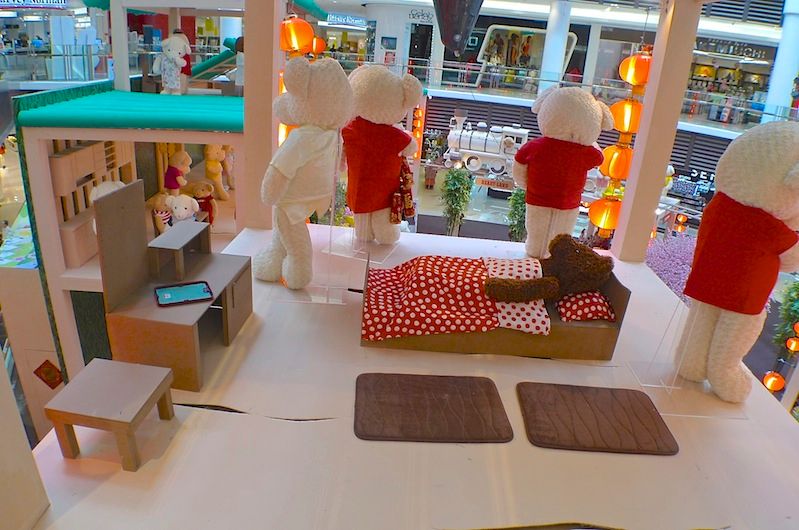 Oh look! A bear in beautiful purplish cheongsam!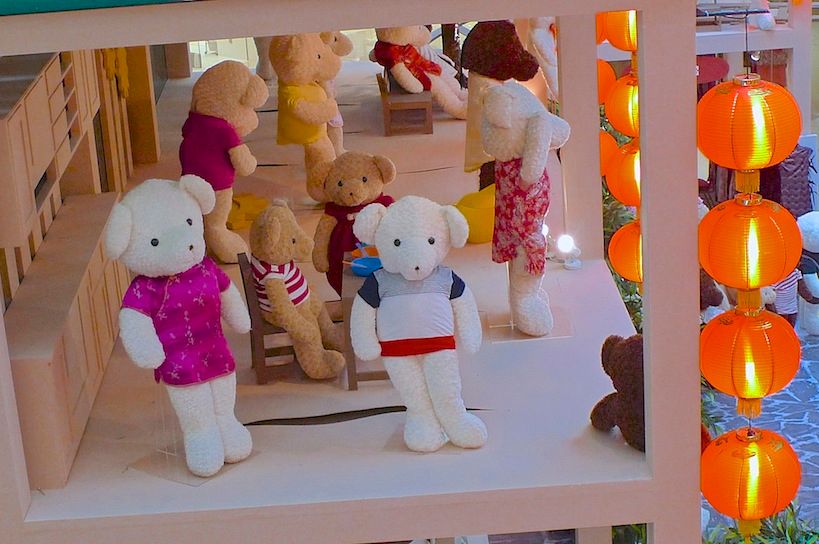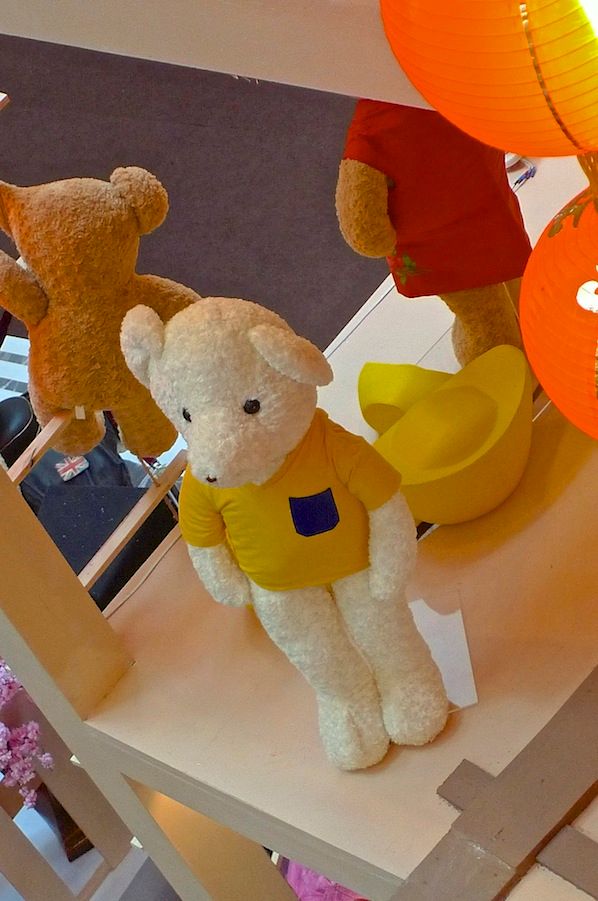 A cute bear carrying a gold ingot.
The view from the ground looking up.
Entrance to Beary-Land.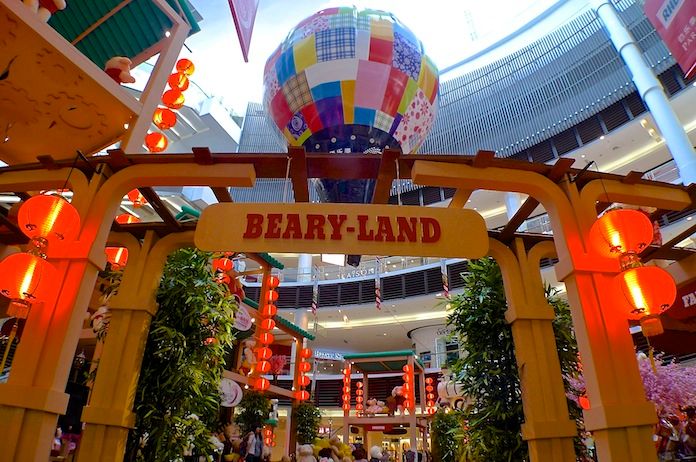 More photos below …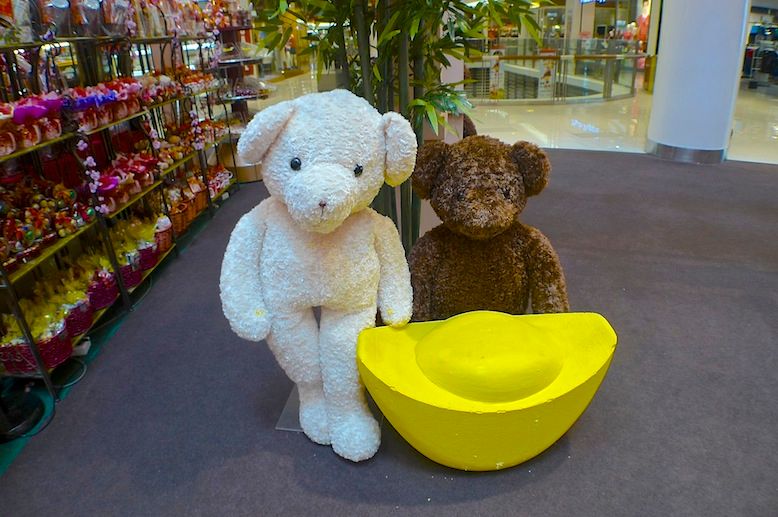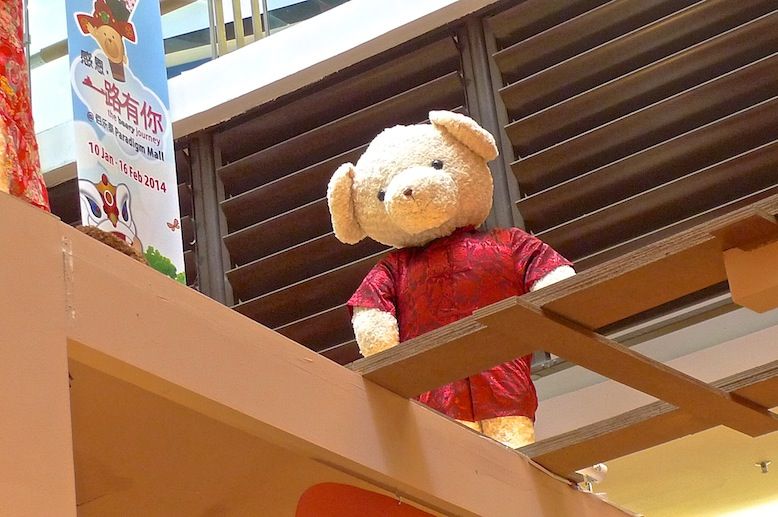 A bear trying to climb up the ladder. Cute! : )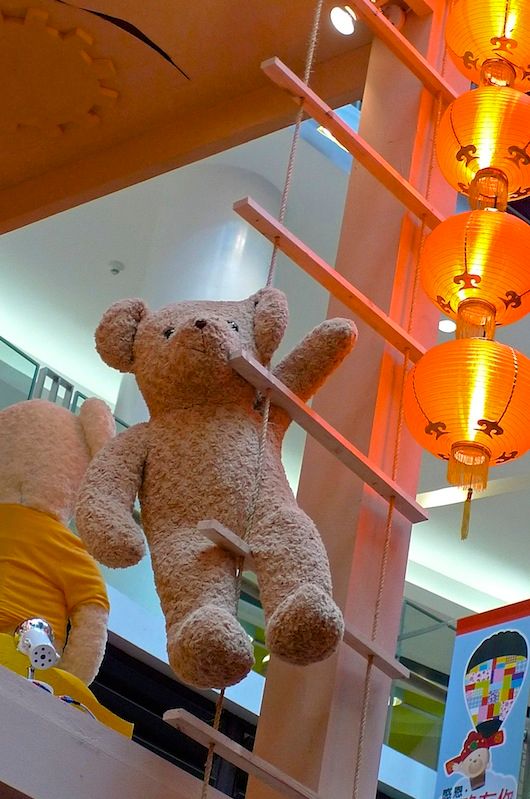 A parade of bears!!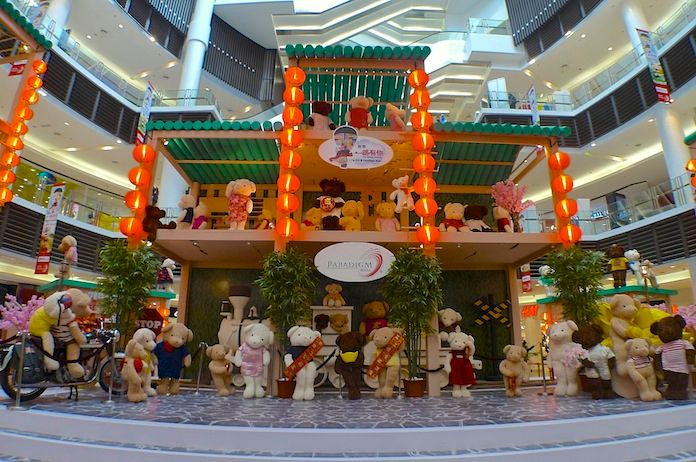 Two bears riding a motorbike.
Nice pink colored cheongsam!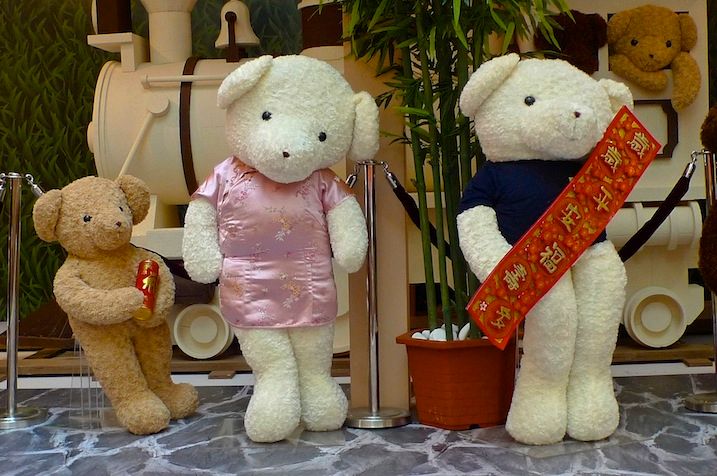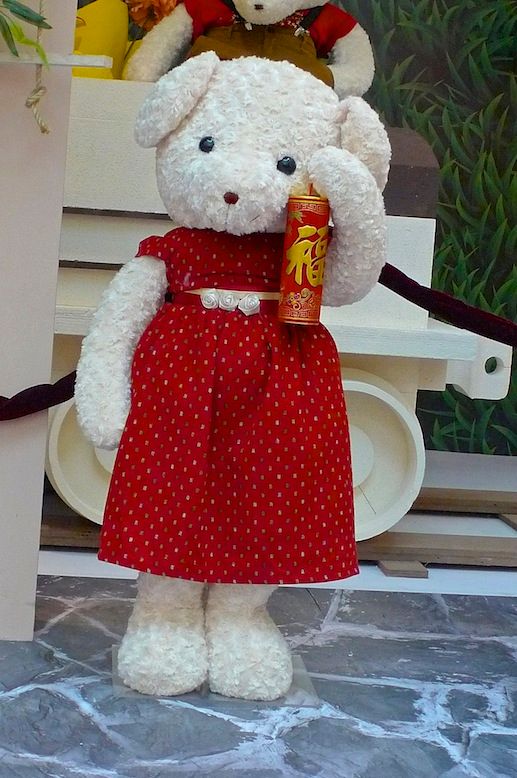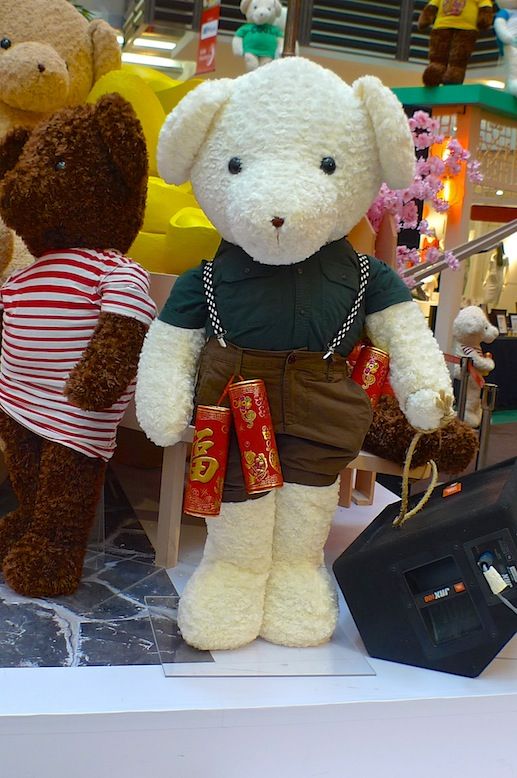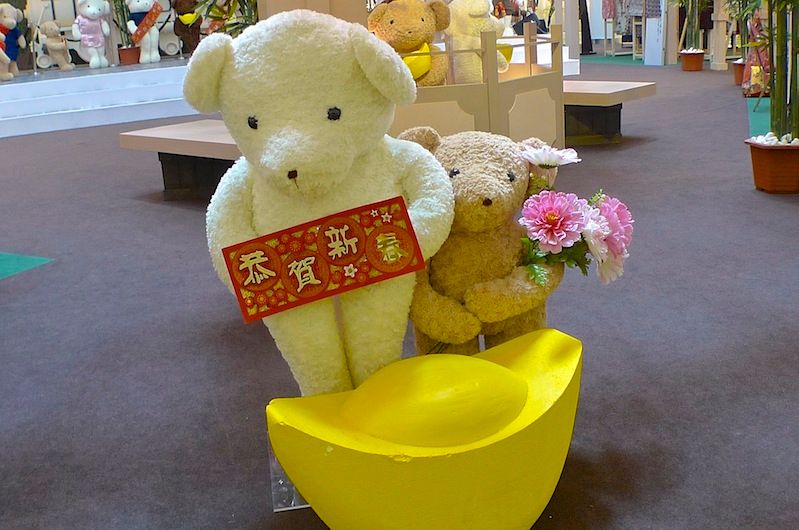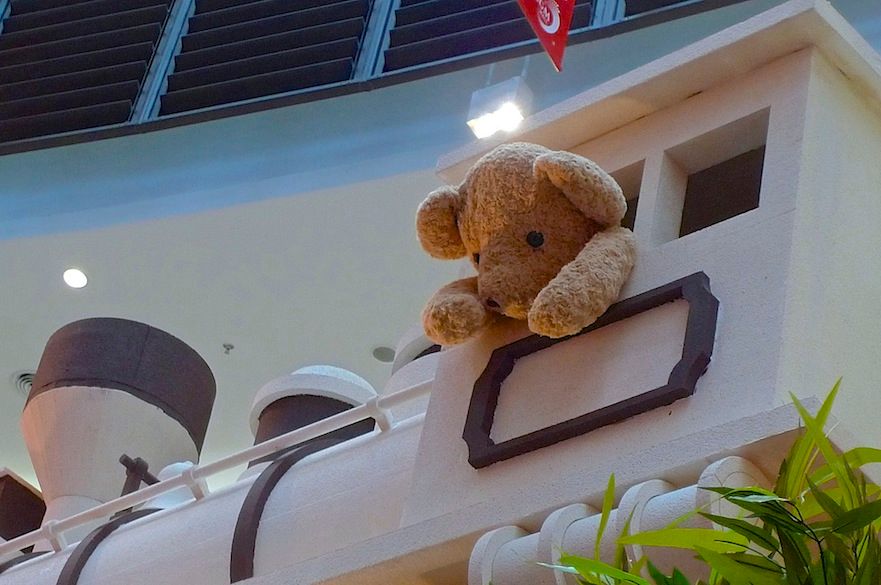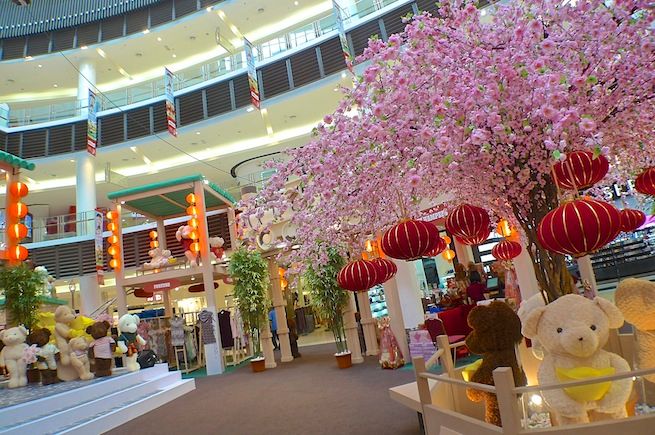 I wonder, what have bears got to do with Chinese New Year? I thought they are more appropriate for Christmas, no?
Still, it was refreshing and I like the Chinese New Year decorations at Paradigm Mall - probably the best so far for a shopping mall in Petaling Jaya this year.
In Part 4, I will share even more photos of the Chinese New Year decorations at shopping malls in Subang and Kuala Lumpur, so stay tuned! : )
To be continued ….