Looking at the
Ulik Mayang Spa
brochure, I was instantly captivated by its tagline "...where tranquil ambience rejuvenates the new you..."
The price was quite reasonable for a four-star resort too, so my friend and I did not hesitate to book for a session of body scrub treatment using lemongrass!
We were indeed fortunate that the Ulik Mayang Spa was just a short distance from
our chalet
. And the
rain that poured for almost two hours
stopped just in time for us to walk over there!
Waking up my friend from his enjoyable nap was not too difficult as he was eager to go for the massage. Haha!
This is the front entrance of Ulik Mayang Spa.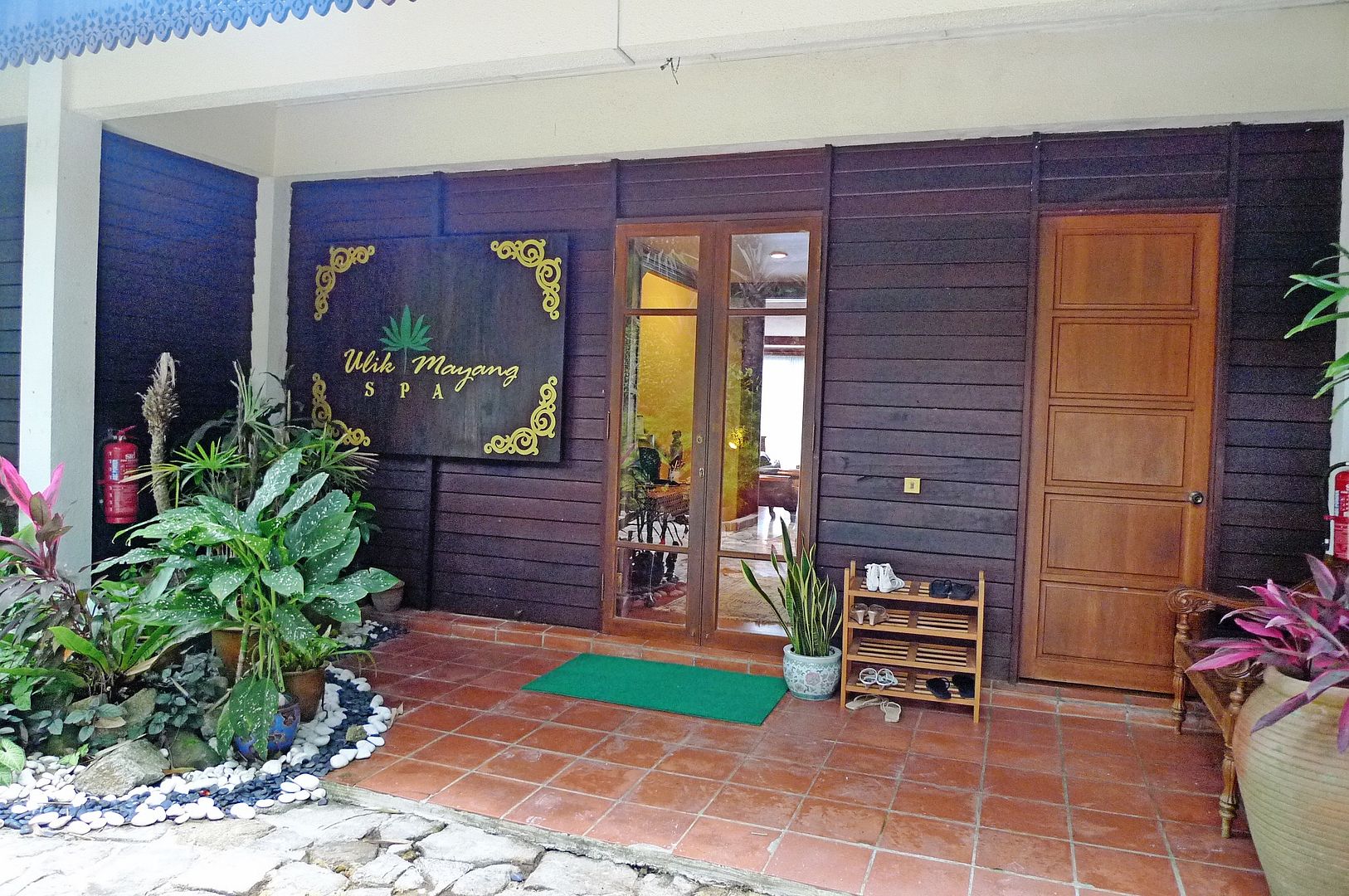 We were asked to leave our shoes outside. Stepping in, we were asked to sit down while they prepared the room.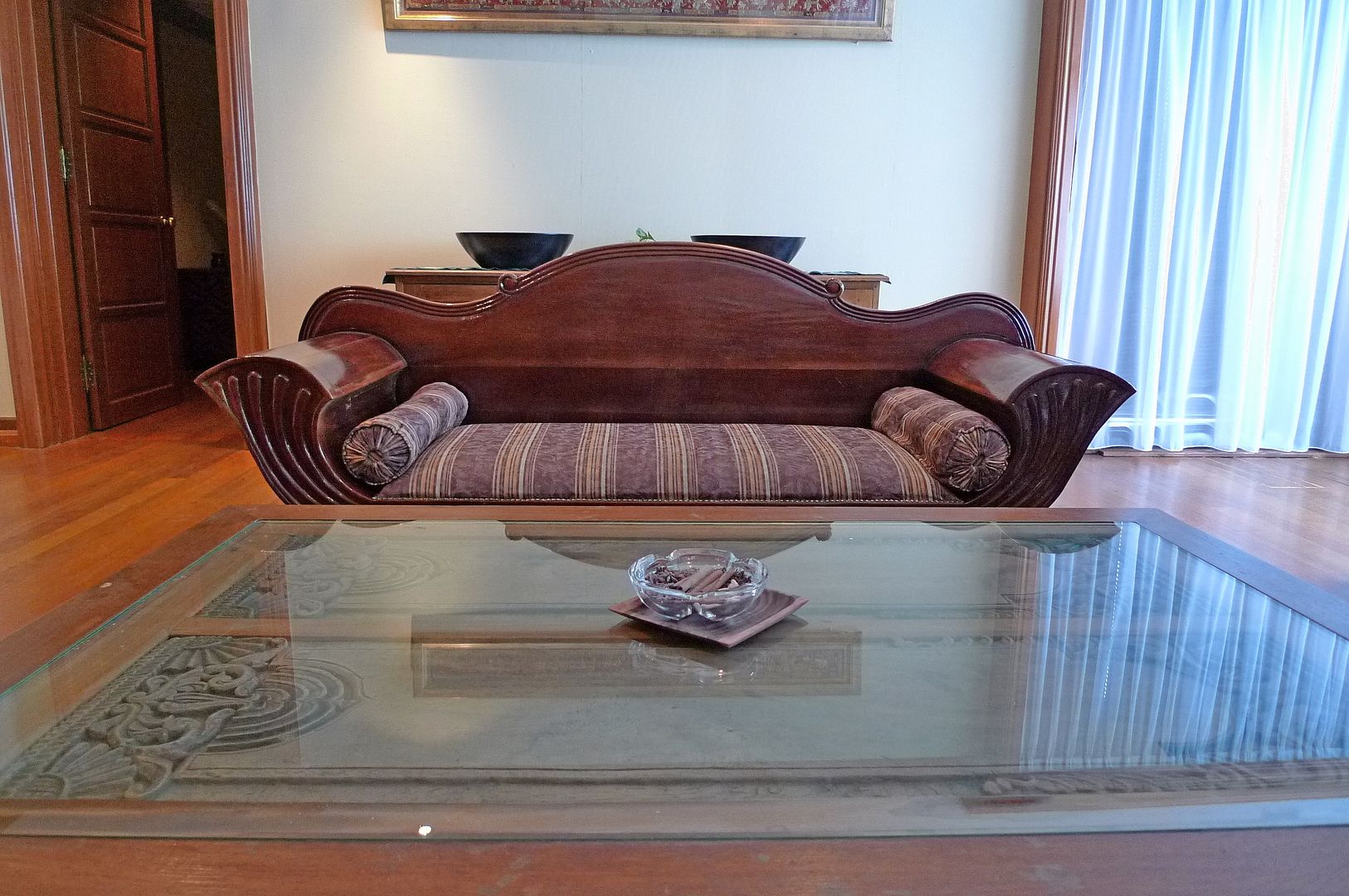 The interior looked really comfortable to me.
By the way, I learnt that the name
Ulik
means to sing or murmur in a soft, calming way while
Mayang
is tied bunches of coconut blossoms that are used in traditional Malay treatment as a medium to free your mind and soul from evil spirits.
In other words,
Ulik Mayang
Spa is the place for you to ease your physical, mental and spiritual stress. What a lovely description!
I liked the intricate design of this wooden carving on the wall.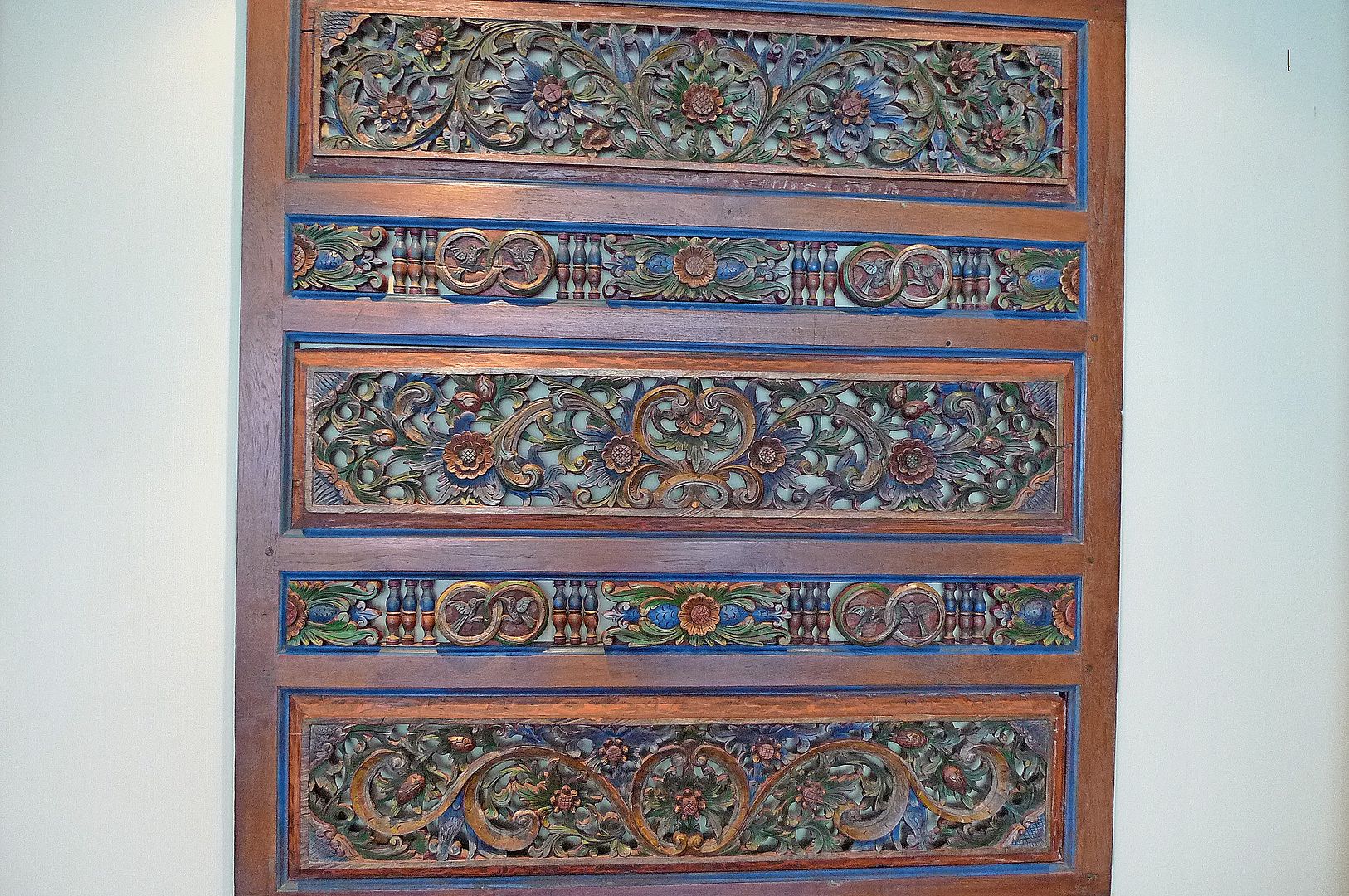 I could not wait for the body scrub treatment to start!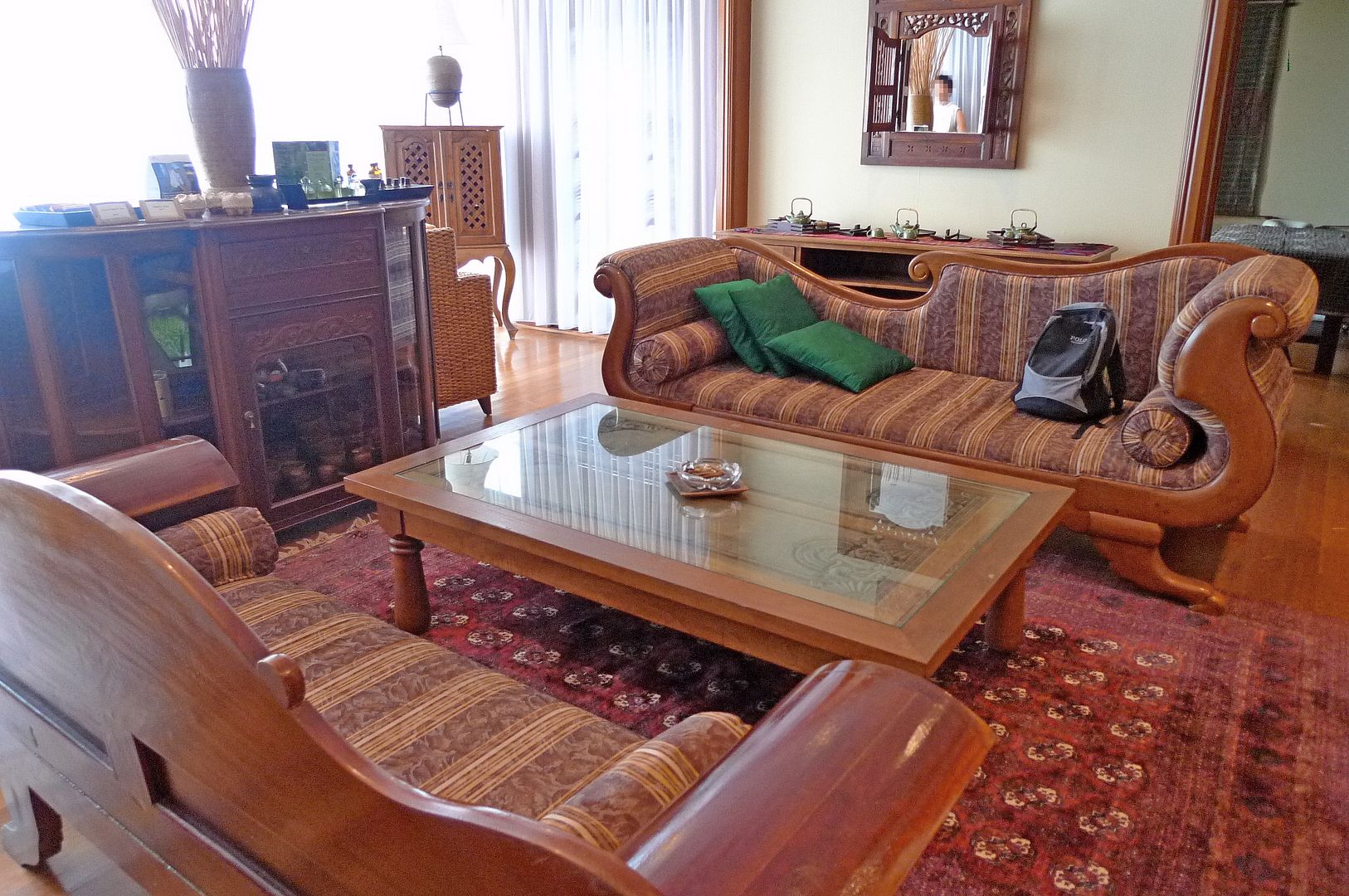 A while later, we were ushered into the massage room. We were each given a large towel and a disposable see-through underwear. I wondered why we need to wear that underwear when you can see through it. Haha!
As I was changing in the changing room, I was surprised to see my friend coming out of the bathroom clad only in his towel tied round his waist, and holding the underwear.
I asked why he was not wearing it. Guess what was his reply? He could not fit into that underwear. Haha! I could not help laughing! Hahaha!
He went out and requested for a larger underwear but unfortunately they only have one size fits all. So he had to make do without wearing any. Haha! Sorry my dear friend for laughing at you, but I could not help it - it's too amusing!
Jokes aside, I actually don't see what's the point of wearing that underwear. By wearing it, my butt would not get scrubbed! So maybe I should have asked for a discount since my butt was left out of the scrubbing exercise and was not as smooth as other parts of my body. LOL!
For the next 45 minutes, it was absolute bliss as we were scrubbed and massaged while soft, relaxing balinese music were being played.
The massage therapists were good with their hands. I could even smell the lemongrass which was one of the ingredients used in the scrub.
For those of you who have never gone to a spa before, do not worry about nudity. Only the body part that is being massaged will be exposed. The rest is covered with towels. Normally, the massage starts with your back and when you are requested to turn over, the massage therapist will hold the towel or sheet so you are covered when you turn over.
After the body scrub treatment was over, we went to take a shower to clean ourselves up and changed back to our clothes before being ushered to an area in the waiting room.
Here, we sat down on the comfortable chairs provided facing the lovely Kenyir Lake while sipping hot, soothing ginger tea.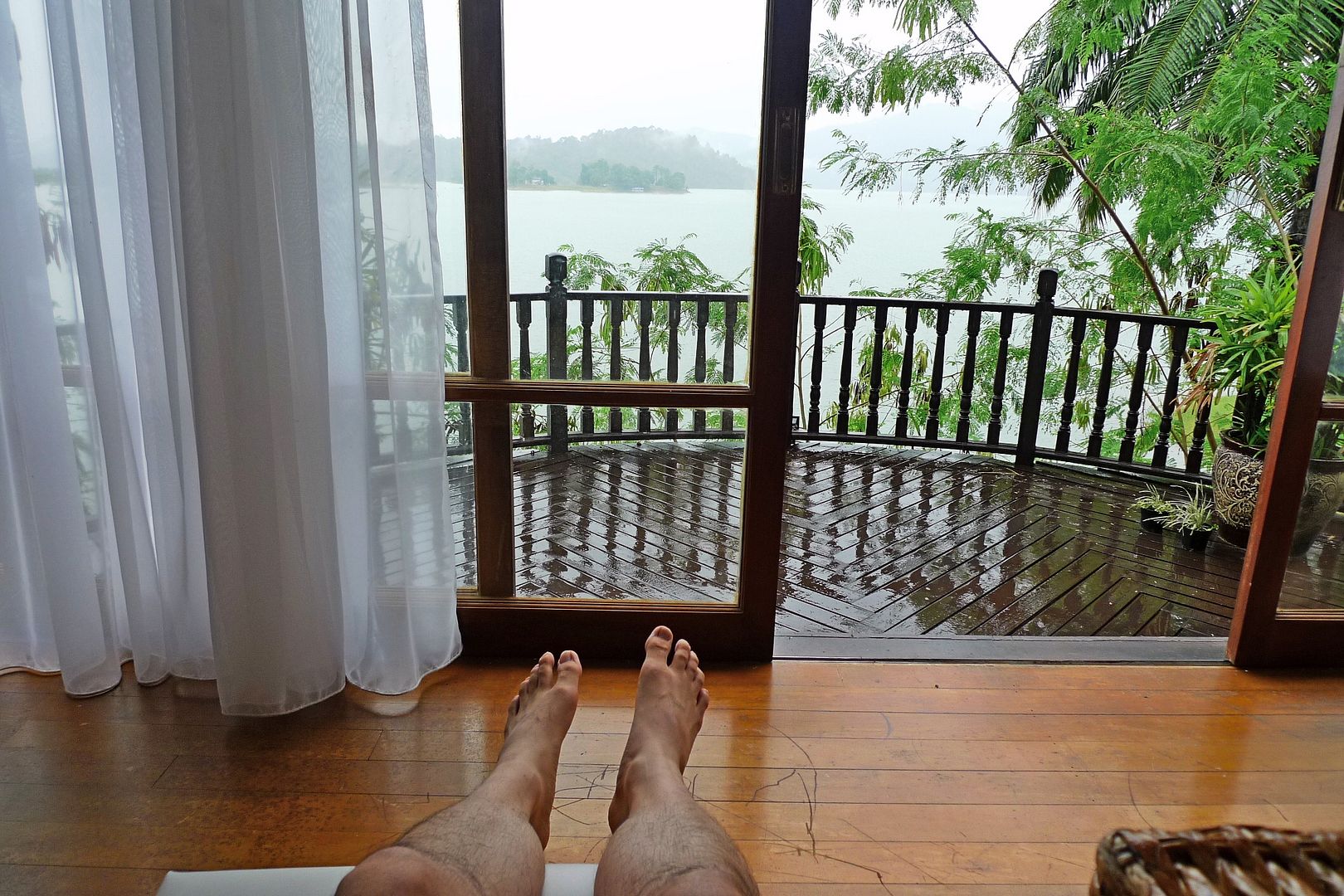 Didn't I tell you there will be more photos of my legs? Haha!
And if that is not annoying enough, below are my friend's legs as well! LOL!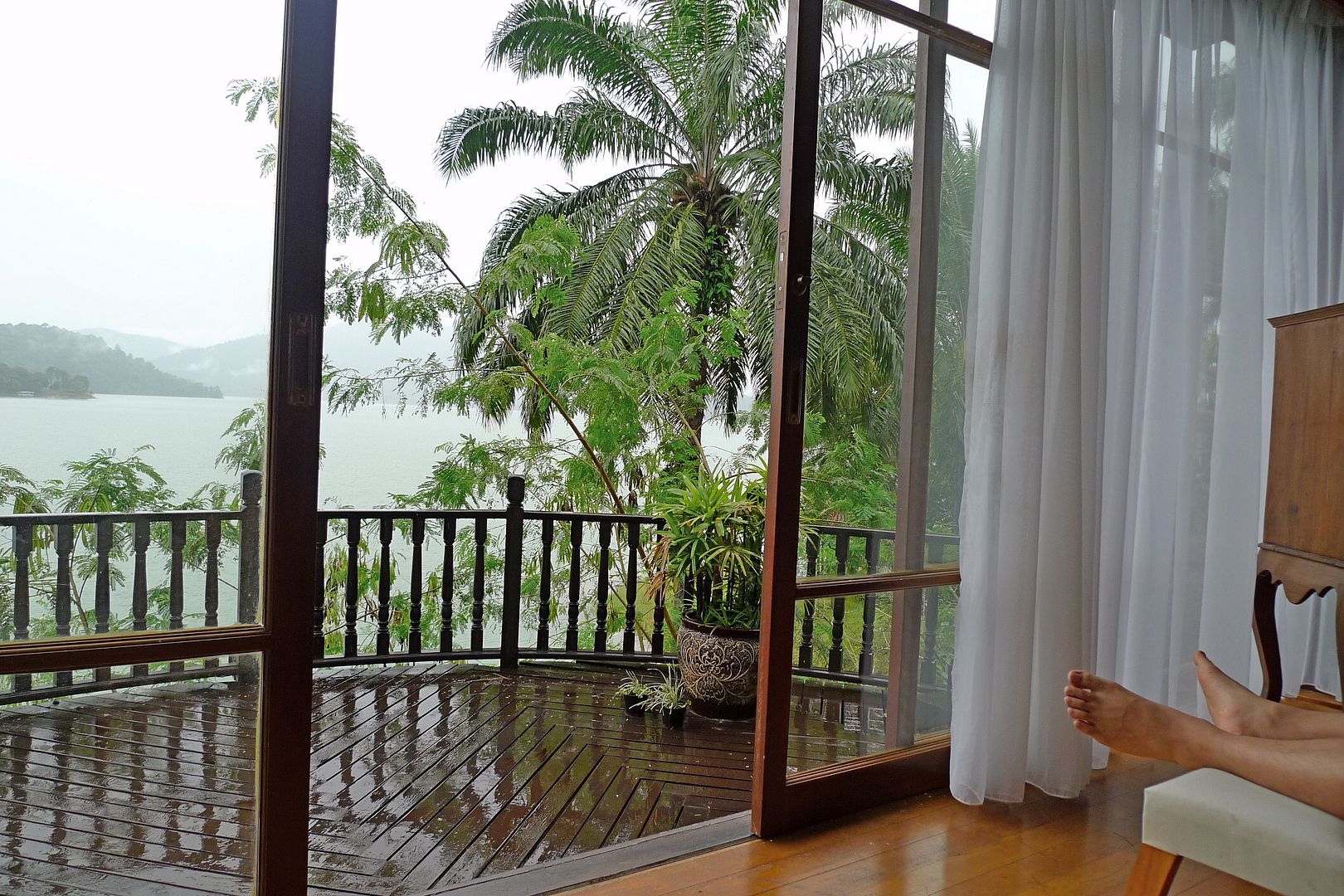 It was really nice sitting there enjoying my cup of ginger tea!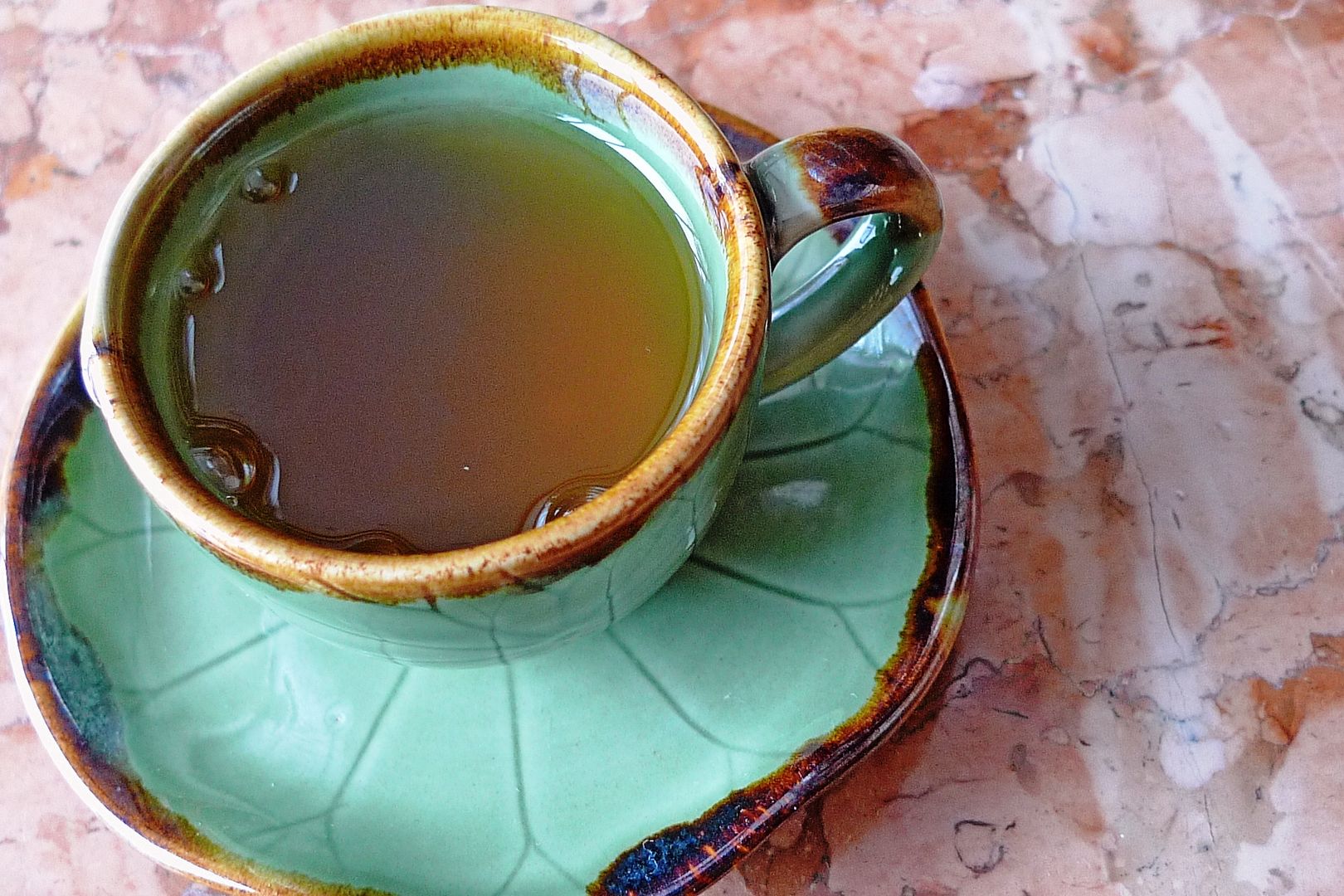 I thought the ambience was really nice here. The balcony overlooking Lake Kenyir was soothing to the eyes and to the senses. Now if only our chalet's balcony had a similar view!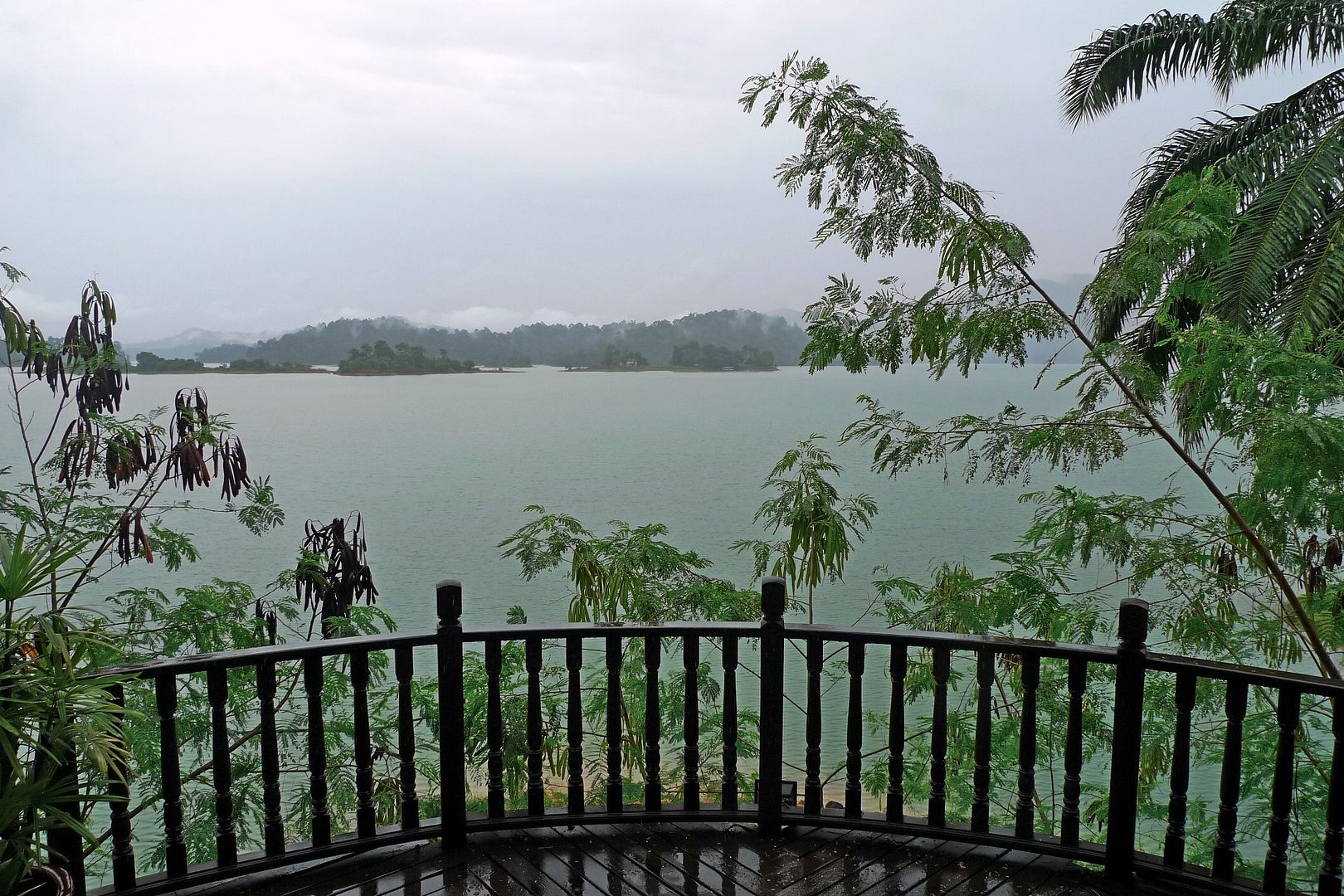 We paid RM90 per person for this 45 minute body scrub treatment, which I though was quite reasonable.
We enjoyed it so much we decided to come back again the next day. They had a special herbal sauna and back massage promotion priced at RM75, and we did not hesitate to book for that! I will blog about our second massage in a future post.
After leaving Ulik Mayang Spa only did I realise that I was hungry! So we walked to Tembat Restaurant for our very late lunch.
We both ordered this sandwich dish which was not too bad, considering the
horrible dinner
we had the night before.
The plate of sandwiches and fries with mayonnaise sauce was however, quite pricey at RM19 but as long as it was tasty, I would not want to complain too much about the price!
After lunch, my friend and I went over to the counter and requested (no, insisted) for an a-la-carte dinner for the night. We did not want to pay RM45 again for the buffet like the night before.
The girl at the counter said she would talk to the manager about it and get back to us, so we just kept our fingers crossed!
Coming Up Next : My Boat Paddling Adventure At Lake Kenyir