Continued from
Part 1
It was time like this that I was really glad I wore a life jacket! But even though the life jacket could save my life, my camera and my handphone would never survive the water!
My friend saw the pool of water and assured me it was not the boat leaking. I could not believe he was that calm! I knew he could swim and I could not, but he did not have to be so damn calm about it.
I mean, we were somewhere in the middle of Lake Kenyir and I could not even see where the jetty was!
Look! I was so nervous I could not even take a decent picture. My thoughts were as blurred as this picture.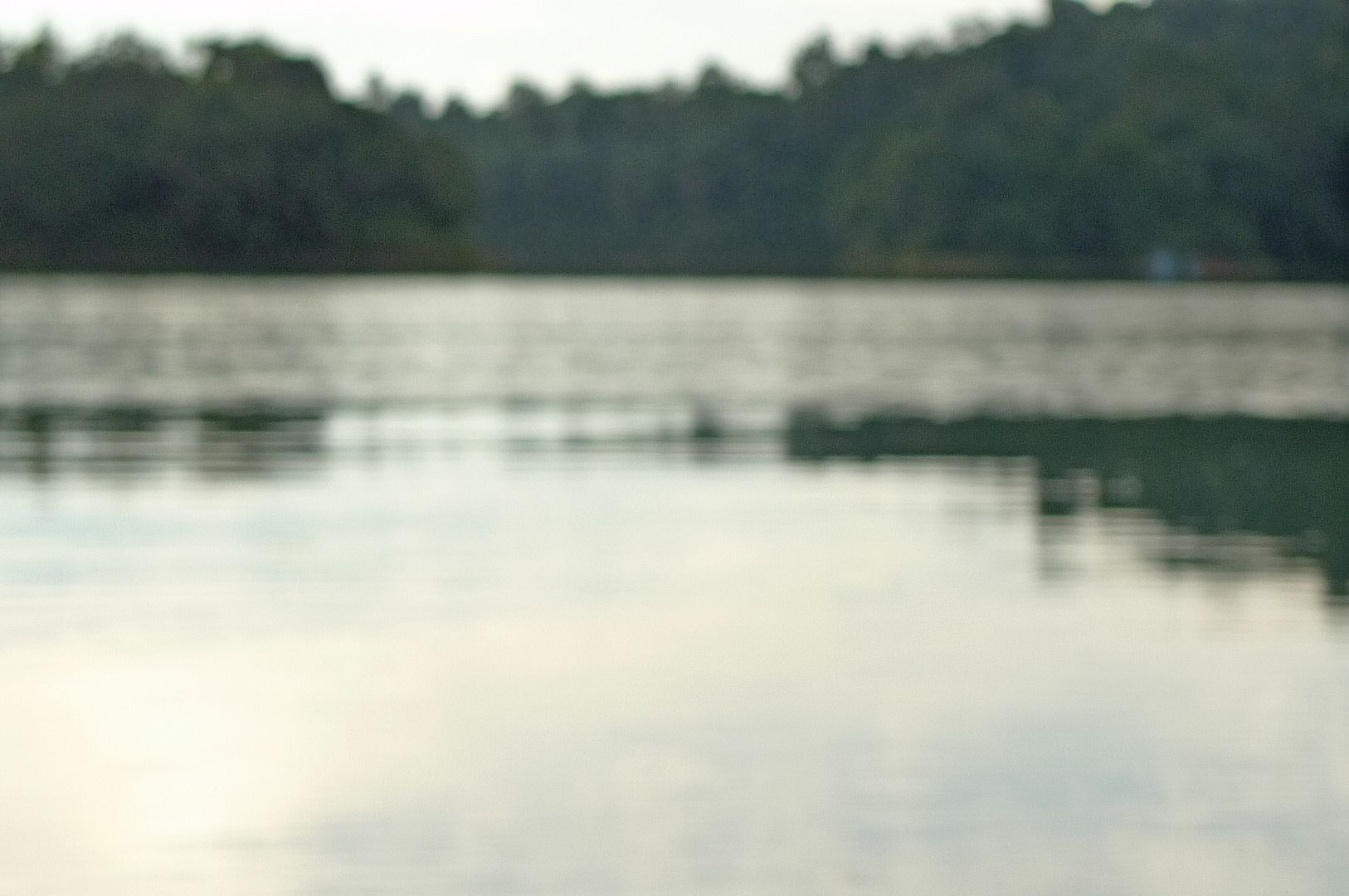 OK, I have to admit I may have over reacted a little bit, haha! The pool of water was not that big actually, and after paddling for some time, I noticed the water seeped in through a small hole at the side of the boat where my pedal was joined to my friend's pedal on the other side.
But that did not stop me from thinking that if we paddled long enough, the water leaking in would be enough to sink us. Of course, we could always bail the water out and judging by the slow rate of water leaking in, I would have no doubt about keeping the boat afloat. Haha, those were comforting thoughts indeed.
We reached the island we saw earlier and paddled round it.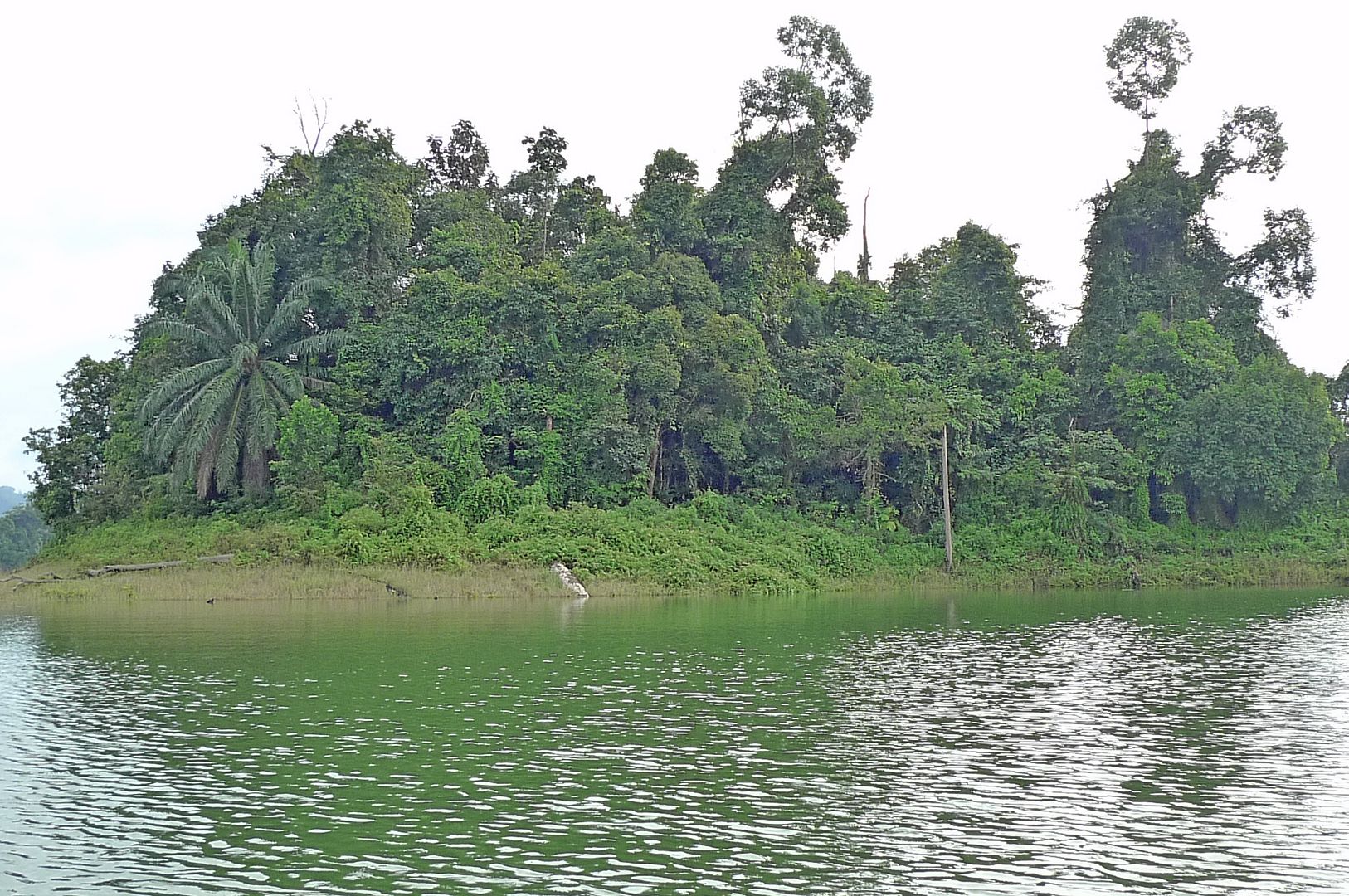 Reaching the other side of the island, the Dead Trees were no longer in sight.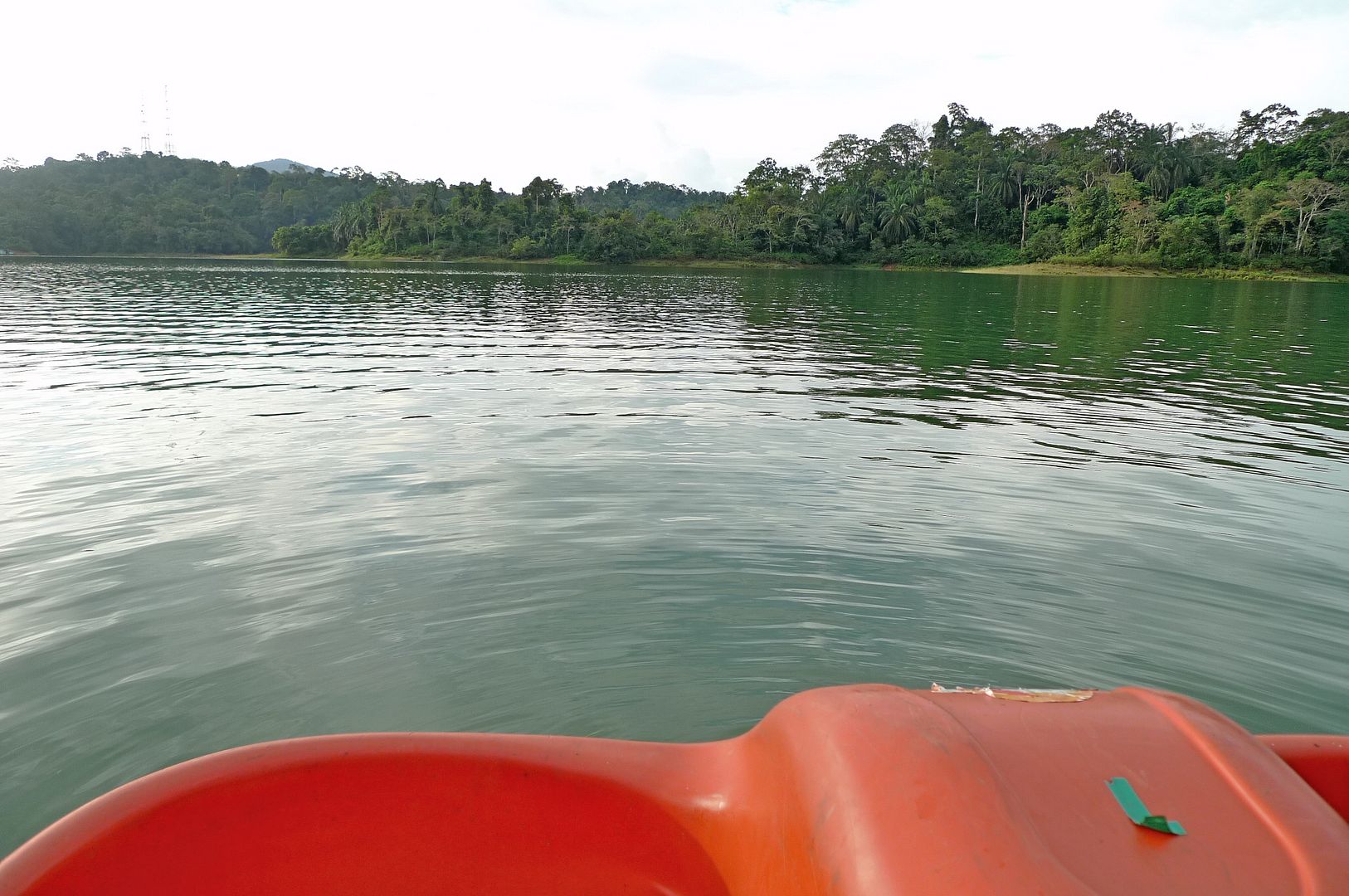 I noticed that the sun was about to set.
As we left the island behind us, I checked on the pool of water at my feet. I thought the pool was slightly bigger now though I could not be sure.
We saw another island ahead of us and my friend asked me whether I wanted to circle round that island as well.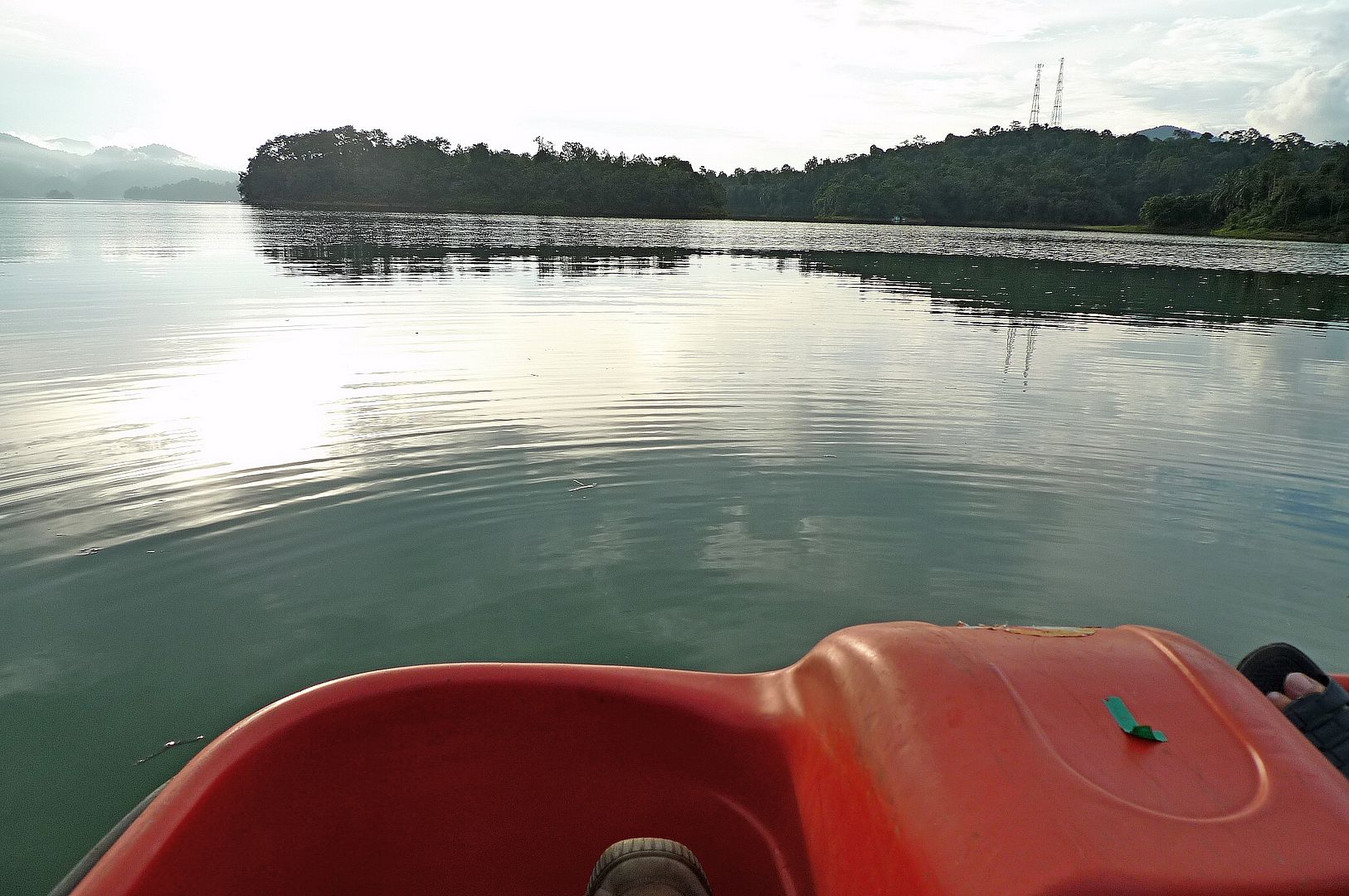 I was thinking maybe we should head back to the jetty (wherever that was!) instead of paddling further away. I did not know how far we would have to travel going around that island!
Besides, we had clearly exceeded the one hour limit paddling on Lake Kenyir. Although we were given some flexibility on the time, thanks to the man who prepared our boat for us earlier, I did not know if he would be waiting at the jetty for us. It would not be so nice to keep him waiting too long, right?
And so we decided not to circle that island and headed back to the jetty although I was not quite sure if we were heading at the right direction. My sense of direction was pretty bad! LOL!
But along the way, both me and my friend were awed by the beautiful scenery of the lake.
Click on the photos for enlarged version.
The reflection of the sunset on the waters took my breath away! We paddled slower and took in the scenery.
In the beauty of that moment, I have forgotten about the boat leak. Even the thought about the man waiting for us at the jetty was no longer in my mind. I only knew there I was, with my friend and the whole of Lake Kenyir with the beautiful sunset in the sky.
My friend and I chatted about our blogging experience and our conversation extended to the topic about several bloggers we knew. If any of you bloggers wonder whether we talked about you, keep wondering 'cos I am not telling, haha! And please don't ask me who my blogger friend is 'cos I have promised him that I will not reveal his identity.
Soon, we saw the jetty ahead of us. I was a little sad that our boat paddling adventure was coming to an end.
I think I have bonded with my good blogger friend here. This must be one of my most memorable experience during my Lake Kenyir trip and the happy memories shall reside forever on this blog.
Coming Soon : My Paranormal Experience At Lake Kenyir (not for the faint hearted!!)