OK, this is NOT the dinner I had at Lake Kenyir Resort in case you think this is a continuation of the
previous post
! So don't be confused! Haha!
This is a dinner I had back in beautiful Petaling Jaya!
Last weekend, I went out to dinner with blogger friend
Witch
and her fiancé, Saucer. It's my second time meeting up with this pretty and friendly blogger.
Our first meeting
was at Chili's in Mid Valley a couple of months back.
This time, we went to
Bangkok Wasabe
at Dataran Sunway, Kota Damansara for dinner. It was my suggestion as I have heard a lot of nice things about this restaurant and was craving for some Thai food!
This is the entrance to the Thai restaurant. Notice the pink elephant logo?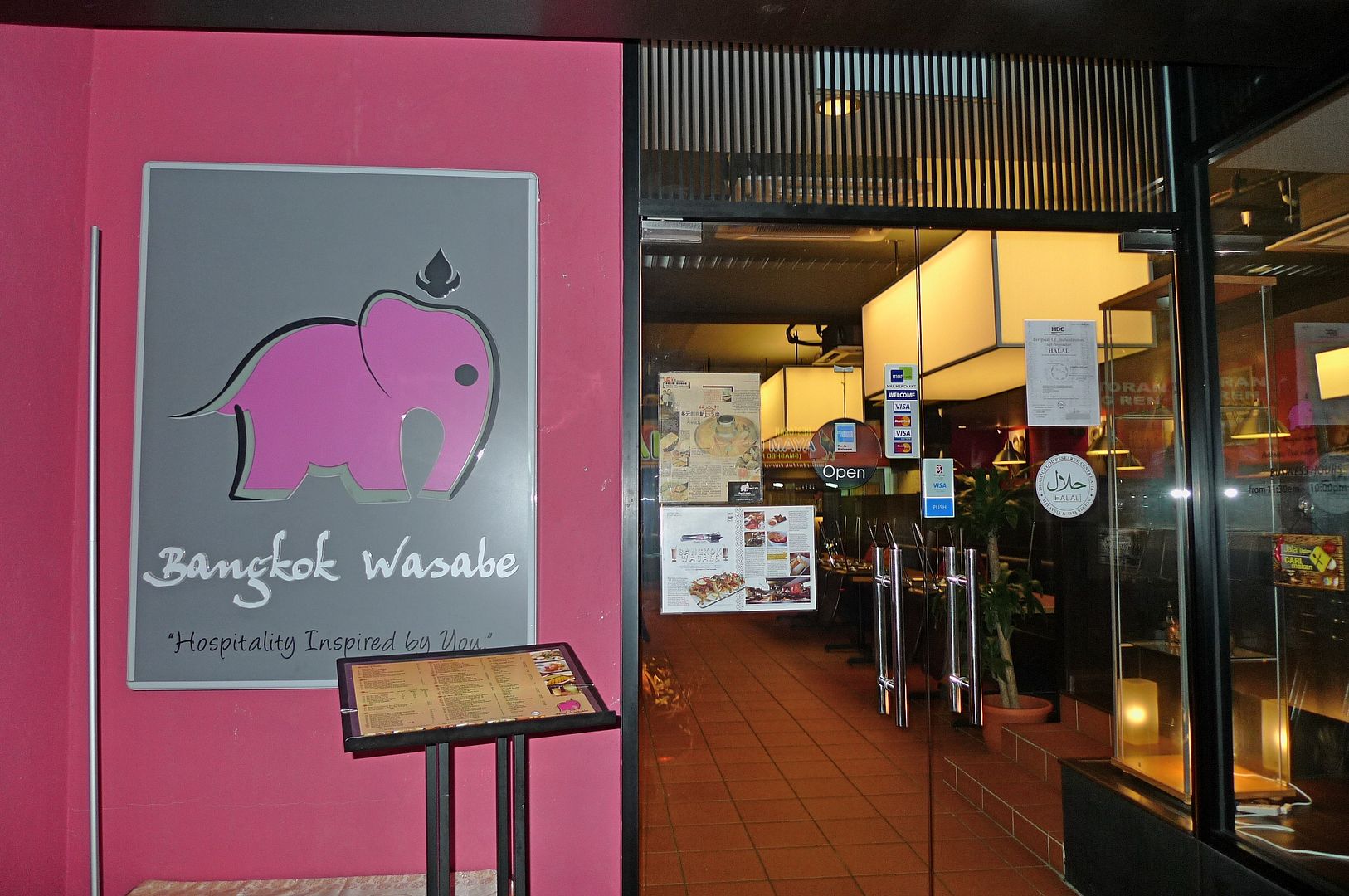 I did not go around taking pictures of the interior - too lazy. Haha! But just captured what was in front of me while waiting for Witch and (flying) Saucer to arrive.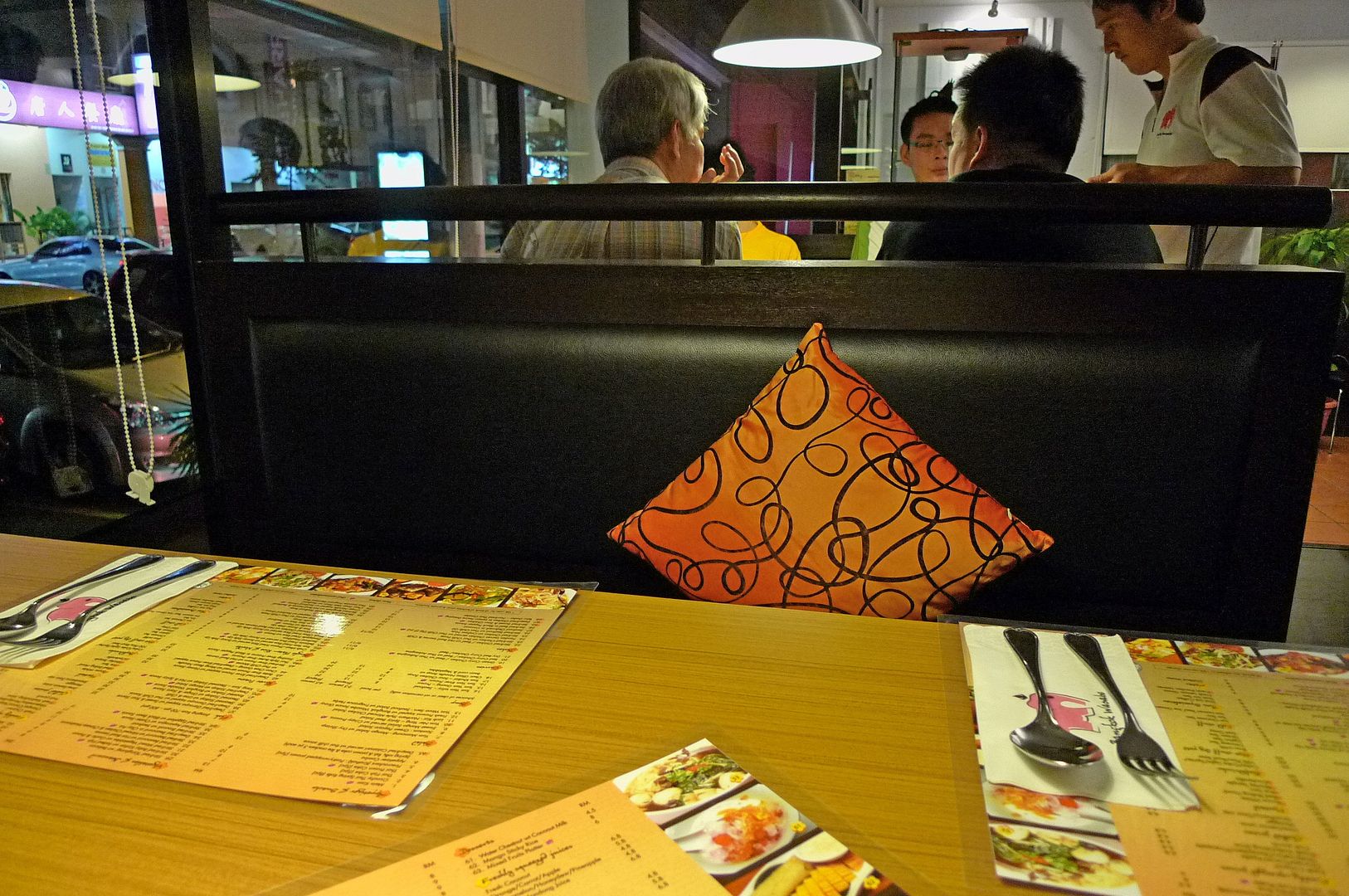 When they finally arrived, we straight away made our orders. Under a friend's advice, I spoke to a person called Johnny and asked him to recommend us some dishes.
Johnny was most friendly and he recommended us the following dishes.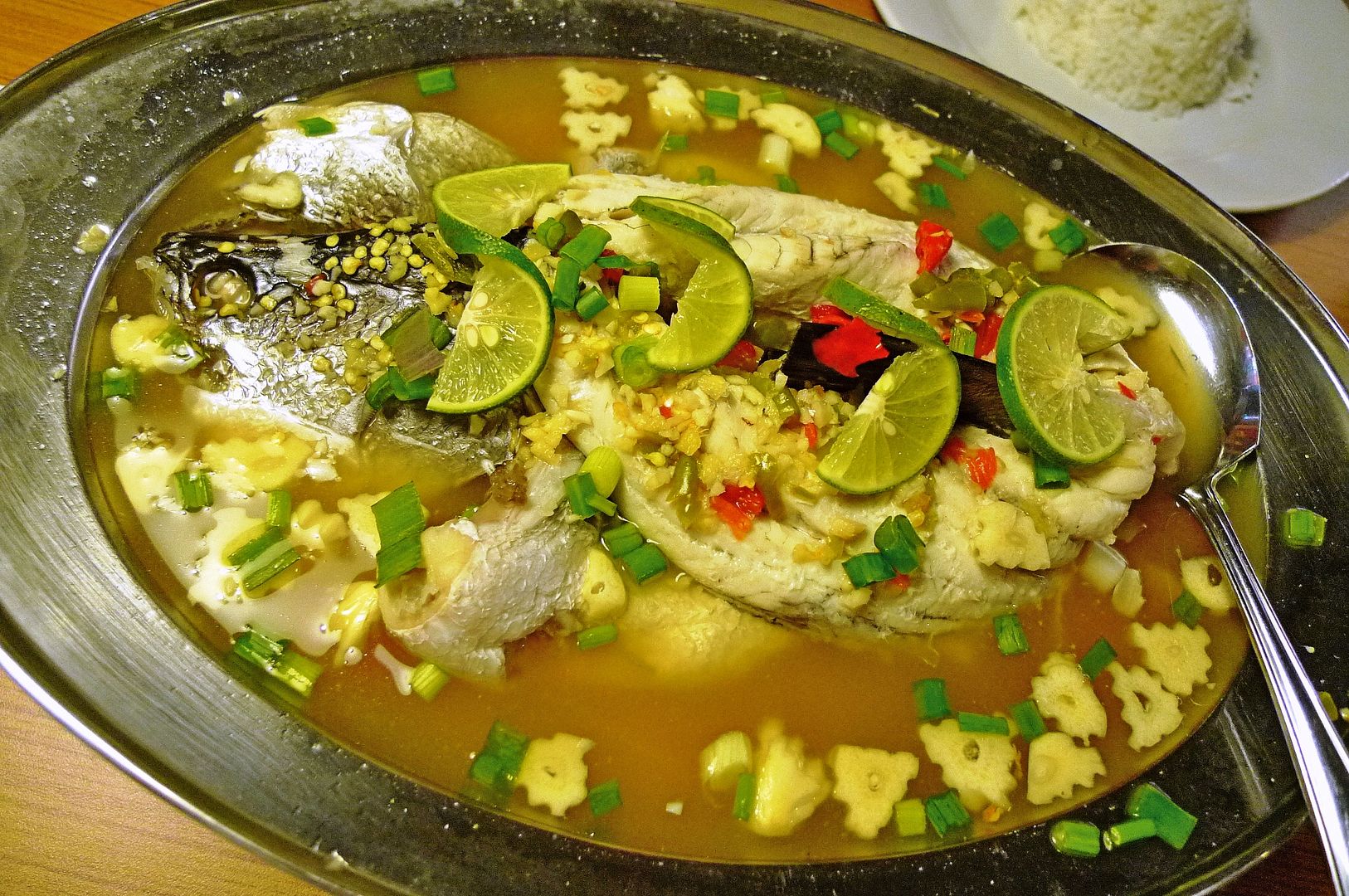 Steamed siakap with lime and chili. It was actually quite nice but the only thing was we found the fish to be not that fresh! So we made a complaint.
Guess what? Johnny replaced the already half eaten fish with a new one!
However, we found that although the replacement was fresher, it was still not as fresh as we wanted it to be! Oh, well....
Still, thumbs up to Johnny for his kind gesture.
Next, we had pandan leaf chickens. Actually, supposed to be 5 pieces, but they ran out so only 4 pieces left!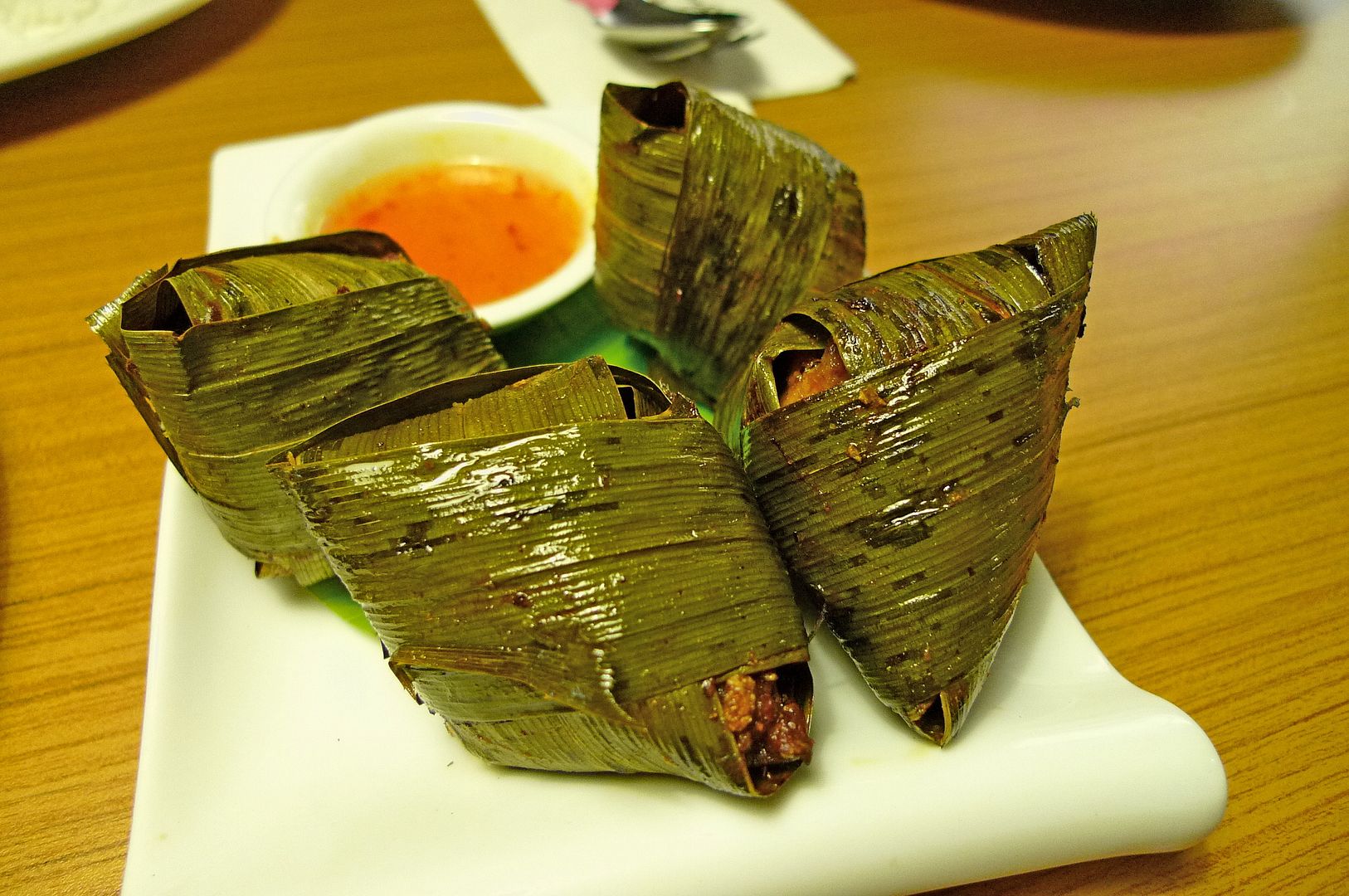 It was delicious, especially when you dip them into the Thai sauce.
We ordered the tomyam seafood next.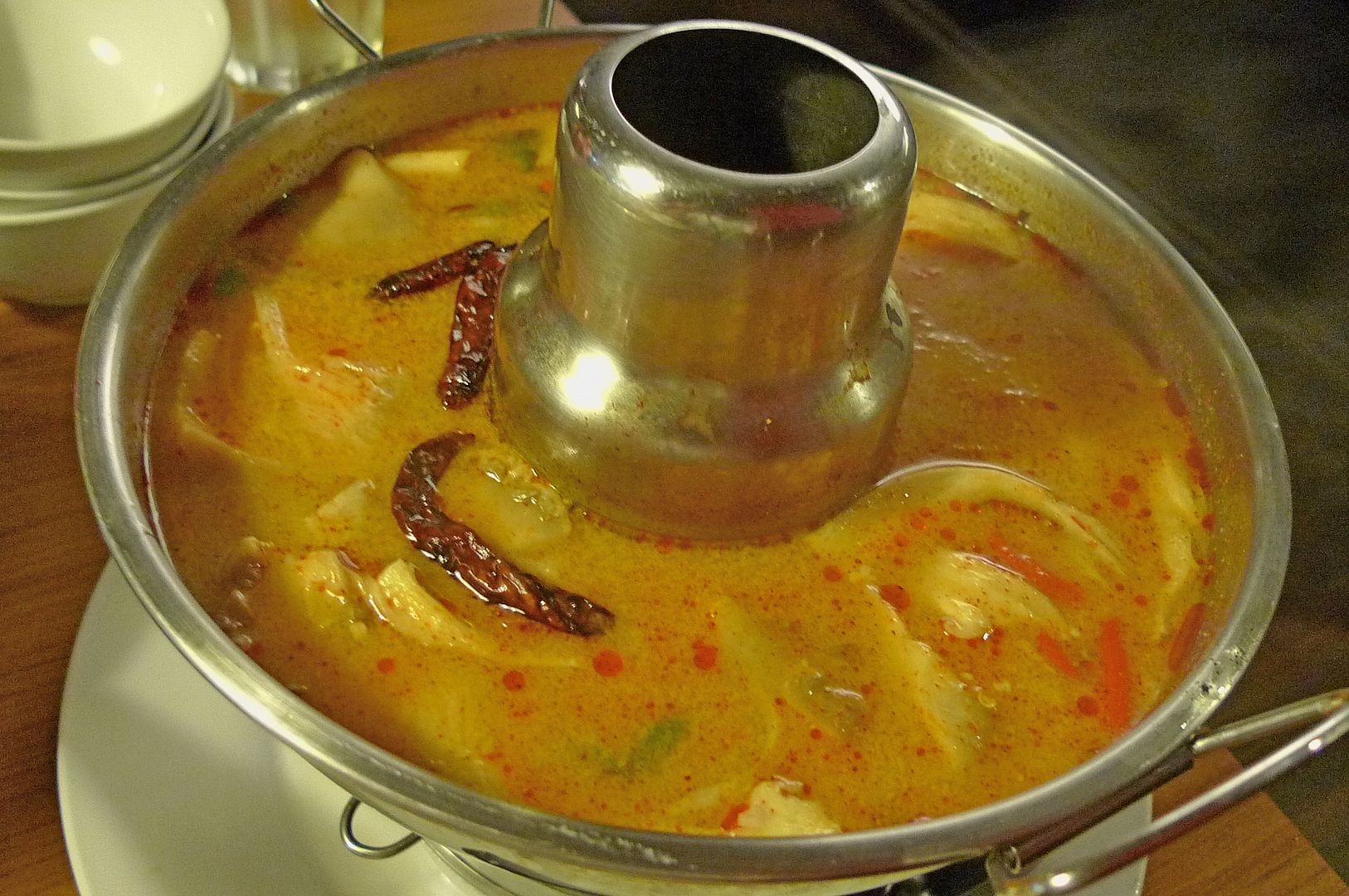 The soup was pretty tasty - I like it! But again, we had issues with the freshness of the seafood. Now if they can improve on the freshness, it would be really good!
For vegetables, we went for kangkong belacan.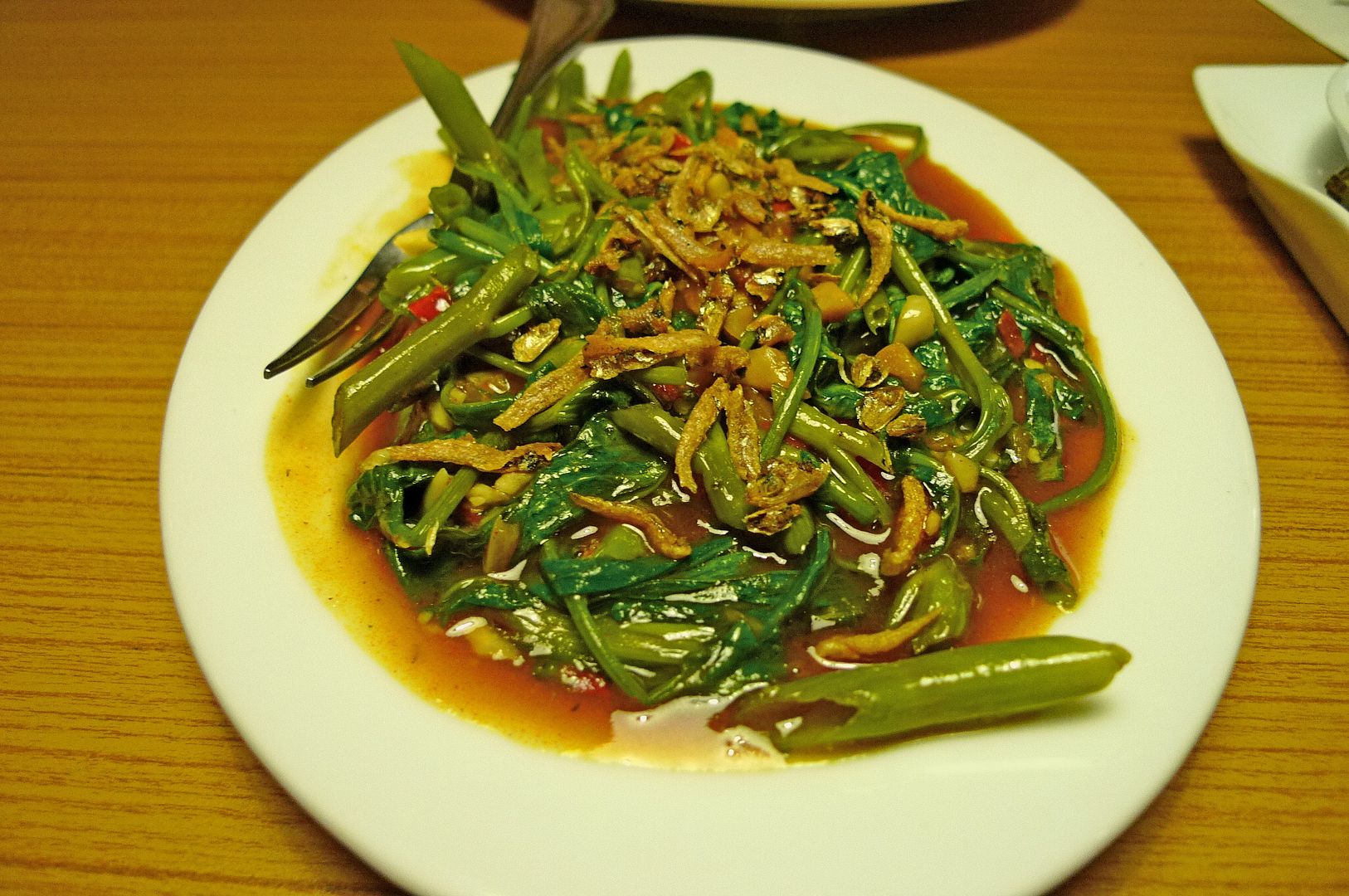 Quite good, but just a bit too oily for me!
Oh, by the way, Johnny recommended me this drink.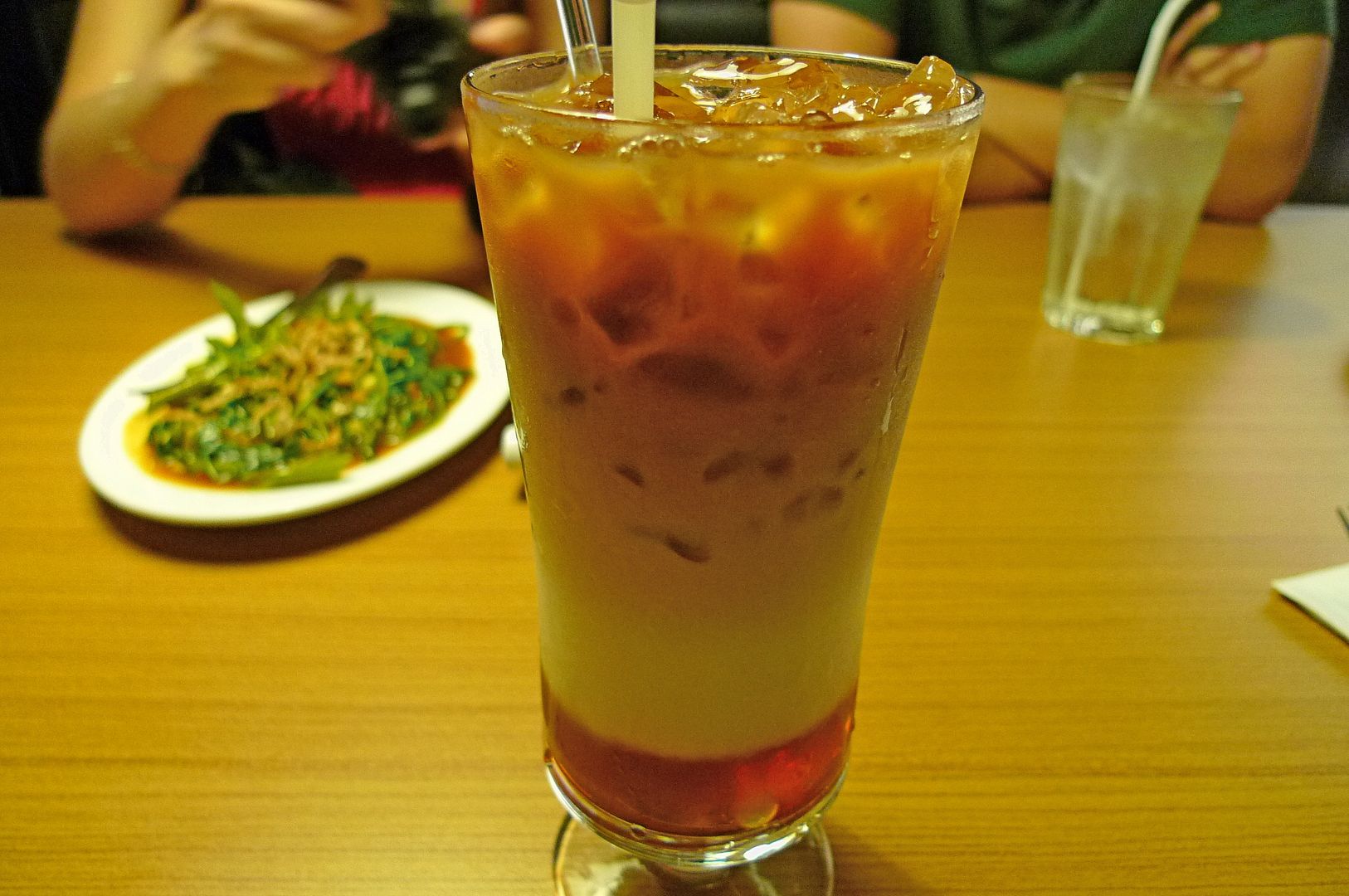 It's their special Thai iced tea with palm sugar. It was nice! Hmm, next time, I might want to try their lemongrass juice!
For desserts, we ordered mango with sticky rice.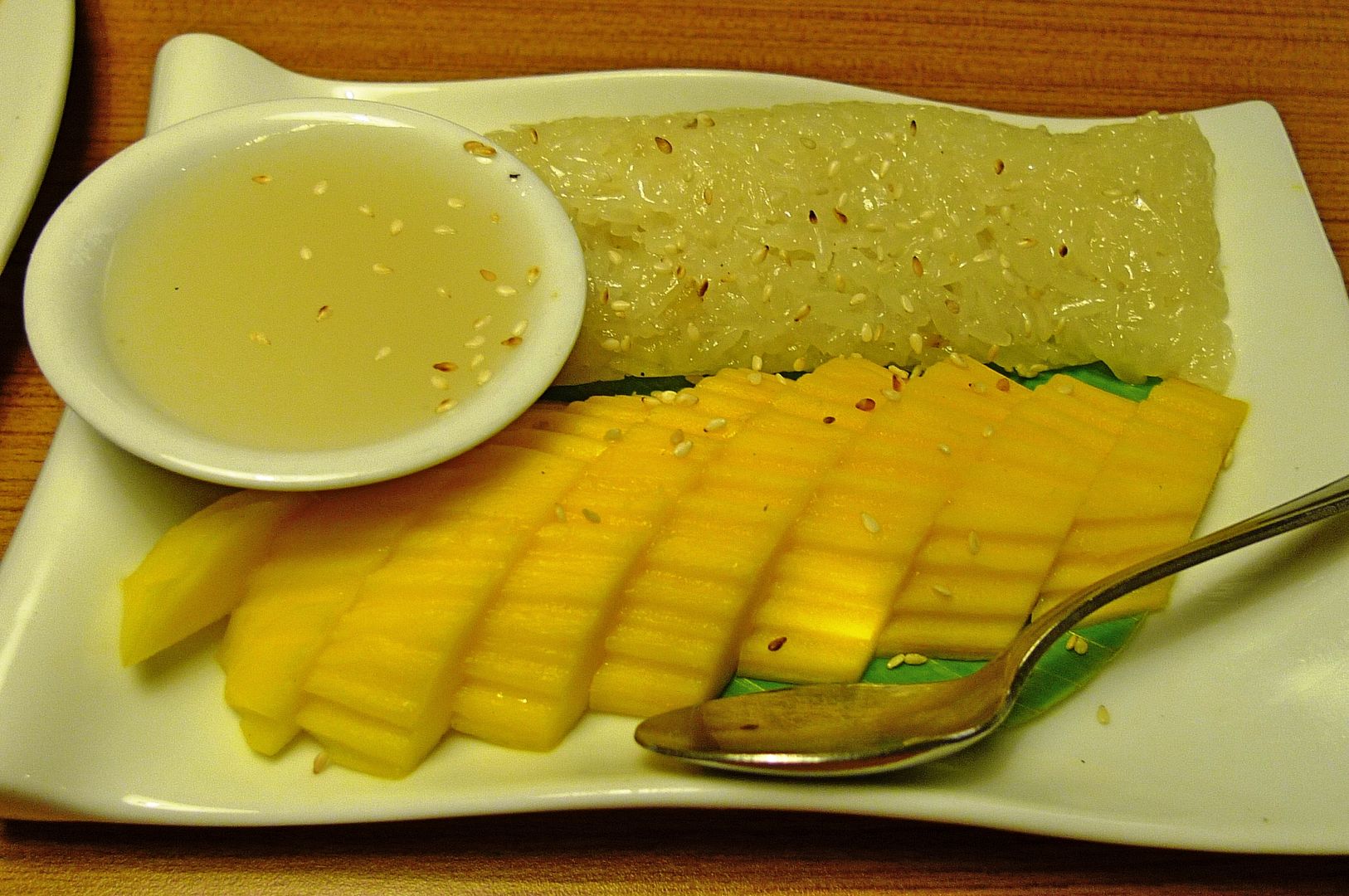 I liked the mango with sticky rice I had in MBK shopping mall in Bangkok. They also had durian with sticky rice which was to die for! Compared to that, this mango dessert at Bangkok Wasabe was simply not up to my standard! The sticky rice was OK, but the mango was not. And the sauce was simply too little to begin with!
Of course eating in a Thai restaurant like Bangkok Wasabe, I would not miss the chance to order for the classic and favourite Thai dessert, thub thim krob.
I won't say this is the best water chestnut dessert because I think I have tasted better somewhere else.
Finally, here's the last dish of the night!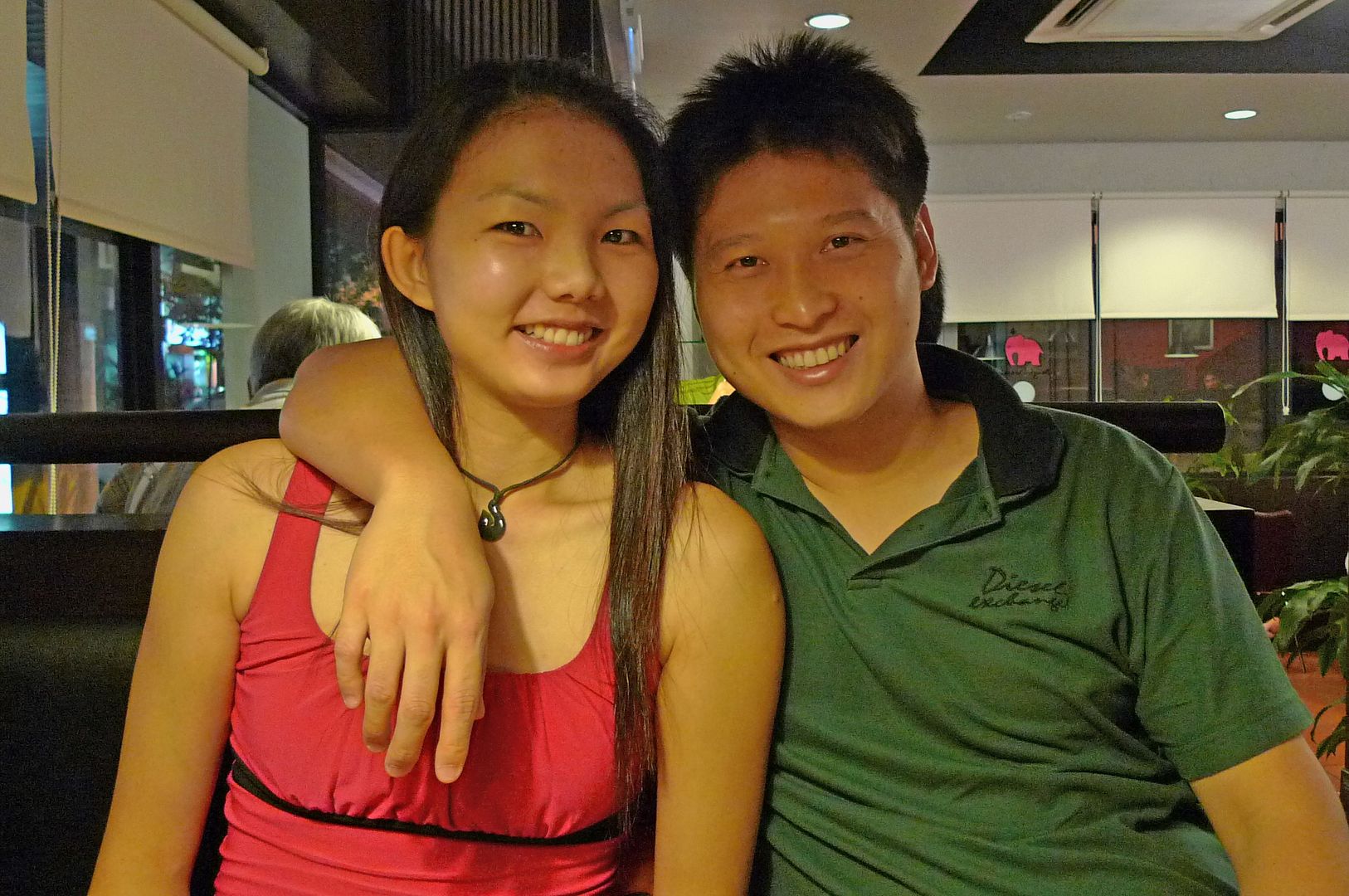 Haha! Don't you think they qualify as a dish? That's Witch and Saucer, my great friends and cool companions!
I took 2 photos of this beautiful couple. One without flash (above) and another with flash (below)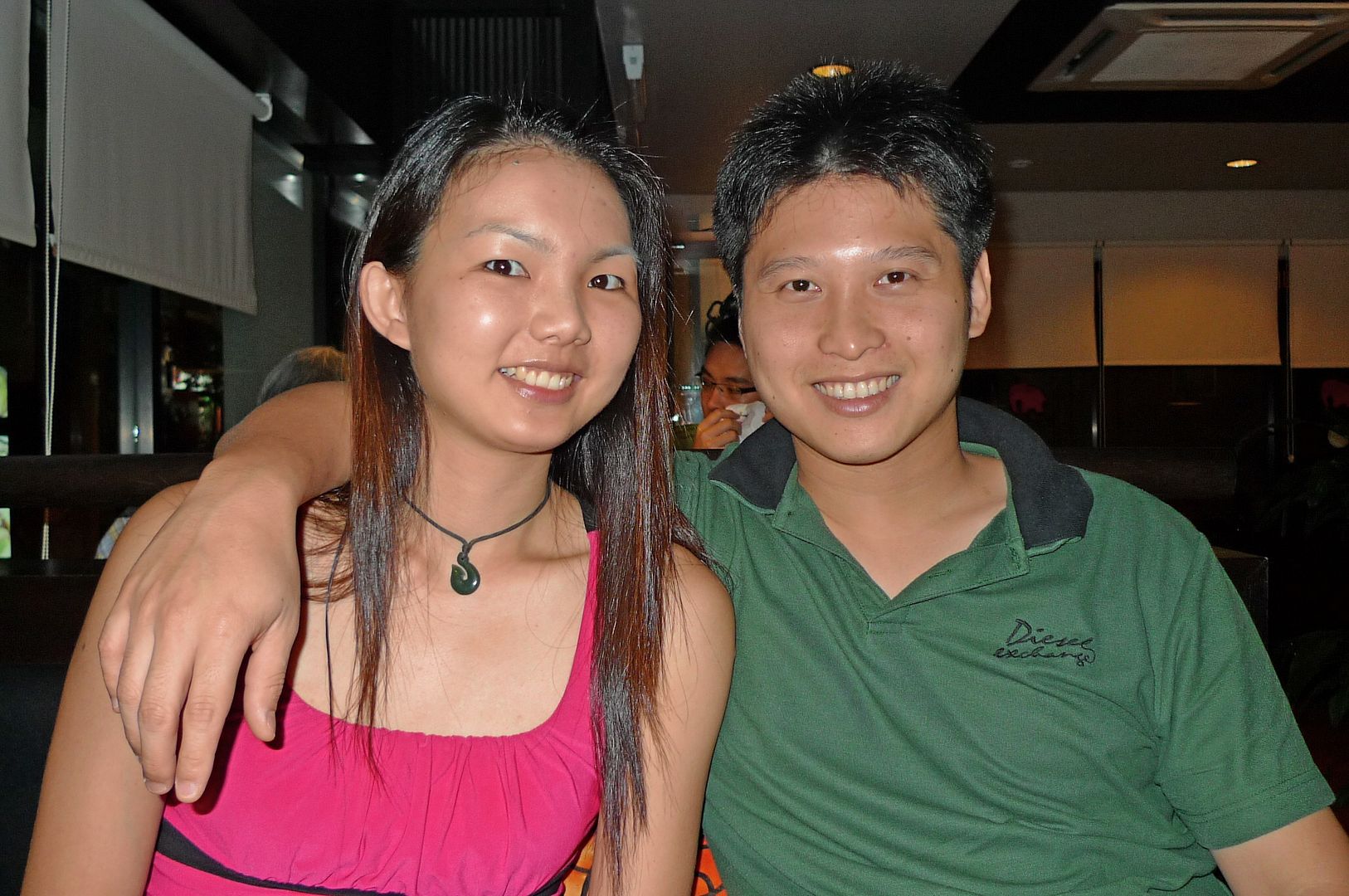 Can you tell me which photo is nicer?
OK, back to Bangkok Wasabe, overall the food is OK, but they could certainly improve on the freshness of their seafood. And please for Bangkok's sake, do something about that horrible mango with sticky rice!
But I was most pleased with the price! I think it was really quite reasonable when compared to other Thai restaurants in town. Try eating similar food at
Good Evening Bangkok
in
1Utama
and you'll see what I mean!
On top of that, we were given member/VIP discount of 15% even though we were not members! I guess me mentioning my friend's name had got something to do with it, anyway thanks to Johnny for this discount!
All in all, we paid RM95 for the meal. (Btw, they charge a 10% service charge) Not bad, yes?
My ratings would be as follows:
Food 3/5
Ambience 4/5
Price 4.5/5
Service 4/5
If you like to go to Bangkok Wasabe and try the food there, here's the address and contact no:
No. 16-1, Jalan PJU 5/15,
Dataran Sunway,
Kota Damansara,
47810 Petaling Jaya.
Tel : 03-61567078
So what did we do after dinner? That will be in my next post coming right up! : )