"Oh no! We are late and we are going to miss the
babi guling
!!"
I was a little bit upset because the ladies took too long shopping for
souvenirs at Kumbasari Market
and scouting for
stone carved statues at Batubulan
.
According to our driver, people would start queuing up for the
babi guling
(roast suckling pig) at one of Bali's most famous restaurant,
Warung Ibu Oka
, as early as 11am. And since they sell a limited number of pigs a day, chances are by the time we reach there the
babi guling
would be all sold out!
OK, I was in fact, really, really upset. I had already
missed the sunset at Tanah Lot
, I was not about to miss the
babi guling
!! Seeing the sunset at Tanah Lot and eating
babi guling
were two of the most important agendas I had in mind for this Bali trip!
Our driver tried his best to drive as fast as possible to reach
Ubud
. Once we entered Ubud, I could sense a sudden change in the atmosphere.
We passed through the Ubud village and a feeling of calmness enveloped us. I was not that upset anymore. Somehow, Ubud seemed to have a certain magic that charmed all of us!
We reached Ibu Oka at about 1pm. I prayed they still have
babi guling
left for us!
This is the front entrance to the restaurant.
They say the best food in Bali is
babi guling
. And the best
babi guling
is found at Warung Ibu Oka in Ubud.
Located at Jalan Suweta, Warung Ibu Oka has been serving satisfied customers for more than 20 years! Wow! Is that a pretty long time or what!
Even more amazing, Ibu Oka had learnt the art of cooking the
babi guling
and running the business from her parents-in-law who were selling
babi guling
at a local market for more than 30 years before she took over.
After her parents-in-law died, Ibu Oka moved her business to Jalan Suweta and renamed it as Warung Ibu Oka. She had not looked back since.
As we entered the restaurant, we passed by this "kitchen" at the entrance and saw that they still have lots of
babi guling
left. What a relief!
I learnt that half a dozen pigs are housed at the back of the compound ready to be slaughtered at 4am every morning before the restaurant opens at 11am.
At least 4 pigs are slaughtered to satisfy the droves of hungry customers streaming into the restaurant daily.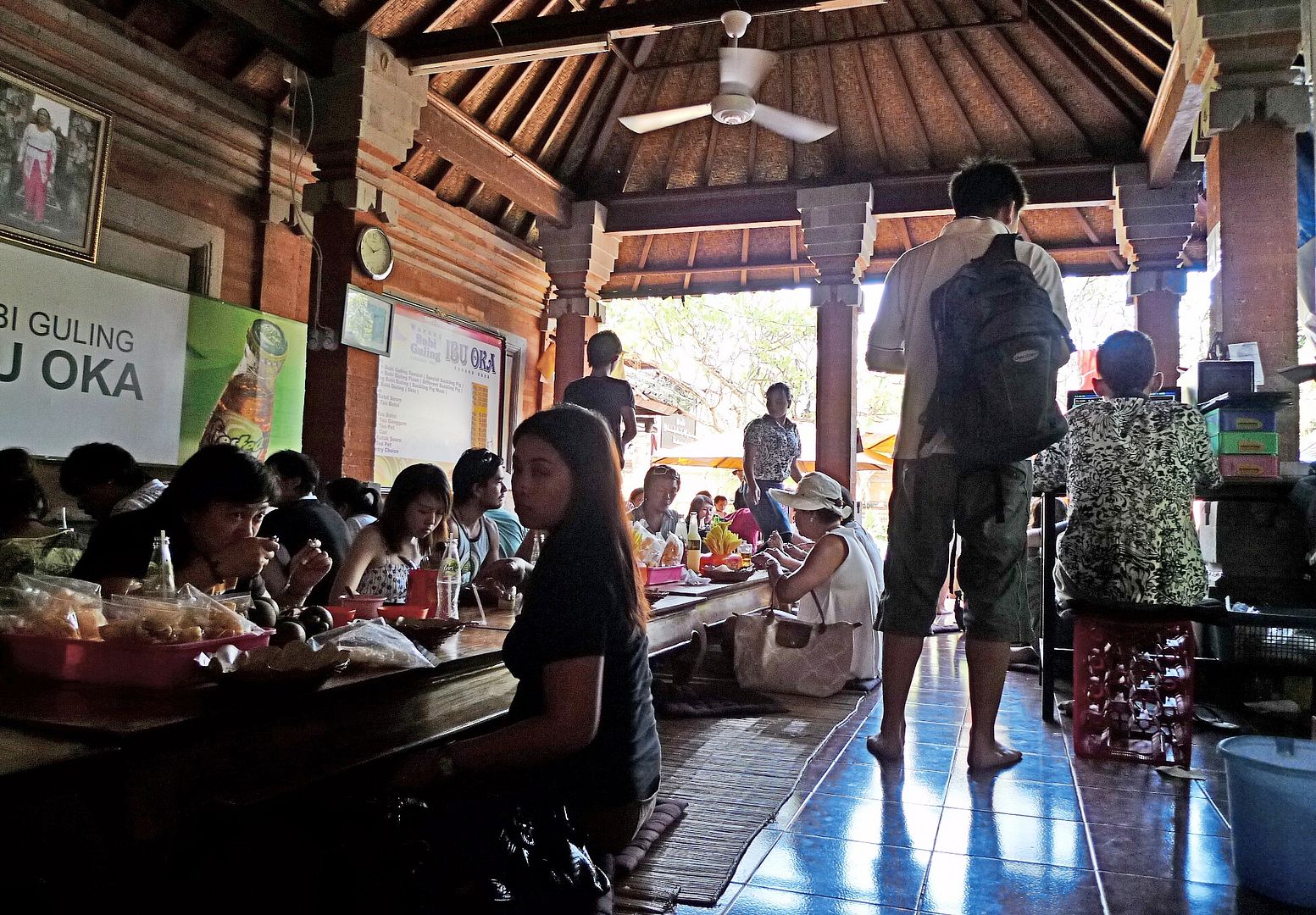 There were a lot of people in the restaurant, but luckily we managed to find an empty table right at the back! Yes, all diners sat on the floor as you can see in the photo above.
Luckily, they have ceiling fans here otherwise we would be sweating like pigs! Haha!
There were mangosteens and nuts on our table. I ate one mangosteen and it was so juicy! So while waiting for the waitress to take our orders and for our food to arrive, we feasted on these delicious mangosteens!
This is the menu.
We ordered the Special each. The Special is the best way to eat babi guling if you are a first timer to this restaurant as it consists of everything that includes the pork meat (daging), skin (kulit), fried fats (gorengan), sausage (sosis), vegetables (sayur) and rice, except the soup (sop babi).
We did not order the soup although I should have just to give it a try!
You can also order everything separately the ala-carte way. We ordered for additional fried fats and skin. All of us unanimously agreed the fried fats and skin were so crispy and delicious, but ooh, so very unhealthy!!
Can you see the pork meat, skin, fried fats, sausage, vegetables and rice in the Special above?
Too dark?
Here's another photo with flash.
The
babi guling
was really yummy! If you ever go to Bali, you must not miss this restaurant!
So what's the secret behind Ibu Oka's delicious roast suckling pig?
Well, here's what I learnt. The pigs are killed every morning so you get fresh pork and not overnight ones. Then they are packed full with Balinese herbs and spices before being roasted over an open fire for at least 5 hours!
Yes, I am not kidding here! 5 hours of hard work as the cooks have to rotate non-stop, the wooden spit by hand, regularly dousing the flames with water to maintain the perfect cooking temperature at all times!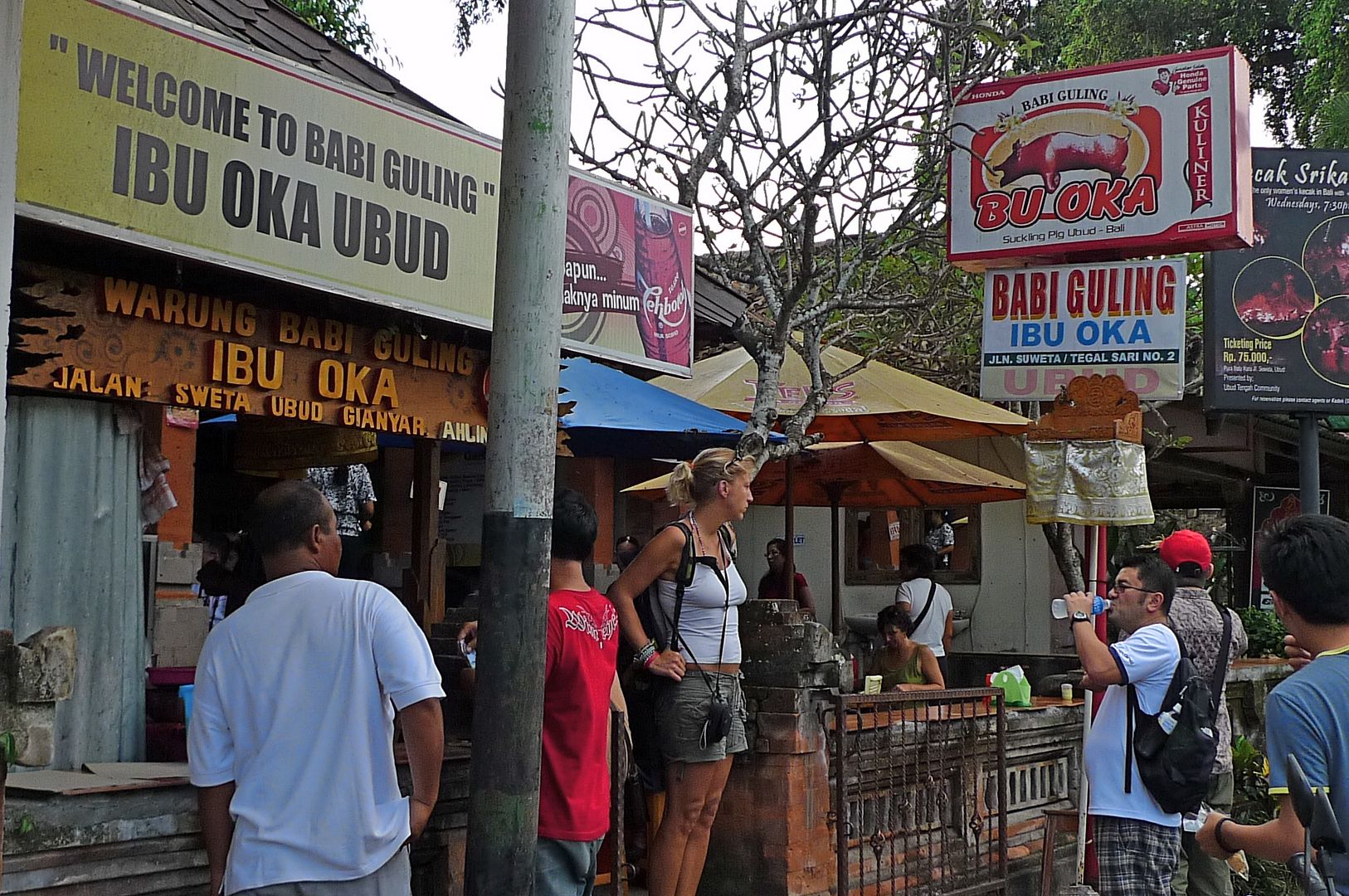 We ended up spending about 45,000 rupiah (RM17) each, which was definitely worth the money!
Even as we left, we could see lots of customers continued to arrive in droves waiting to satisfy their hunger for Bali's No. 1 food, the
babi guling
.