If you have not been following my blog for the past week, you may want to read
this
first.
With our luggage in tow, we walked to our next lodging, which was
Xi Jie
Youth Hostel. The tour guide told us it would be a very short walk, about only 300 metres. We soon discovered what she said was absolute crap!
We walked for more than 300 metres but there was still no hostel in sight! As we continued walking along the road, a lady approached us and asked where we were heading. After telling her of our intended destination, she said it would be too far for us to walk and it's better we take a taxi.
We were reluctant at first, but after walking for some time (with the lady following closely!) we decided that her advice made sense. But we didn't flag down a taxi! Instead, we went for something more unconventional - a man on a three wheel bike with a large wooden box behind.
I thought the box was for our luggage but no, the box was meant for us too! So all three of us placed our luggage in the box and then did what I at first thought was impossible. We sat at the edge of the box - yes, the three of us squeezed ourselves into that limited space together with our luggage!
This must be the first time in my life traveling on the road this way! If we were in Malaysia, we must have looked really funny! But this was China, and no one gave us a second look! Either that or I was holding on too tightly to notice!
I managed to take a photo while riding on that bike. We were all seated behind the driver hanging for our dear lives as he drove around the streets of
Yangshuo
. There was a problem, however. The driver did not know where
Xi Jie
Hostel was located and we ended up at the wrong street!
Luckily
Jam
passed him the contact number of the hostel and after calling the hostel and was given the right direction, he brought us to the correct place. We paid him 15 yuan for the trip.
I thought it was fun sitting on that bike! Luckily, we did not walk all the way. It could easily have been more than 1 km from where our tour bus dropped us and not 300 metres as claimed by the tour guide!
Thomas, the boss of
Xi Jie
Hostel was there to greet us. He helped us carry our luggage.
This is the entrance lane to
Xi Jie
Hostel. But my attention was diverted to the other signboard above -
Yangshuo
Amorous Feelings Hotel. What a name!
See the row of bicycles on the left? If I am not mistaken, those were bicycles for rent. And I saw a two seater!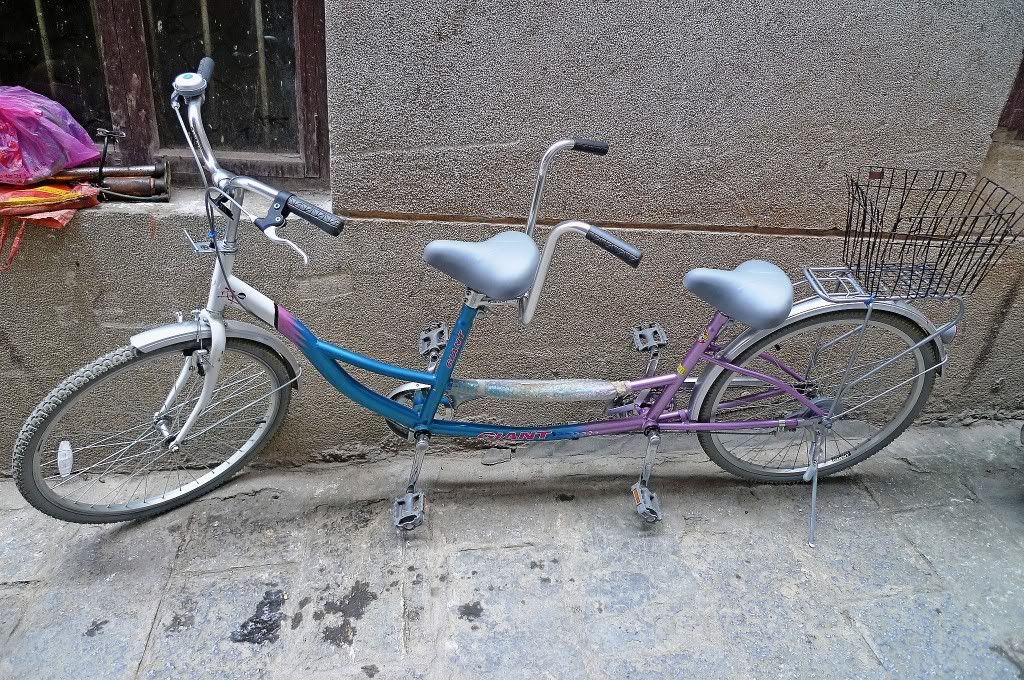 Jam had told me that we would be cycling around
Yangshuo
countryside. Since I do not know how to cycle, I need to ride with someone who does! So a two seater would be good for me.
Alas! We did not have the opportunity to do any cycling. I will let you know the reason in my future post.
We reached the front entrance of
Xi Jie
Hostel. There were many steps going up. And Thomas had given us a room on the 4th floor! Gosh! Luckily he was carrying some of our luggage for us!
As we followed Thomas closely and climbed up the stairs, we could sense that this hostel was rather unique.
Located at
Pantao
Road, next to the Post Office and behind the Industrial And Commercial Bank Of China,
Xi Jie
Hostel was just 3 minutes walk to the
Yangshuo
Bus Station and a minute walk to the famous West Street. Location wise, it was perfect!
The building itself looked as if it was built into the side of a mountain as there was even a natural cave in the hostel! Sorry no photo of the cave - I hope Jam had taken a photo of it!
This is the 3rd floor where a computer was placed in the hall. Guests could use the computer and internet for free.
Climbing further up, we reached the 4th and top floor which was also the rooftop.
This is the view from the roof top!
I won't say it's breathtaking but it's charming in its own way. I thought the sun casting a reddish glow in the sky was really quite beautiful.
And what better way to relax than to sit at this roof top having a drink and chit chatting with friends while enjoying the magnificent view of the karst hills!
By the way, that cigarette pack on the table was not ours. Neither me, Jam nor his friend smokes. But did you notice that hat on the right? No prize for guessing whose hat that is!
This is the place for hanging your laundry to dry.
It was nice to see the green mountain right next to the hostel.
We were led to our room which was actually made up of a big room and a smaller room next to it.
Jam and his friend took the bigger room which had two beds while I took the smaller one.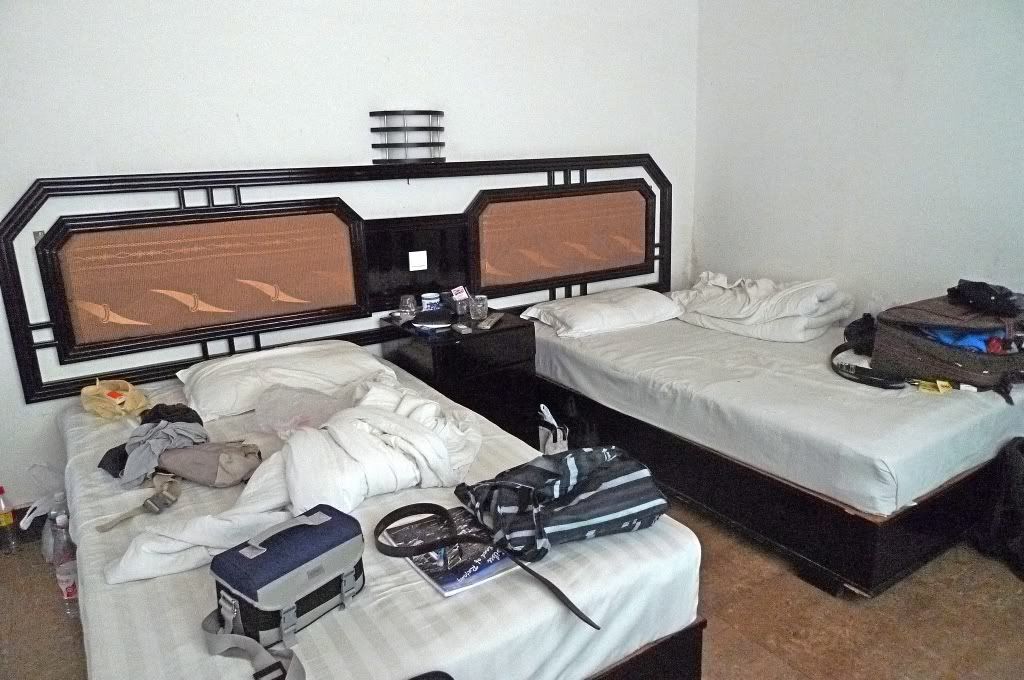 This is my room complete with a bed, a table and a table fan.
Why table fan? Well, my room had no air conditioner whereas the bigger room had one! That's not very fair, right? Why did Jam bully me and force me to take the small room? OK, just kidding here! I opted for the smaller room out of my own free will.
At first, I thought if I slept without closing the door to my room, the cool air from the air conditioner would enter my room. But somehow it did not work out that way. It felt quite stuffy in the room and so I decided to close the door, switch on the table fan and open the window in my room.
Although this hostel was cleaner than
Backstreet Youth Hostel
in Guilin and not as run-down, I was far from satisfied with it.
For one, I saw cockroaches in my room and if you don't already know, I hate cockroaches! They are the world's most disgusting and filthy creatures! I had to kill them before I could have a good night sleep! I simply could not imagine letting them climb all over me while I slept. Yucks!
Secondly, the shower in the bathroom was utterly hopeless! The water that came out from the shower was like a dribble. I guess maybe the water pressure was not strong enough. We had to resort to filling up a pail with water from the tap on the wall and use the bucket to take our bath!
Luckily, the saving grace was Thomas, the hostel boss himself! He had been very friendly and accommodating throughout our stay here. But of course he being a Chinese businessman, nothing was like what it seemed.
At our very first meeting, he started to promote his tour packages to us. He recommended us a few packages but we finally decided to take up the
Yulong
River rafting and the "Impression
Liu San Jie
" show.
We had already planned to see the "Impression
Liu San Jie
" show under the tour company's package earlier that also included the
Li
River Cruise and the
Yangshuo
tour. But since we have now absconded and would not be paying them, we would have to buy the tickets to the "
Liu San Jie
" show ourselves.
But with Thomas offering us VIP tickets at 238 yuan per ticket and free transport to the show and back, we thought it was a pretty good deal. The
Yulong
River rafting would cost us 200 yuan per person.
I really do not know how much he had marked up the price, and if these were really good deals, but Jam said it was comparable to prices offered by tour agents online. Besides, Thomas also threw us a freebie, which was free rental of bicycles.
After checking in and resting for a while, it's time for dinner! But first, we wanted to explore the very famous tourist street in
Yangshuo
. It's called West Street. And in case you do not know,
Xi Jie
means West Street in English!