I really do not know the Chinese name of this cave we visited in
Yangshuo
but
Jam
told me it's called
Ju Long Tan
. Translated to English, it means Assembling Dragon Cave, but it also goes by the name Dragon Pool.
Having passed by
Moon Hill
without even a stop for us to take photos, our tour bus reached
Ju Long Tan
, our fourth destination on the tour's itinerary. Actually, this place is located 6km south of
Yangshuo
County between
The Big Banyan Tree
and Moon Hill. So we actually went from Banyan Tree to Moon Hill, then made a U turn to
Ju Long Tan
.
Our tour guide told us that our fifth and final destination, Exotic Stone Palace was located just next to
Ju Long Tan
so this would actually be our last stop.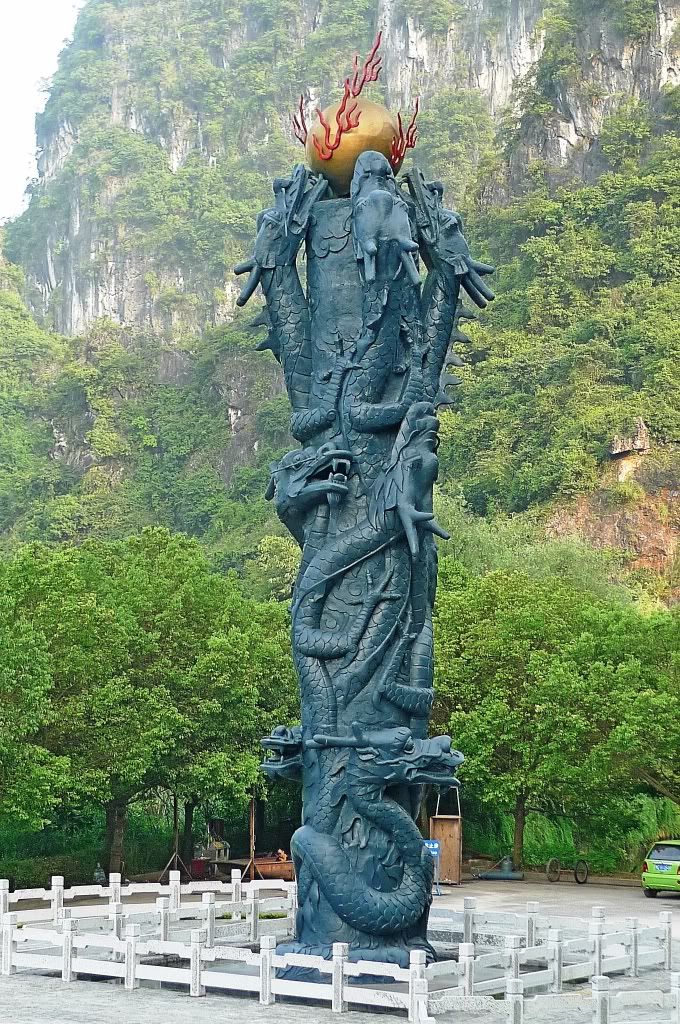 This tall structure with sculpture of dragons climbing up the pole to reach the pearl greeted us at the entrance. We were asked to have our photos taken for free with this structure in the background.
So I happily went to have my picture taken, but guess what? After we came out of the
Ju Long Tan
cave, we were asked to pay (I could not remember how much) for our photos! Free my foot! Jam, his friend and I refused to pay. Why should we? I could easily ask Jam to take my photo standing beside that dragon structure for free! In fact, we could easily take each other's picture so there's no reason to pay somebody to take our photos for us!
I also snapped a picture of this building on top of that flight of stairs. Wonder what do the Chinese words mean? Can you help me out here, Jam?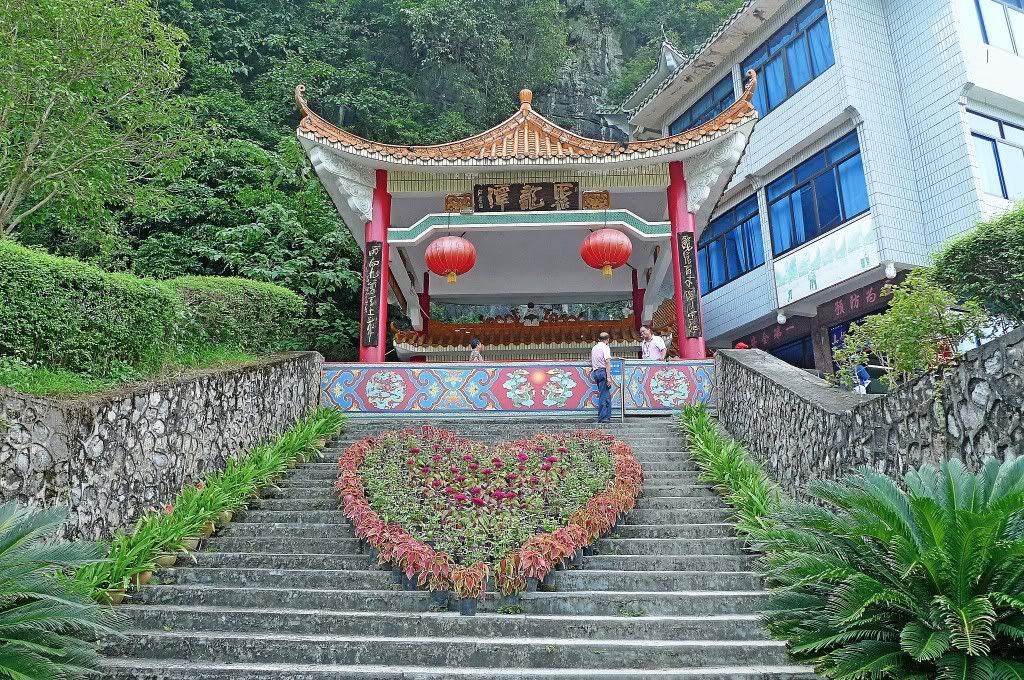 I just thought the plants cut in the shape of love at the middle of the stairs were pretty interesting.
Following the tour guide, we reached a nice looking gazebo with roof shaped like pagodas by the pond.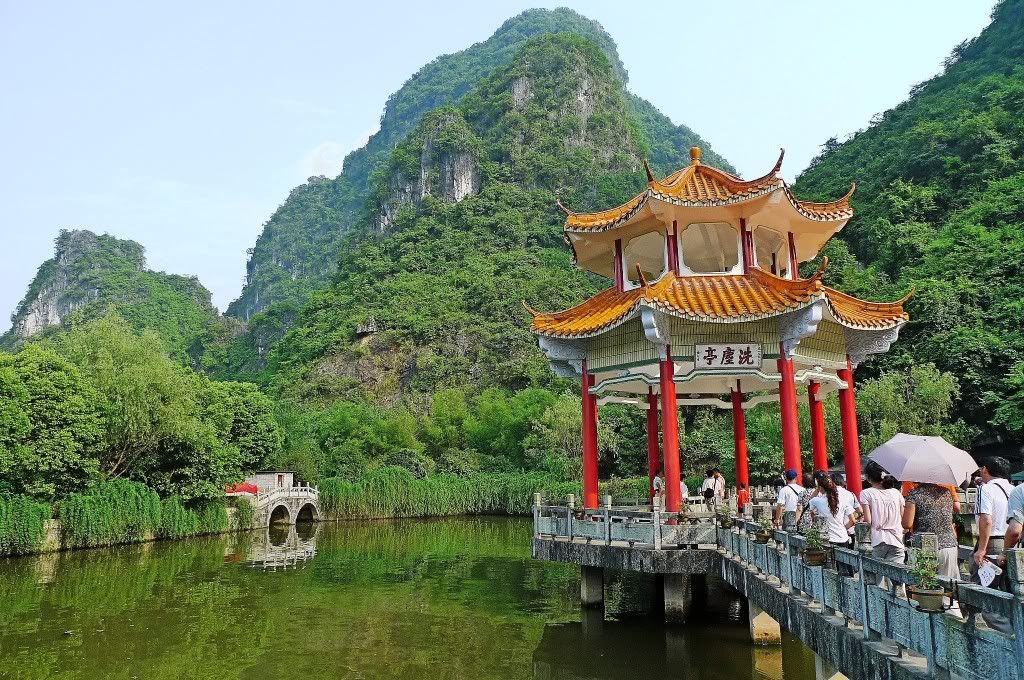 I thought the gazebo really stood out!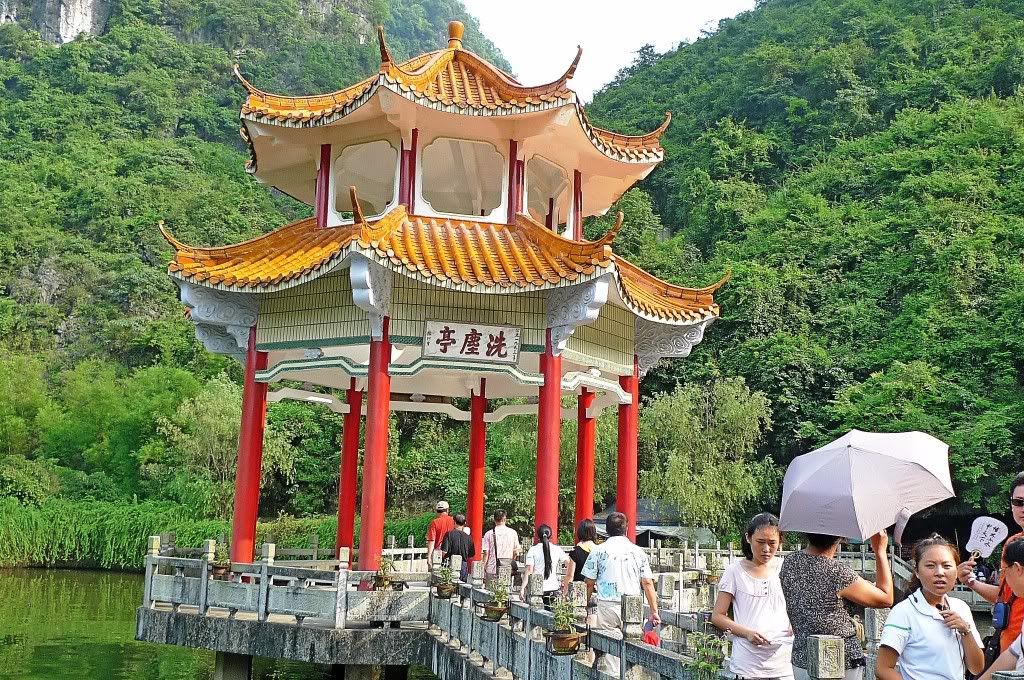 We soon reached the entrance of the cave. The interesting part about this
Ju Long Tan
is that you need to enter by way of a boat! This is because it is surrounded by water!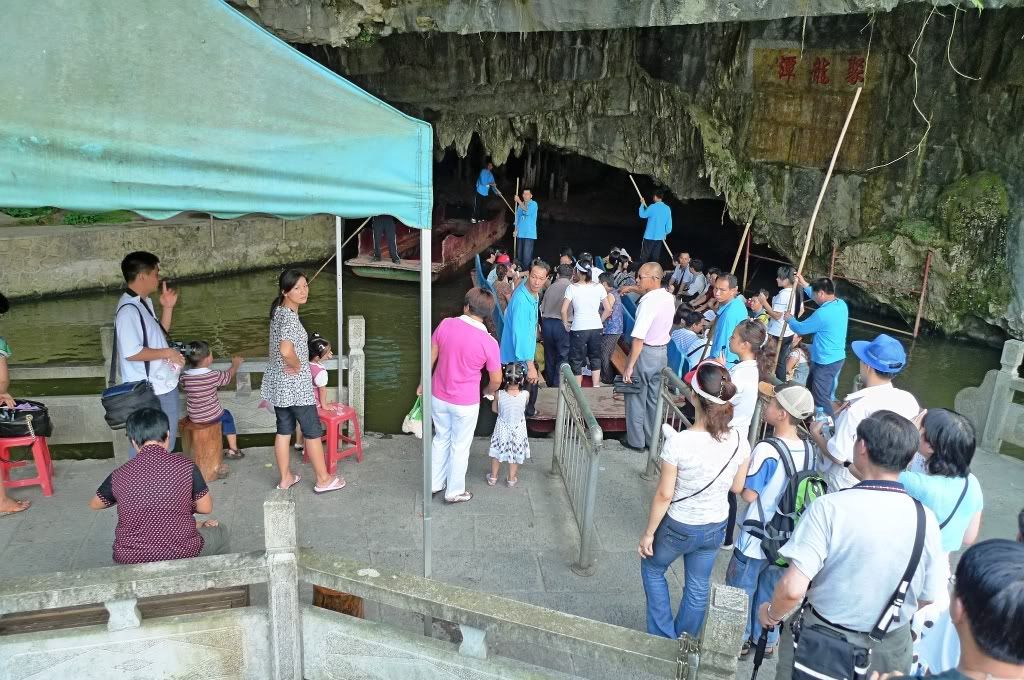 I do not really know why it is called Assembling Dragon Cave. Perhaps the grotesque peaks outside the cave are like dragons jumping over the clouds. Or the varied appearance of stalactites in the cave are like teasing water dragons.
I took a picture of the stalactites above my head as I sat in the boat.
Once we reached inside, we got out of the boat and beautiful sights greeted us!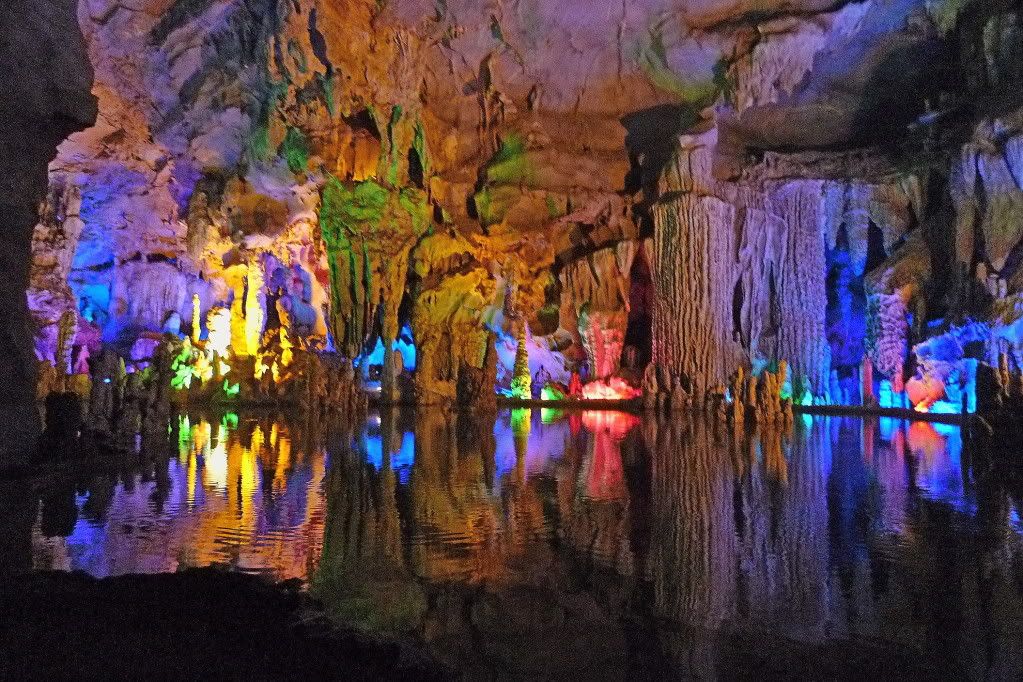 There was a lot of water all around and the reflection of those stalactites on the water was mesmerizing. Of course the colourful lightings helped to bring out the beauty of this cave and transformed it into some sort of wonderful fairyland.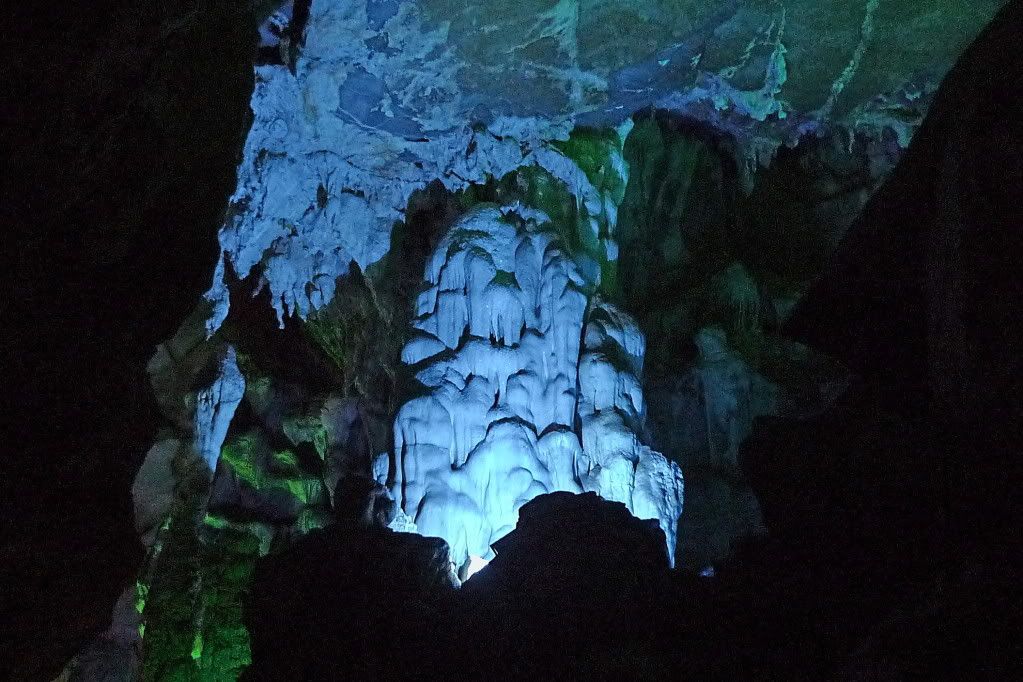 I have to admit taking photos in this dark cave was a huge challenge and many of the photos I took had to be deleted.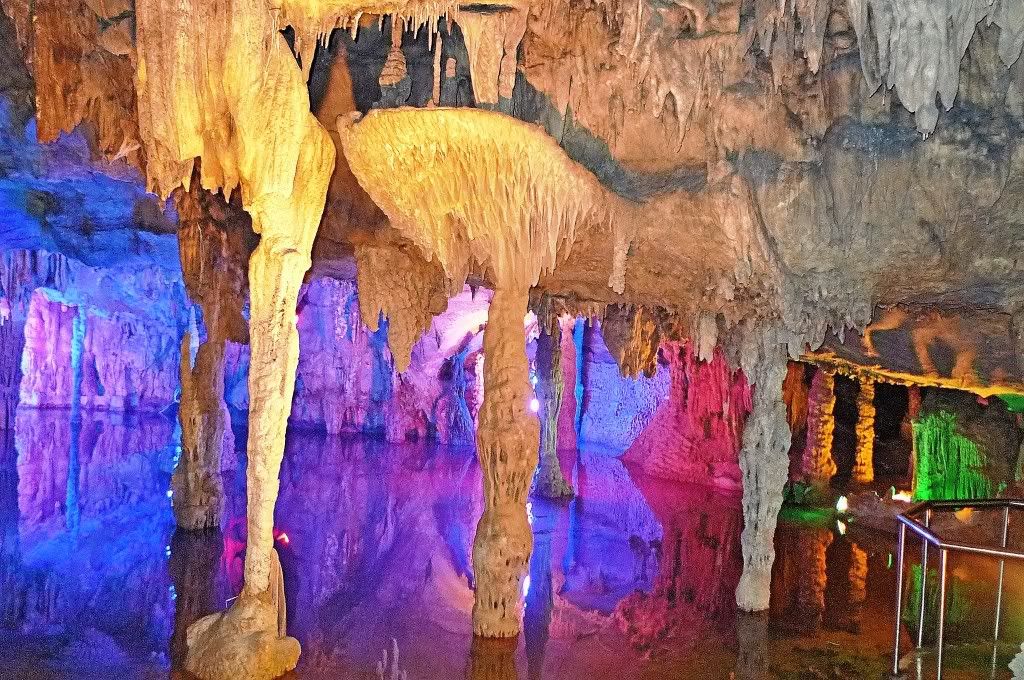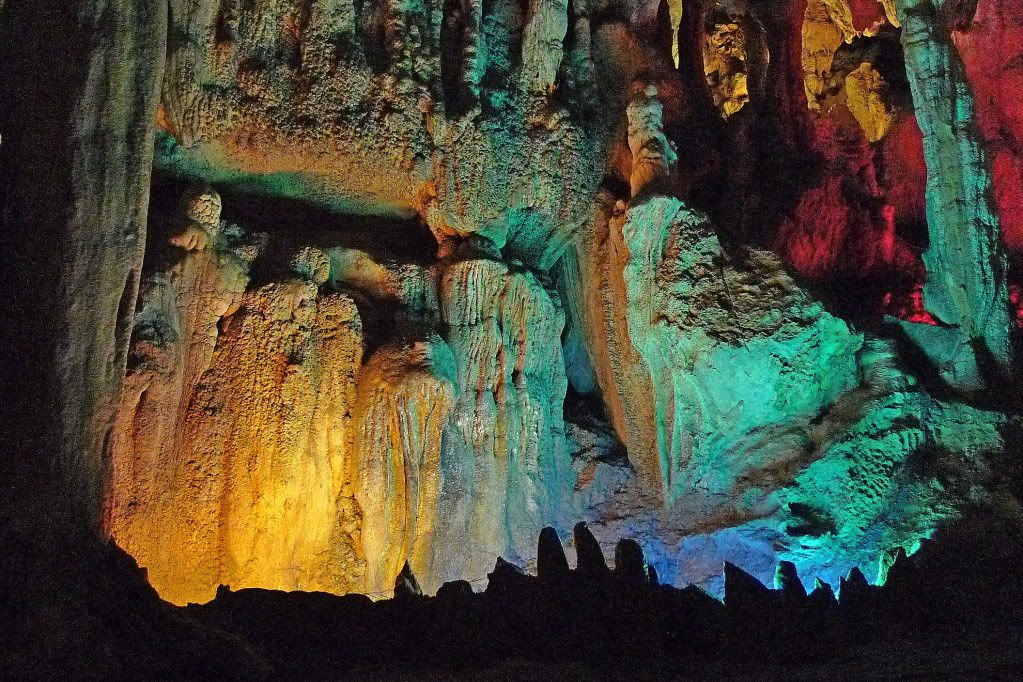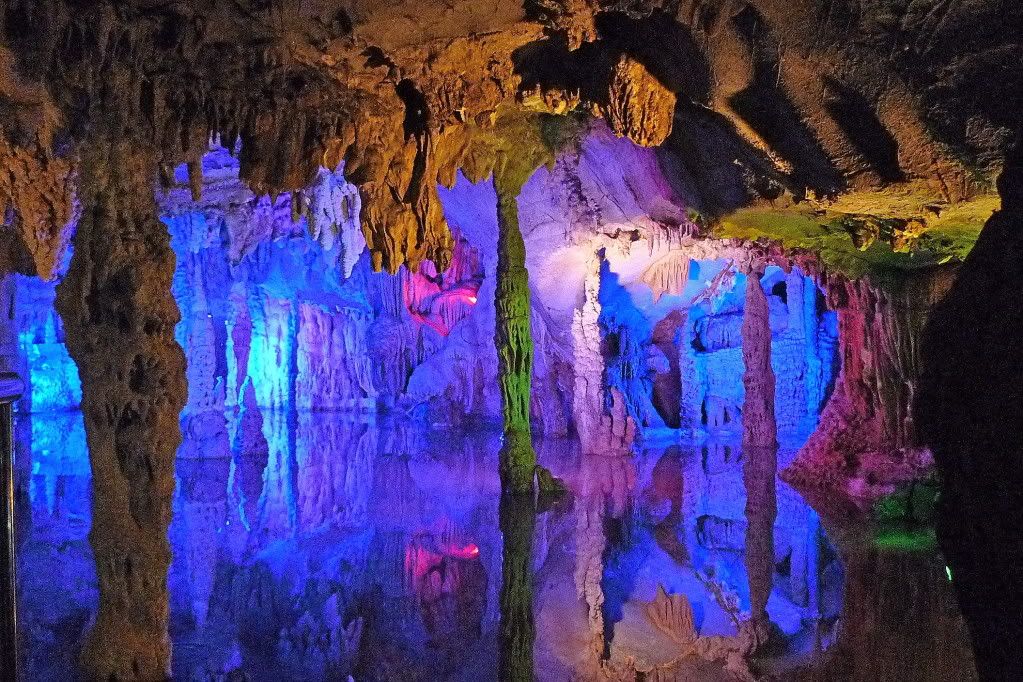 There were actually many names for all the different rock formations. Among them were Dragon Daughter Meeting Guests, Peach Banquet, Concubine Bathing, Peacock Show, Bright Moon Above The Sea, Inverted Snowdrops and A Phoenix Drinking Dewdrops just to name a few.
I did not bother as after seeing so many different names, I was not even interested any more!
But I did capture Bright Moon Above The Sea, which was that last photo in my previous post on
Moon Hill
.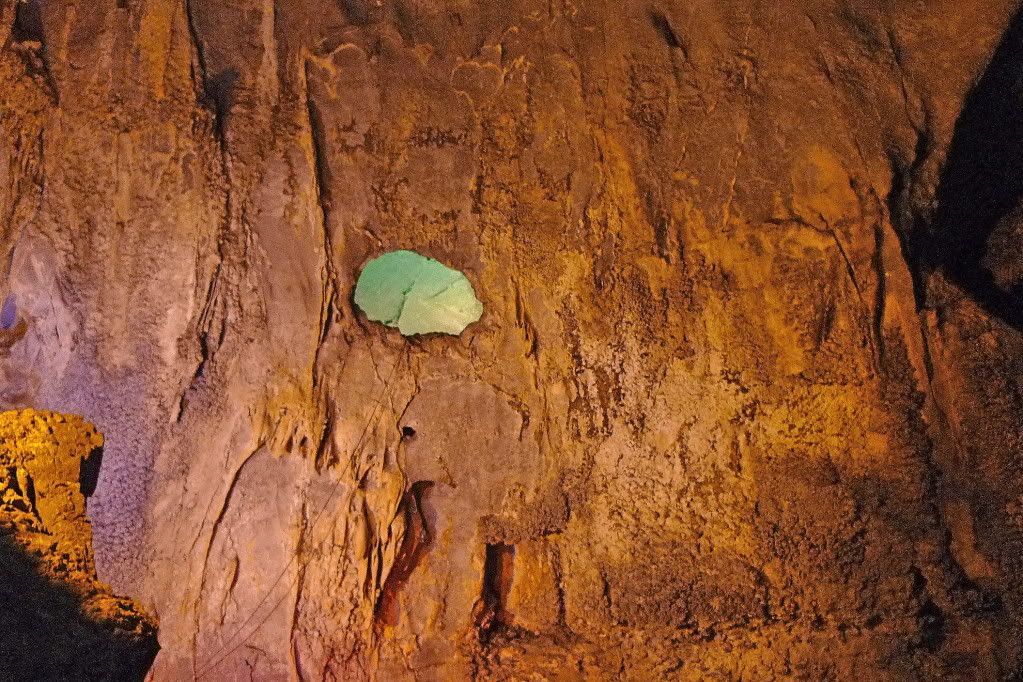 Didn't quite look like a moon to me, but well it was just a name given to a hole in the wall!
Now, what does this look like to you?
Rather ugly looking, no? In fact, without the colourful lights, all these stalactites and stalagmites would seem pretty ugly. Or maybe I just do not know how to appreciate them!
Oh, here's another hideous one!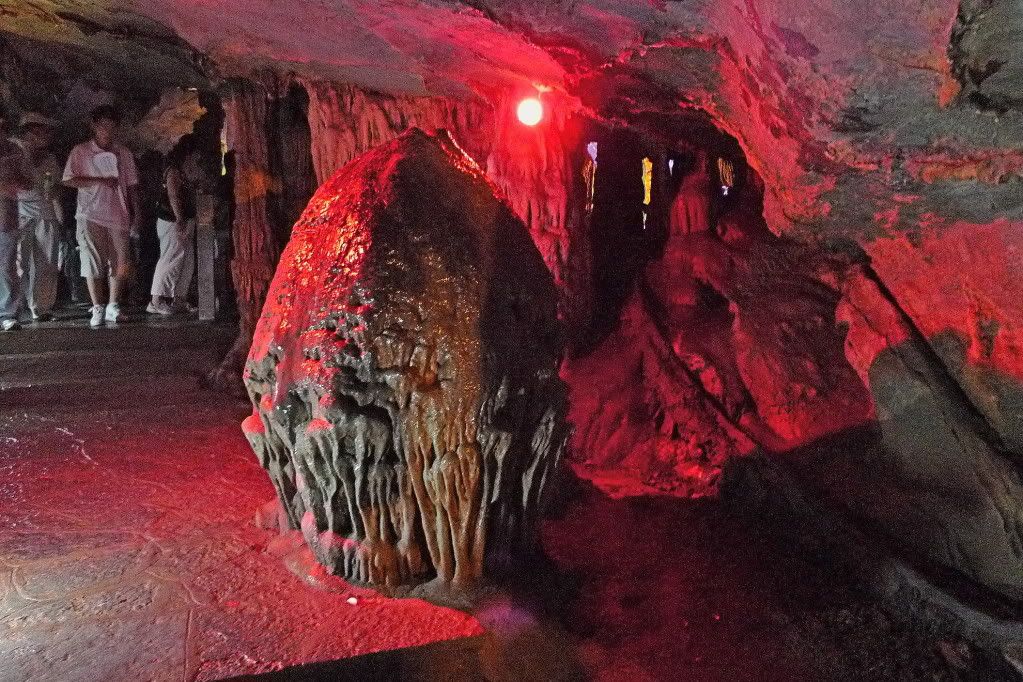 Does it look like a scene from the movie "Aliens"? Haha!
OK, I guess this one was not that bad!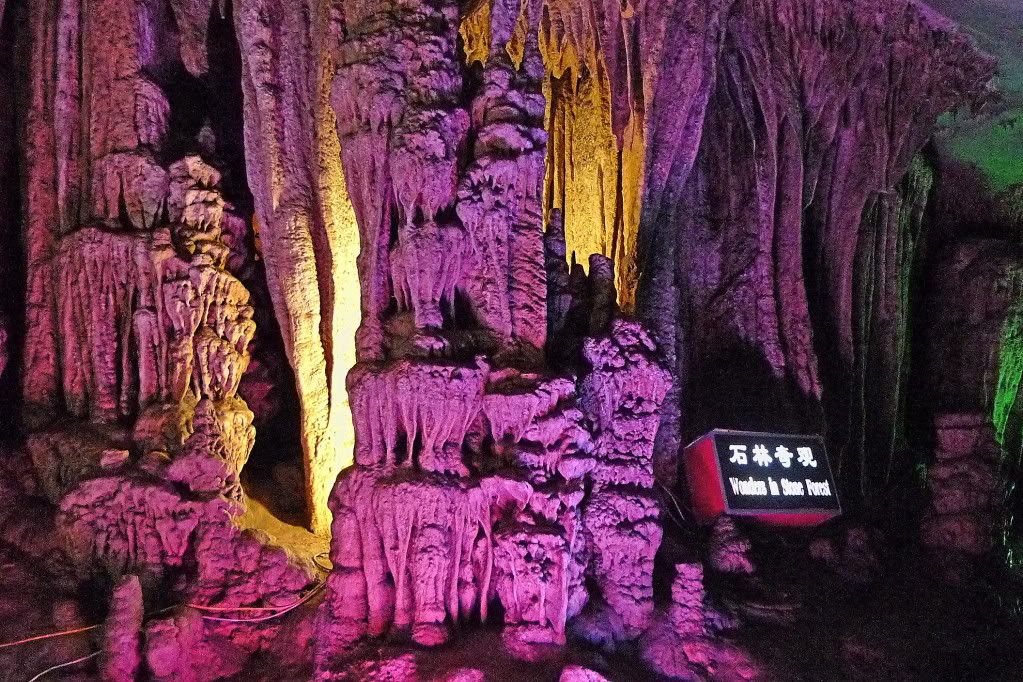 Can you make out those words? I think it's Wonders In Stone Forest, or something like that!
After spending about 40 minutes touring the cave, we queued up for the boat to take us out. Near the exit, we alighted from the boat and saw these two signboards on the wall.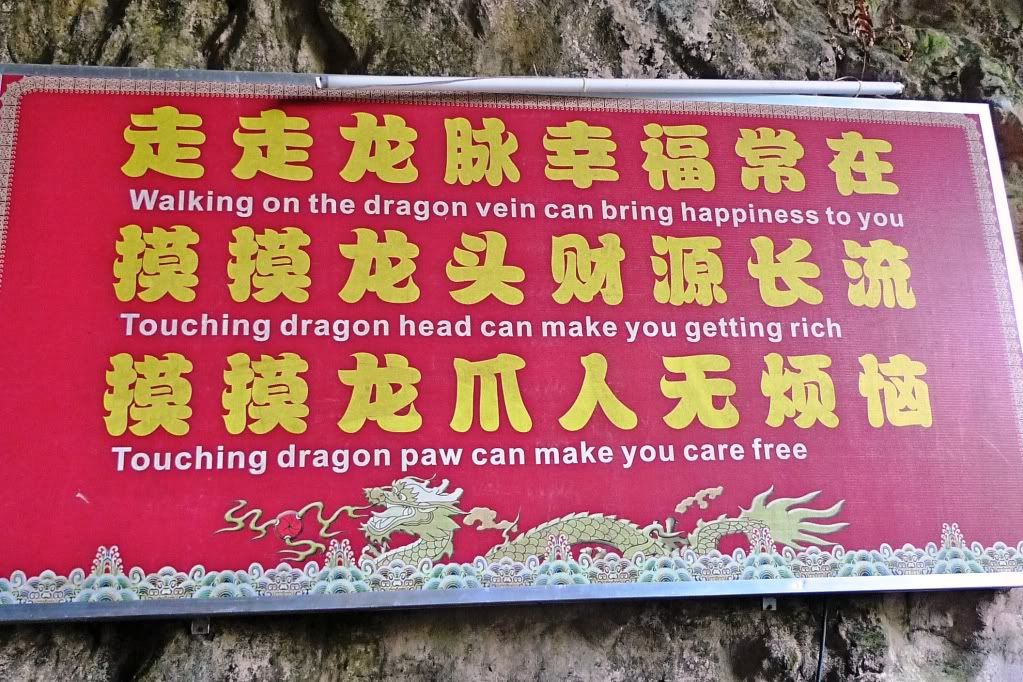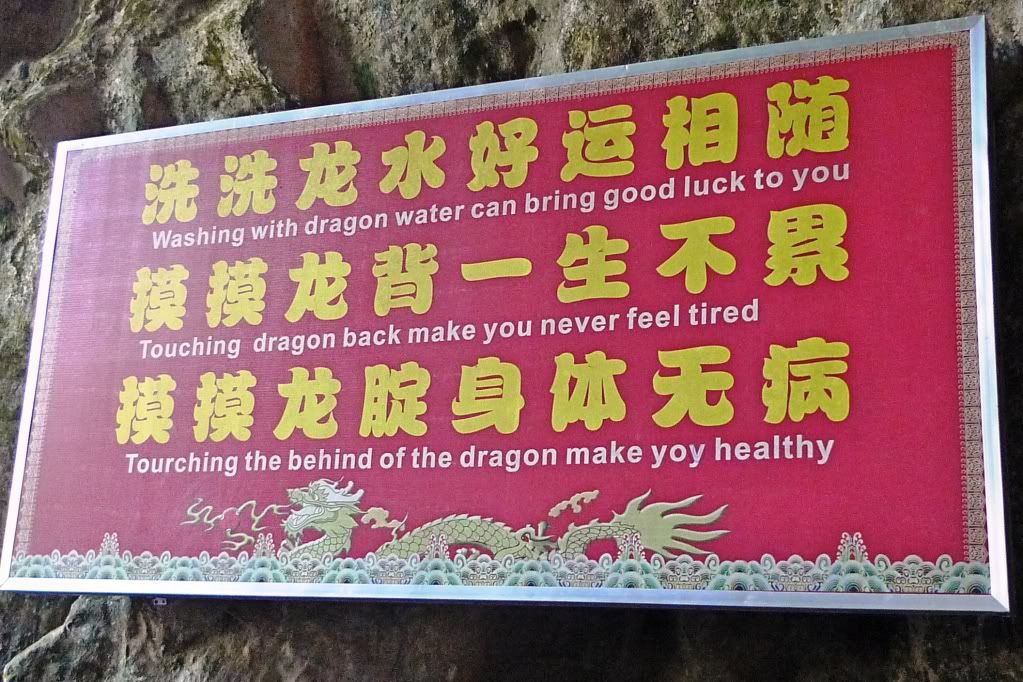 We were about to touch a dragon! Well, if touching a dragon's head can make me rich, why not? And if touching the dragon's behind can ensure good health for me, why not?
Of course, it's not a real dragon. Because real dragons do not exist except in old, ancient Chinese folklores! Maybe the Chinese stumbled upon skeletons and bones of dinosaurs and assumed they were dragons!
We walked down that flight of stairs, touching the dragon from its tail end all the way to its head! Now that was fun! If I get rich in a few months time, I will let you all know! Haha!
After exiting from
Ju Long Tan
, we entered the Exotic Stone Palace next door. I did not take any photos here as I did not stay long. There were all types of stones and souvenirs being sold here. It is a place where the tour guide makes lots of commission from our purchases and I don't intend to buy anything!
With the tour ended, we went back up the tour bus which would take us to our hostel in
Yangshuo
.
And so, here's the million dollar question - Did we pay the tour company? To know the answer to that, don't miss my next post coming right up!