During my trip to
Hanoi
back in 2013, I stayed at the
Rising Dragon Palace Hotel
located at
Nguyen Quang Bich Street
in the
Old Quarter
.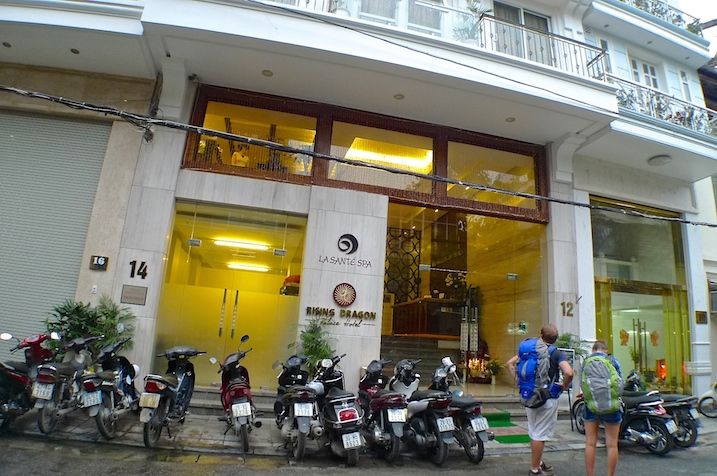 Although Old Quarter can be quite a chaotic place, this boutique hotel, being at a quiet street, is effectively shielded from all the noise and the hustle and bustle of the vibrant city, making it a perfect retreat for travellers like me.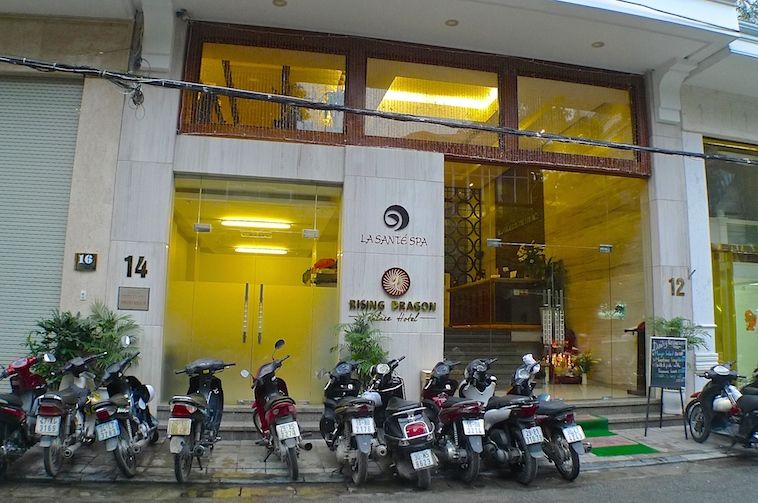 There is even a spa called
La Sante Spa
but I did not make use of that during my stay.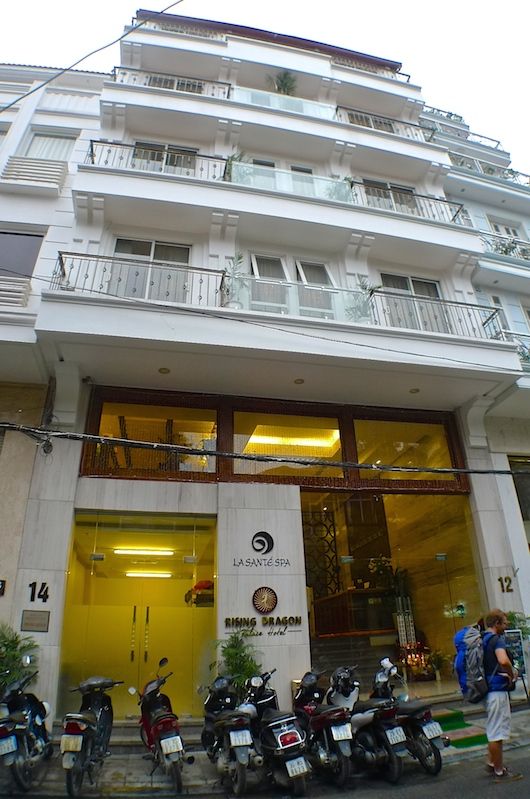 Despite being hidden, the hotel is however within walking distance to
Hang Da
Shopping Mall,
Hoan Kiem
Lake and many other places in the Old Quarter area, so the location was really not bad at all!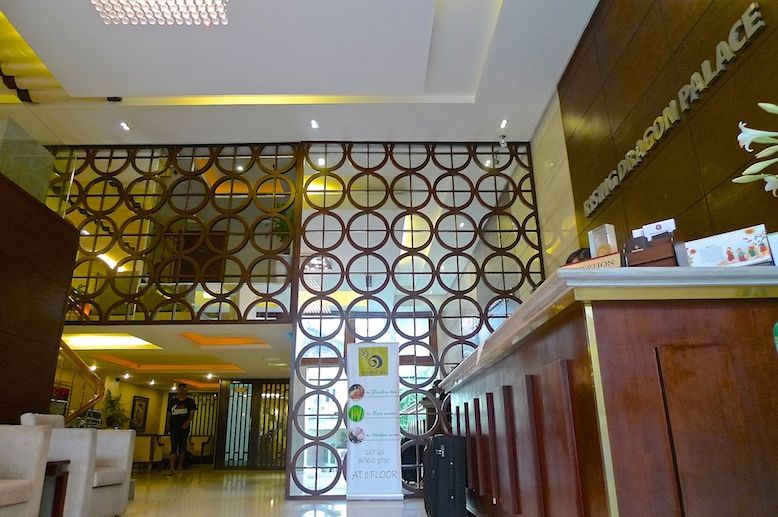 My first impression of this hotel was the fantastic service! I was greeted very warmly by one of the staff there and was given a welcome drink on arrival. I did not expect a welcome drink from a boutique hotel!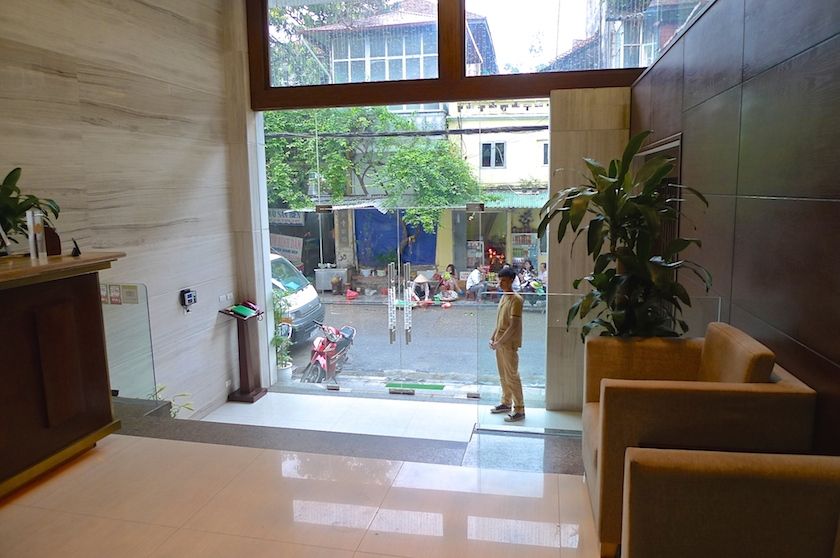 While waiting for my turn to check in, I was seated down and one of the friendly staff explained to me about the facilities in my room, the hotel's restaurant and the breakfast time. He also provided me with a map of Hanoi city and showed me the directions to various tourist attractions. In fact, he spent about 10 minutes talking to me. I was really quite impressed!
Honestly, I have always praised the
good service of the hotels I stayed in Bangkok
but now I think that Vietnam (in particular Hanoi) had already surpassed Bangkok in terms of service! Perhaps the tourism industry in Hanoi is on the rise and the hotels there are facing stiff competition?
Look! The hotel was even awarded the
2012 Gold Circle Award
from
Agoda.com
! I actually booked this hotel via Agoda and I have to admit that my decision was greatly influenced by the high number of positive customer reviews I read at the site.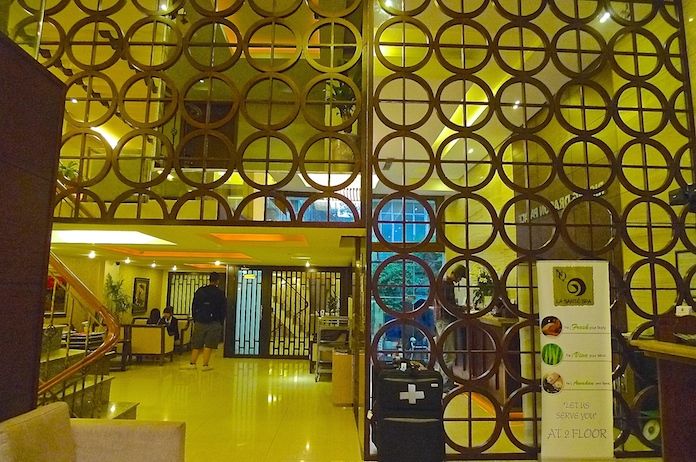 I was given a Deluxe Room with a King size bed. Can't remember on which floor though.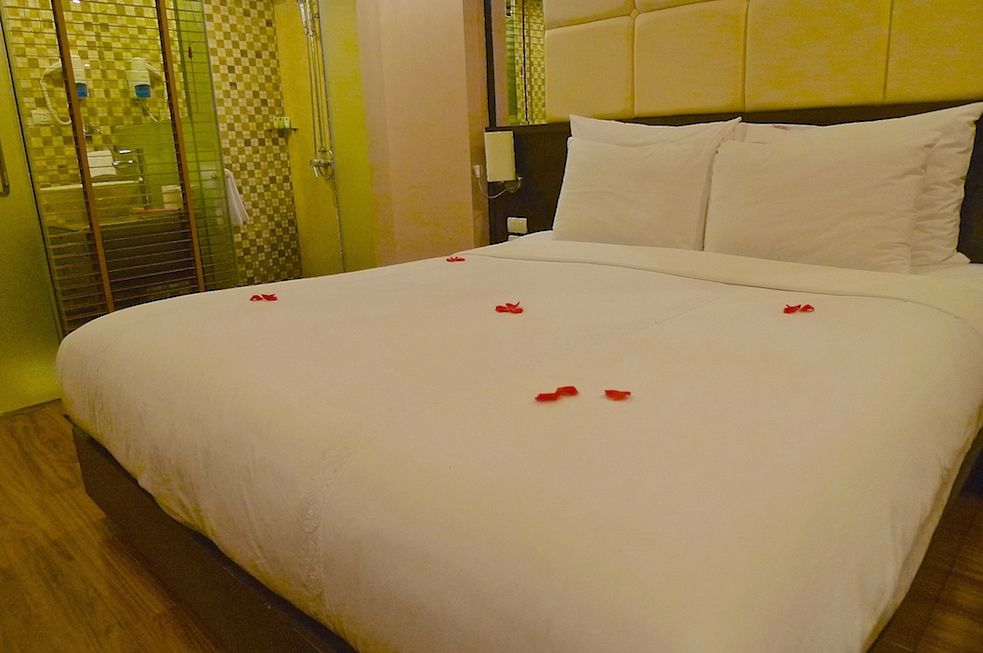 I have to say, I was not particularly impressed with the room although it came with a rather huge toilet and bathroom. Perhaps the room looked kind of old or tired. The shower and toilet were divided into separate cubicles, which may or may not be a good thing.
The Deluxe Room did not come with city view. The tiny narrow window on the right side faces the hotel's airwell so I kept the blind closed all the time. If you would like a room with a window facing the street, you can always upgrade to higher floor rooms that have windows or balconies overlooking the street.
Toothbrushes and hand soaps were provided, so were bath gel, shampoo and towels.
Stated on a piece of paper on top of the toilet bowl : "Cleaned and Disinfected". I liked the assurance of that but I did not like the smell when I first entered the toilet, so I asked the hotel staff to spray some air freshener. That cleared away the smell but not entirely. But after a few days, I just got used to the smell.
I would prefer a bigger rain shower head, but this one would do I guess. I would say the toilet and bathroom were quite clean, though not exactly spotless.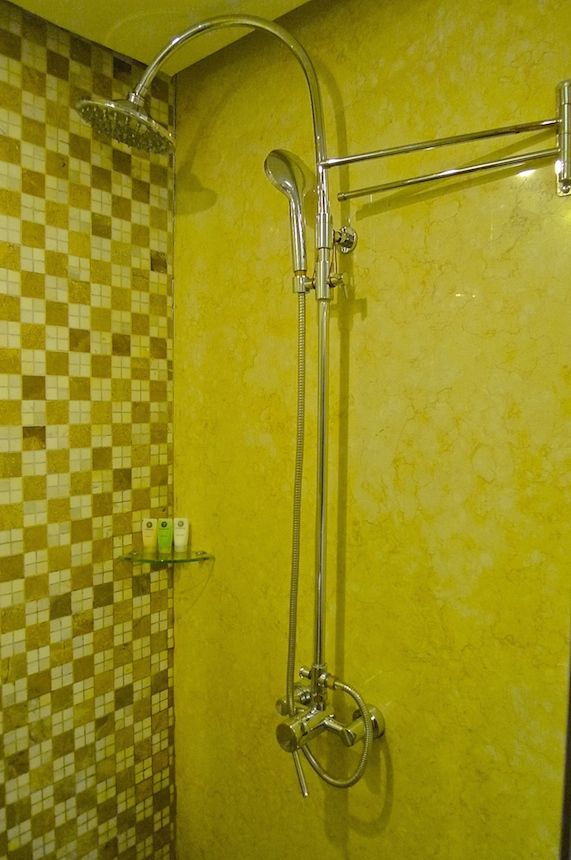 Hair dryer was available too.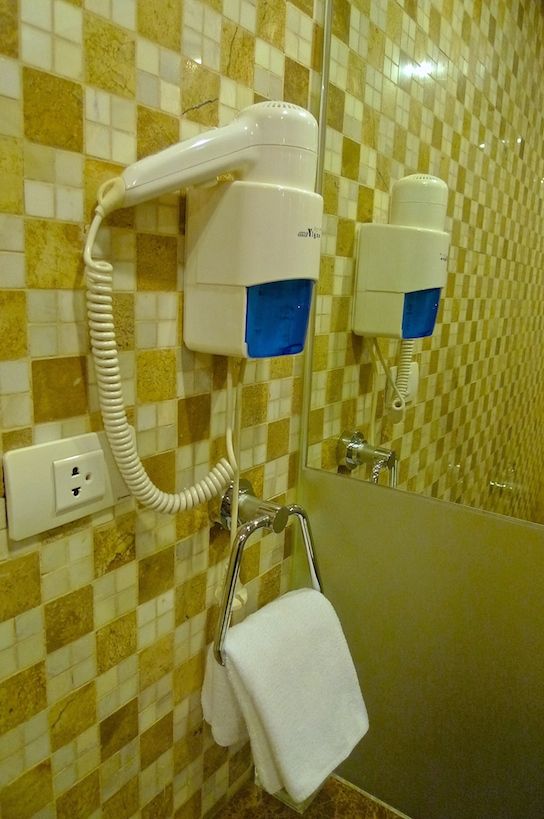 Also there's an iron and an ironing board if you want to do some ironing.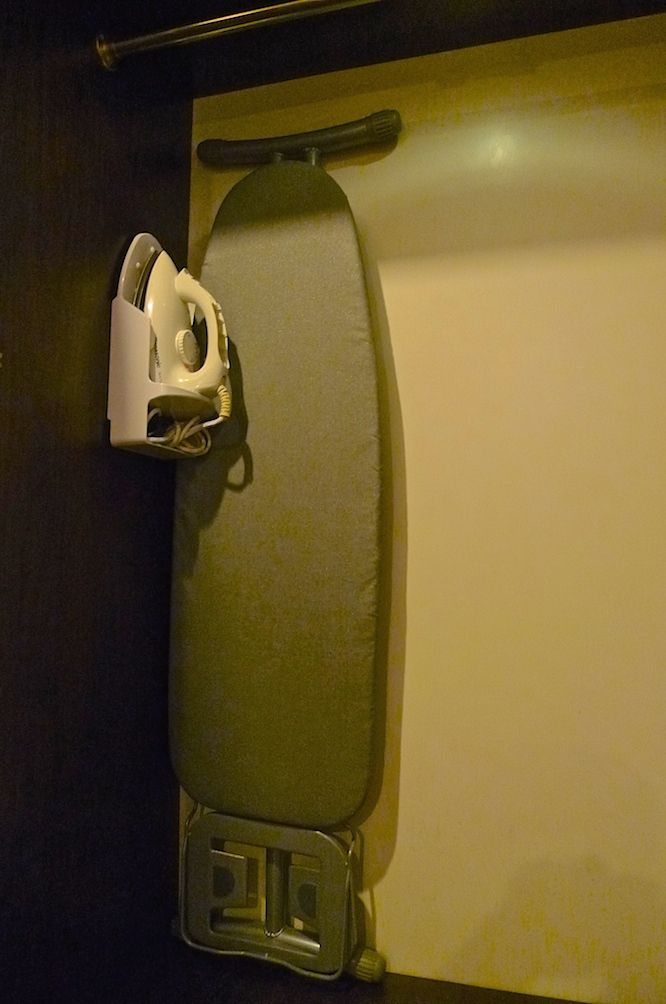 I did not really like the programs shown on TV. A far cry from Bangkok where I could stay awake the whole night
watching Thai dramas and Thai music videos
in the hotel room. LOL. Well, in a way it's good too - I could do with some sleep.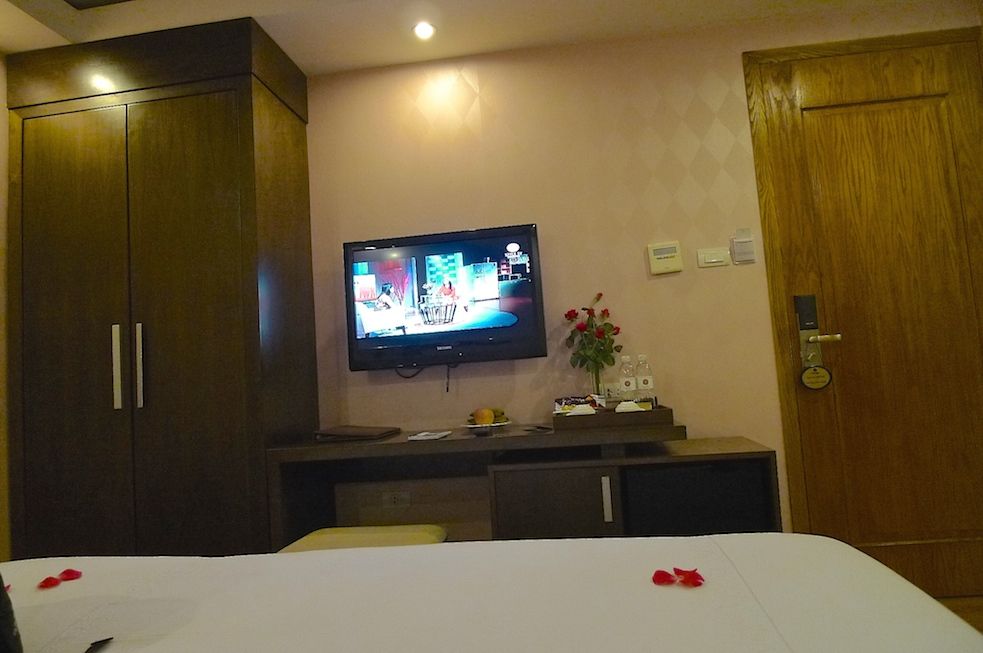 But the room's soundproofing was pretty bad. During one of the nights in the hotel, I had the misfortune of listening to a Western couple having sex in the room next door. The woman was moaning and the man was groaning so loudly they totally drowned out the sound from my TV. No kidding here.
Luckily, it was a short one, lasting no more than five minutes, or else I would have knocked on their door. Haha!
I loved the buffet breakfast provided by the hotel. I absolutely loved their plain yogurt which came in small cups and I ate two cups every morning. Oh how I missed the yogurt! (Sorry no photos)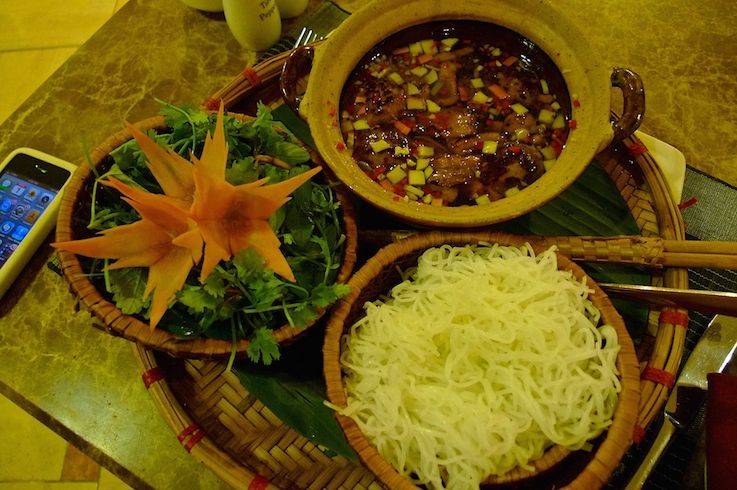 I even tried their
bun cha
(grilled pork with rice noodles and vegetables) and it was pretty good, except that it was pricey, at 130,000 VND (US$6). Well, the hotel staff told me their hotel restaurant was ranked No. 3 on Trip Advisor at that time, so I just had to give it a try.
The above picture shows the street view from where I stood outside the front entrance of the Rising Dragon Palace Hotel. Not exactly a good view, but it was a quiet street and that's good. You do not want those crazy traffic of the Old Quarter outside the hotel.
Will I return to this hotel? Maybe. One thing's for sure - the staff go all out to meet your requests and needs. The service is better than a five-star hotel, but you pay so much less. Definitely worth the price!
Coming Up Next : My Trip To Perfume Pagoda