On my fifth and last day in Hanoi, I visited the
Vietnam National Fine Arts Museum
. Located just across the street from the
Temple Of Literature
, the Vietnam Fine Arts Museum showcases Vietnam's fine arts from different historical periods.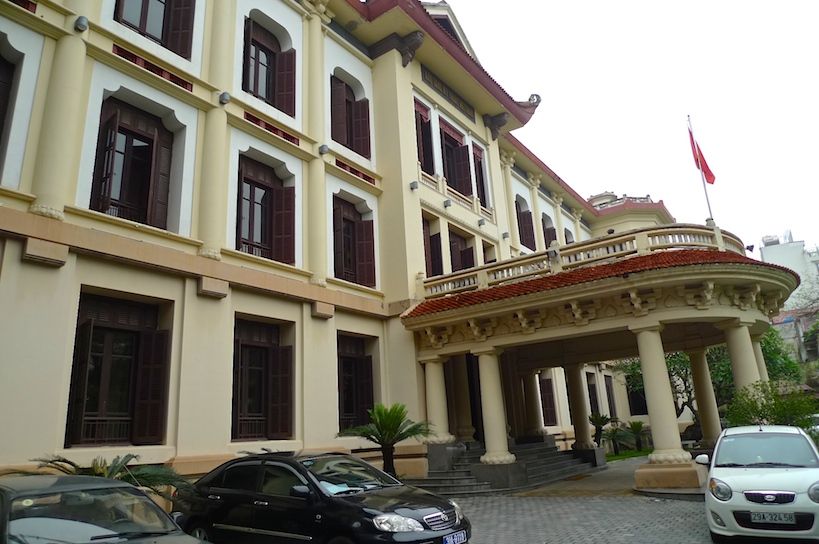 My friend had already taken the early morning flight back to KL so I would be going solo again just like
my first day in Hanoi
.
The museum was housed in a colonial-style building, which was formerly a Catholic girls boarding school. Entrance ticket was a very reasonable 20,000 VND (about US$1) and you are allowed to take as many pictures as you like! However, you need to keep your backpack in the locker which they provide free of charge.
I have to say that the three-storey building itself is a work of art! Don't you agree?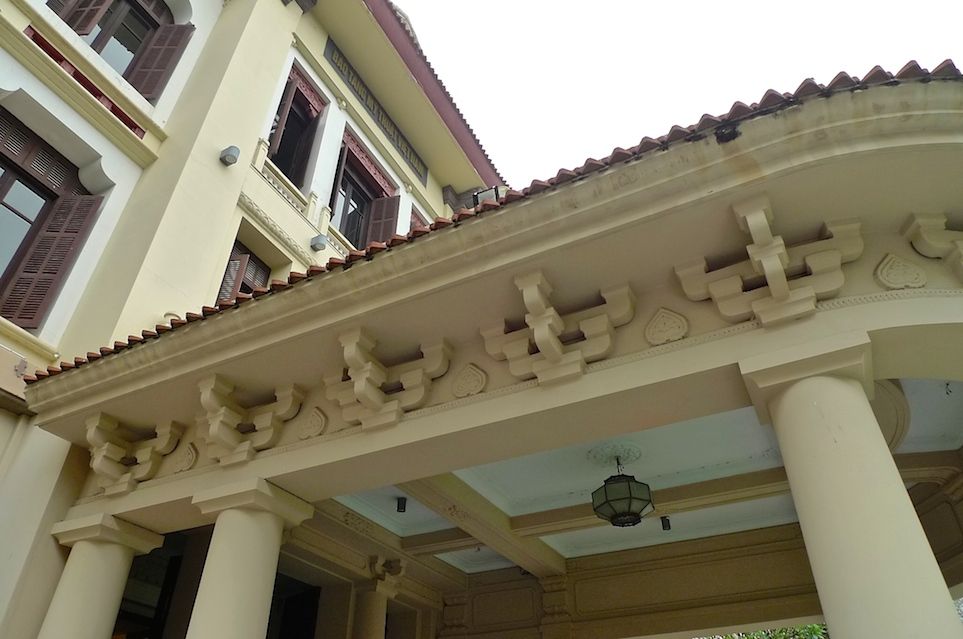 The exhibits in the museum were arranged chronologically from the bottom to the top floor. I started with a room at the ground floor which contains some pretty ancient stuffs, probably from the prehistoric era.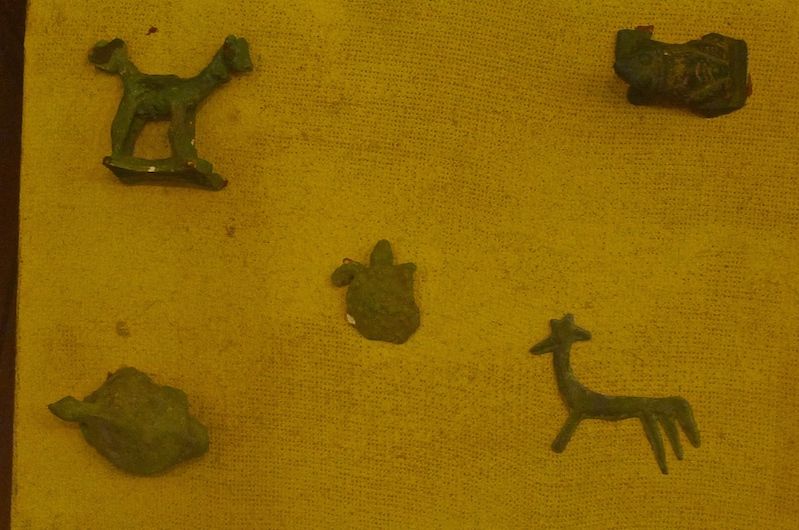 Many types of axes and spears.
Bronze drum (on the right) dating back to 300 years BC.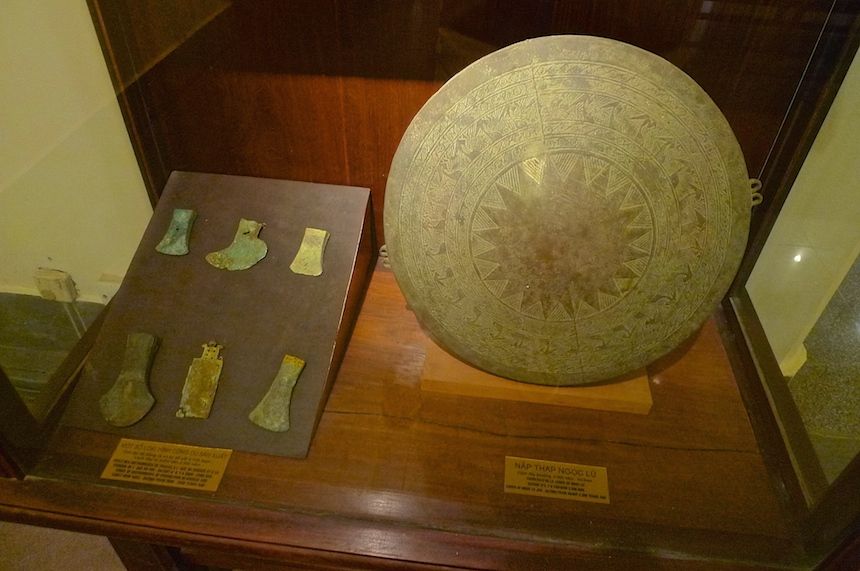 A belt buckle (left) and ancient bronze bells (middle and right).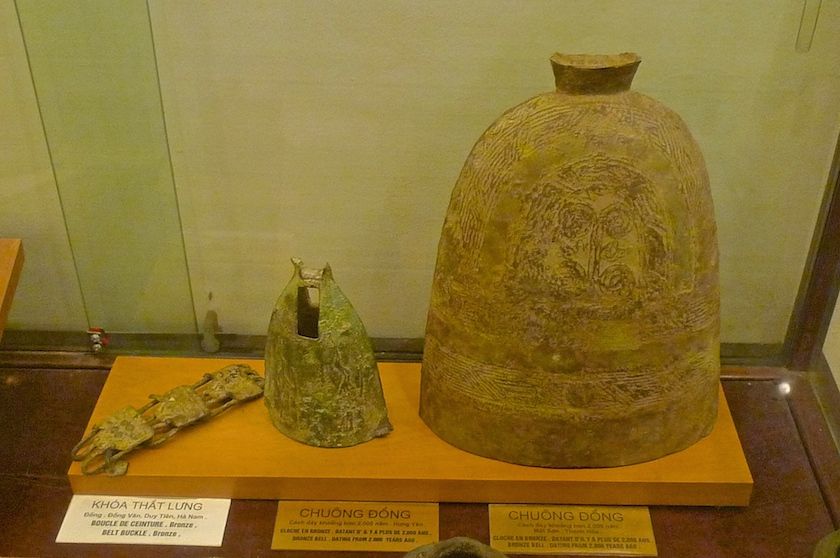 A statue of a man kneeling down and carrying lamp in both hands.
I did not take pictures of all the exhibits - only the more interesting ones. I continued walking towards the right to cover the entire ground floor exhibits.
Here is a statue of the Buddha.
Sakyamuni Buddha on snowy mount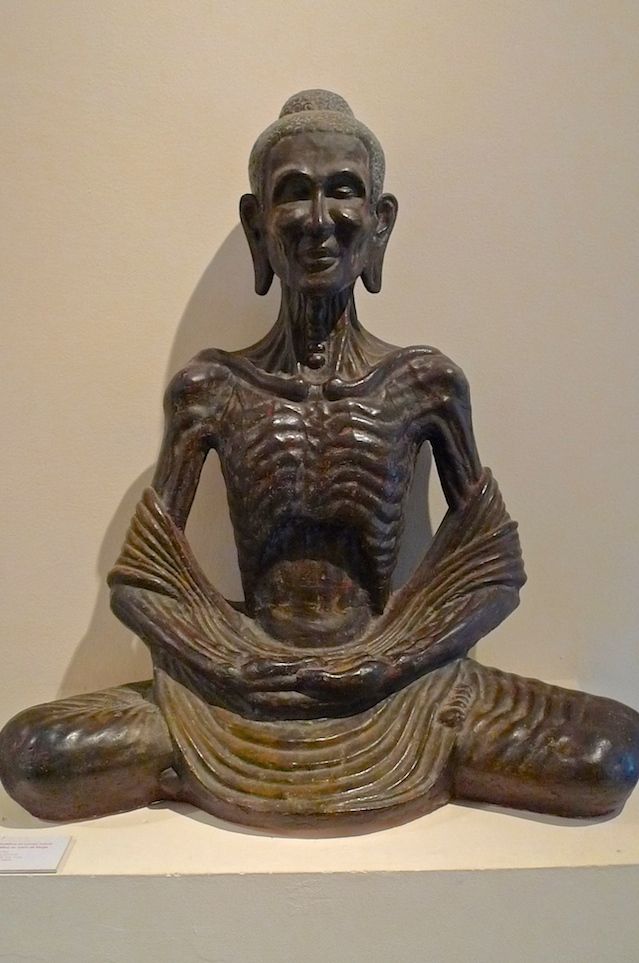 King Ly Nam De and the Queen. King Ly Nam De is considered by many to be the first emperor of Vietnam and founder of the Early Ly Dynasty.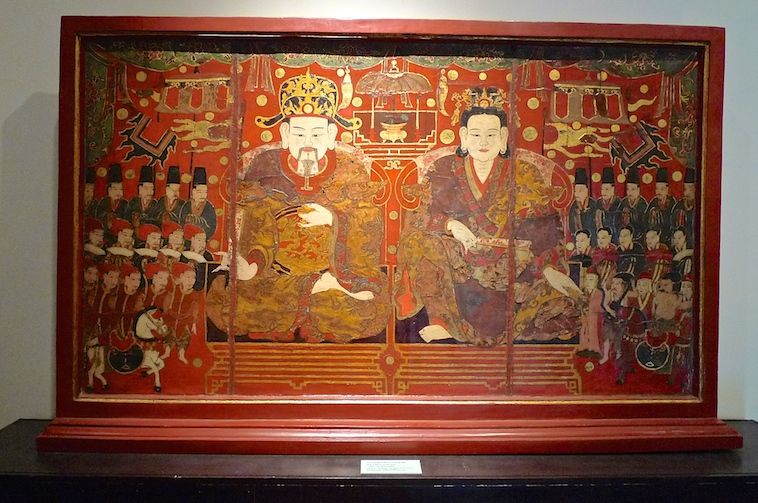 Giving lecture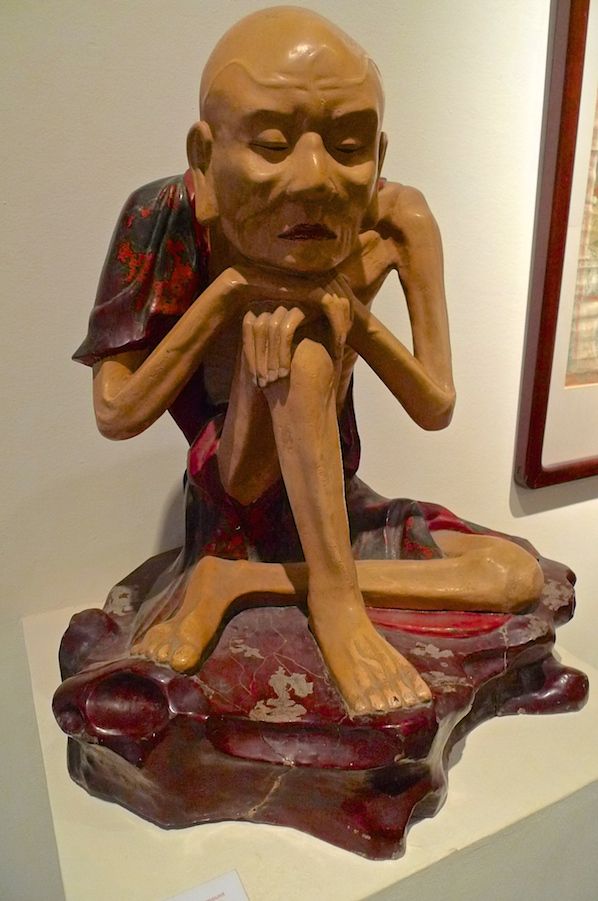 Buddhanandi made from lacquered wood
Buddhist cultural images from the
Tay Son
period.
Were these on the first floor of the museum? I could not remember, but they probably were.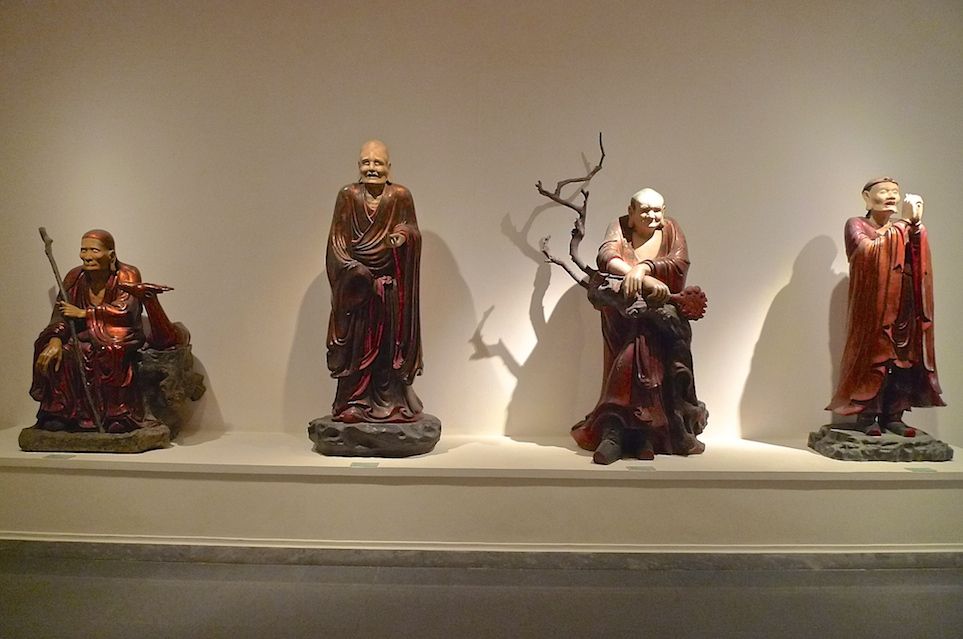 An incense pillar. This is not a real incense pillar but a reproduction. It seems that many exhibits in this museum are reproductions as many of the original items were destroyed during the Vietnam War.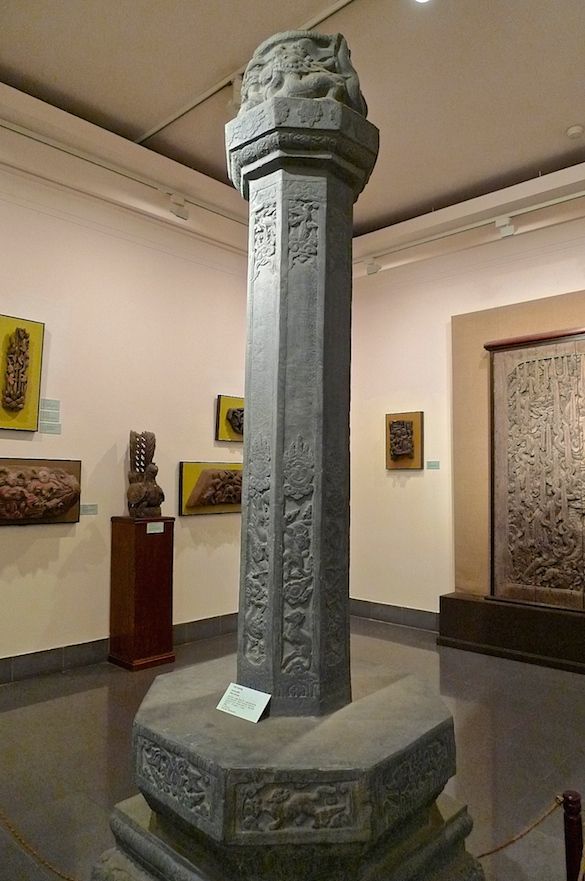 There's a section where they were many wood carvings on display.
Fighting against a tiger.
Two man playing a ball game - a work of art from the 17th century.
Depiction of a young girl.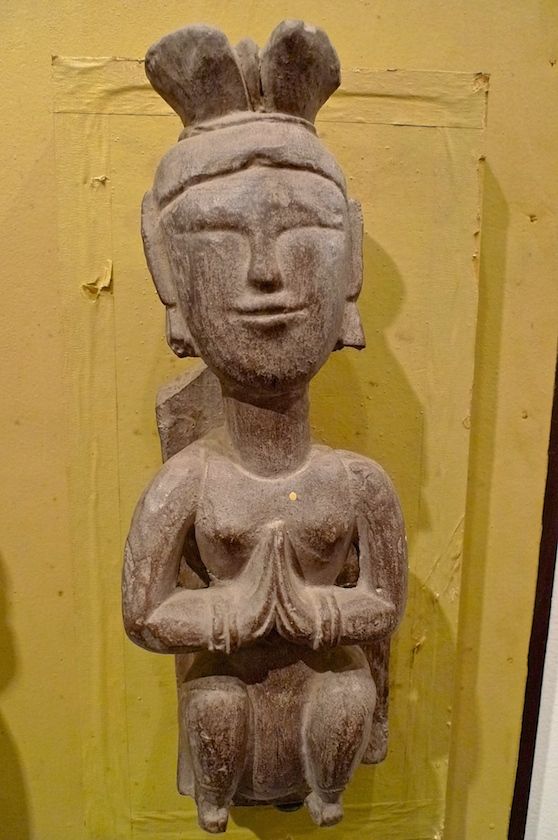 Can you guess what game is this carving trying to depict?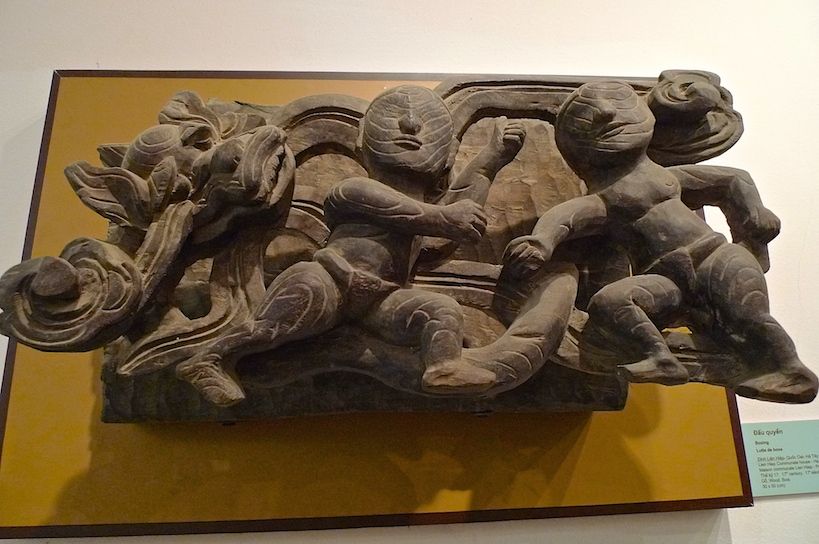 No, not kung fu. It's boxing!
A giant Dragon and fairies riding on mini dragons.
Door carved with dragon images.
The phoenix and her cubs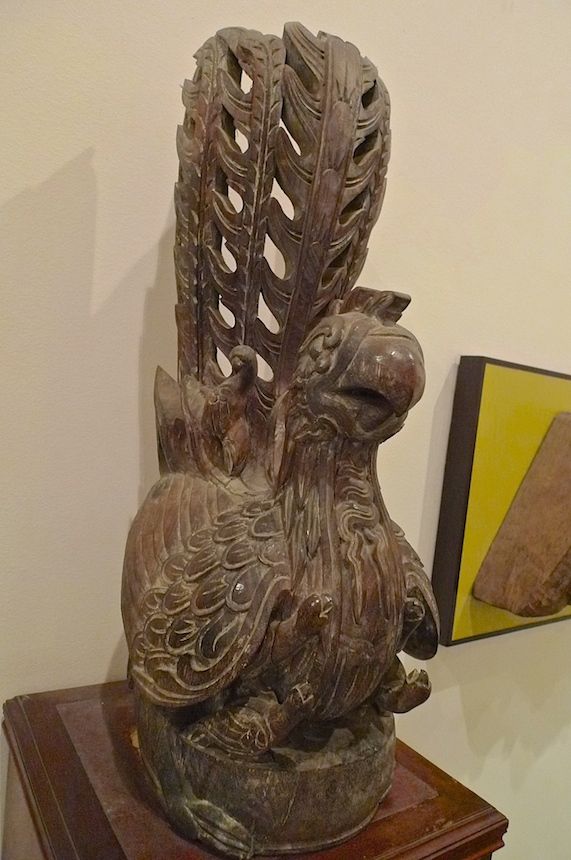 This one is pretty remarkable - The One Thousand Eye And One Thousand Arm Guan Yin.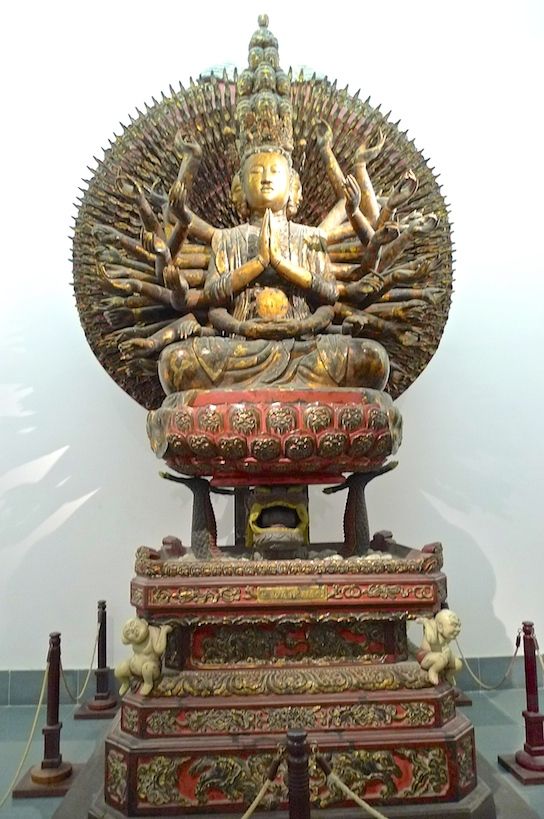 A closer shot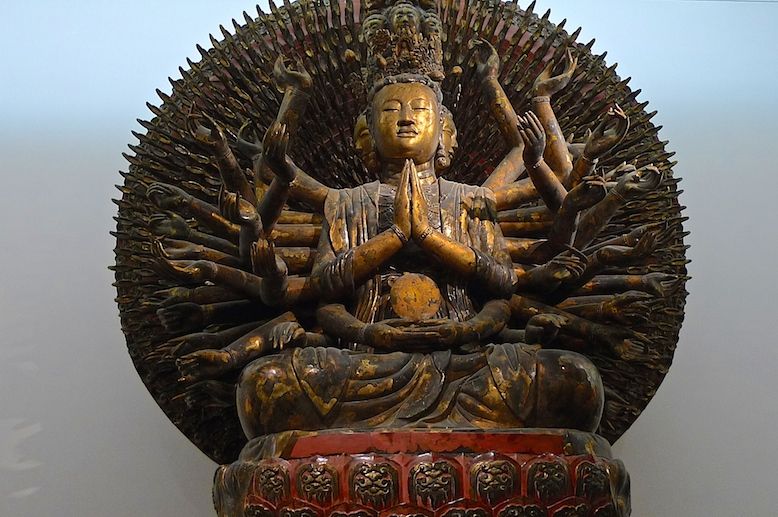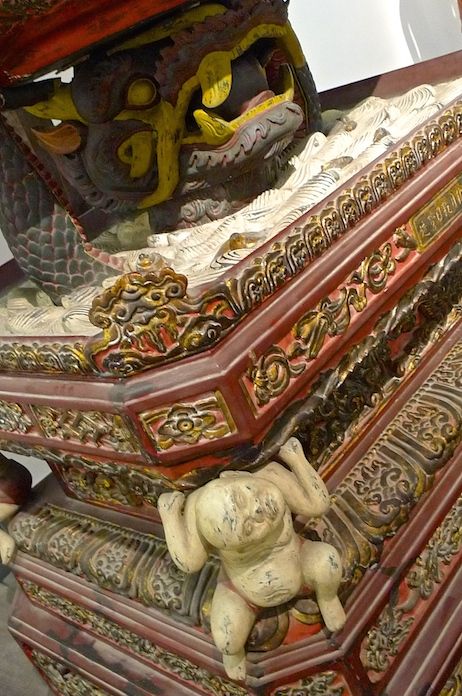 Duchess Yen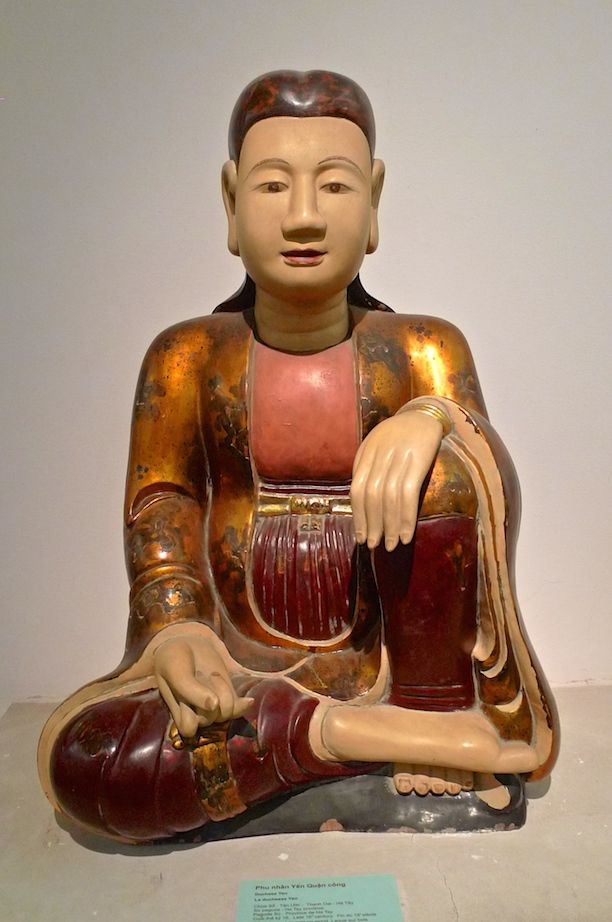 Buddha entering Nirvana. Yes if you must know, this pose was when Buddha was dying and entering Nirvana.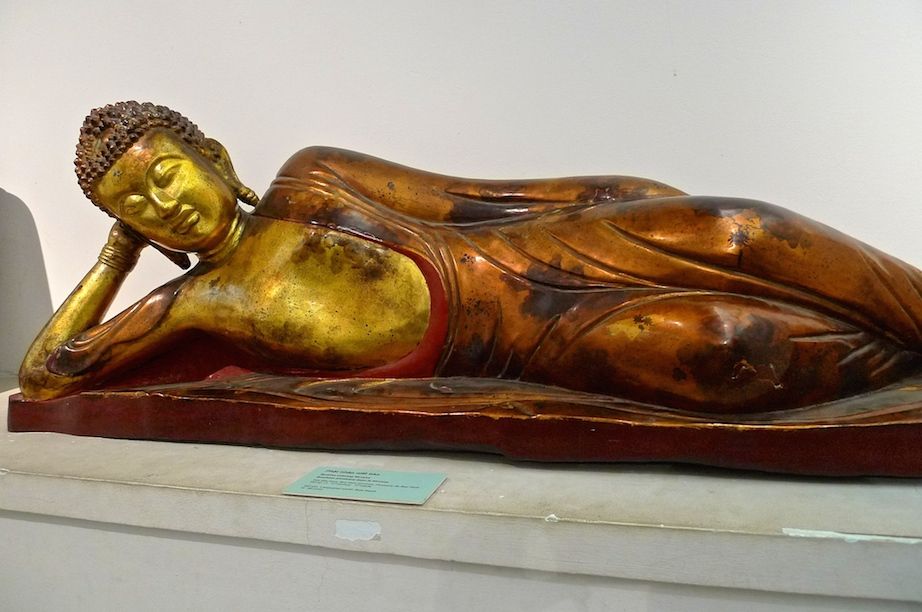 Scene of everyday life.
Legendary lion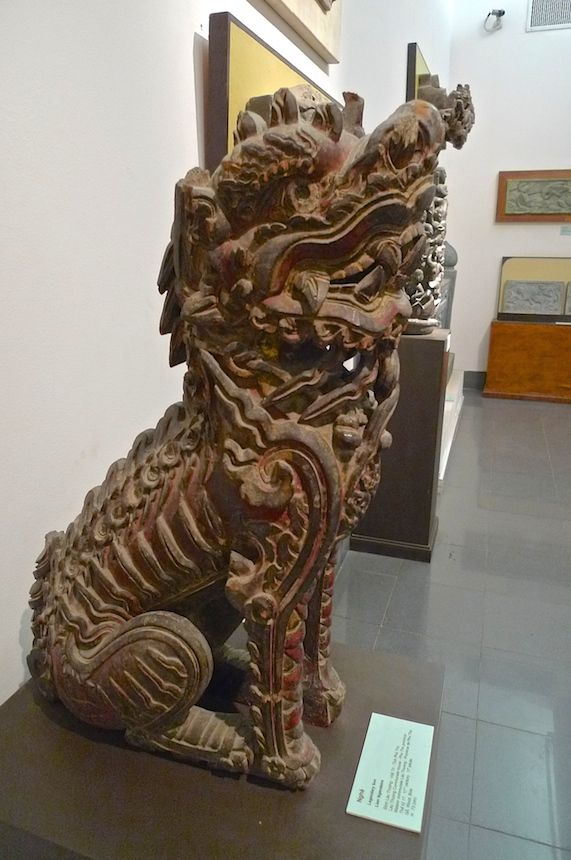 Puppet offering incense sticks
Majucri Bodhisattva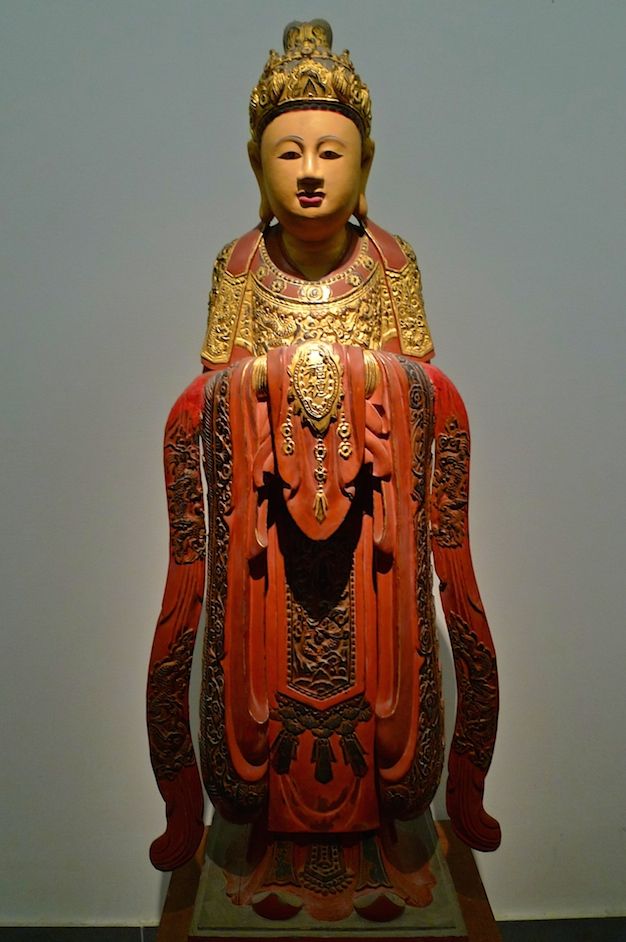 Princess Trinh Thi Ngoc Co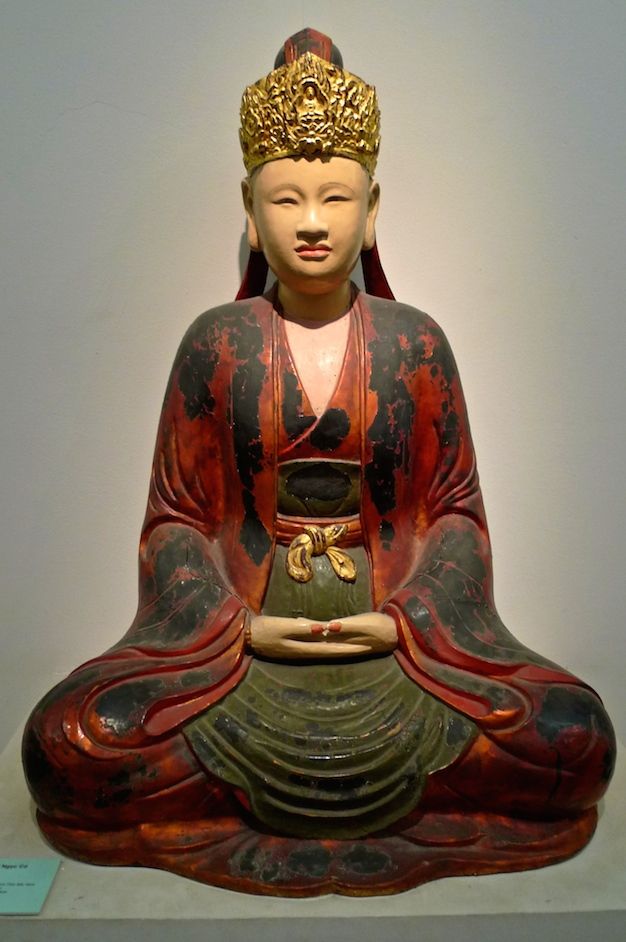 Fairies and a fairy riding a dragon (bottom right)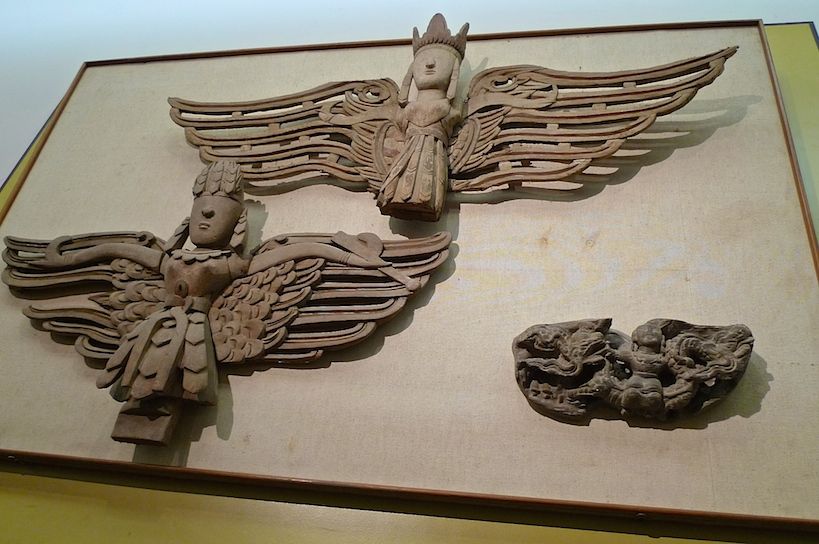 Buddha Guan Yin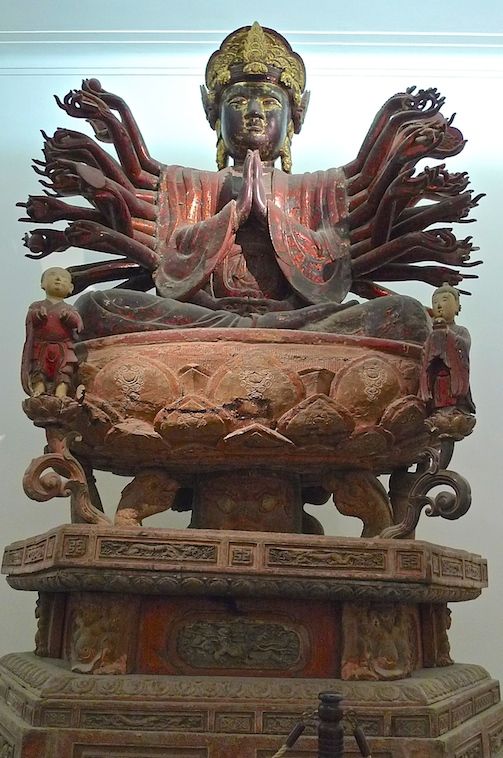 Duke Nguyen The My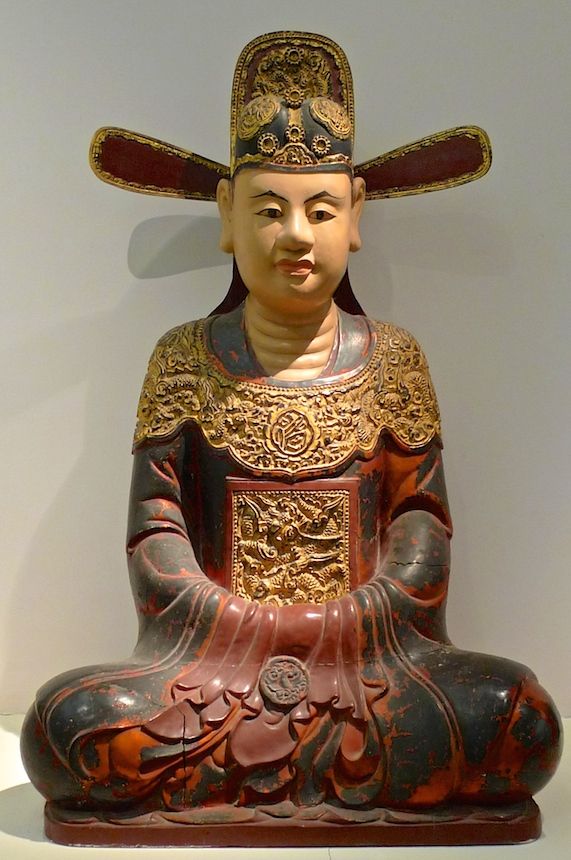 Amitabha Buddha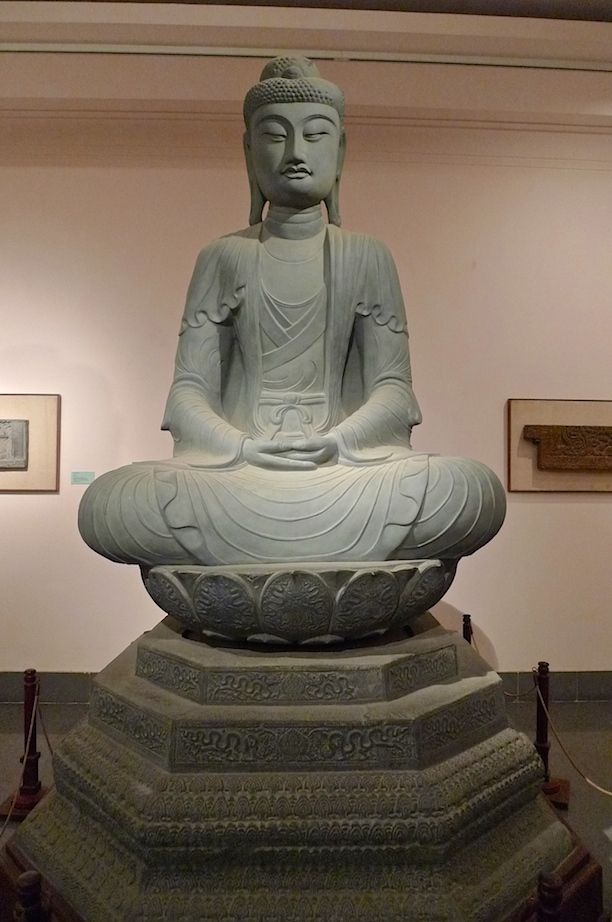 A closer shot.
The room where the statue of Amitabha Buddha was placed.
More carvings on the wall, but I did not take pictures of them all.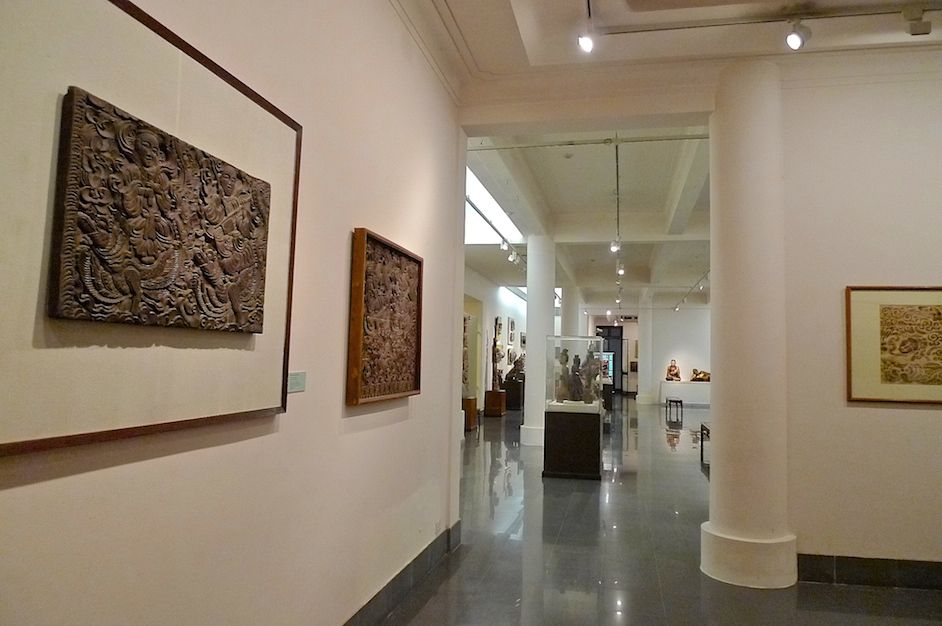 A side shot of the Buddha Guan Yin with thousand arms.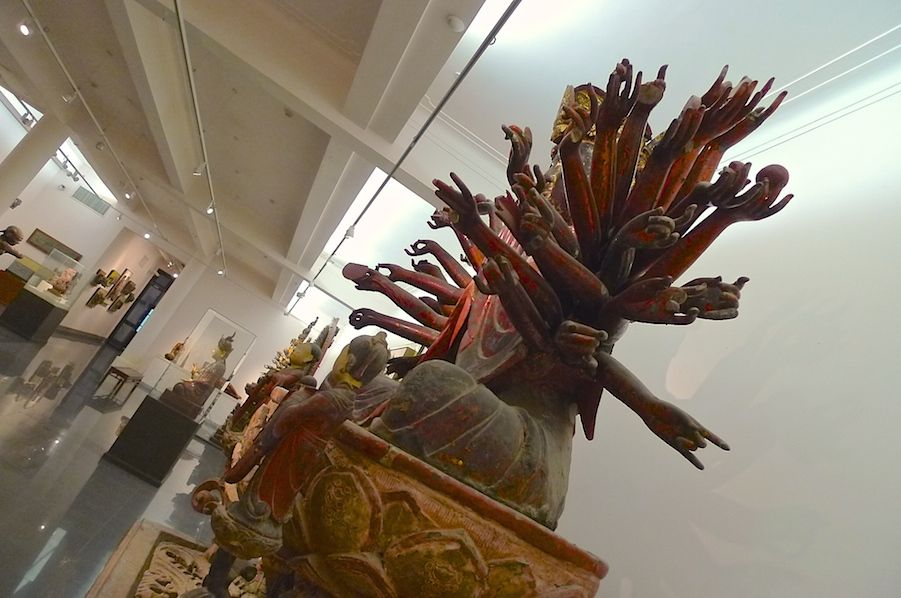 The room where the statues reside.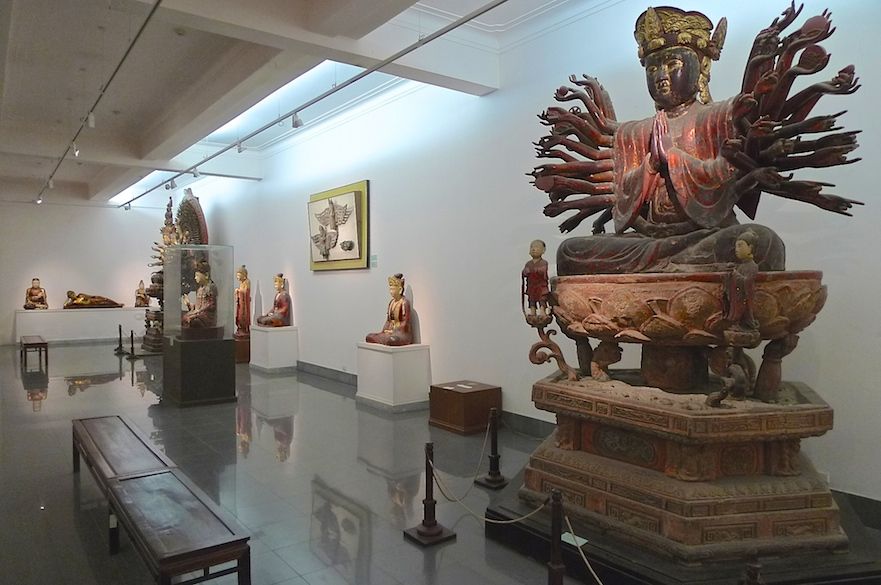 Not exactly sure what this was.
A hideous looking creature at the top. I could not find any labels or information anywhere near it.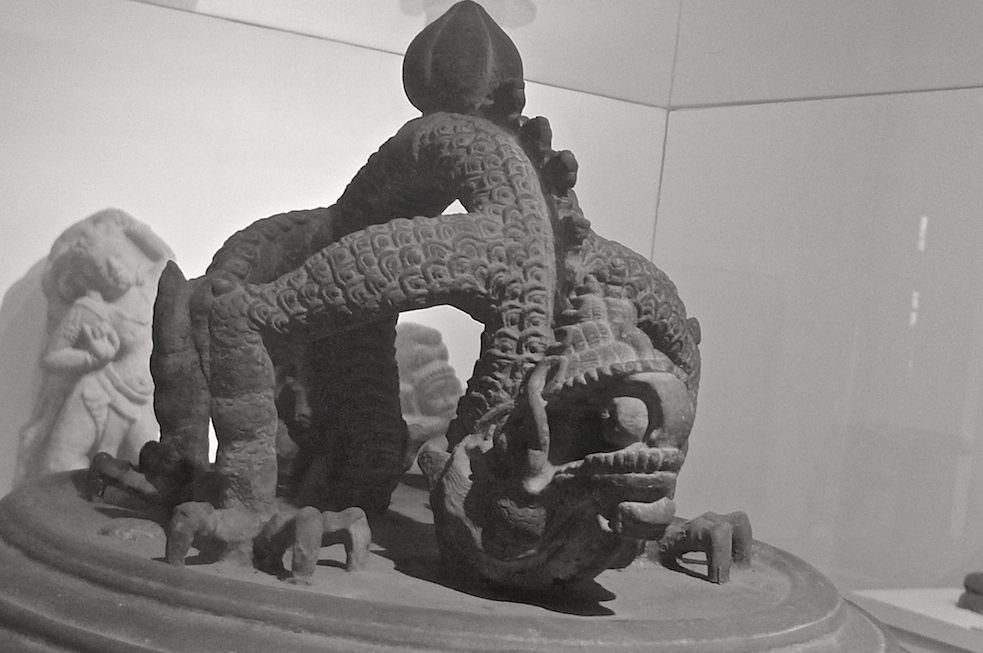 OK, there is information regarding this building, but I forgot to take a shot so I really have no idea what building this is!
Sculpture of a Lion.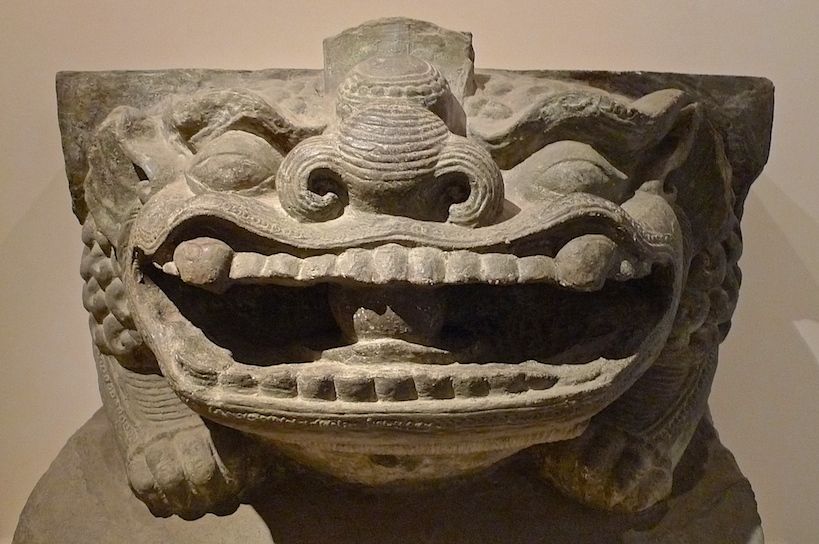 Not your usual lion, but one of those mythical creatures.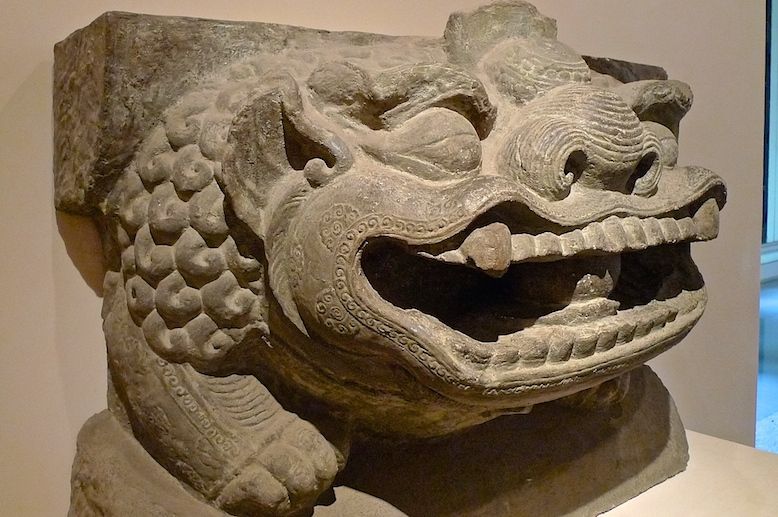 Garuda beating the drum.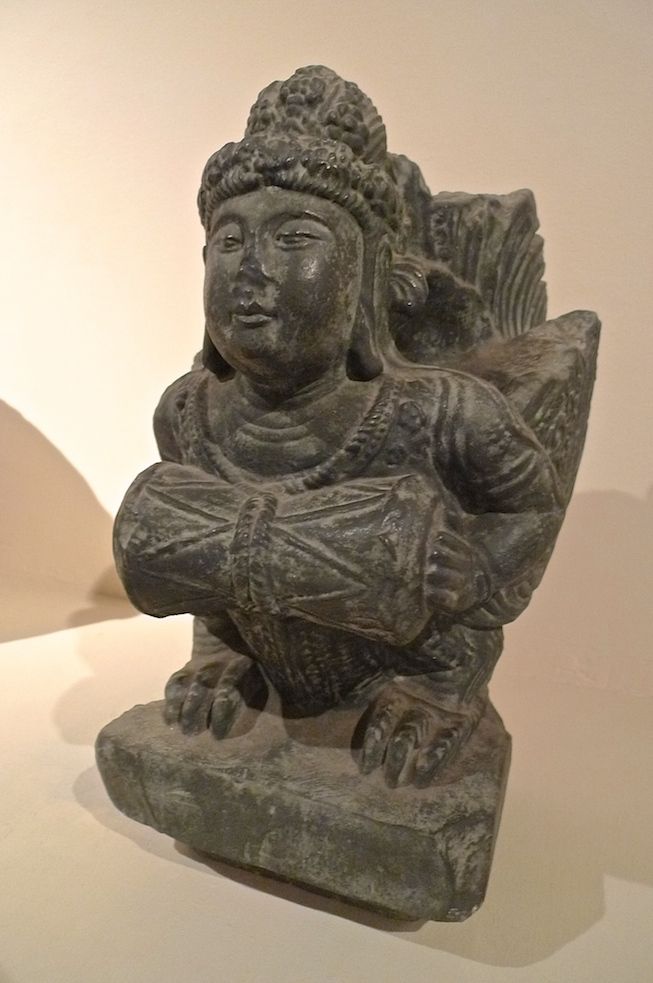 A portrait
Nice piece of art!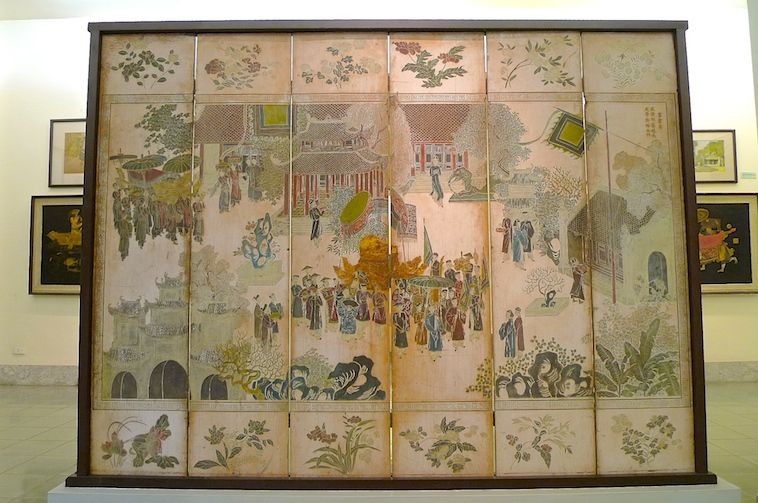 Finished with the first floor exhibits, I walked up to the second floor. This is the passageway of the first floor, I think.
Mother and child sculpture at the corridor.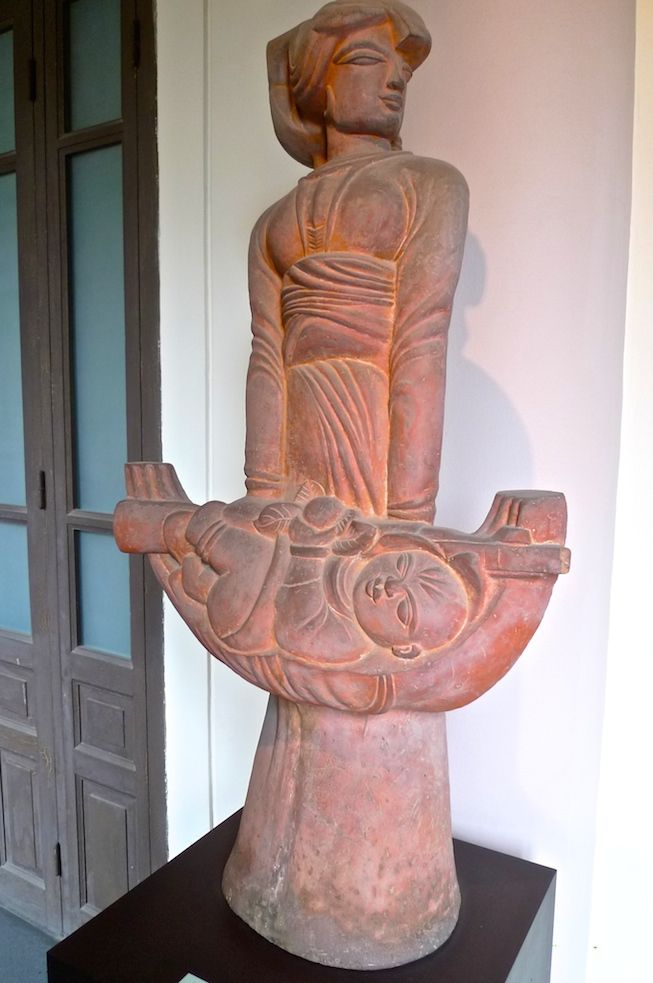 Many sculptures displayed along the corridor.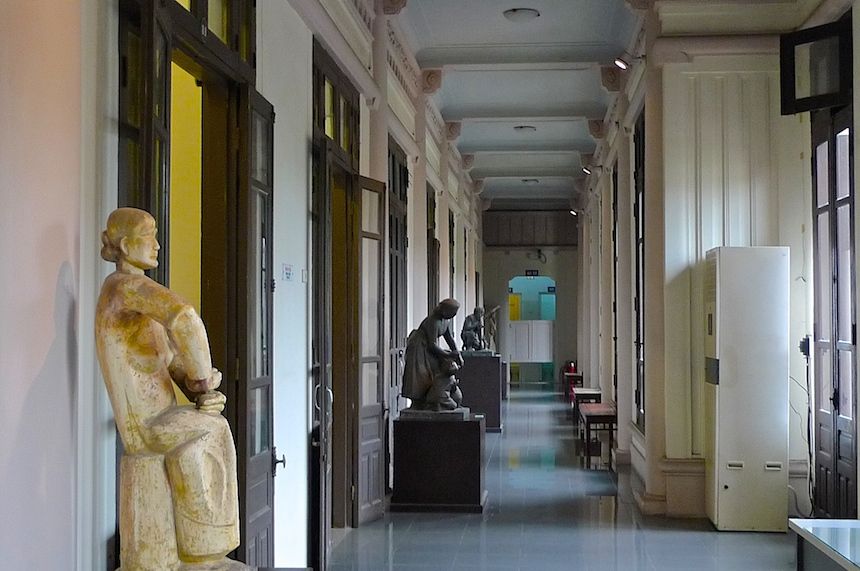 On the second floor, there were some war related bronze sculptures on display.
Rice jar to feed the army
The caption for this reads "While eating its fruits, think of those who have grown the tree".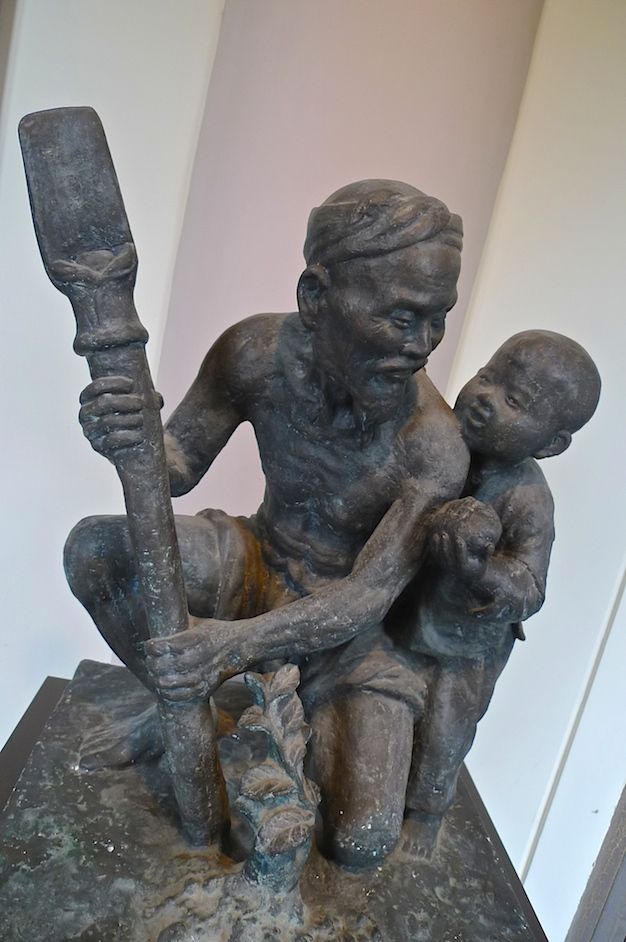 I like the expression on the faces of these sculptures.
I took some time to take a view outside the opened window of the museum building.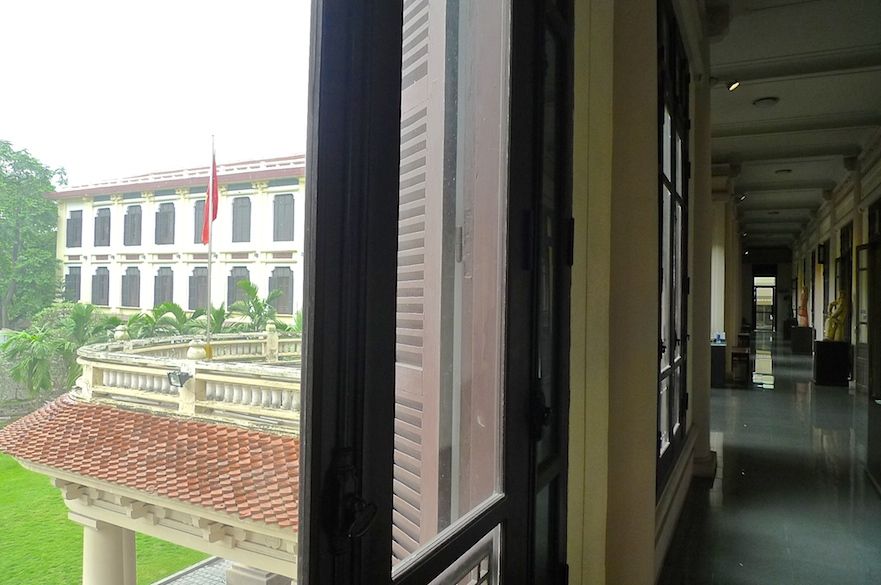 Pretty nice view, no?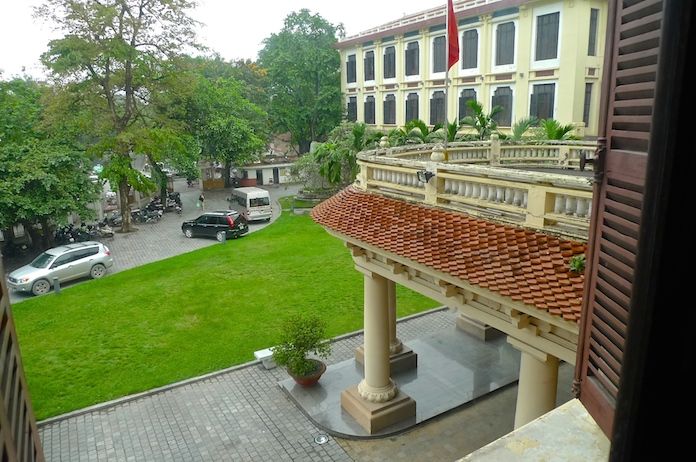 Back to the exhibits. This one depicts a lady sharpening the bamboo spikes.
A drawing simply titled "Miss Lien". I wonder who she is!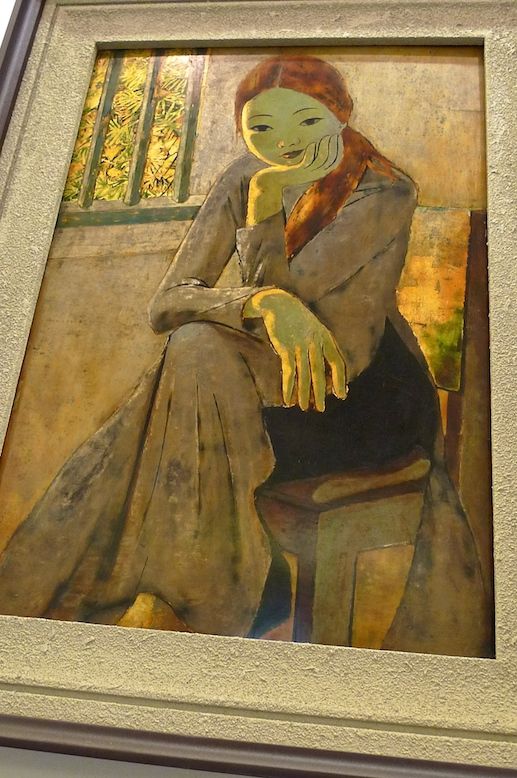 Kim Dong
Cock fighting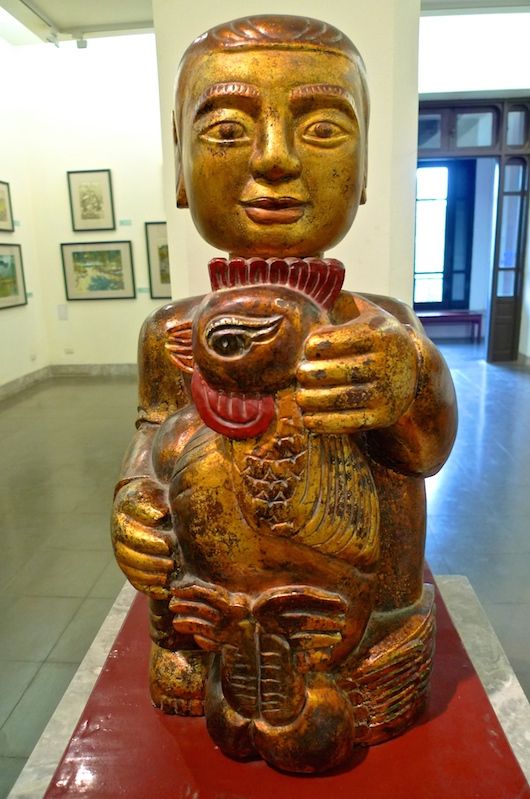 I kind of like this sculpture!
Reading a book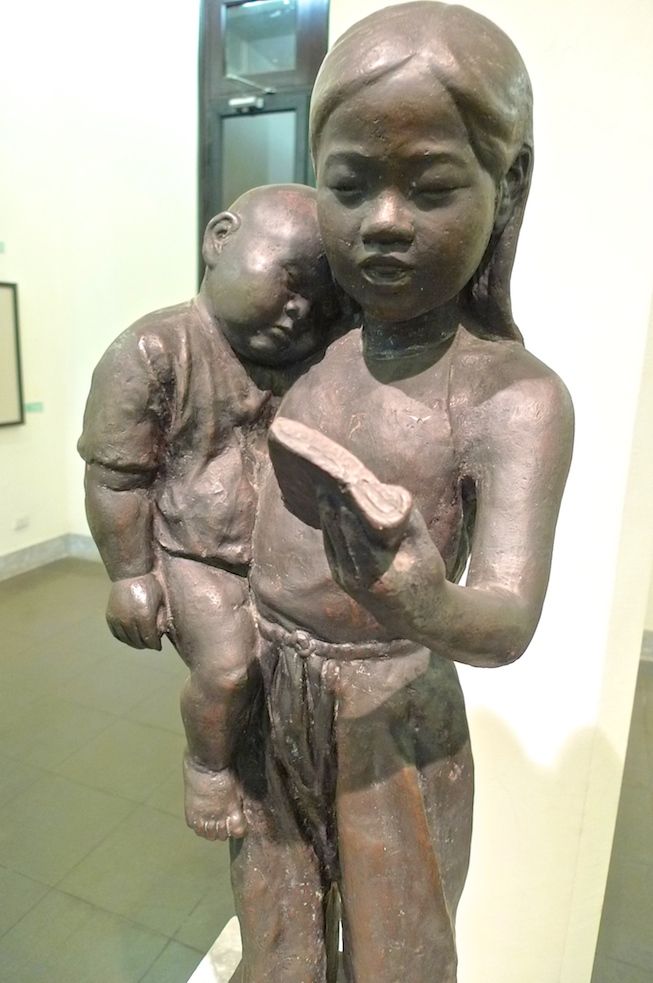 A handful of land from the South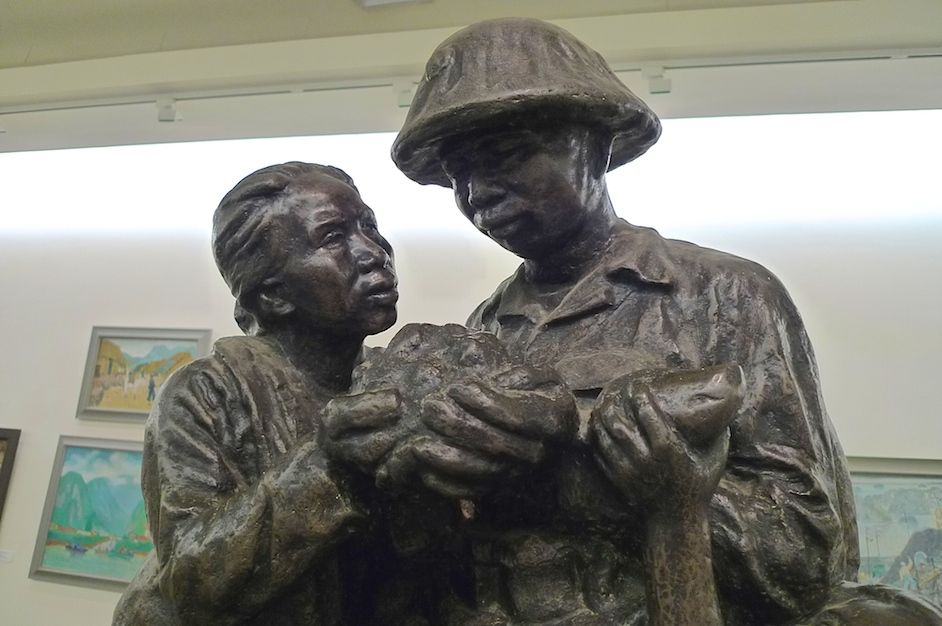 Very nice sculptures!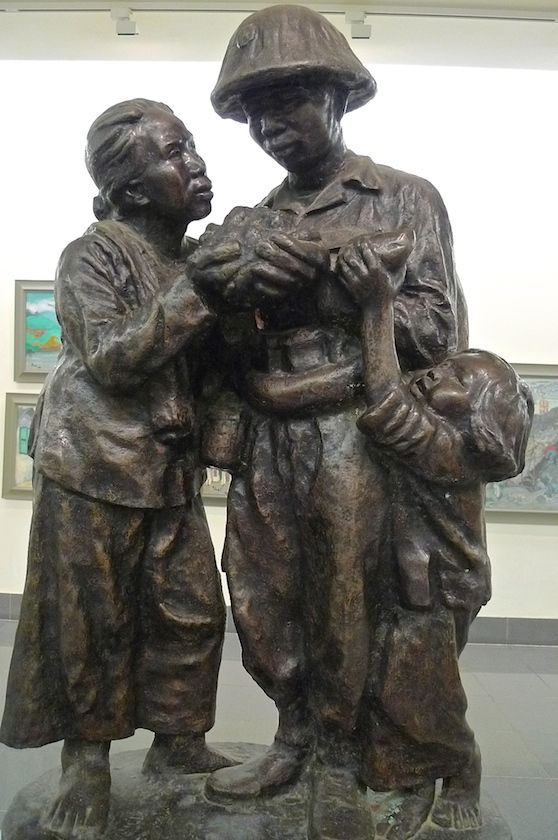 Dien Bien Phu victory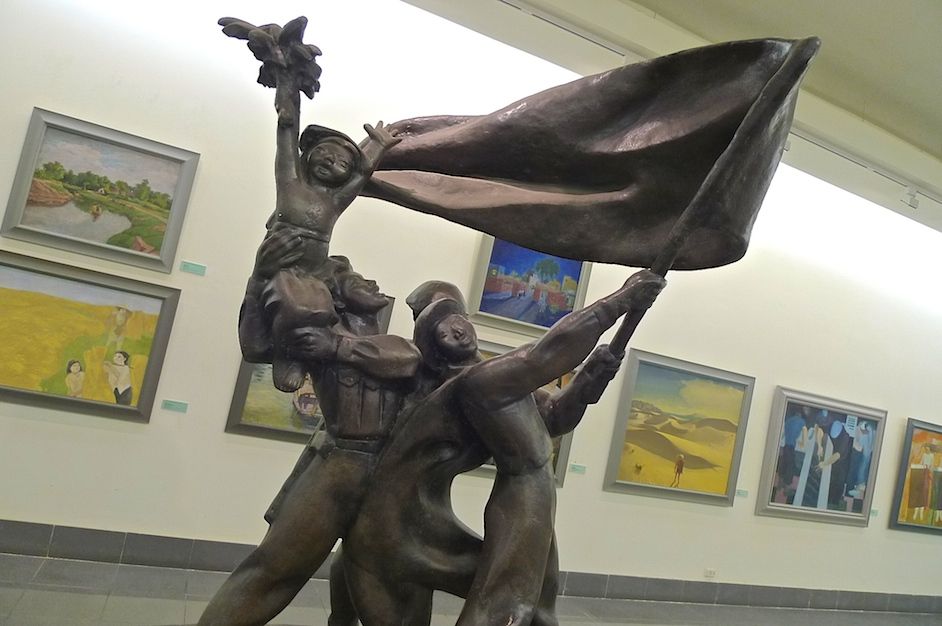 Oil on canvas titled "Central Region".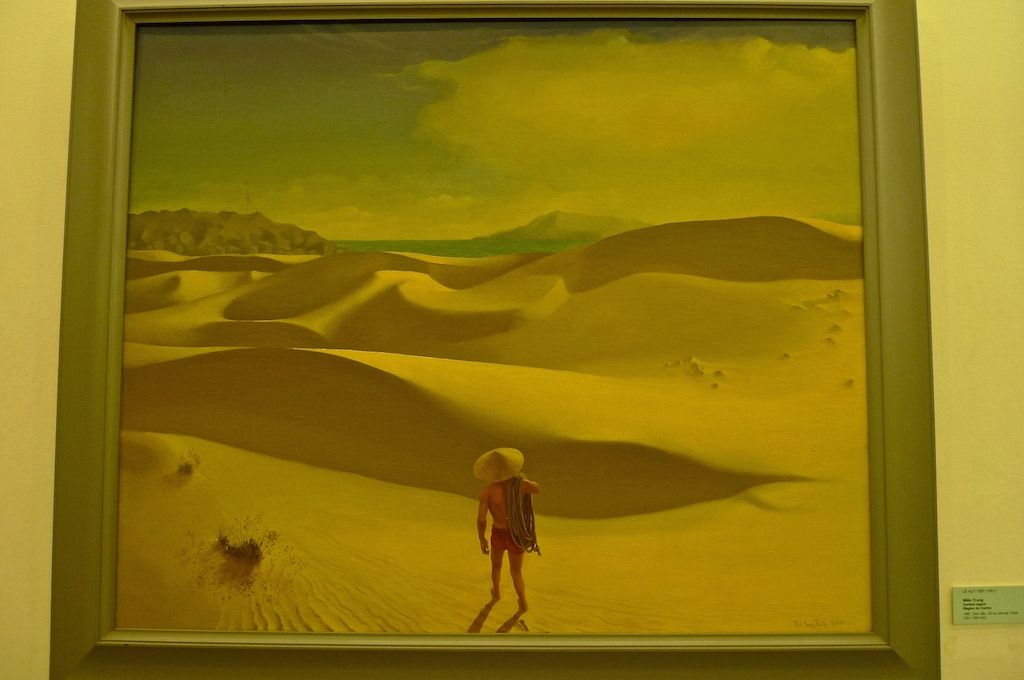 Memorial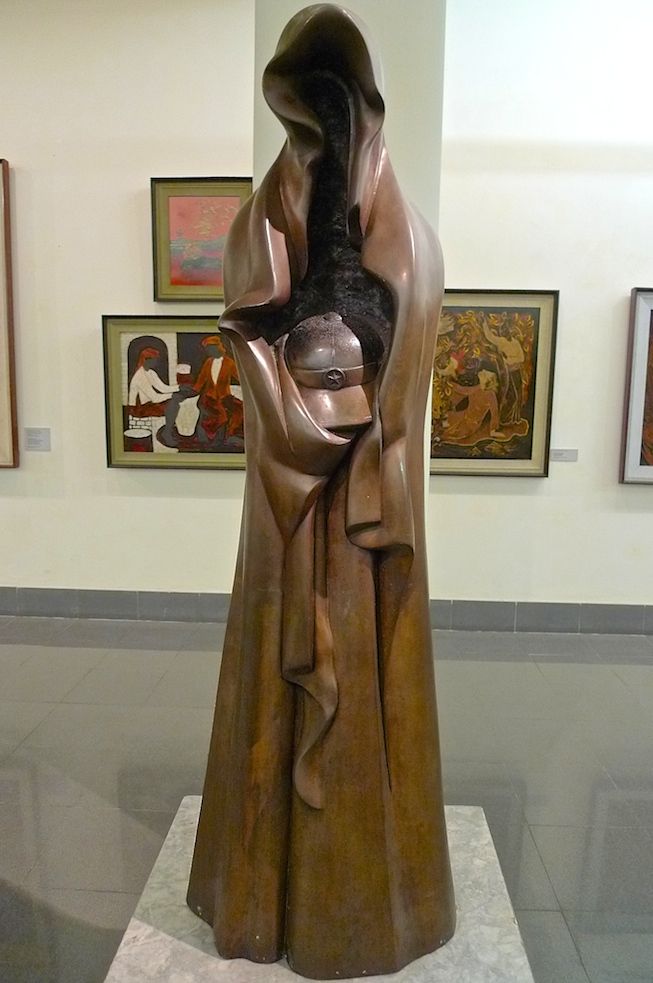 I completed the whole tour of the museum in about one and a half hour. I could have taken longer but time was not really on my side. As it was my last day in Hanoi, I had to make full use of my time as I still have several places that I needed to visit.
Overall, the
Vietnam National Fine Arts Museum
is worth visiting and I would certainly recommend it as part of your itinerary in Hanoi.