I know Chinese New Year is over, but that does not mean I can't blog about it right?
On the 15th day of Chinese New Year, I went to a potluck party at my friend's house. Maybe I should be at the river collecting oranges, but I think going to a potluck party is way more fun! Haha!
I could not decide what to bring to the potluck but in the end, I bought a nice cake (which I shared with a friend) from the Australian Confectionery in SEA Park.
We started with the
yee sang
.
After adding the crackers on top, it was '
lou sang
' time! I always enjoy mixing all the ingredients and tossing them high while saying auspicious words.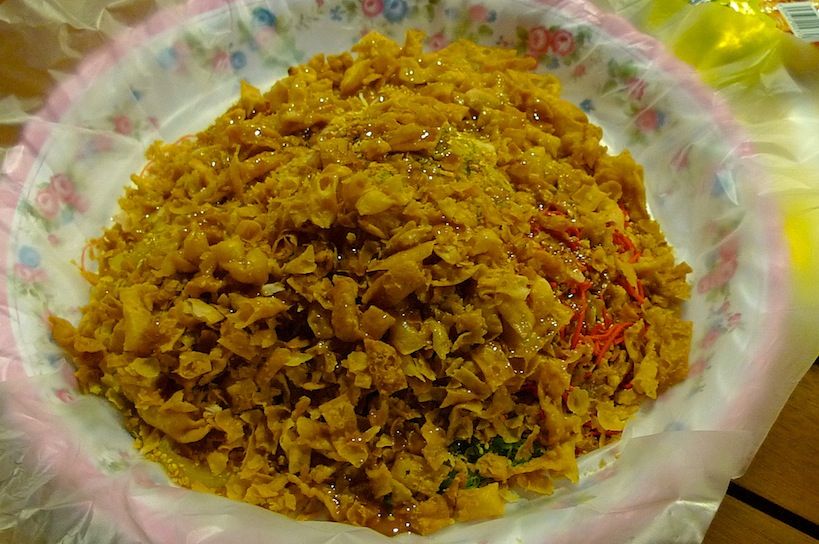 This is the
yee sang
all ready to be eaten in my bowl. Yummy!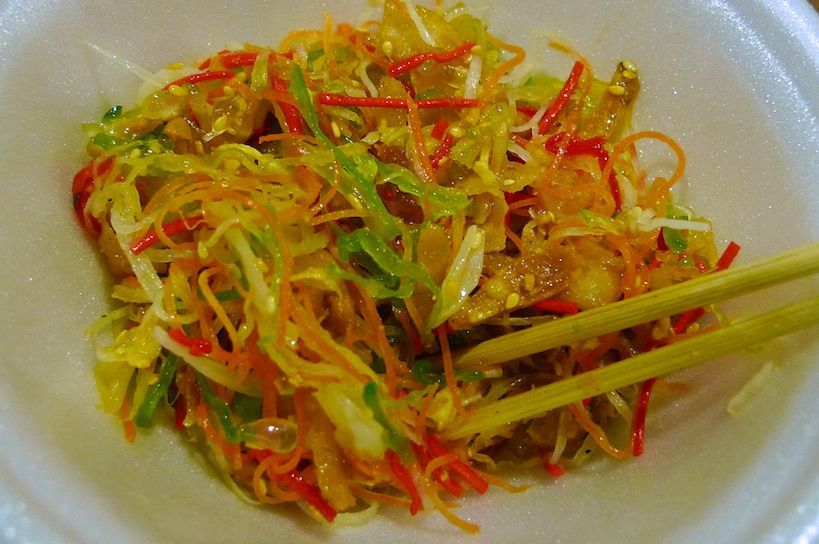 After the
yee sang
, I went straight for the mushroom pasta.
It was delicious and I had wanted to go for another round but there were more food awaiting me!
The highlight of the evening of course was the steamboat. My friend, the host, had carefully prepared all the raw ingredients on skewers ready to be placed in the hot boiling pot!
Other ingredients for the steamboat included these prawn dumplings...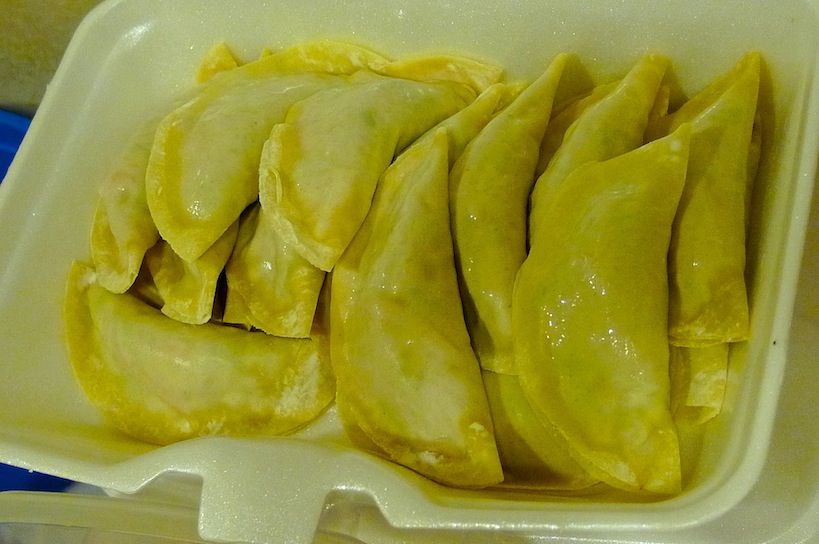 Sausages....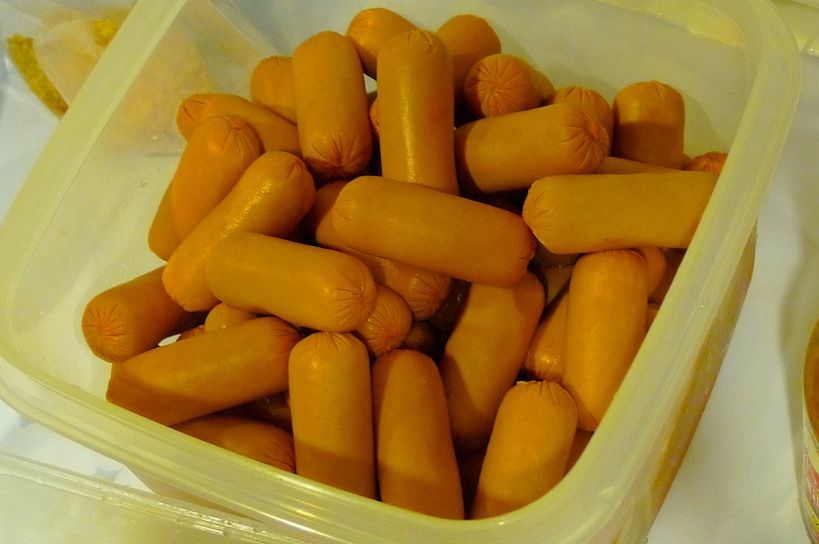 Fresh prawns ....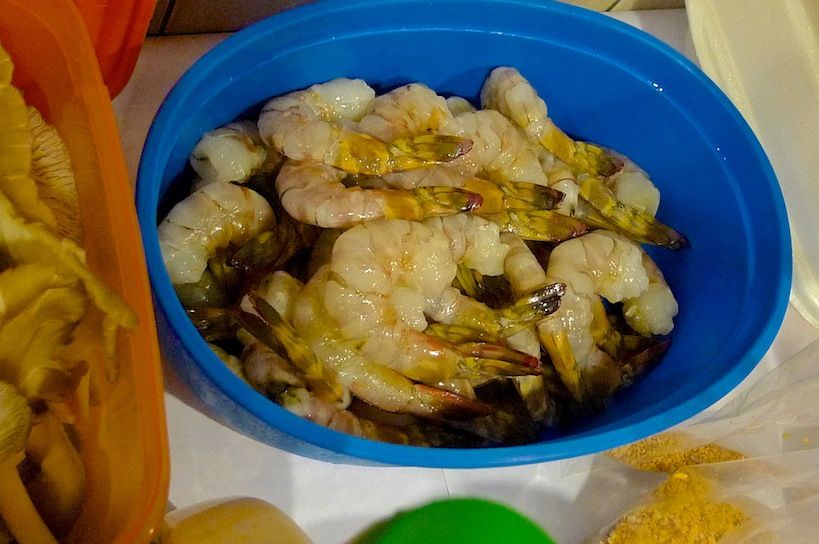 And mushrooms.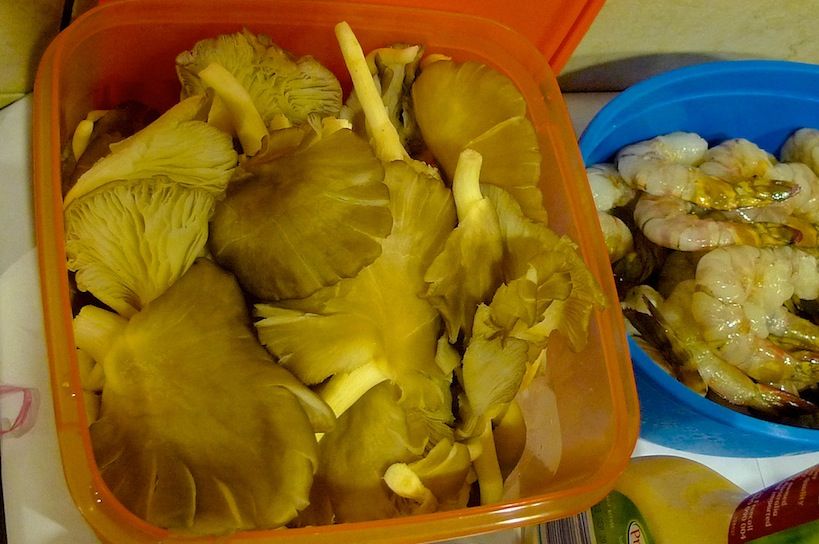 The skewers were an ingenious way to enjoy the steamboat. It was hygienic - No dipping chopsticks into a pot of boiling soup and tasting everyone's saliva!
My bowl of cooked meat, dumplings and prawns. Yum!!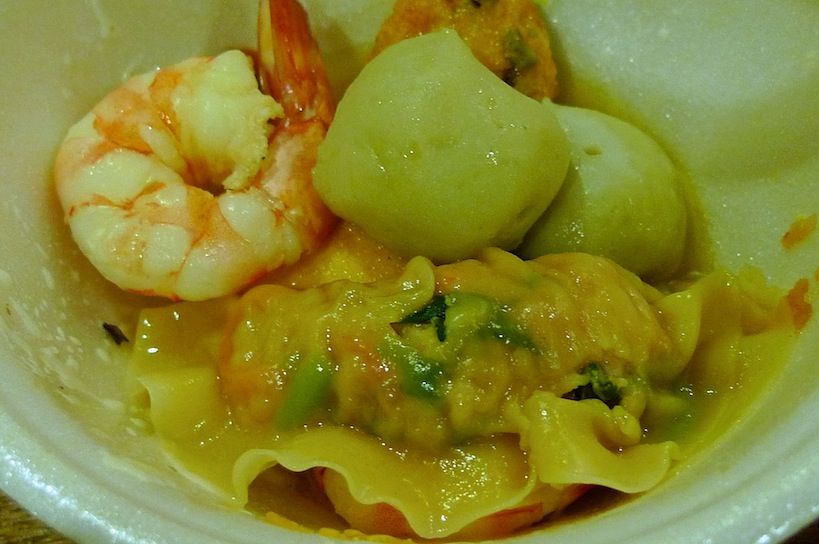 A big plate of cooked meat and seafood taken out of the boiling pot was put on the table for all to eat!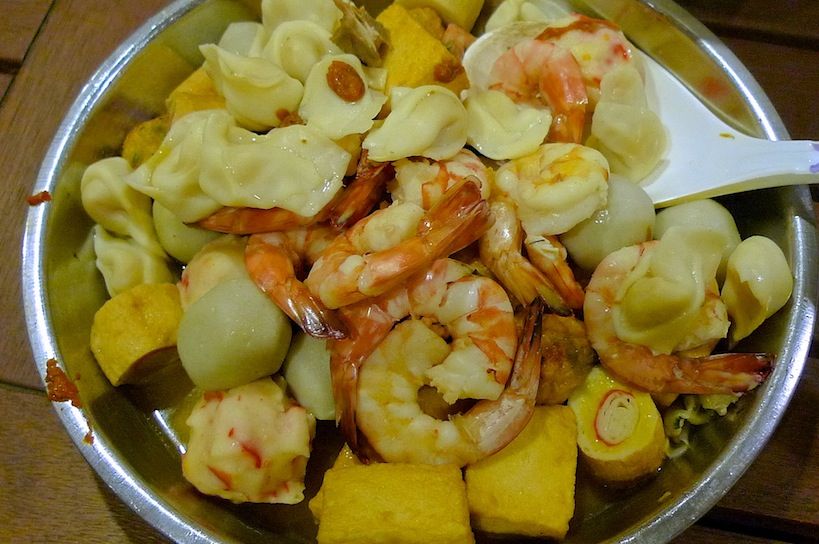 Honestly, even though there were about 15 of us, we could not finish all the cooked meat! Some of us had to bring them back to be eaten for lunch the next day.
Besides the steamboat, there was also raw chicken ready to be cooked or microwaved.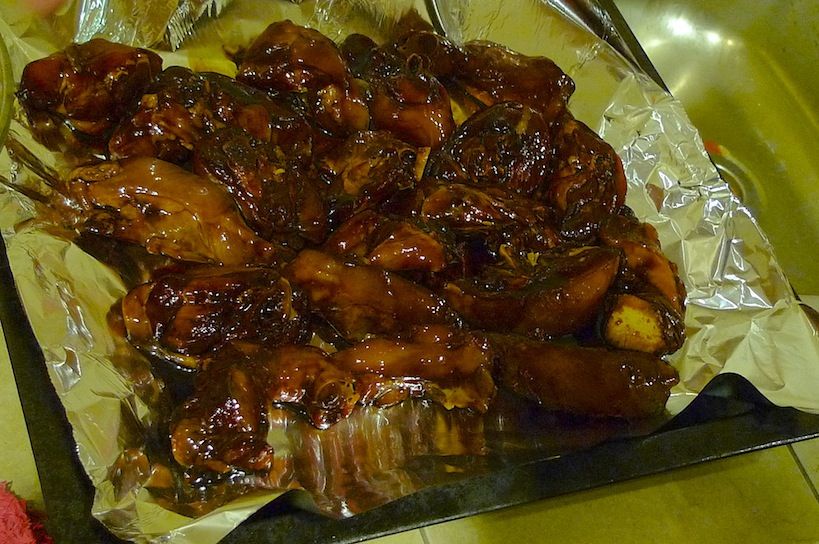 Minutes later, the chicken were ready but I was late in taking the photo. Look! Some already went missing! Obviously, we had many hungry people at the potluck party that evening.
Fresh salad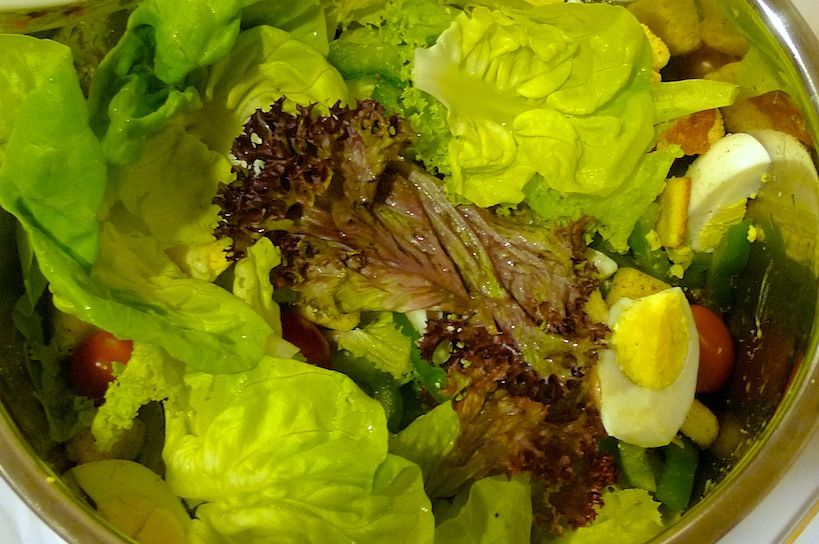 Fruits galore!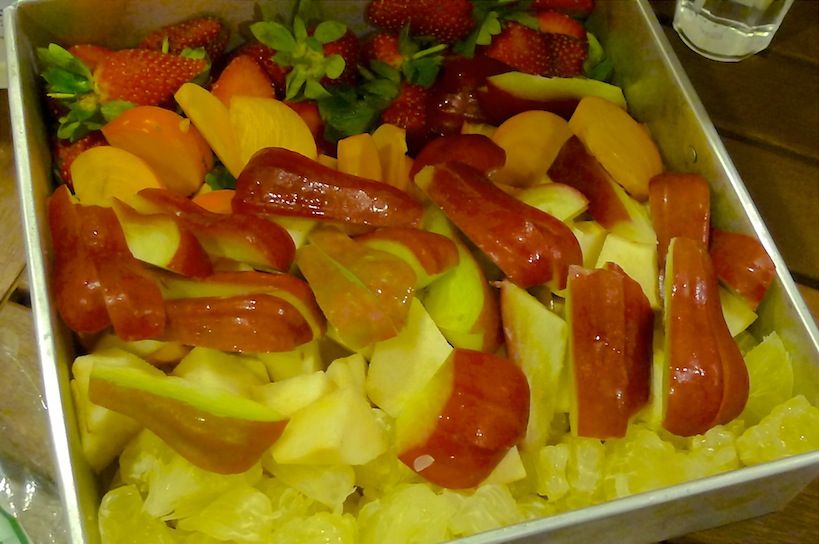 I think I ate loads of strawberries, persimmons, pomelo, apples and cashew apples! There was a big bowl of grapes too but I did not take any photos.
Lastly for dessert, I took out the cake which my friend and I bought. I think it's chocolate praline cake though I could not really remember the exact name.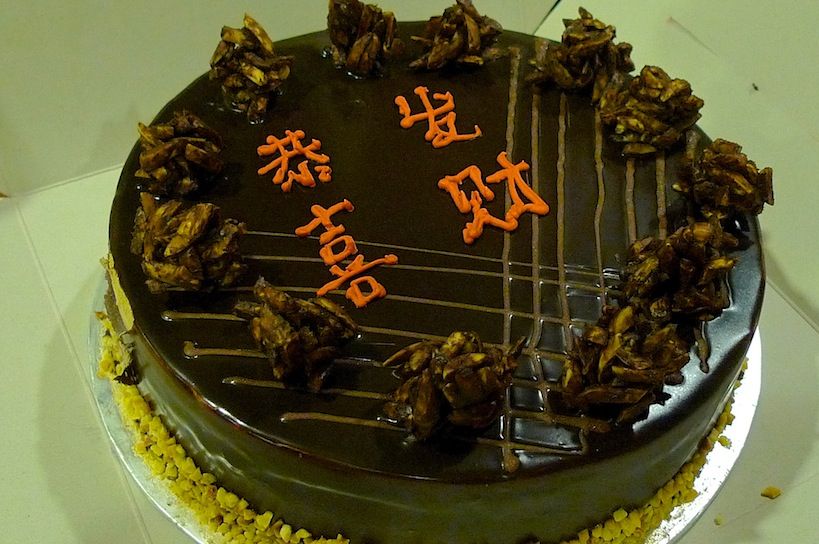 The walnuts on top of the cake made it super delicious!! It was finished up in no time.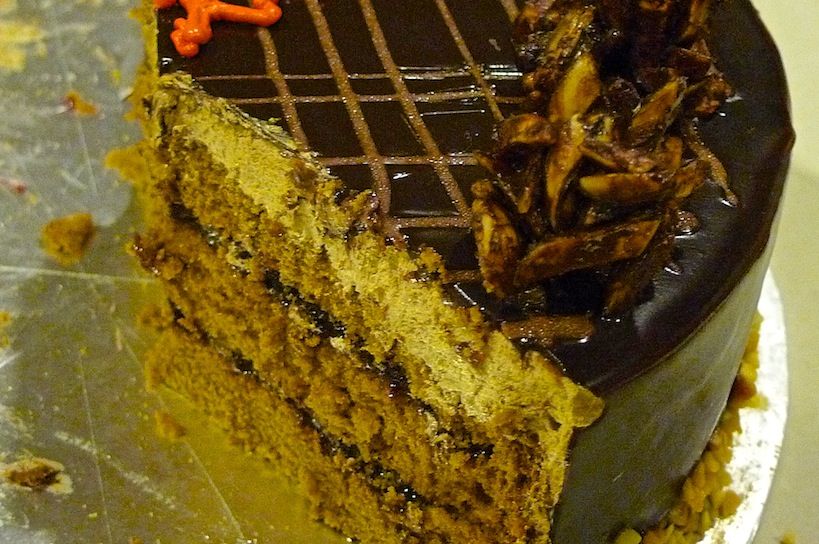 I had a great time at the potluck party. Besides the food, chatting with a group of friends were really, really enjoyable. My friend the host had assured us that she would organize another pot luck party again next year. And I am invited. Yay!!