During Valentine's Day, I went out to dinner with 2 ladies. There were no roses and no chocolates because I was too cheapskate. Well, actually, it was just a '
lou sang' dinner
with friends! Haha!
I have been wanting to meet up with some friends for dinner for quite some time and it so happens that only these 2 ladies were free that night! So why not?
We went to
Lammeeya
at
Damansara Uptown
. The first thing we ordered was their
9 Treasures Yee Sang
.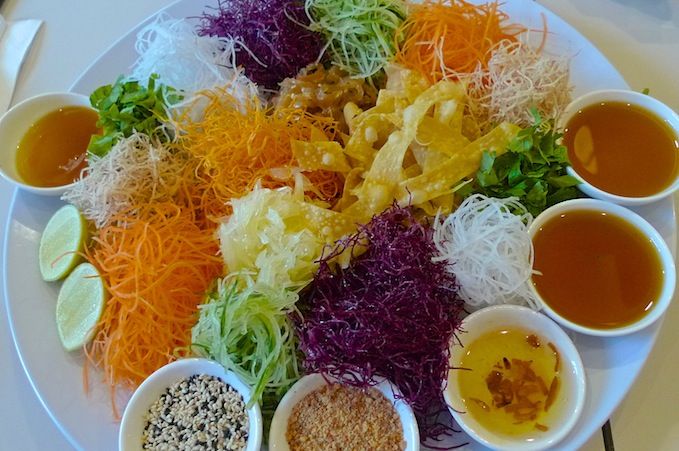 The portion was huge!! It was more suited for 5 - 6 people, not 3! My 2 friends were wondering if we could finish it but of course, I assured them that it would not be a problem with me there. LOL!
So why is it called 9 Treasures? That's because it is made up of 9 fresh ingredients - yam, red sweet potato, orange sweet potato, carrot, radish, chinese parsley, cucumber, pomelo and jellyfish.
We sprinkled the toasted sesame seeds and chopped peanuts onto the yee sang before pouring the tangy kum quat sauce into the mix. We also added a little bit of the sesame oil as we did not want it to be too dry.
And then the three of us mixed and tossed all the ingredients with our chopsticks while saying out loud auspicious 4-worded Cantonese phrases like these ...
'
san thai kin hong
' (may we be healthy),
'
dai kat dai lei
' (with prosperity comes even bigger prosperity),
'
chut yap ping on
' (leave and enter in peace and safety)
'
lin lin yau yue
' (bountiful harvests every year),
'
sam siong si seng
' (accomplish whatever we wish in our hearts),
'
fu guai weng wah
' (may we be rich and famous)
It was fun!
That's my plate of tossed-up yee sang. It was not bad, but I would have preferred it to be sweeter. The kum quat sauce was mostly sour. However, the price was pretty reasonable at RM32.
What's more, if you print out the voucher at
Lammeeya's Facebook page
and present it to the staff, you can get 20% off!
Besides yee sang, we ordered steamed rice and three dishes to go with the rice.
Ginger and Wine Omelette
(RM8.80)
This was delicious!
Pork Leg with Vinegar
(RM14.80)
I do not really fancy this dish but it was really quite good! Slather the sour sauce all over your bowl of rice for complete enjoyment!
Assam Chicken
(RM8.80)
I always like spicy and sour dishes and this assam chicken did not disappoint! My friends said it was too spicy for them, but I found it just nice.
While both my friends ordered green tea, I ordered a bowl of
lotus soup
instead.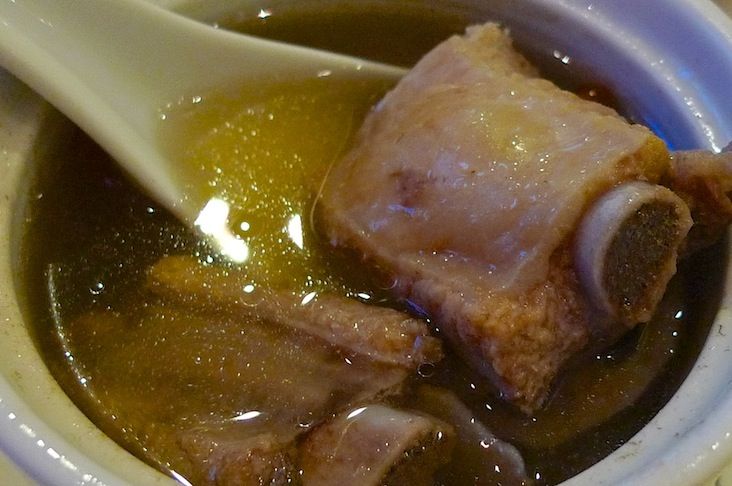 The lotus soup (priced at RM8.80) reminded me of home cooked soup. It was really good! If you are wondering why you can't see the lotus roots, well, they were hidden below the pork ribs : )
We chit chatted until it was almost closing time. As you can see below, all the customers had already left!
It was a wonderful dinner for me. By the way, if you like to eat lam mee, Lammeeya comes out with very good
lam mee
too! Hmm, maybe I should go eat
lam mee
for lunch tomorrow!
Lammeeya
45G, Jalan SS21/37
Damansara Utama (Uptown)
47400 Petaling Jaya
Tel : 03-7726 9513