Continued from
Part 1
There were many activities and packages available at
Belum Rainforest Resort
. And just like
Kenyir Resort and Spa at Kenyir Lake
, you must pay for all the activities. But most of them were a little bit too pricey so we had a hard time deciding on which activities to choose.
Some of the activities you can do at Belum include kayaking, fishing, jungle trekking, picnic by the waterfalls, Rafflesia-sighting, visiting Orang Asli settlement, round island cruise, and night-walking.
We had wanted to go for Rafflesia-sighting but unfortunately, we were told that it was not the flowering season. We ended up paying RM100 per pax for jungle trekking to the waterfall. It sounds expensive right? But in reality it's not as there is a tour guide and the boat journey to the waterfall area is quite far - it took us about 30 minutes.
Rafflesia - the largest flower in the world (image source)
Anyway, if you ever decide to visit Belum, be prepared to pay or you will feel bored as there will be nothing else to do! Unless, of course that's what you want - do nothing.
We did not have much time to go for any of the activities on our first day since we arrived there pretty late at about 3pm. So it was just a relaxing first day for us. Unfortunately, because there were no TVs and wifi in our rooms, we were quite bored and ended up playing some card games and chit chatting.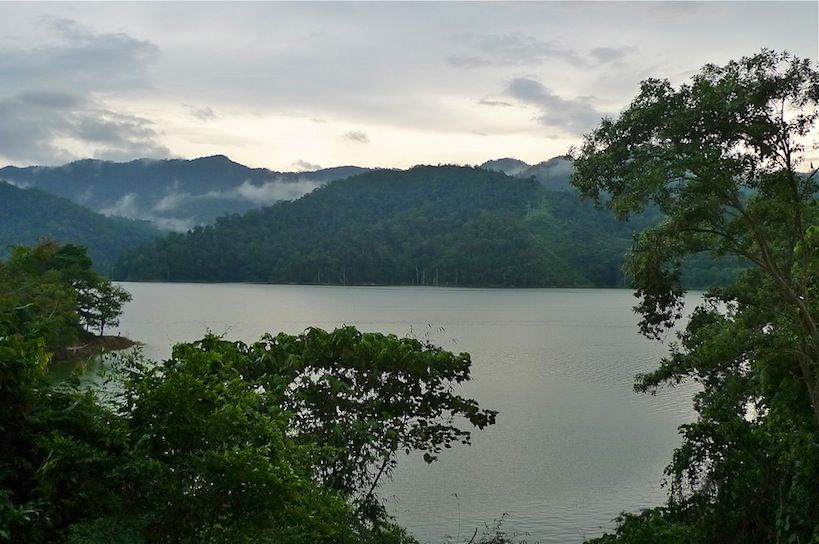 On our second day, we woke up early for the jungle trekking and waterfall. But first we went for our complimentary breakfast.
This is the view of the Temenggor Lake from our breakfast table. Nice?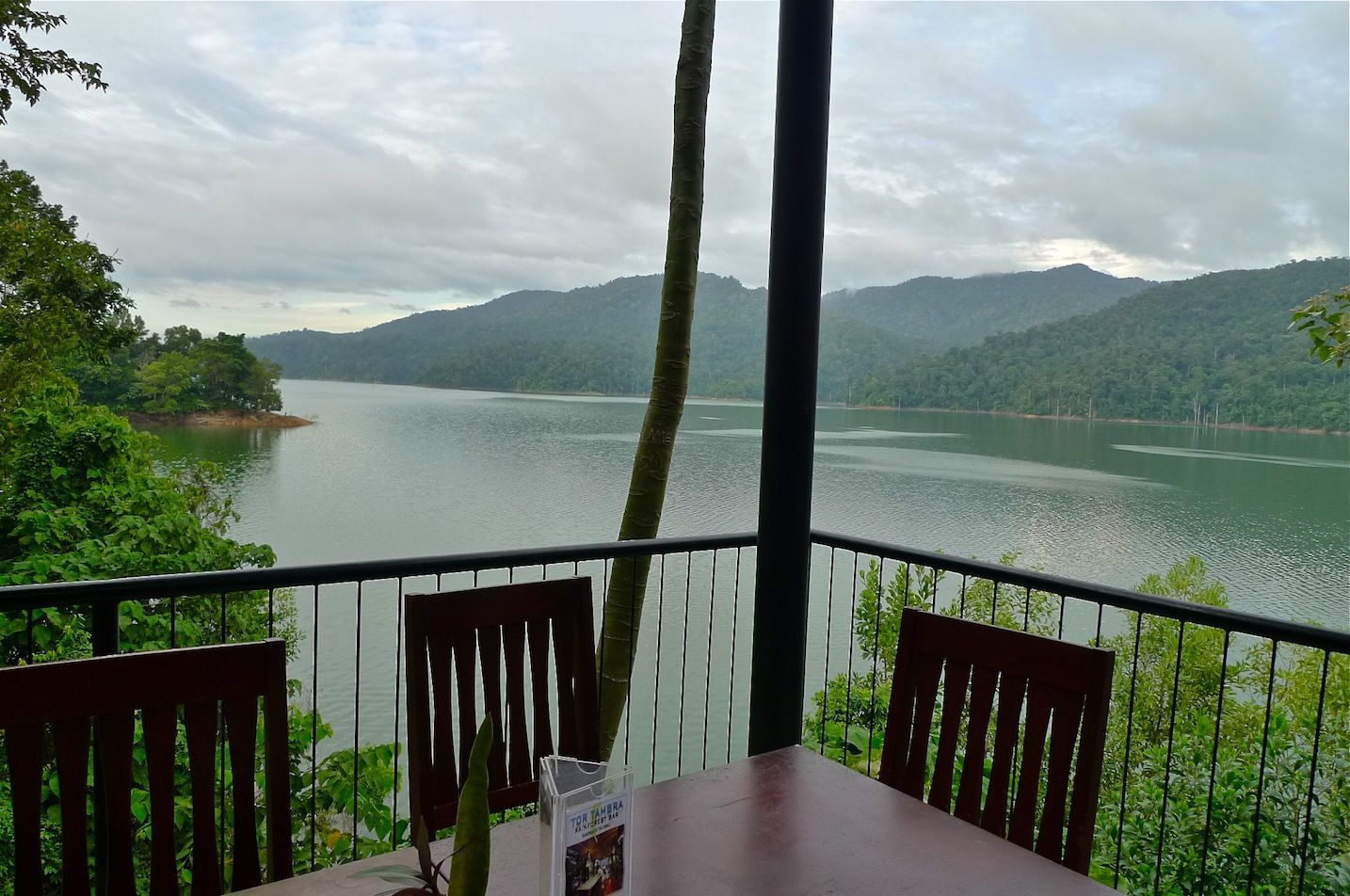 The restaurant actually had quite a nice ambience.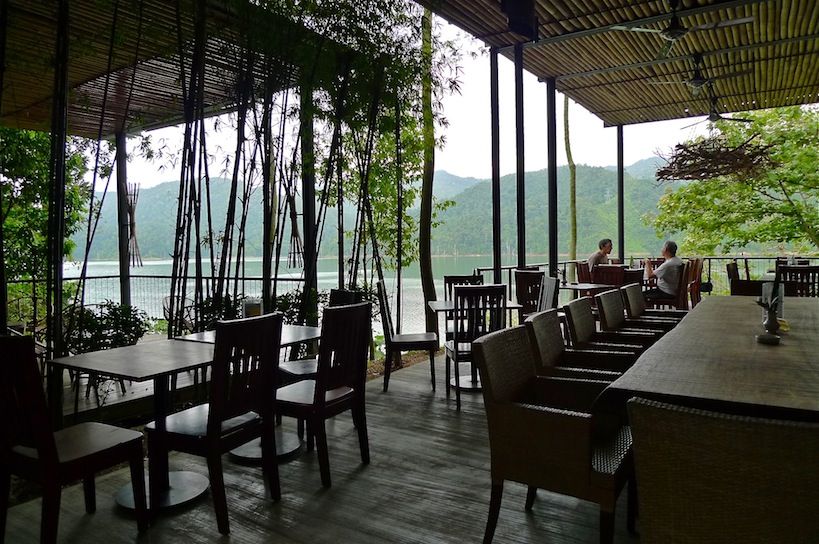 There's a bar near the restaurant. Sitting here and drinking beer by the lake sounds like pretty good thing to do, right?
The walkway has beer bottles hanging from the ceiling!
A closer shot of the ceiling.
If only the food served in this restaurant is as nice as the ambience! The buffet breakfast and dinner were pretty lousy. Their ala-carte fared better, however. I decide not to show any photos of the food as they are not worth mentioning. Luckily,
Eric
brought some instant noodles for this trip cos that's what we ate for lunch!
After our breakfast, we waited at the lobby for a while before a person in charge led us and another group of tourists to the jetty. It was a 10 minute walk to the jetty. We had to descend these wooden planks staircase to reach the jetty below.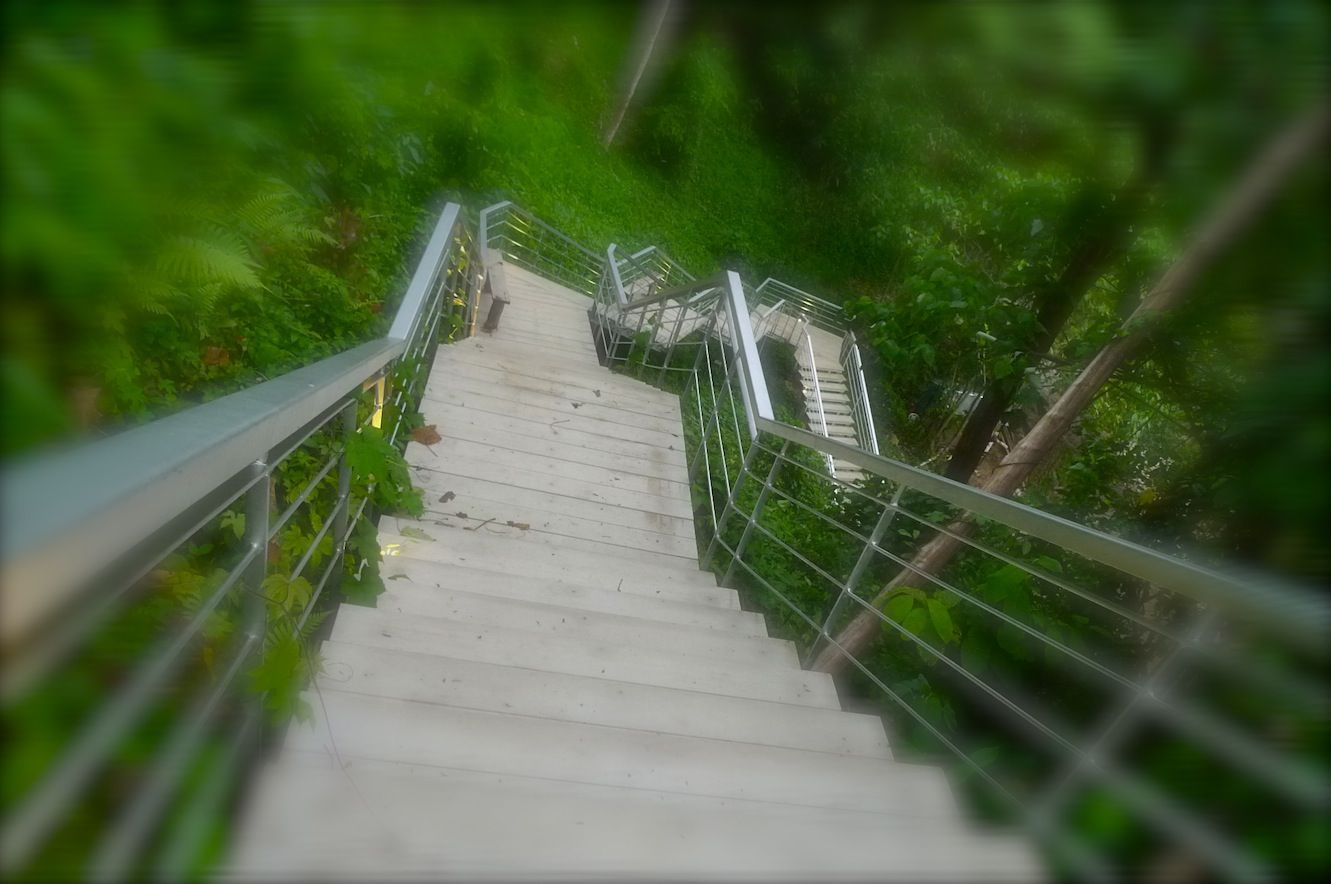 I remember
Caroline
complaining that the wooden stairs were shaky, but of course it was entirely her own imagination! : D
This is the gateway to our adventure. Yes!
There were a few boats by the jetty. We were ushered to our boat. The other group of tourists went into another boat.
See the bamboo rafts in the picture above? I had wanted to go for kayaking on these rafts! But alas, we did not go for it.
Soon, we were inside our boat ready for the journey to the jungle and the waterfall.
Walking in the 130 million years old tropical rainforest was quite fun except for one thing. I did not expect to be fighting the blood sucking leeches!
To be continued ....