Last evening, I went to
The Hungry Hog
in Subang Jaya for dinner with fellow bloggers
Caroline
,
Eric
and
Dan Liew
.
It was quite some time since I last met up with Dan (it was at Chili's in Mid Valley together with
Haaziq
- read
HERE
) so I was looking forward to this dinner. Besides, Eric and Caroline had been raving about the burgers at The Hungry Hog restaurant and I wanted to try it despite the fact that I am not a fan of burgers.
The menu was rather simple and basic with burgers, the mains, sides, salad and desserts. Sometimes, simple menu like this is better as you don't have difficulty making up your mind what to eat. You can read the menu
HERE
.
I chose
3 Little Pigs
. What a cute name!! I feel hungry already hearing this name!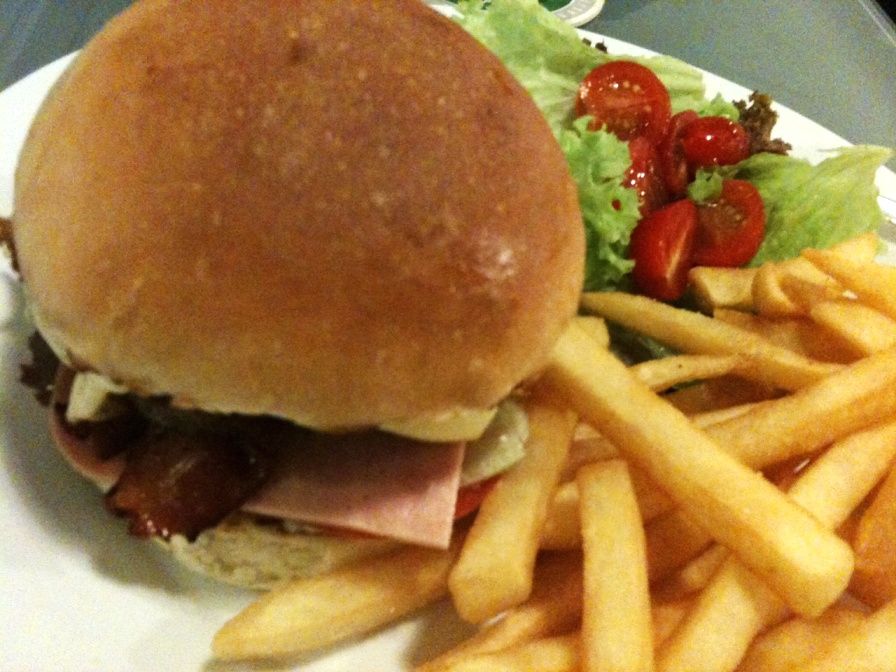 Sorry about the poor quality of the photos here as I was too lazy to bring along my camera. I had to make do with my iPhone 3Gs.
So why is it called 3 Little Pigs? Well, that's because it contains 3 ingredients - pork patty, streaky bacon and ham! It's the restaurant's signature pork burger. With added caramelized onions and melted cheese, biting into the pork burger was an almost heavenly experience. It was so yummy and satisfying! Did I just say I am not a fan of burgers?
Both Eric and Dan also ate the 3 Little Pigs. We all loved it!!
Caroline went for the
Humpty Dumpty
.
OK, that's another cute burger name! Don't you agree?
It's actually a burger with fried egg, streaky bacon and cheese. It looks delicious to me, although Caroline said it was just OK. I'm pretty sure Humpty Dumpty could not fight with the 3 Little Pigs though.
Eric ordered the
siew yuk
(crispy roasted pork belly) for all of us to share.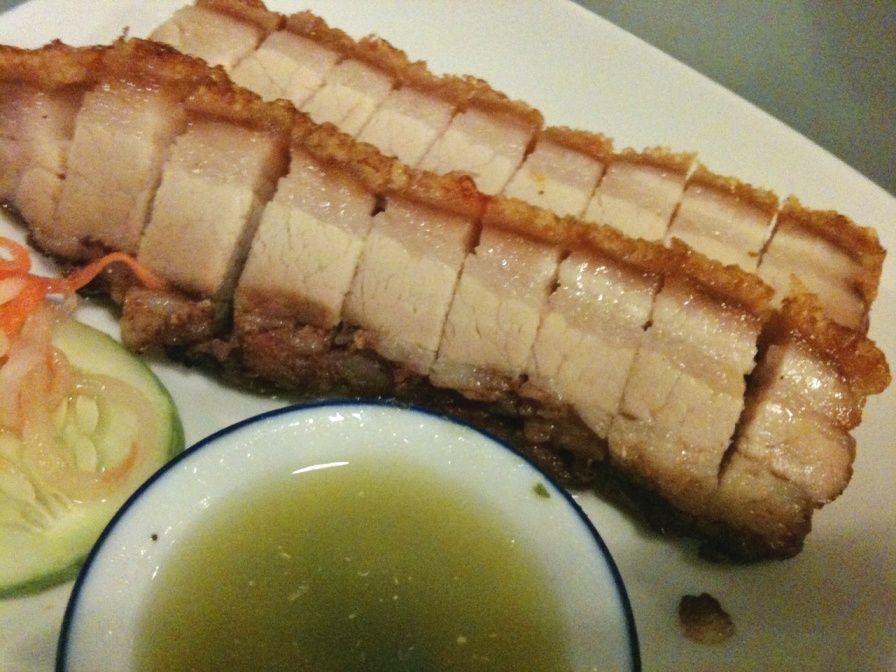 Oh my, the siew yuk was one of the best I have ever tasted! So succulent and juicy!!! It's even better when dipped in the green spicy sauce. I think I can eat the whole two slabs of the siew yuk all by myself! No sharing next time, thank you!
Eric had wanted to try the
bacon ice cream
but was unsure if he should. Of course with us there, the ice cream dessert was soon on the table.
The bacon ice cream was unique with bits of candied bacon buried in a scoop of vanilla ice cream, served with a drizzle of honey.
We just ordered one cup and shared amongst us. It was good, though not good enough to make me order another cup to be eaten all by myself! Or maybe it's because the food I had just eaten were high in calories and I would not want the ice cream to exceed my calorie limit for the day! Haha!
Here's a photo of Caroline and Dan. Did you see the polka dot butterfly on top of Caroline's head? Haha! If it's nice, please tell Caroline. If it's not, please keep it to yourself! LOL!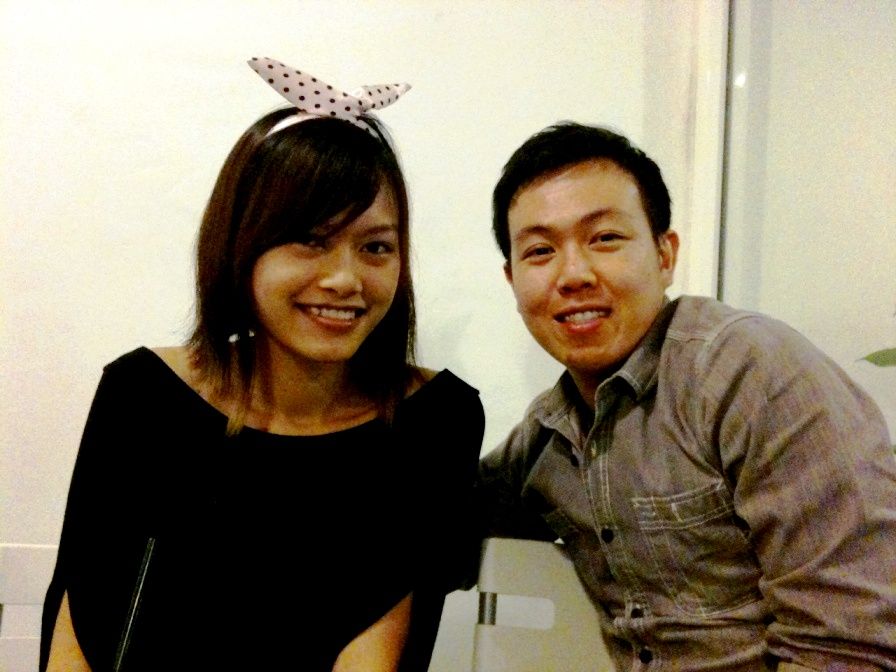 Eric was not in the picture as he was too busy fiddling with his hi-tech camera.
I had a great time - good dinner and great company - which is always wonderful!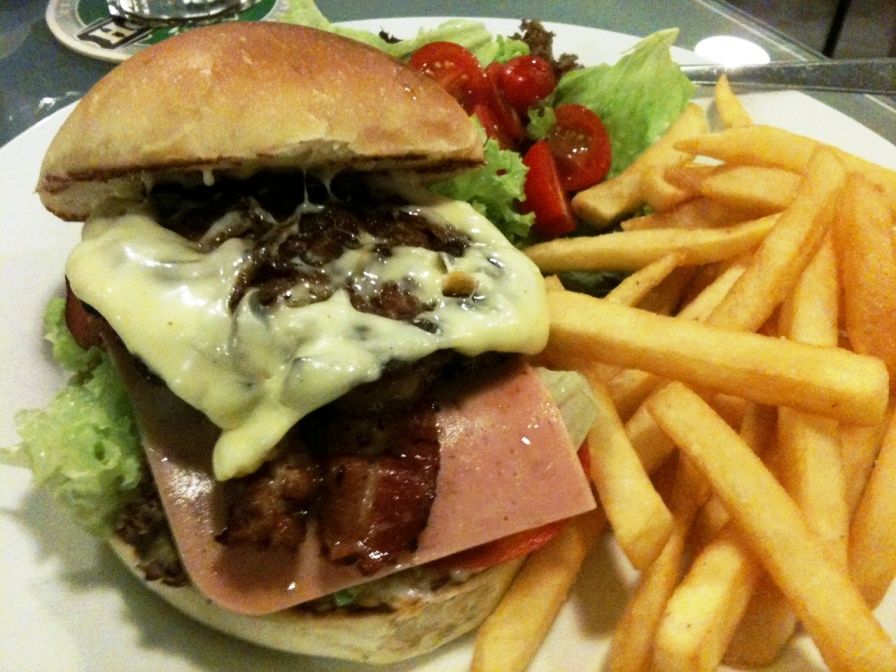 The price at this restaurant was pretty affordable. My 3 Little Pigs cost only RM15.90 which is reasonable considering the very satisfying portion.
So if you like juicy pork burger and siew yuk (I recommend these two items very highly!) then do drop by The Hungry Hog! For the menu, location and contact number, check out
The Hungry Hog website
.