There are three temples which you must visit in Cambodia. The first is
Bayon
Temple and the second is
Angkor Wat
Temple. The third in my opinion, is
Banteay Srei
Temple.
I visited Banteay Srei with my travel partners
Jam
and his friend on our third day in Siem Reap, Cambodia.
Located about 30km north east of the famous Angkor Wat Temple, Banteay Srei is considered an outlying temple since it is quite a distance from the main temple complex.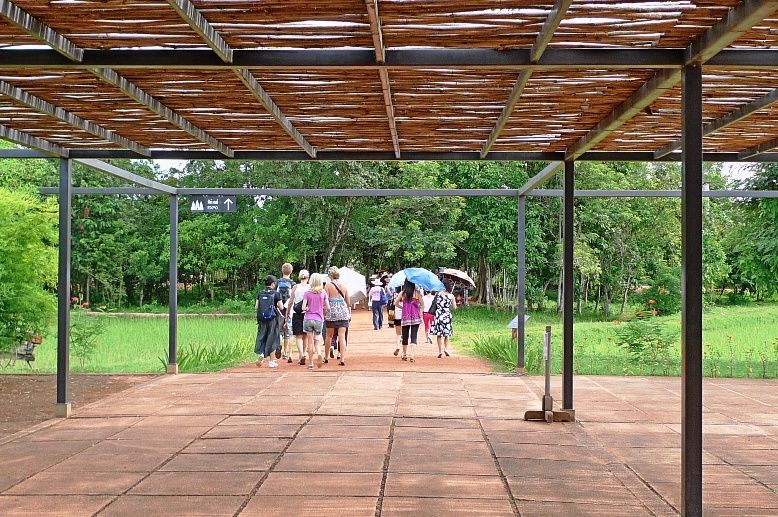 The entrance to the temple was rather nice.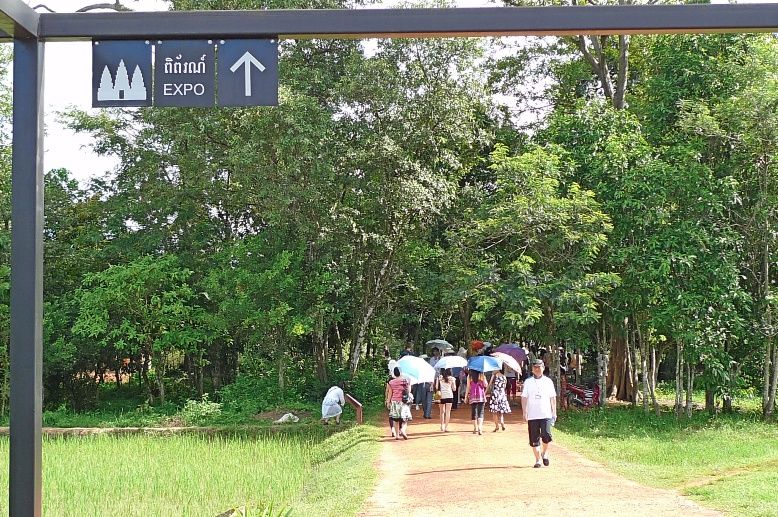 We passed by rows of shops selling souvenirs and snacks.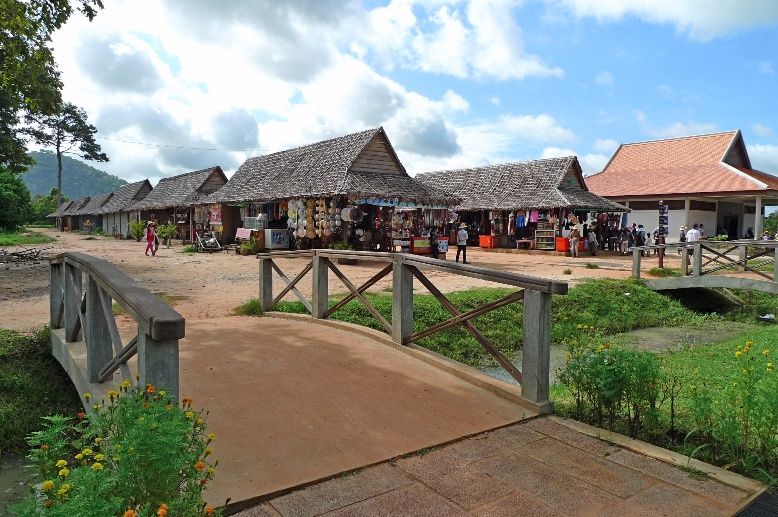 It was a beautiful morning too, and I took some pictures of flowers. This is one of them. Do you like it?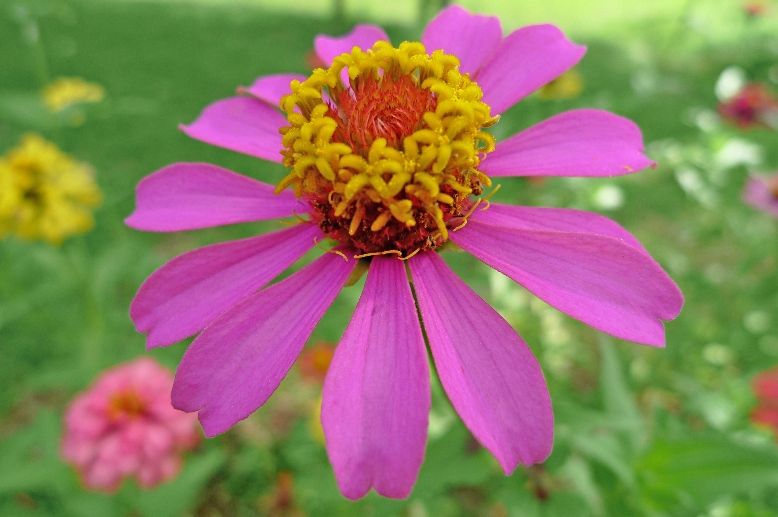 I took another shot but focused on the background instead of the flower. It was fun! Simply love my camera!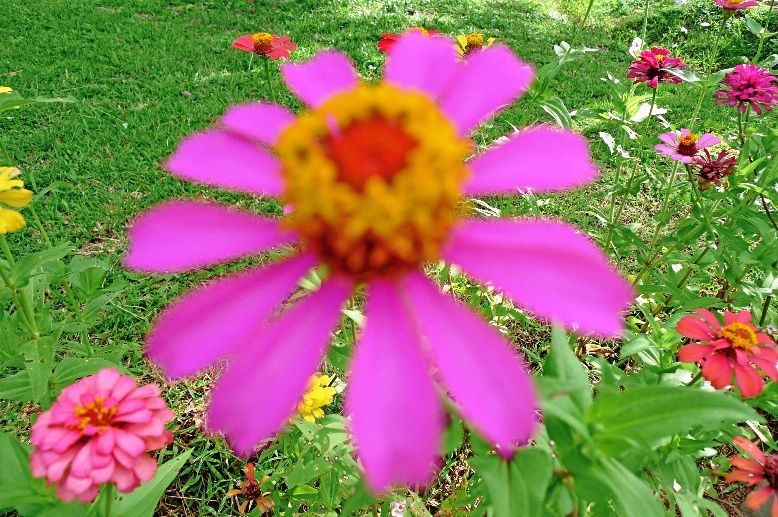 We passed by what looked like padi field on the way to the temple. What a wonderful view! I would not mind taking a morning stroll here even if there is no temple to visit.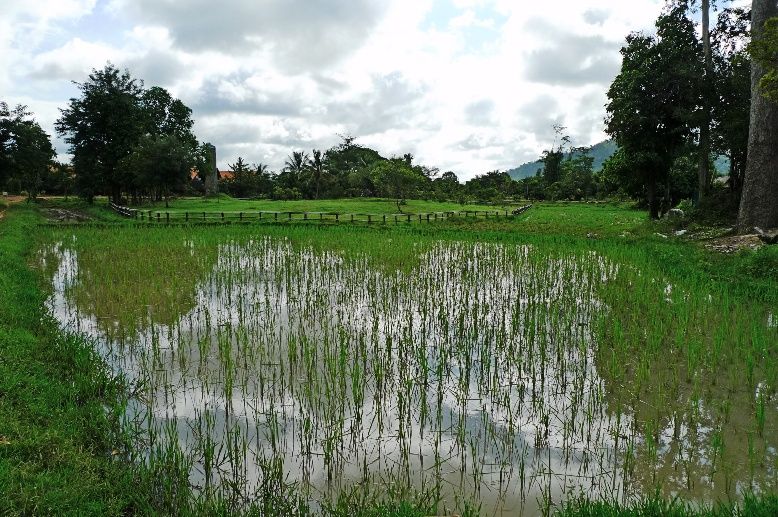 The name Banteay Srei means 'Citadel of the Women' which may be a reference to the small scale of the temple and also to its intricate and delicate carvings.
The unique thing about Banteay Srei temple is that it was built largely of red sandstone, which can be carved like wood. Because of this, Banteay Srei stands out among all the temples in Angkor Wat Archaelogical Park with its elaborate carvings which remain well preserved.
To reach the temple, we had to walk on a long, red sand causeway.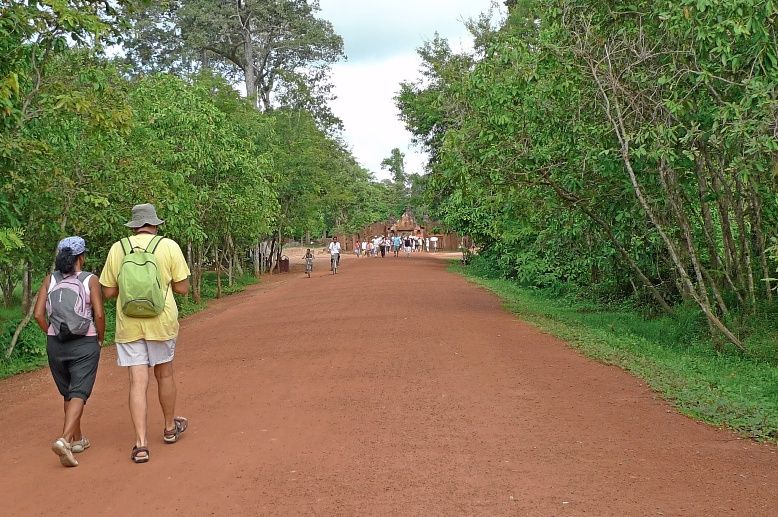 Built in the 10th century and dedicated to Hindu God Shiva, Banteay Srei consists of three concentric rectangular enclosures. Like most temples in Siem Reap, it is oriented towards the east.
This is the gate leading into the third enclosure. I had a hard time taking photos here as there were too many tourists blocking the view! So I waited for the tourists to disperse.
Look at the intricate carvings on the pediment! Don't know what a pediment is? That is the triangular section above the doorway.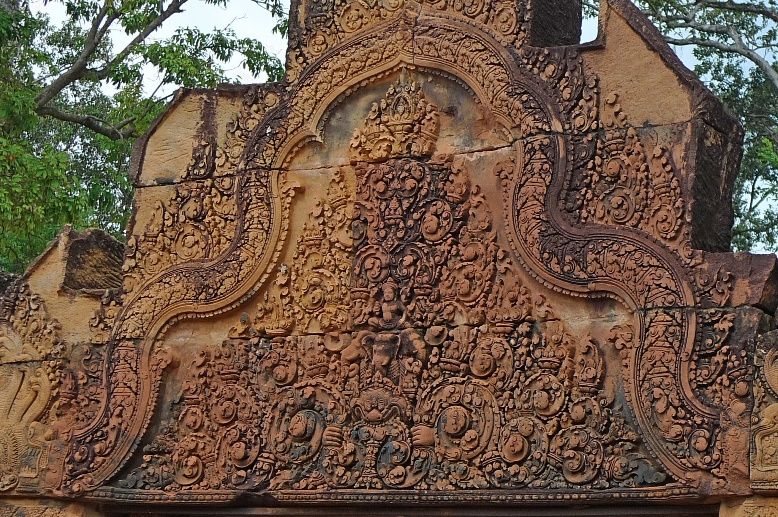 A signboard on the right side of the gate detailing the Banteay Srei Conservation Project.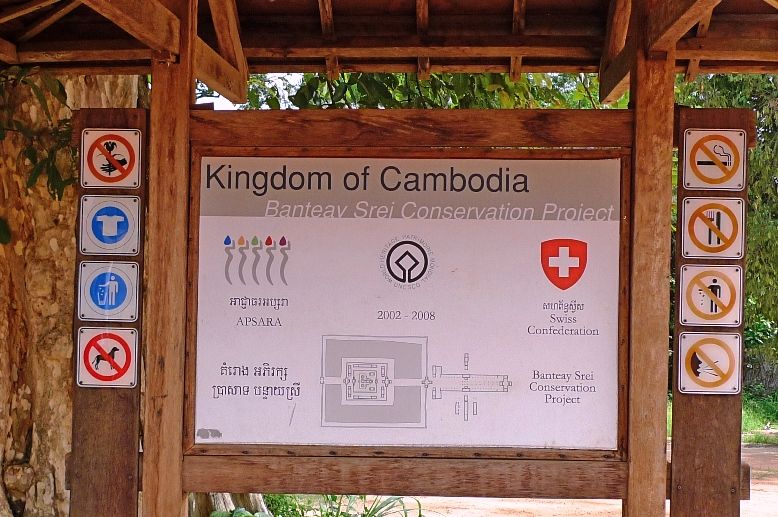 No smoking, no eating, no littering, no spitting, no plucking of flowers, no dogs...wow! That's a lot of "No"s! But what's that picture of a shirt on the left column? Does it mean one must wear a shirt and not walk around naked? LOL!
These are carvings on the columns. Is this an
Angry Bird
I see here? Haha!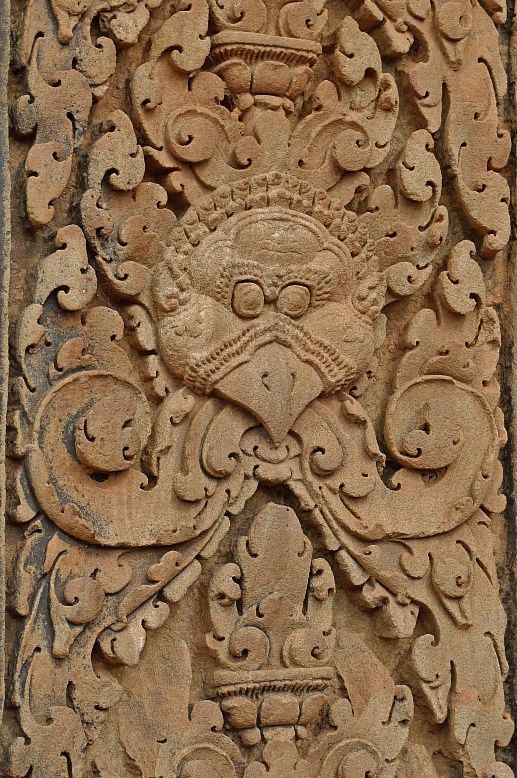 Toothy monster representative of time known as
kala
above the "Angry Bird".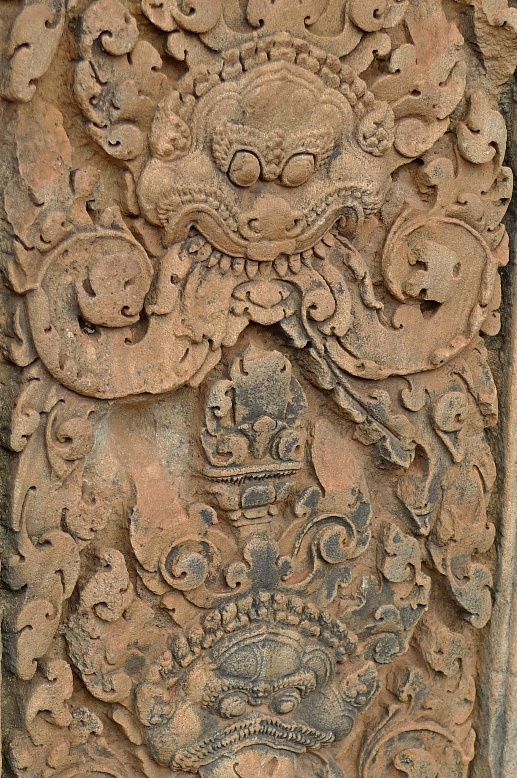 Inside the third enclosure, there was another red sandstone causeway leading towards the second enclosure.
There were quite a number of tourists that morning. I had to let them walk ahead of me so that I could take a decent photo.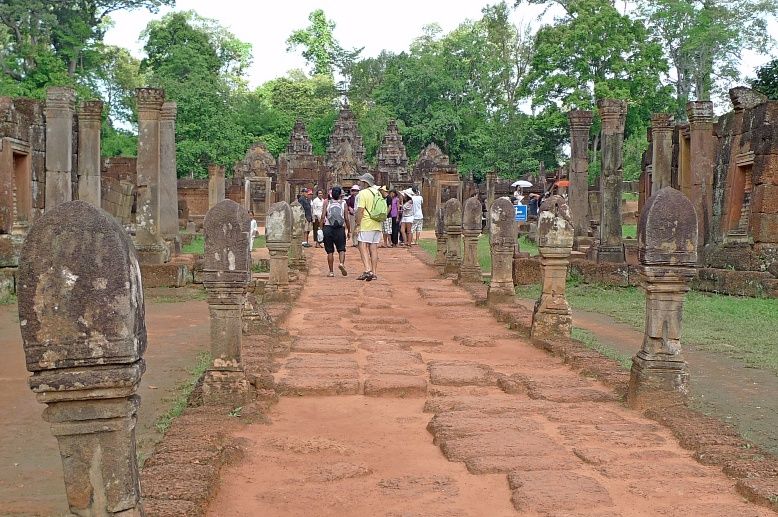 This is another delicate carved doorway.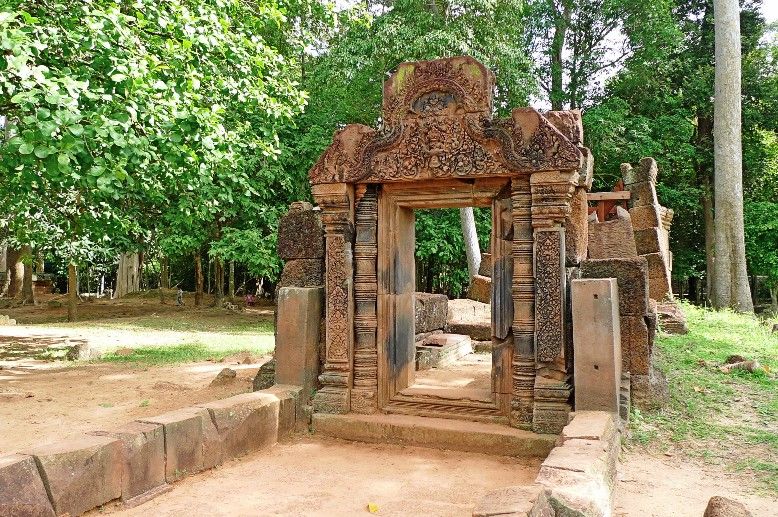 The intricate carvings on its column.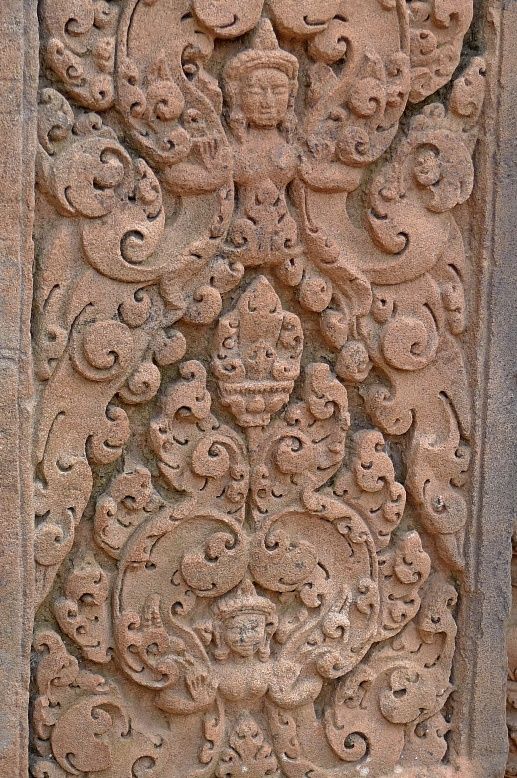 Look at this weird carvings on the pediment. I am pretty sure there is a story behind this carving. Unfortunately, since we did not have a tour guide with us, I don't know what the story is!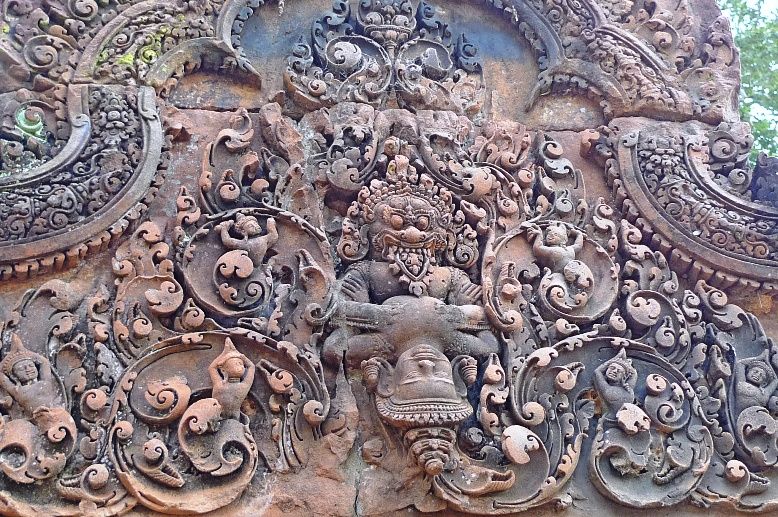 Another doorway featuring yet more intricate carvings.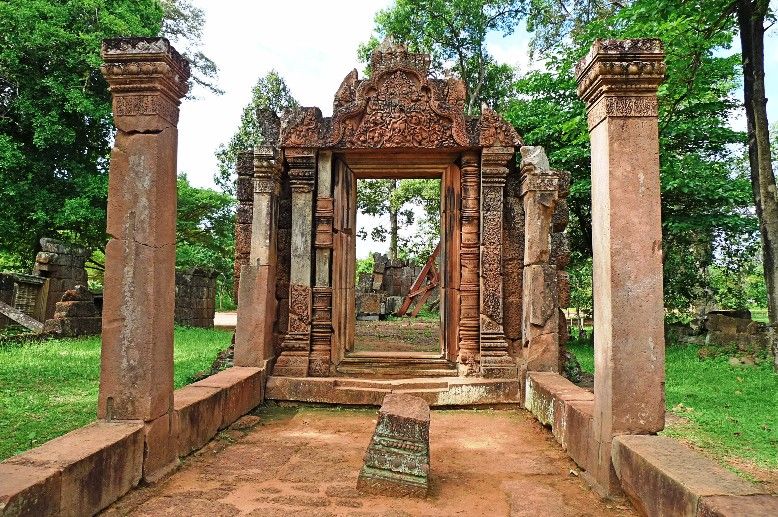 So much details on the pediment! Though, can you see the body has a missing head?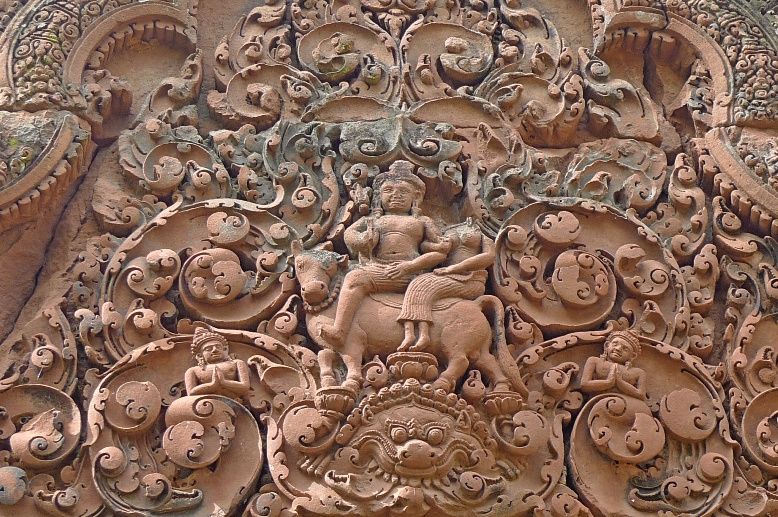 This is the second enclosure. A tourist was busy taking pictures. And I was busy taking picture of him taking pictures! LOL!
Beautiful carvings could be found here too! I have to say that if you are into carvings, you simply must visit Banteay Srei!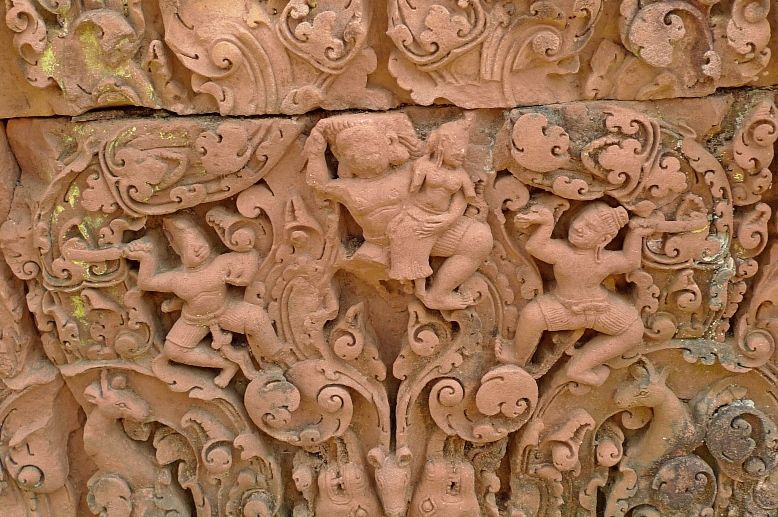 A
linga-yoni
structure could be seen here.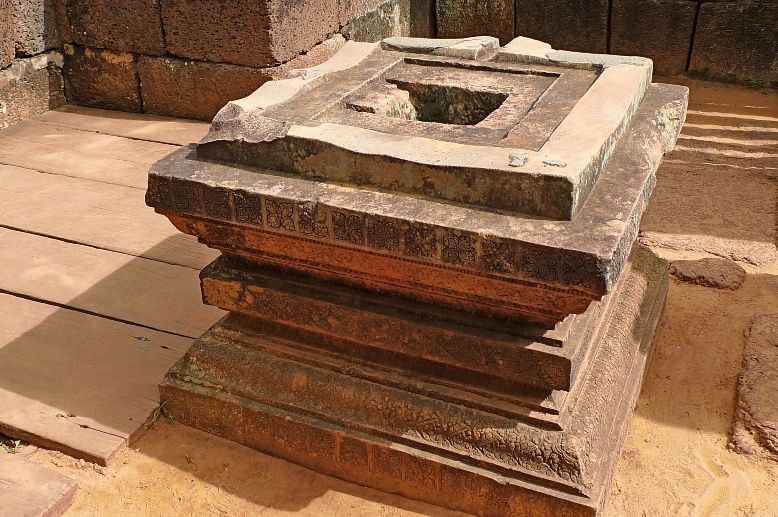 Another red sandstone pathway leading to the first enclosure.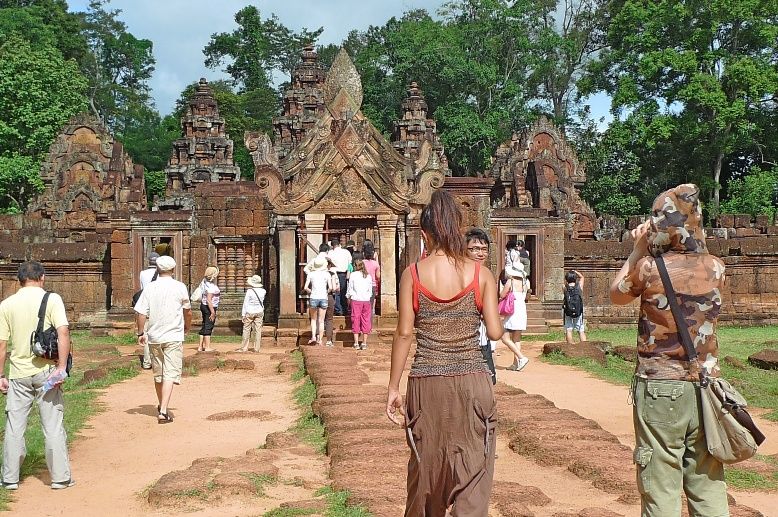 I thought the doorway of the first enclosure looked slightly different.
View of the first enclosure gate across the moat.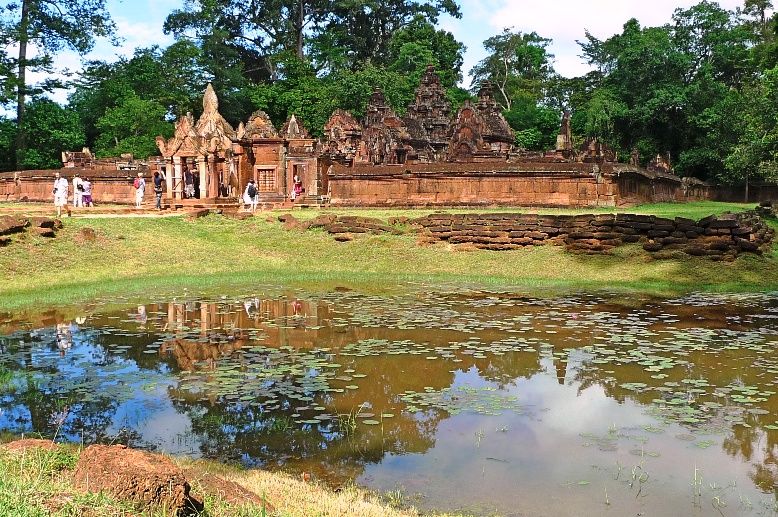 A close-up look at the unique looking gate.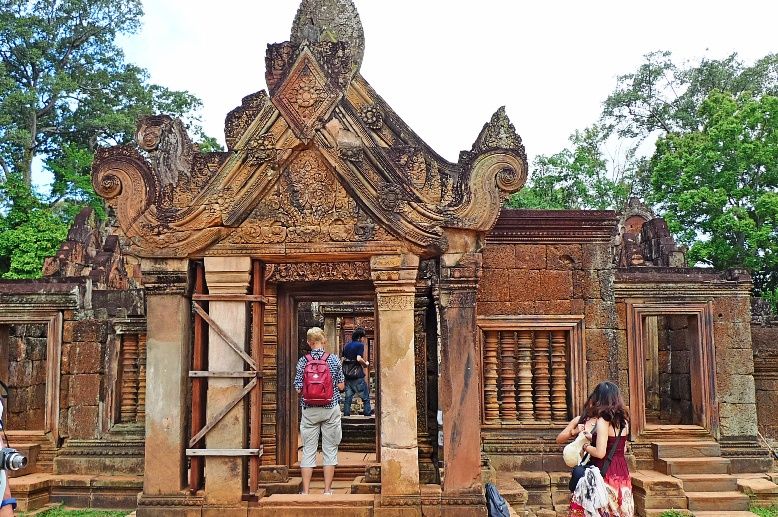 Again intricate carvings could be seen on the pediment.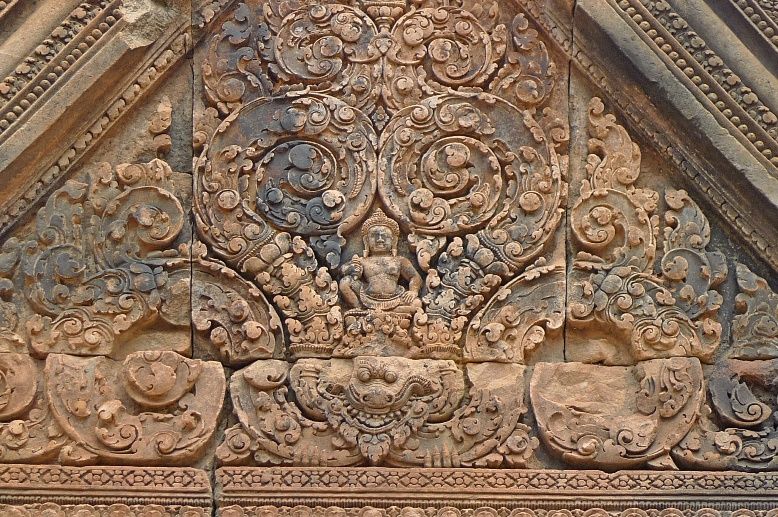 Awesome carvings with fine details!
Not sure what this is - just took a photo of it.
One of the nice structures inside the first enclosure.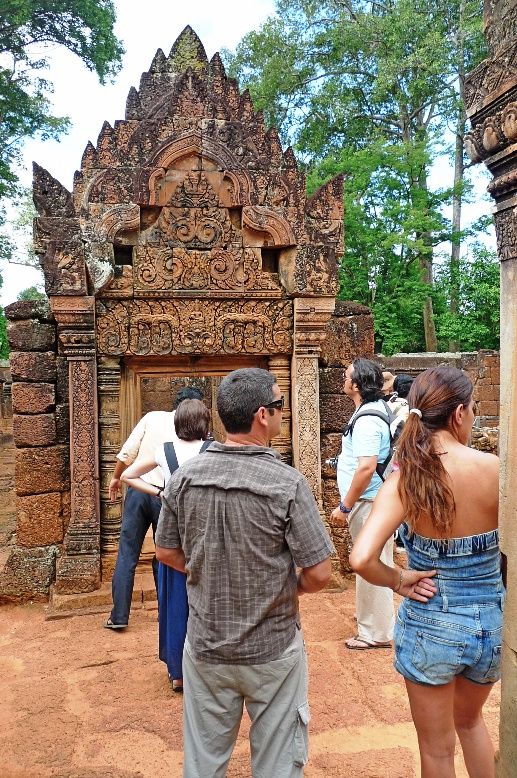 More intricate carvings!
What animal is this?! Is it a bull?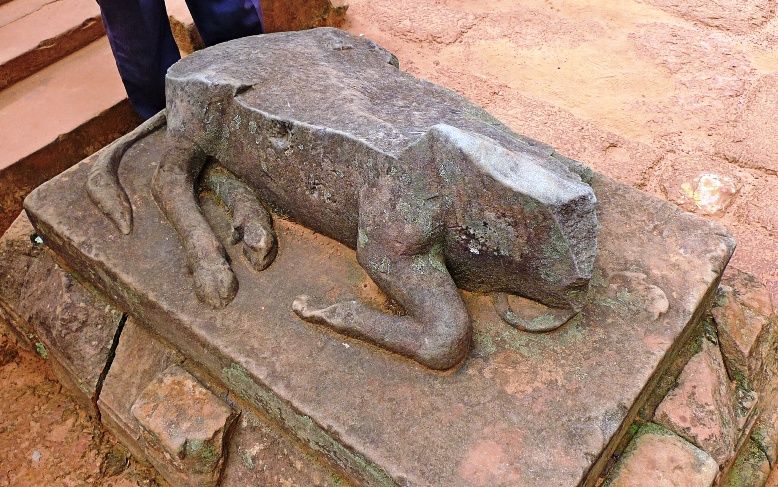 This is possibly a depiction of God Shiva doing the dance. I may be wrong though.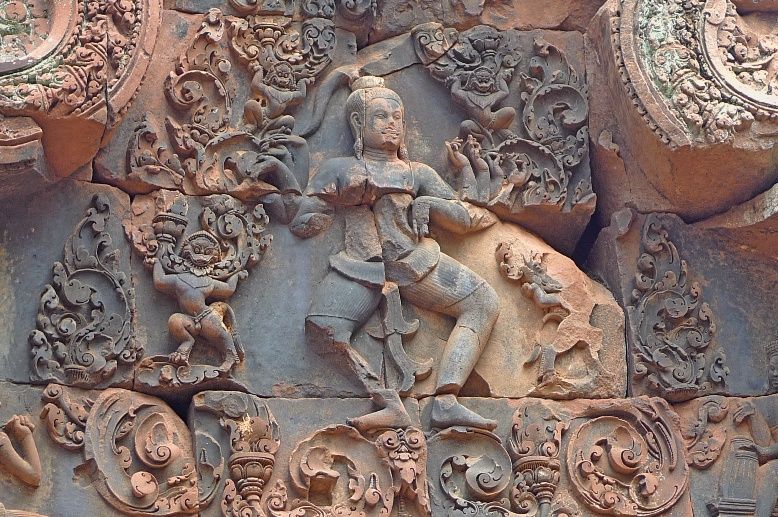 This are the main structures in the first enclosure.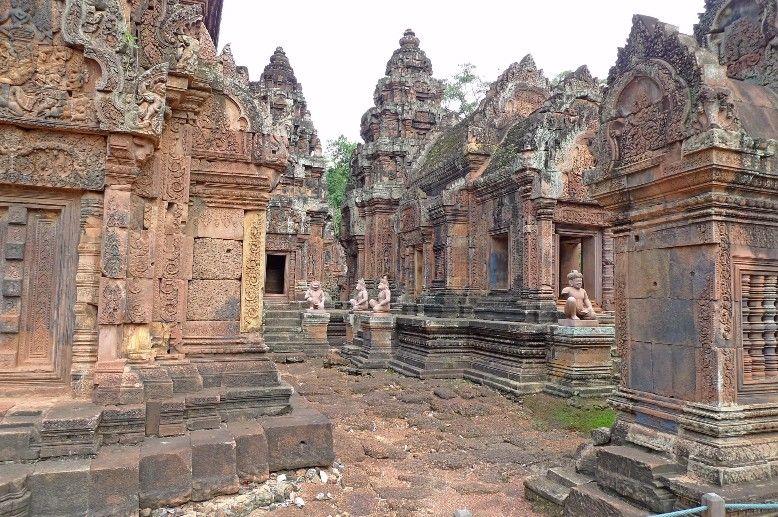 I wish someone can tell me the story behind all these carvings!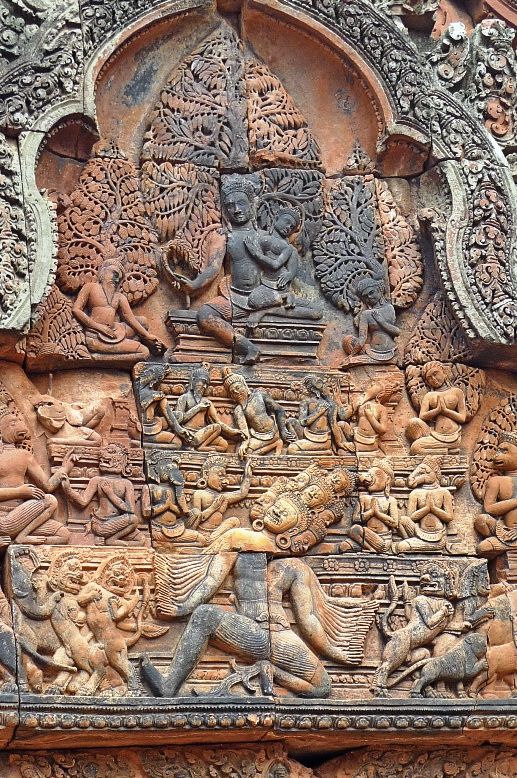 Perhaps you should get a tour guide if you plan to visit this temple and are interested in the history behind it.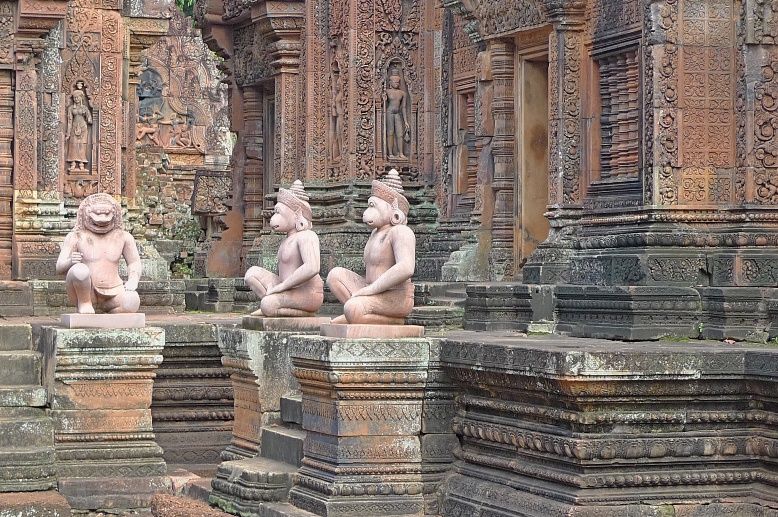 Are these monkeys?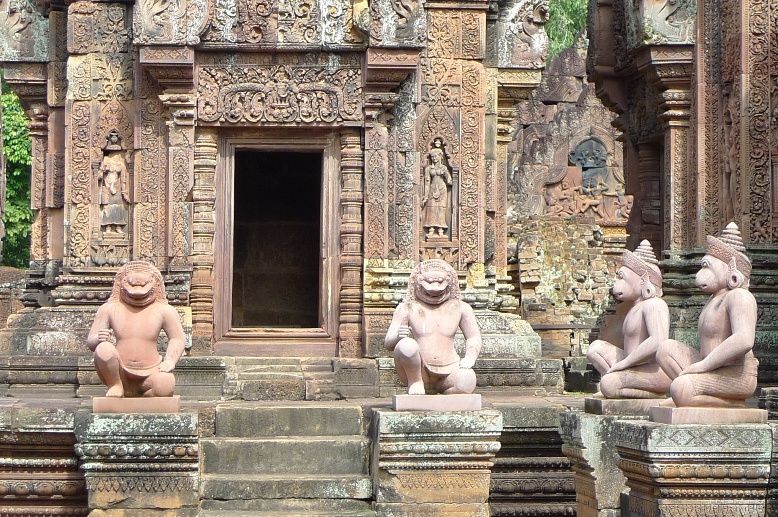 In any case, I really enjoyed looking at the structures here.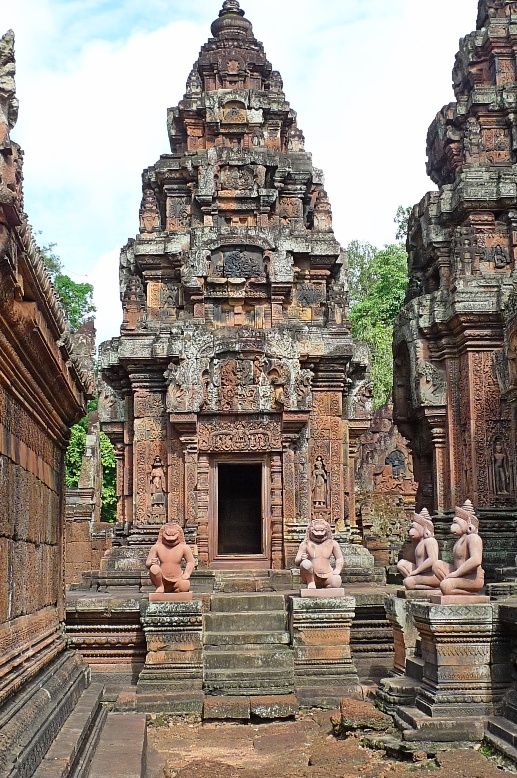 They were all pretty well maintained and preserved after so many centuries!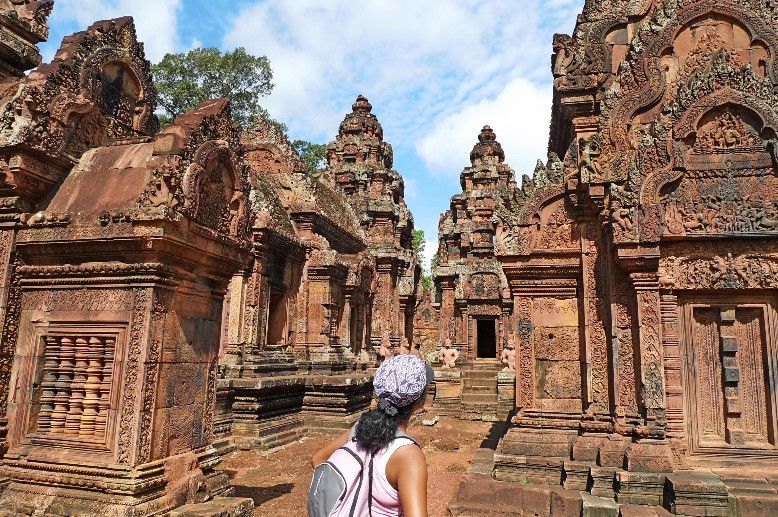 If you are an avid photographer, you will love this place!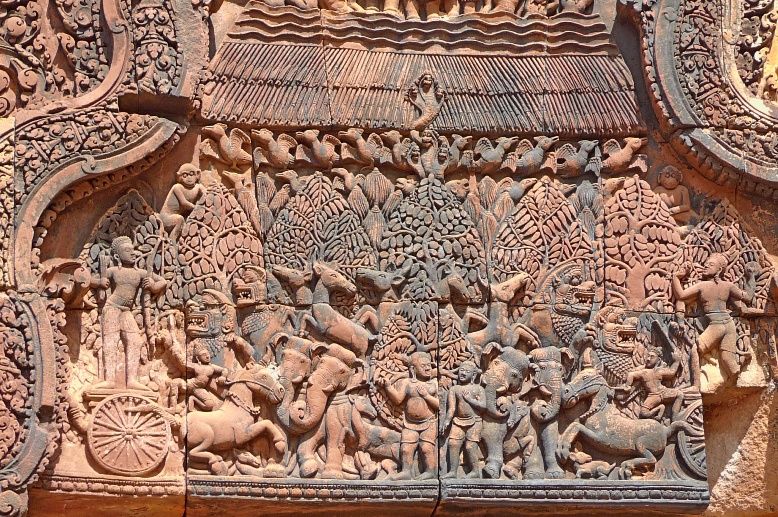 Monkey-like creatures shot from another angle.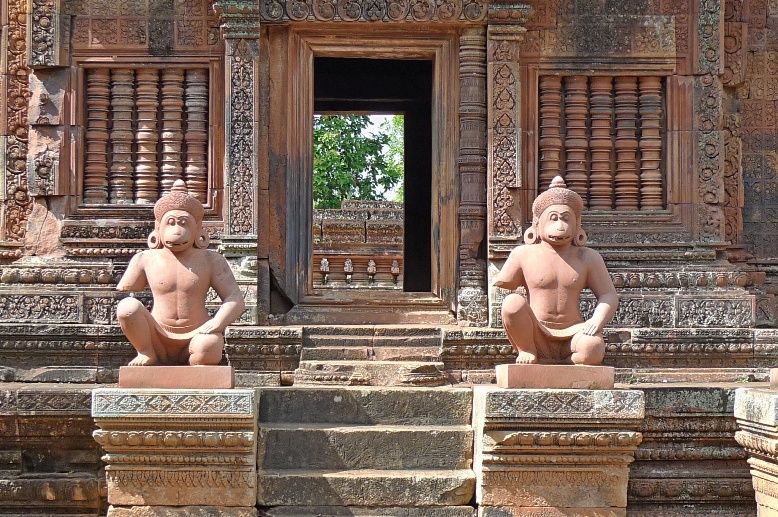 Maybe I am putting up too many photos of the same thing here but I can't help it! LOL!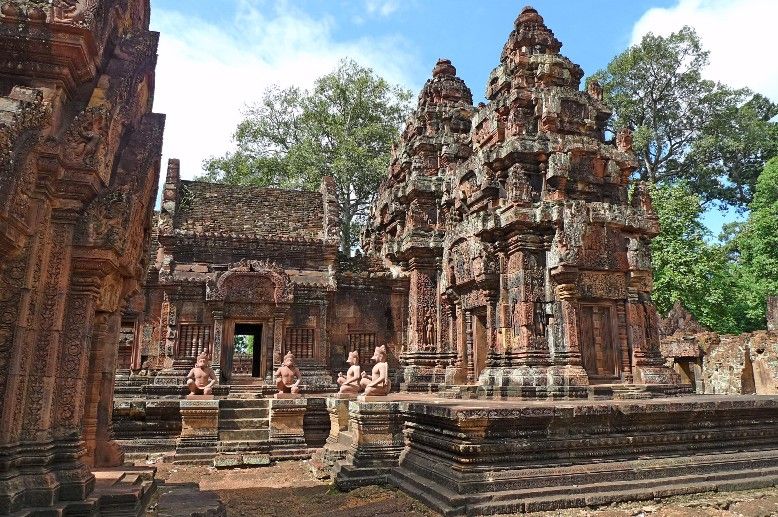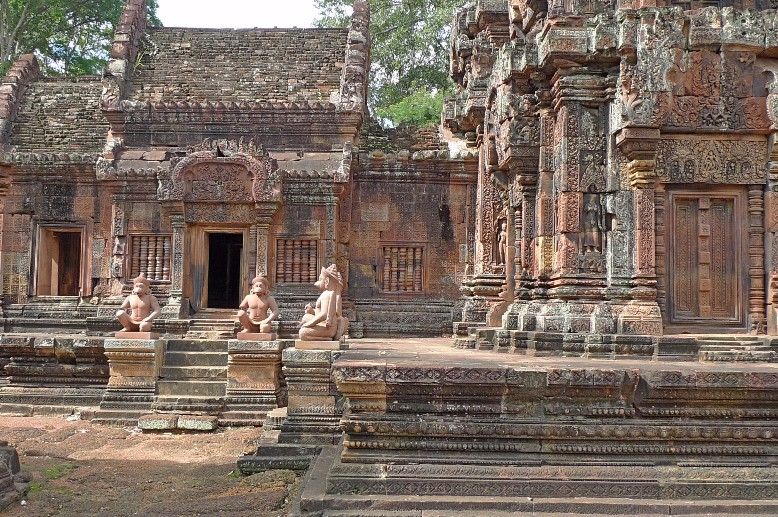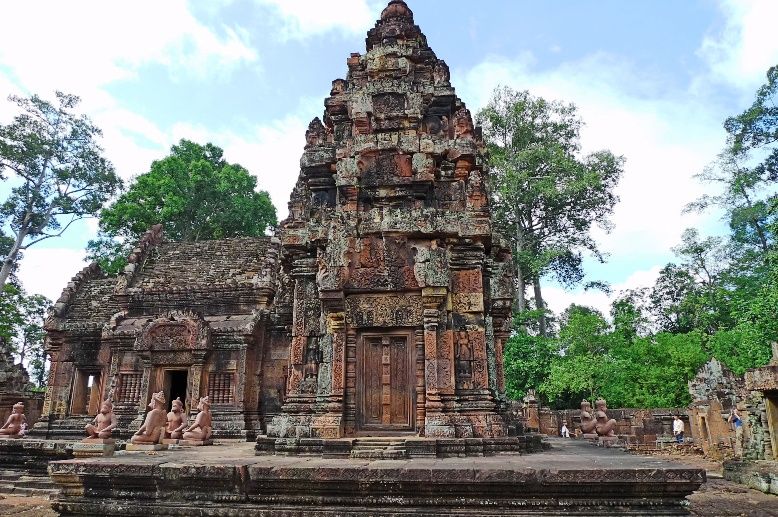 A bas relief depicting monkey princes
Vali
and
Sugreeva
fighting with each other.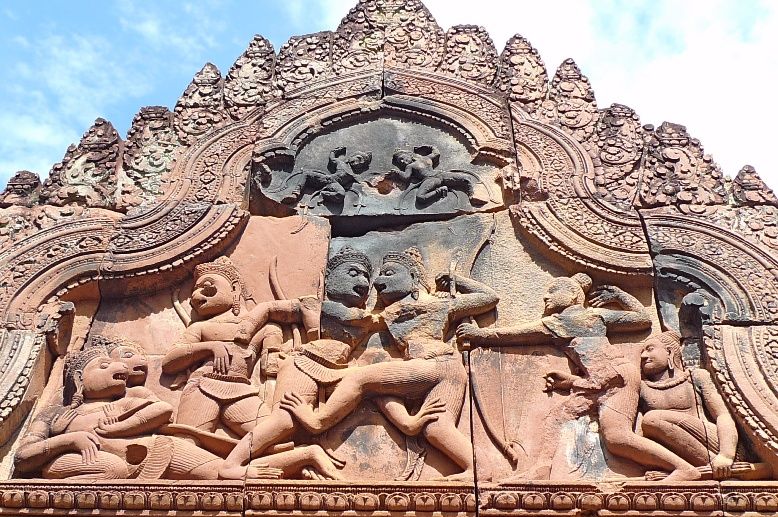 It had been a wonderful morning admiring all those intricate carvings at Banteay Srei. On our way out, we stopped by the shops selling souvenirs and snacks.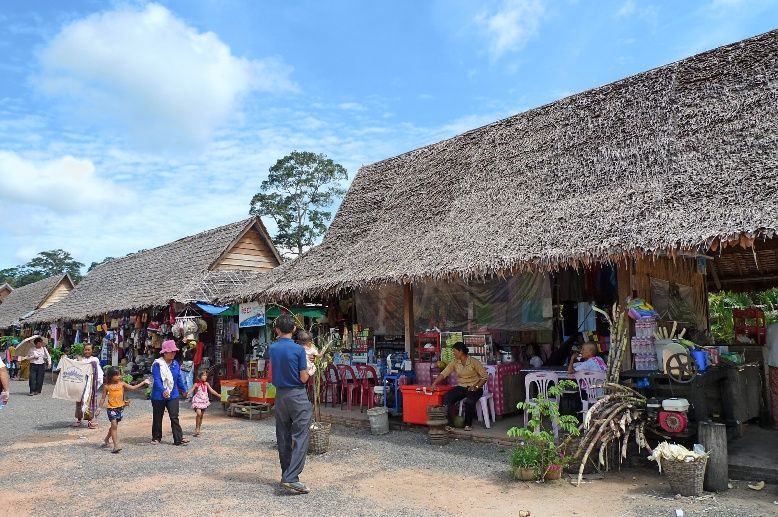 We did not buy anything except for coconut drinks to quench our thirst. Besides, the sellers at the stalls there kept pushing us to buy and I think we were pissed off. I would have bought something if they had not been so pushy!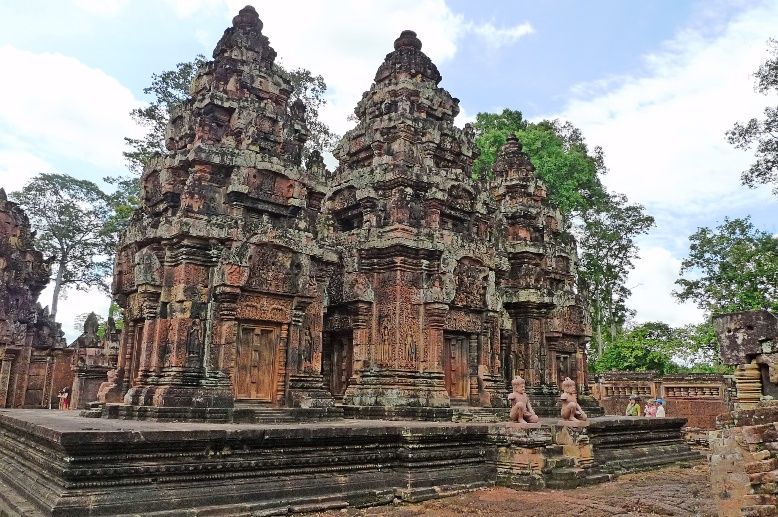 Temple fatigue was beginning to set in on our third day in Siem Reap so I was glad that our
three-day admission pass
to the Angkorian temples would be expiring by the end of the day! It was also a huge relief to know that the next item on our itinerary would be a hike up to the waterfall at Kbal Spean.
Now that's just what I need to overcome temple fatigue!