A young Cambodian boy, about 8 or 9 years old approached me outside a temple ruin and asked me to buy postcards. USD2 for a stack of 10.
I said No.
He then offered me 2 stacks of 10 postcards each for USD2. I thought that was a pretty good price but decided to bargain further. So I told him I will buy for USD1.
He said "Oh no. Can't. This is the lowest. 2 dollars for 2 stacks."
I refused to give in but he kept pushing me to buy. Finally, I told him "I will buy if it's 1 dollar" and walked away. Seconds later, he came after me and agreed to sell it to me for USD1. Deal!
As soon as I paid him and took the 2 stacks of postcards, another Cambodian boy came up to me and said, "Sir I can sell you 3 stacks for 1 dollar."
At the eastern entrance to
Preah Khan
, a little Cambodian girl was standing in front of me. I thought I would like to include her in my picture. As I was about to shoot, another Cambodian girl, somewhat slightly older, came up to me and said "1 dollar for photo".
I was stunned. What?!
Obviously, she meant USD1 for taking the picture of the little girl!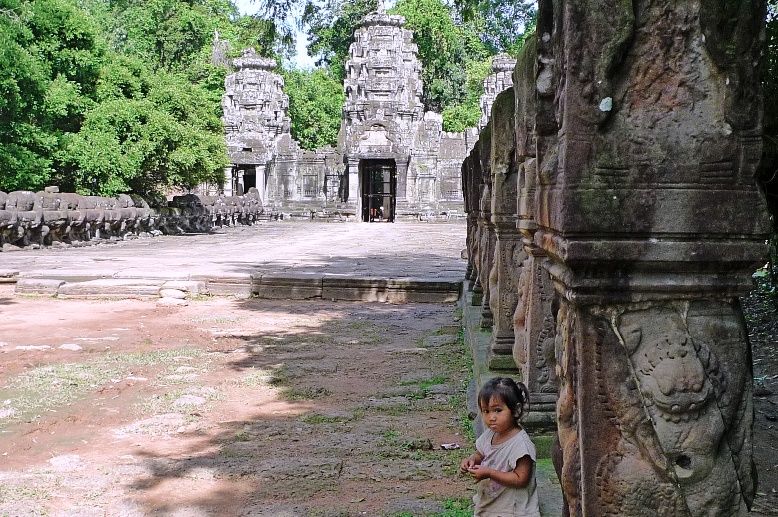 Did I pay her? Hell, no!
I told her that I was taking the picture of the causeway and temple gate in front of me, NOT the little girl. She just happened to be in front of my camera.
OK I lied.
But the little girl had probably been taught to stand there! What do you think?
After visiting the
Terrace Of The Elephants
in Angkor Thom,
Jam
, his friend and I moved on to Preah Khan Temple, which was located at the northeast of Angkor Thom. There were a few entrances to Preah Khan - we chose the most popular one, that is the east gate.
And just like
Angkor Wat
and
Angkor Thom
, Preah Khan is surrounded by a wall and a moat. Below is a picture of the
deva
(or is it
asura
?) pulling the
naga
with the moat in the background. I guess the head of the statue was missing!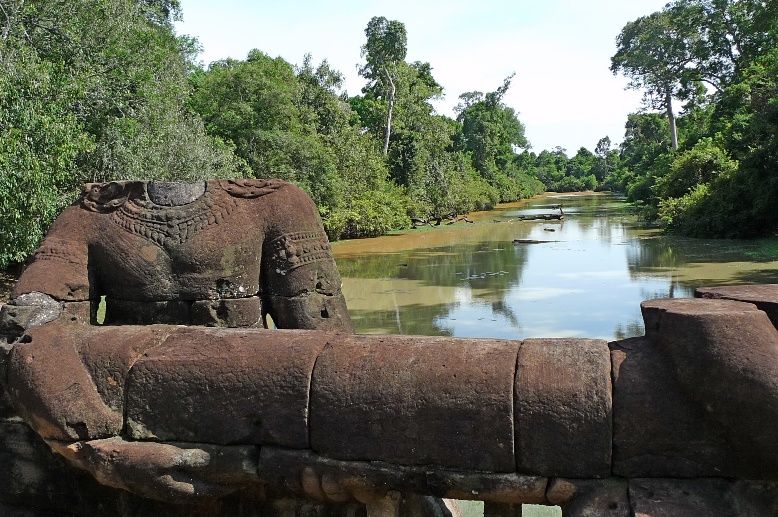 There were some restoration work going on at the entrance.
Some of the photos I took of the entrance gate and wall.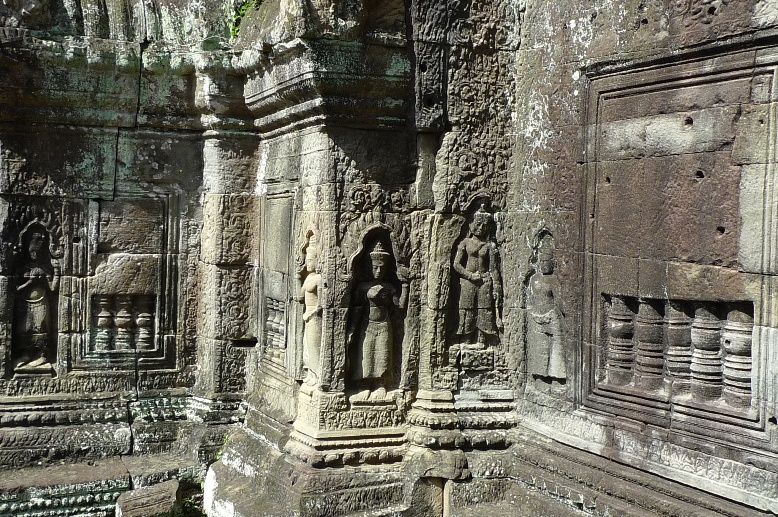 There were some unique boundary stones lining up in a row outside the entrance.
Entering the gate, we had to walk along a sandstone road which leads to the East Gopura.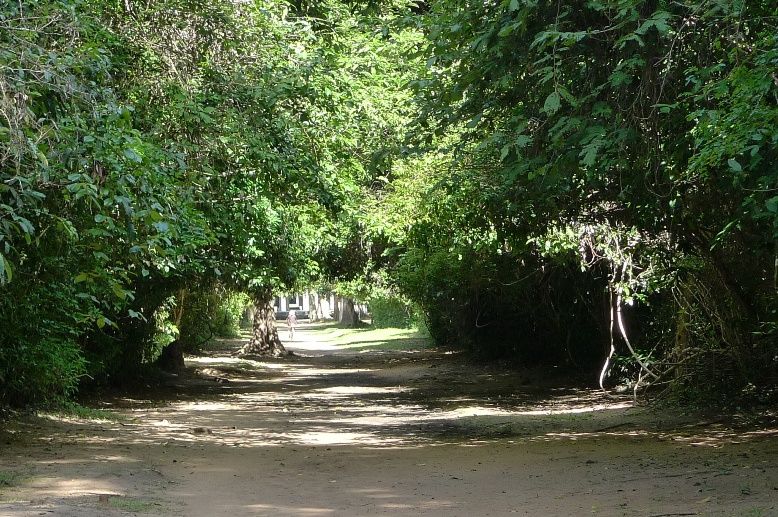 An old ruin which I saw along the way.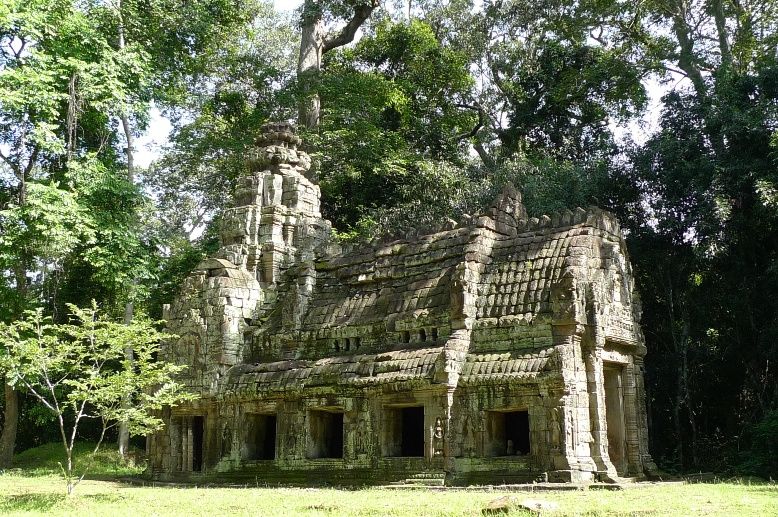 This is the East gopura leading into Preah Khan temple proper.
I could see trees growing out of the temple structure. This unique sight could also be seen at
Ta Prohm
which we would be visiting later in the afternoon.
Intricate carvings were everywhere.
Some photos of the temple ruins.
Built in the 12th century by King Jayavarman VII, Preah Khan must have been quite grand in those days. It was not only a temple but also functioned as a monastery and a university.
Presently maintained by the
World Monuments Fund
(USA), it was however, largely left unrestored. This was done deliberately as the conservators believed that doing too much restoration would involve too much guesswork and preferred instead to respect the ruined nature of the temple.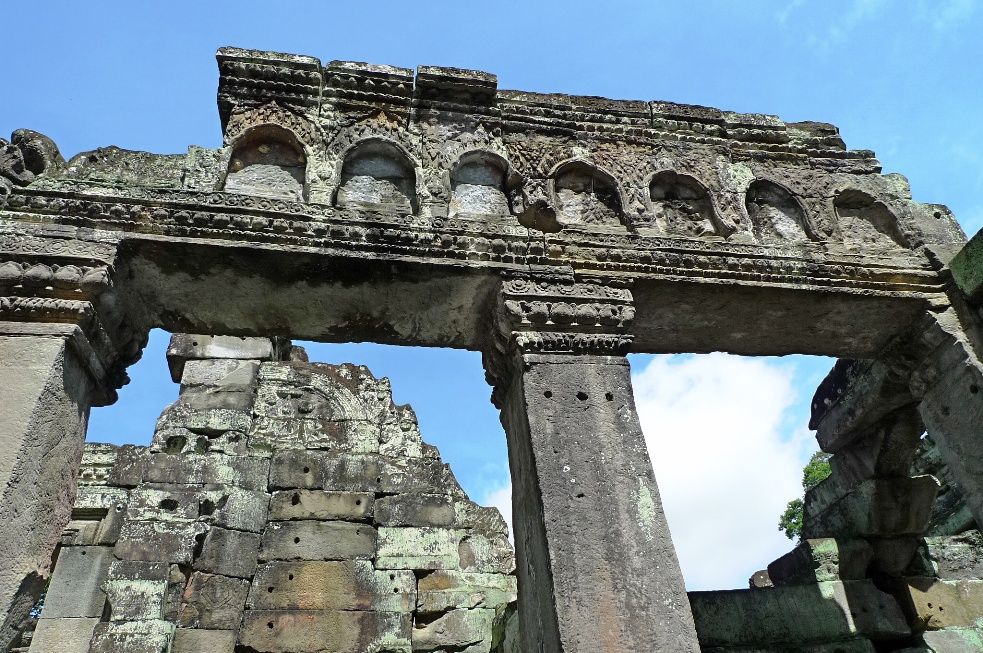 One of the former employees of the World Monument Fund had said, "We're basically running a glorified maintenance program. We're not prepared to falsify history."
With little restoration work, more trees could be seen growing out of the temple structures.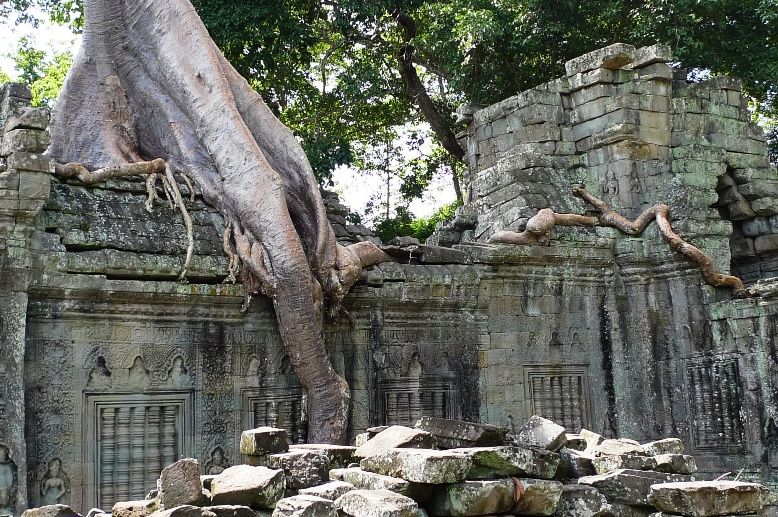 Magnified view of the tree roots.
A chopped tree could be seen on top of this temple structure.
More pictures of Preah Khan temple ruins. No words are needed as a picture tells a thousand words!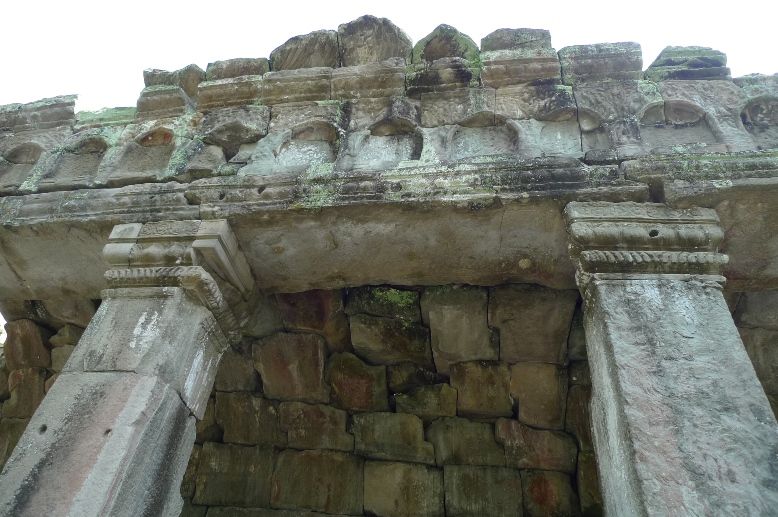 Look at those rocks!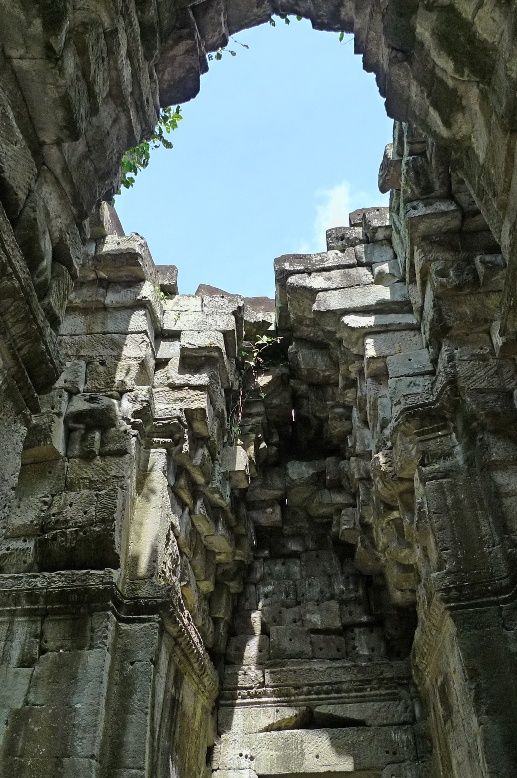 Are those faces at the bottom of this photo?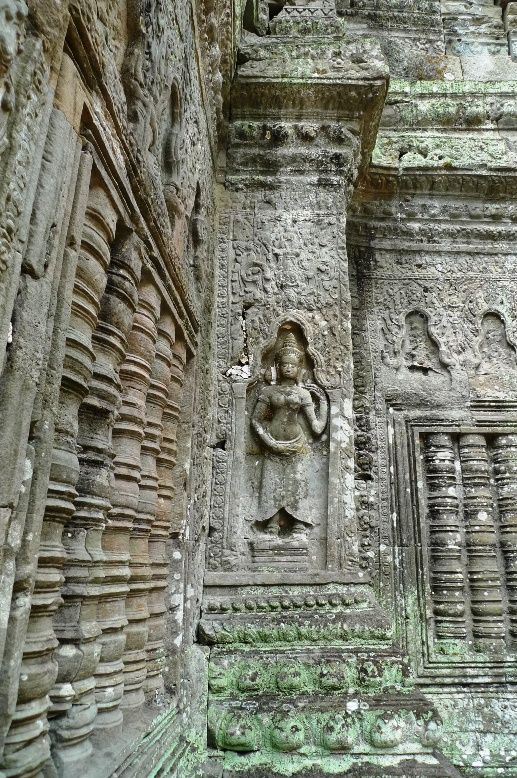 Not sure what this is - anyone knows?
Another long causeway next to the main temple building.
A tourist dressed in orange walking out of the ruins.
Relief decorations of praying hermits.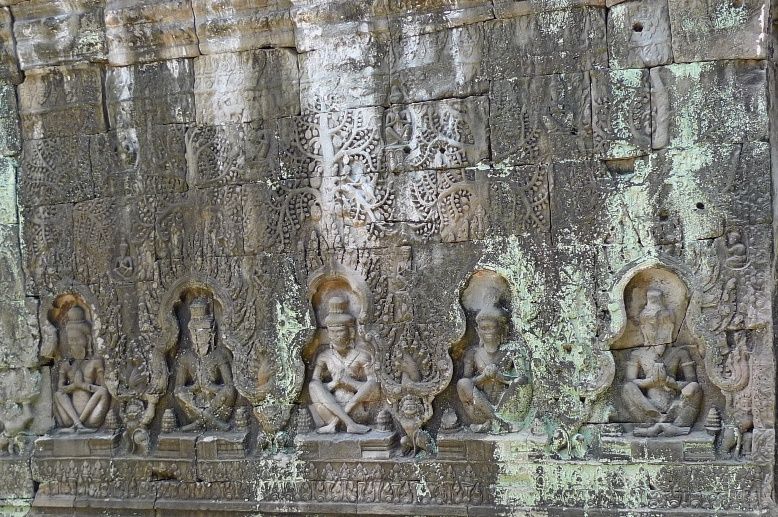 During our visit to this temple, a young Cambodian boy approached us to be our tour guide. I was quite amazed by this cute little boy's proficiency in English and his vast knowledge about the temple.
I could not remember what he said about this sculpture though.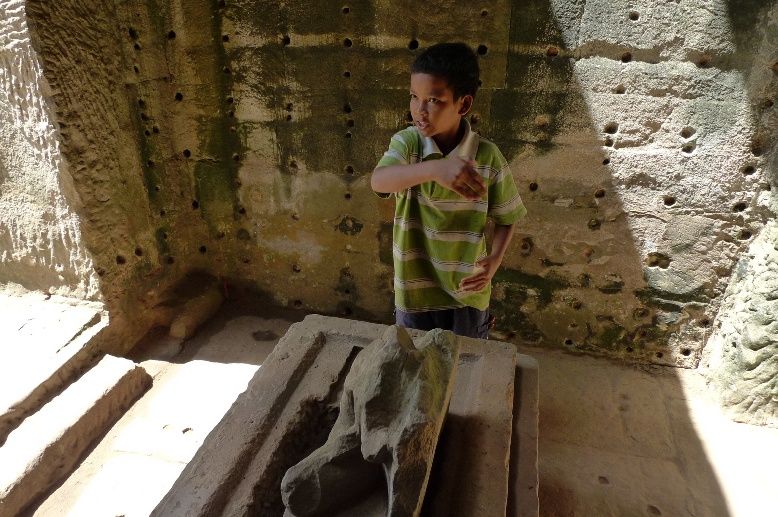 It was a headless statue but I really could not recall what it was all about!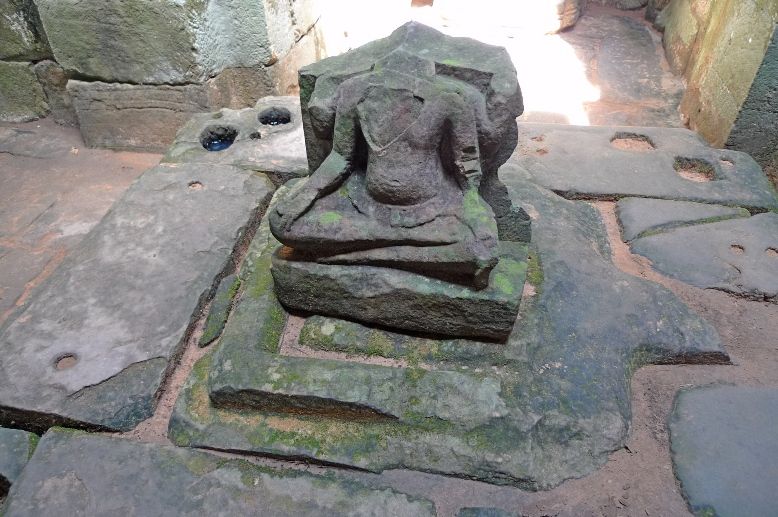 But I remember he told us about the holes in the walls. See these holes? Some of them were used for putting in precious gemstones like diamonds and rubies!
I tried to look in case there was a diamond or ruby still attached inside one of those holes but of course, there was none. Imagine the temple walls filled with glittering diamonds in those ancient days! Must be a sight to behold!
We came across a stupa. An adult tour guide was explaining about the stupa to a group of tourists.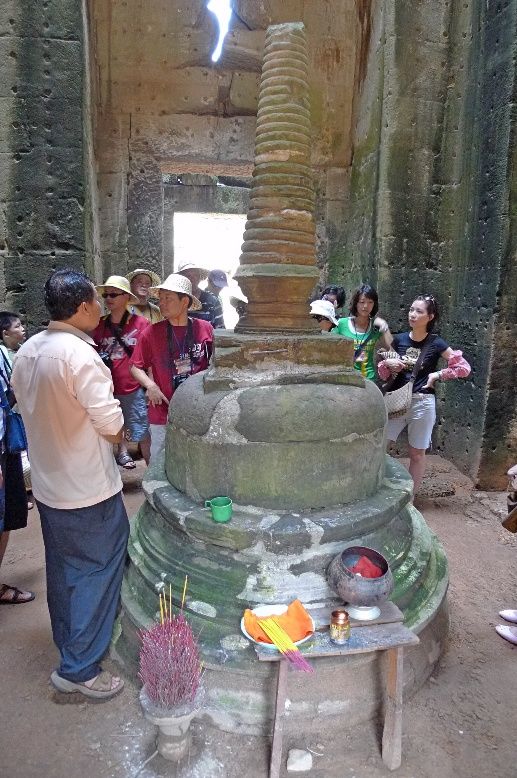 I don't really know the story behind this stupa but standing at an angle, the stupa looks like a lighted candle!
The "flame" is actually light coming in through a big hole in the wall!
Our young guide explained to us about this
linga-yoni
. Don't know what is that? I even bought a linga-yoni sandstone back from Cambodia! Read
HERE
.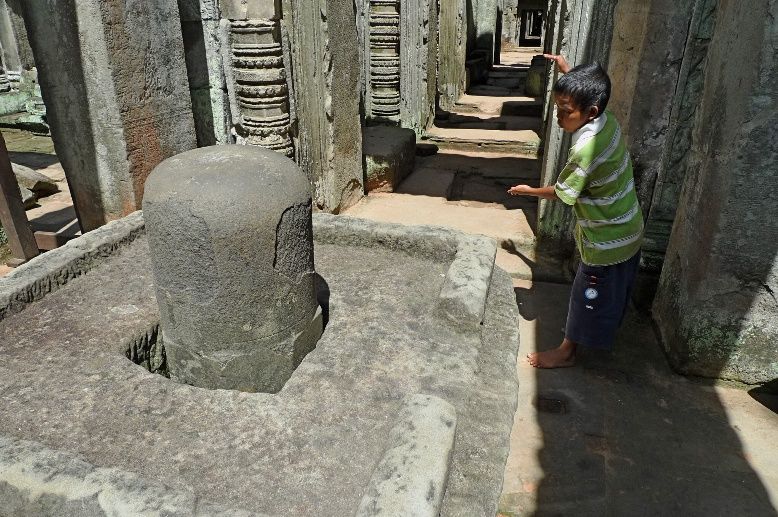 The boy explained another structure which looked like a variation of the linga-yoni. Unfortunately I have forgotten what he said! Next time I must record any tour guide's speech! LOL!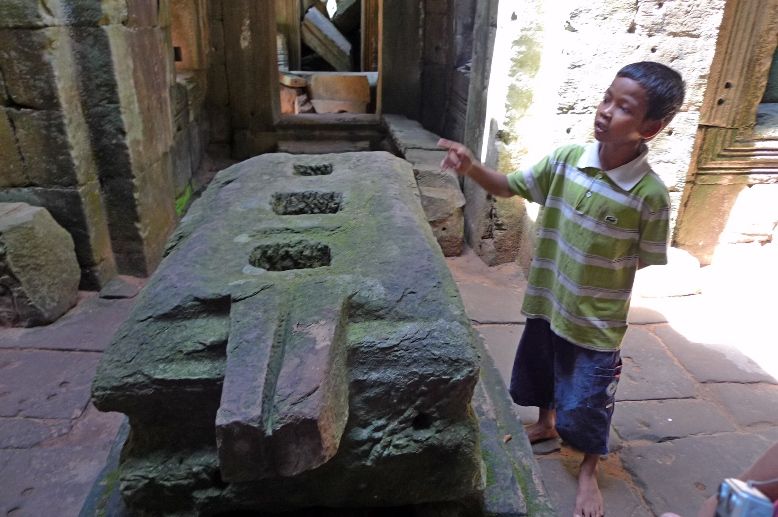 So did this young articulate boy let us go after all that explanation and hard work? Of course not! He was way too smart for that!
As we were about to leave, the boy asked for his guide fee. Initially we wanted to pay him USD1, but he pointed out that since there were three of us, we have to pay USD3! LOL!
Well, we did not mind paying him the money. After all, I think he did quite a good job as a tour guide! Now, that's a hell lot better than pushing me to buy postcards, don't you agree?
Coming Up Next : Ta Prohm - The Tomb Raider Temple