The skies over
Binondo
were getting darker by the minute. After buying some hopia and tikoy from
Eng Bee Tin
, I decided to leave the Chinatown of Manila.
I like this silhouette of Binondo Church tower against the darkening sky.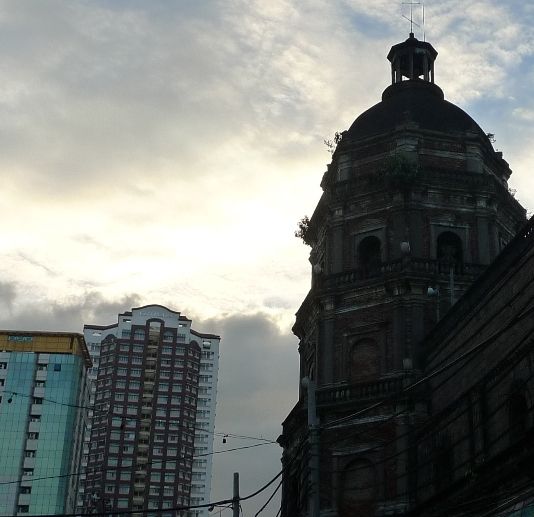 Walking across the
Jones Bridge
, I could see that the sun was already starting to set.
Across the
Pasig River
at the
Intramuros
district, I could see the
Manila Central Post Office
building. I wanted to visit that building before it gets dark.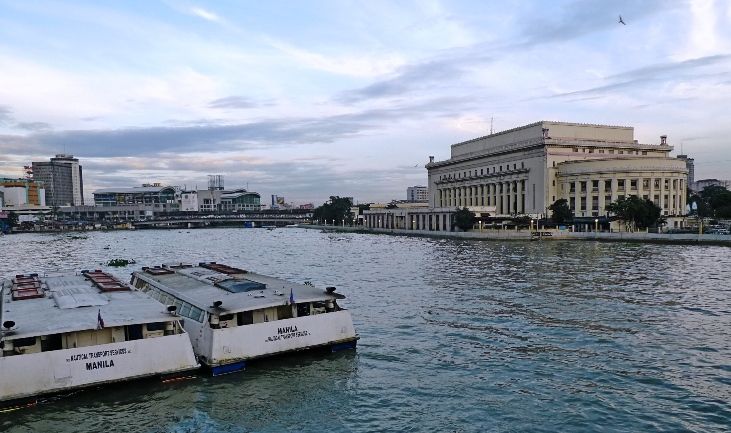 I managed to reach the Post Office building some ten minutes later. I love this building!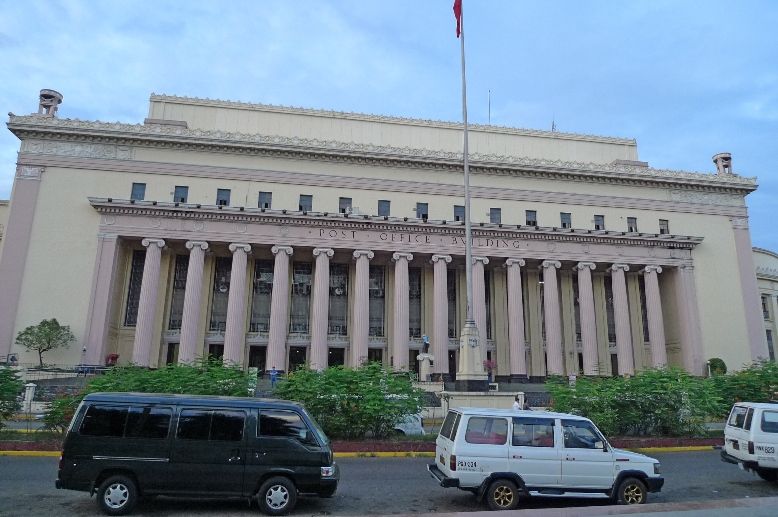 OK I am quite embarrassed to ask this question, but why is the word "BUILDING" spelt as "BVILDING"?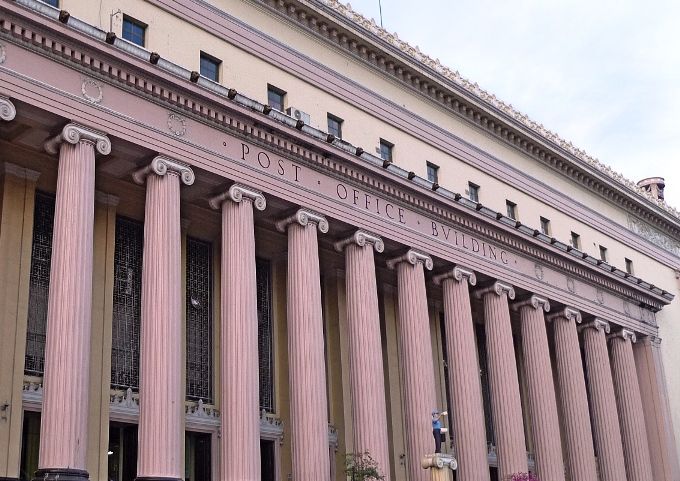 This is the central post office of Manila and houses the country's main mail sorting-distribution operations. The building was built in
neoclassic architecture
in 1926. It was however, severely damaged in World War II and was rebuilt in 1946 preserving most of its original design.
There is a statue of a postman standing in front of the building. Cool!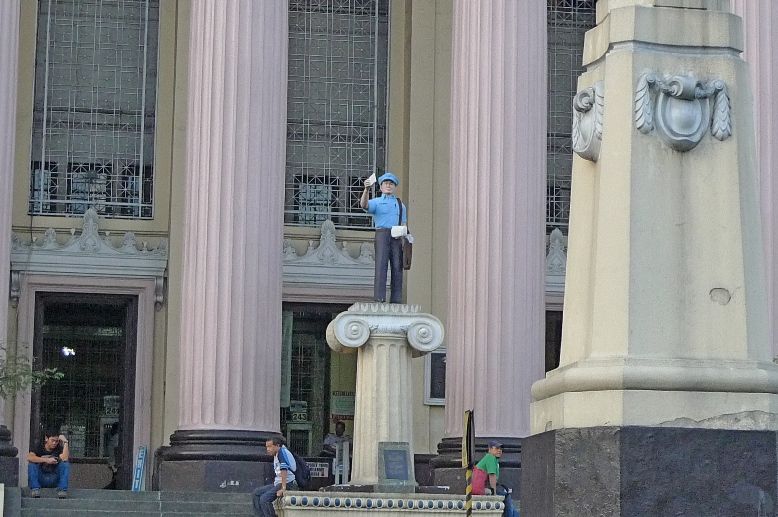 I did not go into the Post Office building to take any pictures but I found this picture online and the Greek inspired columns are amazing!
Image courtesy of Lost In Manila
In front of the Post Office is a nice fountain and a statue of
Andres Bonifacio
. This place is known as
Plaza Lawton
(previously called
Liwasang Bonifacio Plaza
)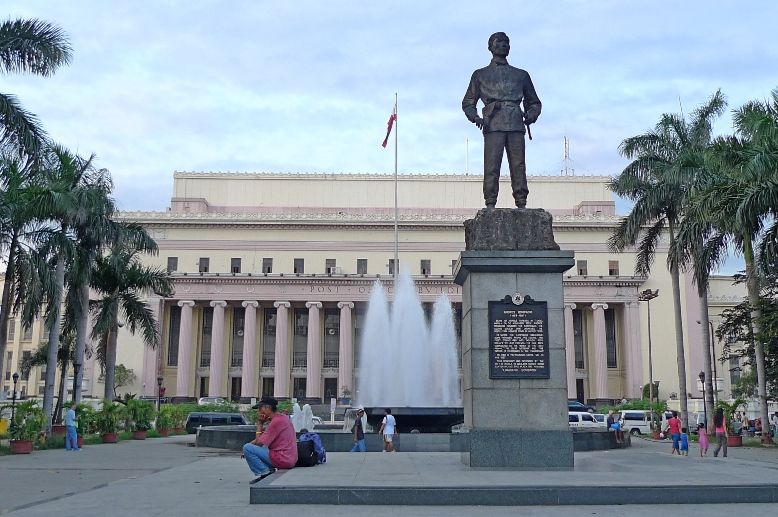 I had no idea who Andres Bonifacio was until I read this marker on the monument.
Andres Bonifacio was the founder of the
Katipunan
movement which sought the independence of the Philippines from Spanish colonial rule and started the Philippine Revolution. You can read more about him
HERE
.
It was already quite dark by the time I finished taking photos of the monument and tried to flag down a taxi to take me back to my hotel. Alas, it was peak hour period and no taxi would stop for me!
So I decided to walk back to Binondo and search for a place to have my dinner first. I saw this restaurant by the name of
Red Ribbon
along the
Quintin Paredes Street
and decided to go in.
What was all these things hanging from the ceiling? I had no idea but was more interested in that quote on the wall - EAT AND YOU SHALL FIND. Haha!! I totally agreed with that and I wanted to find out what Red Ribbon could offer me.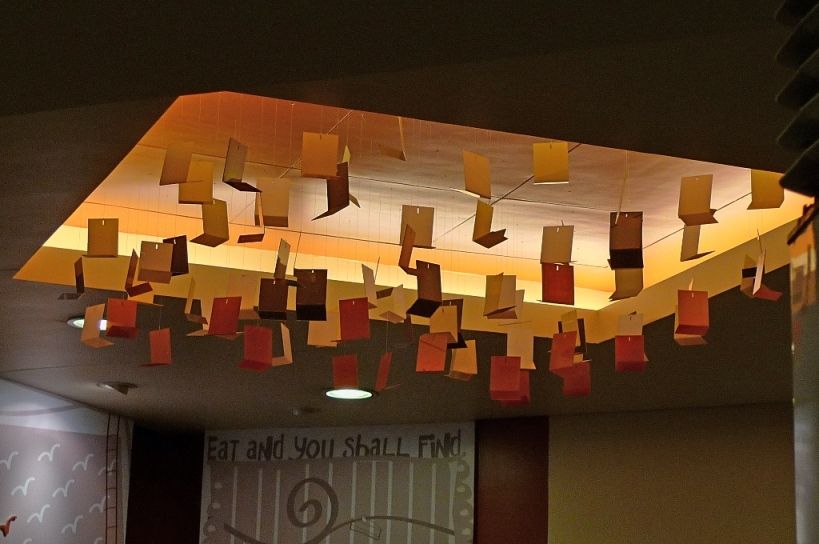 By the way, Red Ribbon is owned by Jollibee Foods Corporation, which manage that very successful fast food chain Jollibee in Philippines. If you have not read my first experience eating a Jollibee burger, read
HERE
.
I learnt that
Red Ribbon
is famous for its cakes (somewhat similar to
Secret Recipe
in Malaysia) so I found this creative quote on a glass partition rather apt.
So what did I eat? Well I chose a set meal which consisted of a main meal, a cake and a soft drink.
My main meal was a Filipino dish called
palabok
. At first I was rather hesitant to try this dish since I knew nothing about it. I quickly sent a text message to my Manila blogger friend,
Ishmael Ahab
whom I would meet up a few days later. But he did not reply my message (maybe he did not get my message) so I thought why not be adventurous and give this dish a try!
Palabok is actually
pancit
(Filipino term for noodles) in orange coloured sauce (which is called the palabok sauce) topped with eggs, meat, shrimps, garlic and spring onions.
To be honest, I did not like it!! Maybe I was not used to the taste but I did not like the palabok sauce at all! The taste was a tad too "fishy" for me. Later I found out that the sauce was made from the seed of a plant called
atsuete
mixed with shrimp juice and flour.
Luckily, however, all was not lost as I love the
Chocolate Heaven
cake!
It was moist and yummy! Enjoyed every bite! It helped to take out that "fishy" palabok taste in my mouth, thank goodness! OK I shall stick to cakes if I ever go to Red Ribbon in future! Haha!
The set meal costs me 135 pesos (RM 9.50) which was pretty reasonable to me!
After dinner, I managed to get myself a taxi to take me back to my hotel. It was rather tiring as I had just began to learn how horrible the traffic was in Manila. I had wanted to visit
Taal Volcano
the next day but somehow, that plan was postponed to the following day.
You will never guess where I went the next morning. It will come as a shock to most of you, or at least some of you. Perhaps you want to have some fun and try guessing where I went? The first person who guessed correctly will receive a gift from me, so give it a try folks!