Warning
: This is a very long post. But if you want to know what 2011 holds for you and how feng shui can help you, then take your time to read this. Thank you for reading!
Last year, I wrote a post on
Lillian Too's Feng Shui Extravaganza 2010
and it became my Top 10 Most Popular Posts of all time!
So this year, I am going to write again on her yearly
Feng Shui Extravaganza
which was held at
Plenary Hall, KL Convention Centre
on
January 9th, 2011
. While last year's attendance was not that good (only three quarter of the hall filled), this year was slightly better.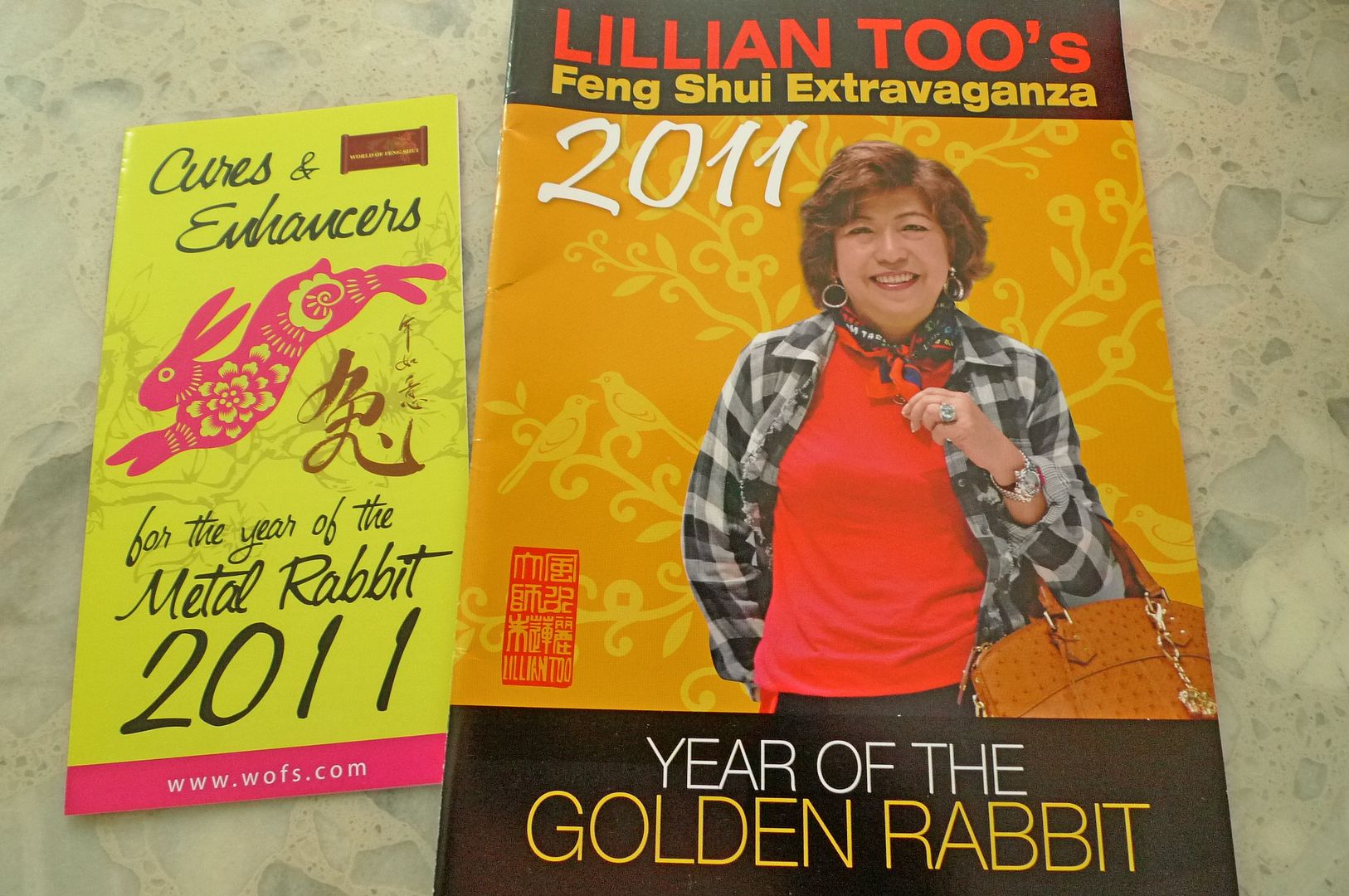 However, I wasn't too happy with this year's talk. Although the Extravaganza was supposed to be held from 10am till 5pm, it actually ended earlier than 5pm. Lillian herself seemed easily tired and her presentation on the stage was cut short to a mere 4 hours! The rest of the time were spent on an overly long lunch time and frequent long breaks. Perhaps age was catching up on her - she is after all 65 years old this year.
By the way, here's a short trivia. Lillian Too said 11 is her lucky number. Her house number is 11. Even though she is a Rooster and Roosters do not have it so good this year, she may still have a great year. The reason? She is 65 years old.
6 + 5 = 11. See? That's her lucky number! Besides, her birthday is on 11.1.11 (Jan 11th, 2011). Interesting yes?
Lillian Too started off the Extravaganza calling up her old friend and feng shui mentor,
Yap Cheng Hai
on stage.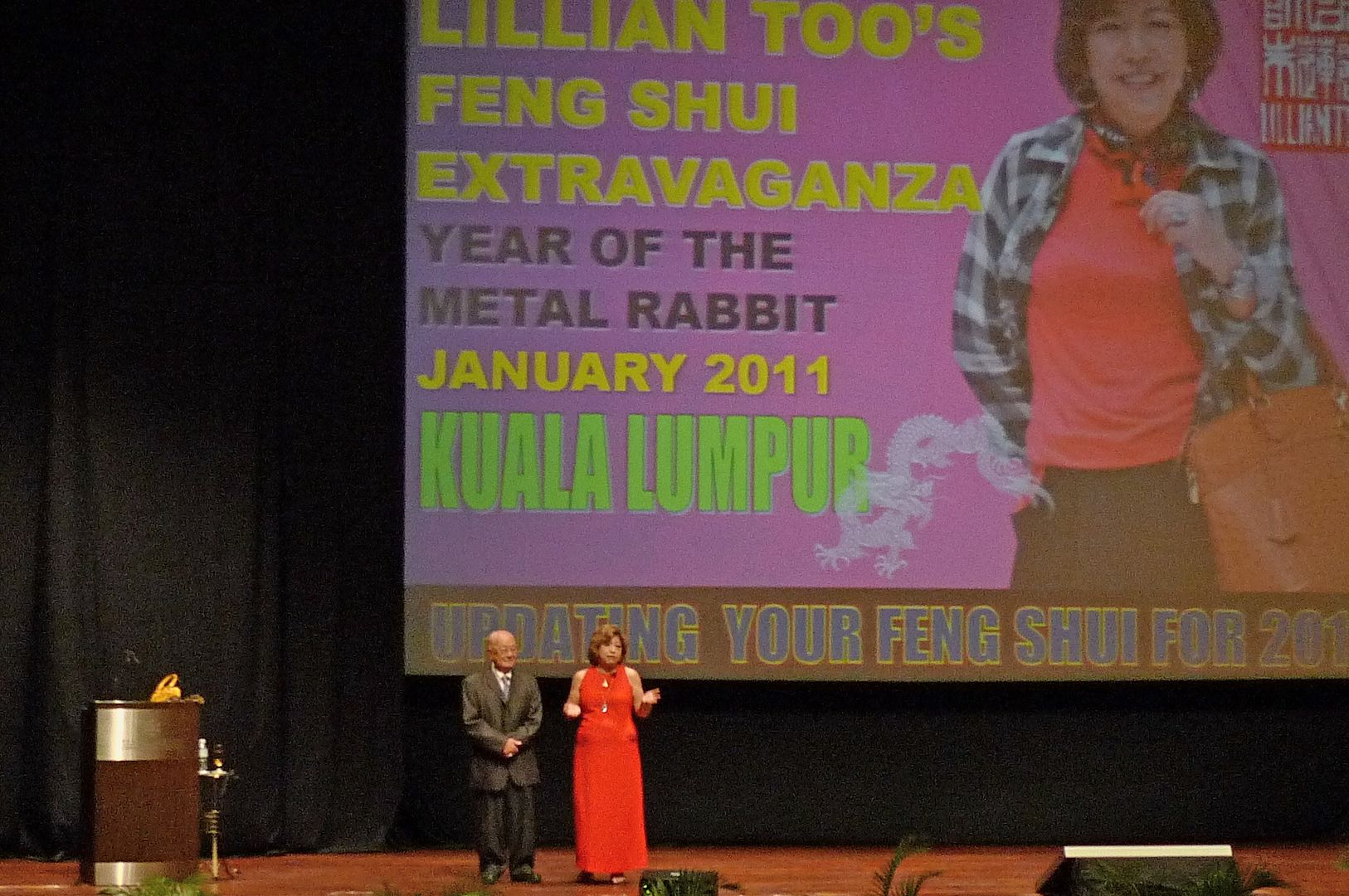 After that, she launched into the good news and bad news forecast for 2011. Her marketing tactic is pretty simple. She would scare you with the bad news forecast and then proceed to offer you solutions and cures by placing the right objects at the correct location.
It might be a tad commercialized but highly effective at that, judging by the huge crowds of people queuing up outside the hall to buy her feng shui products! Of course, the products were all sold at discounted prices on that day and it would be silly not to buy them if you have already decided to buy.
Anyway, here's a short summary of what to expect in 2011.
According to the Ruling Stars of the
24 Mountain Directions
in 2011, the East will be afflicted with the
Five Yellow
and since the rabbit is located in the East this year, and this is the Year of the Rabbit, it means 2011 will not be good year.
You may click the above picture for clearer and bigger image.
The Rooster which is located opposite the Rabbit is sitting on the Natural Disaster Star and also facing the
Tai Sui (Grand Duke Jupiter)
therefore people born in the year of the Rooster will have lots of challenges this year.
Notice that the number 7 star, which is also associated with violence is located in the middle. This means there will be violence, and probably wars. Expect more earthquakes, volcano eruptions, floods and other natural disasters that had plagued the world in 2010. By the way, Lillian Too correctly predicted about the earthquakes last year so I think we better take heed of her warning this year!
According to Lillian, people born in the year of the Snake will have good luck in 2011. And since our Malaysian Prime Minister is a Snake, perhaps it is a good year to call for election!
Now let's take a look at the
Flying Star Chart of 2011.
Image courtesy of wofs.com
For the uninitiated, Flying Stars are nine numbers placed on a
Lo Shu
square. Each of the numbers represents different things and they rotate and change location with time. This is really the time aspects of feng shui, which means that feng shui is never static, and changes with the passage of time.
Remember that the effects of these stars will only start on the 4th of February 2011. That is because feng shui is based on the Chinese Solar Calendar, and not the Lunar Calendar.
According to the Lunar Calendar, the first day of the new year which is celebrated as the Chinese New Year is on February 3rd 2011. But in the Solar Calandar, February 4th marks the starting of spring called
Li Chun
.
OK back to the chart. Notice the number 2 is at the South? This
number 2
is known as the
illness star
and this year, it will affect mainly the heart and the eyes. Senior citizens and pregnant ladies who have their bedrooms located on the South sector of their houses must move to another bedroom to prevent sickness.
Quarrelsome star number 3
moves to the North this year. Spouses staying in a bedroom in the North sector of their house will end up quarreling all the time.
The dreaded
5 Yellow
is at the East sector. This poses a grave danger especially to the eldest son of the family. It is best not to stay in a bedroom in this sector, and it is very important that you do not renovate this area of the house.
The
violent and burglary star number 7
resides in the centre which means there will be higher chances of getting robbed.
So far, I have mentioned all the bad stars and numbers. Lillian Too of course, offered cures to these problem areas. If you are interested to know what objects to place at these affected areas, do check out her remedies
HERE
.
Now let's focus on the good numbers!
Number 8
, also known as the
Wealth star
flies into the NorthWest this year. Make sure you spend more time in the NorthWest sector of your home to activate the good energy here and to increase your wealth! You can also activate the good stars with water features placed at the NorthWest sector of your home.
The
Multiplying Star number 9
is located at the West and this brings good fortune to everyone staying in the West sector. Activating this star will bring long term prosperity! However, the West is also plagued by the
Three Killings
, so Lillian Too advised those staying in the West sector to place the 3 celestial guardians. Want to know what are the 3 celestial guardians? Check it out
HERE
.
Divine Star number 6
flies into the SouthEast this year. If you have door or windows at this sector, do open them often for divine luck! Installing bright lights and making lots of noises in the SouthEast will bring windfall and good gambling luck!
Also, since Malaysia is located in the SouthEast region, Lillian Too said that Malaysia will experience good fortune for the next few years! This is good news indeed!
Lucky White Star number 1
brings good fortune to the NorthEast sector. For people born in the year of Ox and Tiger, activating this sector will bring about lots of opportunities in career and business! In addition, homes with main door facing NorthEast are excellent in the year 2011.
Finally we have the
Romance Star number 4
which flies into the SouthWest. You may want to activate the romance energy in the SouthWest sector of your house if you are looking for a partner! By the way, Lillian Too mentioned that the year 2011 is a good year to get married especially if you are born in the year of the Monkey and Sheep. And especially for the Monkeys, do nothing but study and get married this year!
There are many ways to activate the good stars. Simply spending lots of time at the good sectors will naturally activate the stars. Or you might be interested in Lillian Too's activating tools
HERE
.
Now we all know that feng shui masters are not fortune tellers. They can predict the outcome of the year simply by analyzing the Flying Star Chart and also the Bazi Chart. You can too if you know how!
So let's take a look at Lillian Too's analysis of the 2011 Bazi Chart, shall we?
This is the
Bazi Chart for 2011
.
Image courtesy of BaziBuzz
For the uninitiated, a
Bazi Chart
is made up of 4 pillars (from left to right : Hour, Day, Month, Year) which contain 8 characters. The top row is known as Heavenly Stems, and the second row is Earthly Branches. Below these two rows are what we called Hidden Stems.
In Chinese metaphysics, the world is made up of
five elements
namely, Earth, Metal, Water, Wood and Fire. You must understand the relationships between all the five elements before you can truly read the Bazi Chart. For Cycle Of Elements 101, please read
HERE
.
Looking at the 2011 Bazi Chart above, you can see that all the
4 pillars are clashing
! In the first (hour) pillar,
water destroys fire
. In the other three pillars,
metal destroys wood
! These are all direct clashes and have to be a record of some kind! This indicates
quarrels and hostilities will dominate the year
. Not good at all!
Besides, there are presence of 2 tigers in the chart, indicating a year of
violence
and
fierce conflicts!
I really hope the situation in North and South Korea will not escalate into an actual war this year but the Chart does not look good on this one. Whatever it is, to be safe, I am not visiting Korea this year!
The dominance of Metal and Wood elements in the chart indicates strong competition, disharmony and more
international conflicts
. The Bazi chart was clashing too last year (read my
last year's post
) but it was even more so this year! As such, it can be safely concluded that whatever problems plaguing the world last year will continue this year with even more intensity.
The presence of three Metals in the chart indicates
competitive pressures
, but the strength of the Metals cannot be sustained because of the lack of Earth. This means competitive pressures cannot be sustained and it is best to think out of the box instead of the fighting the competition!
Notice the yin metal clashing with the yin wood in the year pillar? This suggests an increase in
accidents
especially those involving the neck and spine. Also the presence of metal elements suggest an increase in accidents involving metals. Does this mean an increase in car, train and plane crash? Surely not a good year to travel unnecessarily!
Yin metal signifies small weapons such as guns. Combine this with the violence star no 7 in the centre of the Flying Star chart, this may suggest
assassination
and
terrorism
. High profile personalities may be in danger this year and they better have some amulets or protection at hand.
Hidden Fire in the Tiger pillars suggest high incidence of fire related disasters, most likely
forest fires
and also serious
volcano eruptions
.
The lack of water element (just like last year) again indicates that water is vital this year. Therefore
water element industries
will be good this year. Those in banking, shipping, transportation, hotels, alcohol and fishing can take calculated risks in 2011.
Fire element industries
look bright this year. There will be plenty of opportunities and wealth for those in restaurant, entertainment, oil and lighting businesses.
By the way, the
stock market
will be good this year. Equity market is active and rising. Buying opportunities abound. According to Lillian Too, the summer months of
June
and
July
are the best months for the stock market. It will slow down around the month of August and you must get out of the market before
October
!
The presence of 3 direct wood elements and 3 hidden wood elements suggest that there are
plenty of wealth luck
in 2011. Serious wealth will be created but the bad news is distribution will be uneven. This means the rich will get richer and the poor gets poorer.
Lillian Too advised that we must make sure we don't get caught on a downward spiral or it would be difficult to get back up. Take charge and make sure we stay positive throughout the year to overcome all the challenges ahead.
Earth element industries
look good this year. It is especially an excellent year for real estate, so it is actually good to invest in real estates.
Both
metal
and
wood industries
are not encouraging and may need to diversify in order to survive.
Metal destroying Wood in the Bazi Chart also indicates problems on the health front especially related to the liver, neck and respiratory system.
Besides that, Lillian Too also mentioned that 2011 will be a year of
sex-related scandals
. So expect lots of celebrity affairs to hog the news this year! Since this is the year of the Peach Blossom, married couples will be under strain due to a third party, but singles and newlyweds will be in for a good time!
In the career department, lots of
politics
and
backstabbing
will occur in the workplace but it's not a good year to change jobs.
By the way, if you must know, the lucky colour for 2011 according to Lillian Too is
mustard yellow
! Yes, for the ladies, maybe you want to go out dressed in yellow, with yellow shoes and yellow handbags to match. Haha!!
Here are some interesting advice given by Lillian during the talk. She said in order to activate the good stars, make lots of noise in that area which contains the stars. One way is to play Lady Gaga's music! LOL!
She also touches on mind programming. She said that saving money for a rainy day is bad programming. She called it "
poverty programming
". You will never be wealthy saving money!
To attract more money into your life, she recommends that we practise "
prosperity programming
". How does this prosperity programming work? Well, you need to buy and spend more than what you need! In other words, don't be too stingy trying to save your money. Spend it! The action of spending your money will create a flow that attracts more money to come to you!
She does have her point you know, but I could not help thinking she was saying this so we would buy more of her products! Haha!!
Before the talk ended, Lillian Too introduced us to a new dimension in feng shui that I was not aware of before. It was just a short introduction to this subject which she would elaborate more in next year's Feng Shui Extravaganza. Something to make us return next year perhaps? Hmmm....
Anyway, she told us there is actually 3 dimensions to feng shui.
The first is the
space dimension
. This comprises the art of living in harmony with natural landforms and make full use of compass directions to enhance the good energy and lessen the effects of bad energy.
The second is the
time dimension
. This involves Flying Star feng shui where time is taken into account as feng shui changes with time. A place with good feng shui will not forever has good feng shui because energy moves in cycles.
The third which is new to me, is
spiritual dimension
. This involves the self and energies generated by mankind. It has to do with the mind and meditation. Lillian Too mentioned that while writing for her new book on spiritual feng shui, she was being disturbed by unknown forces from the spiritual world. Now this is interesting!
To benefit from the total feng shui, you need to use the collective power of all 3 dimensions!
So would I be back for next year's Feng Shui Extravaganza to learn more? Very likely! : )
On a side note, this year, Lillian Too gave special amulets to everyone who attended the Extravaganza! It appears that the amulets were handmade and were consecrated by a very high lama. They were made according to each of the animal signs. These rare amulets are not available for sale anywhere in the world and I am glad I received my free powerful amulet! All thanks to Lillian Too!
Coming up next : Feng Shui 2011 According To Joey Yap