Continued from
Part 2
WARNING
: This post contains lots of photos and if you have slow internet connection, you may want to blog hop or surf other sites while waiting for the pictures to download.
It was 5pm and the three of us were ready to climb up the rice terrace hills to catch the sunset. Our host's younger sister became our tour guide. We called her
Da Jie
as well. She told us that hiking up would take about 45 minutes.
If you don't already know, I have a fear of heights and walking up the stone pathway with no railings by my side to hold on to made me a little nervous.
One slip and I might find myself falling off the edge down below!
The photo above may not look that scary, but there were certain parts along the way that were quite narrow. Of course I did not take any photos of the narrow pathway as I was too busy struggling to fight my fear of heights!
However, hiking up the hill was worth it as we got to see lots of beautiful scenery of the rice terraces!
The view simply took my breath away! I had to stop to snap some pictures!
Along the way, we came upon a small village.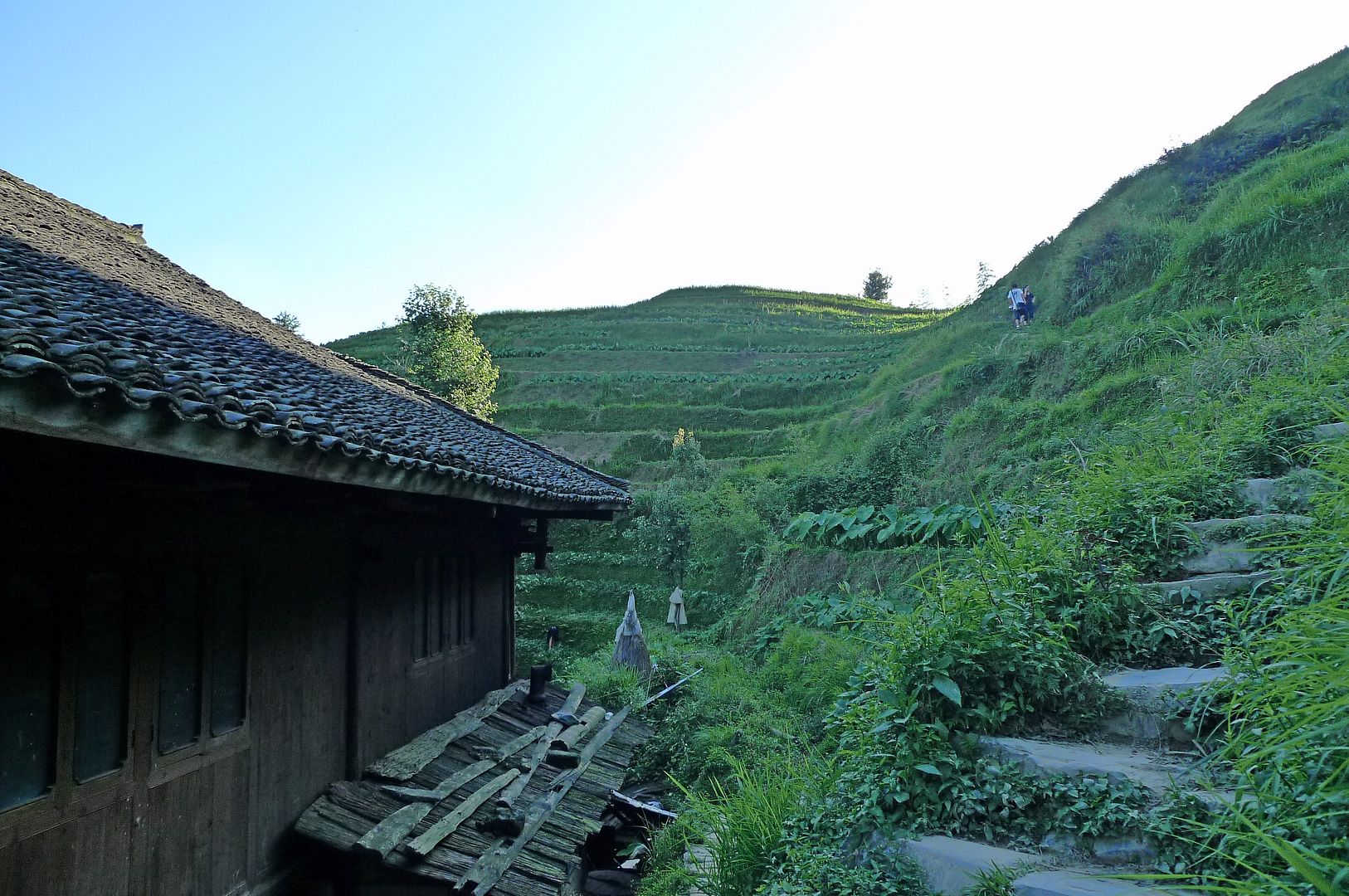 We continued to climb up the steps. Soon the village was below us.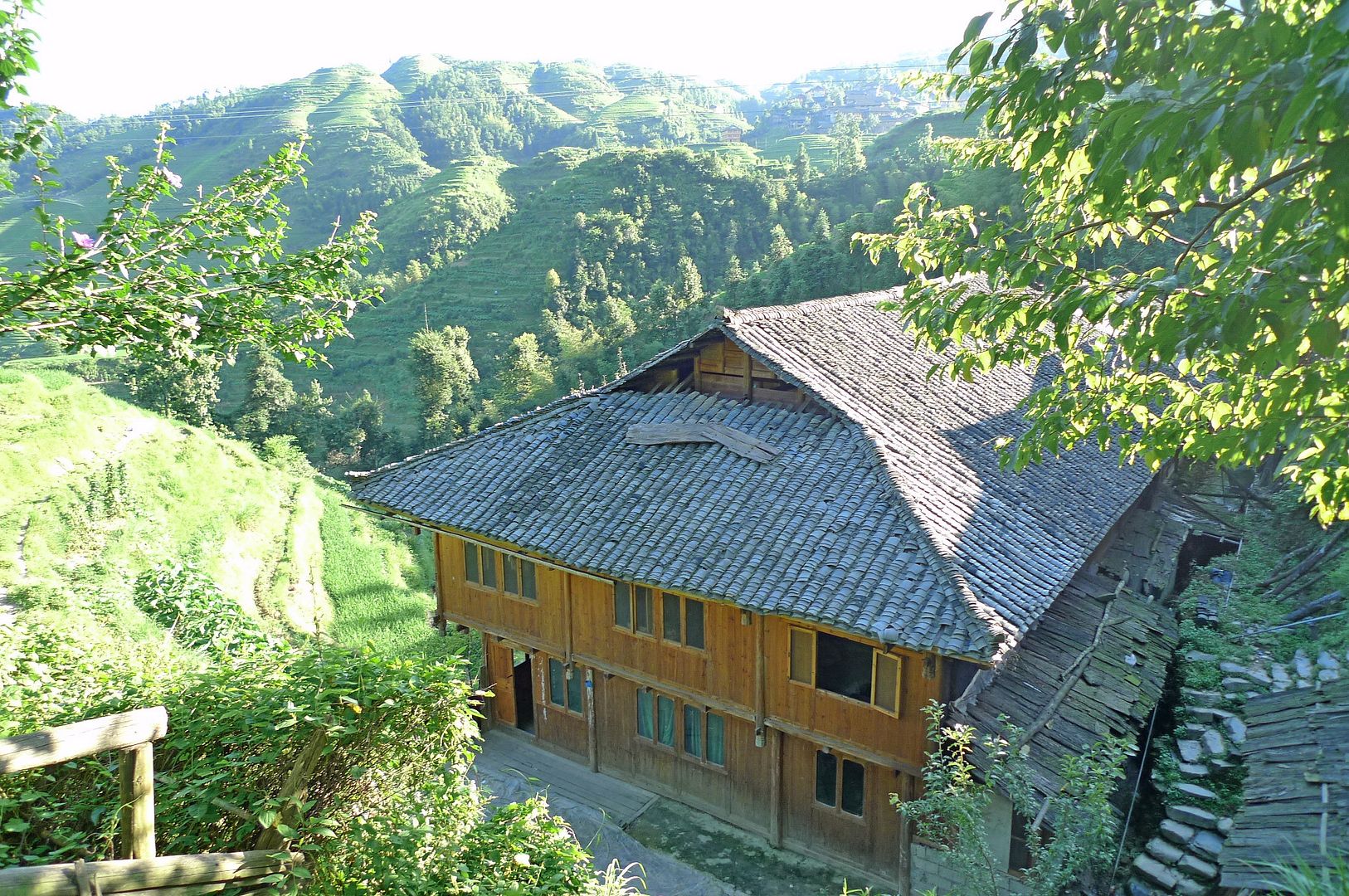 And then we saw this old lady weaving on her weaving machine. Did you know taking this photo of her was not free? I had to pay 1 yuan for it! It was then I realized the place was more "touristy" than I thought!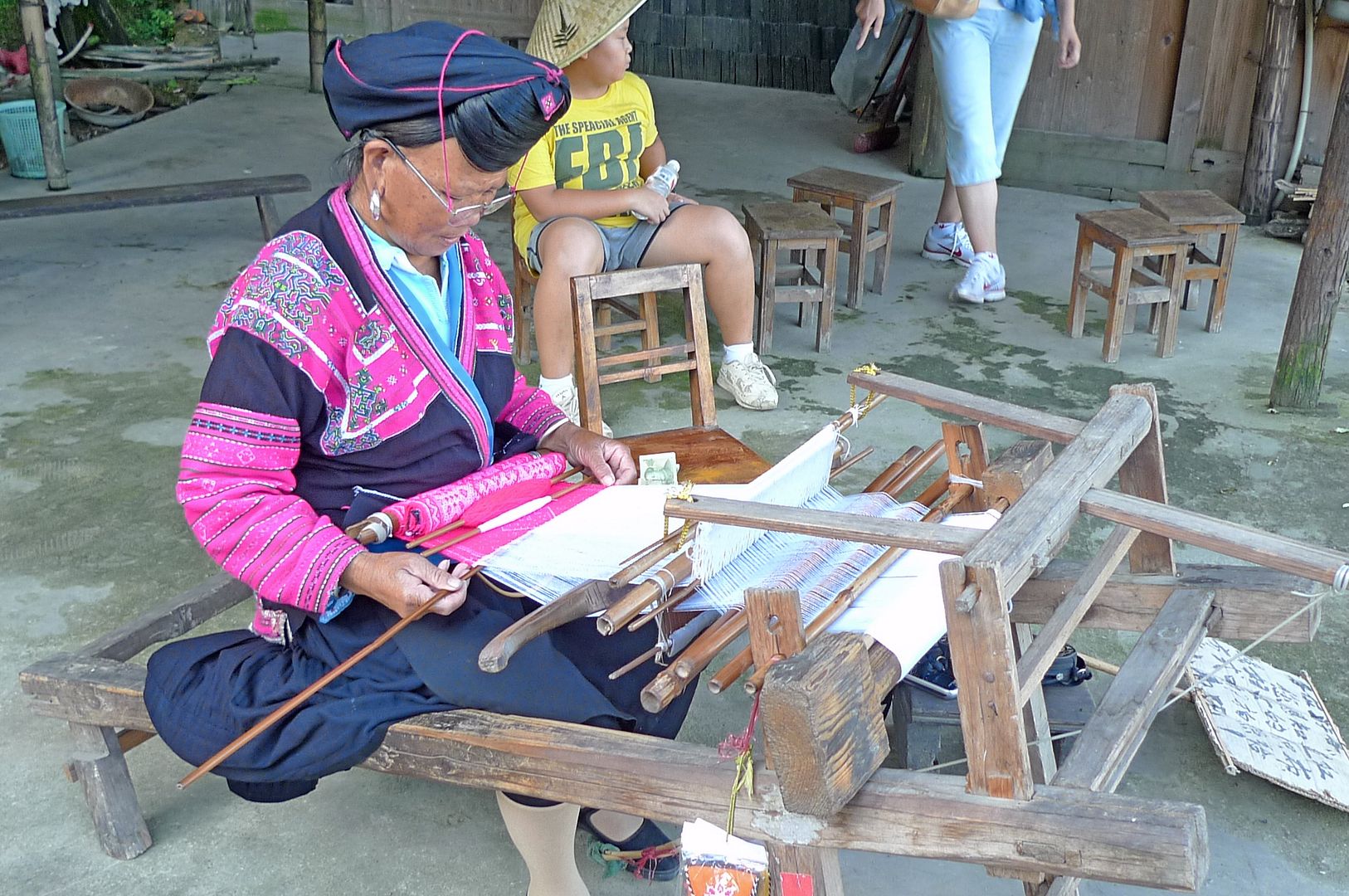 Did you notice the costume the old lady was wearing in the photo above? Yes, she belongs to the
Yao
minorities, one of the three largest ethnic minority groups living in
Longji
, the other two being
Zhuang
and
Miao
.
Each minority group has its own costumes, language, music, dance and art.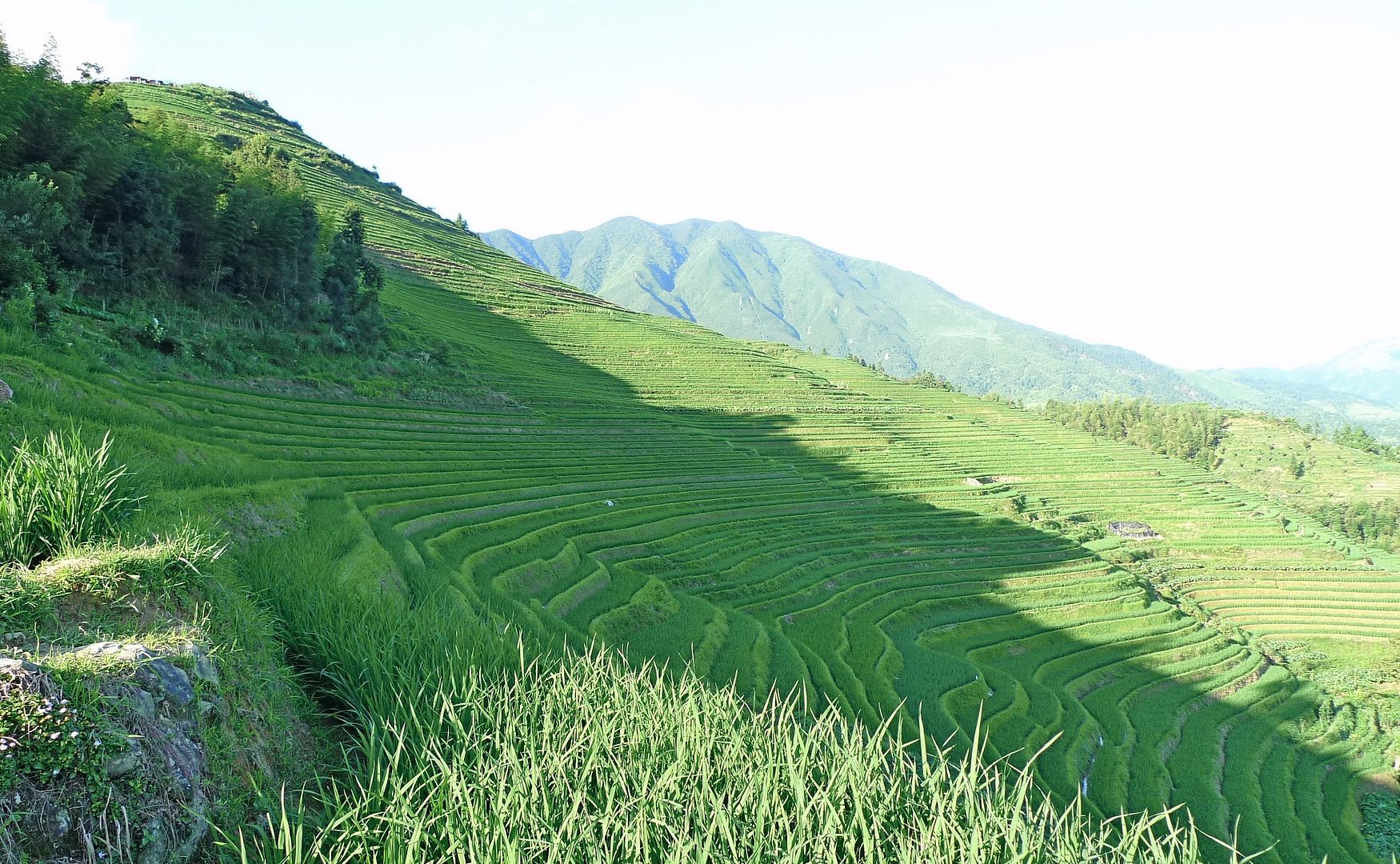 In actual fact, the rice terrace we were visiting is called
Jinkeng
Rice Terraces which are home to the
Yao
minorities. So our tour guide and our host were
Yao
minority people. Pretty cool, eh?
We were heading to the No.3 Viewing Platform to watch the sunset. As we stopped often to take pictures, a man passing by us shouted at us to hurry up or else we would miss the sunset.
So we forced ourselves to move faster and at about 6pm, after one hour of hiking, we reached the Viewing Platform!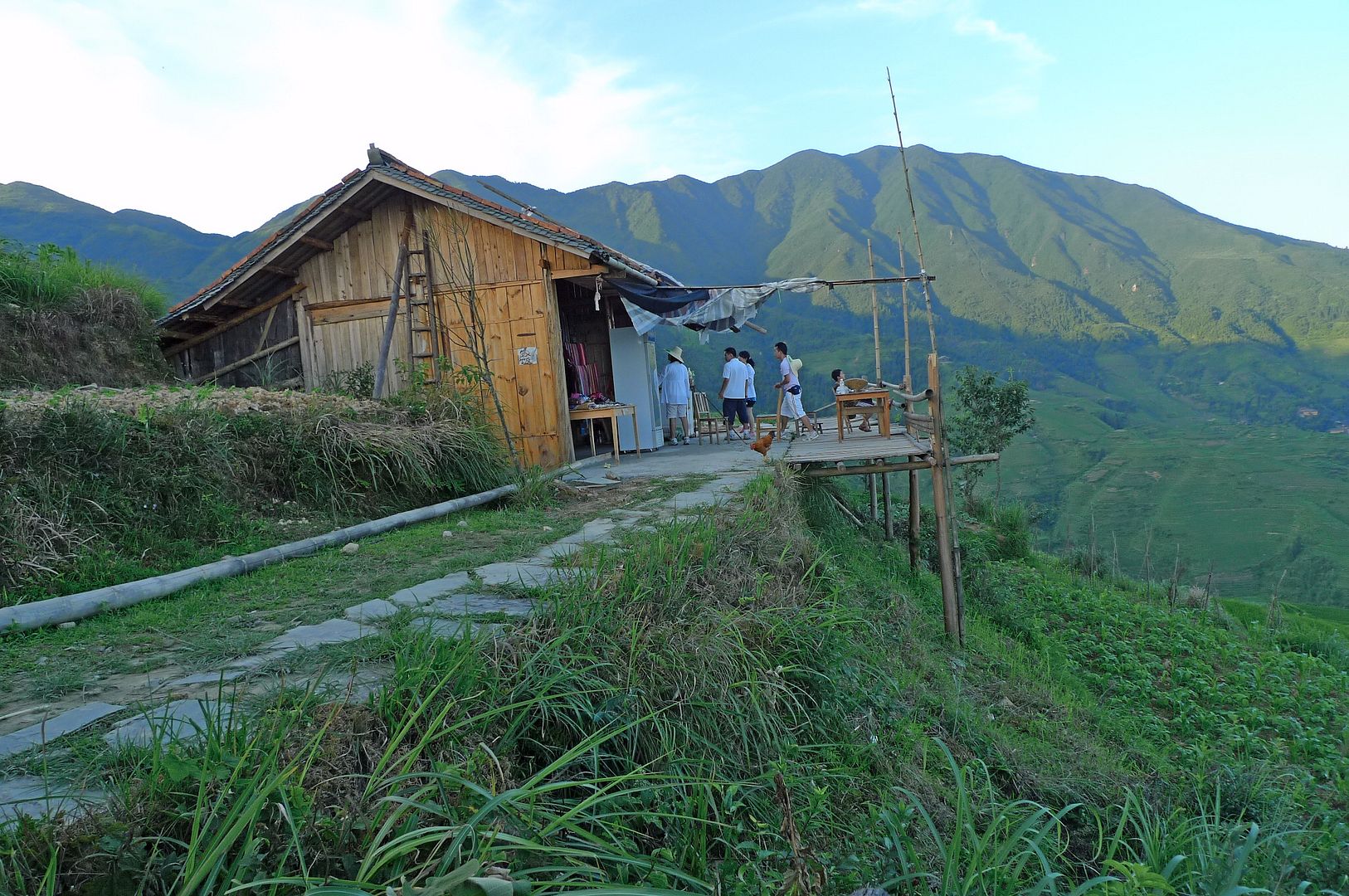 I thought our tour guide told us it would take only 45 minutes to reach the top! Obviously we were not fit enough! Either that, or we were spending too much time taking photos. I think the second reason sounds better. Haha!
Oh! I was not very comfortable standing on this platform but instead of standing, I sat! So if you don't mind me showing my legs again, here it is....!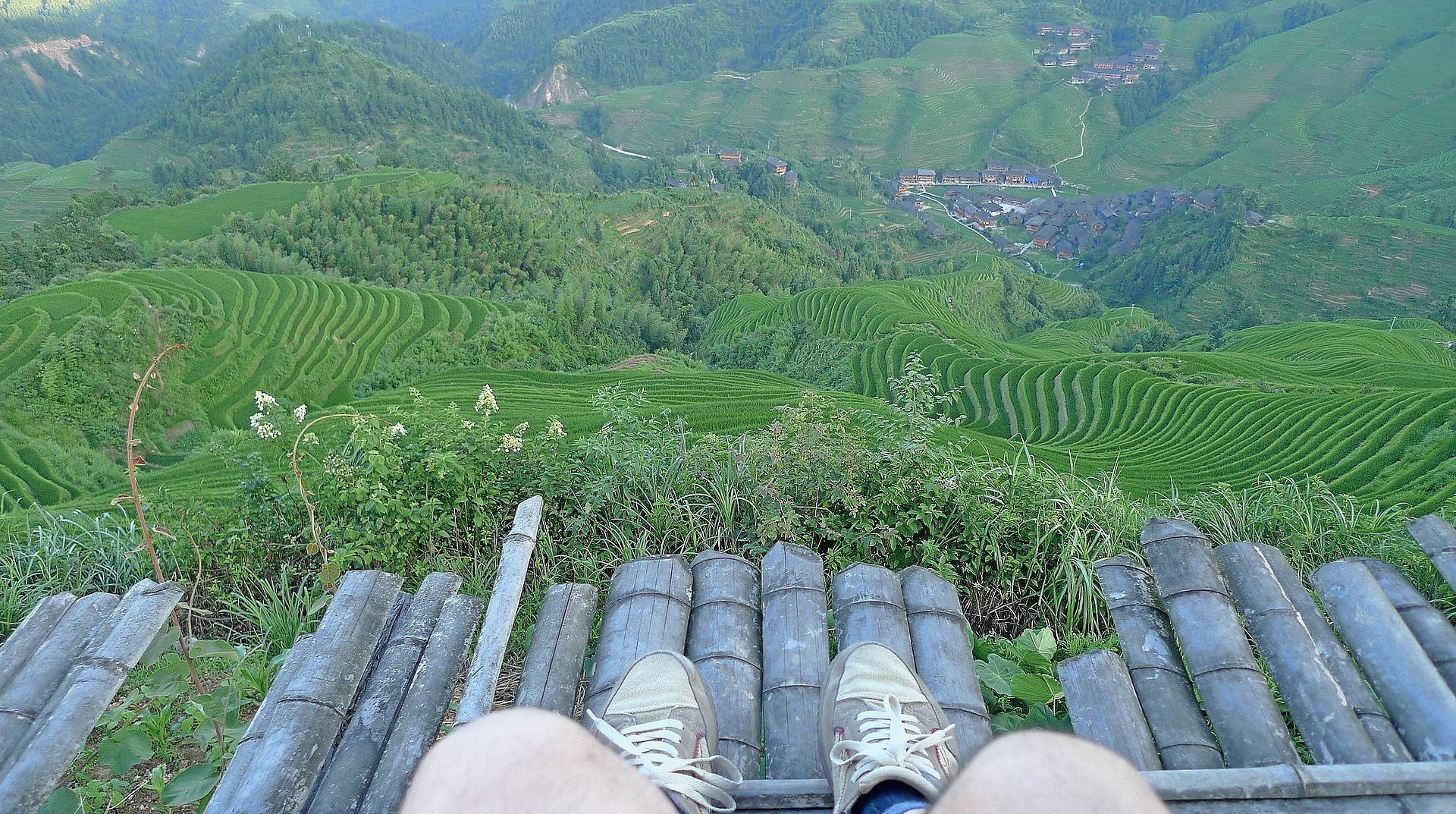 It was nice resting there for a while admiring the scenery below. I tried my best not to worry about the height!
Actually, we should not have rushed our way up because the so called spectacular sunset did not materialize. Tell me now what sunset is this?!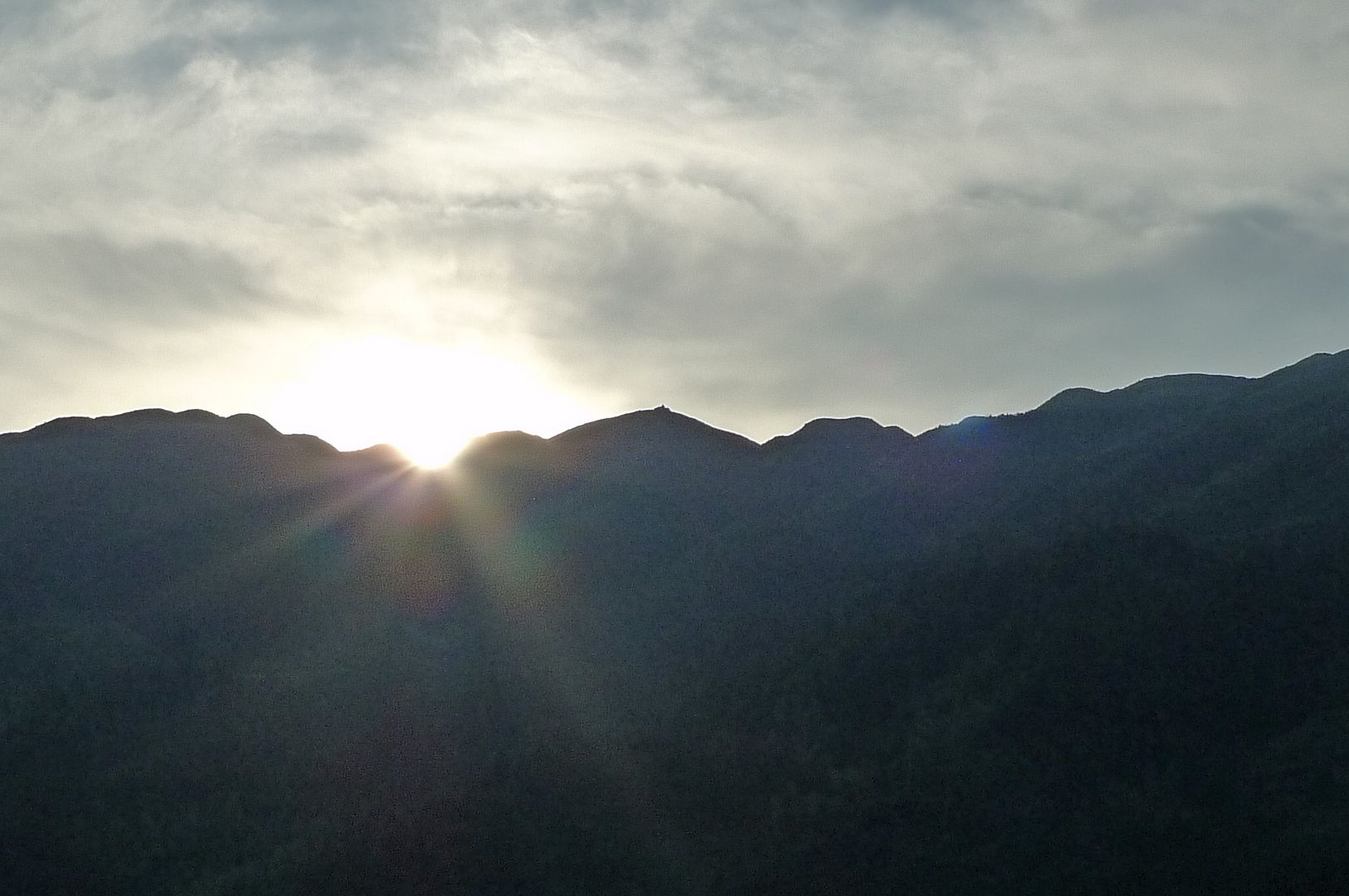 Another tourist gimmick? Hmmm, I don't know about that but I really think the sunset was no big deal!
I ignored the sunset and focused on the view around us. It would be a waste not to take any pictures while there was still some sunlight left.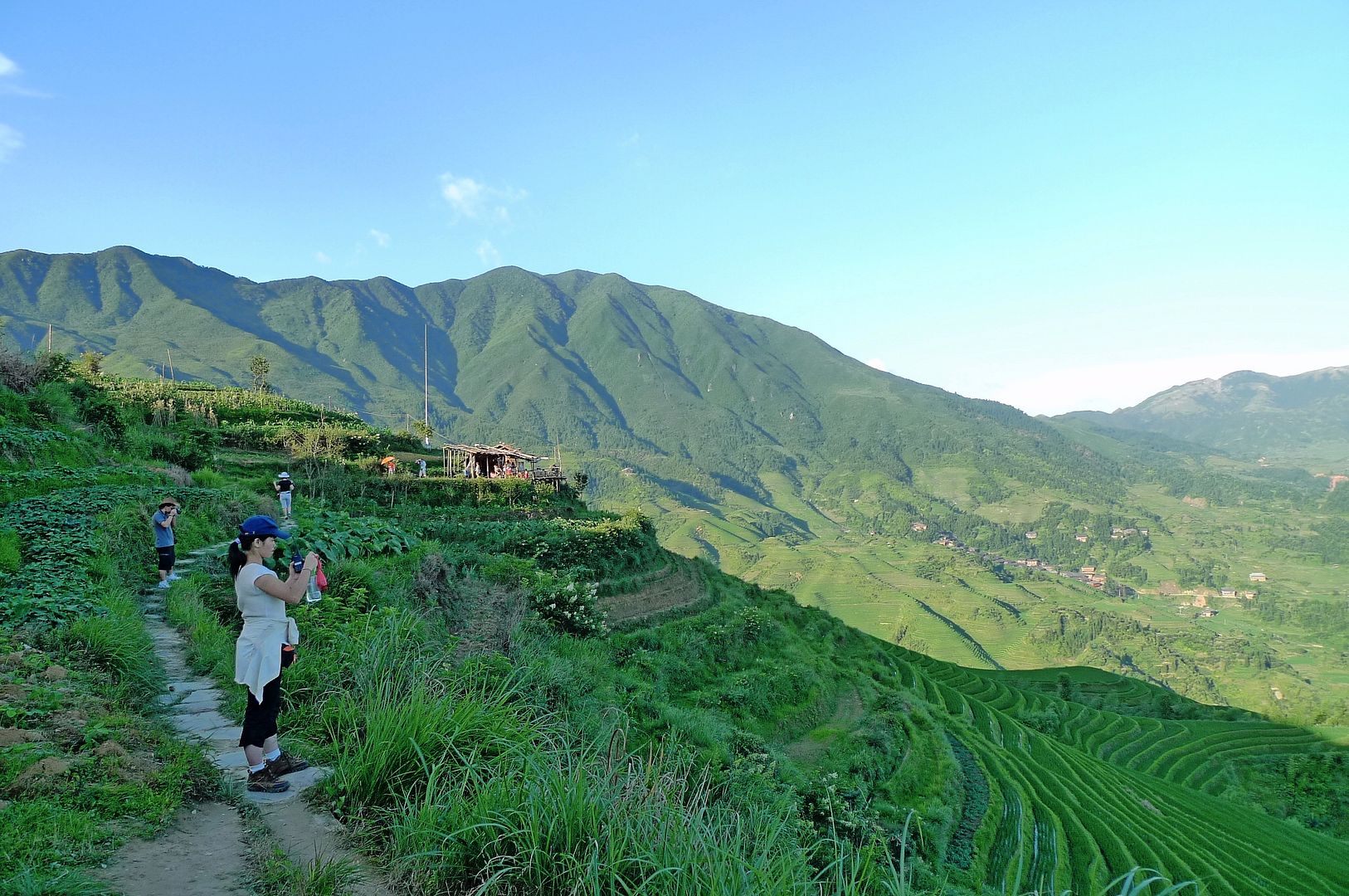 I was quite surprised to find a lot of people at the top! I guess they reached the top much earlier than us.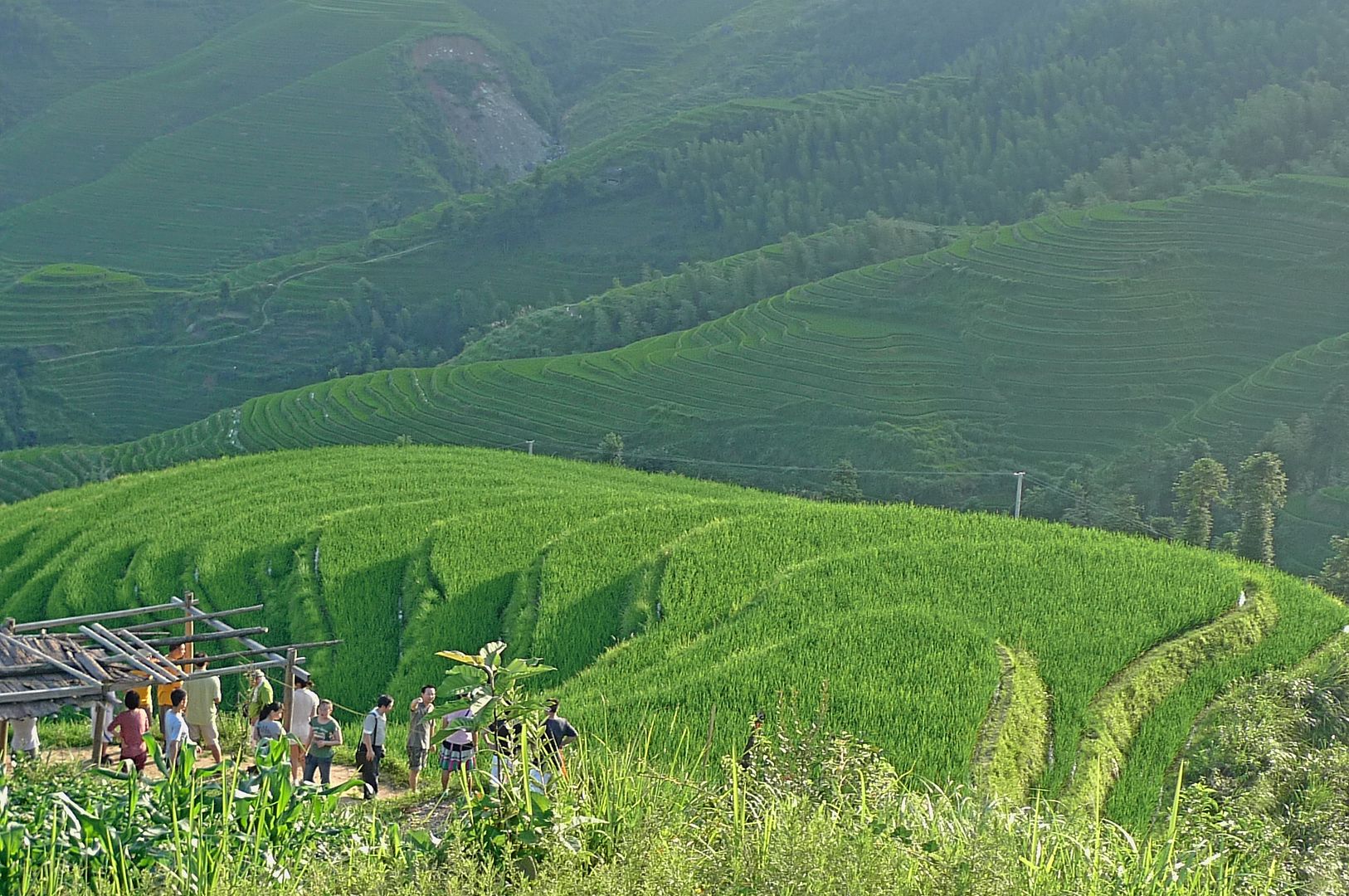 I don't know why I love this picture. I just feel amazed with the view of the village far below.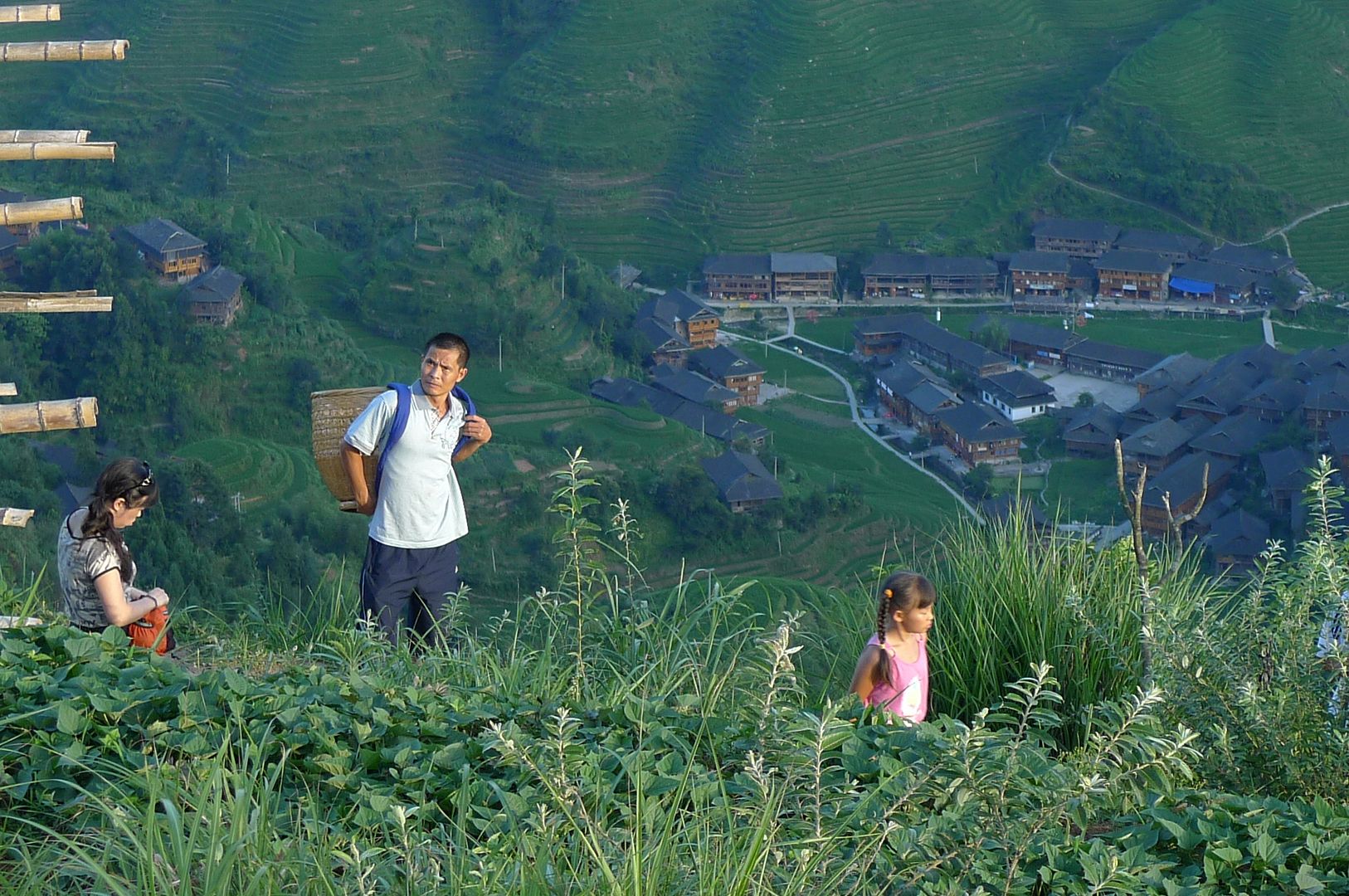 The rice terraces really took my breath away. They are like green waves stretching from the foothill all the way to the top!
By the way, you can click some of the photos here for wallpaper size.
Look at this padi field up close!
After spending about almost an hour there, we began our descent.
Da Jie
told us that we had to move fast before it gets dark as it would be difficult to find our way back in the dark.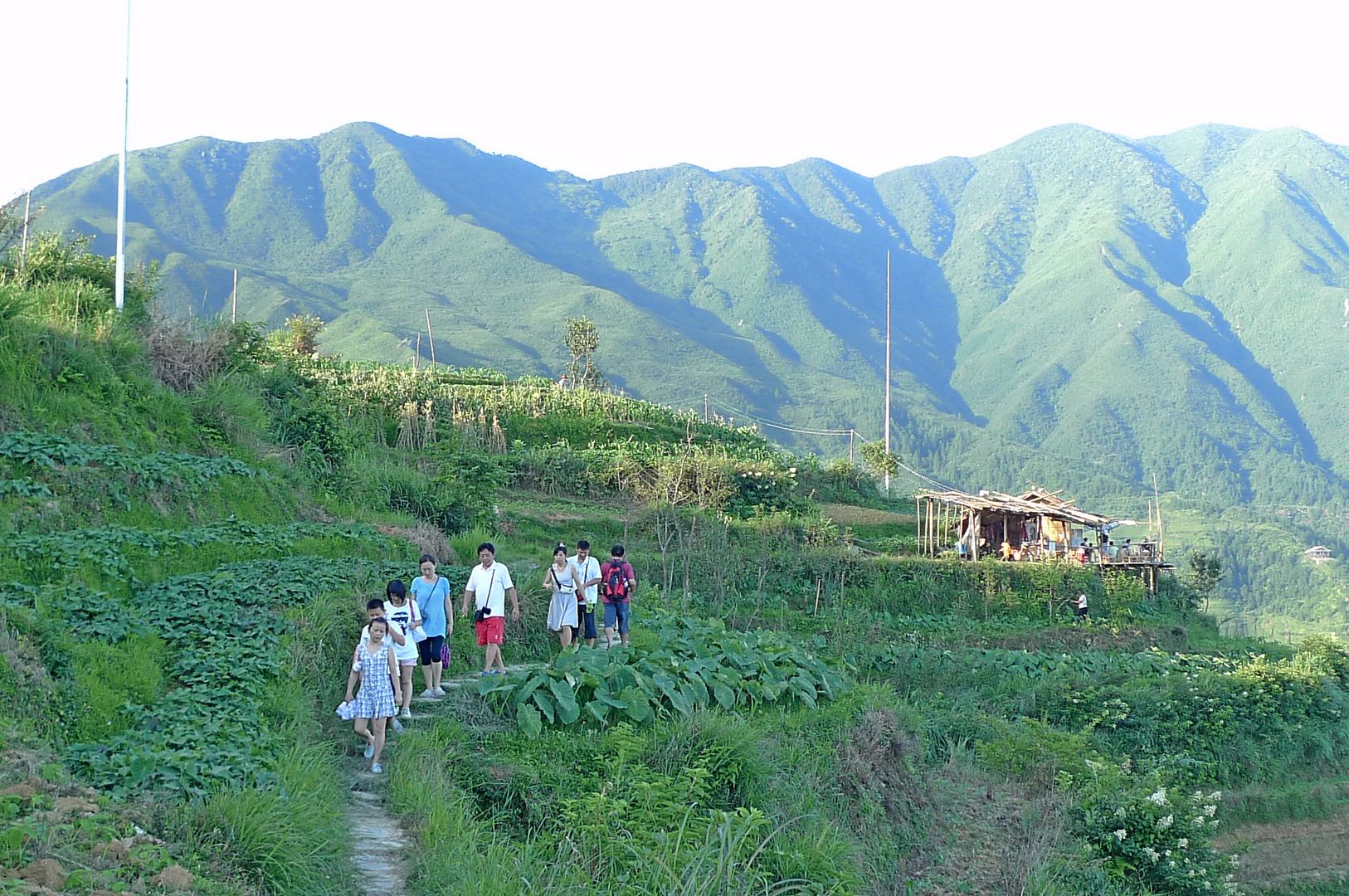 Surprisingly the way down was shorter. We still continued to stop and take pictures along the way. Luckily for us,
Da Jie
was a very patient person and waited for us. Haha!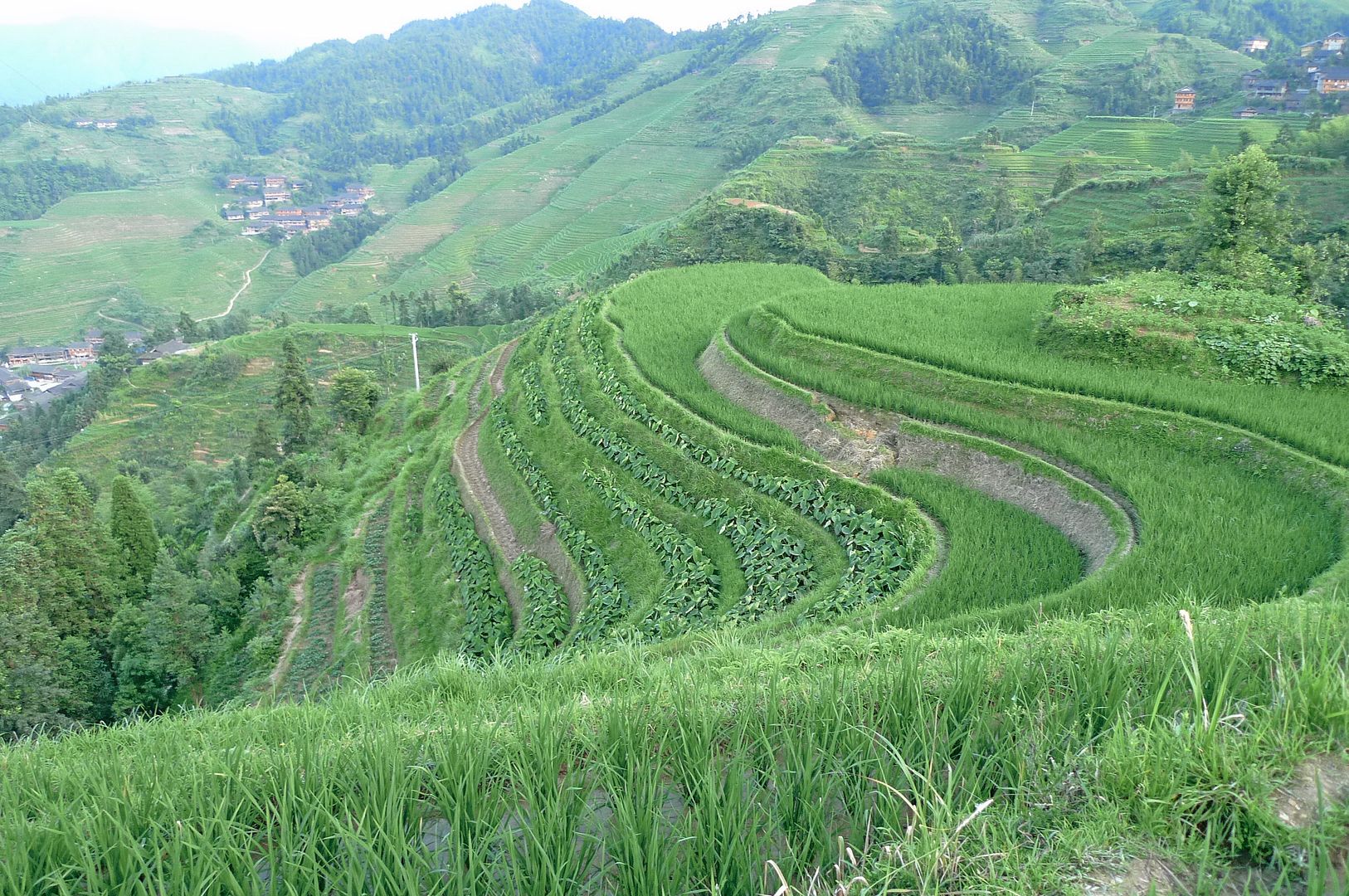 Within half an hour, we reached our hotel. But by that time, the sky was already dark.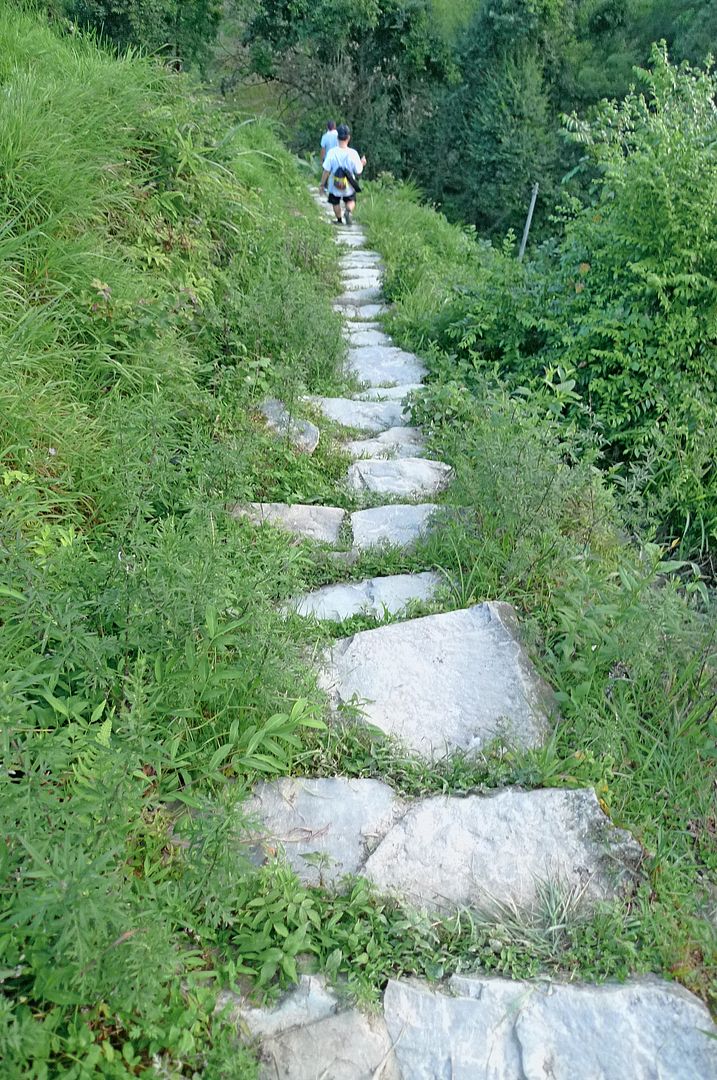 We took a shower and then it was time for a delicious dinner!
Seeing that this post is getting a little too long, perhaps I will talk about what we ate for dinner in the next post.
But while we were having dinner,
Da Jie
came to tell us that we have to wake up early at 5am the next morning in order to climb the rice terrace hills to view the sunrise! I was like, what?!
To be continued ....