On my 3rd day in
Guilin
, China, my travel partner
Jam
, his friend and I visited
Longji
Rice Terraces (龙脊梯田) in
Longsheng
County. We planned to stay a night there.
Longji
or Dragon's Backbone is so named because the rice terraces resemble a dragon's scales, while the summit of the mountain range looks like the backbone of the dragon.
After our breakfast of rice noodles, we took a bus from
Guilin
Main Bus Terminal to
Longsheng
(龙胜), which is about 90 km or about 2 hours drive from
Guilin
. However, instead of going to
Longsheng
, we got down at
Heping
Village (和平乡) on the way to
Longsheng
. This was because it was nearer and more convenient to go to
Longji
Rice Terraces from
Heping
Village.
Although we planned to stay overnight in
Longji
Rice Terraces, we had not booked any accommodation yet. But as luck would have it, we were approached by a lady in the bus who offered us her place for 30 yuan per person. Since she also offered to be our tour guide, we did not hesitate to accept her offers!
After getting down at
Heping
Village, we followed the lady whom we called as
Da Jie
or Big Sister. She had arranged for a van to pick us up to her village,
Dazhai
(大寨).
On the way to
Dazhai
, we passed by the
Jinzhu
(Golden Bamboo)
Zhuang Village
(金竹壮寨) where we stopped at a ticketing office to pay 50 yuan per person in order to enter the
Longji
Rice Terraces Scenic Area.
We arrived at

Dazhai

around noon. I forgot to take a photo of the entrance gate! There, a few ladies with baskets on their back approached us and offered to help take our luggage for 25 yuan. We however, declined their offers.

Although we had reached

Dazhai

, we still needed to walk about 20 minutes to reach

Da Jie

's house. After paying the driver 7 yuan each, we alighted from the van and followed

Da Jie

as she led the way.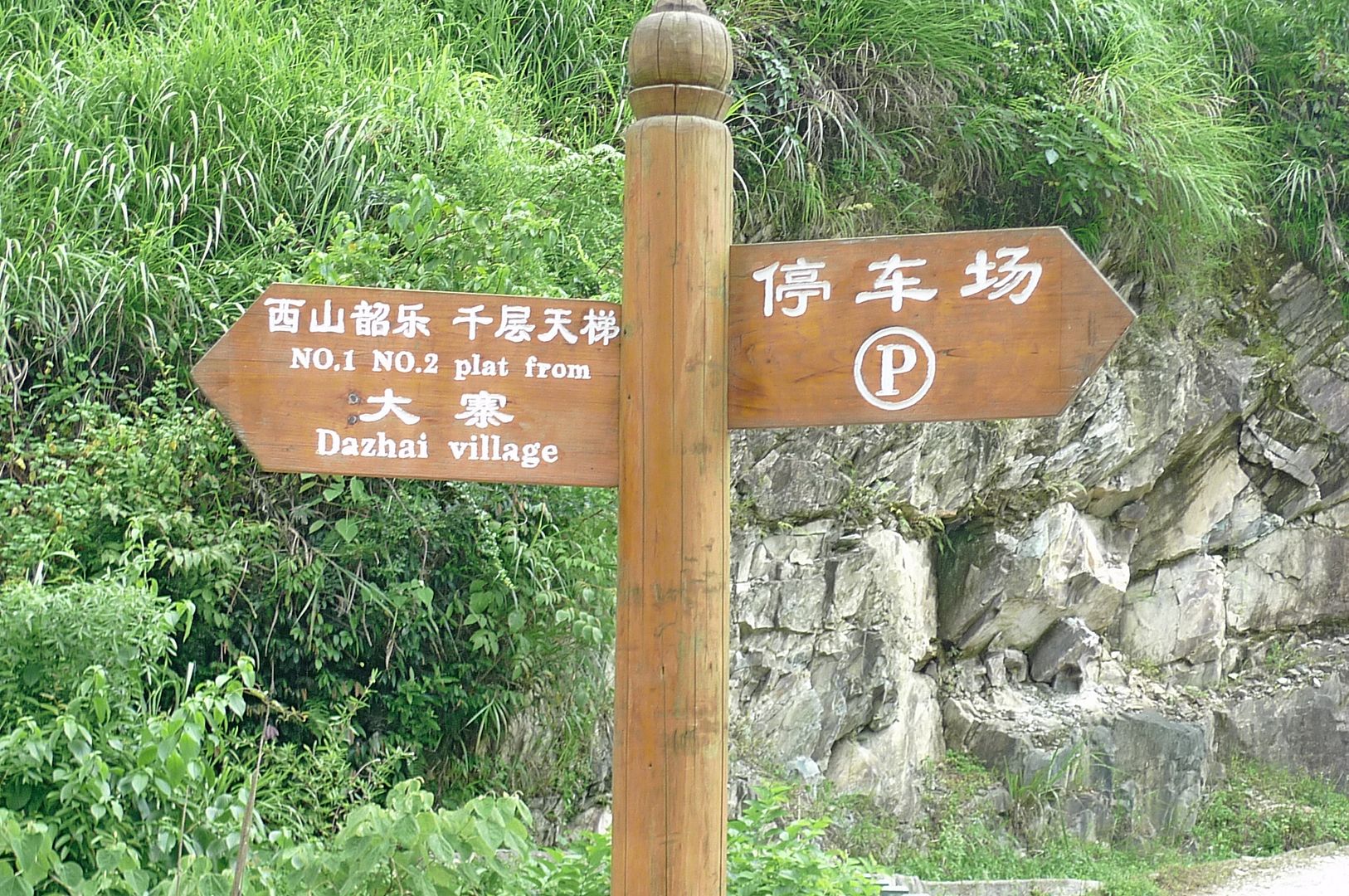 Signboard showing direction to Dazhai village

Road leading to Dazhai village

Soon, we reached a rock that reads

Da Yao Zhai

(大瑶寨) which can be shortened to

Dazhai

.
Not far from the rock, we could see a bridge which was called the Wind-Rain Bridge (风雨桥). This bridge served as an entrance to

Dazhai

village. It was made entirely of wood and had a unique architectural design.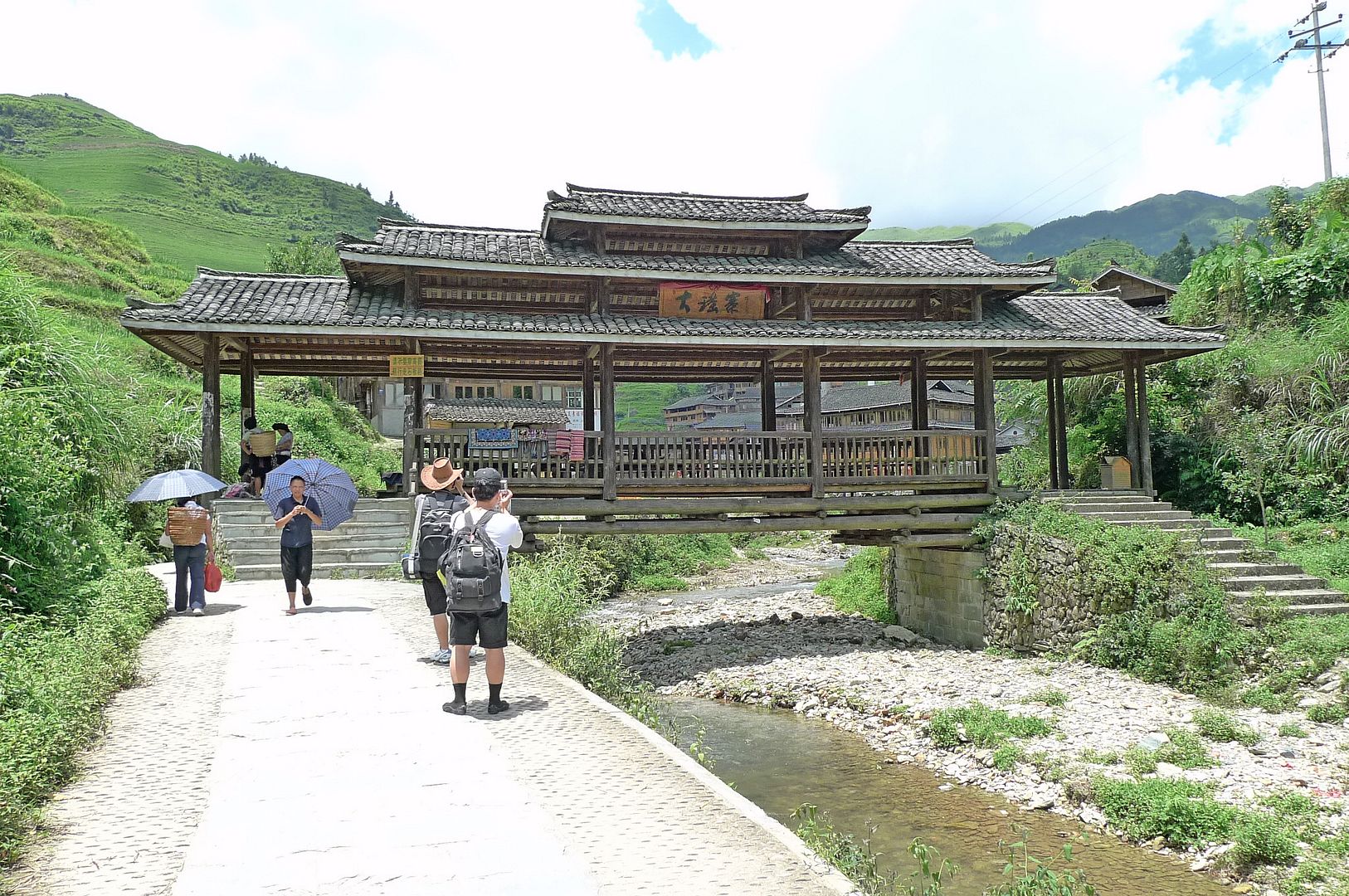 Once passed the bridge, the magnificent view of green rolling hills and rice terraces greeted us!
We continued to follow

Da Jie

as she led us to her house
.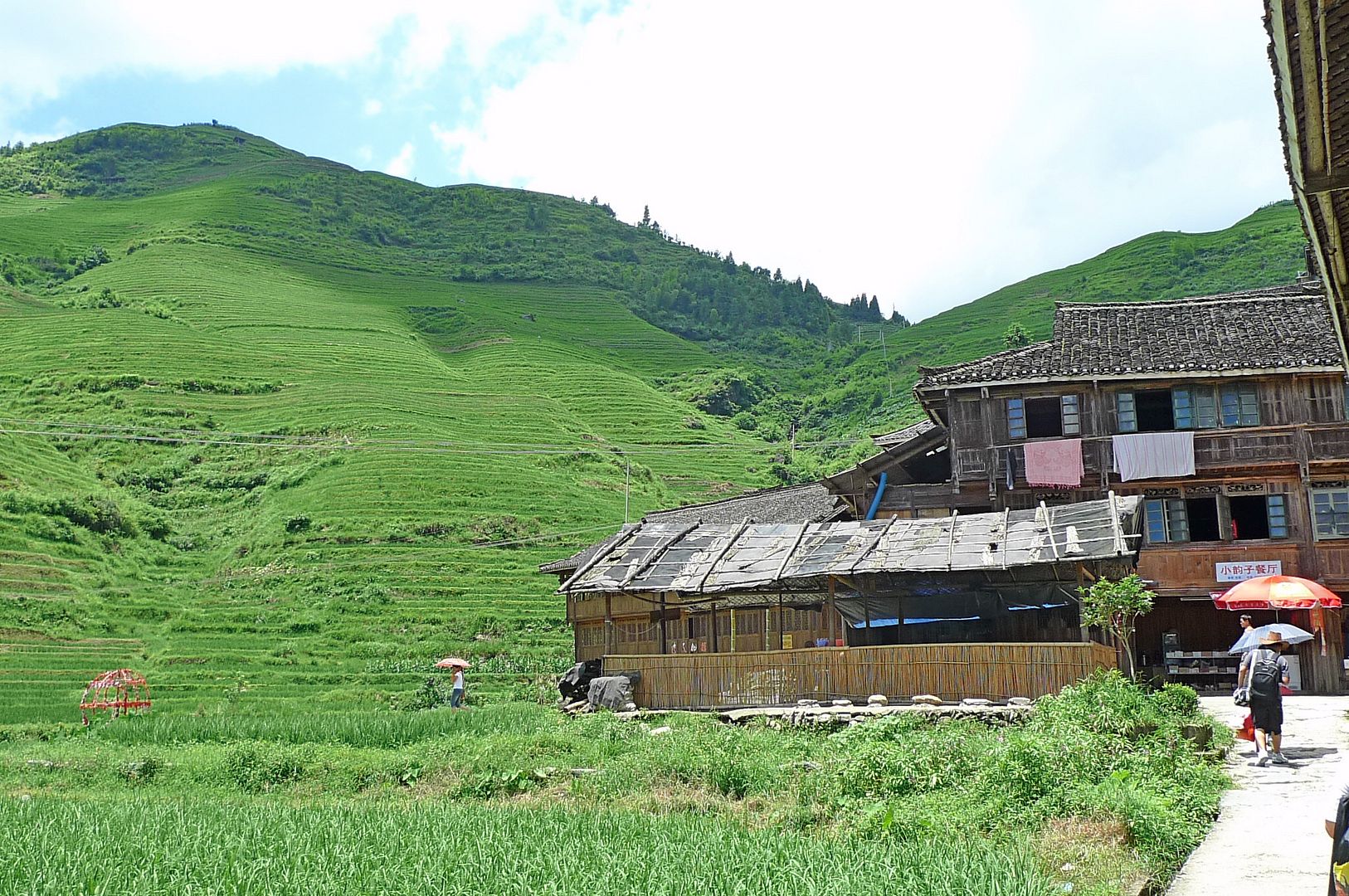 We saw many wooden houses like these!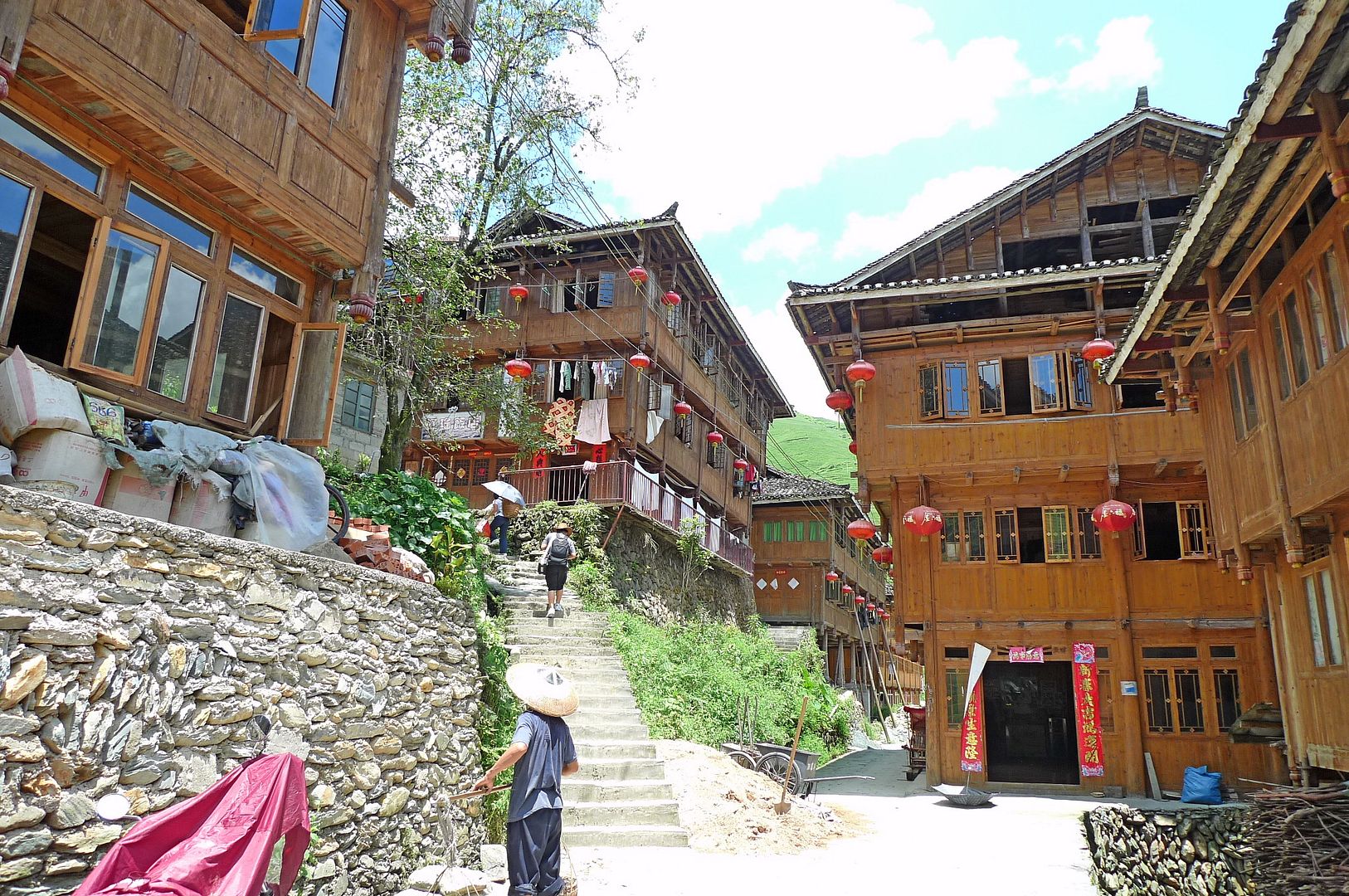 These houses were special as they were made entirely of wood with no iron or metal. They were called

Diaojiaolou

(吊脚楼) which literally means "Hanging Foot House". It is so called because the columns on the first floor do not reach the ground but are suspended halfway.

Can you see the "hanging foot"?
The "hanging foot" is actually a very unique architectural design found mainly in south western part of China. You can see from here that no nails were used in constructing

Diaojiaolou

. I found that simply amazing!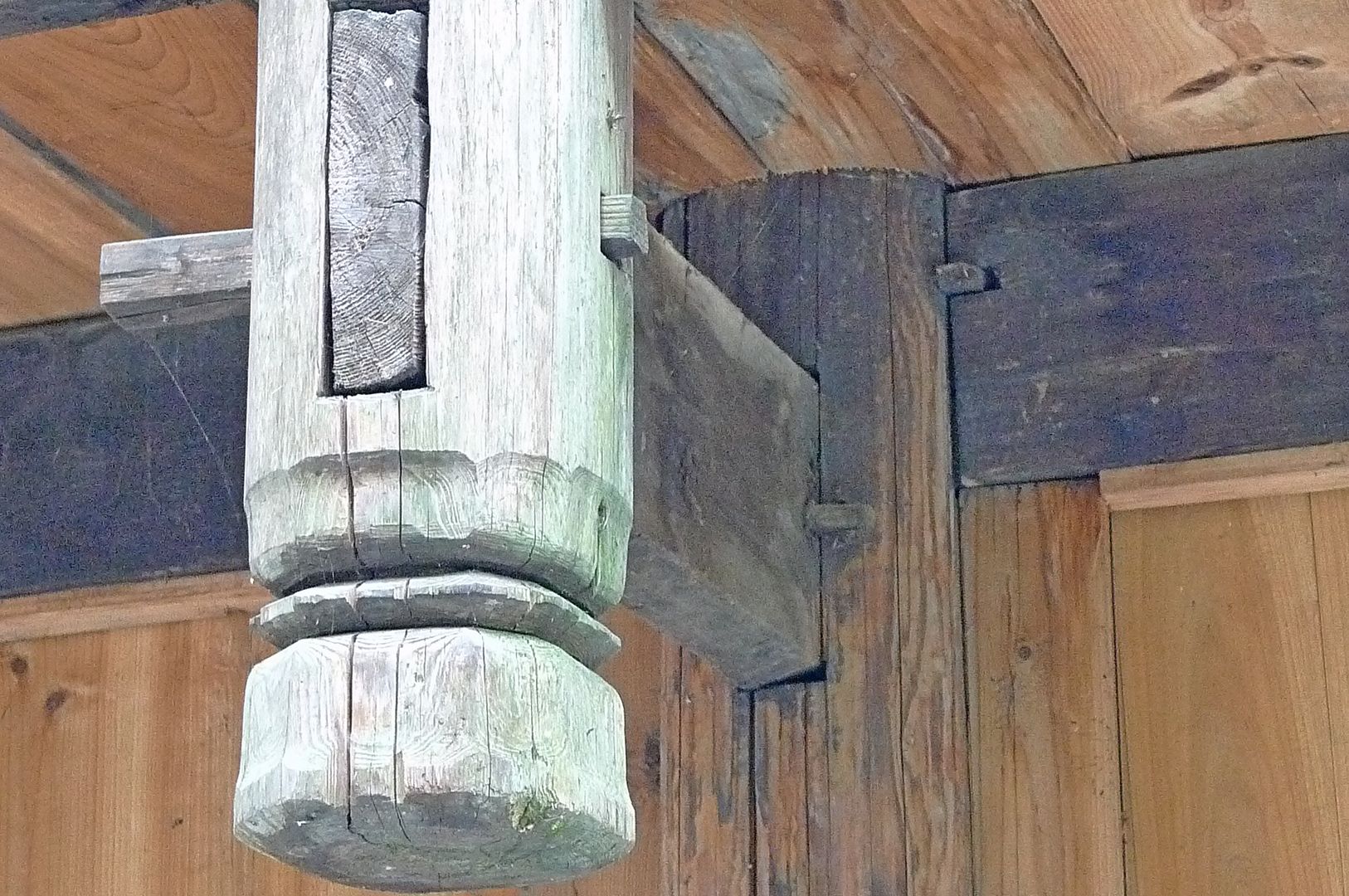 Besides that, most of these

Diaojiaolou

houses are built on pebble slabs and not on the ground.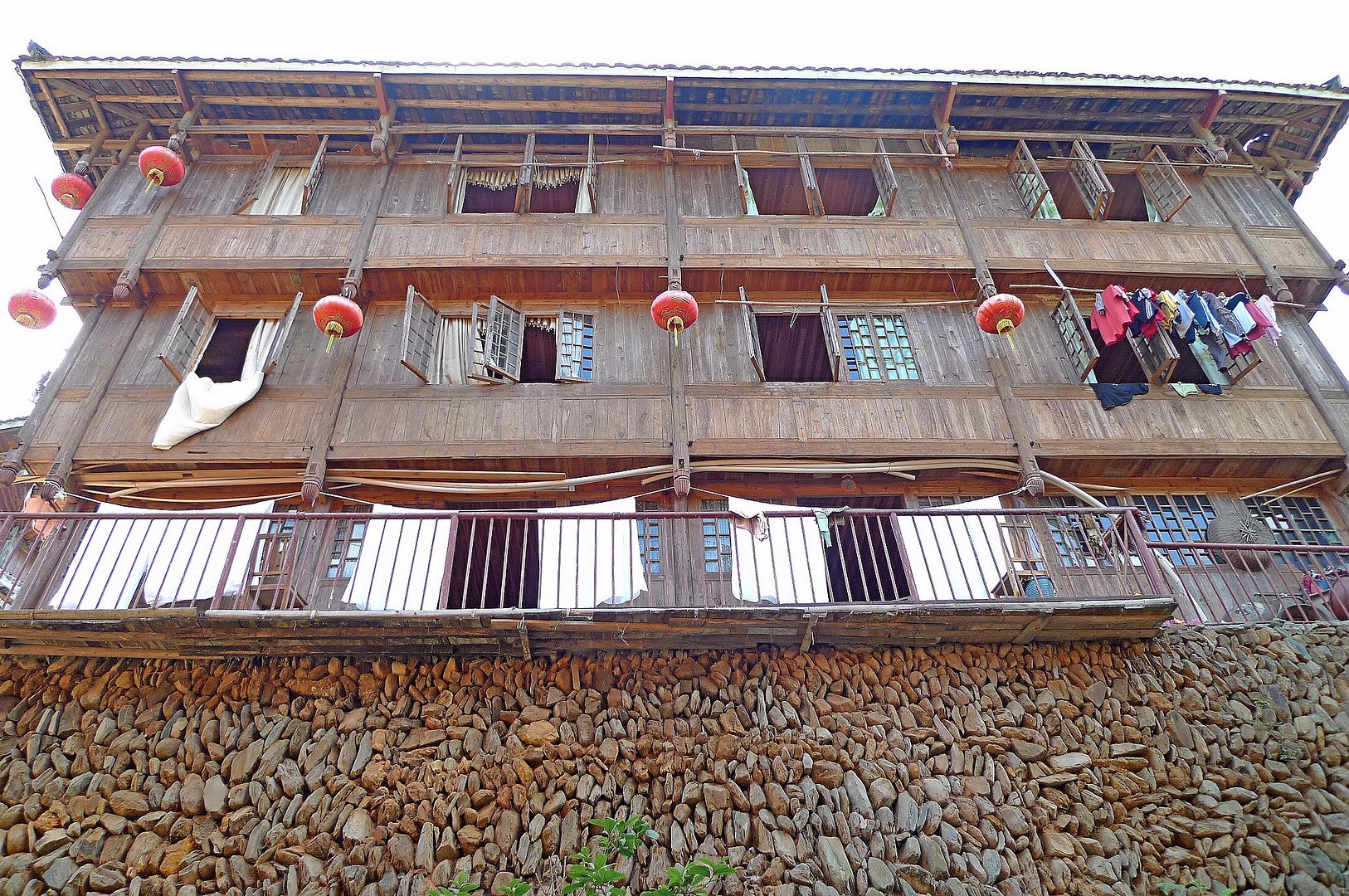 All these wooden houses were built using fir wood which was abundantly found in the fir wood forests!

I noticed that most of the houses in

Dazhai

were either two or three storeys high.
Before we knew it, we had reached

Da Jie'

s house which was actually converted into a hotel!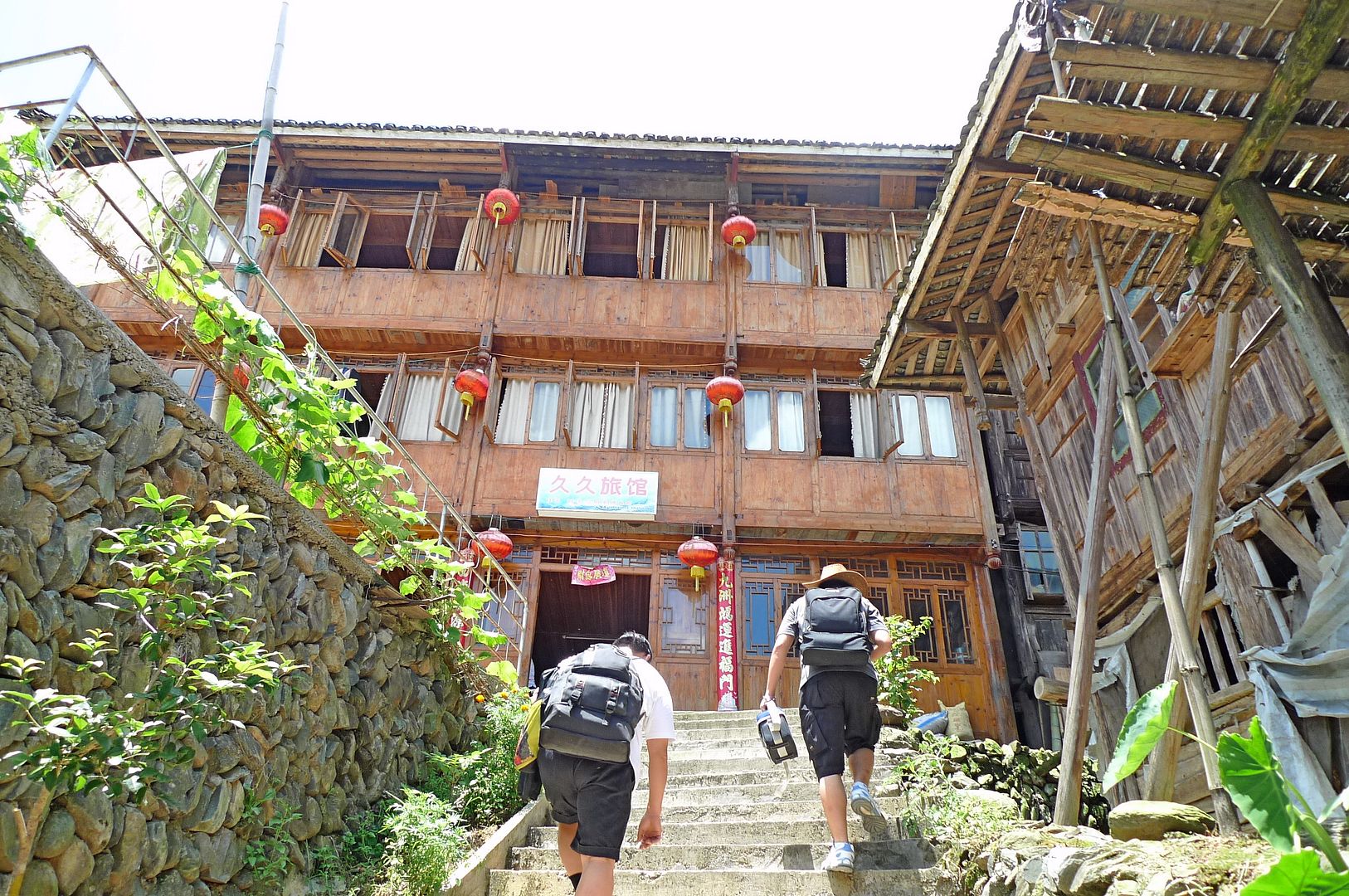 It was called

Jiu Jiu

Hotel (久久旅馆).
In my next post, I shall tell you more about this hotel, what we had for lunch and what we did after that, so stay tuned!