During the recent Chinese New Year, I went '
lou sang
' with a group of friends at
Yin Her Restaurant
at Kampung Baru Sungai Buloh.
For the uninitiated, 'lou sang' is a Cantonese term which means the act of tossing and mixing the
yee sang
ingredients to attract good health, wealth, prosperity and good luck for the year.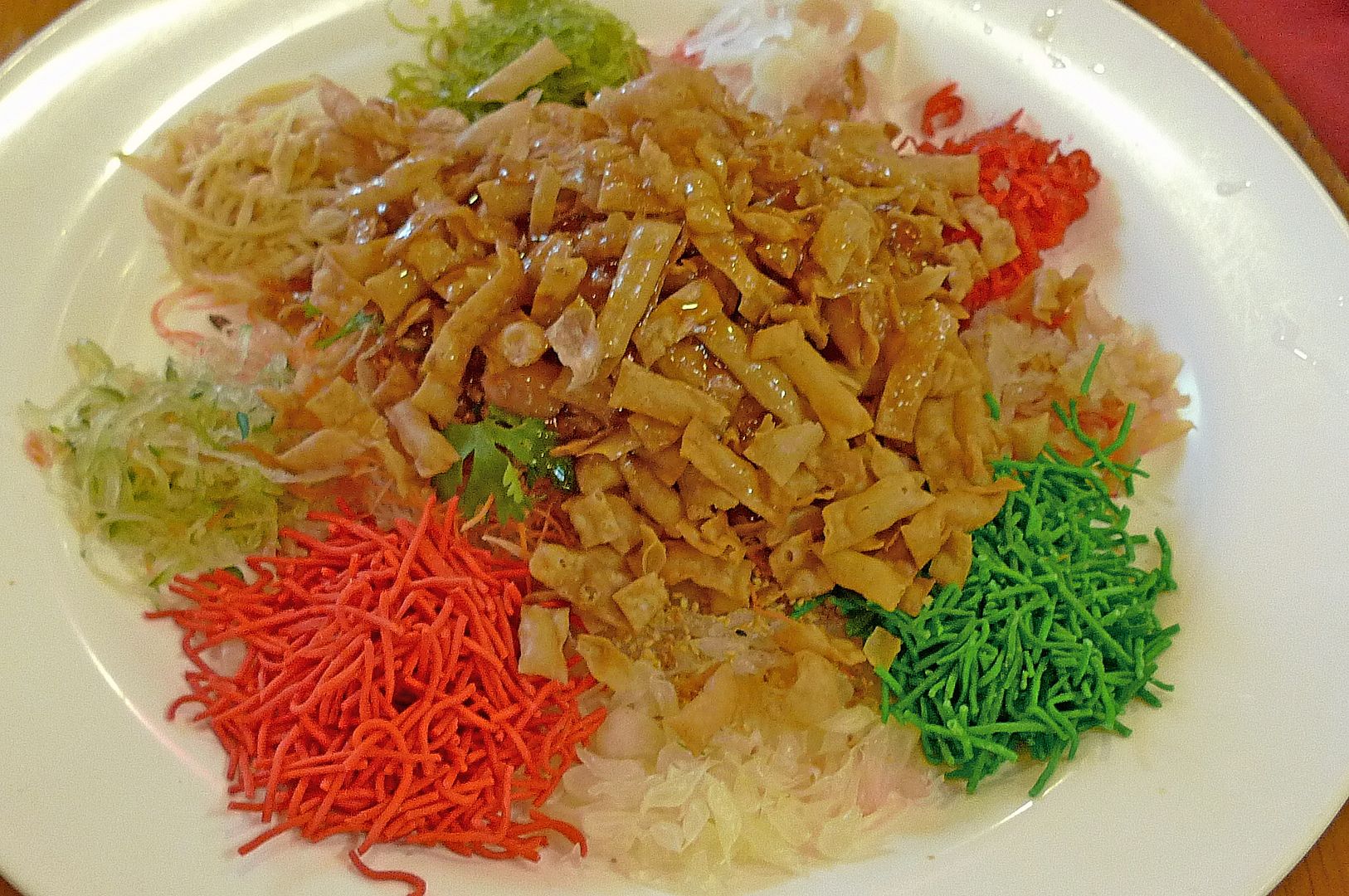 This yee sang dish originated from my very own country Malaysia! How's that for
Malaysia Boleh
? : )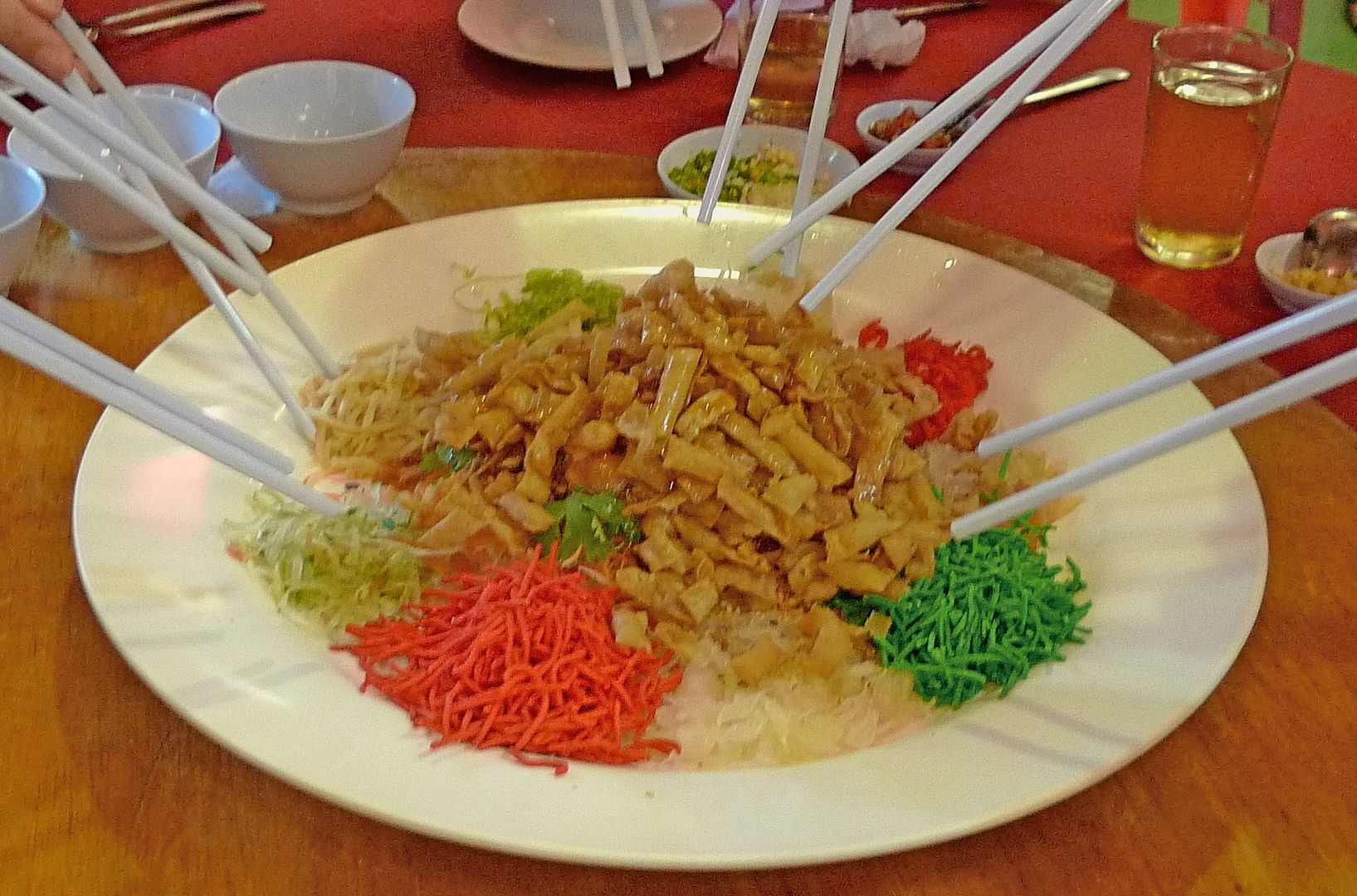 The act of tossing and mixing the various ingredients was so much fun! I thoroughly enjoyed it!
Here's my own plate of yee sang after all the tossing and mixing. It was delicious!!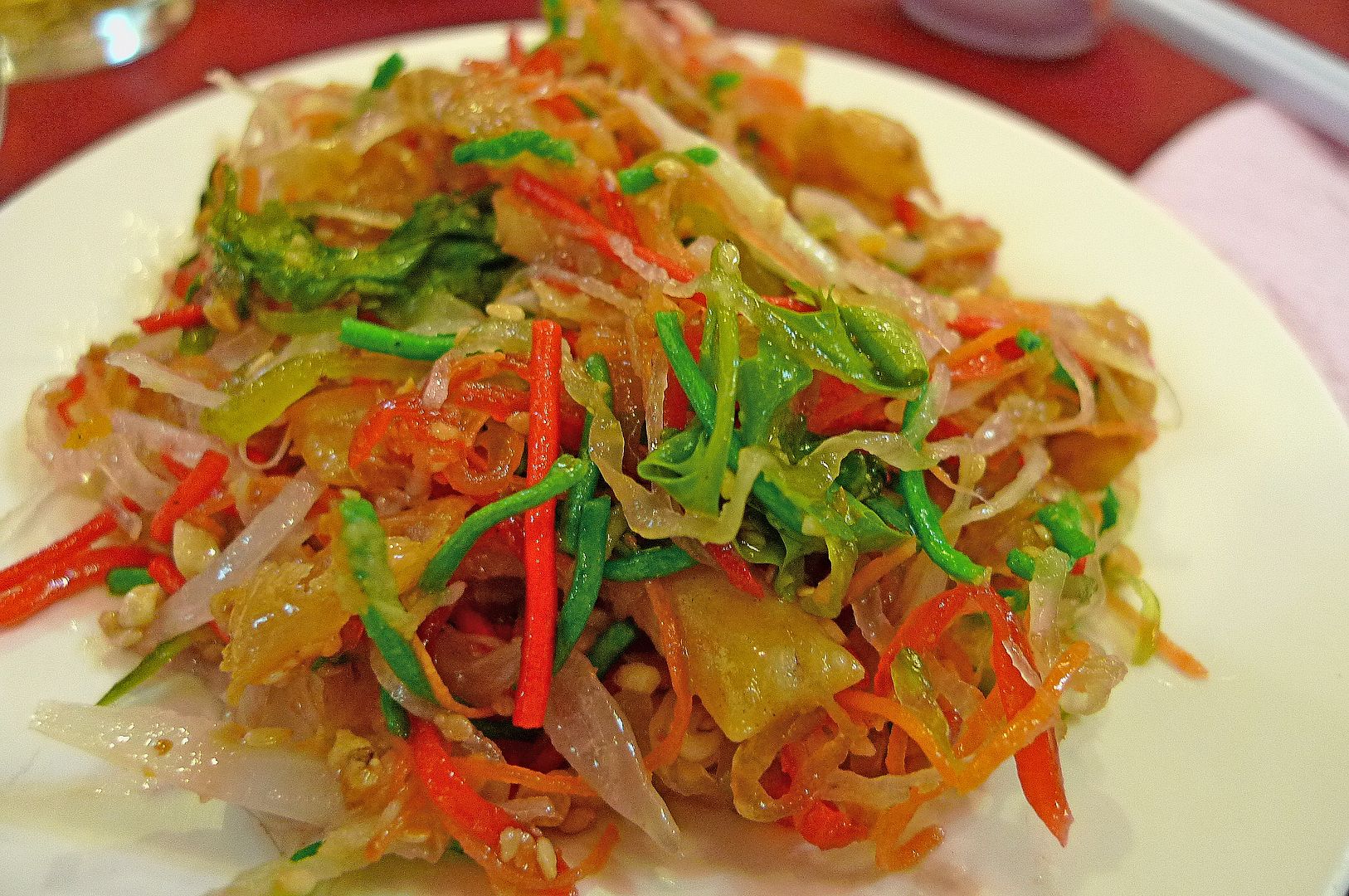 Of course I went for second round simply because I knew I wouldn't be able to eat this delicious dish after the Chinese New Year. Gosh! I have to wait one full year before having the chance to taste it again!
There is however, one problem with this yee sang dish. It was supposed to be salmon yee sang but I could hardly find any salmon fish in it! Why must the restaurant be so stingy with the salmon fish? Is it really that expensive?!
This is the menu for the set Chinese New Year lunch we ordered. The set was priced at RM498 nett.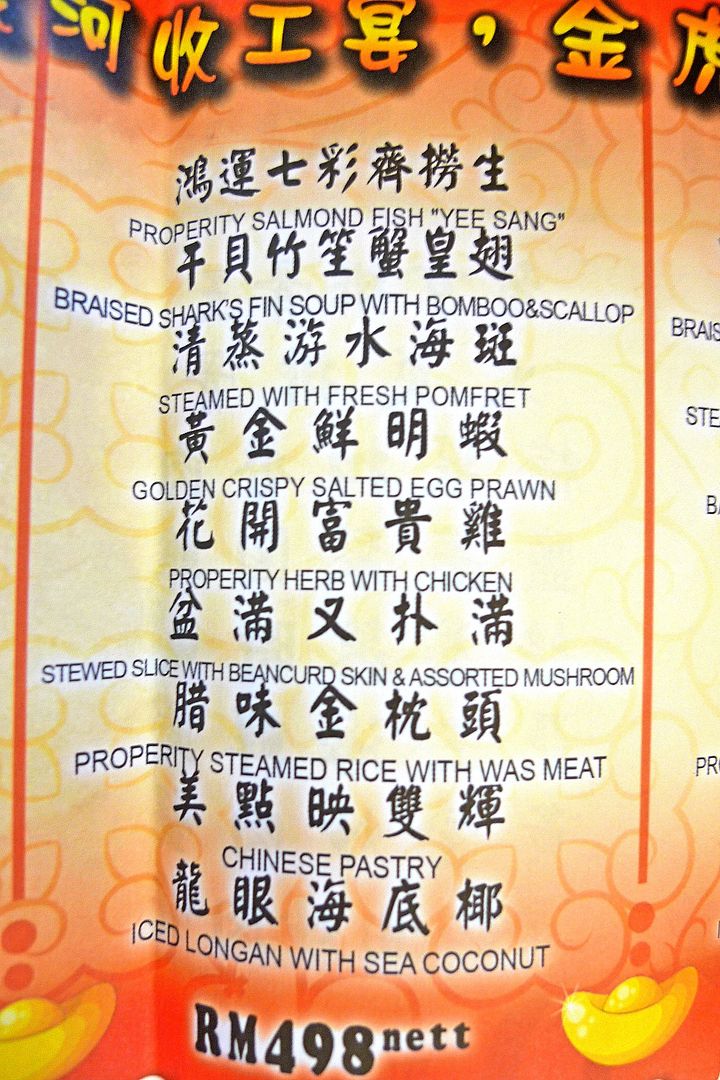 Notice the wrong spelling for the word 'salmon'. Haha!
And what the heck is 'bomboo' for the second dish? LOL!
Well, I really should not be laughing at their poor English, since I am a hopeless banana and do not know how to read those Mandarin words! Anyone care to tell me what those Mandarin words are - whether they sound cute or funny?
In case you are non-Chinese and wondering why I said that, well, we Chinese like to give funny and unique names to our dishes!
Our second dish, braised shark's fin soup came soon after.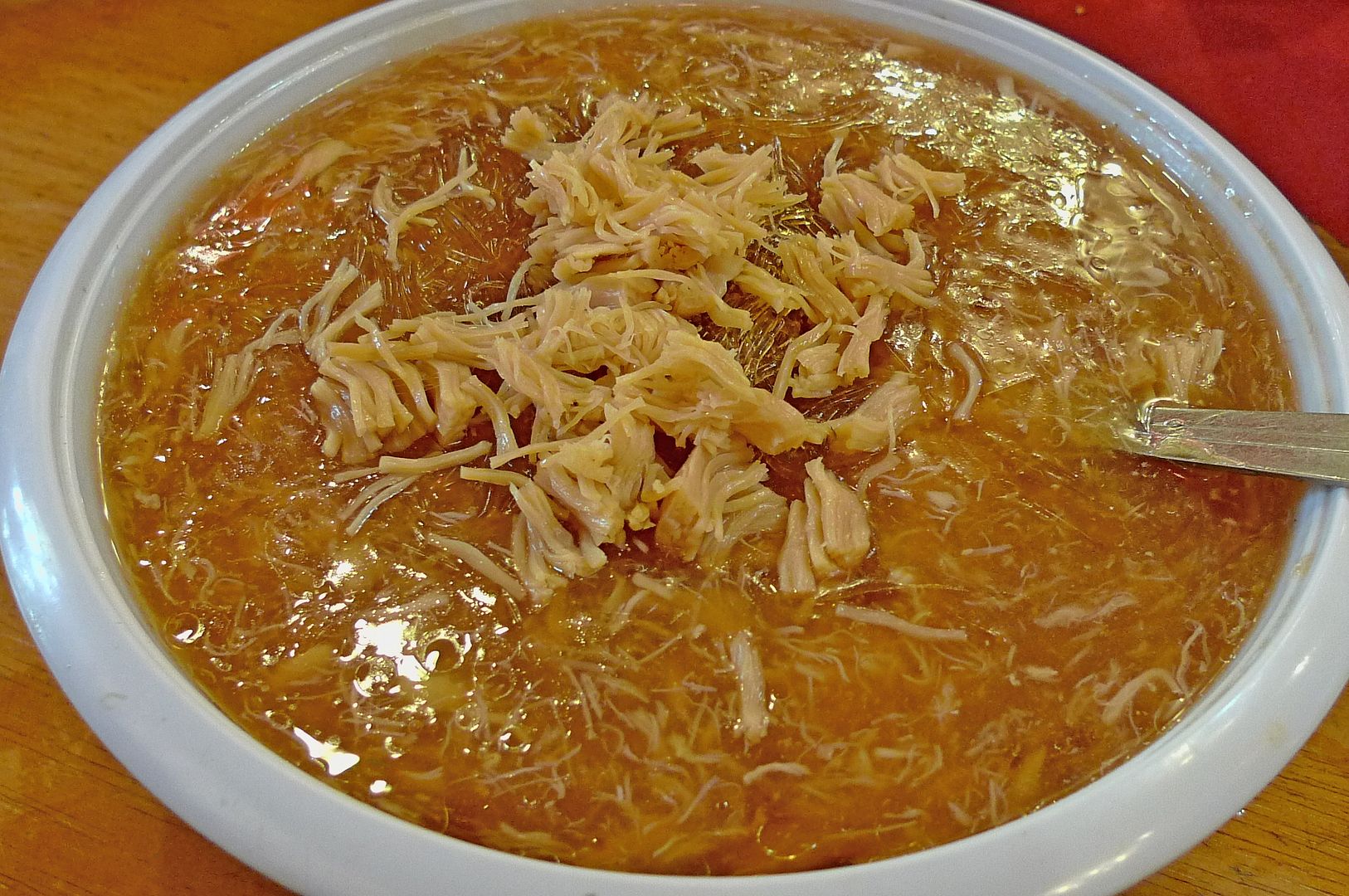 It was yummy! Look at my bowl of shark's fin with huge chunks of crab meat!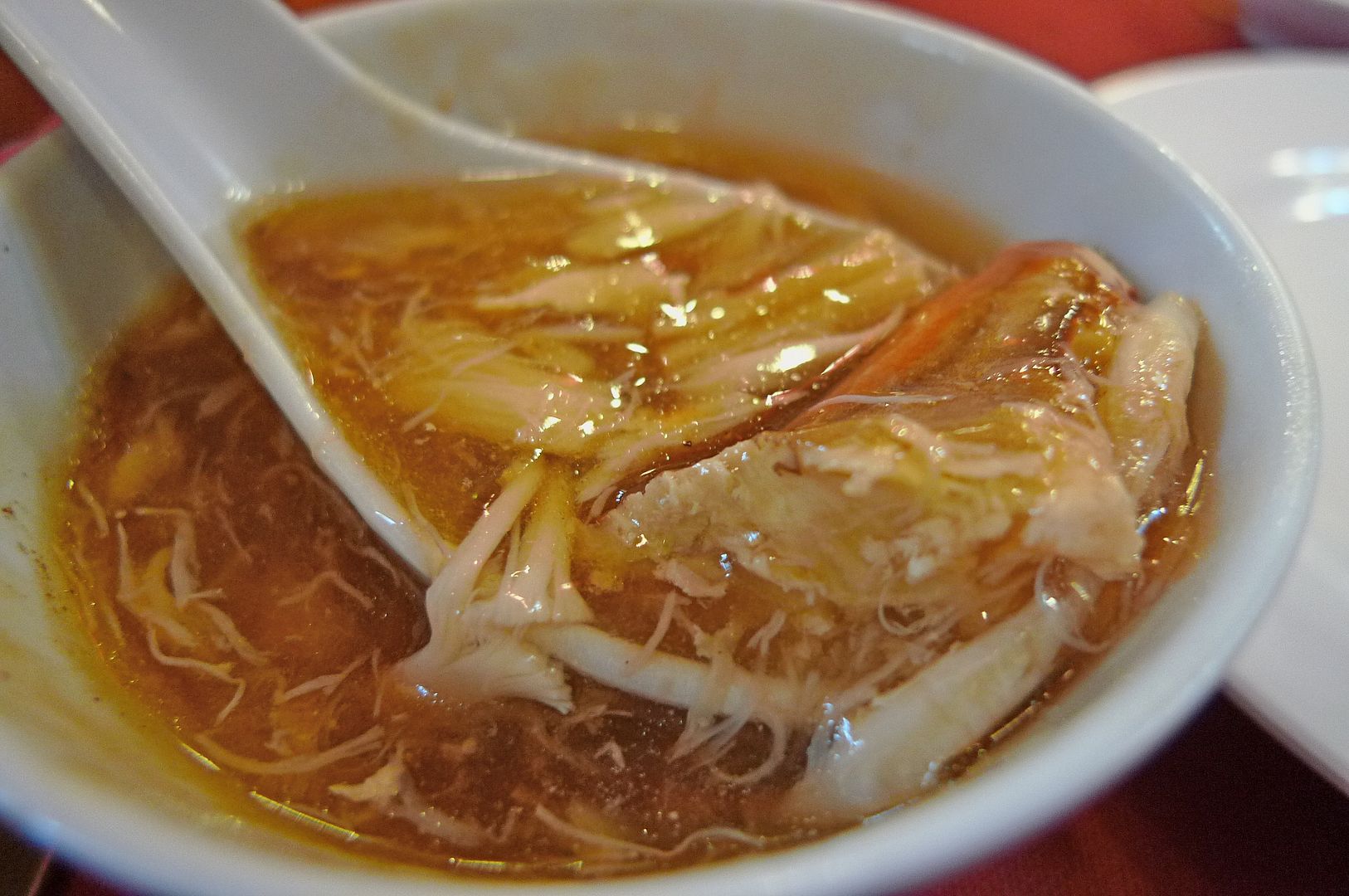 I actually prefer crab meat to shark's fin! I wonder why shark's fins are so popular. We should be saving the sharks instead of killing them just for their fins!!
Next on the list was pomfret fish, which was my absolute favourite dish!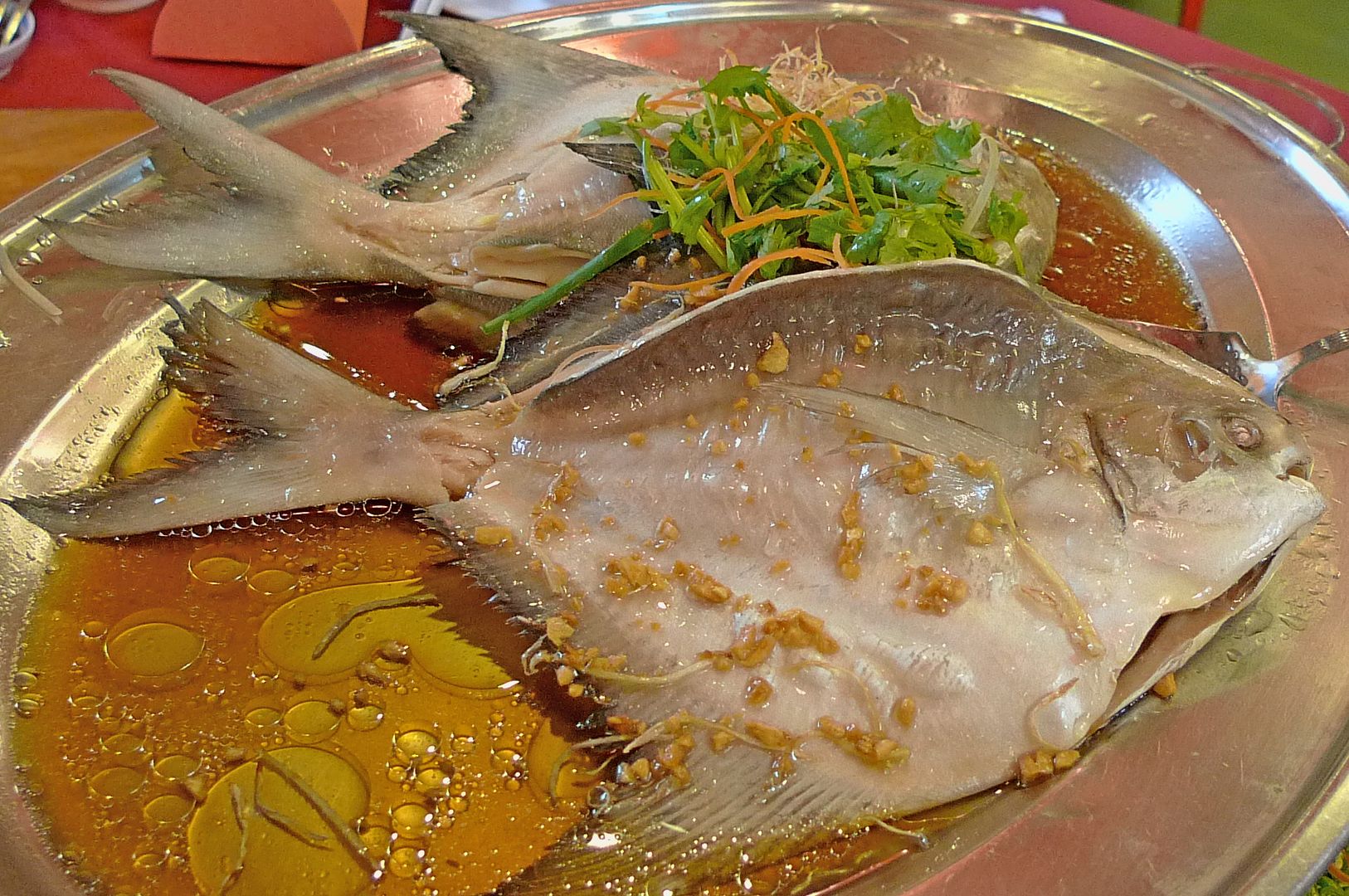 Maybe I am a fan of anything to do with steamed fish but I just love this dish! So yummy and the meat so smooth and tasty!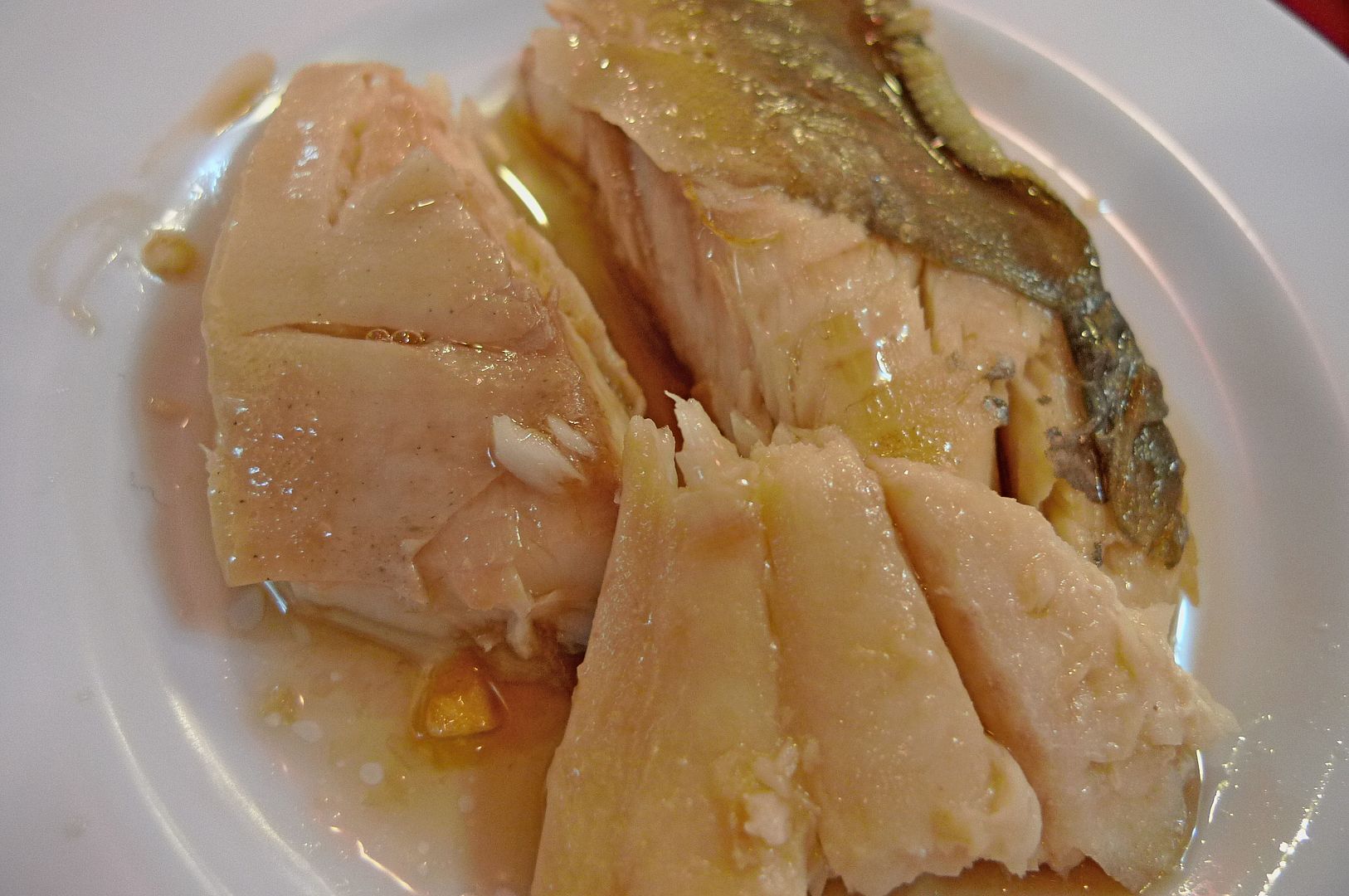 Next, we had salted egg prawns.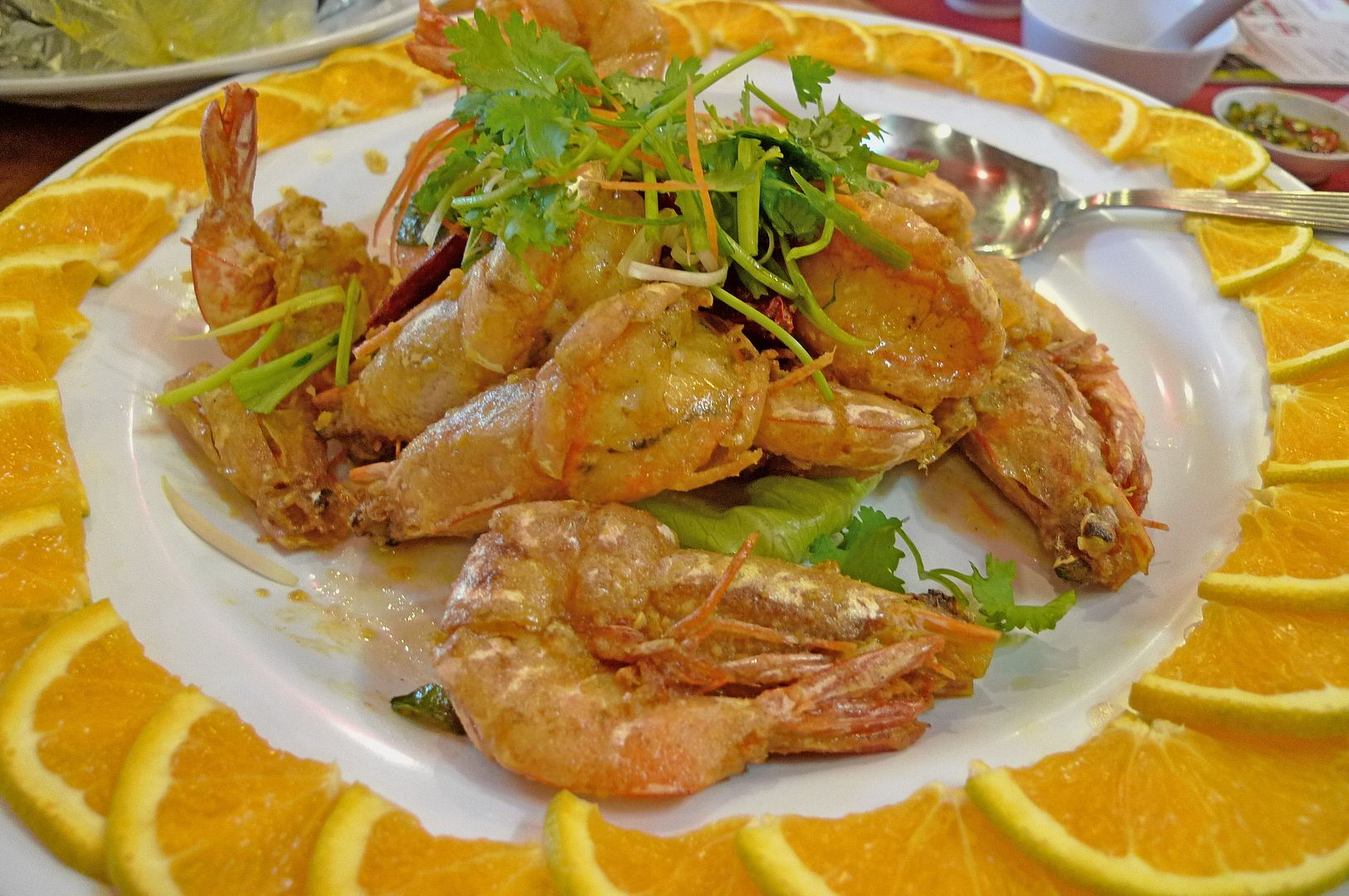 I love prawns but I just didn't like this prawn dish.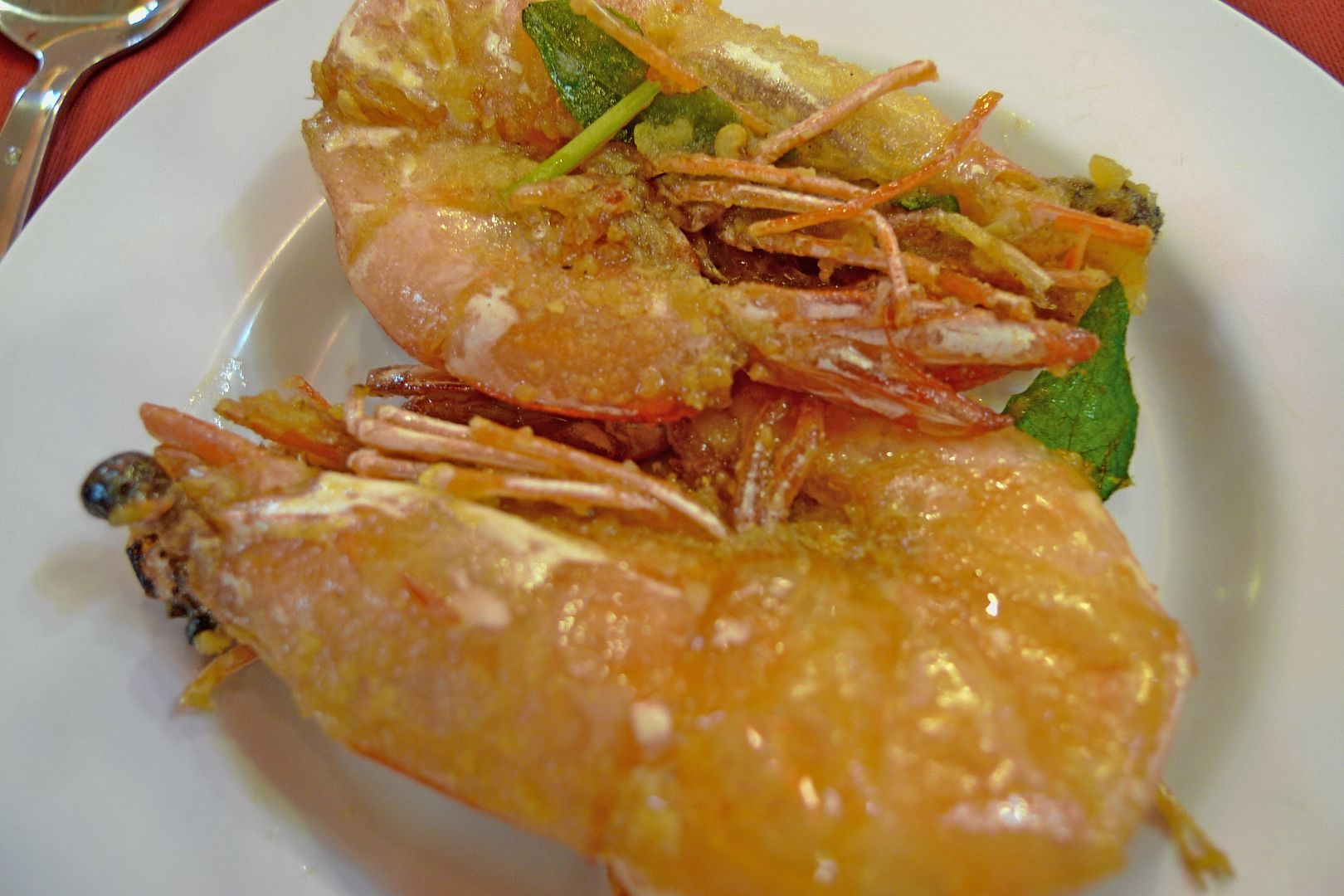 Then came the herbal chicken.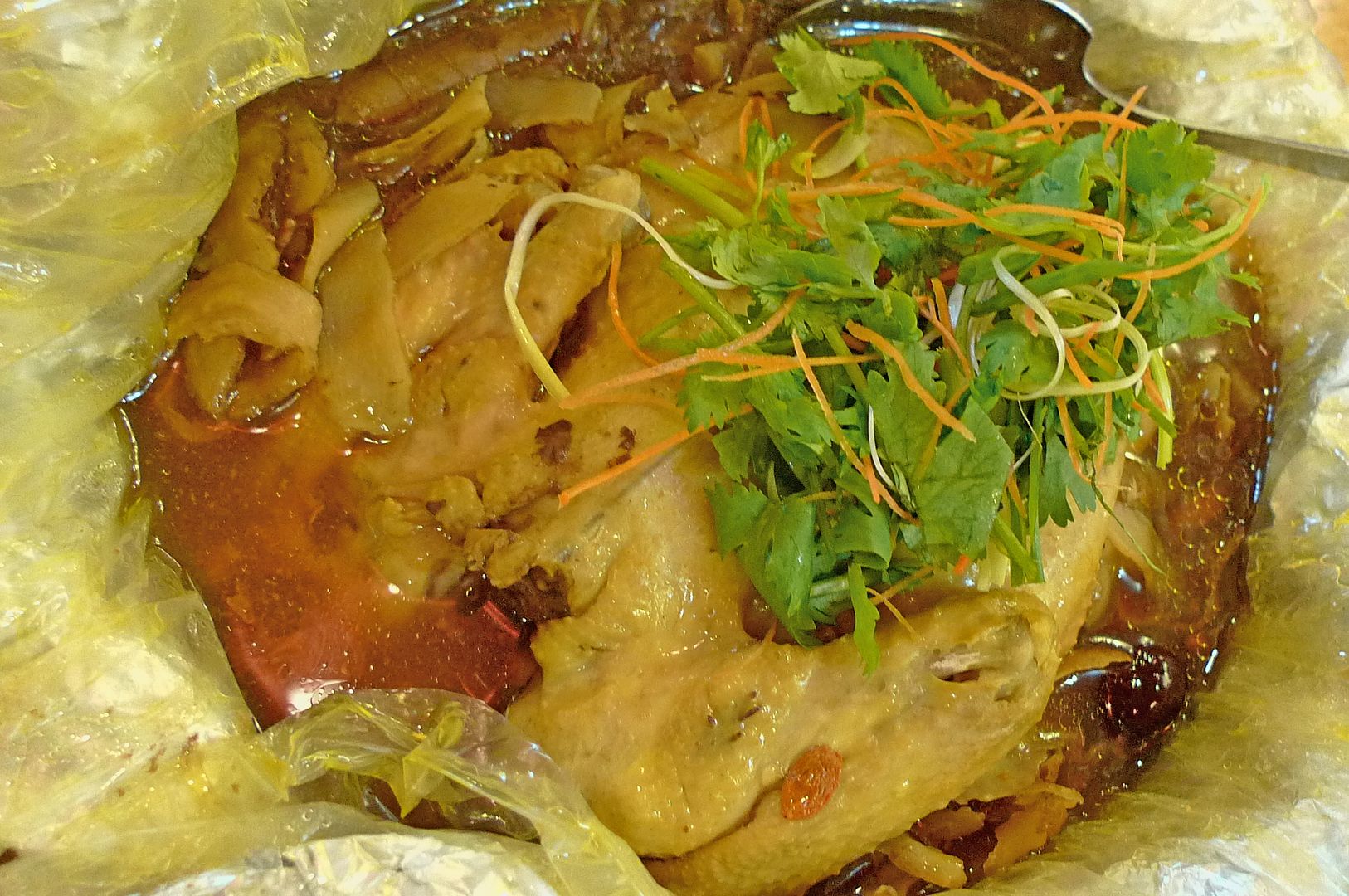 The taste was OK but I found it a little too oily for my liking.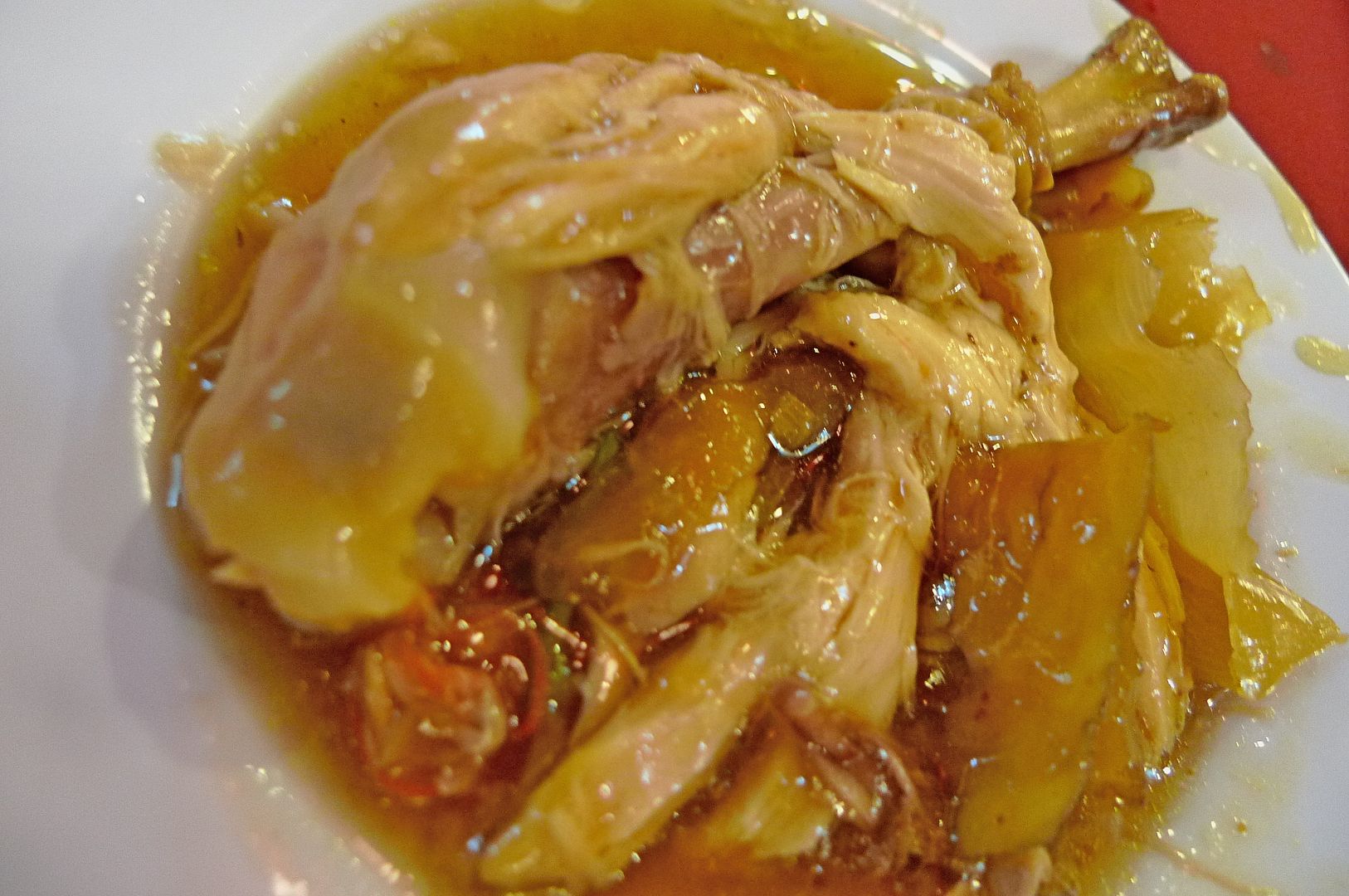 After that, there seemed to be some sort of mix up in the dishes. Instead of this vegetables dish with bean curd skin and mushrooms...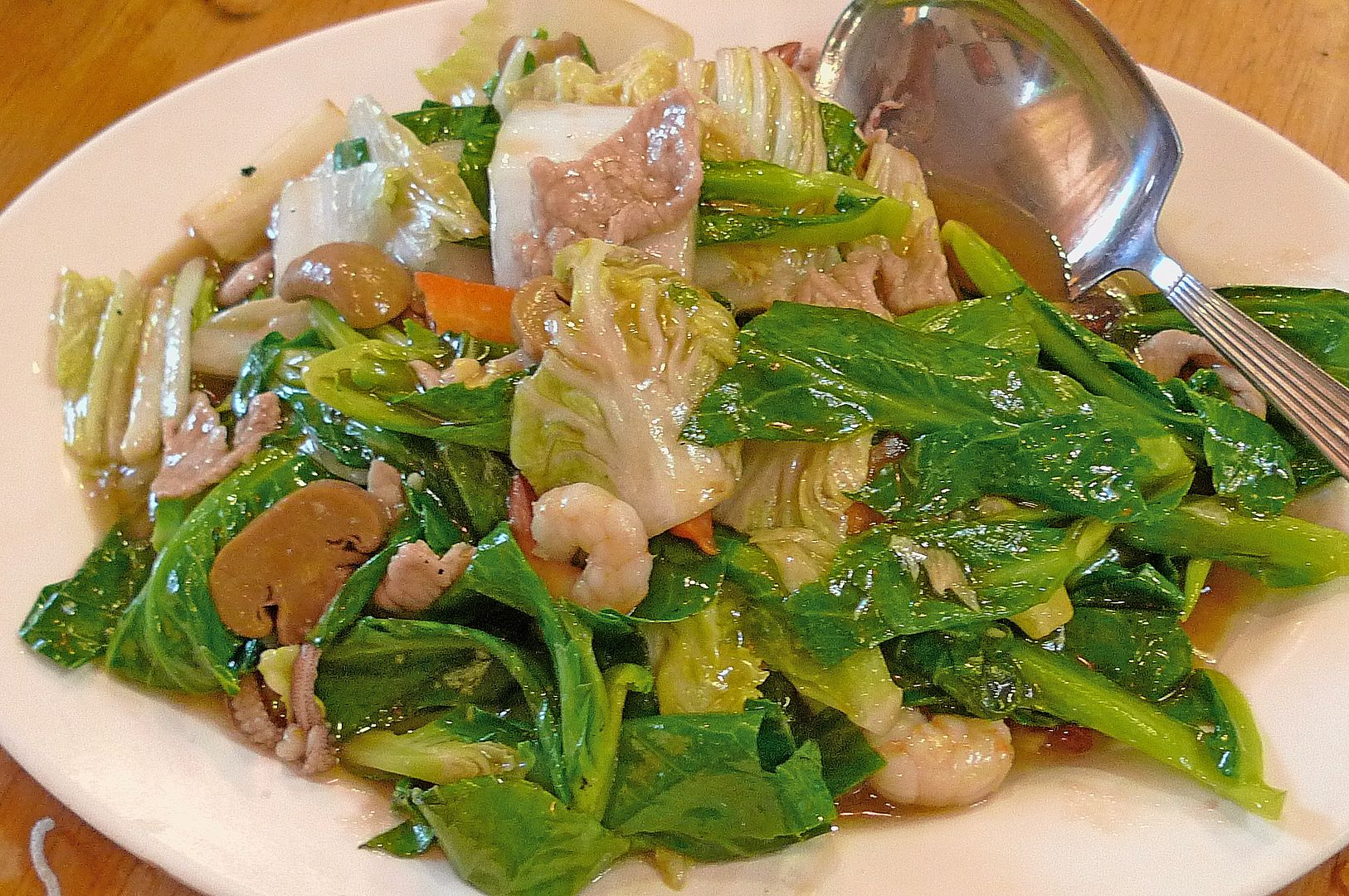 ...we were given this yam dish with assorted vegetables, prawns and nuts (I invented this name as I do not know how to call it! Haha!)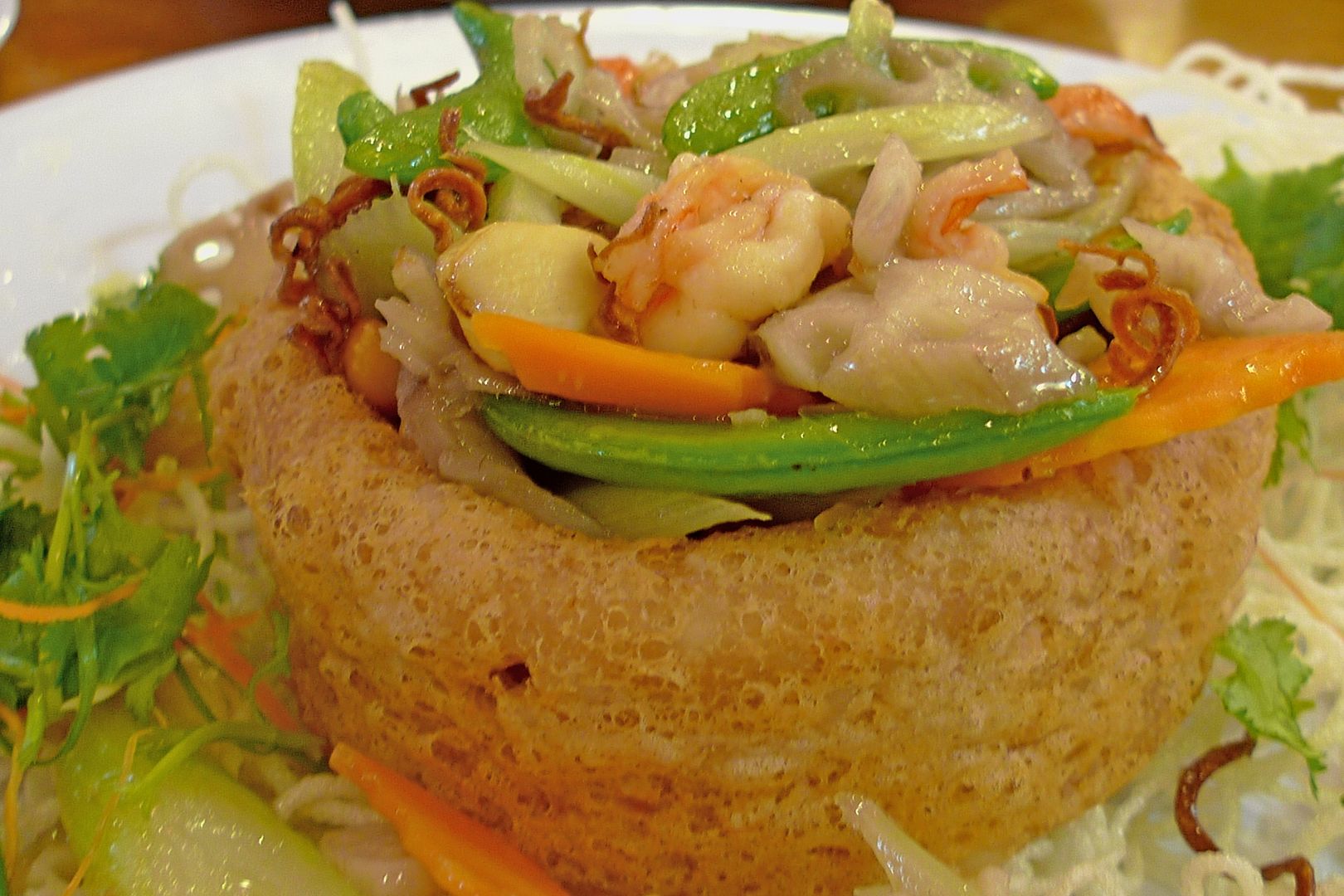 When they finally realised their mistake, it was too late! We had already eaten half of the dish!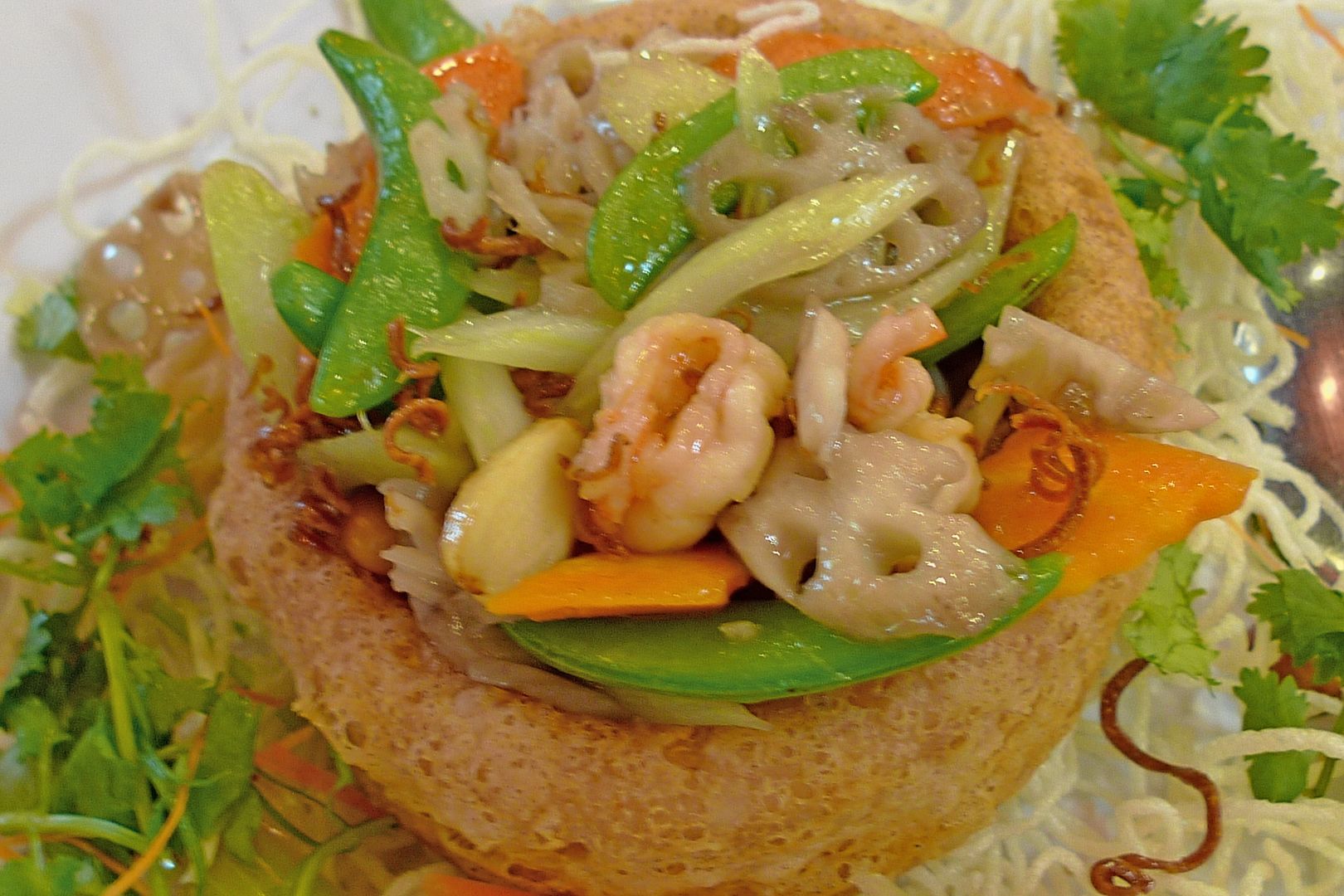 Some of my friends just could not complete a meal without a bowl of rice. In Chinese I call them '
fan tong
'! Haha!
And so we had fried rice. Although I would have preferred waxed meat rice!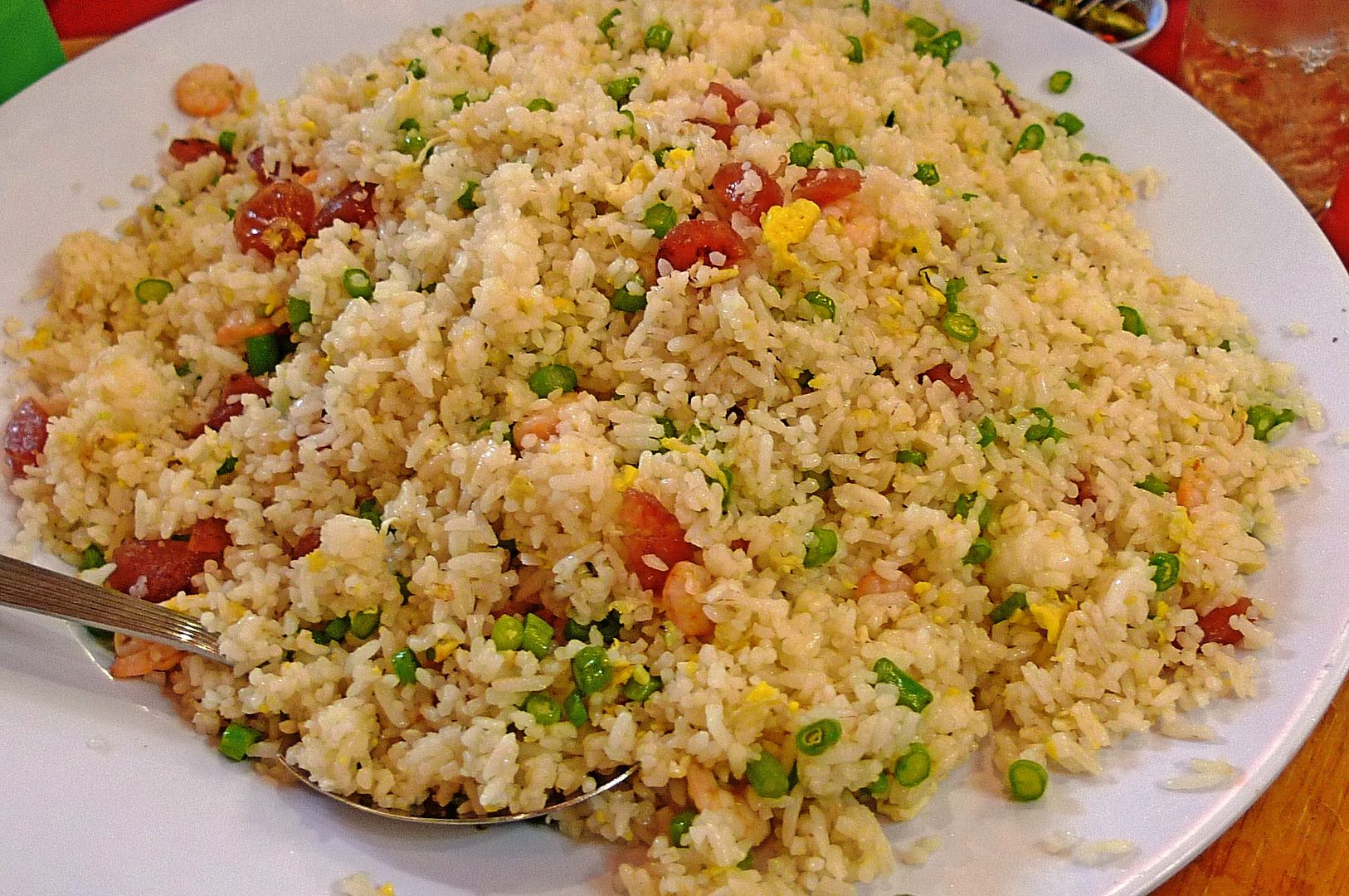 You know why? Because no one, absolutely no one, could cook fried rice like my mom! Her fried rice to me at least, is the best fried rice in the world! Bar none! Haha!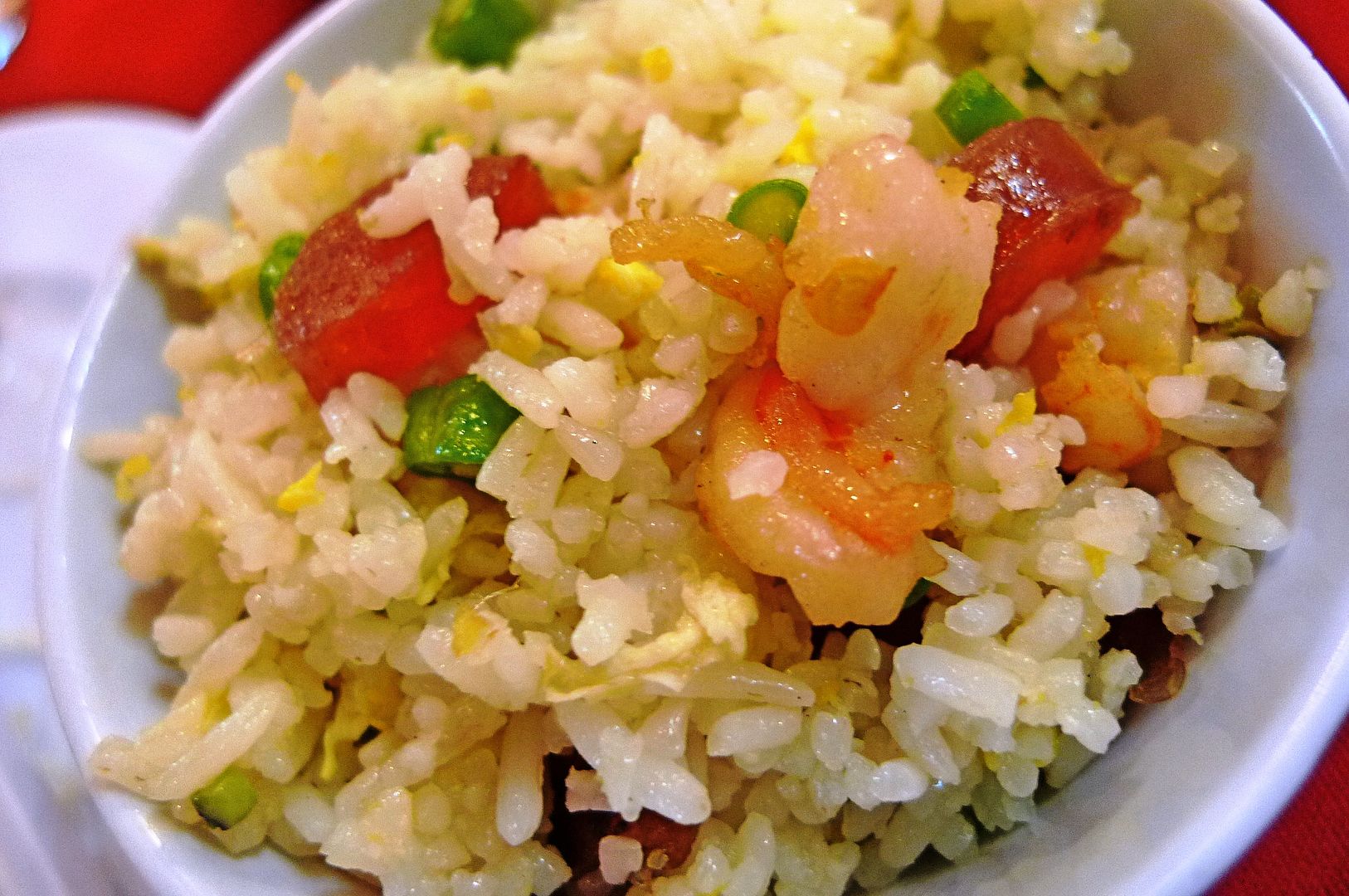 Actually, this fried rice was not too bad, but still stopped short of my mom's standard. LOL!
If you notice from the menu, it was listed as 'Prosperity Steamed Rice With Waxed Meat'. (Ignore their horrendous spelling!) Some friends requested for fried rice so we had it changed. What a bummer!
Finally it was time for desserts! And out came this dish.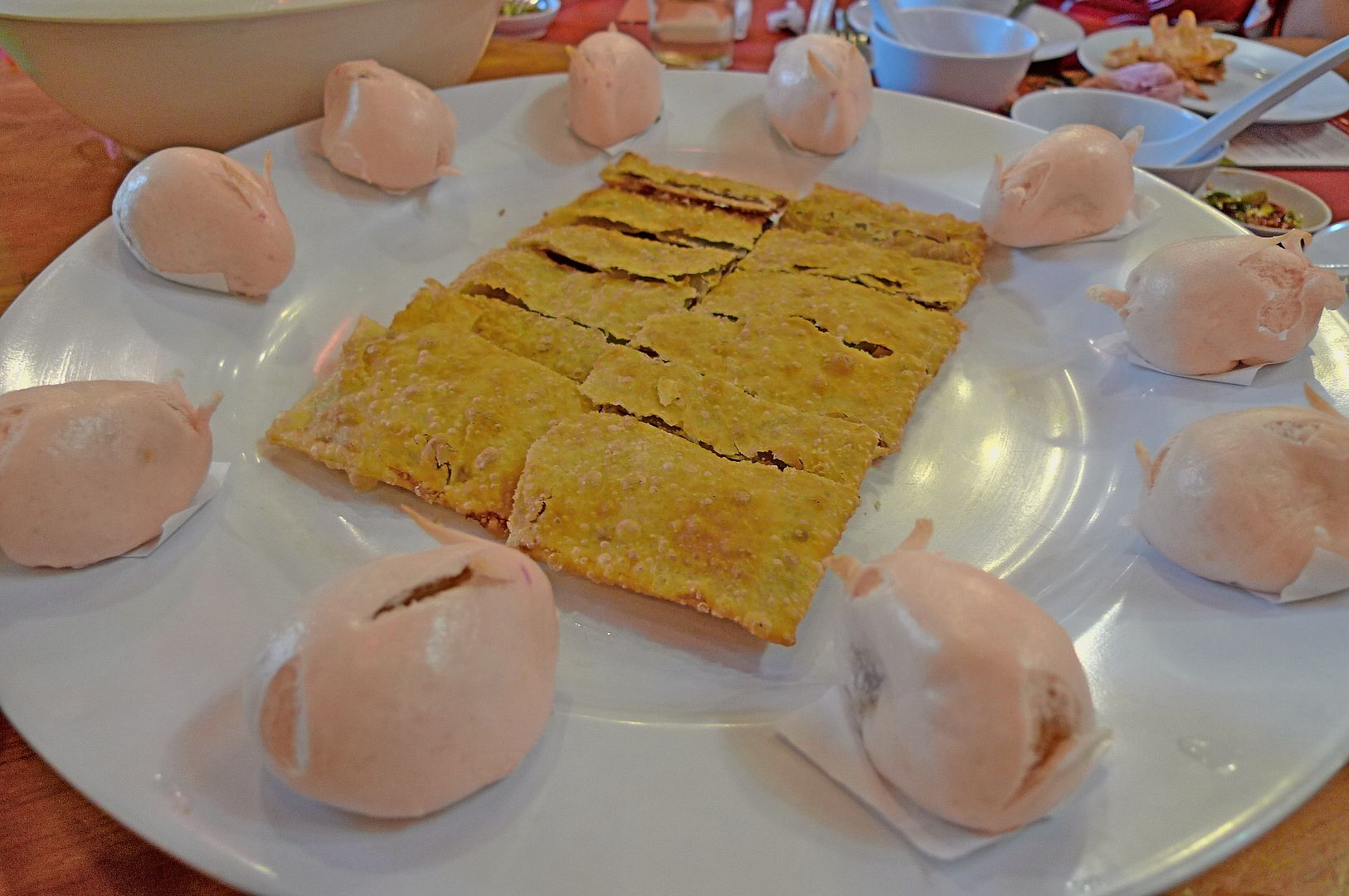 Why were there so many fat little rabbits on the plate? Oh my!
I purposely placed the two rabbits in front to face me so that I was not facing their asses. Haha!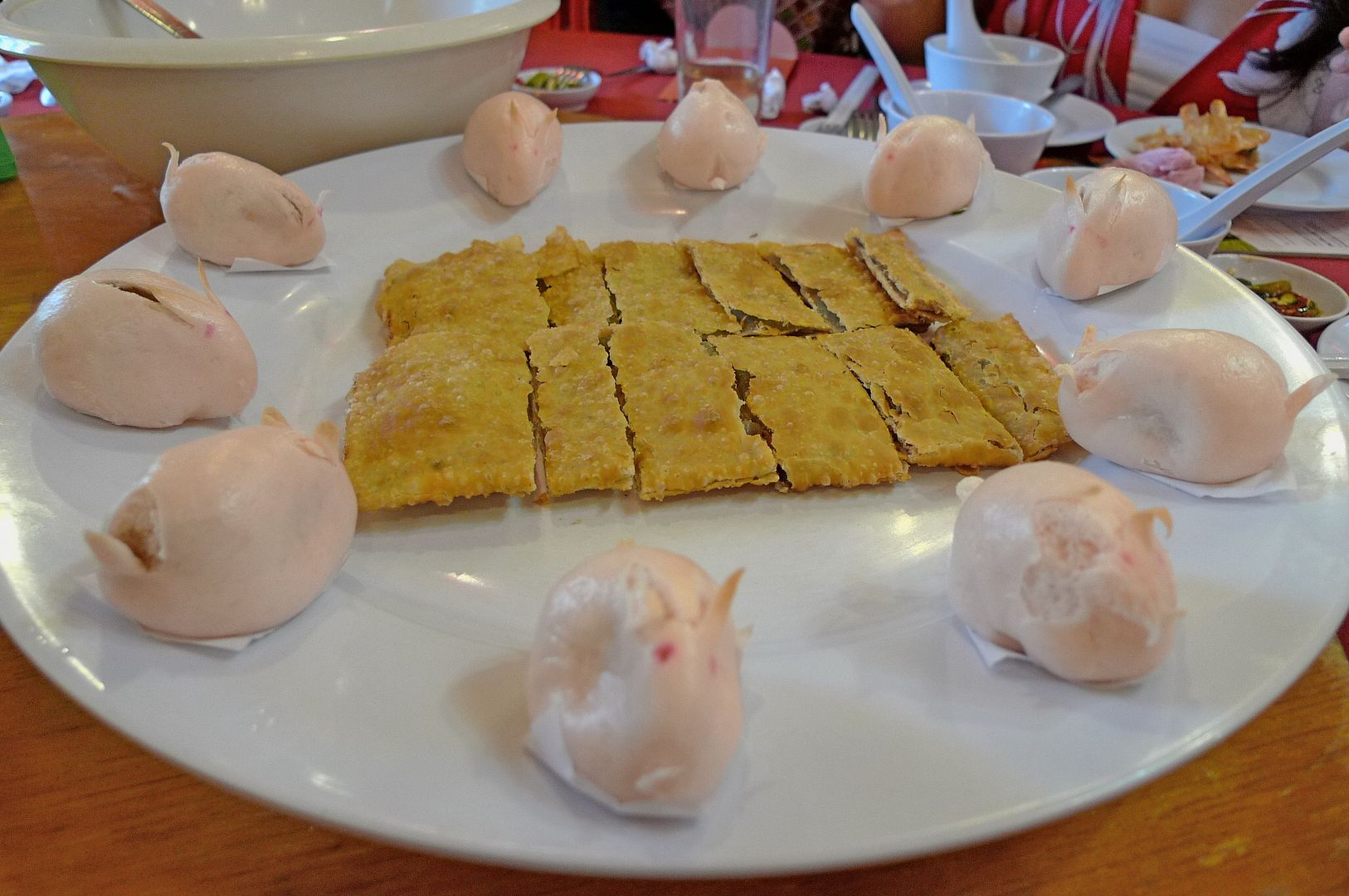 But look! Some of the rabbits were deformed! Yikes!
The deformed rabbits posed with the chinese pastry (
wo peng
) and an
angpow
I received during the lunch.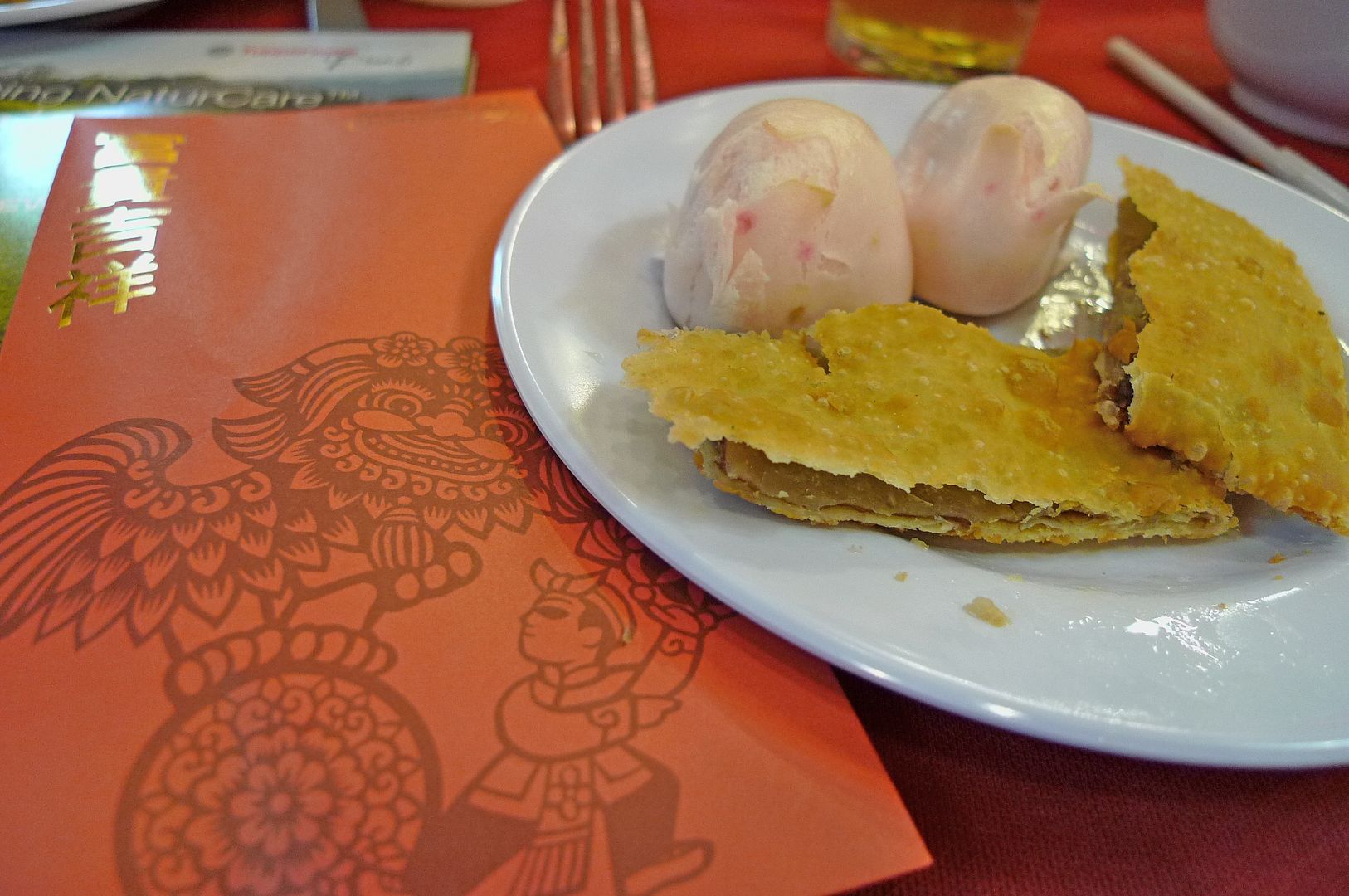 I bit into the poor little rabbit. There was lotus fillings inside. Yummy!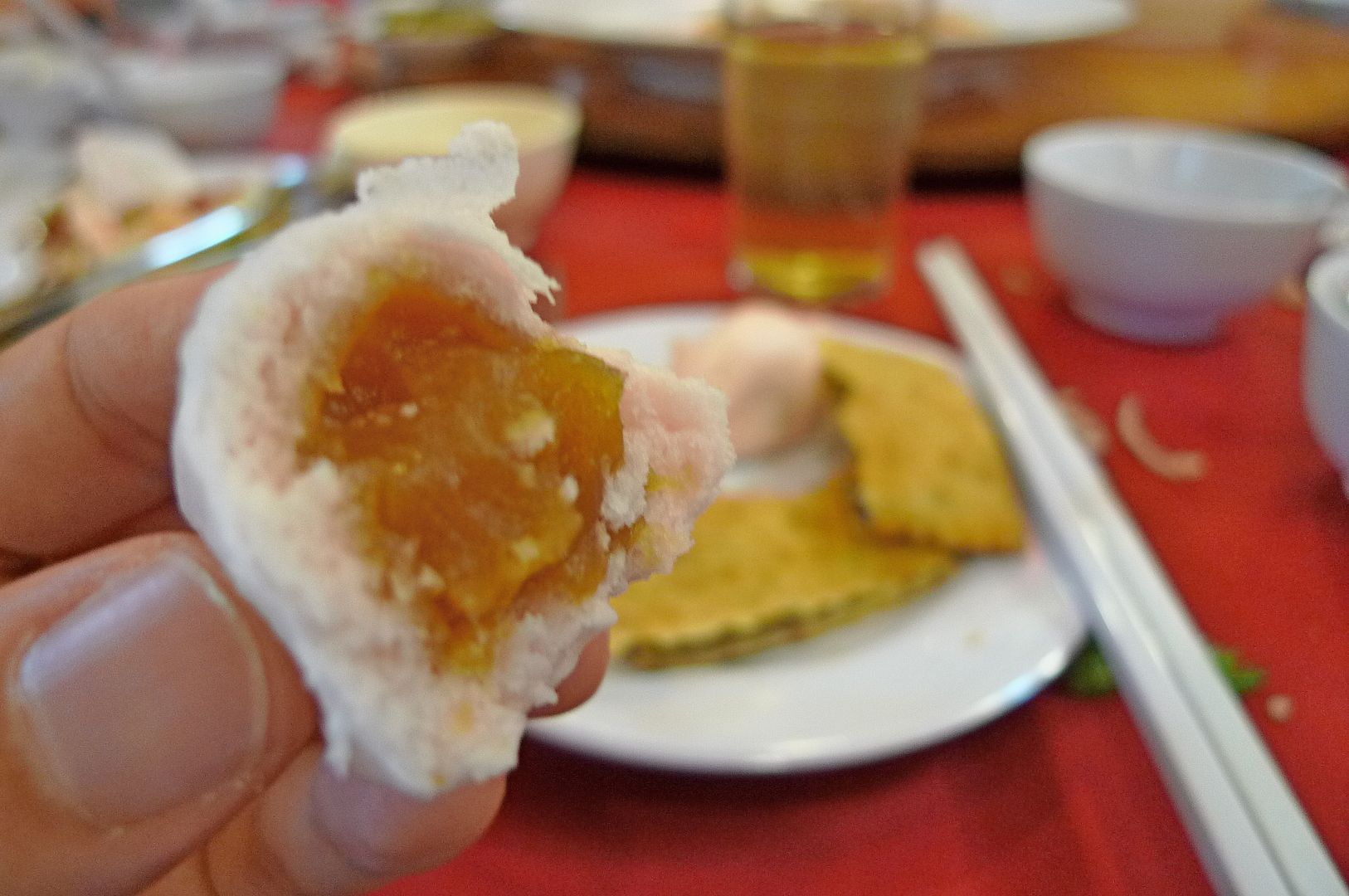 Can anyone guess I bit off the rabbit's head or ass? Haha!
After that, the iced longan with sea coconut came.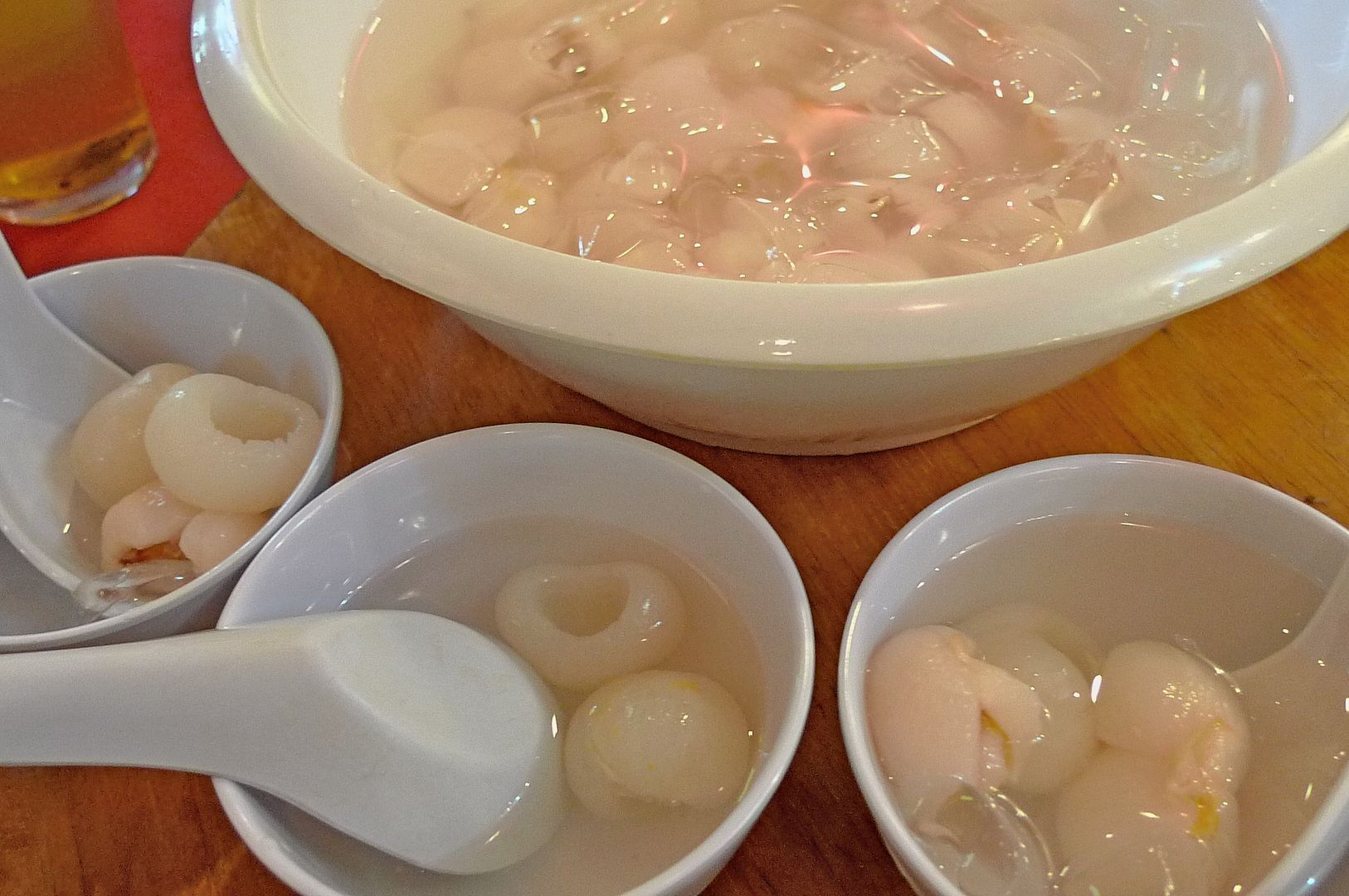 I am not particularly fond of this dessert. Reason being I think it's the cheapest dessert of the lot. Haha!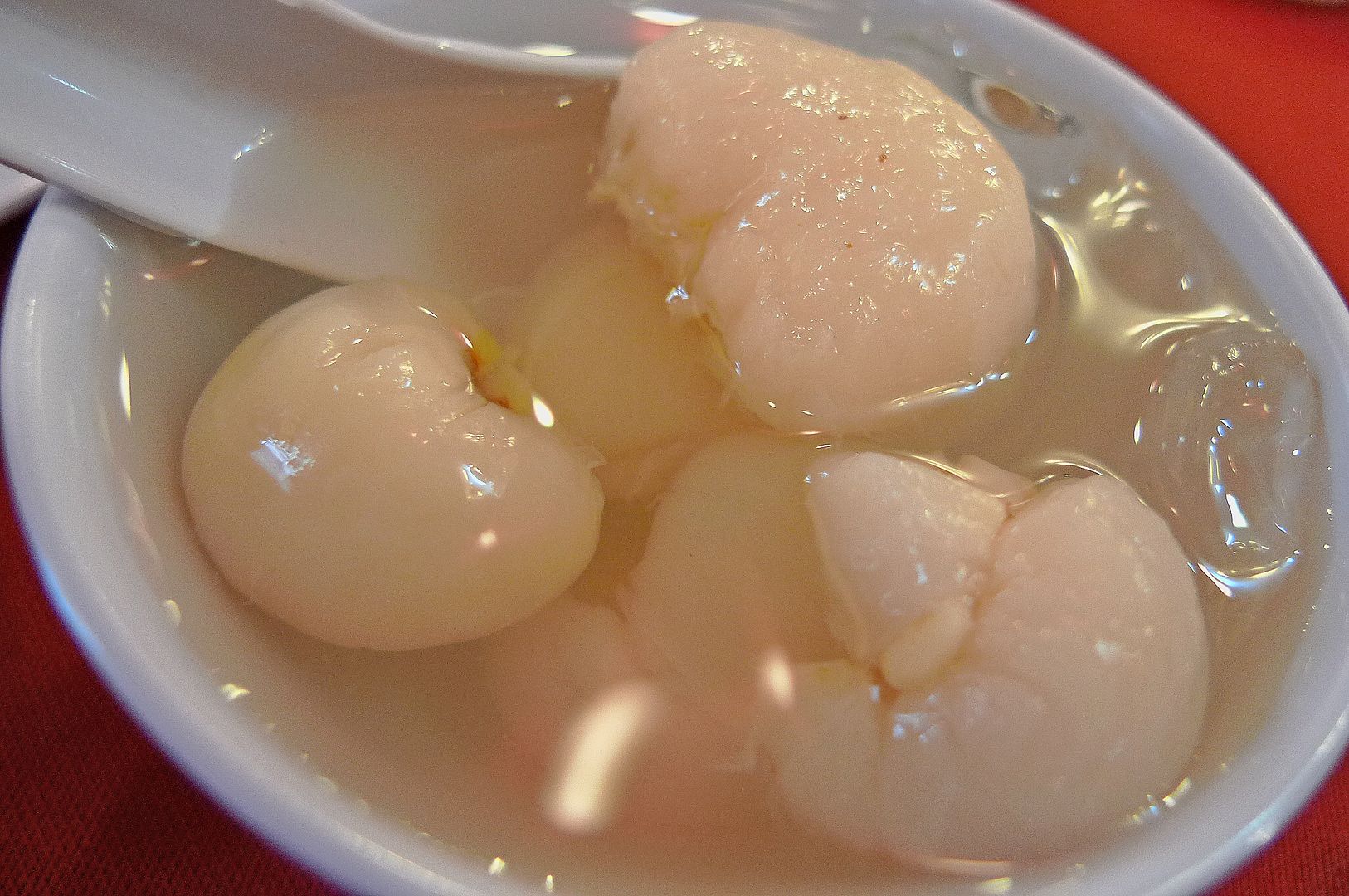 By the way, I could not find any sea coconut inside! Just longans and more longans, and even more than longans were the ice! Cheapskate dessert - that's what I shall call it. LOL!
Overall, not a bad restaurant really. There were quite a lot of people coming here for lunch but it was not too noisy, thank goodness!
I think this restaurant offers quite good value for your money. I may just return for lunch or dinner one of these days.
By the way, you can go fishing after your meal here. There's a fishing pond here though I did not take any photos of it.
And oh! I just discovered this restaurant was featured in the
Ho Chak!
TV show on
8tv
. Click
HERE
to watch it.