After
Ho Chi Minh Museum and the One Pillar Pagoda
, the next item on our itinerary for the day was the
Temple Of Literature
. It was quite a long walk from One Pillar Pagoda to Temple Of Literature but my friend and I managed it.
When we reached Temple Of Literature, our stomachs were rumbling non stop. We decided to stop by the famous
KOTO Restaurant
nearby for lunch first.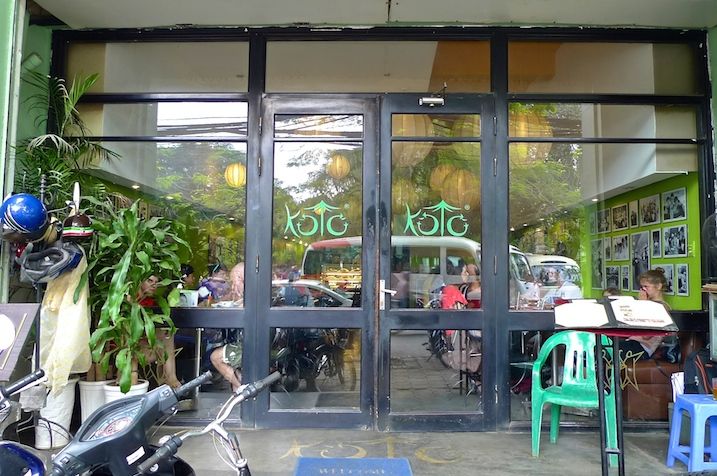 Located at 59 Van Mieu Street, KOTO Restaurant is actually a cafe cum restaurant that doubles as a hospitality training school for disadvantaged Hanoi youth. It serves Vietnamese as well as international fare.
My friend and I decided to walk up to the top floor of this four-storey restaurant so that we could sit at the open air balcony overlooking the green gardens of the Temple Of Literature.
As we climbed the stairs, we could see bricks on the wall. Each of the bricks has a name on it. I later found out that you can buy a brick as a sponsor for the KOTO project and put your name on it.
KOTO by the way, stands for "Know One, Teach One". Essentially it means learning should be passed on and knowledge shared. You can learn more about KOTO the restaurant, and the story and idea behind it
HERE
.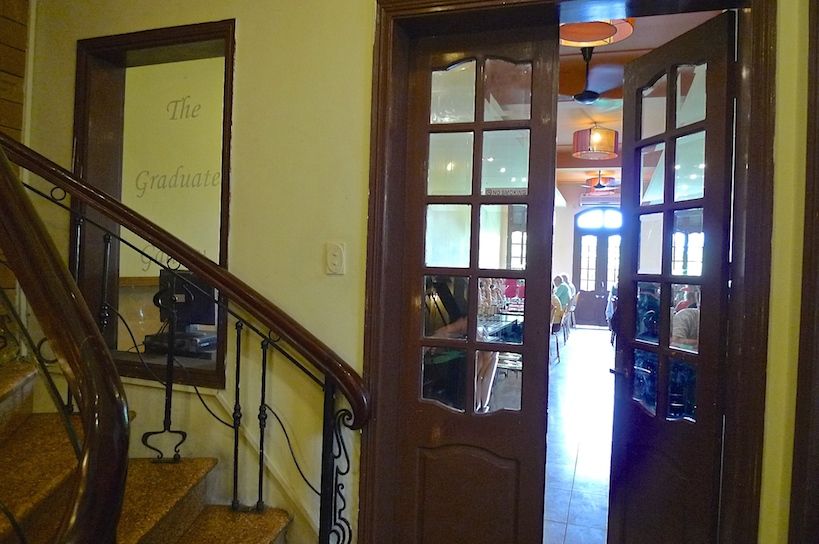 Luckily, there were still many empty tables at the top floor. I thought it was a great place to just sit down, have a drink and enjoy the scenery.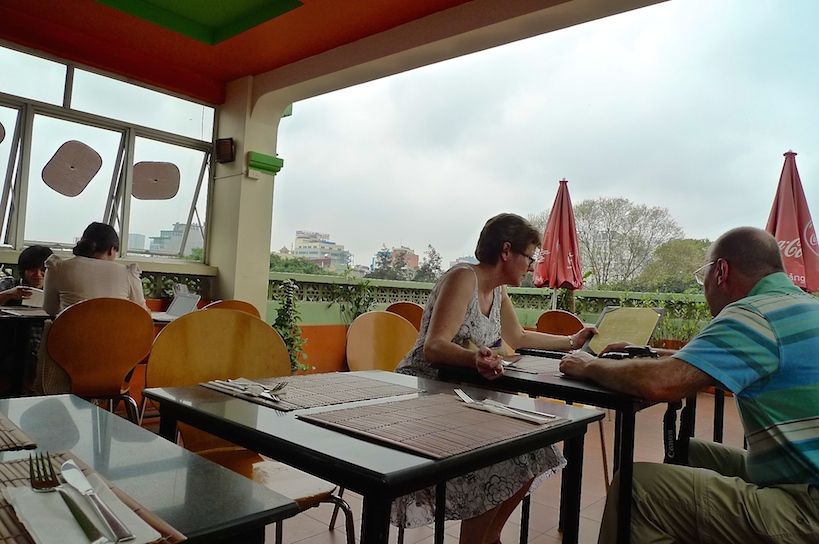 From this open air balcony, you can see the gardens of the Temple Of Literature opposite.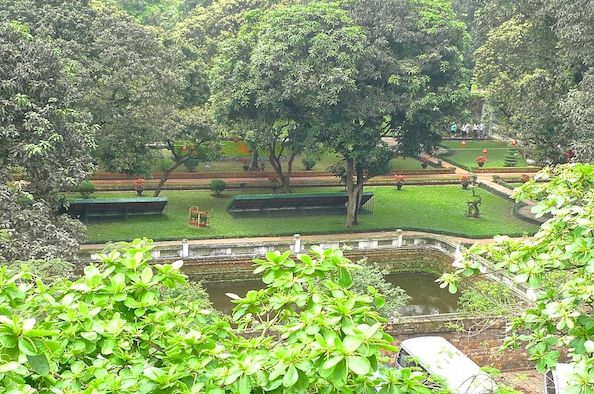 You can also see the view of the green surroundings further away from the Temple Of Literature. I would not say it's a very breathtaking sight, but it's good enough for a relaxing afternoon tea, or lunch in our case.
We started our lunch with a drink. We both ordered the same drink - the
KOTO Smoothie
.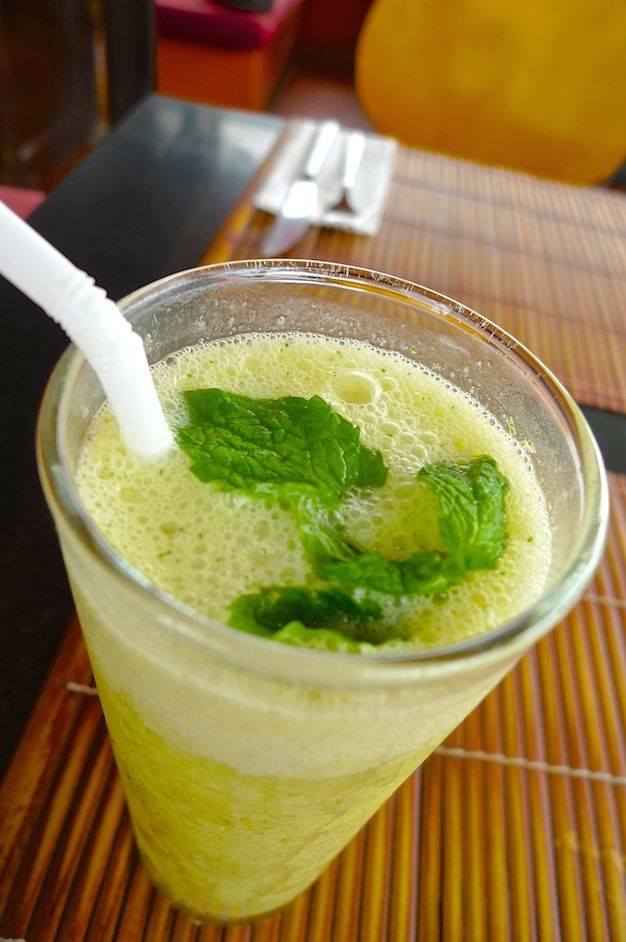 KOTO Smoothie 50,000 VND (US$2.35)
I love this smoothie so much! It's made from a combination of banana, mint and passion fruit. What an awesome delicious drink! Totally refreshing on a hot day and it was not exactly a hot day in Hanoi. (I think the temperature was around 22 degree Celcius).
Both my friend and I also ordered
fresh spring rolls
with prawn and mango, served with delicious citrus dipping sauce.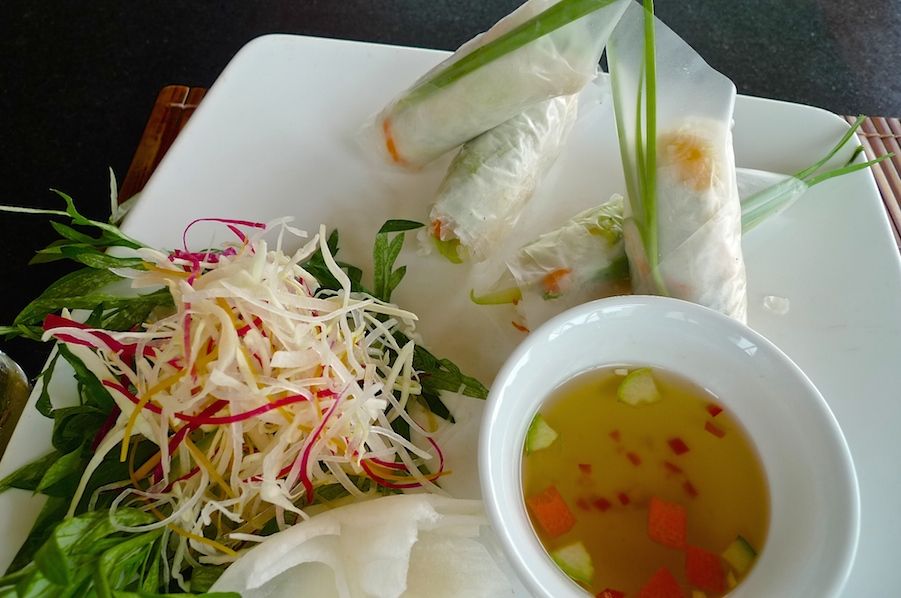 Fresh Spring Rolls 90,000 VND (US$4.20)
The spring rolls were heavenly and the sauce was perfectly suited for them.
I have to say that this is the type of sauce I like to dip my spring rolls into. I wonder why Vietnamese restaurants in Malaysia do not use this type of sauce.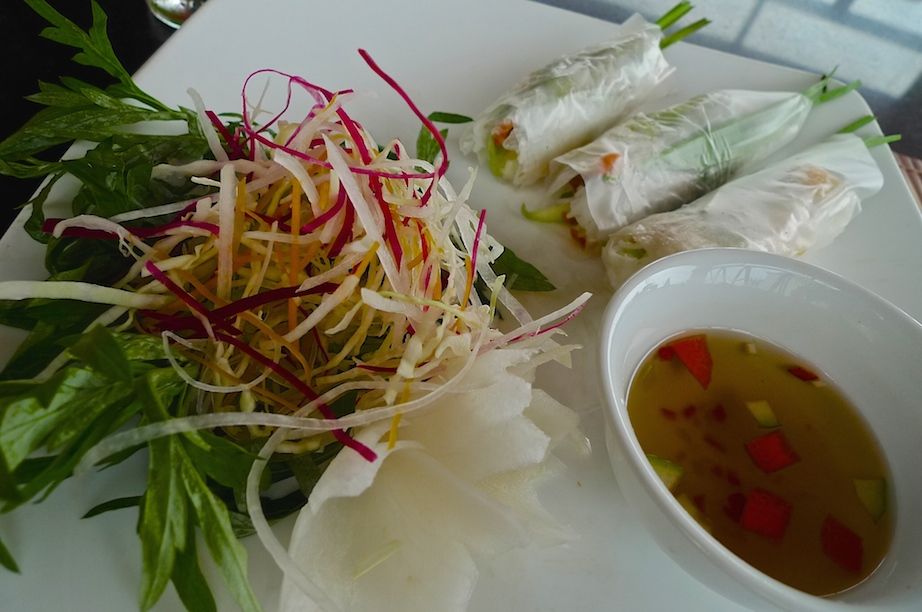 Lastly, I ordered the
Bun Bo Nam Bo
- fresh rice noodles with beef, mixed herbs, peanuts, lime, chili and garlic with marinated tofu and soy sauce. Look at the abundance of ingredients on my bowl of Bun Bo Nam Bo! The slices of beef were hidden beneath.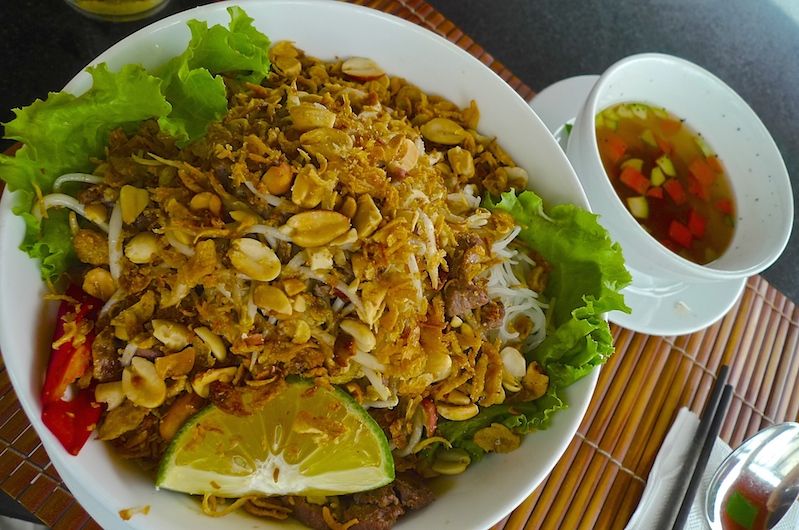 Bun Bo Nam Bo 110,000 VND (US$5.15)
This is how my bowl looks like after I mixed all the ingredients and sauce. I really enjoyed this Bun Bo Nam Bo. So yummy and delicious!
My friend ordered
Bun Cha
but I had forgotten to take a picture of it. Anyway, he said it was delicious!
My friend and I came away totally impressed with this restaurant. Although the price was slightly on the high side, the food was excellent and the staff were friendly and helpful.
I will definitely return to
KOTO Restaurant
again if I ever go Hanoi in future. It's the perfect restaurant to drop by if you plan to visit Temple Of Literature, which incidentally, is what my next post will be about!