Continued from
Part 1
While exploring the
Old Quarter
in Hanoi, I came across
Sinh Cafe Travel
, a local tour agent and decided to check out the tours they provided. I ended up signing up for two tours for me and my friend who would be arriving the next day - one to
Halong Bay
and the other to
Perfume Pagoda
.
Both the Halong Bay and Perfume Pagoda were one-day tours and they cost US$25 each - slightly cheaper than what the tour agent at my hotel charged. I was glad I did not book any tours via my hotel!
I will be blogging about Halong Bay and Perfume Pagoda in future posts, so do look out for them.
I was a little bit lost walking the streets of Old Quarter but luckily I managed to find my way back to my hotel and rested for a while before my guide from
Hanoikids
arrived at around 2pm. He was a nice, young man who introduced himself as
Son
. (rhymes with 'born').
I did not really have a planned itinerary but since I had not taken lunch yet (not to mention I was freaking hungry after all the walking around Old Quarter), I told
Son
to bring me to a good restaurant for lunch.
He brought me to
New Day Restaurant
located at
Ma May Street
.
This is
Son
smiling for my camera. We were seated inside the restaurant and I was all eager to taste my first real Vietnamese meal!
I ordered quite a number of dishes under
Son
's recommendation, but more about them in a separate post. Meantime, I shall just show you my bowl of delicious
pho bo
(beef with rice noodles soup).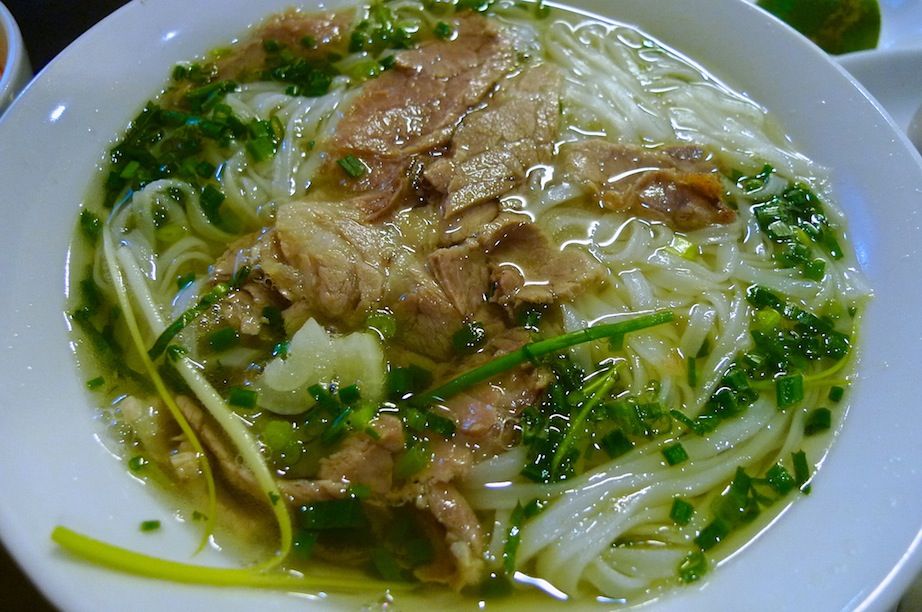 Son
told me he joined Hanoikids as a means to improve his English and also to meet people, especially from other countries. It was pretty interesting talking to him.
The good thing about getting a guide from Hanoikids is you do not have to pay him (it's free) but you do need to pay for all the meals, transport and any entrance tickets to sites. So yes, I paid for his lunch and I was more than willing to do so.
Since it would only be a half day tour, I asked
Son
to bring me to places around Old Quarter and anywhere that's not too far away. Right after our late lunch, he brought me to a
traditional Heritage House
along the same road as the restaurant.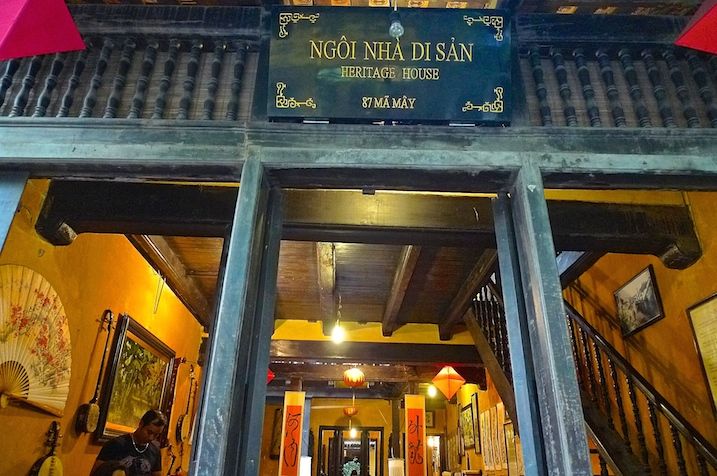 It was an interesting look at traditional Vietnamese architecture. More about this Heritage House in a future post.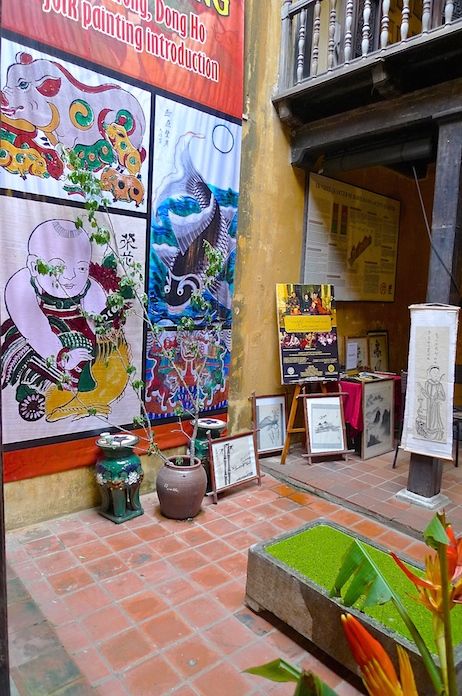 After about half an hour exploring the Heritage House,
Son
brought me to
Hang Bac Street
to visit the famous
Kim Ngan Temple
.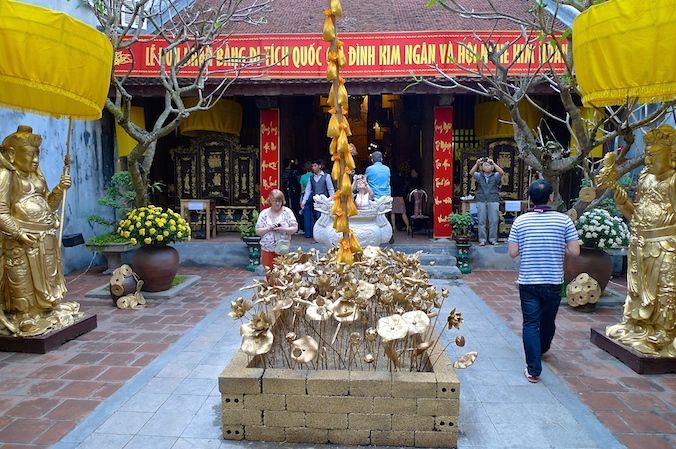 Did you know that each of the 36 guild streets in the Old Quarter is associated with a traditional craft? Hang Bac (also known as Silver Street), for instance, is famous in Hanoi as the place for trading and making gold and silver jewelries. Perhaps that's why the statues and plants outside the temple were wrapped in gold and silver?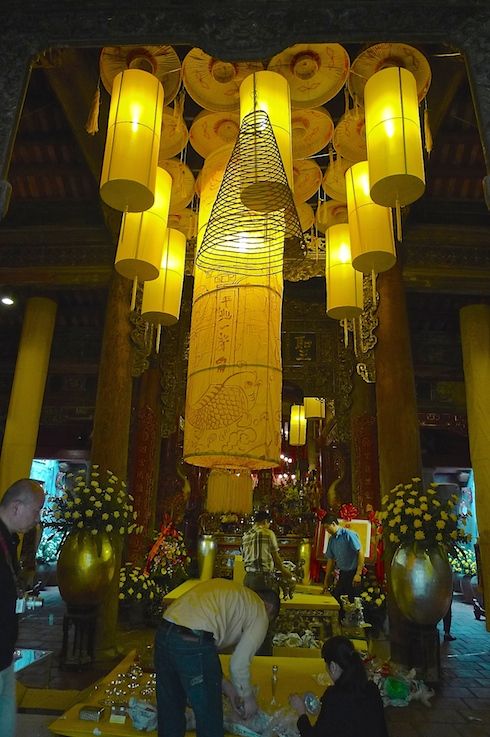 More about this Kim Ngan Temple in a separate post.
When we left the temple, the sky looked as if it was going to rain, so
Son
suggested we search for a cafe to escape the rain and to have a drink at the same time. I was thinking drinking Vietnamese coffee while watching the rain fall would be the perfect thing to do, so I quickly agreed.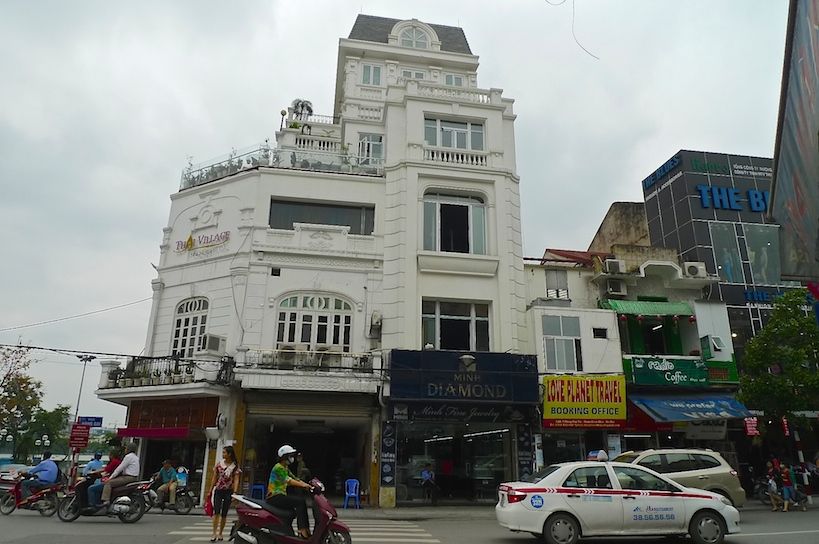 Soon, we reached a big, wide junction near
Hoan Kiem Lake
and this was clearly a nightmare for anyone not used to crossing the roads in Hanoi. Cars and motorbikes were coming in all directions, and I mean ALL directions!!
If I were to wait for the road to be clear before I cross, I would be standing rooted at my spot the whole day! No kidding!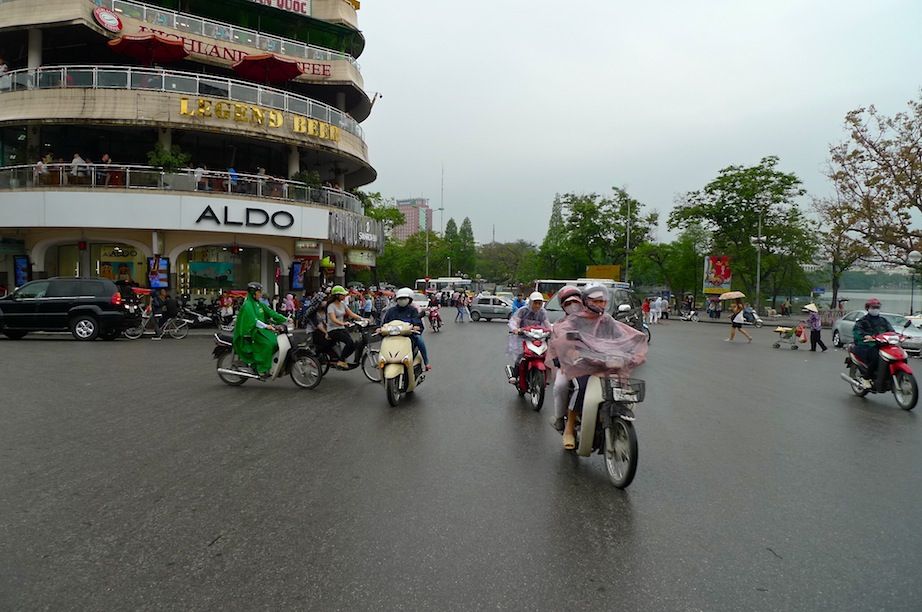 Thankfully,
Son
was there to help me cross the road. By the way, I took the above photo while standing smack in the middle of the junction with cars and motorbikes flying all around me. I must say though, that the photo did not really capture the actual situation - in reality, there were more cars and looked more chaotic than this!
Now for first timer visitors to Hanoi, read carefully. This is how you cross the road in Hanoi.
First, say a little prayer. Look to your right, then to your left. Any cars coming?
If no (which is rare), don't wait. Cross the road!
If yes, what are you waiting for? Cross the road!!
OK, this may sound like a joke, but it is not really. You need to take that first step and walk slowly, but at an even pace, firmly and decisively. Then you will see a miracle happen before your very eyes. As you walk across the busy, chaotic road, cars and motorcyclists will skilfully swerve and avoid you.
Yes, only in Hanoi and in Vietnam do you cross the road like this. Attempting to do so in any other country (especially Malaysia) will result in dire consequences. Do remember not to run or slow down as you cross the road or you will confuse the motorists. You got to trust the motorists. Did I mention that Vietnamese drivers are among the best in the world?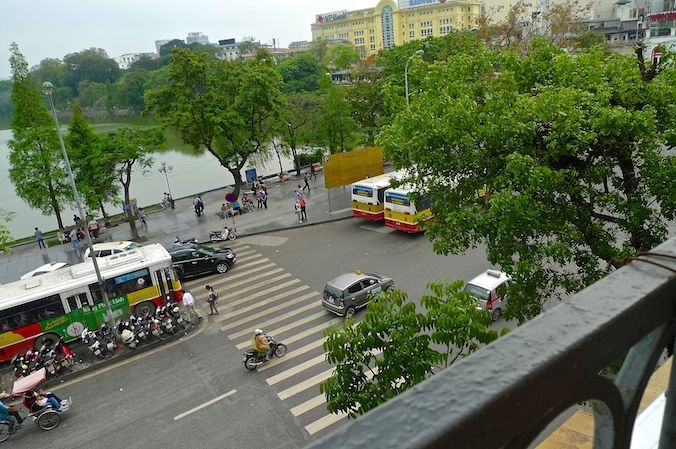 Son
brought me to
Hanoi Soul Cafe
and we sat at the balcony overlooking
Hoan Kiem Lake
.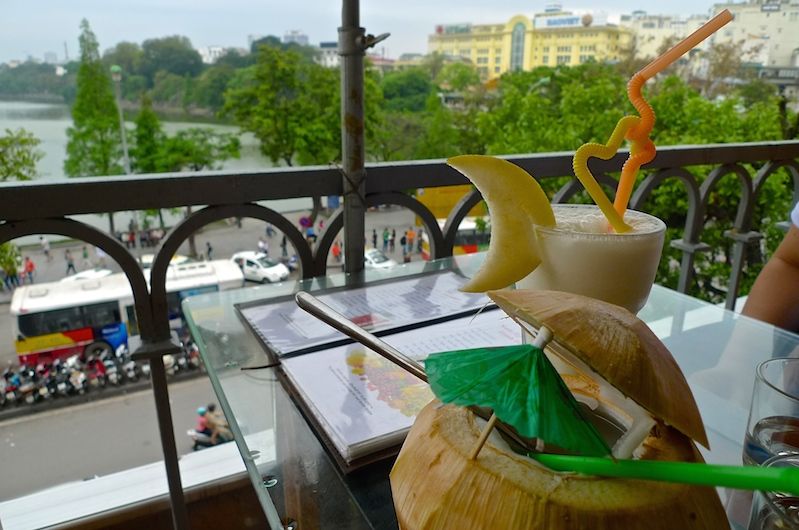 Somehow I decided not to order coffee and went for coconut water instead. We spent about an hour here chit chatting and simply observing the streets below.
When we finally left the cafe, the rain had stopped.
Son
wanted to bring me to the
French Quarter
. Situated at the south east of Hoan Kiem Lake, the French Quarter is totally opposite in character compared to the Old Quarter. Think French, wide roads, more orderly traffic, high class buildings and expensive restaurants and you will get the idea.
But this post is probably getting a bit too long, so maybe more about the French Quarter in Part 3?
To be continued ....