My last night in
Hong Kong
was spent watching the
Symphony Of Lights
taking place at
Victoria Harbour
.
Right after we returned from the
Big Buddha
, my friend and I did some quick shopping at the
Citygate Outlets
in Tung Chung before rushing off to the
Avenue Of Stars
to catch the Symphony Of Lights.
Named as the 'World's Largest Permanent Light And Sound Show' by Guinness World Records, this Symphony Of Lights is a synchronised multimedia light and sound show involving 44 buildings on both sides of Victoria Harbour.
It is held nightly at 8pm for a duration of about 14 minutes.
There are a few good spots to watch this Symphony Of Lights - among them are at the Avenue Of Stars on the Tsim Sha Tsui waterfront, the promenade outside the Golden Bauhinia Square in Wan Chai and on the Star Ferry running across Victoria Harbour.
We chose the Avenue Of Stars. When we reached there, it was full of people all waiting to catch the show!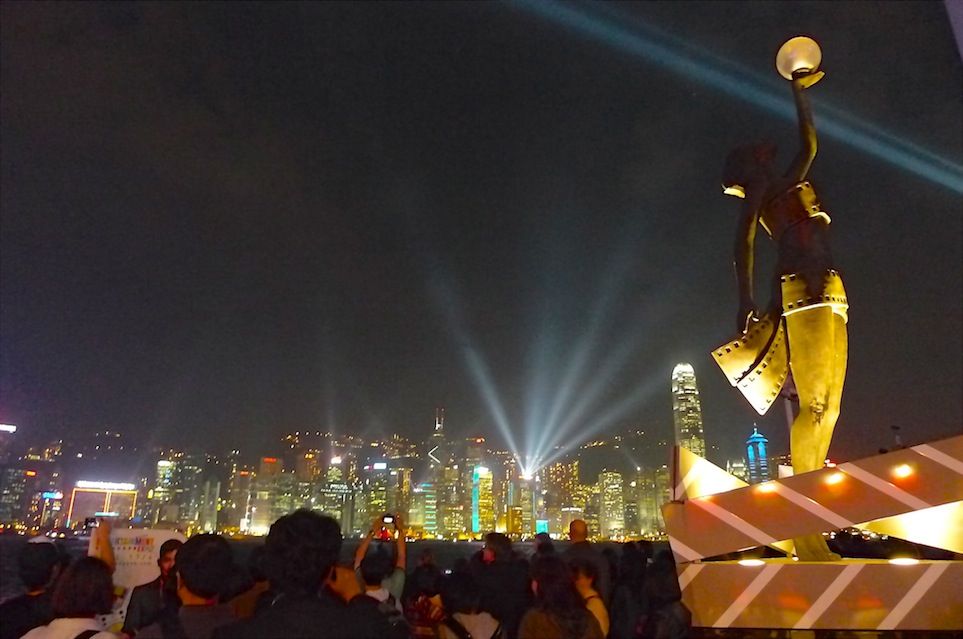 I found it very difficult to take photos with the huge crowds in front of me. Since I was only using my humble Lumix LX3 camera, I did not manage to capture good photos. Most appeared grainy and the lack of light did not help.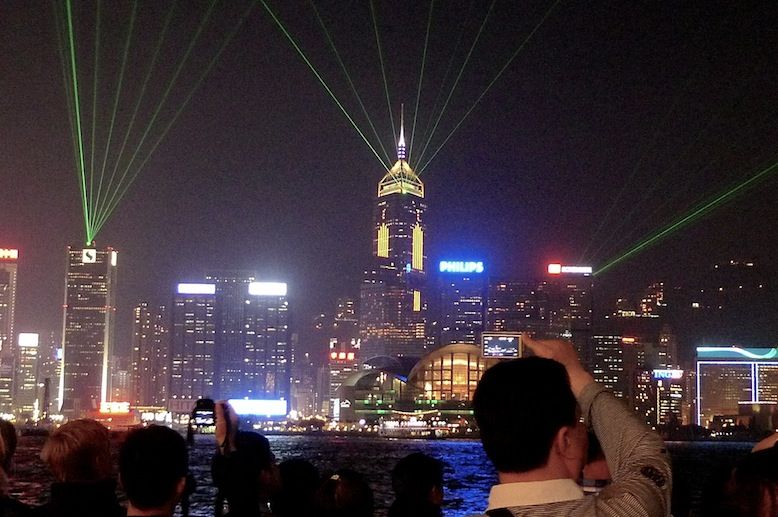 The light and laser displays turned out to be quite interesting. I could see different lighting effects such as laser, searchlights, LED lights and projection lighting.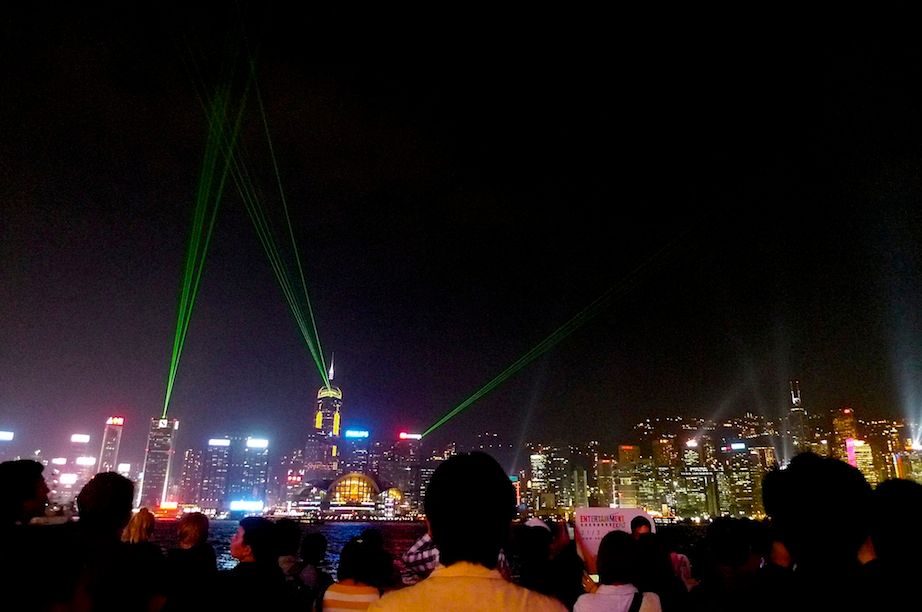 I heard that during public holidays and during Chinese New Year, they would add in special pyrotechnic fireworks display.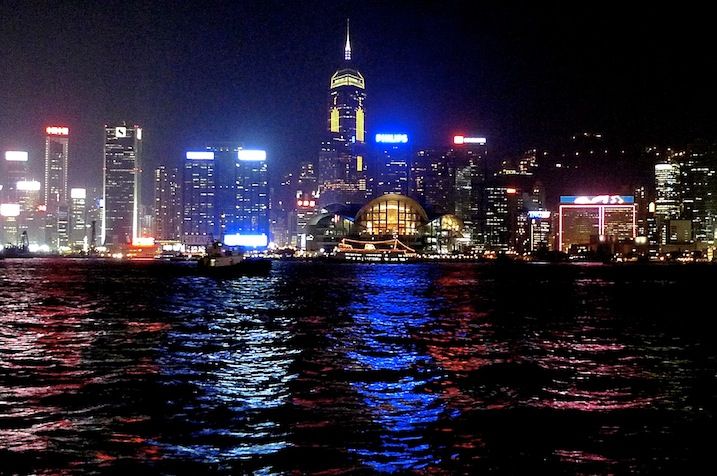 If you want to see better photos of the light and laser show, please google it! LOL. Anyway, after the show was over, we walked around a bit and I took some photos of the night scenery.
There were many boats passing by and it was quite nice to watch them running across the water with the brightly lit Hong Kong skyscrapers in the background.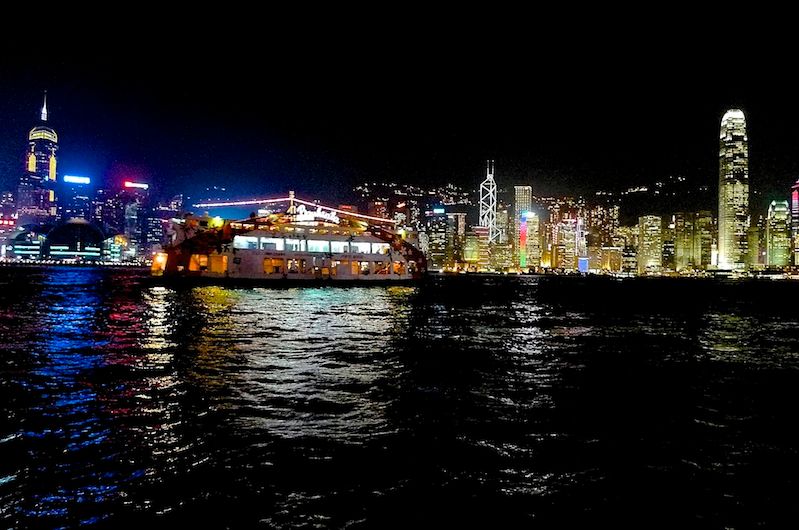 I particularly like this red junk boat!
Did you know you can take a cruise on this junk boat?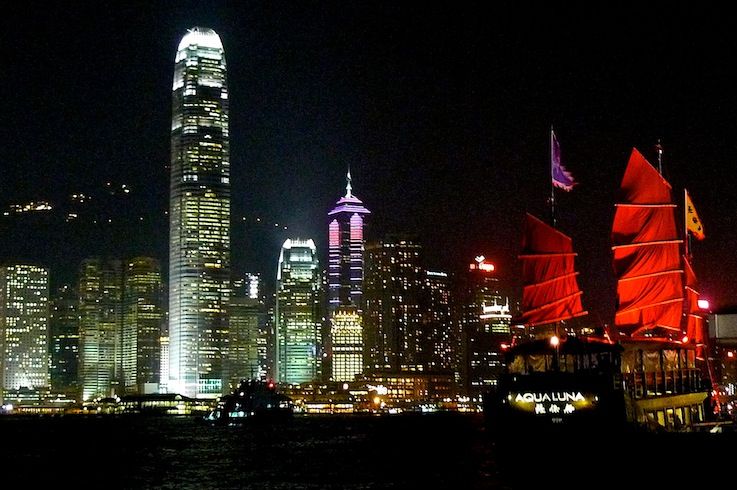 Regrettably, I did not get the chance to sit on any boats during my Hong Kong trip. I will make sure I sit on one if I ever go Hong Kong again!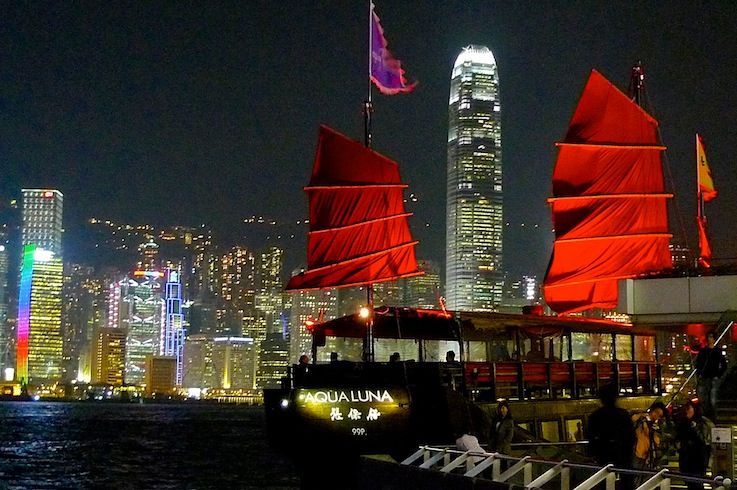 We continued to walk leisurely around the place. I just soaked in the atmosphere. It's my last night in Hong Kong after all. We would be leaving for home the next day in the afternoon. I could not help feeling a tinge of sadness that my holidays would be ending soon.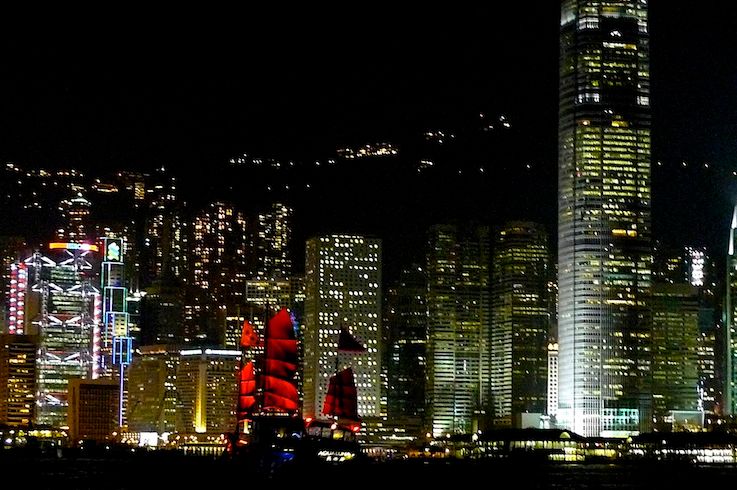 More photos below....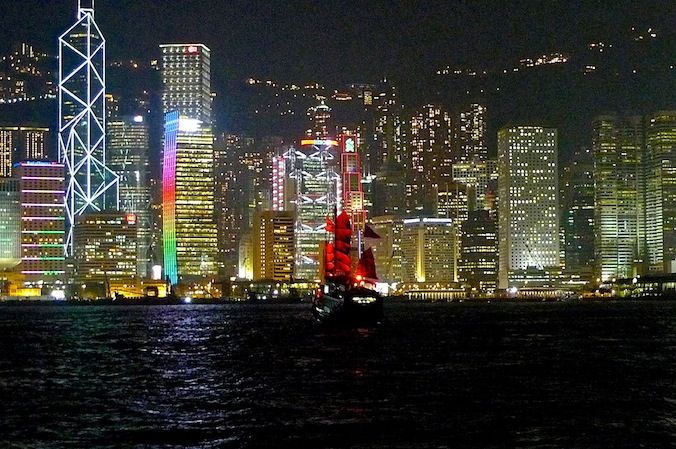 We also passed by the famous Clock Tower landmark.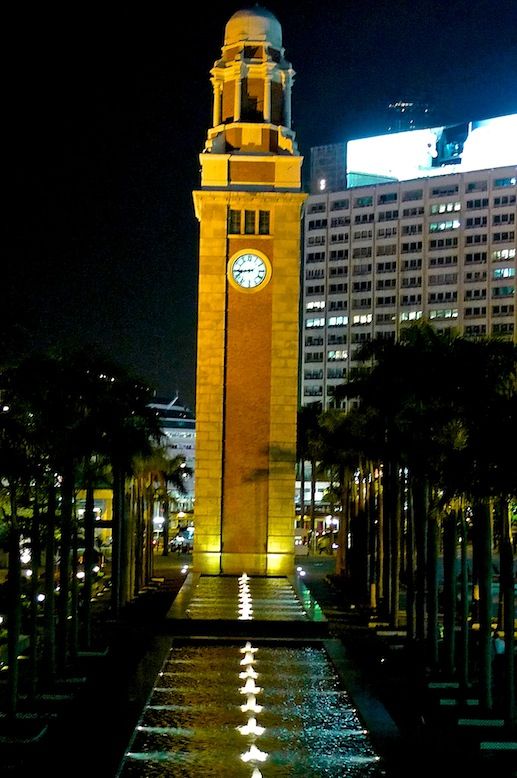 It was too dark to capture anything at the Avenue Of Stars so I had planned to return to this place the next morning.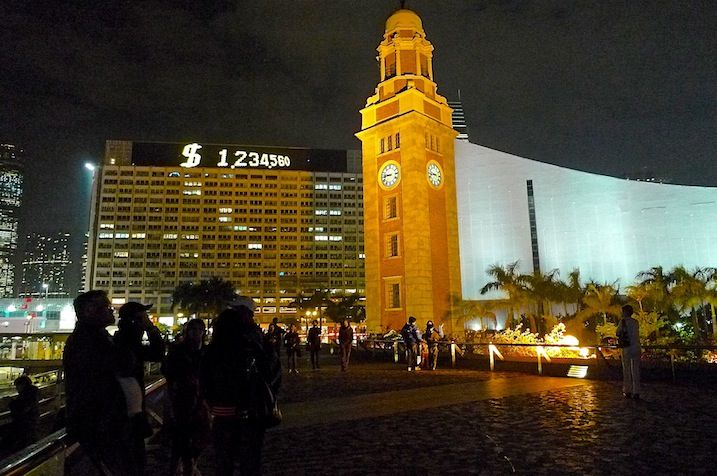 I managed to capture a photo of this Clock Tower the next morning so perhaps I will talk a bit more about this it in my next post : )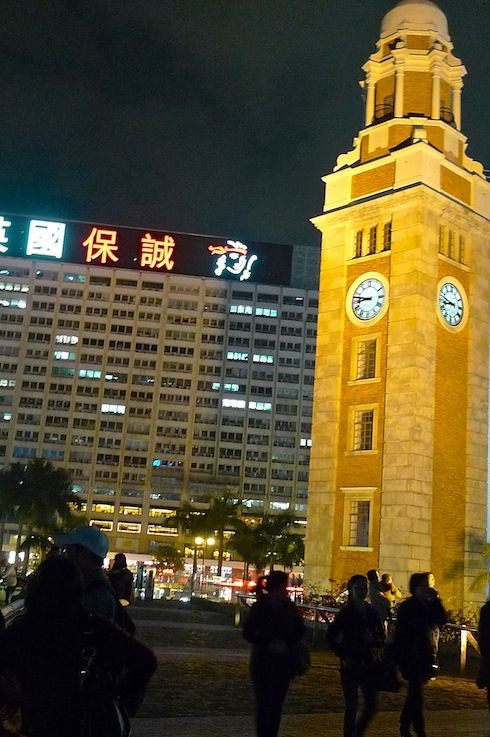 We walked the streets and it was nice to take some night photos of the beautiful Hong Kong streets!
But it was time for dinner. We decided to return to Mongkok to search for our favorite food!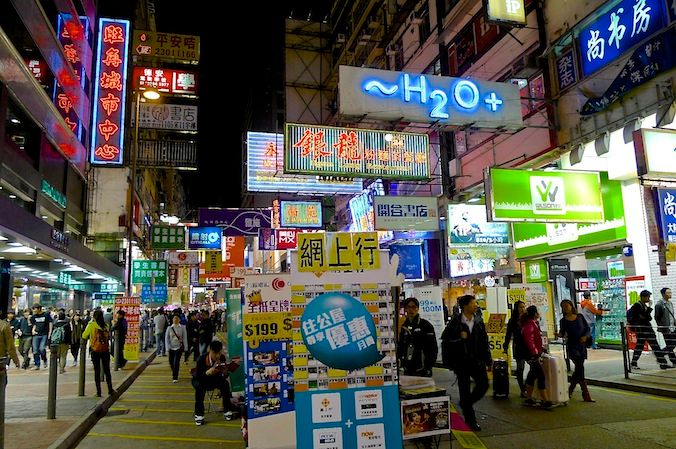 Hong Kong is always alive at night! That's one thing I like about Hong Kong.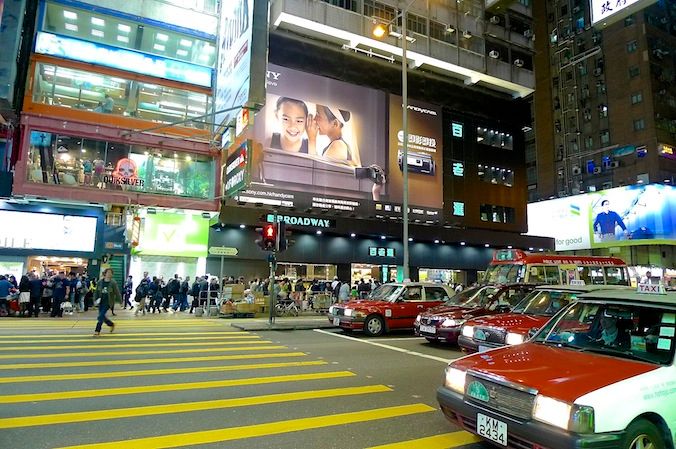 Guess where we ended up eating our dinner? Why, it's back to
Ming Yuen Noodles Restaurant
for their yummy wonton noodles soup! I have already blogged about this restaurant - read
HERE
.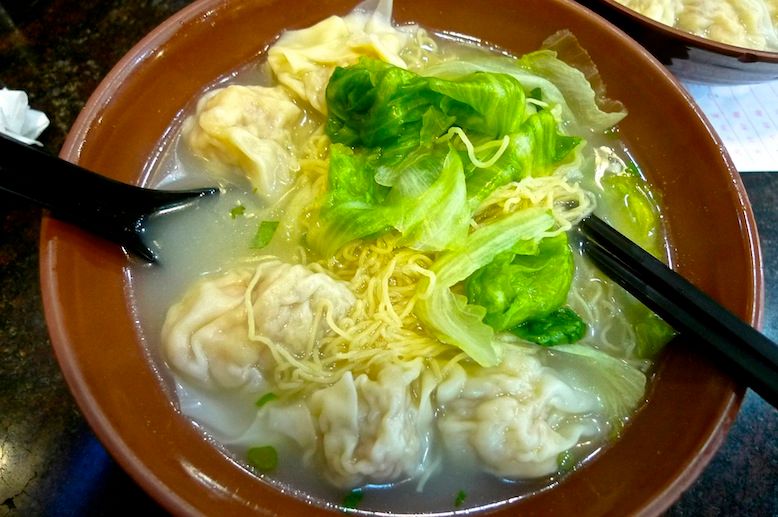 Look at those big juicy wontons, those yummy fresh glass lettuce and those chewy noodles! I am really missing this right now!!
If I were to choose between watching the
Symphony Of Lights
and eating this bowl of wonton noodles, I will definitely choose the latter. Haha!!
Coming Up Next : Walking The Avenue Of Stars