When I was very small, I remember eating a very nice dessert made from flour, gula melaka (palm sugar) and mixed with grated coconut on a pandan leaf. They were packed in a brown paper bag which emitted the most pleasant and appetizing smell a child could ever dreamed of!
I had forgotten all about this yummy dessert when I grew up until one fine day, I was at 1Utama, and I saw a Malay lady selling what looked like the dream food of my childhood days!
The dessert she was selling was called
kuih tutu
and I immediately bought six pieces to try. Guess what? After eating one, I threw all the rest away! The kuih tutu was a far cry from what I had eaten when I was small.
An image of kuih tutu courtesy of Erasers@Zai
Recently, I read from somewhere about a kuih called
putu piring
and looking at the pictures, I thought they resembled that yummy kuih of my childhood days! So after some online searches, I found that the most famous putu piring are sold at
Jalan Tengkera
in
Melaka
.
I knew I had to try the putu piring in Tengkera so one fine weekday, I drove to Melaka. You must be thinking I am crazy to drive all the way to Melaka just to eat the putu piring, but actually I had other agendas in my mind of course. I wanted to visit Jonker Street which I did not visit for many years and I also wanted to try the famous Mille Crepe Cakes at Nadeje. That ... will be another story for another post.
Using Google Map, I found it difficult to trace the putu piring stall. It is actually operated by a husband and wife team just outside their house at Jalan Tengkera! Thanks to
Tekkaus
, my good blogger friend from Melaka who gave me detailed directions on how to get there, I finally managed to find it!
It was the sight of this that made me stop my car!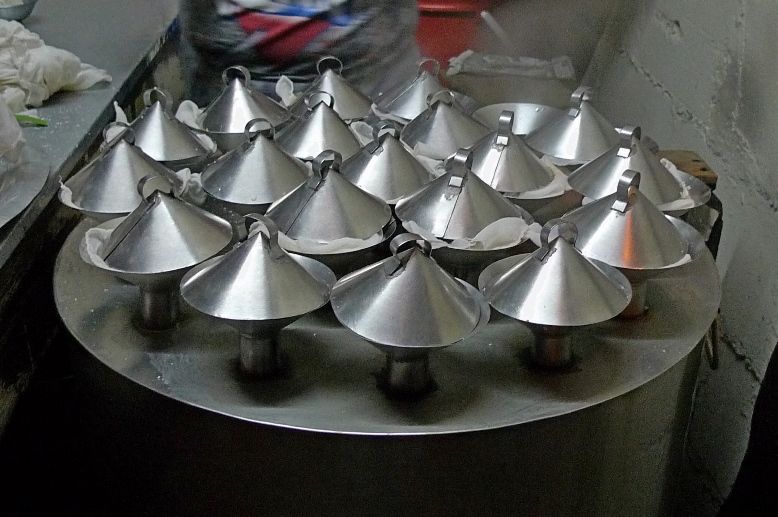 That's the steamer where the putu piring were being steamed! I was so excited!!
I was told that there would always be a long queue, but on that day, there was surprisingly no queue. Just one customer ahead of me. I was welcomed by the friendly couple selling the putu piring.
When I asked them if I could take photos, the husband said go ahead! Take as many as you want and show the photos to your friends! LOL!
Pic of the friendly uncle courtesy of Eat Play Fun
He further chatted with me that youngsters nowadays are no longer interested in doing this business. I took it that he meant his children would not want to take over his business.
So how does one make putu piring? From what I observed, here's how.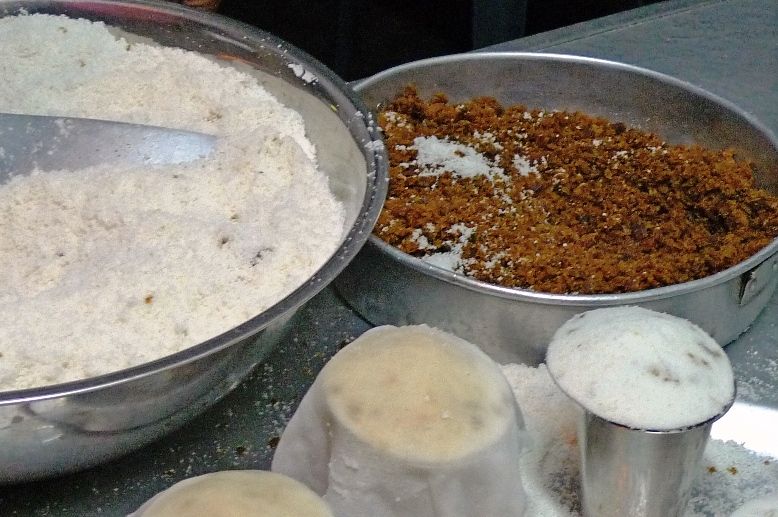 First, you put in the flour into the small cup, then add in the gula melaka, and then put in more flour to cover it up.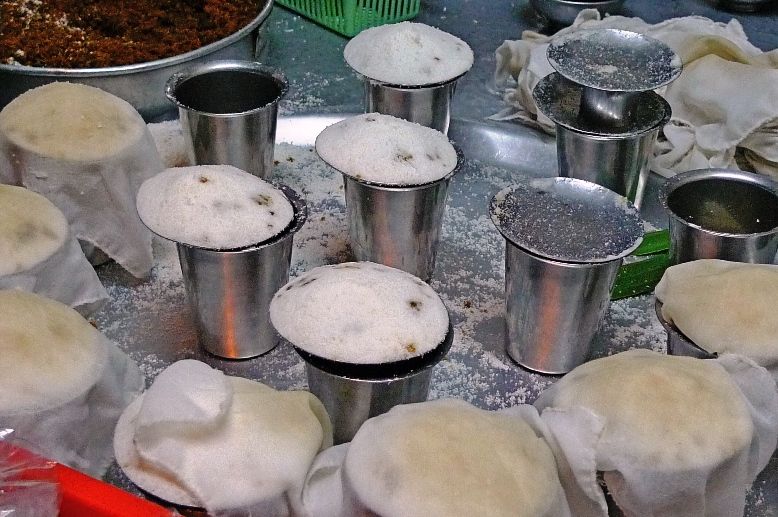 After that, place the cup in the steamer and let it steam for a while. When it is ready, take it off the steamer and pop the putu piring onto a square piece of banana leaf together with some grated coconut. That's it!
Sounds easy? Maybe, but I think it requires lots of skills and possibly years of practice!
The result were freshly steamed putu piring that made me salivate to no end. I ordered 8 pieces each priced at 90 sen! They were packed in a plastic container.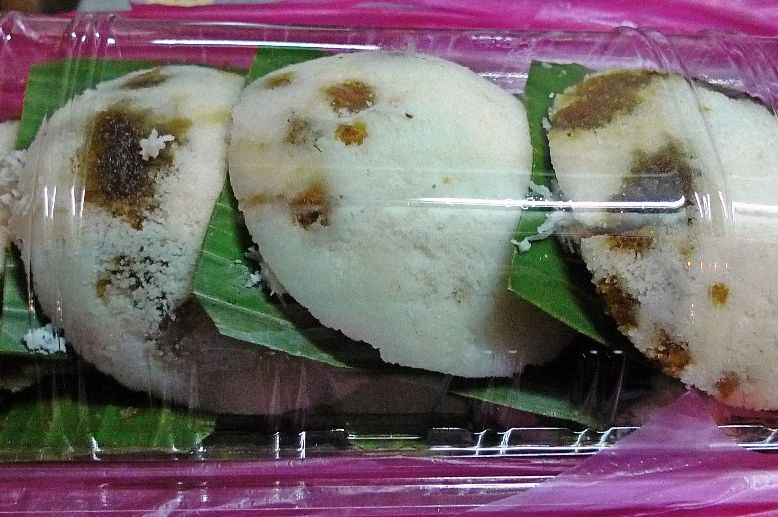 When I got back to my car, I immediately took one and ate. How could I even wait any longer? Besides, it's best eaten when it's straight out of the steamer and still warm!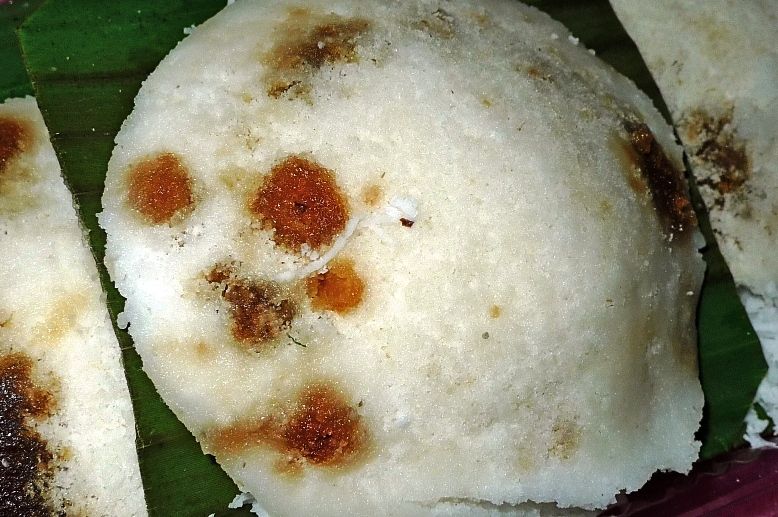 I have to say they were very, very delicious! Biting into its light, fluffy texture, the sweet melted gula melaka oozed out and when mixed with the taste of the slightly salted grated coconut, the combination was nothing less than heavenly!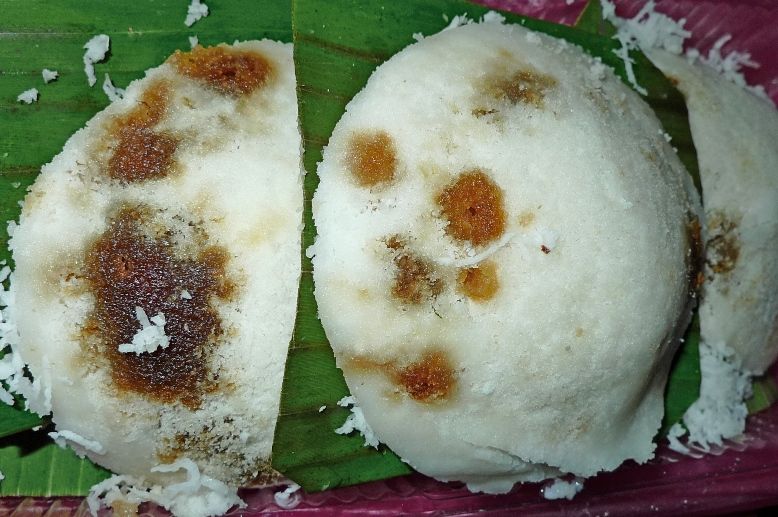 So was this putu piring as good as the one I had when I was small?
Honestly, I do not know. I felt something missing. Was it the taste? Or the aroma? I could not be sure. Either the kuih I ate during my childhood was an extremely good putu piring or it was not putu piring at all. Or maybe, as a child, I tend to like it better? Who knows?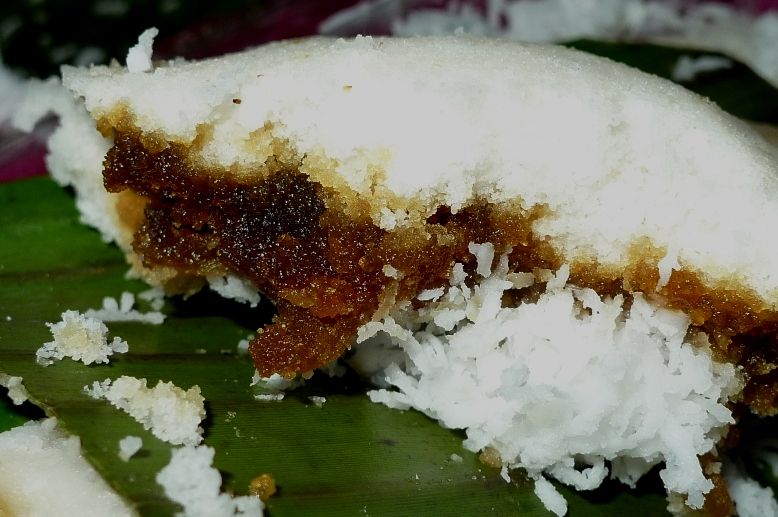 I heard that putu piring was originally an Indian food. (The word "putu" sure reminds me of putu mayam, an Indian delicacy). I was not sure about its origins though the Malays have their own version, which is kuih tutu. I did not like the kuih tutu I bought from 1Utama, but perhaps there are others who sell better ones?
In any case, this putu piring from Tengkera is a MUST TRY. Maybe I am biased because I tend to like anything with gula melaka inside (eg. onde onde, tang yuen) but you gotta try it for yourself!
By the way, this putu piring stall was once featured in
Taste With Jason
show on Astro.
Location
252, Jalan Tengkera,
75250 Melaka.
Tel : 06-282 1505
Opens : 6.30pm - 10.30pm daily except Sunday
Directions (as given by Tekkaus)
From Jonker Street, turn into Jalan Tun Tan Cheng Lock. Go straight, pass a traffic light junction, and keep going straight. After passing a police station and Malim Clinic on your left, slow down. The putu piring stall is somewhere on your right next to a Toto shop.