There are many restaurants in
Bandar Puteri Puchong
. One of them is
Restoran Shabu-Shabu
, which offers Japanese steamboat buffet.
For the price of about RM28, you can eat all you want. Definitely worth your money if you can eat a lot!
Although I have been to this restaurant three times, I have never blogged about it, so I guess I am finally doing it! : )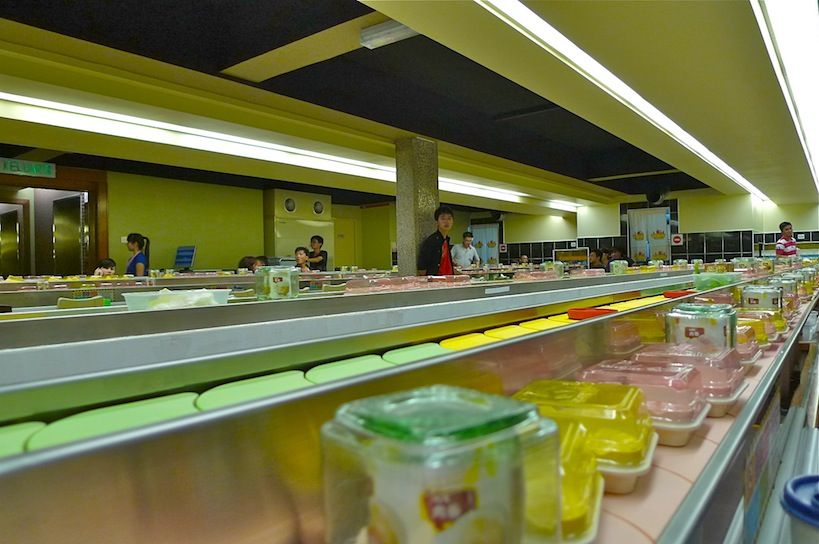 This restaurant has the raw food and ingredients going around a giant U-shaped
conveyor belt
, not unlike those found in Japanese sushi restaurants. This is very convenient as you can pick and choose what you like. Half the fun is waiting for your favourite food to arrive.
The downside to this however, is that your favourite food might be taken by other people before it reaches you. But, you can always request for it directly from the waiters and waitresses who are standing in the middle area enclosed by the conveyor belt.
My first visit to this restaurant did not turn out well. My friends and I were late. All the tables were taken and we ended up sitting in one row like this.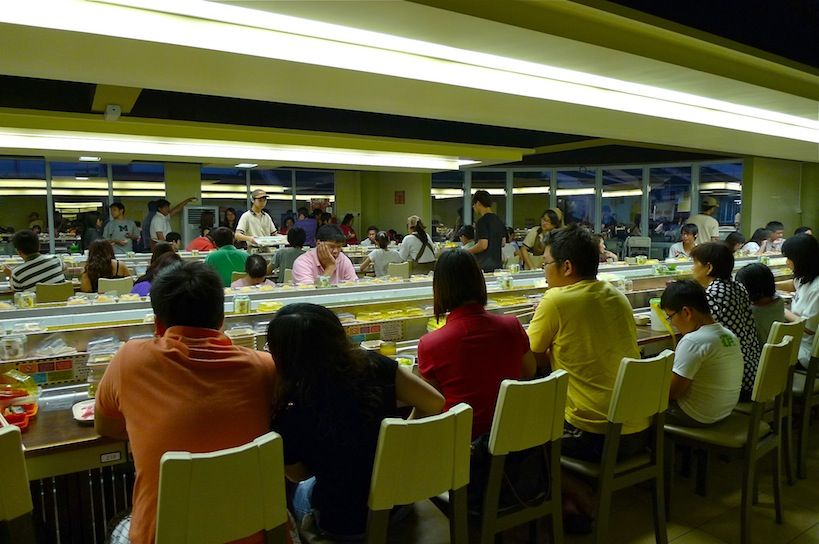 The problem with this seating arrangement is that you can only chit chat with your friends who are sitting on your immediate right and left. This is fine if you are going with just two friends, and provided you are sitting in between your two friends! But if you are going in a group, you won't be able to enjoy the group environment.
So for my subsequent visits, I made it a point to reserve a table and arrive there early. For dinner, this would mean before 6pm.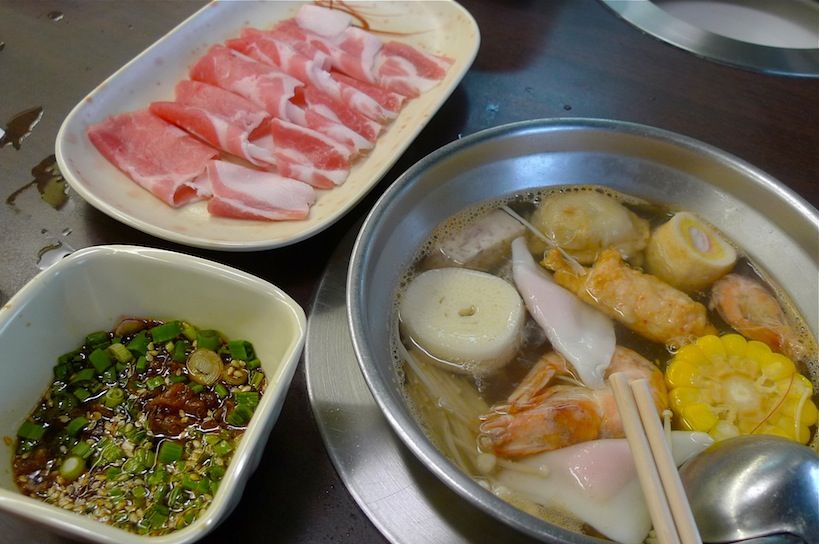 This restaurant features individual hot pot. Some people do not like this because they want steamboat to be a group activity, where everyone dumps in the ingredients into one single huge pot.
For me, I always prefer the individual pot. Not only is it more hygienic, I also get to choose what ingredients I want in my own pot of soup! Besides, I hate it when other people take the food that I have chosen and dumped into the hot pot!
As long as we are all at the same table, having individual hot pot do not stop us from chit chatting or having a good time together.
Here are some of the raw food that you can find on the conveyor belt.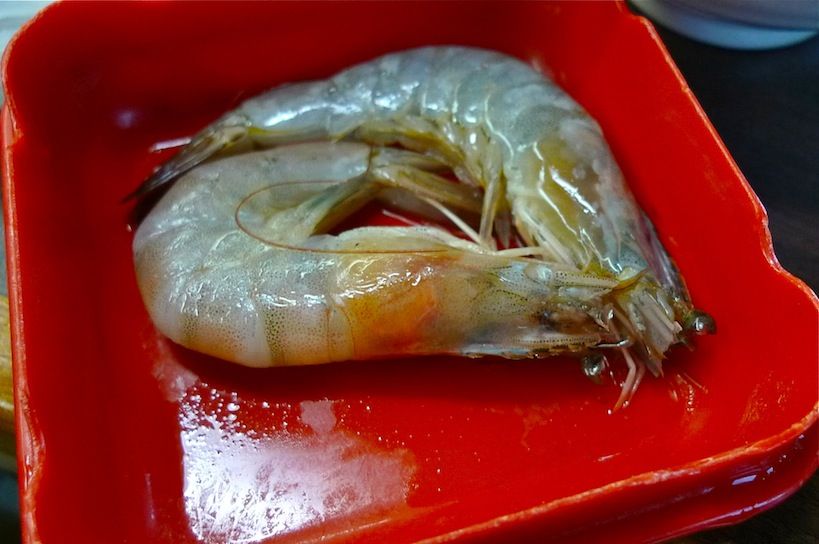 Prawns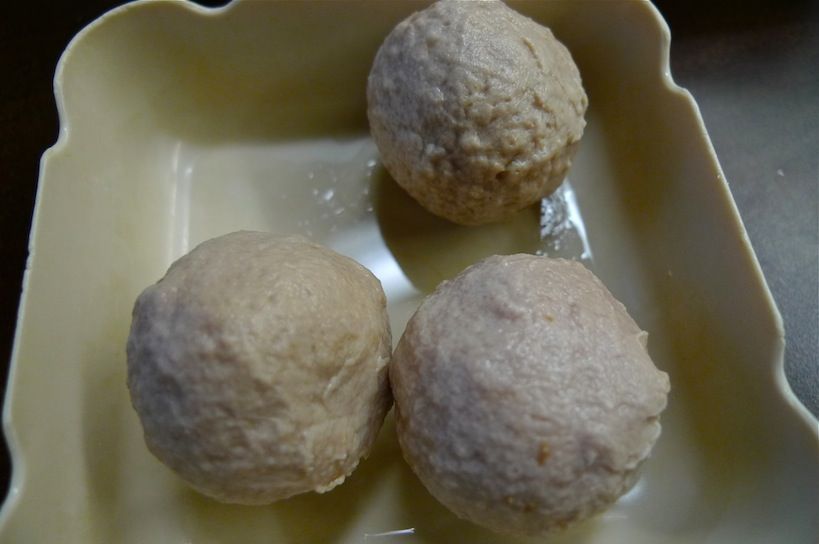 Meatballs
Mushrooms and Broccoli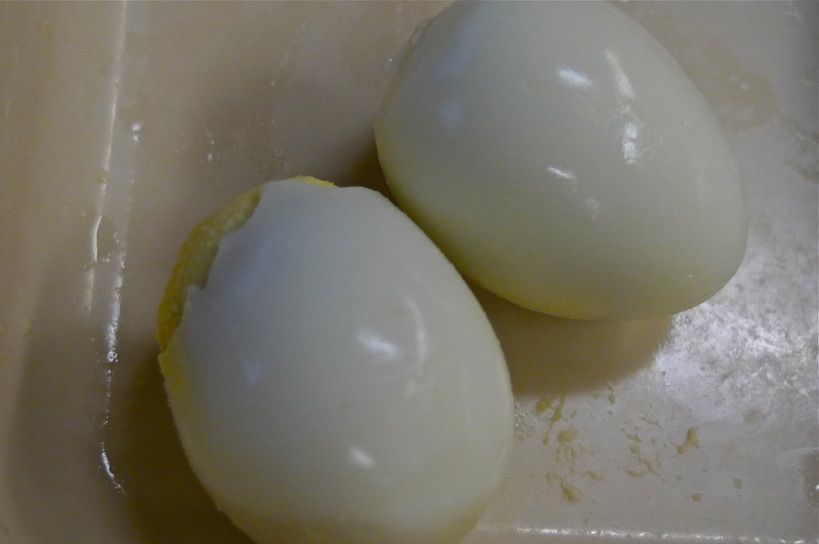 Quail eggs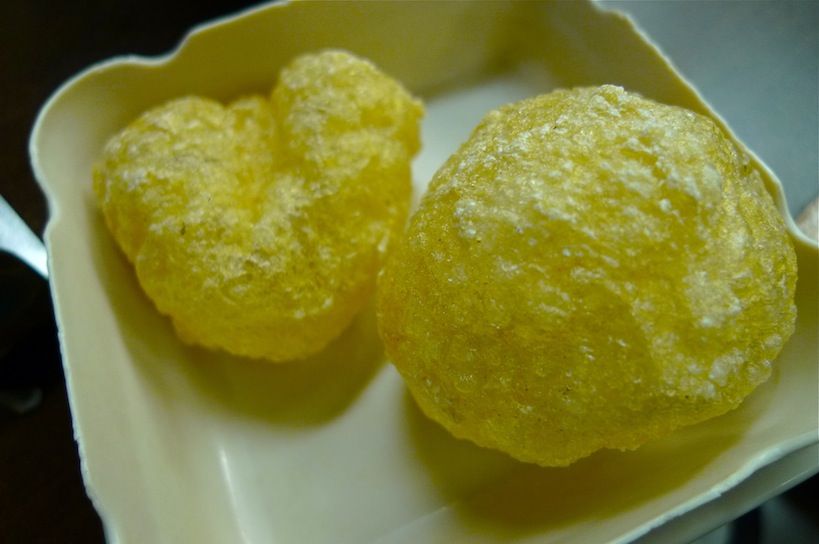 Tau fu pok
There are more of course, but I did not bother to take photos of each and every one of them! Some food cannot be found on the conveyor belt and had to be ordered via the waiters, like the pork slices.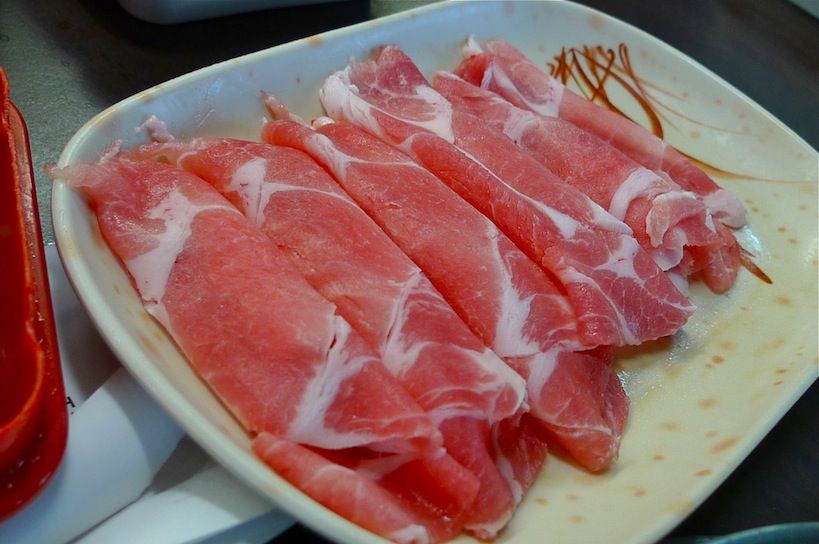 Or the fried chicken wings
In fact, all the fried stuffs are not available on the conveyor belt and you have to wait for the waiters to bring them out from the kitchen. Here are more fried stuffs.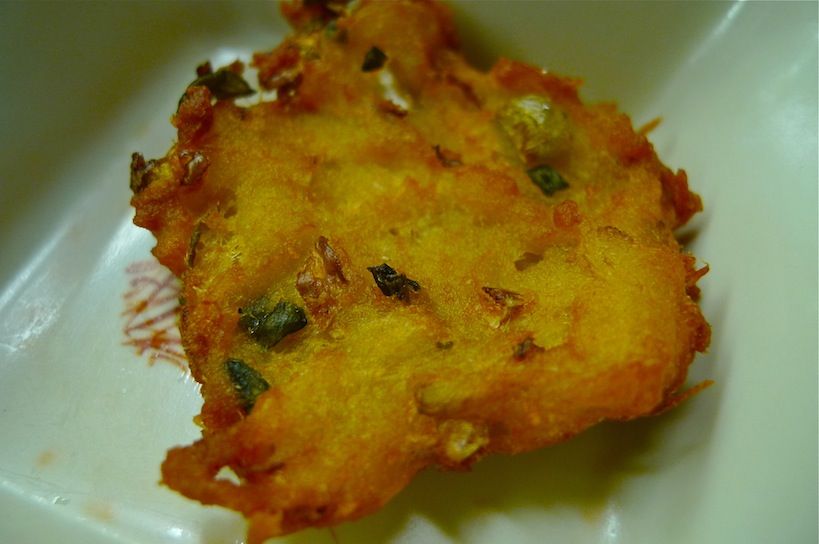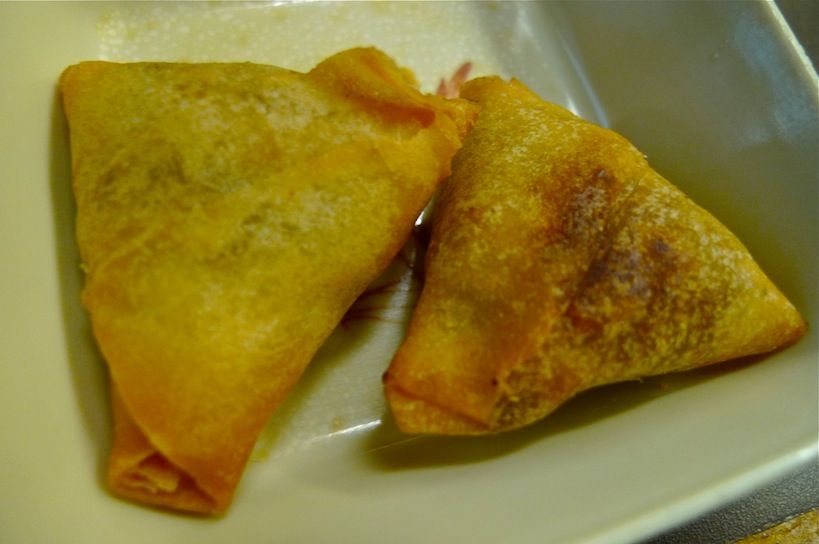 I did not really like the fried food except maybe, for the fried chicken wings.
I guess what differentiate this steamboat restaurant with all the others is their yummy sauce!
On the left is their chill sauce which is really good for dipping in the fried stuffs.
But my favourite sauce is the one on the right - a mixture of sesame seeds, peanut chunks, spring onions, finger chillies, sugar and special soy sauce! Sweet and sourish, it's yummy to the max!!
Look! I slathered my cooked pork slices with lots of this yummy sauce!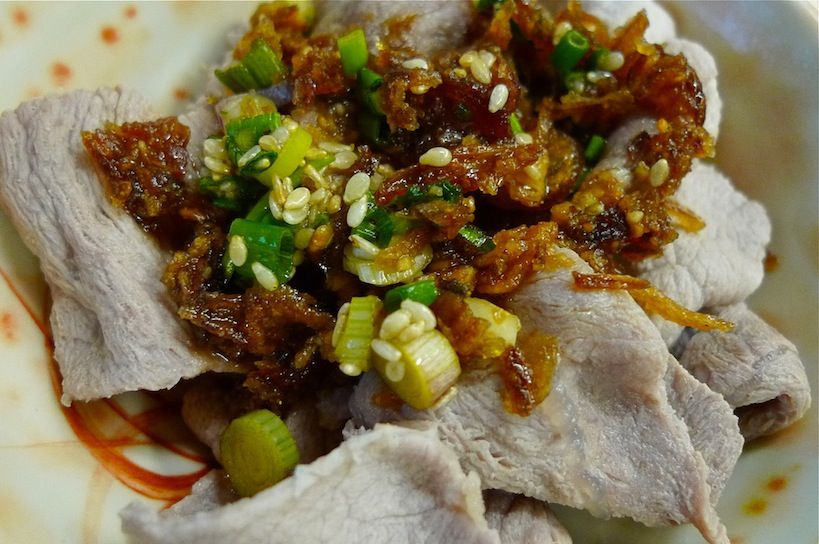 In fact, dipping any of the cooked meat into this sauce make the taste so much better!
My cooked pork dumpling (
sui gow
)
Cooked mussels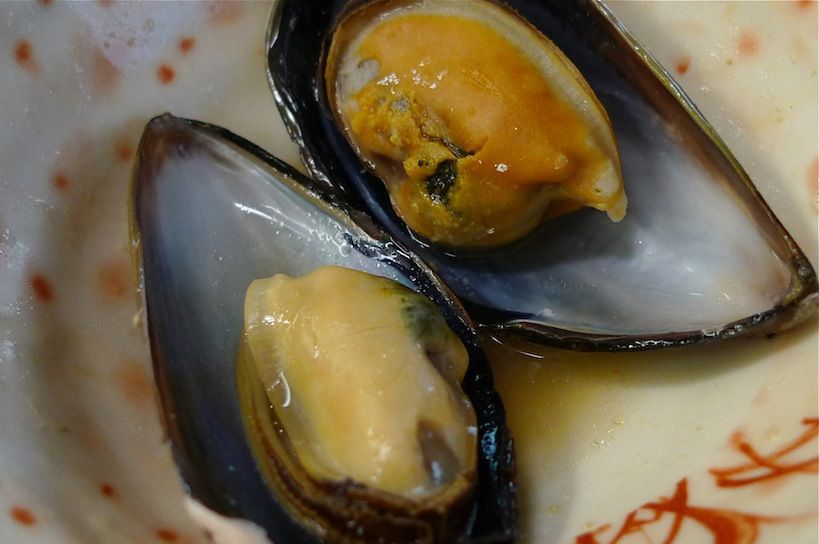 Juicy meat inside the meat ball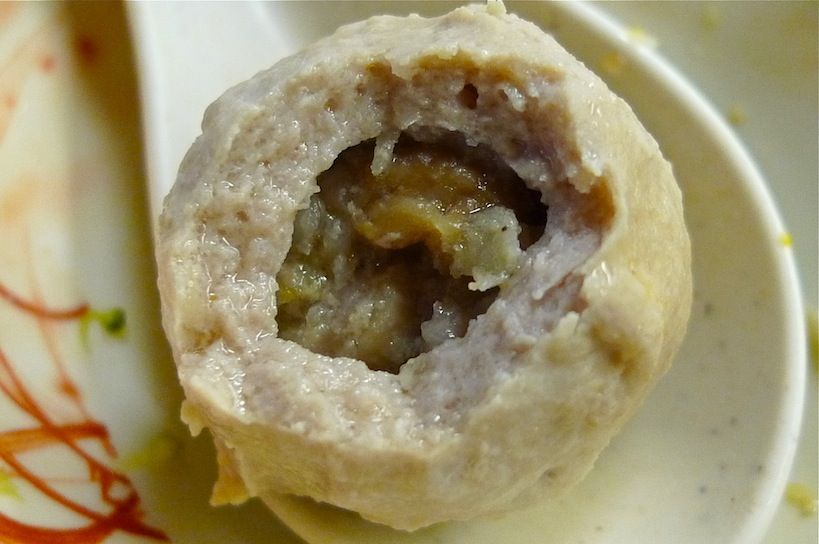 Dip all the above inside this yummy sauce and you will want more!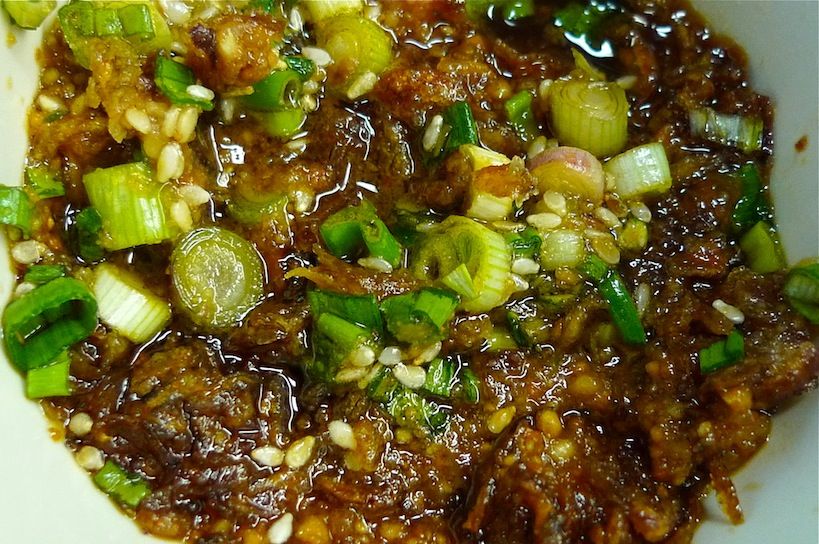 One small bowl of this sauce is never enough for me. I always ask for two or three! LOL!
I also like to eat the sweet corn here.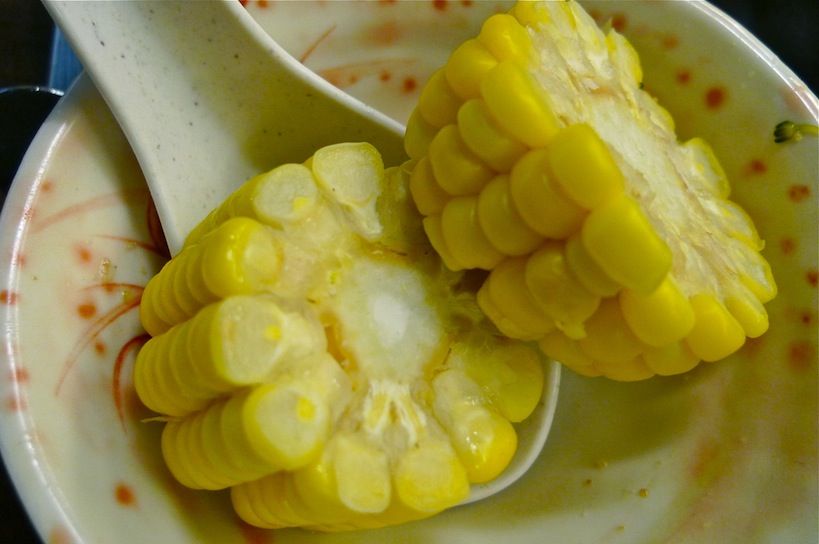 You can make your hot pot of soup much sweeter and tastier simply by putting these corn into your boiling soup!
If you like to eat vegetables, then this is the place for you. The restaurant has many variety of really fresh vegetables! Here are just two of them.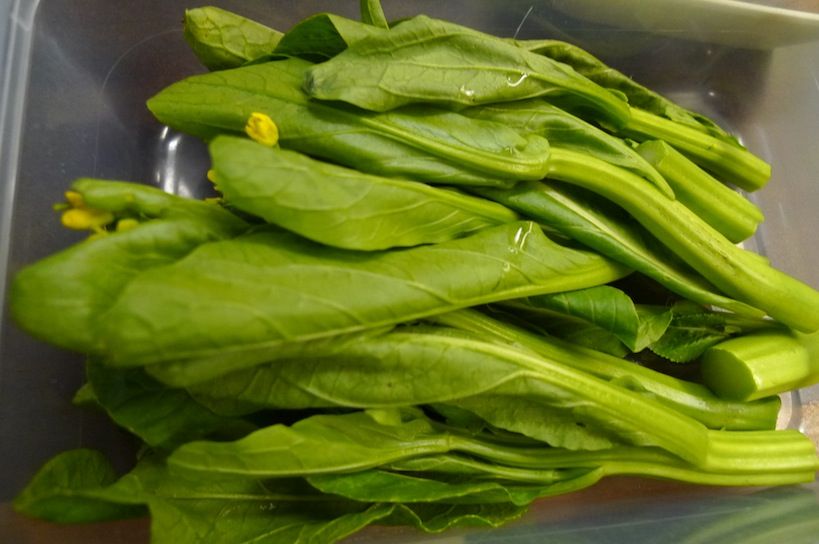 My half finished quail egg, with the yolk sucked out : )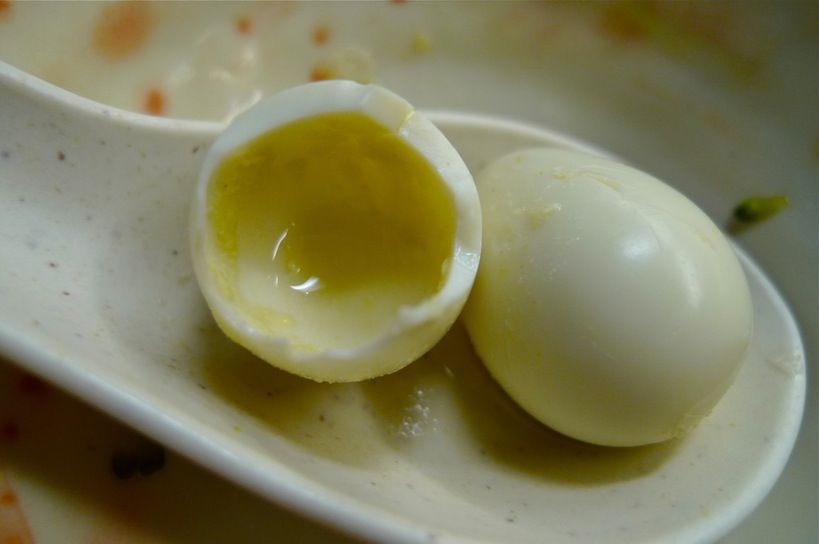 Another type of eggs - not sure what you call it.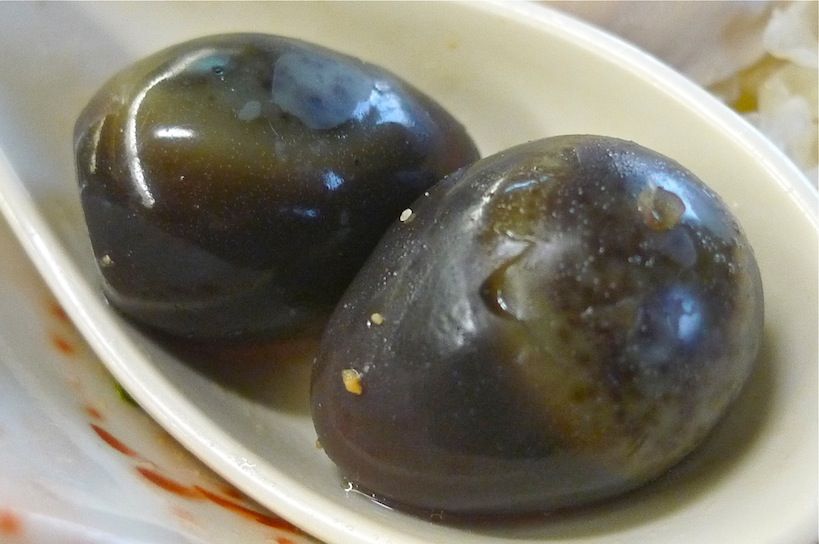 And if you like desserts, there is ice cream. My bowl of mixed flavored ice cream.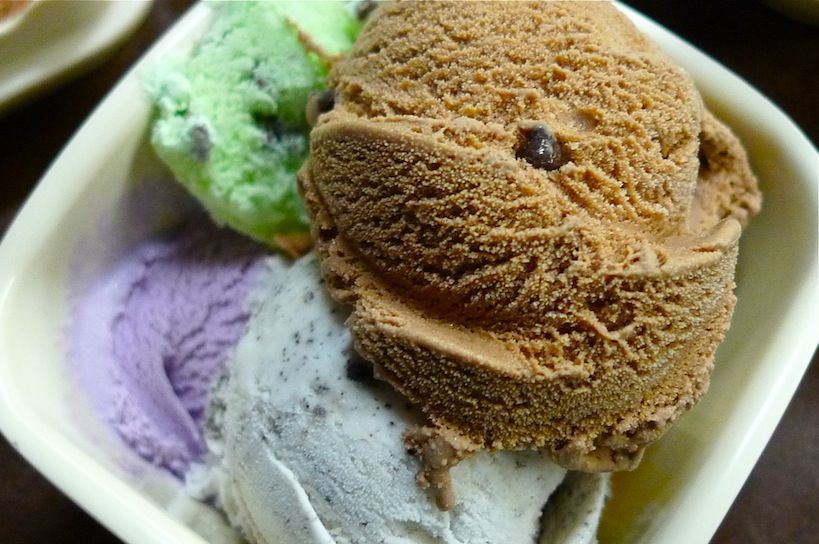 Go for second or third helpings if you like, but make sure you get the ice cream early to avoid the queue! Most people eat the ice creams last after their steamboat meal.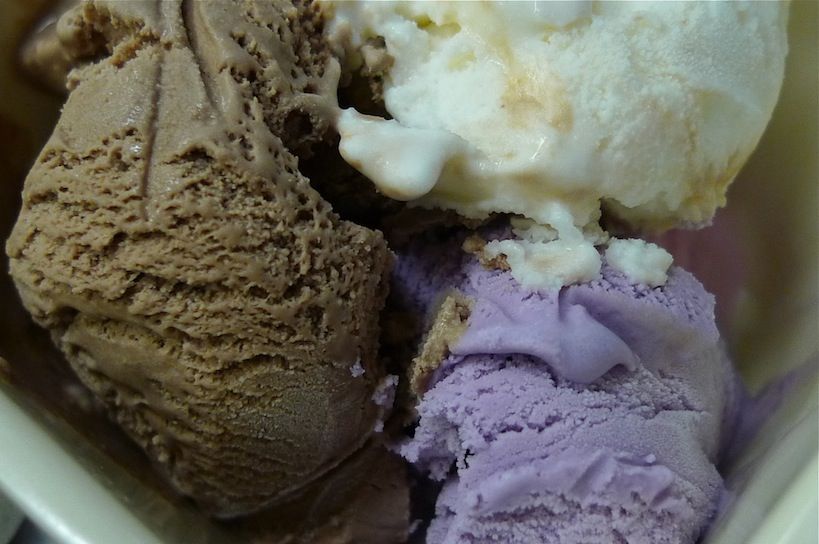 This steamboat restaurant may not be everyone's cup of tea, but I like it!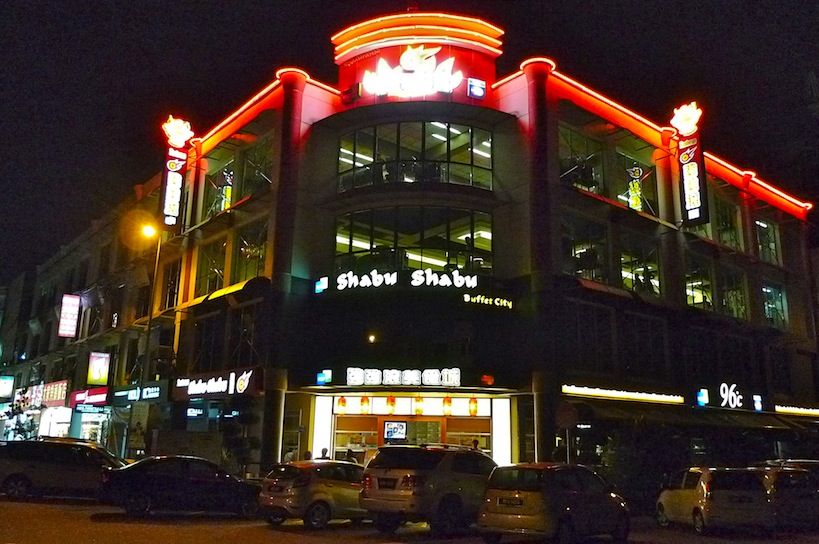 Now, who wants to join me for a shabu-shabu buffet dinner at Restoran Shabu-Shabu?
Restoran Shabu-Shabu
No 55, Jalan Puteri 1/6,
Bandar Puteri,
47100 Puchong,
Selangor.
Tel : 03-80605221