Continued from
Part 2
It was our first time cruising on
Temenggor Lake
. And it was my first time battling leeches in a jungle. But more about that later.
The whole journey was pretty fun and pleasant! We were required to wear life jackets, so don't worry if you do not know how to swim.
There were many islands around the lake. This is one of them.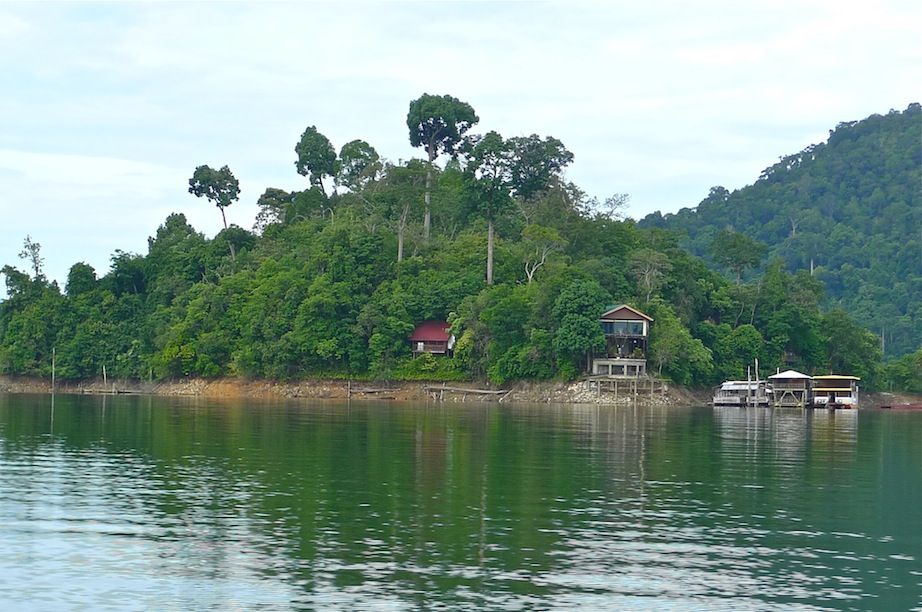 This is another island, casting a beautiful reflection on the water.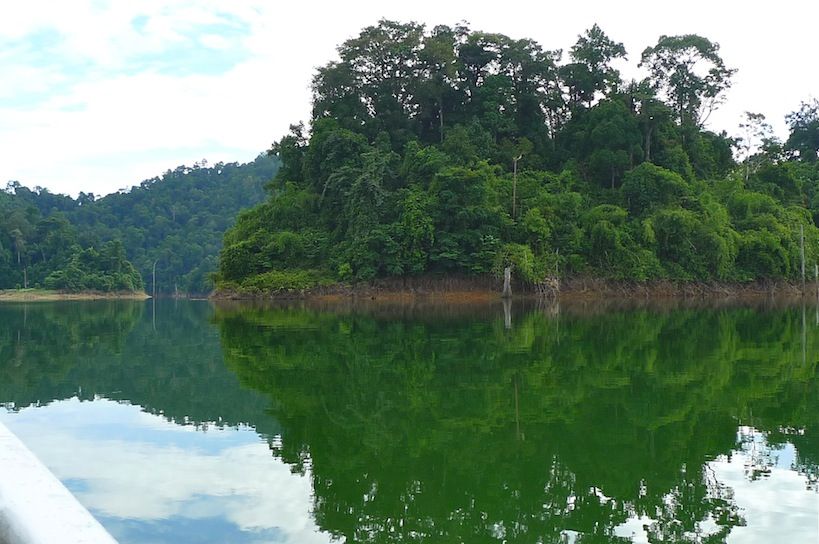 Then we saw a boat house in the distance!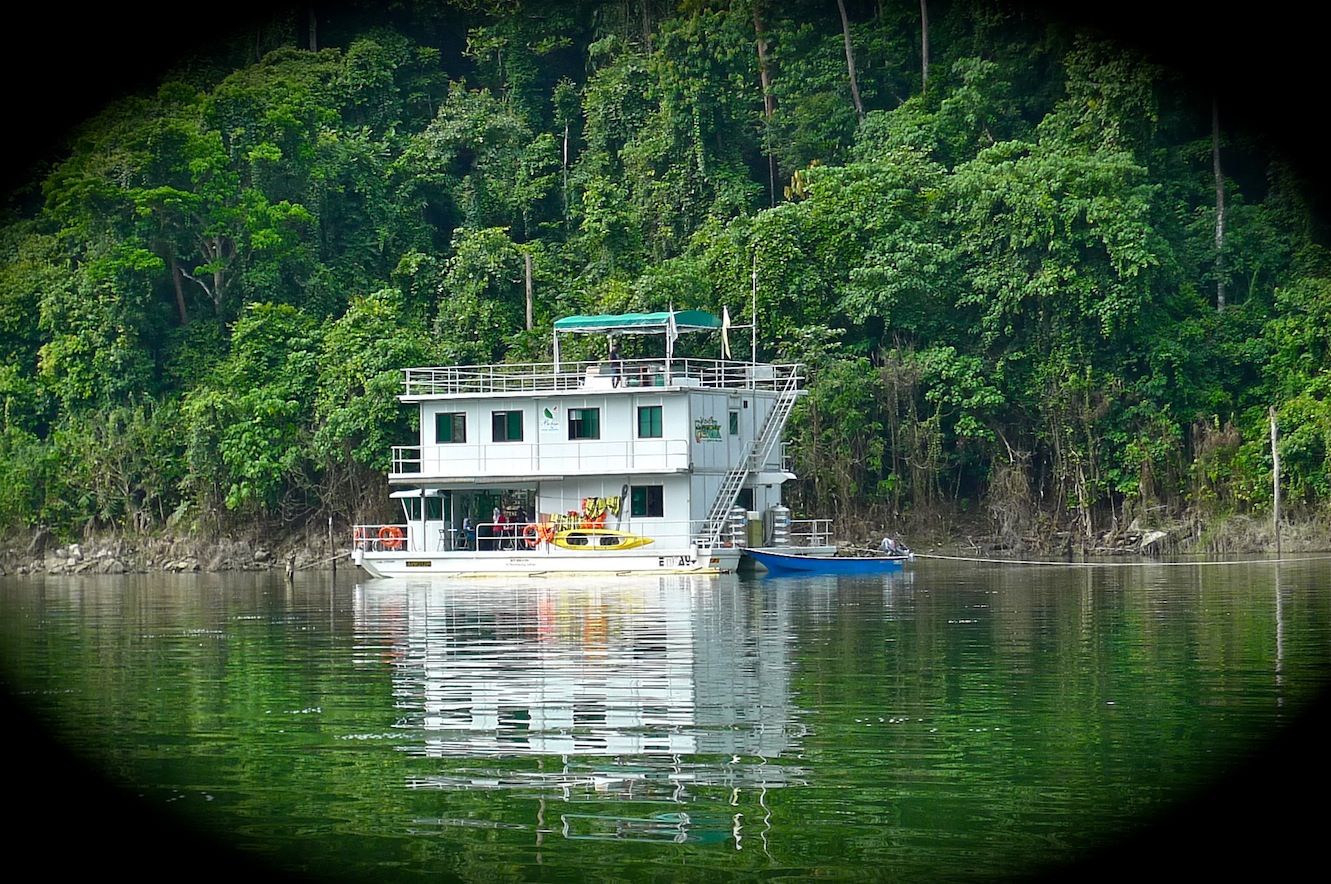 Do you know you can stay in a boat house at Belum? I am not sure how many boat houses there were, but we saw two that day. I am pretty sure they have more than two.
The one above is a double storey boat house. I hope to stay in one in future, well, maybe just one night, for the experience! But I can imagine being bothered by creepy crawlies and flying insects from the jungle!
After roughly 30 minutes journey, we reached the place where we wanted to go to. But look! The mini jetty was broken!
Our tour guide cum boatman skillfully docked the boat at a suitable spot for us to get down.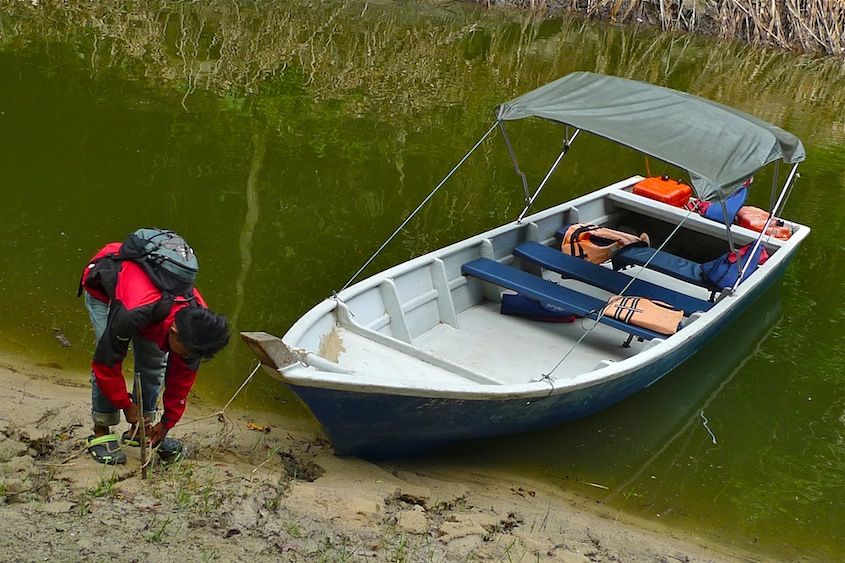 See the broken jetty? They should get it repaired.
With our tour guide leading the way, we walked into the Belum rainforest.
There is a "Welcome To Sungai Enam Base Camp" map showing the route to the waterfall.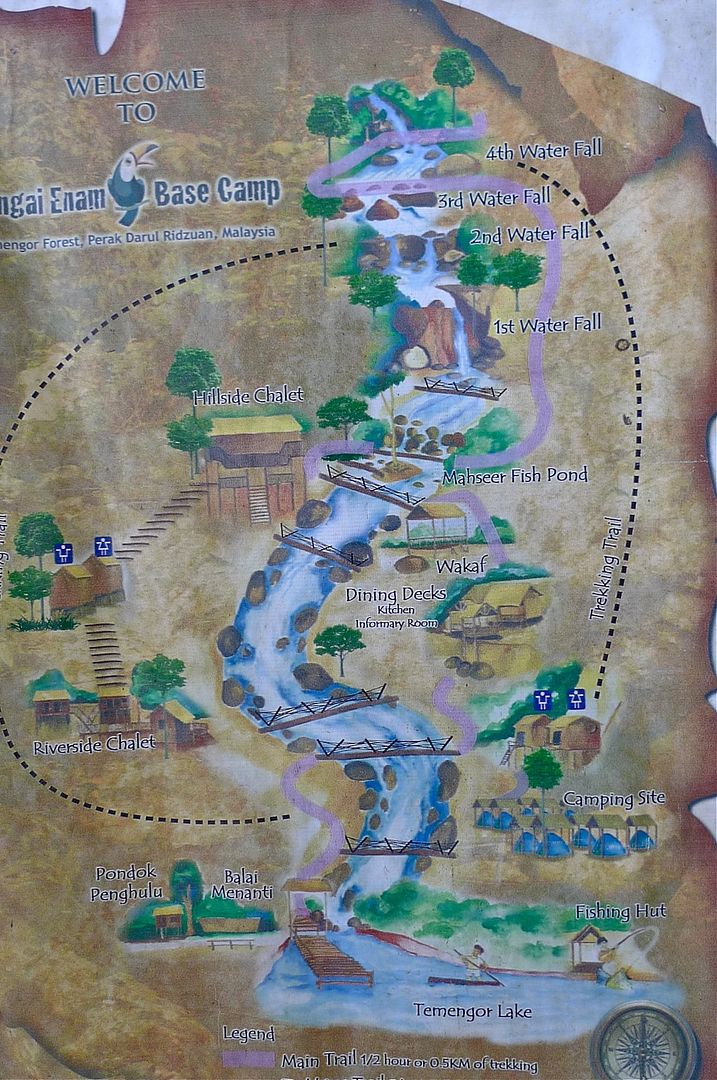 Our guide showed and described to us some of the trees and insects. I only managed to capture this insect resting on a tree. But I have no idea what it's called!
As we trekked through the jungle, our guide warned us about the dreaded blood sucking leeches. Oh no!!
I did not take this leeches threat too seriously, but
Lionel
was pretty terrified of them. LOL! I had brought along a mosquito repellent and he asked me to hand him the repellent so that he could spray all over his legs. I guess it did not work because the leeches still stuck onto him haha!
Amazingly, out of the four of us, only I alone was wearing shoes. Lionel,
Eric
and
Caroline
were wearing ..... slippers!!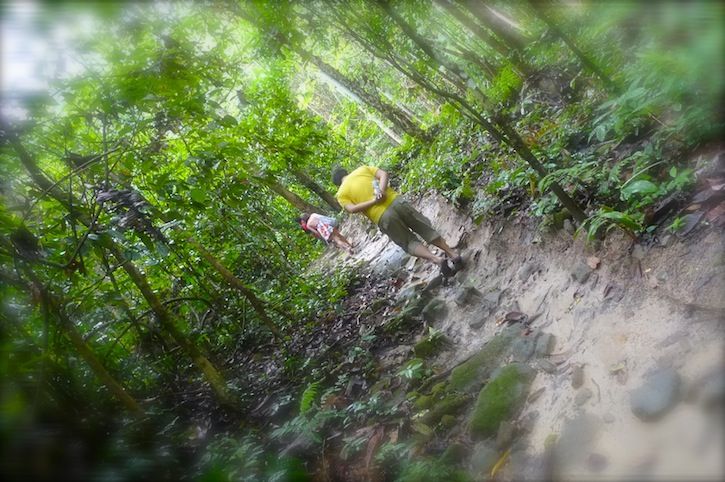 That's the three of them ahead of me walking the jungle trail. Eric in the lead, Caroline behind him and Lionel (in yellow shirt) at the back. The guide was of course leading us all in front.
To prevent the leeches from sticking onto your leg, you need to keep walking and not stand still. This made it quite difficult for me to take photos of the insects and plants as I need to keep moving!
At one point, I was standing still and suddenly felt a sensation on my right leg. I looked down and saw a huge leech sticking on my leg. I was stunned by it and did not know whether to pull it out or not. I had heard that if the leech is already sucking your blood, you should not attempt to remove it.
Caroline shouted when she saw the leech wriggling on my leg and that got the attention of our guide who quickly came over and pulled the leech out. I was pretty sure Lionel was grossed out LOL!
It was too bad I did not manage to take a photo of that wriggling leech! I guess in that kind of situation, you just want to get rid of the leech as fast as possible before it starts sucking your blood! Haha!
We soon reached an area where there were some wooden huts. It's a stop-over place for some dining.
This notice was placed in front of the wooden hut. LOL! Did you notice it was 'dinning' and not 'dining'? : )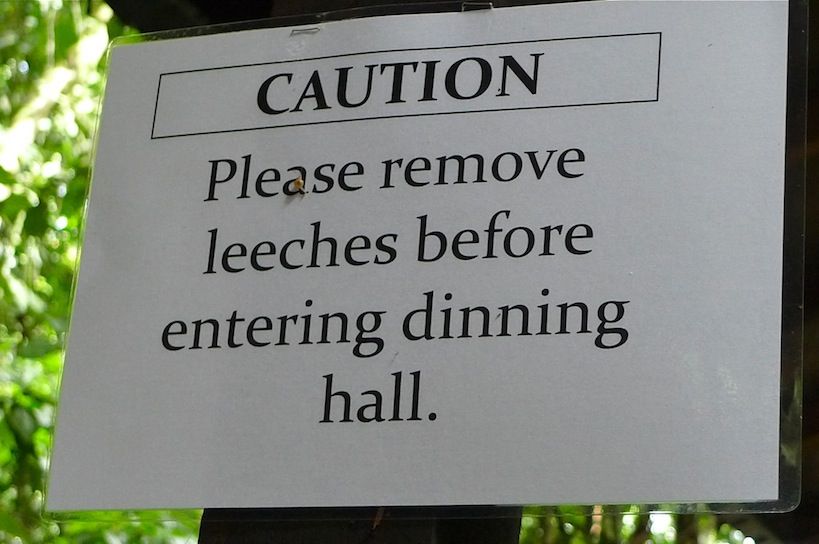 We did not stop to eat. Lionel was behind me, and when I talked to him, he said stop talking to him and keep walking. I guess he was afraid that if we slowed down, the leeches would start sticking onto his legs. Haha!!
Oh by the way, I passed by this interesting statement.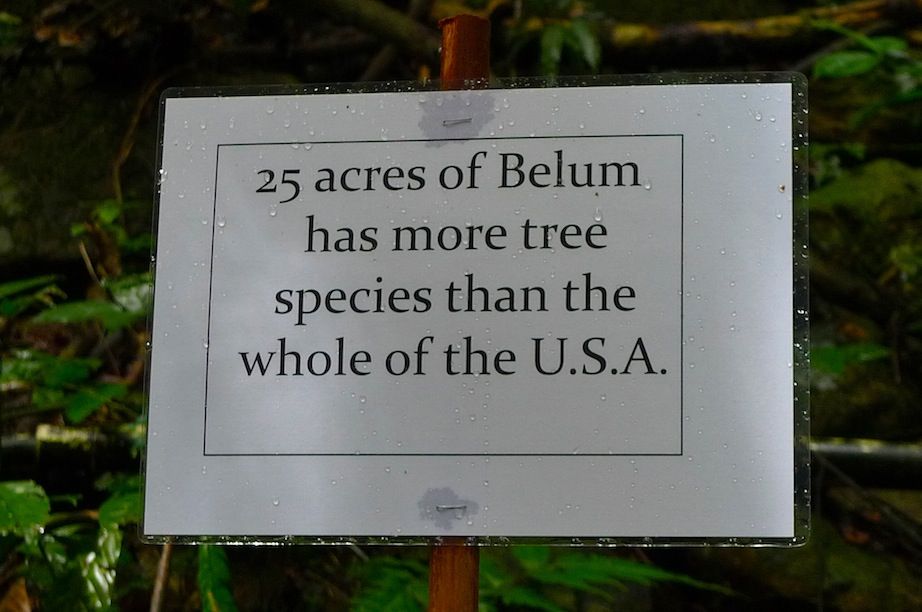 Amazing right? I hope the Belum rainforest would be properly managed without any illegal logging that would affect the natural eco-system and threaten the wildlife and plants.
We passed by a few waterfalls but they were just tiny ones.
It was the last waterfall at the top that I found worth taking a picture of.
Even then, it was hardly impressive. It was nothing compared to the
Saok Waterfall at Kenyir Lake
.
While kneeling down to take a picture of this waterfall, a leech silently crept up my leg. Luckily I found out in time and quickly pulled it out!
After that, we went back downstream and decided to take a dip at the river. Well, actually Caroline and Eric went into the water. I just sat on the rocks and dipped my legs LOL!
The photos above and below show Caroline having fun in the water.
That's Caroline and Eric at the top corner and my legs at the bottom corner of this photo below. Haha!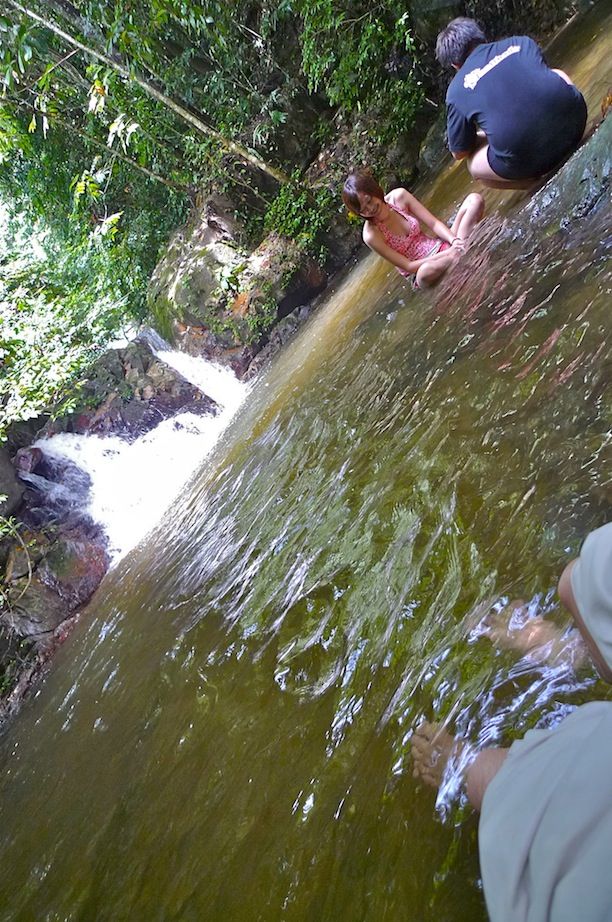 Lionel spent some time talking to our guide instead. He was thinking of getting this guide to bring us go fishing later in the evening.
After spending some refreshing time at the river, we left and followed our guide out of the jungle, back to the boat and returned to Pulau Banding.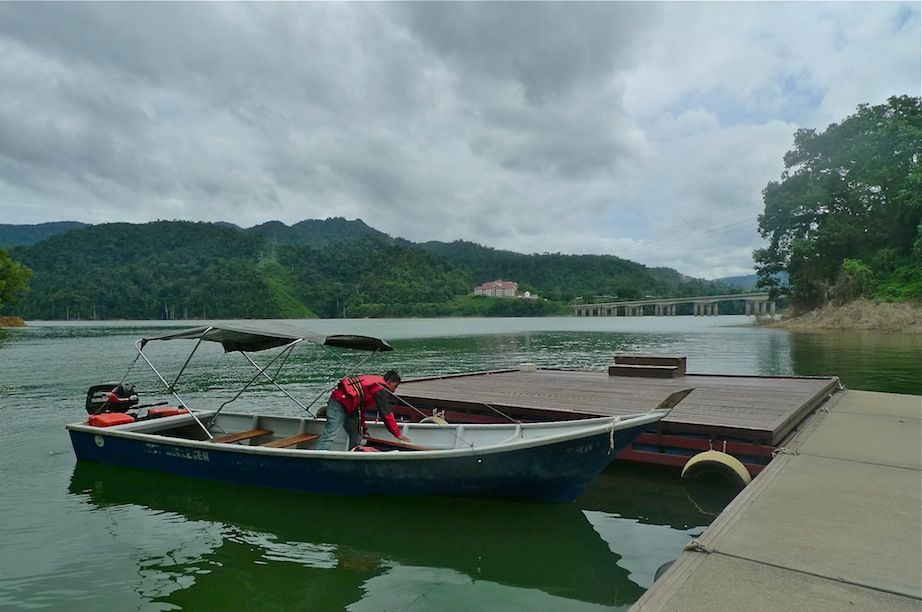 Oh, by the way, while inside the boat on our return journey, I saw a leech sticking to my socks! Yikes! Why were the leeches following me out of the jungle? Quickly, I pulled it out and squashed it with my shoe!
I have had enough of leeches in a day! LOL!
There's a signboard at the jetty welcoming us back to
Banding Island
.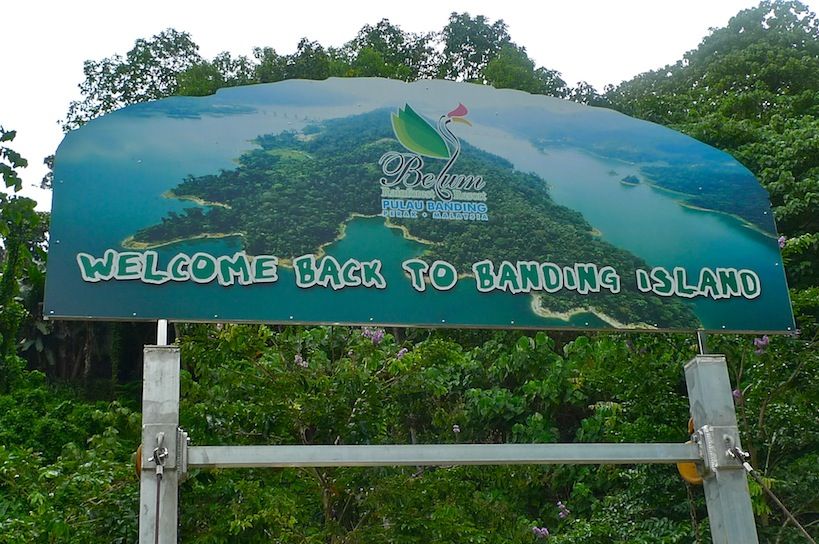 Sadly, our plan to go fishing later that evening did not materialize. Our guide suggested early next morning, but since we would be leaving for Ipoh the next day, we decided it would be too tiring.
We spent the remaining of our second day in Belum Rainforest Resort sleeping away in the comforts of our rooms, then went for dinner, and took advantage of the wifi at the lobby after dinner.
At night, we went back to our rooms and talked about ghost stories. I really enjoyed that! I think Eric missed most of the ghost stories as he slept through it all. LOL!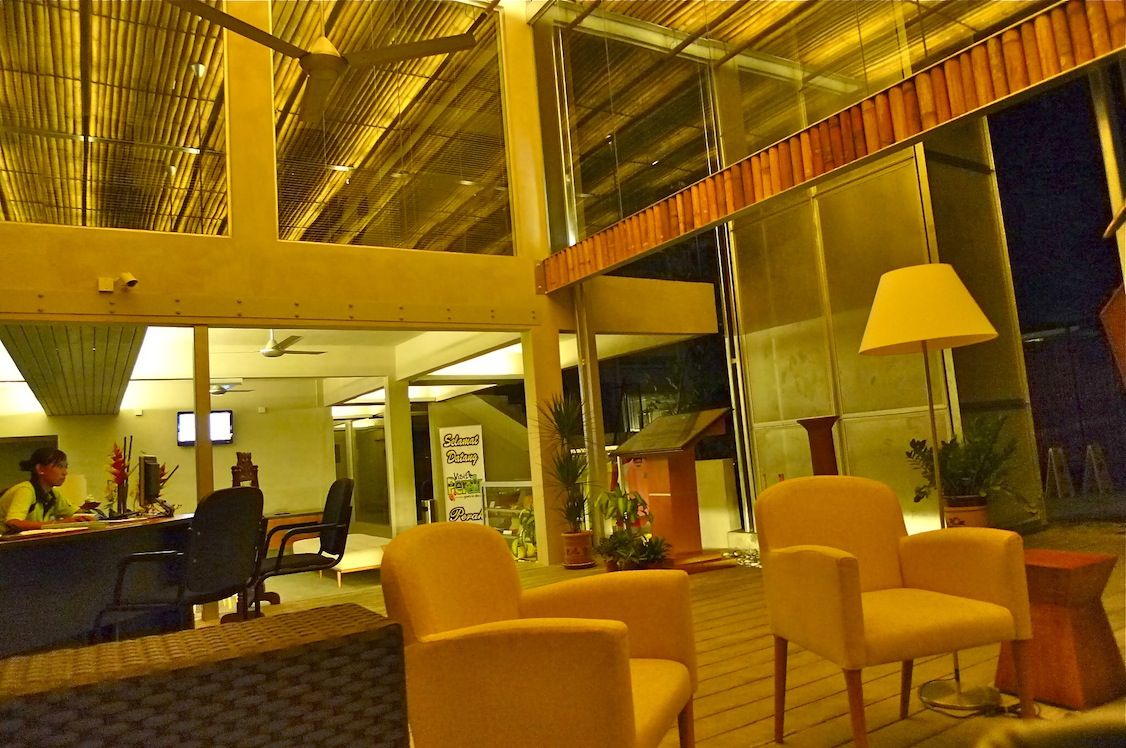 The resort's lobby at night
The next morning, we checked out of
Belum Rainforest Resort
and left for a gastronomical adventure in Ipoh.
Although my trip to Belum Rainforest was not as exciting as it should be, I still had a great time with my friends Caroline, Eric and Lionel.