Having blogged about ancient temple ruins in Cambodia for the past few weeks, I guess it's time to take a short break before you, my readers suffer from temple fatigue.
Unfortunately, I was not able to run away from the subject of temples. I found myself looking at the photos of temples again in my laptop albeit a different kind of temple. This time, it is the famous Chinese temple in Kuala Lumpur, Malaysia - the
Thean Hou Temple
(
天后宫)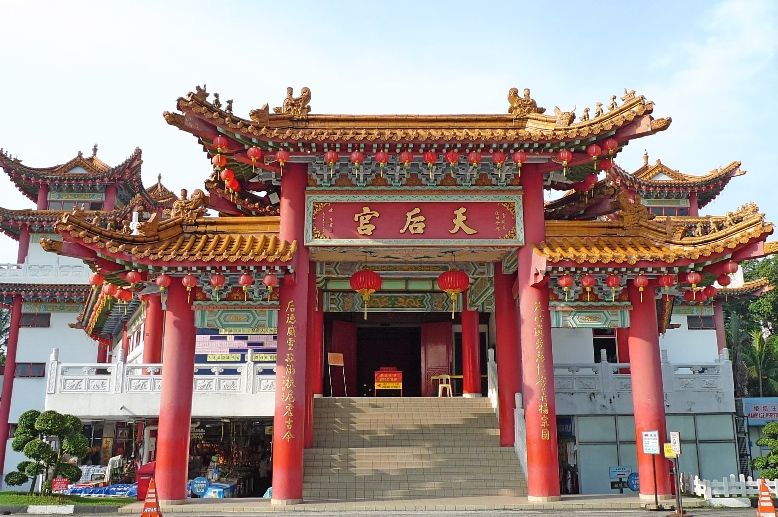 I have been to this temple only once when I was small so I could hardly remember how it looked like. I had this impression that it was quite grand! My chance to visit it again came last year when my brother went there for his registration of marriage (ROM).
Located atop Robson Heights along Lorong Bellamy overlooking Jalan Syed Putra, Thean Hou Temple was built in 1981, completed in 1987 and officially opened in 1989.
It is a 6-tiered temple built by the Hainanese community in Kuala Lumpur at the cost of RM7 million and is dedicated to the Goddess
Tian Hou
(The Heavenly Mother).
At the entrance to the temple, you can see this beautiful gazebo in Chinese-style architecture.
Near the gazebo is the statue of Goddess
Guan Yin
with a mini waterfall next to her.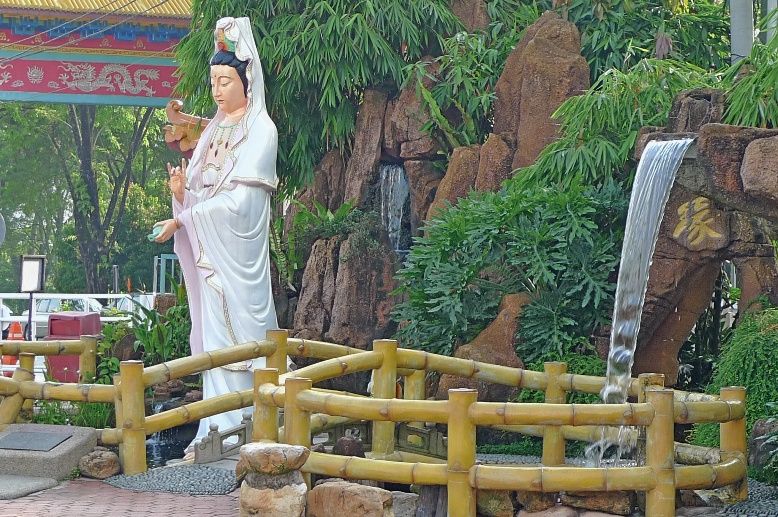 There is also a garden with all the twelve
Chinese animal zodiac
, but I did not take photos of all of them except for the Dragon ...
The Rat ....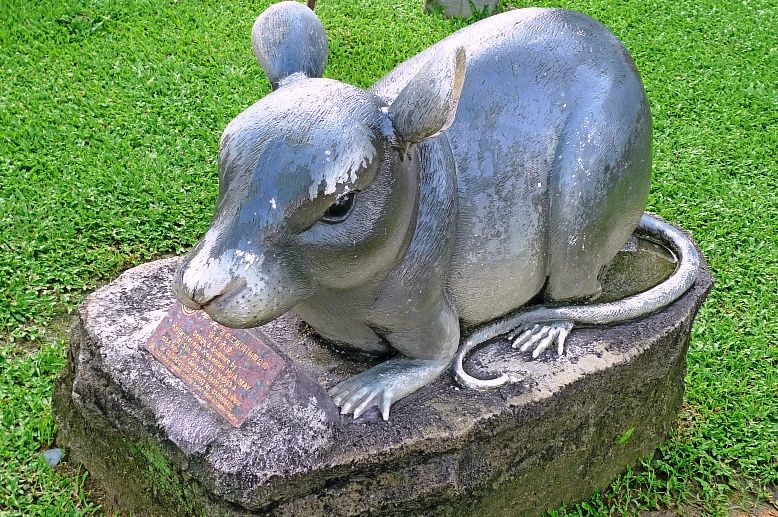 And the Tiger. This tiger sure looks fierce!
Can you see the Horse and the Sheep in the background?
Thean Hou Temple offers fortune telling and also marriage registration services as can be seen from this signboard.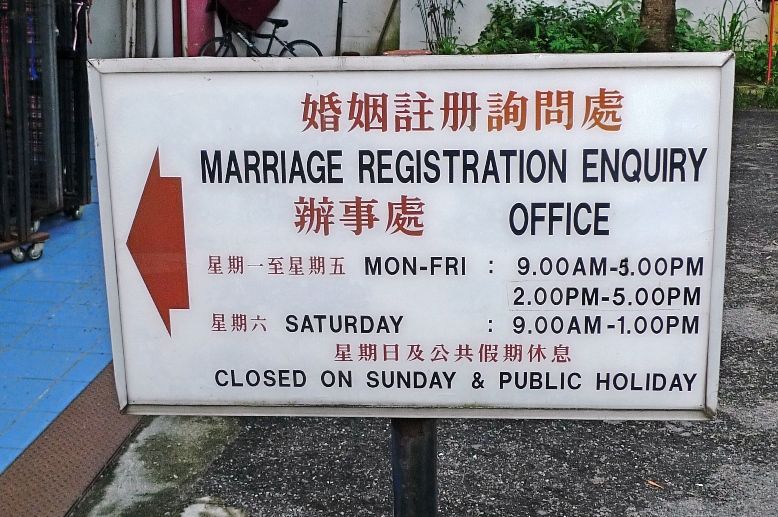 I took photos of my brother and his wife and our families but I am afraid I won't be sharing them here. This post is more about Thean Hou Temple than about my brother's registration of marriage!
Look! There's even an ancient bride's carriage outside the ROM office!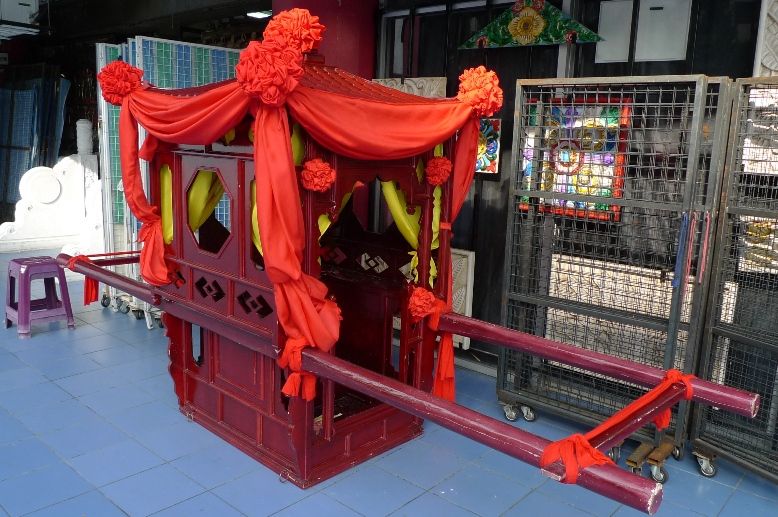 After my brother had registered his marriage, we went for a short tour of the temple. The ROM office is located at the ground floor but to reach the temple, we had to climb up a few flight of stairs.
What greeted us were lanterns, lanterns and more lanterns!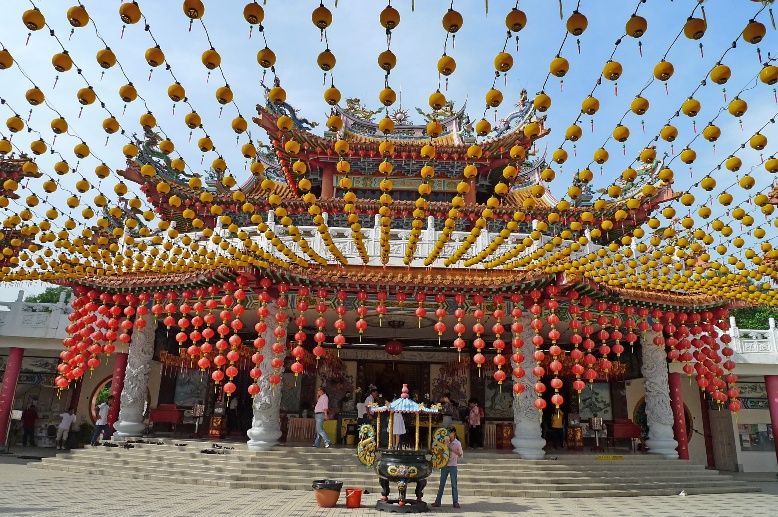 I just snapped away with my camera!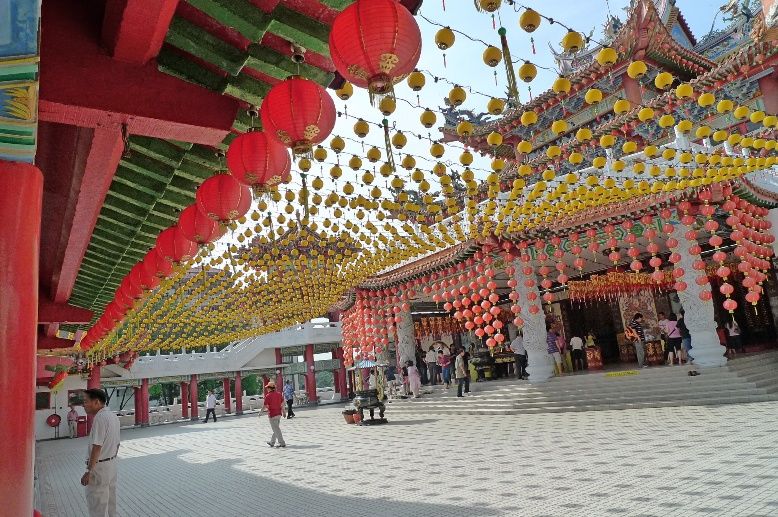 Big red lanterns and smaller yellow ones were hung all over the temple compound. I am pretty sure it would be a sight to behold if all these lanterns are lighted up at night!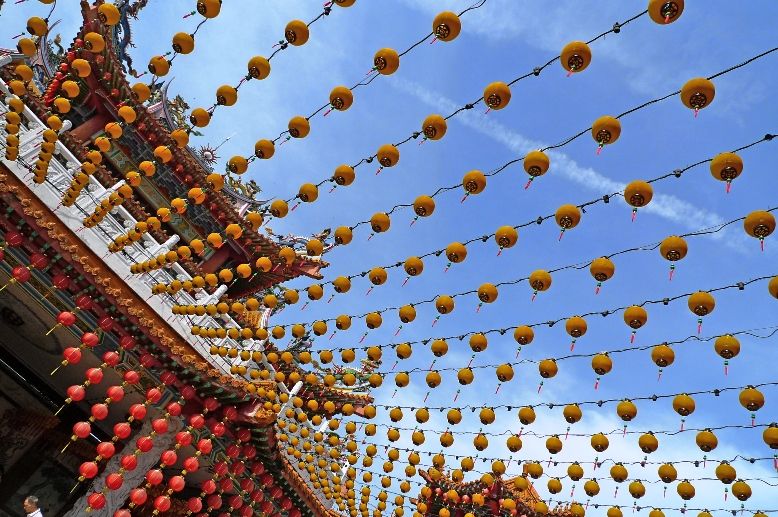 There were a few tourists there that day but most of the people were locals and they were there to do their prayers. Luckily it was not crowded as I simply dislike crowds!
I love the beautiful artistic roof of the temple which was decorated with statues of dragons and phoenixes and probably other celestial creatures!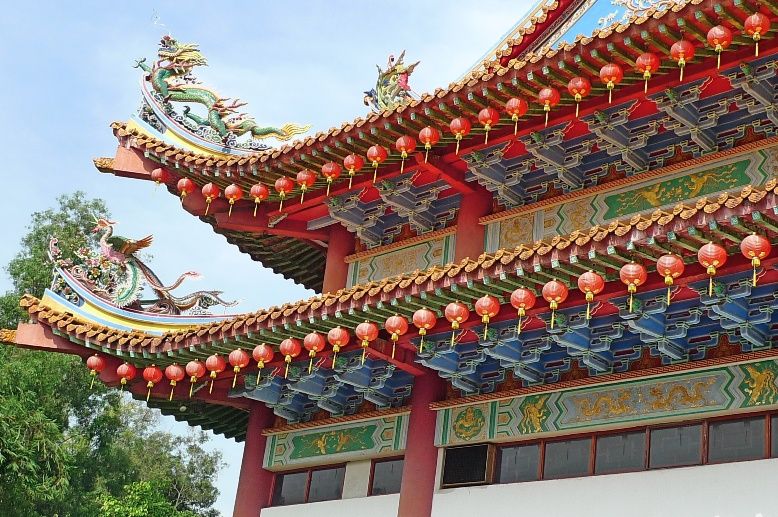 I also like the pagoda-like tower, which was also decorated with lanterns!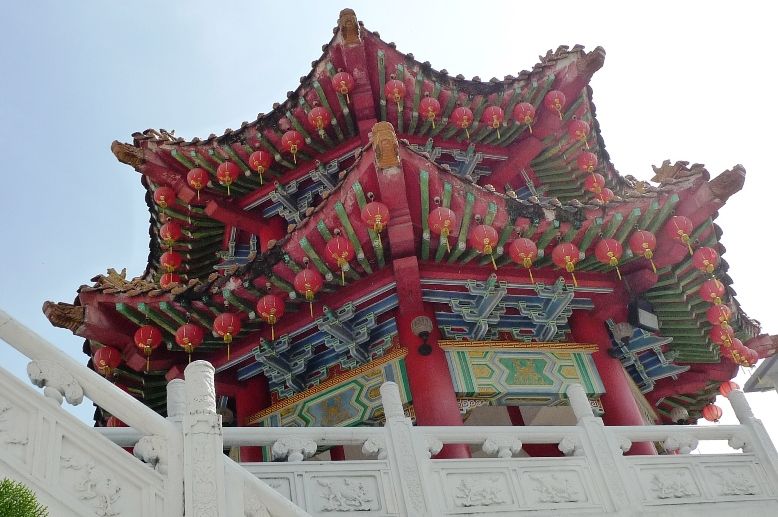 See the key hole shaped door? Love that!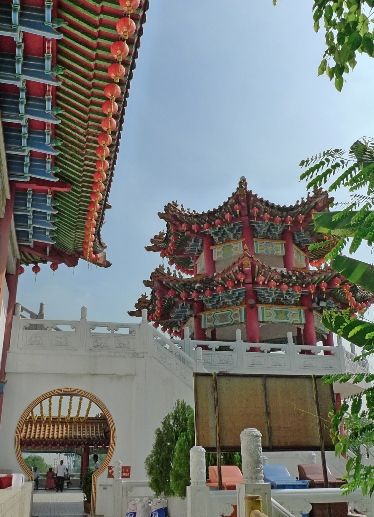 It was not as grand as I expected - oh well, probably it looked grand to me when I was a child. The
Kek Lok Si Temple
in Penang is definitely grander.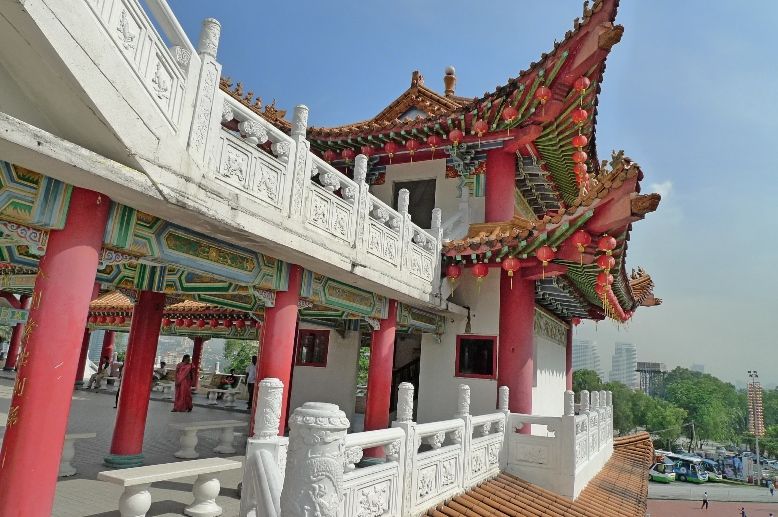 This is the incense or joss sticks burner in front of the temple. Sort or reminded me of those joss sticks burners I saw in the
Jian Shan Temple
in Yangshuo, China.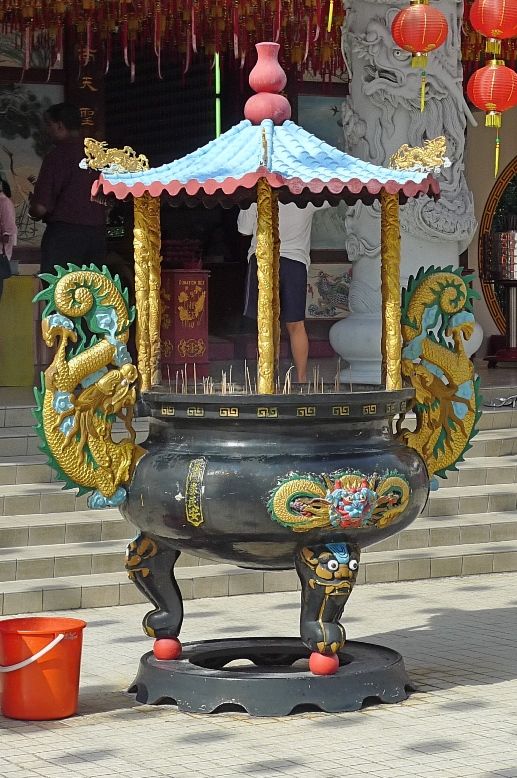 We stepped into the temple but we were not there to pray.
I am not sure if it's all right to take photos of people inside the temple especially if they are posing in front of the deities, but I just had to take the photo of this man taking a photo!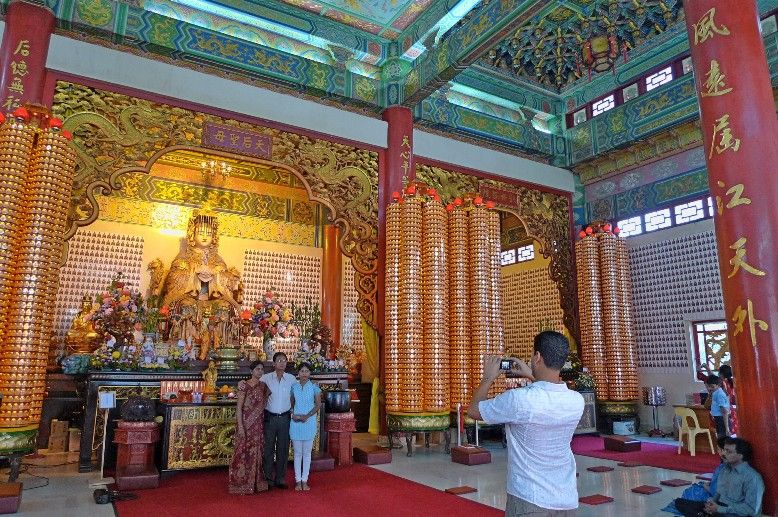 The prayer hall houses 3 altars - each for one deity or goddess. I am not sure if I got this right (please correct me if I am wrong, thank you!) but I think the altar on the left is dedicated to
Shui Wei Sheng Niang
(The Goddess of the Waterfront)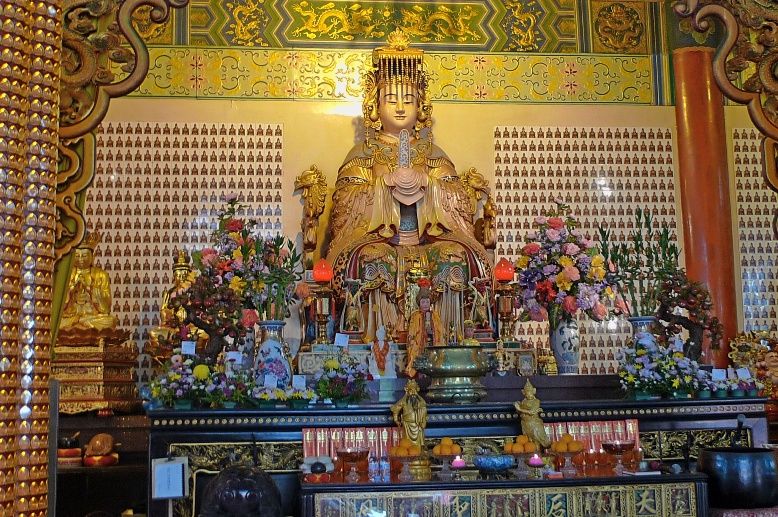 The altar in the middle belongs to Goddess
Tian Hou
(The Heavenly Mother)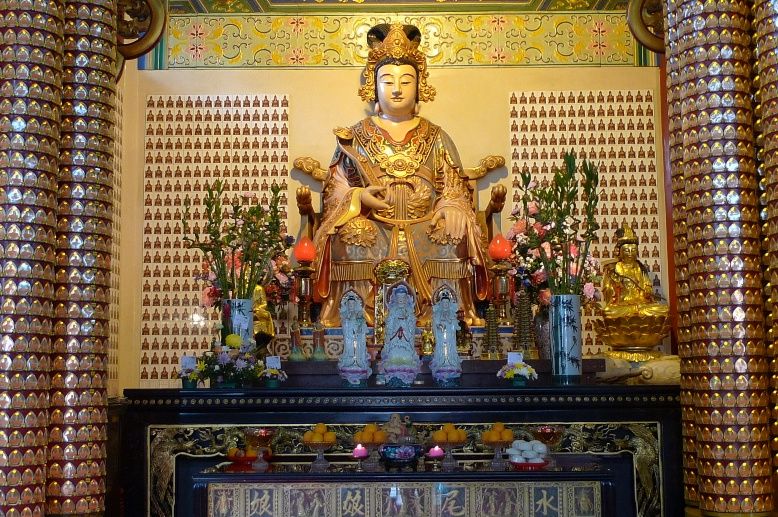 And the altar on the right is dedicated to
Guan Yin
(The Goddess of Mercy)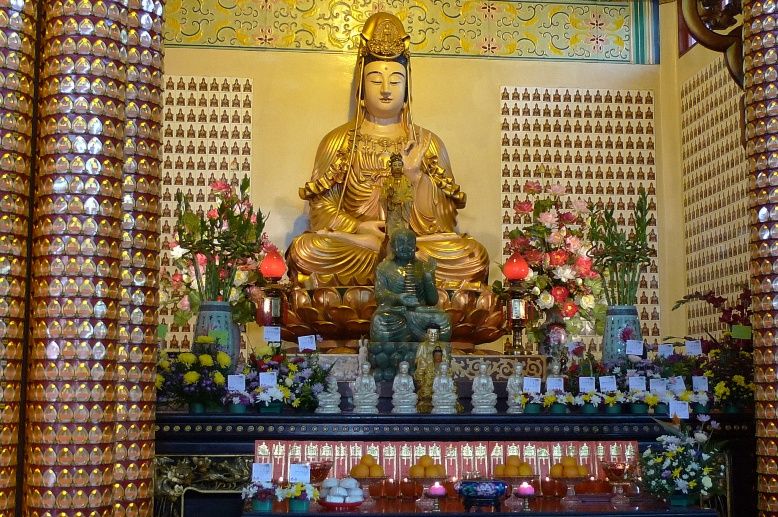 The wall surrounding the temple is also decorated with tiles of these deities.
Frankly, I was quite impressed with the artistic carvings on the ceilings. Beautiful!
If you have not visited the Thean Hou Temple before, do give it a visit! Even though it is not as grand as the Kek Lok Si Temple in Penang, the ornate carvings and intricate embellishments make this temple a worthwhile visit!